[Top 10] Minecraft Best Village Seeds
Updated: 12 Aug 2021 5:59 am
Steve and Alex attempting to trade a common emerald and an elusive carrot.
If you're looking for the perfect place to set down roots, then look no further than these awesome villages.
Seeds are an important aspect when it comes to Minecraft. They are responsible for generating the world and what you will encounter when exploring. One of the most important things when it comes to Minecraft is survival. The following seeds will make surviving your new world all the more easier because they will spawn you in or near a village. What makes these seeds especially fun is these villages and the treasures you will find within, around, or beneath them. But most importantly, you can easily seize one of the houses in these villages to make your own.
10. Spruce Village Coral Reef (673900667)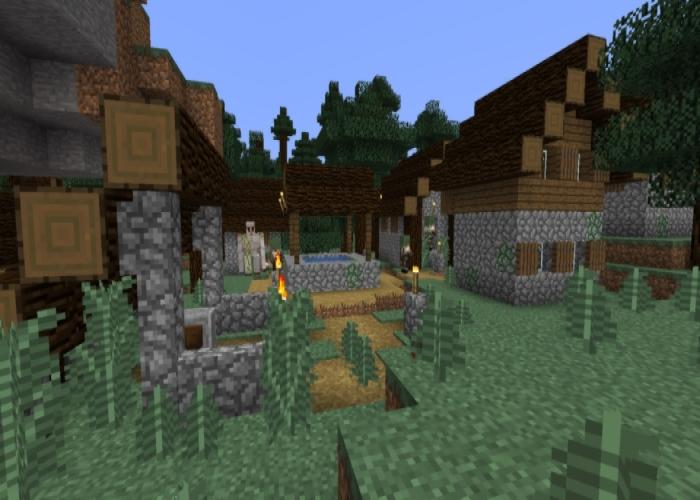 Overlooking this taiga village are some beautiful mountains that are perfect for building a grand structure overlooking the village.
This seed spawns you right next to a taiga village. Not far from you are some wonderfully generated mountains perfect for building. This seed offers many of the essentials for surviving in Minecraft. It offers plenty of resources, food, shelter, and most importantly, a whole new world to explore.
What's Awesome About It
Coral reef provides beautiful scenery.
Sea pickles are plentiful.
Mountains make an excellent foundation or backdrop for building.
Version 1.14
9. Shipwreck Village (-613756530319979507)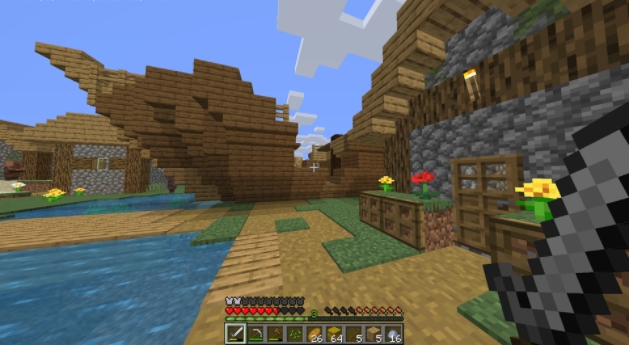 No one is quite sure what seafaring bloke crashed his ship into the village, but that doesn't mean you can't make it your home.
If you're thirsting for an at sea adventure, then this seed is perfect for you. It spawns you next to a village set on an island, but the best part is the shipwreck currently being used as a villagers house. Occupying the shipwreck is the perfect way to play as a castaway who has crashed on a mysterious island. Even better, there is a gorgeous coral reef to explore and an ocean monument nearby as well.
What's Awesome About It
Shipwreck at spawn is the perfect starter base.
The nearby coral reef and ocean monument make exploring amazing.
Villagers are not pirates and won't rob you.
Version 1.14
8. Blacksmith Village (686298914)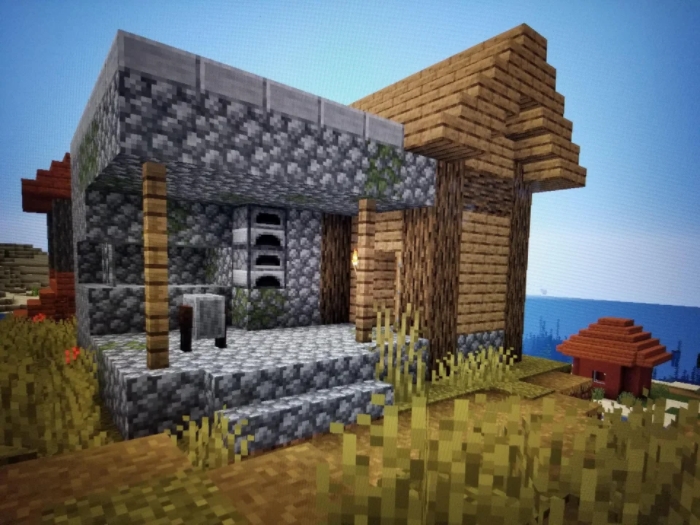 The blacksmith in this village may not be too thrilled with you taking his supplies, but they will do you more good than him.
Spawning into this world will put you next to a village with quite a successful blacksmith. Should you decide to empty his chests, you'll find yourself suddenly flush with diamonds and obsidian. If loot is something you are passionate about then you'll be excited to know there are multiple villages nearby, a  stronghold and a dungeon.
What's Awesome About It
Blacksmith provides great supplies when starting out.
The nearby dungeon and stronghold provide even more loot.
You'll have easy access to the End.
Version 1.8.8
7. Village Over Mineshafts (-7939039674070683365)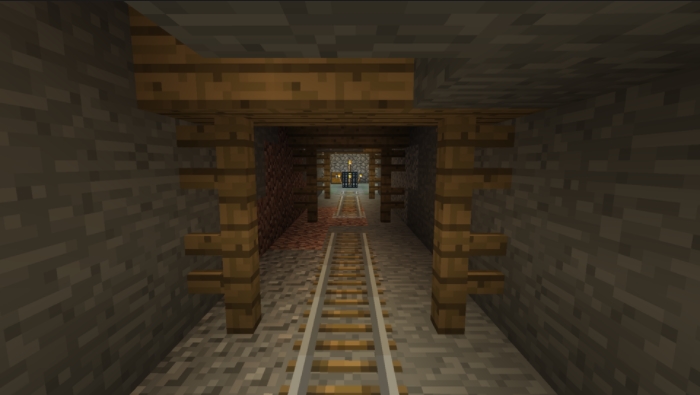 Once you are done with the village, you'll want to head below and begin mapping out the abandoned mineshaft and its treasures.
Using this seed will put in a taiga forest biome within walking distance to a village. Looking up, you'll see an interestingly generated mountain in which a lone villager sits atop, and just beneath it lies a flat plateau perfect for building. The real treasure of this seed however is the abandoned mineshafts lurking below.
What's Awesome About It
Mountaintop overlooking the village is perfect for a castle.
Abandoned mineshafts beneath are ready to be explored.
Unique village generation.
Version 1.14
6. Taiga to Desert (79942115385233205)​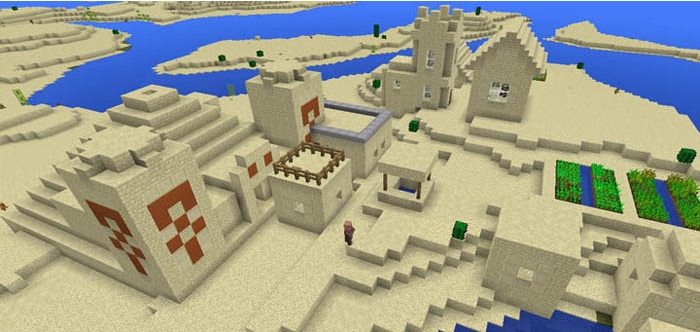 Once you're done with this taiga village, head southeast and be prepared to rob the temple while hopefully not blowing yourself up.
You'll spawn next to a taiga village with this seed, but after you loot the village, you'll want to head southeast through the desert. Following this path, you'll find a desert village complete with a temple within its borders. If you loot this temple carefully, you'll be rewarded with some great treasure.
What's Awesome About It
Multiple villages to live in.
Desert temple can lead to some awesome build ideas.
TNT in said temple can be used to blow up the village.
Version 1.14
5. Taiga Village (8081493198926661304)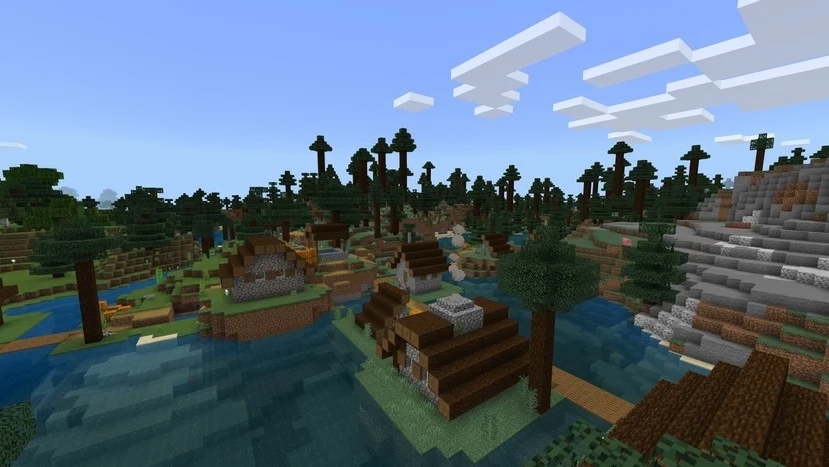 This taiga village is only just one of many villages in the area and the rest are only a short walk away.
Utilizing this seed spawns you amidst a taiga and within a short walk you'll find yourself standing in a taiga village. In addition, there is a nearby village within the plains and also at coordinates -150, 1750 there is  a desert village. If you are interested in more than just villages, the terrain generation for this seed is also incredible for base building.
What's Awesome About It
Multiple villages in close proximity to spawn.
The terrain is perfect for building.
Several biomes to explore close to spawn.
Version 1.12.2
4. Crater Village (-2084759484)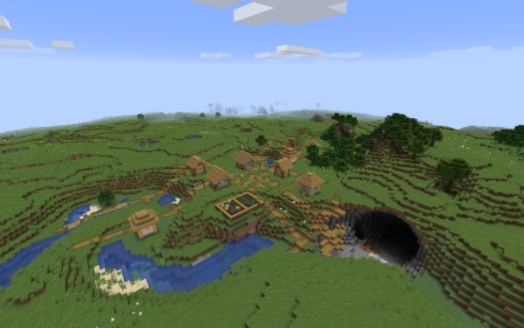 You'll want to light this crater up soon or else you'll be diving into a monster spawning ground.
This seed will spawn you right next to a village that seems to have been built around this massive crater. Uncovering the mystery of what caused this crater is only part of the fun. The crater also makes the perfect place to build your base as it has easy access to the underground.
What's Awesome About It
The crater is perfect for building.
Village provides easy loot for cave spelunking.
The surrounding plains provide flat land for expanding.
Version 1.14
3. Abandoned Village (1028438881)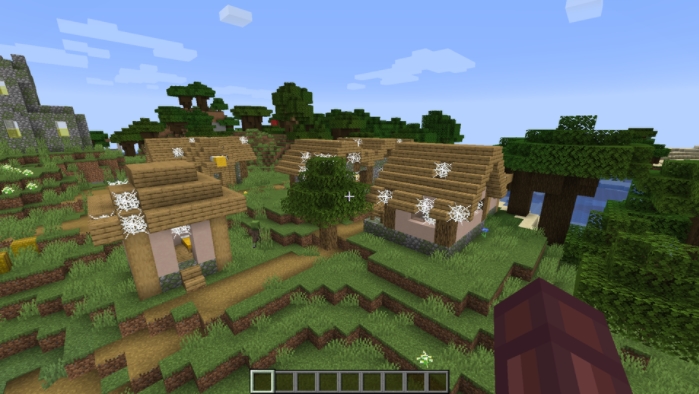 Cobwebs and zombies are all that remains of the previous inhabitants of this village.
Something about abandoned villages just gives off an ominous vibe. You have to wonder what happened to the inhabitants of this village long ago that caused them to either abandon the village or simply disappear. Not to fear though, the villagers did leave behind plenty of loot to pillage, unfortunately however, this loot is guarded by some hostile mobs.
What's Awesome About It
Adds some extra survival challenge.
Repairing the village and bringing in new villagers is its own fun challenge.
Plenty of loot to find within this village.
Version 1.14
2. Massive Village (-43121277)
The sheer size of this village will provide you with a good amount of resources and trading oppurtunity.
This seed will spawn you right next to a massive village right on the coast. You'll be set for quite a while with this seed as you can loot the village, including the numerous farms which will provide you with enough food to keep you full. Once you're done with the village, simply sail away.
What's Awesome About It
12 farm plots to feed you for days.
This massive village provides plenty of homes to choose from. 
The coast provides some excellent boating and adventuring.
Version 1.11
1. Village With Ravine (2467475923055248755)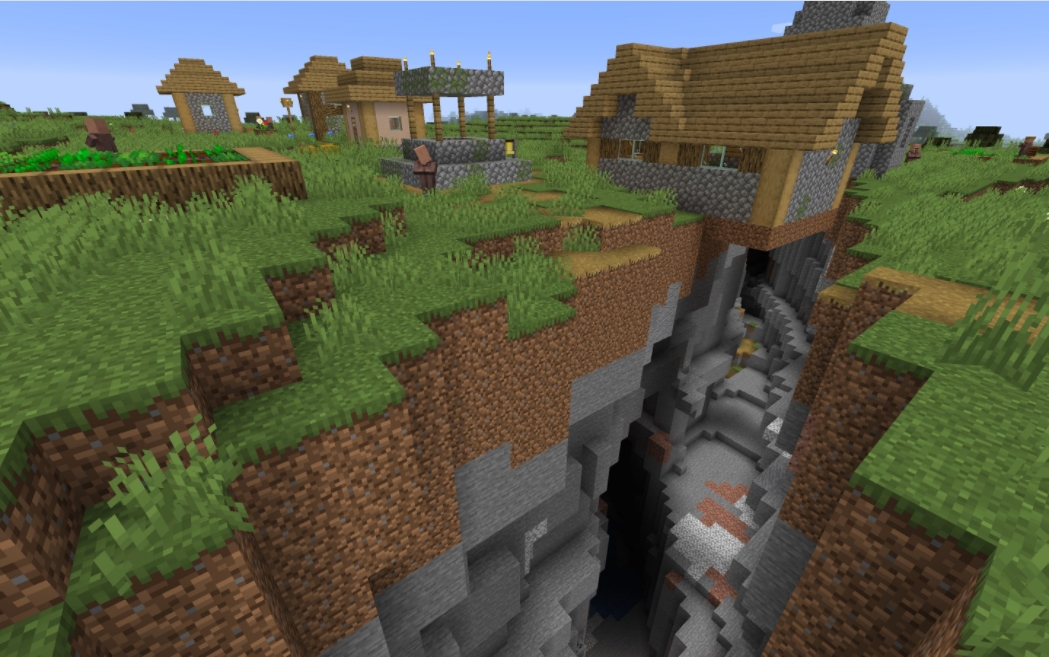 This precarious house makes the perfect base to dive into the ravine below.
Something might look a little off with this village and a keen eye will see the ravine that cuts right through the middle of the village. In fact, it is actually a double ravine. It will take a short walk across the plains to get to this village, but once you do, you'll have quick access to the underground and the resources available there.
What's Awesome About It
Double ravine provides great resources.
The ravines make for the perfect secret base beneath this village.
The surrounding biomes are perfect for exploration.
Version 1.14
You May Also Be Interested In:
Image Gallery