[Top 10] Minecraft Best Mods For Cities
Updated: 09 Dec 2020 11:10 pm
Because sometimes we want to see a bustling city liven up the quiet world of Minecraft.
Minecraft isn't necessarily known for modern skyscrapers and bustling metropolises, but more for their quaint villages and quiet residents. Wouldn't it be great if you could upgrade these little villages to something larger and more complex like the cities and towns we see today, whether you're discovering them or building them yourself? Now you can, with these top 10 city mods!
10. Prefab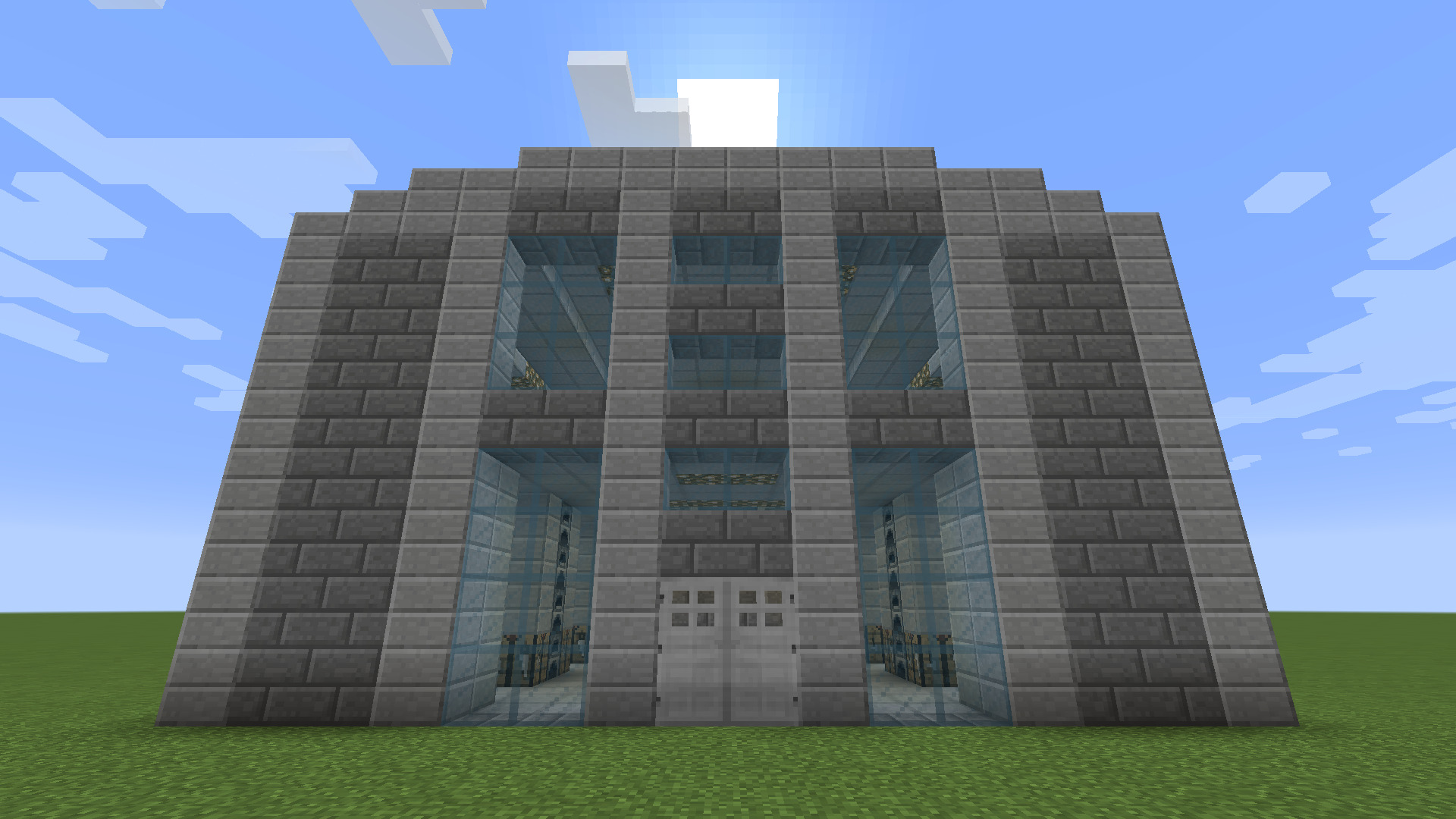 Sure, you could build this yourself, but why not just let someone else do it for you instead?
Prefab allows you to immediately place pre-made buildings into your world. This mod includes actual structures as well as purely environmental additions that could be a major help in the construction of your custom city.
How this mod makes the game more fun:
There are various different structures to choose from with Prefab, ranging from a modest starter house to a dramatic ski lodge!
If you're not comfortable with the mod doing all of the work, you're in luck. All of the structures have unique recipes that need to be crafted before the generation block can be acquired.
Not only does this mod have a variety of buildings, but it also has features like grassy plains or fish ponds that can be implemented for ambiance.
Prefab also adds various new blocks into the game like the paper lanterns and grass slabs.
Get the mod HERE
9. Instant Massive Structures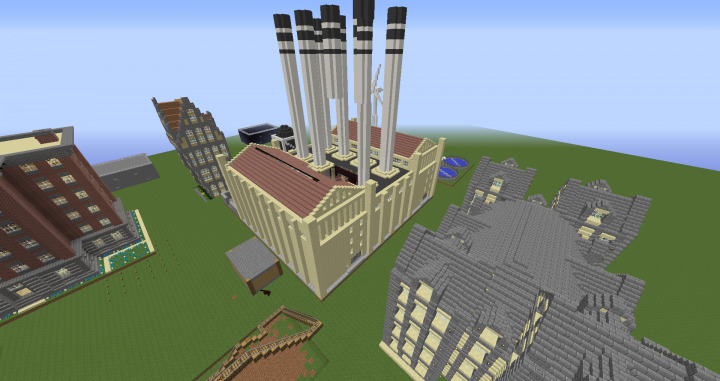 Building a city truly has never been so easy
Instant Massive Structures is a mod that generates amazing buildings and structures instantly! It's a bit like Prefab, but more expansive. It is a perfect tool for constructing a large city on your own that may otherwise take hours or days.
How this mod makes the game more fun:
There are tons of structures to choose from with this mod, over 800 to be exact. You can choose from skyscrapers, roller coasters, and so much more with this mod!
A lot of these structures even move! For instance, the windmill structure actually has blades that spin!
These structures can be built by simply placing one of the spawn blocks and clicking it. You watch whatever you chose begin to generate immediately!
The interior of these buildings is already decorated and you may even find a few goodies in the chests inside!
Get the mod HERE
8. Custom NPCs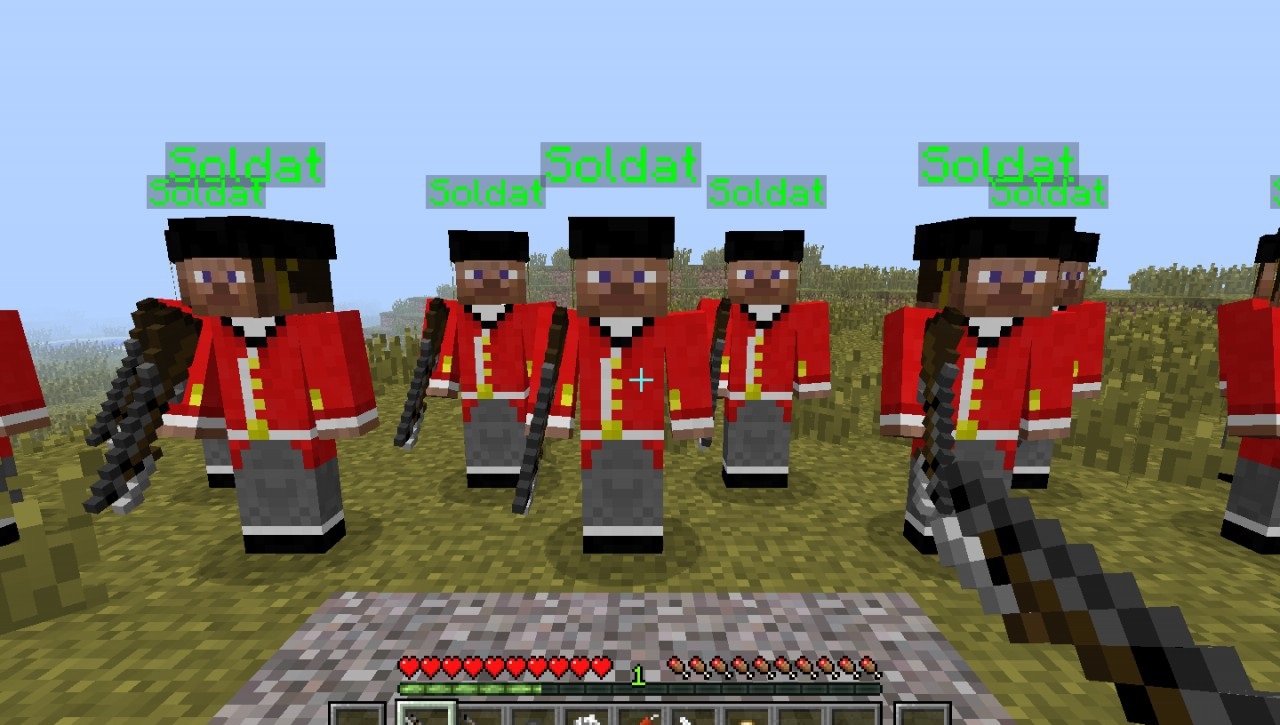 Create and customize your city's own population!
Now that you've got the correct materials to construct your city, you need some residents to move in. Add your own unique NPCs with Custom NPC! While this mod is not necessarily directly related to city generation, it is definitely a must-have if you are planning on building or living in one!
How this mod makes the game more fun:
Implement your own NPC city-goers with this mod and decide on their very own names and appearances!
Decide on their job in your city, like whether they'll be a chef, doctor, or guard.
Choose a role for your NPC! They can be a trader, follower, companion, or a few others.
Access their stats and customize the amount of health they have, their walk speed, and much more!
Get this mod HERE
7. Flenix Cities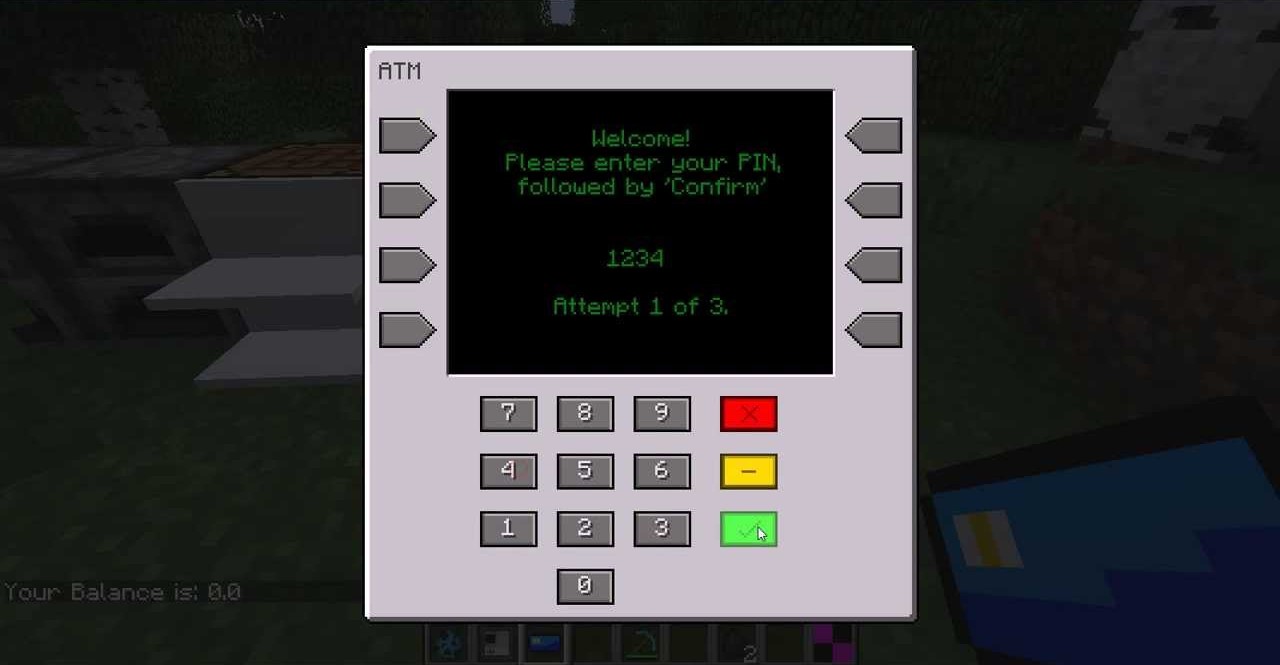 Incorporate modern technology like ATMs with this mod!
Flenix Cities attempts to make building your city easier while adding cool features to make it come alive! This mod is also a work in progress so if you enjoy the content it has to offer now then be on the lookout for its coming updates.
How the mod makes the game more fun:
This mod implements an economy that deals with in-game money that can be acquired through directly killing mobs.
You can also make money through managing your own shop and selling items, which is an awesome feature for those who like to play multiplayer!
The money in Flenix Cities can be held and used that way, but perhaps one of the coolest aspects is the digital option of storing money. You can acquire a debit card and deposit or withdraw your money from an ATM.
There are many awesome decorative features in this mod as well that will help you make your city more modern. These include, but are not limited to, vending machines, ceiling lights, and new stairs!
Get the mod HERE
6. Dooglamoo Cities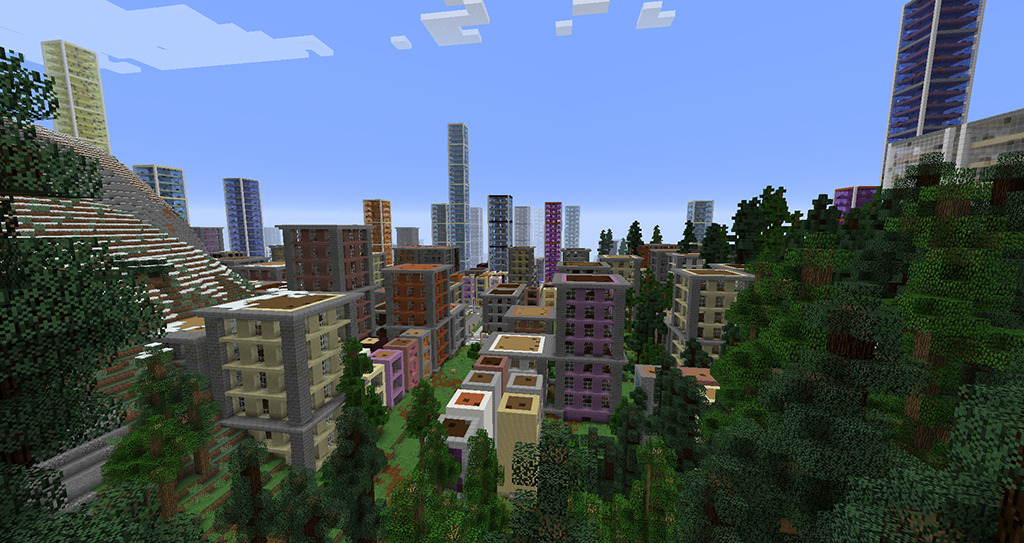 This mod offers the modern skyscraper buildings you've been looking for!
This is another mod that will assist you in constructing your city. Experiment with auto-construction along with many other features that make it a bit more immersive than simply just building.
How this mod makes the game more fun:
While this mod does help you in building your own city through auto-construction blocks, it also allows you to find abandoned cities that generate naturally around the world. You can either explore them to find loot and resources or cut corners and make it your own!
This mod also provides your city with a complex economic system based on the buying and selling of resources.
Build your own manufacturing industries in order to grow your city and quickly acquire helpful items! For instance, you can buy iron blocks and tools from the blacksmith!
Watch out for natural disasters! Your city could be hit with drought, a dangerous fire, and more!
Get the mod HERE
5. Tektopia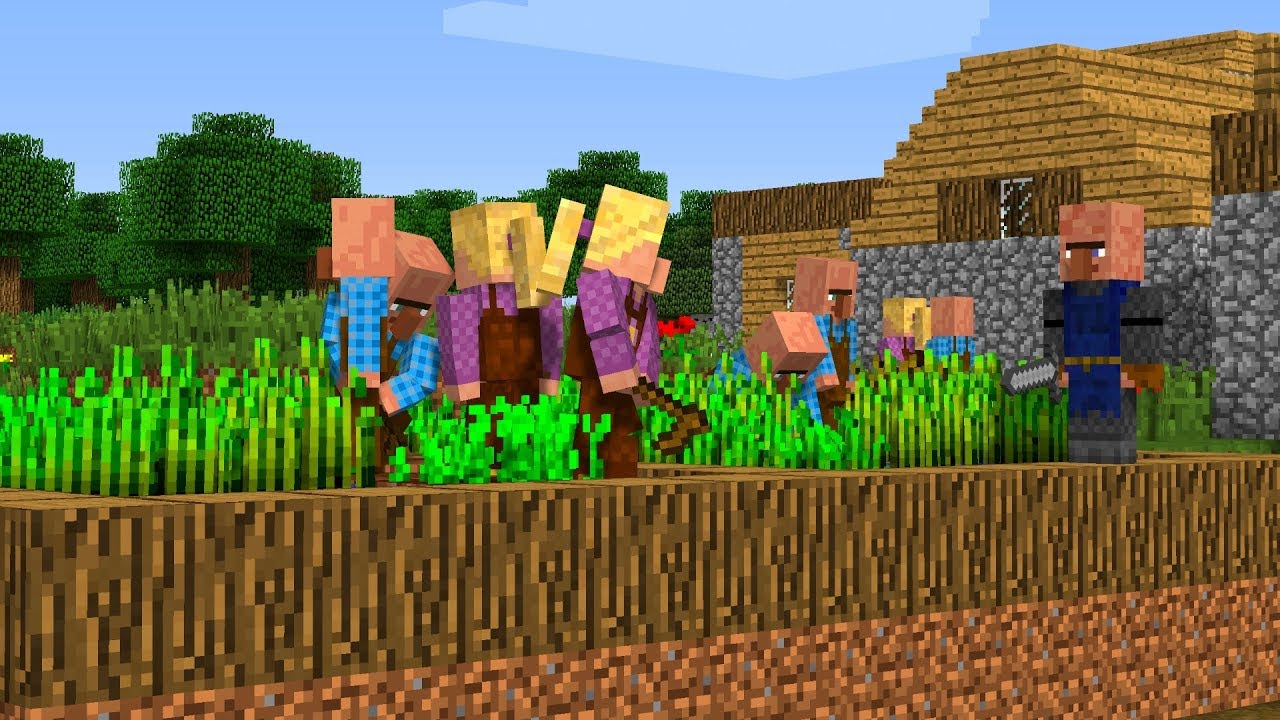 Watch your own settlement grow!
While technically Tektopia isn't really centered around the traditional "city" image, it's still a very fun mod that allows you to build and grow your own expansive residential area with tons of cool features to discover!
How this mod makes the game more fun:
You are able to construct a village with over a hundred different residents, so despite using the word "village" in the end it may end up feeling like a city anyway!
Build structures like the school, library, town hall, and more!
Provide your townsfolk with professions so they can earn a living! There is a variety of jobs to choose from between being a teacher, farmer, miner, or guard.
Level up your villagers through training and help them become more adept at their role in the village!
Get the mod HERE
4. Ancient Warfare 2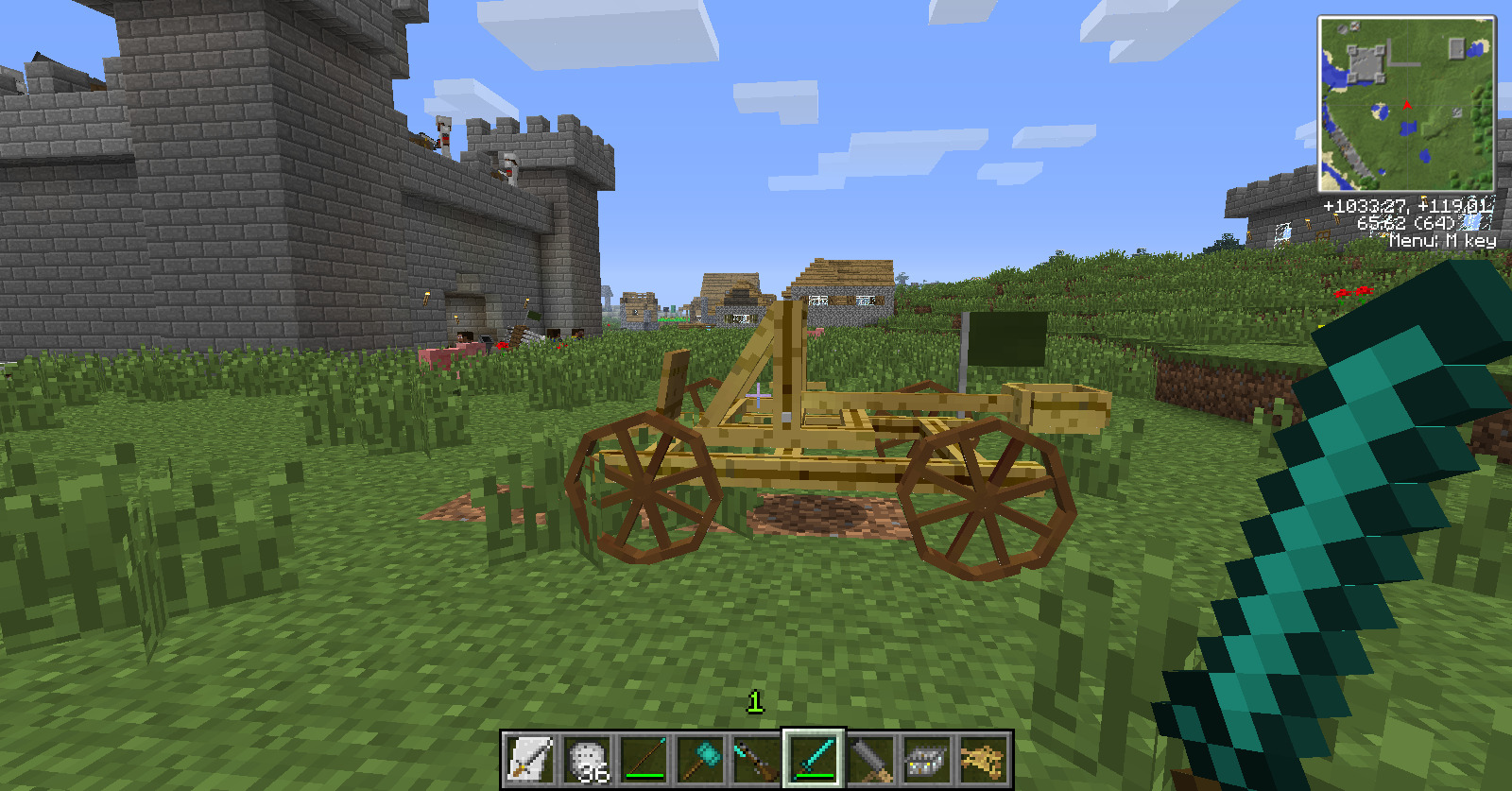 This mod provides unique equipment, like this catapult 
Ancient Warfare 2 is another mod that allows you to build and expand a settlement and lead it in whichever way you choose! Experience a variety of new game enhancements that you can not find anywhere in the base game.
How this mod makes the game more fun:
Build unique structures using template-based generation!
Make your life a little easier by utilizing their automation-friendly additions to the game. Create machines for automatic mining, tree farming, and more.
This mod adds its own NPC system that allows you to make the game come alive a bit. You can recruit these NPC for combat, or have them lead a regular life as a worker or trader.
Experiment with the various new vehicles Ancient Warfare 2 adds, like the boat and chest cart!
Get the mod HERE
3. Millénaire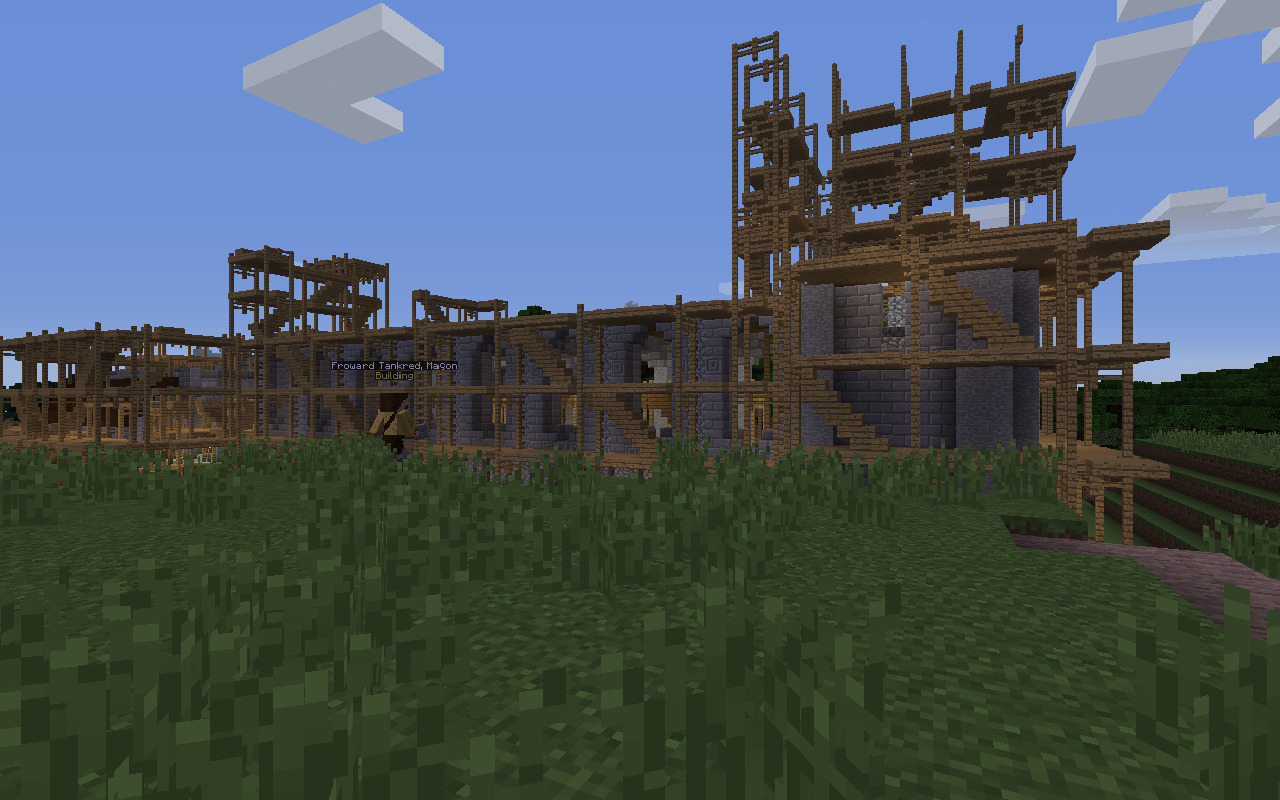 Test out this popular mod that many Minecraft users love!
This mod is more exploration oriented and encourages you to discover the pre-generated towns and villages in your world. While it may not be the modern city you're accustomed to seeing, this mod allows you to watch these settlements grow, upgrade, and evolve in a way that's completely unique to Minecraft.
How this mod makes the game more fun:
Each village you come across will begin rather small, and begin to grow as you trade with them! Trading with the villagers will prove to be useful to you as well as you collect rewards from them.
Each reward you receive will be custom to the culture of that specific settlement. For example, if you were to trade with a Japanese village they may provide you with stronger weapons!
These village NPCs are made up of men and women who will have children that eventually turn into adults to continue expanding the city.
Each villager has a set of tasks or a certain job. They may work on buildings, craft tools and weapons, or farm to continue the advancement of their homeland.
Get the mod HERE
2. Minecolonies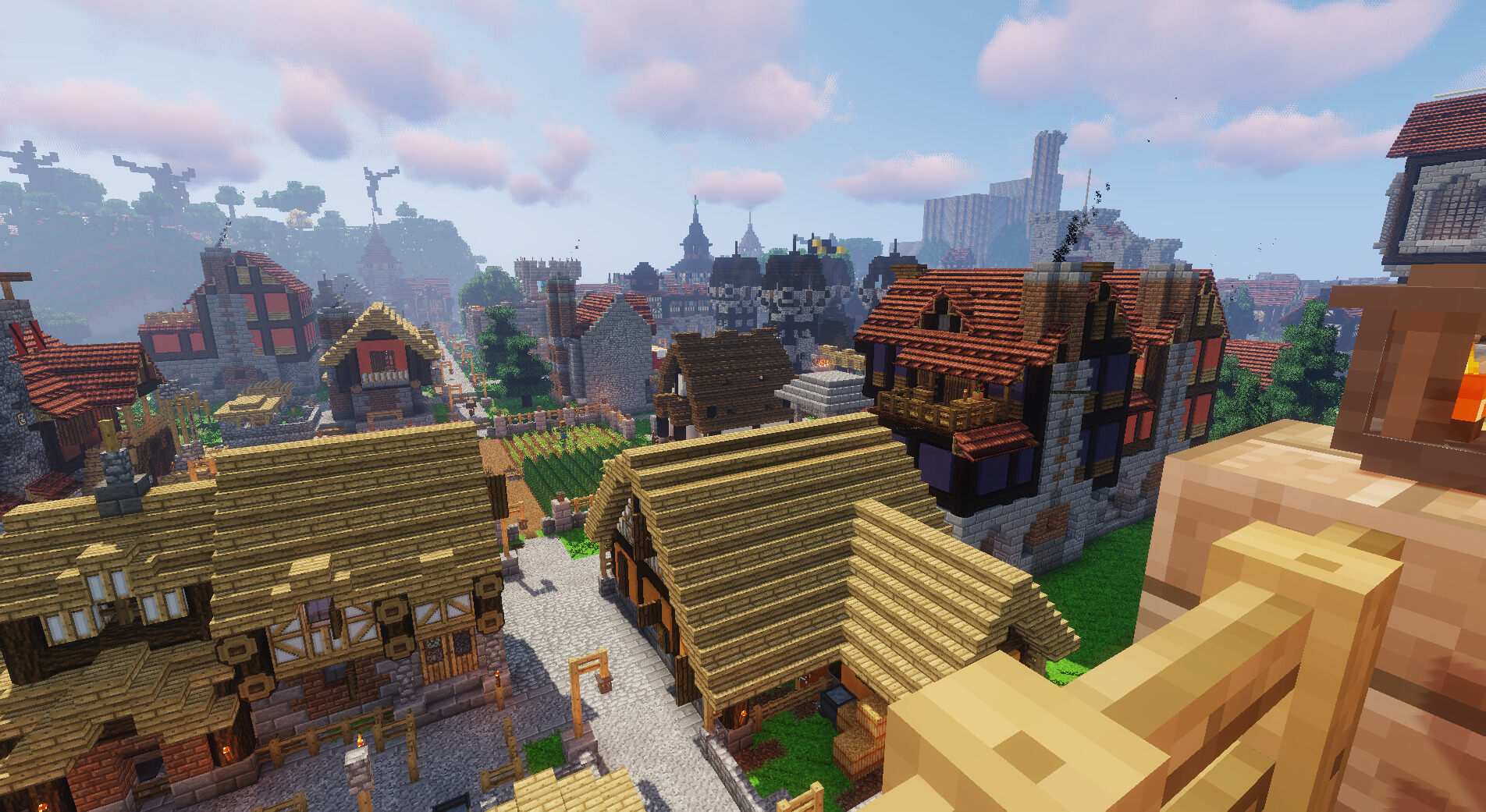 Develop a bustling utopia that you rule over!
The Minecolonies mod allows you to construct a small settlement to attract villagers, and continue to upgrade it using base game materials as you progress. Lead your colony and protect it from possible threats along the way!
How this mod makes the game more fun:
Choose from a variety of buildings to construct to expand your settlement. These structures start out small and can be upgraded to be larger and more impressive. The buildings include the tavern, barracks, bakery, restaurant, and more!
Look after your NPC residents that talk and can even get hungry! You can choose from a wide variety of jobs for them, like being a florist or blacksmith.
Minecolonies provides a border system that when infiltrated notifies you of possible enemies approaching.
This mod is fully functional in multiplayer and allows you and your friends to construct a colony together, or form competing colonies!
Get the mod HERE
1. The Lost Cities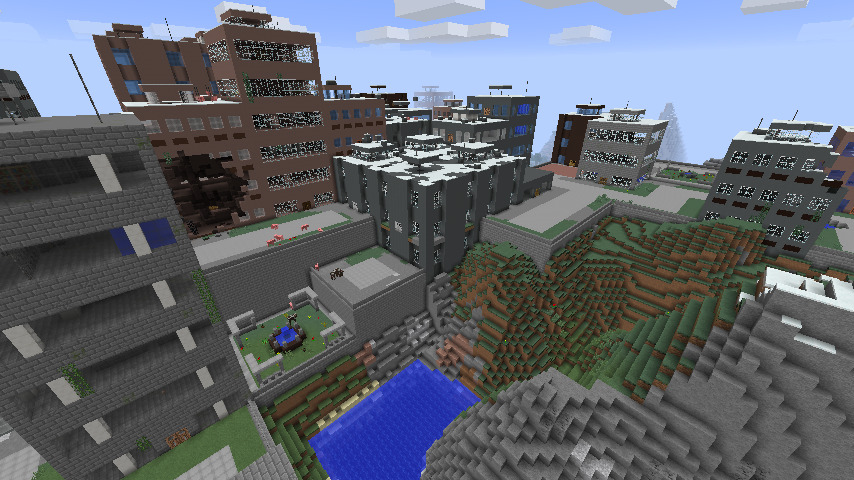 Enjoy pre-generated modern cities with this mod!
In this mod, you will explore and survive in an abandoned city that takes precedence over the entire natural overworld. It brings a different experience to those who are tired of the regular world generation of Minecraft and desire a new challenge.
How this mod makes the game more fun:
Explore the abundance of rundown buildings this mod has to offer and decide whether you will simply survive in them or if you will thrive! 
You no longer have to take the time to construct your own city when this mod provides one for you with no shortage of modern looking buildings and structures!
Venture underground to discover the tunnels and subway systems that snake underneath, complete with dungeons containing spawners and loot!
Utilize the customization settings the mod has to offer, like rarity or amount of buildings, to make your experience more tailored to you.
Get this mod HERE
You May Also Be Interested In:
Image Gallery