LoL Best Jhin Skins - All Jhin Skins Ranked Good To Best
Updated: 25 Apr 2020 10:22 pm
Original Jhin skin.
If you love mystery, psychological thriller, or crime, you will be fascinated by Jhin. Jhin is artistic, calm, polite, and extremely meticulous.
Jhin is also a psychopath who thinks of murder as a form of art. Once cast away in prison after being convicted of multiple gruesome murders, Jhin is now a secret assassin working behind the shadows for Ionia.
As he is now backed by the council, decked out with all the armor and weapons you could ever imagine, Jhin's 'performances' have been growing tremendously in scale.
As scary as this may sound, you can't help but be intrigued by Jhin. While he does not have very many skins, the ones that he does have are both creepy and cool.
Read on and see how you feel about them!
#5. SKT T1 Jhin (Good)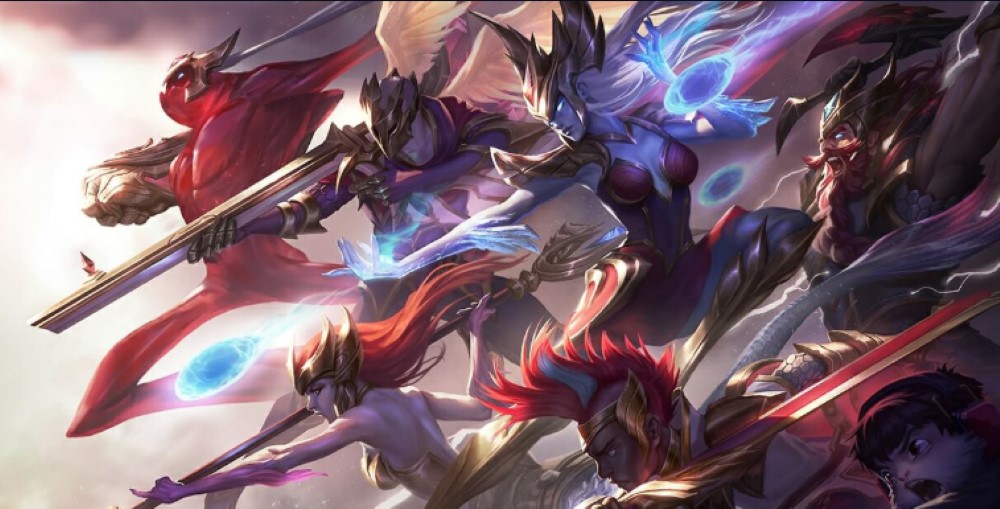 SKT T1 Jhin skin. 
Resembling an assembly of superheroes, Jhin and some other champions armored in red and gold are charging downwards to what seems like an exciting battle. While the splash art is artistic and the colors vibrant, it looks more like a group concept rather than a beautiful individual skin. Nevertheless, if you like superhero group concepts, you will love this one!
What makes this skin valiant:
SKT T1 Jhin charges with his gunslinger in hand, ready for combat. Although you can't see the details of his armor and outfit, you can make out the high-quality gold, suggesting he is fighting for a high-class council. 
In the splash art, you will notice Jhin's wings that are nowhere to be seen during gameplay except during Curtain Call. When using this skill, Jhin flutters his glowing wings elegantly, joyously dancing to his ultimate attack. 
The sound animations during gameplay are almost holy, which is a nice contrast between Jhin's actual personality and his image in this skin. 
How to get this skin:
Available during special events in the client shop for the price of 1350 RP.
#4. PROJECT: Jhin (Good)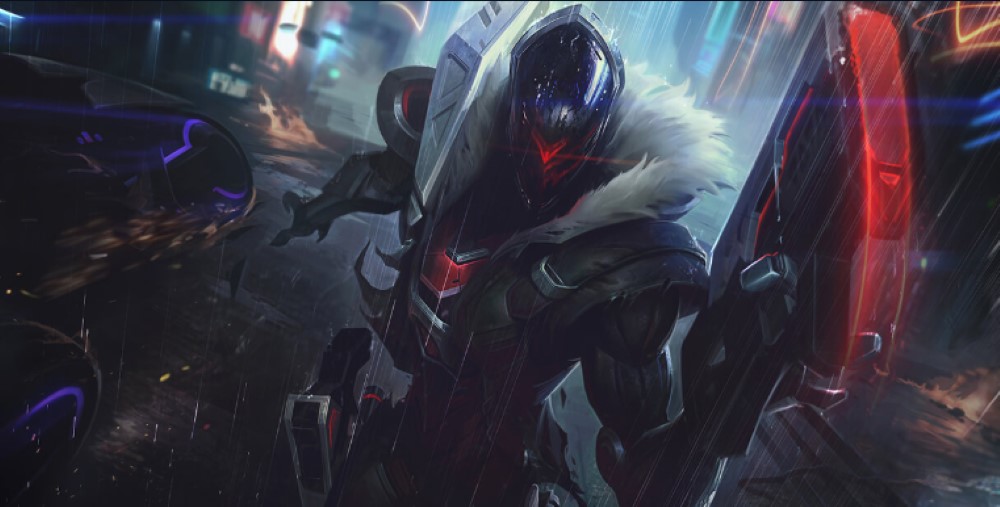 PROJECT: Jhin skin. 
This skin looks like a cool movie poster due to its advanced special effects and Jhin's action motion. The vibe is fitting for the PROJECT skin series concept, as it focuses on futuristic technology and modern attire. PROJECT: Jhin sort of reminds you of the terminator with his classy visor and sleek holographic weapon. This skin will make you feel like you are going into battle with class and style. 
What makes this skin cool:
PROJECT: Jhin's outfit is sleek and fitting for a future time point. The modern colors bring out Jhin's already artistic style. 
The bikes, the neon lights in the background, and the pouring rain all add to the movie factor of this skin. It looks like a scene from an action-packed movie!
While this skin is cool, you can't really get anything else out of it. Jhin's personality is not evident as he is hiding behind his hi-tech gear. 
How to get this skin:
Available in the client shop for the price of 1350 RP.
See PROJECT: Jhin in action!
#3. High Noon Jhin (Awesome)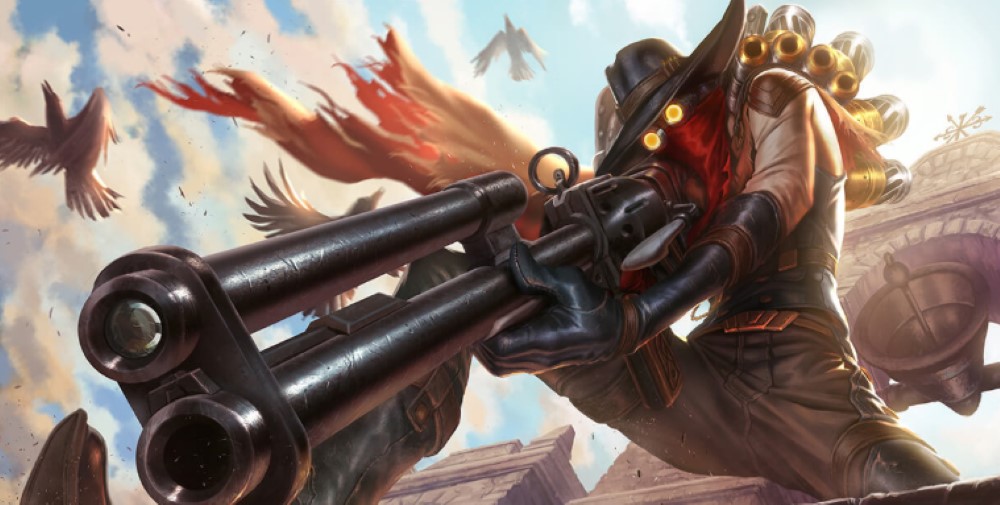 High Noon Jhin skin. 
Wild West films are classic and will always be a fun concept for anything from a movie to a game like League of Legends. High Noon Jhin is a nice twist to Jhin's usual creepy vibe but still maintains his quirky personality. You would not want to be caught out in the wild, wild west with Jhin! Or would you?
What makes this skin quirky: 
Jhin's overall posture in this skin adds nicely to his unusual personality. He seems to be focused on one thing, and whether it be a person or an animal, he is ready to shoot. It looks like he may also be hiding a sinister smile behind his bright red mask. 
The frantically flying birds and the church bell ringing in the background draw a nice picture of the setting of High Noon Jhin. 
High Noon Jhin's recall animation during gameplay is very entertaining. Jhin summons a table with vases and a mug on it and proceeds to shoot each vase and mug into pieces or onto the ground. He elegantly does this, much like how he likes to elegantly assassin people. 
How to get this skin:
Available in the client shop for the price of 1350 RP.
#2. Blood Moon Jhin (Awesome)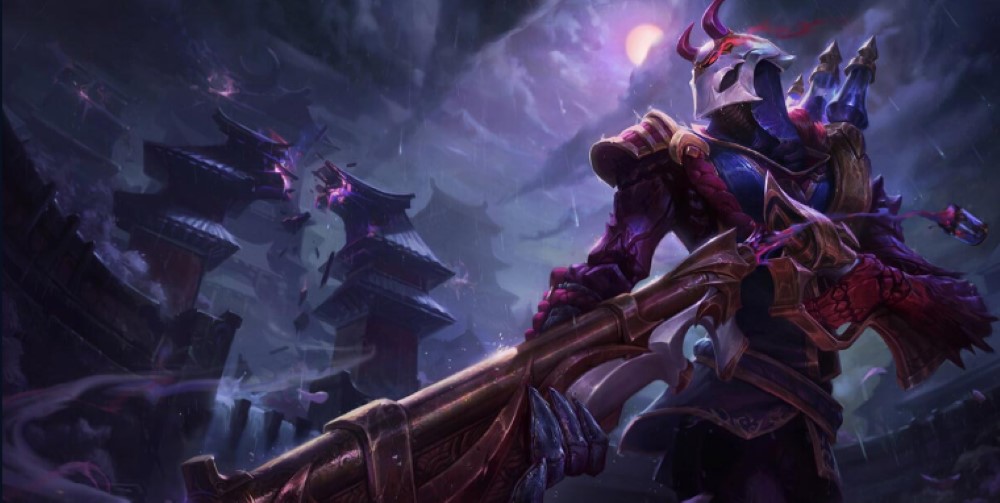 Blood Moon Jhin skin. 
The Blood Moon skin series always manages to bring about artistic skins that are both traditional and modern at the same time. In this skin, Jhin plays the role of a dark spirit wreaking havoc on an otherwise quiet and peaceful village. Blood Moon Jhin seems satisfied with the destruction he has caused, possibly hiding another smile behind his elaborate yet frightening mask. You can tell how sinister he is just by the single glowing red eye peeking out from behind his mask!
What makes this skin eerie:
You see a falling village in the background, as Blood Moon Jhin walks away from it with his huge golden rifle in hand. The scene is so fresh that you can still see smoke coming out of his rifle!
The design of Blood Moon Jhin is detailed traditionally, representing the classic Noh Theatre. 
The sounds you hear throughout gameplay are haunting but match the skin concept so well. 
Blood Moon Jhin's attacks during gameplay are simply amazing. The attacks leave behind a trail of ink that is red and blue. It seems that these ink strokes are supposed to resemble blood, probably from those that he had killed in the past. Brilliant visuals that are both intriguing and frightening.
How to get this skin:
Available in the client shop for the price of 1350 RP.
See Blood Moon Jhin in action!
#1. Dark Cosmic Jhin (Legendary)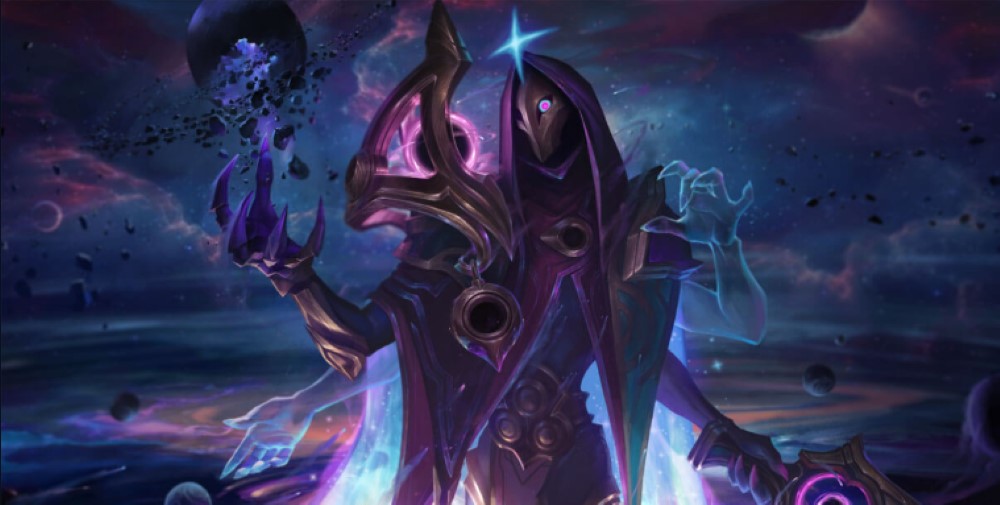 Dark Cosmic Jhin skin. 
Ever wondered what an evil yet cool overlord would look like? Look no further! Dark Cosmic Jhin features Jhin amidst what seems to be the whole universe at the palm of his hands. He seems to be deciding what to do with all the planets around him and has already managed to annihilate one into pieces. This skin screams doom and can very well provoke fear. If you love dark but cool skins, this one is for you!
What makes this skin breathtaking:
Dark Cosmic Jhin is breathtaking in two ways. On one hand, the colors and overall concept are amazing. The cosmic vibe is well displayed with the multiple planets floating around in the dark sky. On the other hand, Jhin is terrifying as he can do as he pleases with these planets. 
Jhin's eyes are especially creepy in this one. He seems to be staring right into your soul, judging every move you make. You don't want to mess with him!
Dark Cosmic Jhin's (R) skill is simply amazing. The colors are vibrant, maintaining the cosmic atmosphere with its galactic art. Jhin shoots far into the galaxy, destroying everything his bullets touch. 
How to get this skin:
Available in the client shop for the price of 1820 RP.
See Dark Cosmic Jhin in action!
You may also be interested in: 
Image Gallery