Genshin Impact: How To Fish
Updated: 29 Mar 2022 9:59 pm
Fishing is really funny but may be confusing, so we'll tell you how to do it perfectly!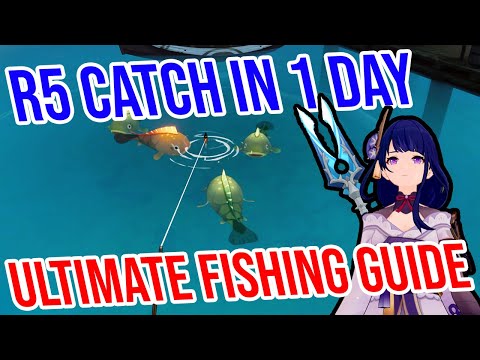 Why is it important to know how to do this?
Fishing is very important because you can get an exclusive weapon from this and an item to refine it! The weapon you can get is The Catch, an energy recharge polearm. You can also get new fishing rods that will make this job easier!
Remember, that you have to catch specific fish for each reward. For example, you need x20 Rusty Koi, x20 Golden Koi, and x6 Raimei Angelfish to get The Catch.
How to fish in Genshin Impact?
To get a fishing rod you have to reach AR 30 and complete the initial Serenitea Pot world quest. Once you have all of this, talk with Katheryne in Mondstat and will start a quest which is the fishing tutorial. Then, they'll give you a fishing rod.
To fish, you need a rod and bait in hand, find a fishing spot, and cast your line. Remember that each fish needs a certain bait.
Use the fishing button to keep the meter in the yellow box until you've caught the fish. Staying outside the box will eventually snap the line. You can get some Achievements if you do perfect caught or fail at them!
You May Also Be Interested In: