Fortnite Ninja: The Most Interesting Facts About Him
Updated: 09 Nov 2018 9:55 pm
Richard Tyler "Ninja" Blevins in the non-digital flesh.>
You know his alias, you've seen his moves, but what do you really know about one of the world's most prolific Twitch streamers? Have no fear though, gentle readers!  This cyber scroll of fast facts is as sharp and honed as a katana when it comes to this Fortnite all-star.
By the way, before we move on to the info, feast your faces on these extraordinary "Spider-Man" (Ninja's words) plays before the Fortnite development team realizes that a plunger grappling gun being able to latch onto pine trees may just be a tad unrealistic even for a game as fantastical as theirs:
Ninja Biography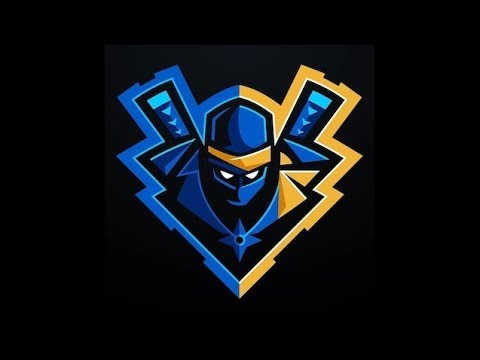 Ninja's logo has gone through several iterations. Once, with anime hair.
Name: Richard Tyler Blevins
Birth Date: June 5, 1991
Height: 1.72 meters/5'8 Feet
Weight: 70kg
Nationality: American
Relatives: Chuck Blevins (Father), Cynthia Blevins (Mother), Chris and John Blevins (Siblings).
Education: Grayslake High School (Illinois) and Silver Lake College (Manitowoc, Wisconsin)
Current Location: Chicago, Illinois
Personality: Committed, Giving, Polite, and Nostalgic for the Bungie-era Halo Games
Likes: Tom Hanks, Alyson Hannigan, Monochromatic Colors, Paris, Gaming, Football, Travelling
Favorite Food: Chinese & Italian Cuisine
Rank: 4,970 TRN (LEGEND Rank) with 4,074 wins
Favorite Skin: Wildcard (varies)
Fortnite Ninja Net Worth
$3,500,000. Earns over $500,000 a month from a mixture of sponsorships and Twitch subscriptions (which are $5 each and are split 50/50 between the website and the streamer)
Fortnite Ninja Girlfriend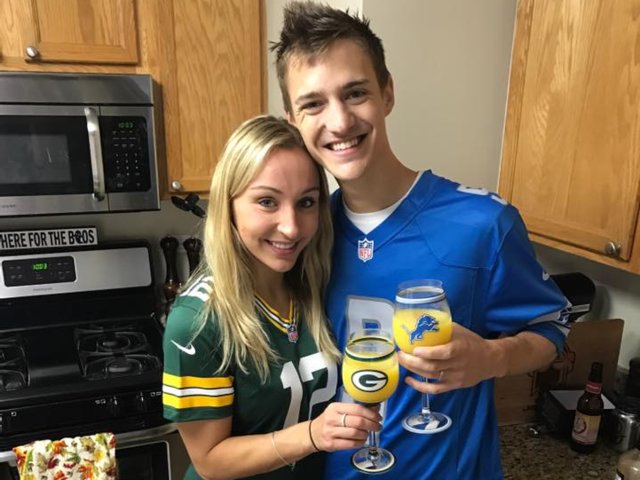 You can find their engagement video online and it is the sweetest thing.
Jessica Blevins née Goch (Married since August, 2017)
Born July 23, 1992 in Schofield, WI, Jessica met Blevins during the Focus Fire Halo tournament in Lacrosse during 2010 but their relationship wouldn't develop until 2013 when they reconnected on Twitter. After almost five years of dating, the two married one another. She is currently acting as the manager for his esports career while operating under her own Twitch alias, "JGhosty". However, while they do get along, they don't agree on everything; rather than Tom Hanks, Jessica's favorite actor is Tom CRUISE.
Fortnite Ninja eSports Journey
Ninja smolders before smoldering the competition.
Ever since his brother John brought home a copy of Halo: Combat Evolved for the very first X-Box, Richard has been an avid gamer. His love for that particular game and all the possibilities its vision and scale promised inspired him to play it professionally after high school. By 2009, all his hundreds of hours of practice paid off and over the next few years, he would join a number of top-notch eSports organizations including Cloud9, Renegades, and Team Liquid.
As the years and various iterations of Halo went on, Ninja only proceeded to get better and better through Halo 3, Halo: Reach, and then reaching his peak in these franchise fight-fests during the Halo 4 2012 MLG Fall Championship, where he and his team went home with the event's grand prize. Ultimately, as the Halo brand changed hands, Blevins became disenchanted with its latest offering in Halo 5, finding its more frenetic play style poetically alien from the gameplay formula that had initially enamored him.
Instead of retiring, Ninja decided to move on to other games while steadily building his personal online brand. He had all ready started making a name for himself in the streaming circles since 2011 on Justin.tv before moving on to Twitch.tv. Ninja proceeded to feature his playthroughs of H1Z1 and PlayerUnknown's Battlegrounds (PUBG) to keep his reflexes sharp and his profile visible. These efforts did not go unrewarded as his expertise managed to snag him a spot on Luminosity Gaming's roster of competitors to play H1Z1, PUBG, and yes, even some Halo on the pro circuit. No one, least of all Ninja, could anticipate that this trinity of competitive multiplayer brawls was preparing him for something bigger.
Fortnite's rebirth from fledgling fortress construction/defense mash-up to its wildly more successful Battle Royale self appeared fated to coincide with the skills Ninja had accrued during his affiliation with Luminosity Gaming. Fortnite's Battle Royale mode retaining the need to gather resources to build pathways and structures from the original game was akin to H1Z1's premium on material management and crafting mechanics. The new, high-flying, faster-paced Halo games that Ninja disliked but had to play for Luminosity gave him a taste of the hyperactive visceral clashes of the game his name would eventually be associated with. Lastly, there's PUBG's shrinking arena, randomized gear distributions, and skydiving player positioning that Fortnite heavily cribbed on (but that legal kudzu can be discussed another time).
With his polished mixture of experience and a solid fanbase on Twitch all ready supporting him, Ninja was in the perfect position to rise alongside Fortnite's own meteoric upsurge in popularity.  He began featuring his expert maneuvers in Fortnite on his streams in late 2017 and his followers exponentially increased soon after. Being one of the first major streamers of Fortnite's Battle Royale made him a celebrity to the free-to-play brawler's burgeoning legion of glamorous gladiators.
Ninja's fame reached the point that he became the go-to Fortnite guru for celebrities to team up with as they gave the game a try. Juju Smith-Shuster, Travis Scott, and even Aubrey "Drake" Graham reached out to Blevins to expand their image through co-op carnage while having tons of fun along the way. These collaborations proved mutually advantageous and as of this writing, Ninja has over 11 million Twitch subscribers with his various videos having been seen over 260 million times collectively.
Ever the humanitarian, Ninja often hosts fundraising charity streams to donate money to the American Foundation for Suicide Prevention, Alzheimer's Association, and #Clips4Kids to name a few.  After winning the Fornite Pro-Am tournament of June 2018, he and his partner Marshmello donated $1,000,000 to those in need.
Ninja has gone on to affiliate himself with various events related to Fortnite like the Fortnite Battle Royal eSports gathering in April 2018 and most recently, the "Red Bull Rise Till Dawn" challenge in Chicago, Illinois. However, while he adores the game, he's always on the lookout for Fortnite's successor (if it should ever manifest) to ensure that like any shinobi worth his throwing stars, he's always on the cutting edge.
Fortnite Ninja Teams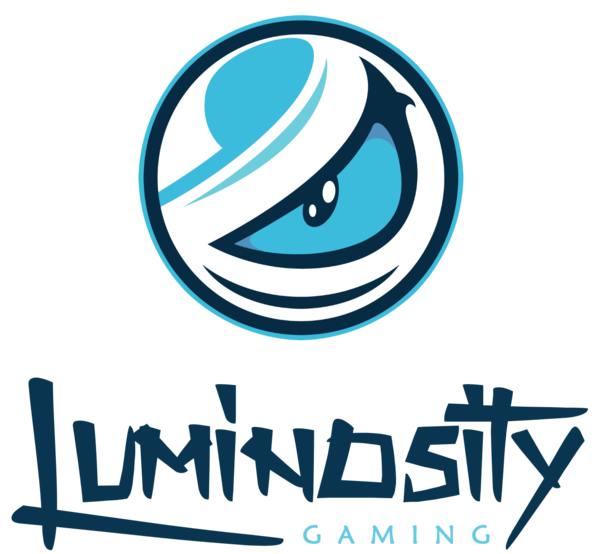 Ninja's current benefactor, Luminosity Gaming.
Mar 2011- Apr 2011        UoR Invictus
May 2011 - Jun 2011       Final Boss
Jun 2011 - Nov 2011       Turning Point
Mar 2012 - Apr 2012       Str8 Rippin
Aug 2012 - Aug 2012      Gimme My Money
Oct 2012 - Oct 2012        Elite Four
Nov 2012 - Jun 2013       Warriors
Mar 2013 - Mar 2013       Team Vibe
Jul 2013 - Jul 2013          Requiem
Nov 2014 - Nov 2014      The Agency
Nov 2014 - Mar 2015      Cloud9
Mar 2015 - Apr 2015       Noble Black
May 2015 - Jan 2016      Team Liquid
Jan 2016 - Jul 2016        Renegades
Jul 2016 - Aug 2016       Cloud9
Aug 2016 - Nov 2016     Evil Geniuses
Jan 2017 - Present         Luminosity Gaming
Notable Feats
Varies. Ninja enjoys keeping things fresh with various tactics. Sometimes he employs straightforward run-and-gun maneuvers, other times he'll go for a more exotic approach like setting up spike traps or sticky bomb points in the most contested parts of the map. Currently, he is having a blast with the new grapple gun item.
Redbull recently compiled a list of 7 of his most phenomenal plays circa June 2018:
https://www.redbull.com/us-en/tyler-ninja-blevins-best-ever-plays-moments
Fortnite Ninja Scandals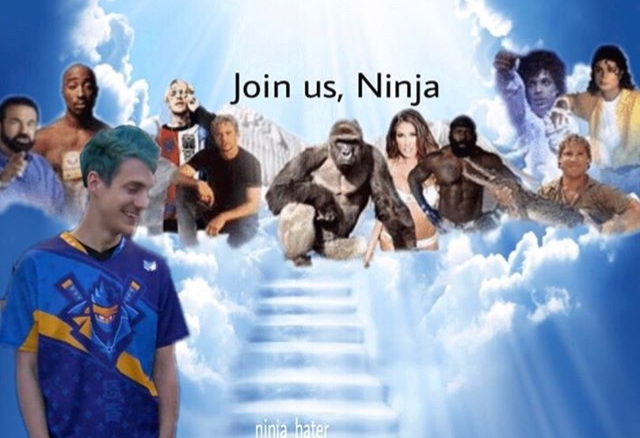 The Meme Afterlife: Heaven for Most.
The "N" in Ninja
Ninja used the infamous racial expletive beginning with "N" as he was singing along to musical juggernaut Logic's hit single "44 More" during a stream. Though Blevins apologized the following morning, he wasn't fast enough to stop a number of his fans from getting angry at him for saying it and a roughly equal number of fans getting angry at those fans for what they saw as an innocent faux-pas. Incidentally, you can listen to 44 More and other songs by Logic on his latest album, Bobby Tarantino II. Now in stores digital and physical.
The July 2018 Death Hoax
Richard Tyler Blevins dying of Ligma disease on July 16, 2018 was a huge shock to the gaming community. Particularly to Tyler himself. Instagram troll, Ninja_Hater worked with the r/Ligma subreddit of reddit.com to circulate false information that the beloved Twitch personality had perished of Ligma. As in, if you're curious, "Ligma B*lls." Not a good way to go. Adding to the authenticity of the prank was its propagation during one of Tyler's regular breaks from streaming that few knew about.
Streamer? I Married 'Er!
To allay potential rumors of infidelity and the harassment that would result towards both himself and his wife, Blevins told pop culture website Polygon that he has a strict policy against streaming with female gamers during an interview on August 14, 2018. Ironically, this caused an entirely different kind of scandal to bubble up as he was subsequently accused of being a sexist/misogynist/general bigot by several livid parties. Blevins stressed his reasons further and said that he's always looking forward to playing with all sorts of players from all across the gender spectrum provided that all parties involved understand that the camaraderie is strictly platonic.
Fortnite Ninja Gear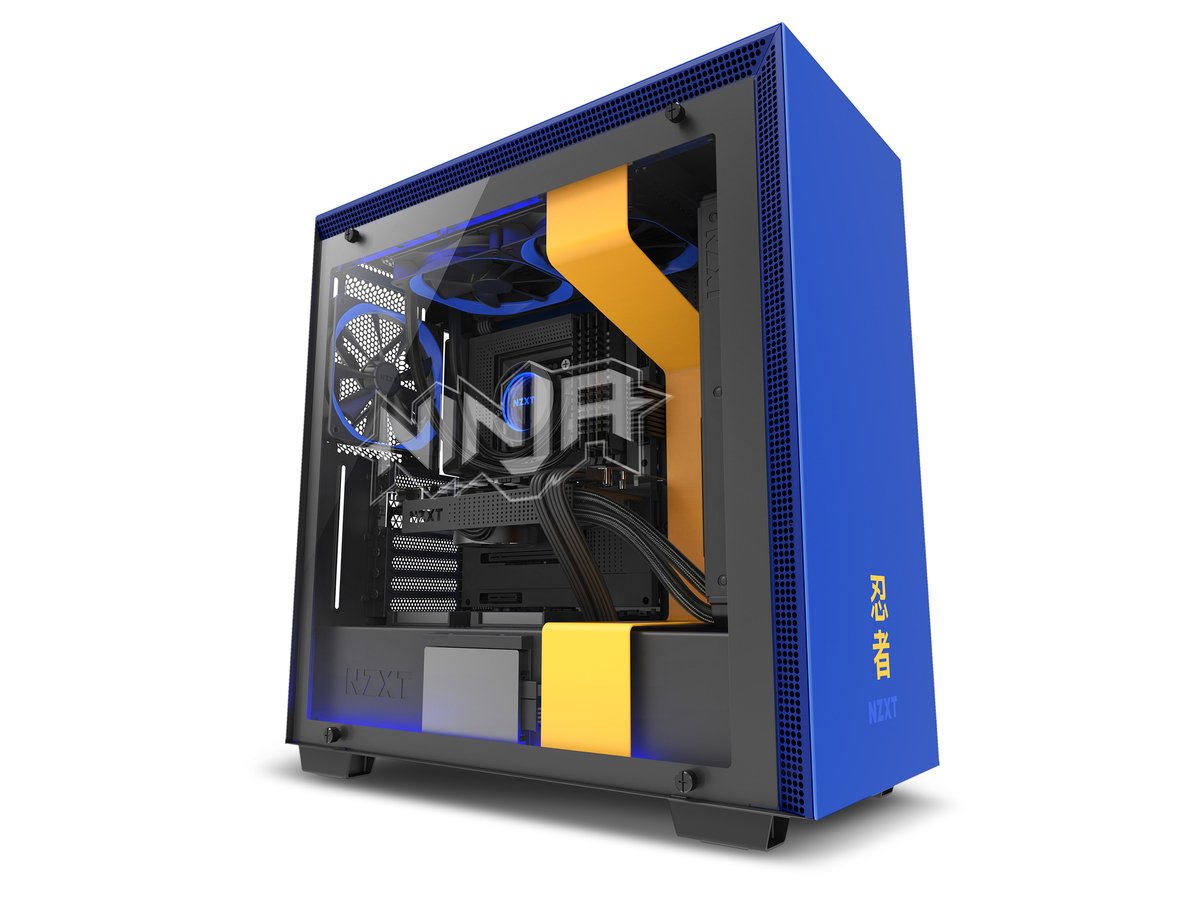 Just looking at this rig makes my laptop screen weep with envy.
"Ninja's Build" constructed in collaboration with NZXT
-$200 H700i by NZXT (Ninja Branded)
-$250 NZXT N7 Z370 Motherboard
-$350 Intel Core i7 8700K CPU
-$200 NZXT Kraken X72 Water Cooling System
-$80 (3) 120mm NZXT AER RGB Fans
-$35 140mm NZXT AER RGB Fan
-$380 32GB G.Skill Trident Z RGB RAM
-$780 SC2 Model of the GTX 1080Ti by EVGA Graphics Card
-$480 Alienware 25 Gaming Monitor (240Hz Refresh Rate)
-$300 (2) 1-terabyte Samsung 960 Evo M.2 SSD Storage
-$100 (4) 4-terabyte BarraCuda Hard Drives from Seagate
-$104 Seasonic Focus Plus Gold Power Supply
-$60 Logitech 502 Proteus Spectrum Mouse
-$85 Logitech G610 Orion Red with CherryMX Red Switches Keyboard
-$180 Beyerdynamic DT990 Pro Headphones
Fortnite Ninja Interviews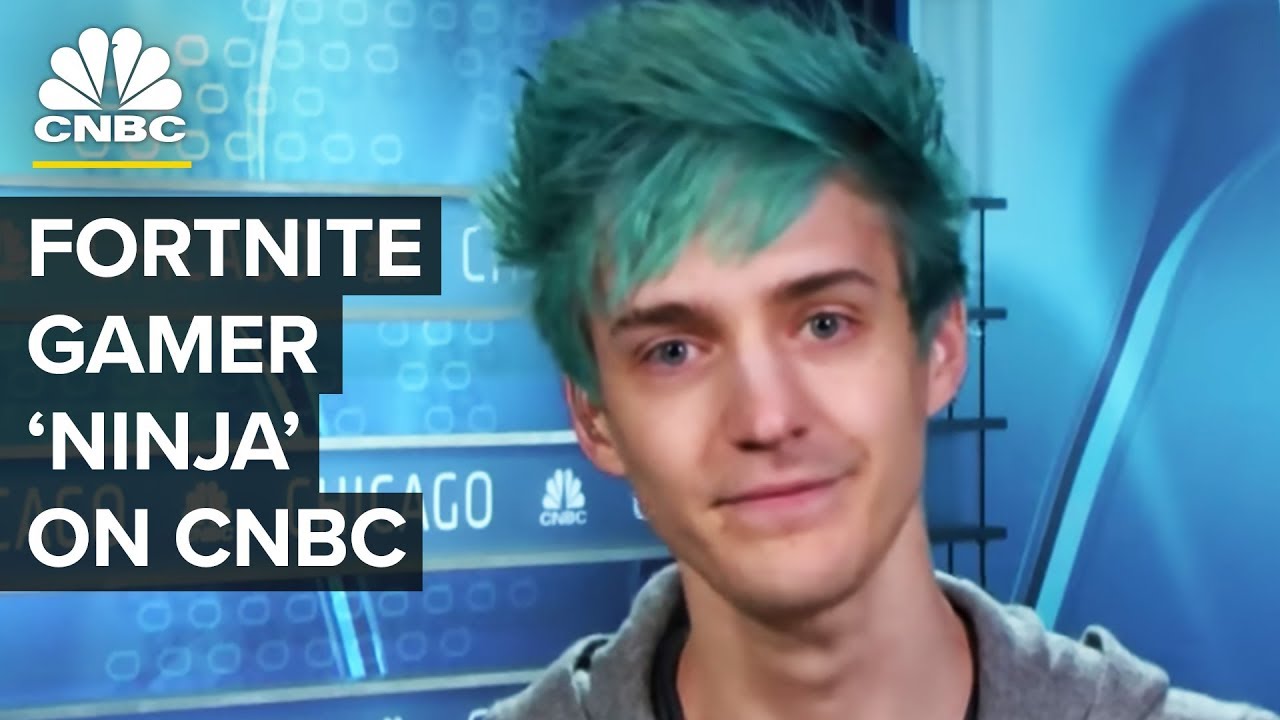 Ninja's hair has traversed the rainbow both online and on-air.
ESPN: Interview with Ninja on his success in Fortnite, stigma of gamers (August 24, 2018)
CNBC: Tyler 'Ninja' Blevins Talks Fortnite, Making Money On Twitch And More (March 19, 2018)
The Story of Tyler Blevins A.K.A Ninja (February 28, 2018)
Fortnite Ninja Social Profiles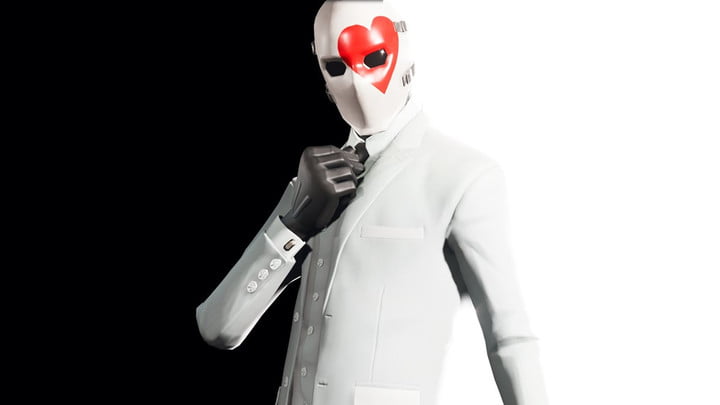 Wildcard, Ninja's latest favorite skin with four different playing card suit masks to choose from.
You may also be interested in:
Image Gallery