[Top 25] Fortnite Best PC Settings That Give You An Advantage
Updated: 19 Oct 2021 9:50 pm
Do not worry guys, Jonesy has everything under control
Make your game runs faster and better with these settings.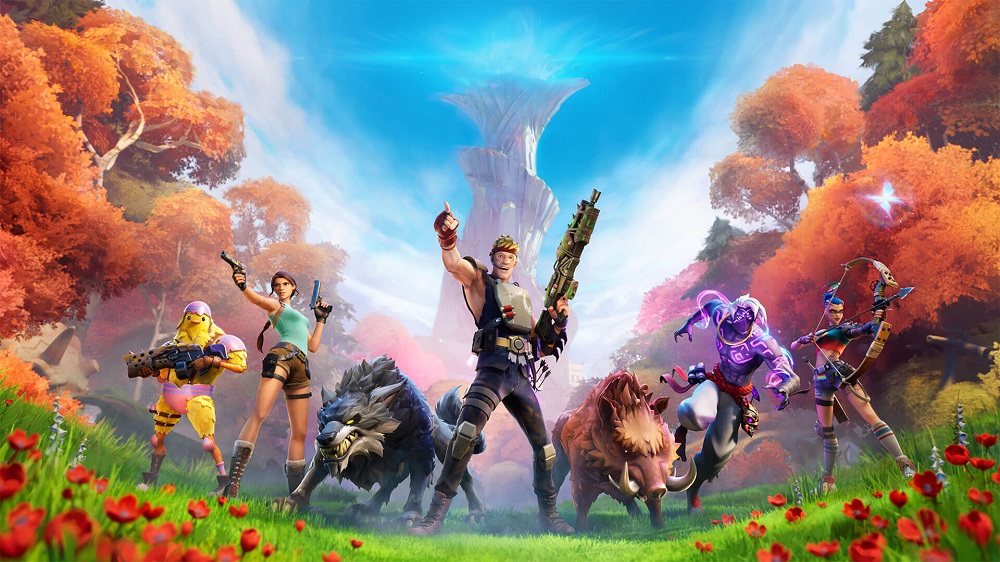 Jonesy and the Primal army - Fortnite season 6
Too much lag, low fps, textures do not load, ping is too high, I cannot build, cannot aim… These are just a few of the problems gamers are facing every day. Is there a solution to this? The answer is yes, and we are here to help.
While pro gamers have everything already figured out, those playing just for fun, especially those just starting, still need certain tweaks and settings to enjoy this game to the fullest.
Fortnite is not just a regular shooter game and requires many skills like building, farming, looting, speed, and making quick decisions.
Before you get into the game, first you need to set up your PC.
25. Setting Up Your PC
Primarily, make sure your PC is optimized for gaming before entering the game. Setting it up to performance mode will do the trick for you.
24. Full-Screen Mode
Problem: By changing the option to windows full-screen or windowed mode, you will get a higher input lag and lower FPS, and that is something we don't want when playing online games.
Solution: Always play in Full-screen mode for the best experience. 
23. Game Resolution
We leave this to the player to decide what is best for him/her.
Usually, the native 1980 x 1080 resolution is what we want. However, for those who play on low-end PCs, it may need some tweaking.
Try reducing the resolution to 1600 x 900 or even 1280 x 720. It all depends on the performance of your PC. You will receive fewer pixels, but less input lag, and higher FPS. 
22. Frame Rate Limit
Well, this is the "fun" part.
Problem: We often make mistakes when choosing the Frame Rate Limit in the game settings. Everyone wants the highest possible FPS, although the PC and graphics card cannot support it.
Solution: Before setting your Frame Rate Limit, check the monitor's refresh rate and then set it one level above.
If your monitor's refresh rate is 60 Hz, set your Frame Rate Limit to 120 FPS.
If your monitor's refresh rate is 144 Hz, set your Frame Rate Limit to 160 FPS.
You get the point…
21. Graphic Quality
This is the part where players decide what their game looks like visually. However, the difference is that we first have to decide if we are playing because of the graphics, or if we want to improve and progress in the game. If we decided on the second option, then it is easy. Do not be confused by the many options, just reduce them all to low, and 3D settings to 100%.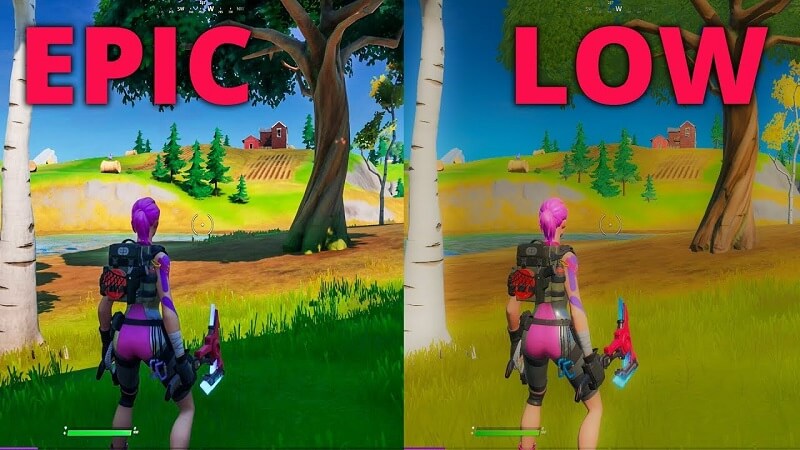 Graphics setting: High                             Graphics setting: Low    
With epic settings, you get graphic details, but less FPS.
With low graphic settings, you get smooth gameplay and since Fortnite is a cartoonish game, you will still enjoy the visual aspects of the game while trying to improve your performance.
20. Advanced Graphics
A few tweaks were made during the new chapter when it comes to advanced graphics settings, boosting performance versus the graphics quality. Here is how you can improve your gameplay by making the game run smoother.
Vsync OFF
Motion Blur OFF
Allow multithread rendering mode ON
19. Rendering Mode
One of the biggest changes lately. You can choose between three settings. 
DirectX 11 (default)
DirectX 12 (Beta)
Performance (Alpha)
Performance mode is what we are looking for. Competitive players use this setting, which gives them a smoother game during tournaments.
Of course, this too comes with its pros and cons since this article is not about competitive players, but for the ordinary ones who just want to get better at this game.
Pros: You will be able to run on higher frame rates on more PCs with less capable hardware
Cons: Significantly reduces visual quality.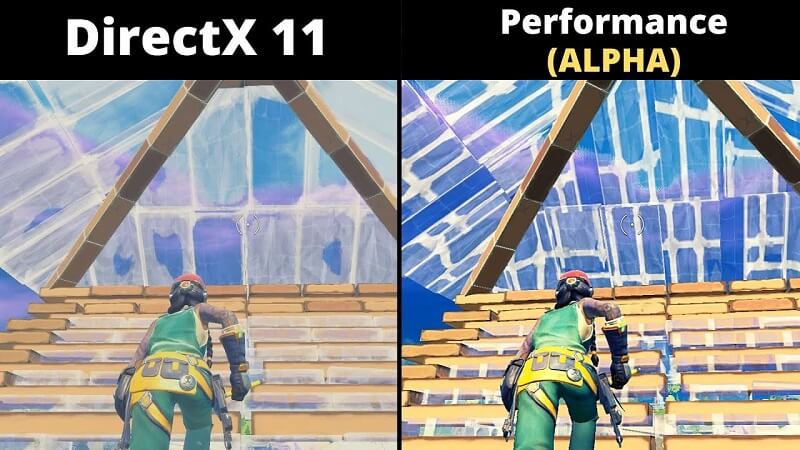 DirectX 11 vs. Performance Alpha 
18. Multithread Rendering
Multithreaded rendering splits drawing work across multiple threads and can improve performance on CPUs with multiple cores.
If your PC is running on four cores processor or higher, you will want to enable this feature to reduce CPU usage on your PC, because Fortnite, as it turns out, is quite demanding on CPU power. Anything below that would cause hitching and lower FPS and should be turned OFF.
You can find out how many cores your CPU has by going to Task Manager and selecting the Performance tab.
17. NVIDIA Reflex Low Latency
Another novelty in the second chapter of Fortnite.
As the title suggests, you need to own an NVIDIA graphics card to use this feature, which aims to reduce system latency in GPU-bound scenarios.  You can choose from three scenarios 
OFF
ON
ON + BOOST (Recommended)
That would be pretty much everything in terms of video settings.
Let us find out what are the best tweaks in terms of in-game settings (movement, building, keyboard bindings presets …)
16. Sprint by Default
Fortnite is a battle royal that moves quite fast, so you do not have time to walk through the map. Everything ends in a maximum of twenty minutes. You are constantly on the move, running away from the storm.
That is why you want the Sprint by default option ON.
If you need to crouch or walk, do it with the already specified keybinds.
15. Turbo Building Always ON
Imagine being in a build battle and your opponent is constantly spraying your walls. You will certainly not be able to out-click him fast enough to repel his attacks.
This is where turbo building comes in handy to get the job done for you, and should always be set to ON.
14. Mouse Sensitivity and Keyboard Binding Presets
The main rule here is that there is no rule when it comes to selecting which keybinds and mouse sensitivity are best for you.
We are all using different equipment, which already has different performances.
 
Fortnite has a great Creative mode where you can set and adjust everything you need from scratch to be the best in the game.
Don't be afraid to research for hours until you get the desired results.
13. Audio Settings
One of those things that are not too important, but essential for a successful game. 
Problem: Many times we find ourselves in a situation where we cannot hear which side the opponent is coming from and before we manage to react, we are sent back to the lobby.
There are few things you can do to make the game sounds better.
Solution:
Sound Quality -  HIGH
3D Headphones - ON (if you're using stereo headphones, you can hear the sounds around you more precisely)
Visualize Sound Effects - when ON, you will see the visual radial indicator for some sounds.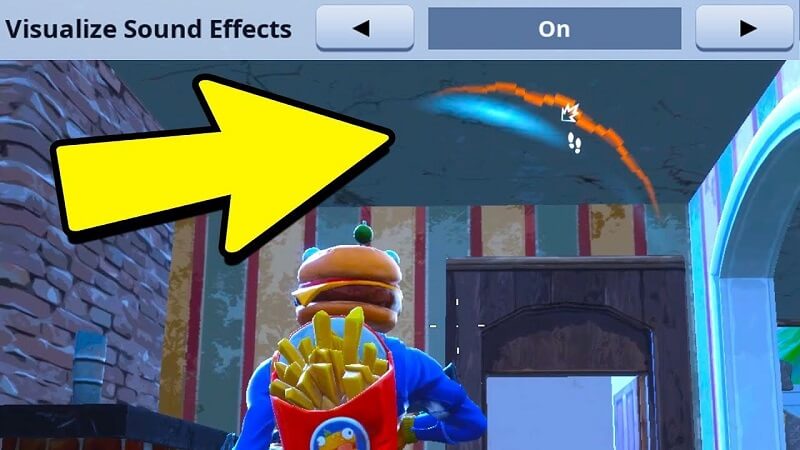 Visualization of the sound effects in Fortnite
12. Game Modes
The game comes in several modes. Explore and decide which is best for you. Choose between Solo, Duos, Trios, Squads, Arena, Creative, and LTM's such as Team Rumble and Community Creations.
11. Creative Mode (Always Practice)
This time we are not talking about a classic setting that would improve the performance of your PC, but it will improve you as a player.
Do not be stuck in the game, admiring pro gamers thinking that you can never reach their level. Practice at least half an hour a day in Creative Mode. Practice your builds, aim, and movement, call a friend and practice build battles. In a short time, you will be surprised by how advanced you have become.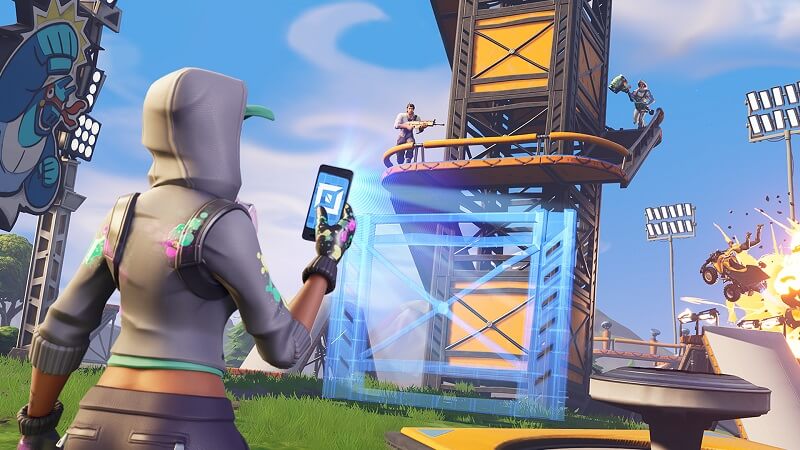 Fortnite Creative
Here are some additional tips for setting up your PC.
10. Game Mode ON
As we mentioned at the beginning, setting up the PC is more than necessary if gaming is the primary goal. Windows 10 comes with several tools that help with optimization and are very easy to use and do not require much knowledge in that area.
The first thing you want to do is setting the Game Mode to ON.
How to find game mode?
Go to Settings / Gaming / Game Mode
Tick the On button
When Game Mode is ON, Windows optimizes your PC for play.
9. Update Your Graphics Card Driver
It is always important to use the latest driver for your graphics card. Hardware developers work closely with game developers, so you would not want to miss anything that would improve the performance of your favorite game.
8. Verify if Your PC Meets the Systems Requirements
Check if your PC meets the system requirements.
Fortnite can be quite demanding in terms of performance, and you have to know what awaits you before you start that adventure.
Minimum system requirements for Fortnite
Windows 7/8/10 64-bit 
Core i3 2.4 GHz processor
4GB of system RAM
Intel HD 4000 video card
Recommended System Requirements
Core i5 2.8 GHz processor
8GB of system RAM
Nvidia GTX 660 or AMD Radeon HD 7870 equivalent DX11 GPU
2 GB VRAM
Fortnite can run on an older generation of processors as long as you meet most of the other requirements. However, it all depends on the purpose of playing the game, just for fun or competition.
7. Clean Your PC
Fortnite is one of the few online games that gets its updates almost weekly. For this, you need enough space on your computer. Delete all unnecessary programs and applications that drain the RAM from your PC running in the background.
Settings / Apps / Apps and Features
6. Delete Temporary Files
It is advisable to clean Temporary files from your pc at least once every few weeks. Windows cleans them by default once every few months, but it would be nice to do it manually over some time.
In the search box type in: %temp% and click enter. Select all the files in that folder and click Delete.
Click on Settings / System / Storage / Temporary Files.
5. Turn off Background Apps
Another little secret when it comes to setting up and boosting your PC performance. We need that extra CPU power for gaming, right?
Click Settings / Privacy / Background Apps and uncheck the on/off button
This way you can disable all unnecessary applications that boot with Windows, running in the background using a significant amount of RAM and CPU power.
4. Power Settings
Start by typing "Power Settings" into the Windows search bar
Select "Power & Sleep Settings"
Underneath "Related Settings", select "Additional Power Settings"
By default, Windows is set to a Balanced plan, but for gaming, we recommend changing it to High-Performance.
3. Close All Apps While Playing Fortnite
While playing Fortnite, you don't want anything else working in the background, let alone a browser like Google Chrome known as the RAM killer.
Right-click on the taskbar, choose Task Manager, and look closely in the process tab and end task to all the applications that are running beside the game.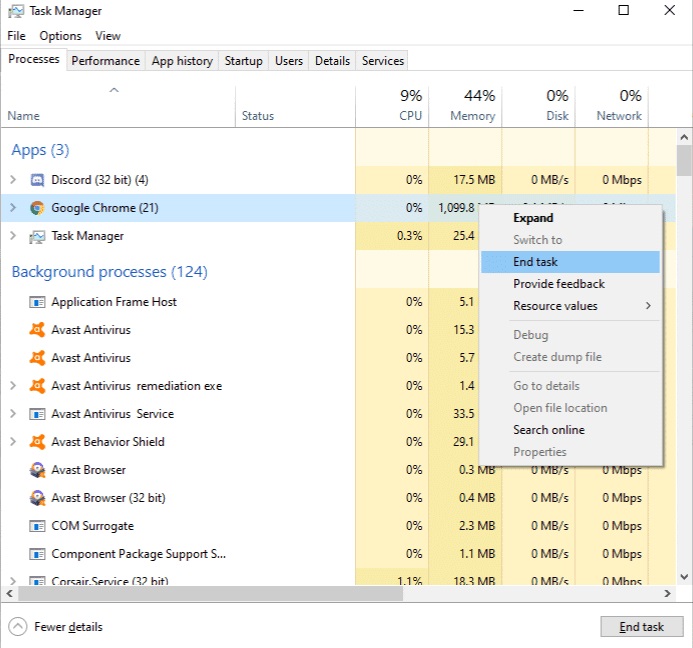 Close all apps that use too many resources from your PC
Conclusion: Forget about anything else running at the same time on the PC while playing Fortnite! 
2. Check Your Ping
This is for sure one of the biggest nightmares of every gamer. You can have the best PC configuration in the world. You can be the best player in the world and you did everything we suggested above, but all in vain if you have a high ping while playing Fortnite.
You should check your internet before you even want to start playing online. Believe me, it is that important. Otherwise, you will blame the game without even knowing you may have a weak internet connection.
1. Wired Connections
We will not play smart much about this topic, we will just say that when it comes to online gaming "always use a wired connection".
I hope this helped those who are still struggling to optimize the game, something that is seriously hindering their progress. However, this post is primarily for those ordinary gamers who do this just for fun.
You may also be interested in:
Image Gallery