Top 5 The Outer Worlds Best Armor and How To Get Them
Updated: 03 Apr 2020 6:39 pm
I have a closet full of these armors
Top 5 The Outer Worlds Best armor and how to get them
5. Chimaera ( Best for Speech builds)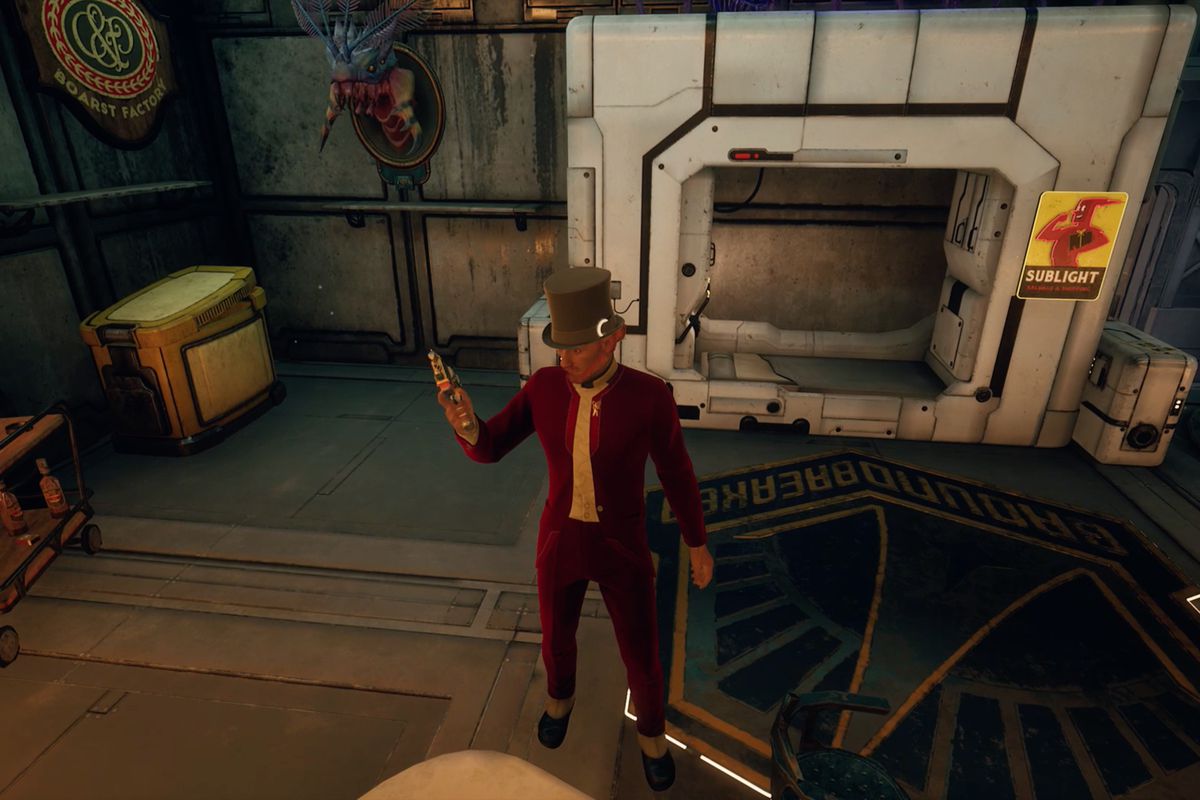 Chimaera is an original piece done by fashion designer Celeste Jolicoeur, made with raptidon flank, mantiqueen chitin, and primal leather.
Chimaera stats:
+10 points into dialogue 

Armor rating of 53
Weighs 1 lb
What Chimaera excels in: 
The +10 dialogue is really good for speech-related builds
Topped with A Nice Hat can grant you the achievement well dressed
How to get Chimaera:
Begin companion quest for Parvati
When you get to Byzantium Parvati's quest "Don't Bite the Sun" will lead you to Celeste
Make sure to complete Parvati's quest before starting the "Makes Space Suits, Won't Travel" quest
Talk to Celeste to continue with Parvati quest then continue to talk to get the quest "Makes Space Suits, Won't Travel."
Quest is in three parts first part involves collecting and wearing 3 different outfits
On the groundbreaker go to Ike's armory in the back and get Mark 7 cranial protector
Outside of Edgewater take out some Marauders for their outfits
On monarch within the Iconoclast faction there is a vendor that sells the iconoclast outfit
The second part of the quest after wearing the outfits and talking to celeste is to get raptidon flank, Mantiqueen Chitin, and Primal leather 2 of which can be found on steller bay sold by Sabastian Adam's wildlife emporium
To get primal leather go to Scylla and hunt primals you will need 10 leather
Last part of the quest involves picking up a package and bringing it back to Celeste
When you return Celeste will be dead and the only thing left is to get her key to unlock the door and on the desk will be Chimaera
YouTube Video Guide: 
4. Sublight VP Armor (best for Speech builds)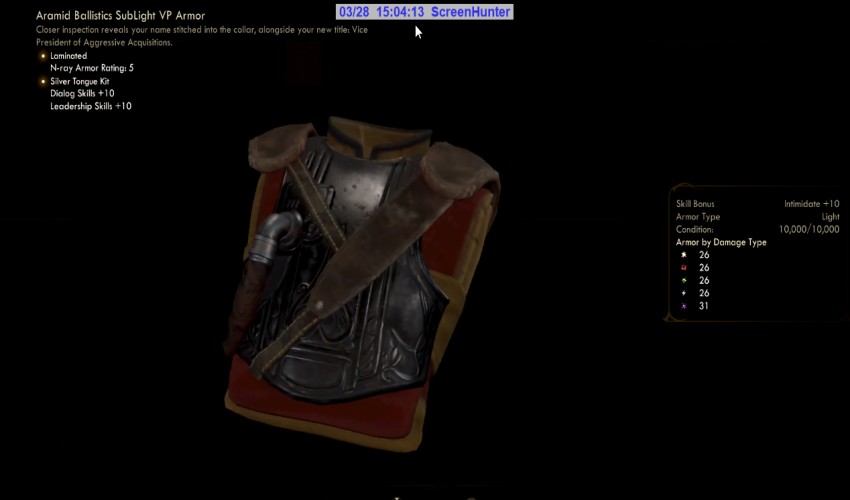 Your name becomes stitched into the collar along with the title: Vice President of Aggressive Acquisitions. 
Sublight VP Armor Stats:
+10 skill bonus to intimidate
26 armor rating
Weighs 3 lbs
What Sublight VP Armor excels in:
 adding a slight boost to intimidation making anyone do as you wish
How to get  Sublight VP Armor:
Go to the Groundbreaker speak with Lilya Hagen and get the quest "Chimerist's Last Experiment
Go to Byzantium and enter Dr. Chartrand's home
Kill Dr. Chartrand and return back to Lilya Hagen to get the Sublight VP Armor as a reward
Youtube Video Guide: 
Start Video At: 4:25 
3. Iconoclast Apostle Helmet (best for melee builds)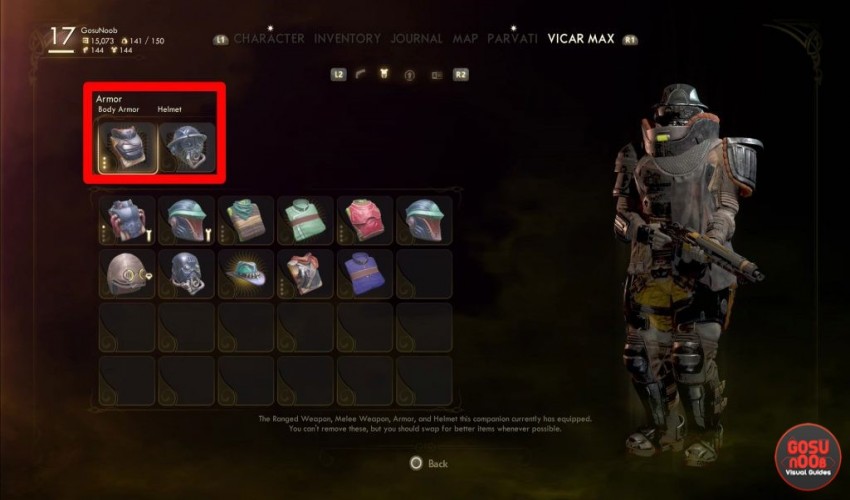 Iconoclasts repurposed this heavy suit and made it into lumbering but protective armor.
Iconoclast Apostle Helmet Stats:
+5 skill bonus to melee weapons 
Armor rating of 34
Weighs 5 lbs
What the Iconoclast Apostle Helmet excels in:
Improved melee 
Protection from the elements
How to get Iconoclast Apostle Helmet:
Go to amber heights in the monarch wilderness 
Find Graham Bryant and receive the quest "pay for the printer"
After completing the quest as a reward you will get the Iconoclast Apostle Helmet
Youtube Video Guide: 
Start Video At: 3:58
2. Sublight Contractor Helm (best for survival)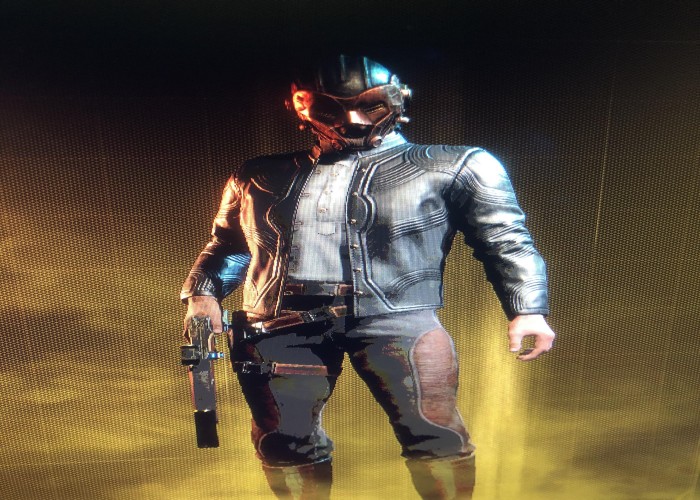 Lightweight spacer's helmet, full coverage for moderate protection
Sublight Contractor Helm Stats:
Skill Bonus: +25% damage to creatures
Armor rating of 18
Weighs 18 lbs
Sublight Contractor Helm excels in:
Moderate protection
Extra damage to creatures
How to get Sublight Contractor Helm:
Speak to Catherine Malin in Stellar Bay and get the quest Slaughterhouse Clive
Either kill Clive or convince him to join you and go speak to Catherine to get the Sublight Contractor Helm
YouTube Video Guide: 
1.  MSI Elite Armor (best for ranged builds)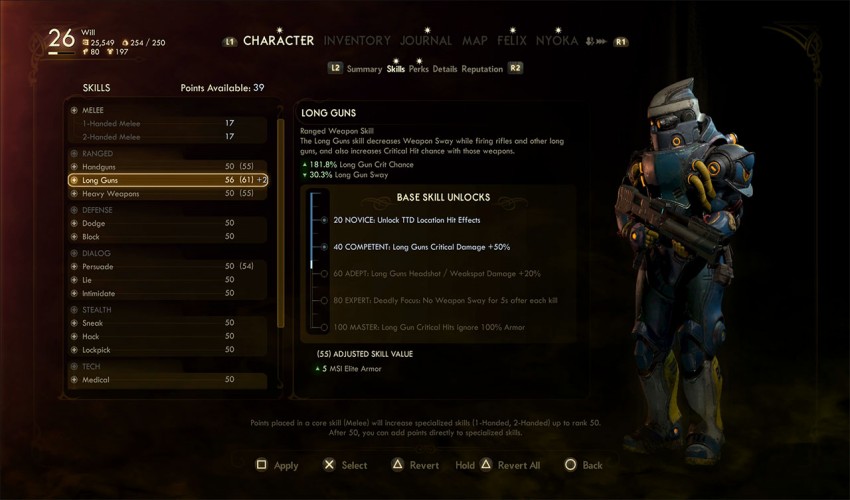 Customized heavy armor donned by MSI's Saltuna Elite.
MSI Elite Armor Stats:
Skill Bonus: Ranged weapon skills +5
Armor rating of 39
Weighs: 5 lbs
What MSI Elite Armor Excels in:
Heavy armor protection
Great for ranged weapons
How to get MSI Elite Armor:
Speak with Sanjar Nandi to Start Faction Quest "Errors Unseen" complete the quest to get the MSI Elite Armor as a reward.
Youtube Video Guide: 
Start Video At: 10:47
Image Gallery