The Outer Worlds' Best Attributes And What To Invest In
Updated: 07 Mar 2022 10:44 pm
Make the best character possible with this guide
The Outer Worlds has, like most RPG's before it, a skill system to which you assign skill points every time you level up. This is not what we will be discussing today. Instead we will look at what your starting abilities are based on and something that is, along with the skill system, a foundational part of any RPG: The attribute system. The Outer Worlds has six attributes separated into three pairs under the headings Body, Mind and Personality. Looking at those three headings the attributes might seem obvious, but let's just go through them quickly so we're all on the same page. In the Body group we have Strength and Dexterity. In Mind we have Intelligence and Perception. And In Personality we have Charm and Temperament. One other thing of note. When you hover over each skill during character creation, it will show a list of skills that are affected by this attribute. For example, a high Charm attribute gives a bonus to most Dialog skills, so keep this in mind. In this article we're going to cover which attributes affect which skills, and which attributes you should focus on depending on which skills you are planning to use.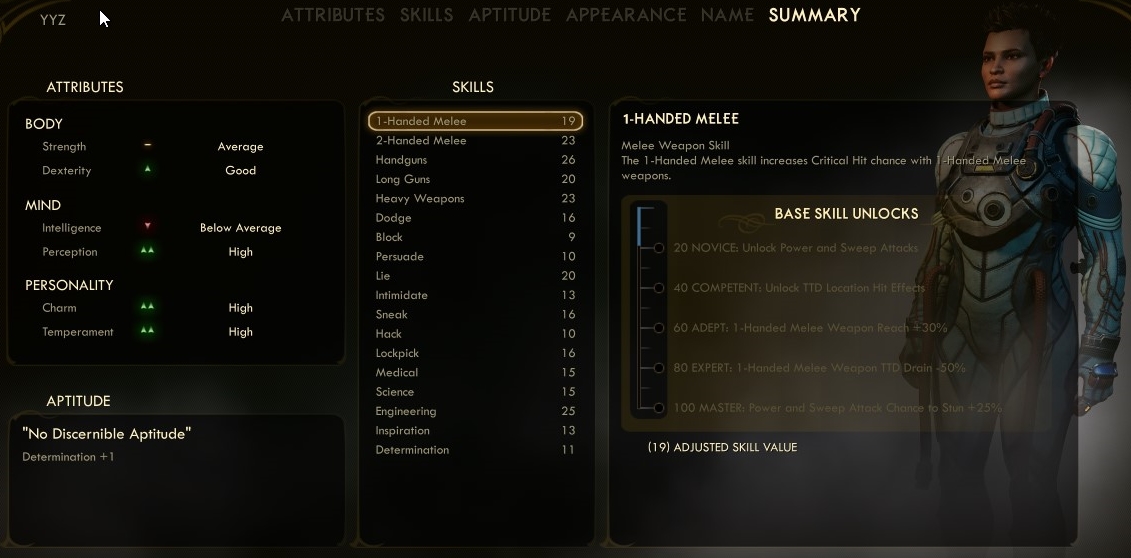 An example character sheet, completed during character creation.
A few things to keep in mind. Like most RPGs the values you give these attributes are permanent and can not be changed when you gain a level. Another thing is that if the attributes are high enough (or in one notable case, low enough), they can appear as options in conversation similar to your other dialogue skills. One special case hinted at before is your Intelligence attribute, but we will discuss that when we get to that attribute. So to quote Phineas Welles: Let's get started.
Strength
According to the description during character creation, Strength affects melee weapon damage and carry-weight. It also affects your starting hit points. This attribute is the first choice for those who are planning to make a close-combat specialist since it boosts most of the skills that a melee character would find important, namely one and two-handed melee, as well as the Block skill. Characters who are planning to use heavy weapons should also think about keeping this attribute at it's starting level or adding at least one point to it, since it also adds to the Heavy Weapons skill.
Get this attribute if:
You are planning to make a melee character.
You want to carry a lot of stuff.
You plan to wear heavy armour.
You are going to use heavy weapons.
Affects the following skills:
1-Handed Melee
2-Handed Melee
Heavy Weapons
Block
Inspiration
Intimidation
Dexterity
The description for this attribute says it affects melee attack speed and ranged weapon reload speed, which it does. This is, in a way, misleading though since these things are not really noticeable unless you dump all your starting points into this one attribute. Even then you might not see a difference. What does make this skill important though is the fact that it gives a boost to your melee and melee-adjacent skills such as Dodge and Block. It is also useful for those who are planning to make a sneaky character since it adds a boost to the Sneak and Lockpick skills.
Get this attribute if:
You want to protect your melee character even more.
You are making a sneaky thief or assassin type character.
Affects the following skills:
1-Handed Melee
Handguns
Dodge
Block
Sneak
Lockpick
Intelligence
The game says that this skill affects critical hit bonus damage, which is important if you are planning to make a sniper or similar type character where the first shot is the one that either takes out the target or does the most damage. Intelligence however, is also important for other reasons. As hinted at earlier, if you lower this skill enough you will essentially play a 'dumb' character. In other words you will, for all intents and purposes, be unable to speak coherently during conversations with NPCs. Intelligence also affects skills such as Hack and Science, which in turn affect how easily you can access computers and do damage with plasma weapons, respectively.
Get this attribute if:
You are planning to try a dumb playthrough.
You want to have an easier time convincing people to do something.
You are planning a Sniper build.
Affects the following skills:
Long Guns
Persuade
Hack
Medical
Science
Determination 
Perception
Perception affects headshot and Weak Spot damage along with a whole host of other skills, most of them related to shooting things. This would be the primary attribute to sink points into if you are planning a Sniper or long range specialist build. Also, since this skill affects your starting level with the Lockpick skill, if you couple this with a relatively high Intelligence as well, you should be able to get into most places you shouldn't.
Get this attribute if:
You are planning a ranged character.
You want to have an easier time unlocking doors.
Affects the following skills:
Handguns
Long Guns
Heavy Weapons
Dodge
Lockpick
Engineering
Charm
This attribute affects Faction reputation and companion ability cooldown. In other words it affects how quickly you gain and lose reputation with a given faction. As for companion ability cooldown. Every companion who can join you has a special attack that you can activate. This attribute affects how often you can use it during fights. Given the name of this attribute, it also primarily affects skills related to talking and various other forms of communication with other people, like Lie and Intimidate.
Get this attribute if:
Your character wants to be especially good at talking.
You are planning to rely on your companions a lot more.
Affects the following skills:
Persuade
Lie
Intimidate
Hack
Science
Inspiration 
Temperament
This attribute affects your natural health regeneration. This is the health you recover out of combat, scaled to your level. But it also affects a wide variety of skills from 2-Handed Melee, to Determination, which is a skill that affects some critical things regarding your party members, like how much health they have, so this attribute along with Charm mentioned earlier, might be worth considering if you think you might end up relying on your party members a lot more.
Get this attribute if:
You want to have party members who can take a beating.
You want to shore up some skills that you're short on.
You think your base health regeneration is too low.
Affects the following skills:
2-Handed Melee
Lie
Sneak
Medical
Engineering
Determination
 Hopefully this article has been helpful and given you some ideas on the kind of character you would like to make. Remember though, as far as skills go, the attributes only affect how much you start with. Of course this can sometimes be the difference between maxing out the skill or not. Also keep in mind that if these attributes are high enough, they can be used as conversation options. Good luck and farewell.
You may also be interested in:
Image Gallery