[Top 5] Genshin Impact Best Teams
Updated: 15 May 2021 10:23 am
Trying to mix and match the best combination of 29 characters into 5 groups is totally not a hard thing to do. After all, there are only 118,755 probabilities.
As Genshin Impact offers you 29 playable characters as of ver. 1.3., it's going to be hard to tell which combinations are the best ones as they all have different skills and roles. Sometimes you want to have the most effective combo; at others, you just really want to roam around destroying monsters with your favorite characters even if they might not be as strong. Trust me, I'd know.
Fortunately, with a four characters party, it is completely up to you how you're going to set them up. 
Whether you're going to fill them with characters full of elemental skills, or if you're going to bring in characters who hit hard and get the work done within seconds. Or maybe you just want to feast your eyes and bring the ones you like best. You are absolutely free to do whatever you want.
So how am I supposed to choose which combinations make the best teams? Why are they the best, anyway? This is basically me setting myself up, but I'll try my best.
Here's my Top 5 Genshin Impact Best Teams; to each their own!
5. Best Exploration Team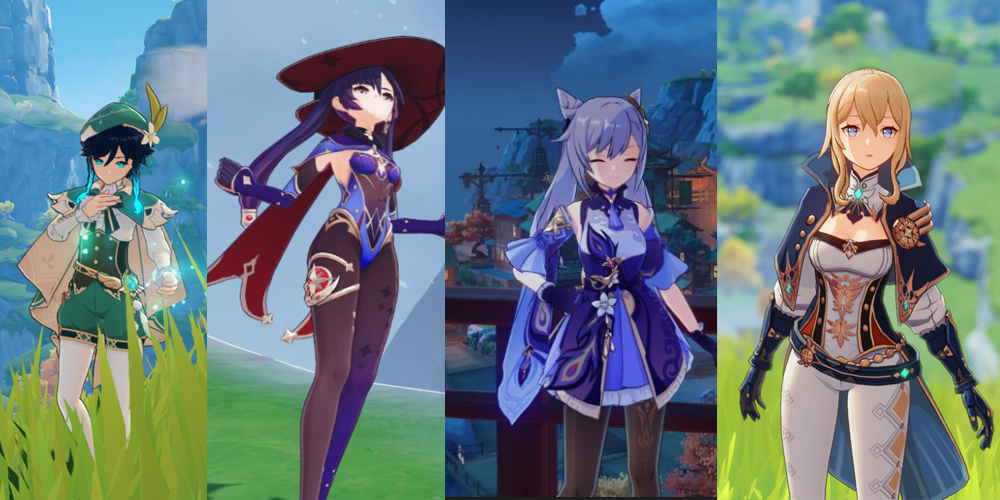 When you've got a free, open-world action game like Genshin Impact, exploring is inevitable. Keep in mind that the game is fairly new and currently there are only two regions open; Monstadt and Liyue (and Dragonspine in the middle).
That being said, once you have finished the World Quest in both regions, you're left doing daily commissions, farming materials, waiting for updates and events…and that's it. 
Eventually, you'll end up roaming around, trying to get that 100% mark on your map. Looking for hidden treasures, going through every nook and cranny, climbing here and there only to find out you're doing all that for a common chest. What fun.
The best team for this purpose would be Venti, Mona, Keqing, and Jean. 
It's pretty easy to explain why they are your best choice in exploring. With their Elemental Skills Venti can lift you up, Mona can glide on water, and Keqing can teleport. Exploring can't get any easier.
So why is Jean here, then? –because when you have two Anemo in a party, it would unlock the Elemental Resonance that increases your Movement SPD. And she's a healer; so that helps a lot.
The combo can't get any better than this if you're out for exploring. Whether you have to climb cliffs, get to the other side of the water, reach somewhere high, or fight enemies along the way; they're all there to make you explore efficiently. As if all these aren't enough, Venti's passive skill reduces gliding stamina by 20%.
Roles:
Venti – Utility
Mona – Sub DPS
Keqing – Main DPS
Jean – Utility
Why This Team Is Great:
The double Anemo activates an Elemental Resonance, not only your Movement SPD, but your Stamina Consumption is decreased by 15% and the Skill CD is shortened by 5%.
When you're climbing, getting an early start to save your stamina is helpful. You can change between Venti and Keqing's Elemental Skill for this while the other is on cooldown.
Mona's ability to glide on water means you don't have to waste your time swimming just to check what's on that little island on the other side of the water.
Sometimes you see treasure surrounded by air current in the middle of nowhere, which can be reached with Venti's own air current. So, no, you don't have to look for cliffs and fly down from far away for you to fall in the wrong place and repeat. All for a common chest.
Remembering they're all 5 stars, everyone deals a pretty big damage if you come across enemies during your trip; mobs or not.
4. Best Four-Starred Team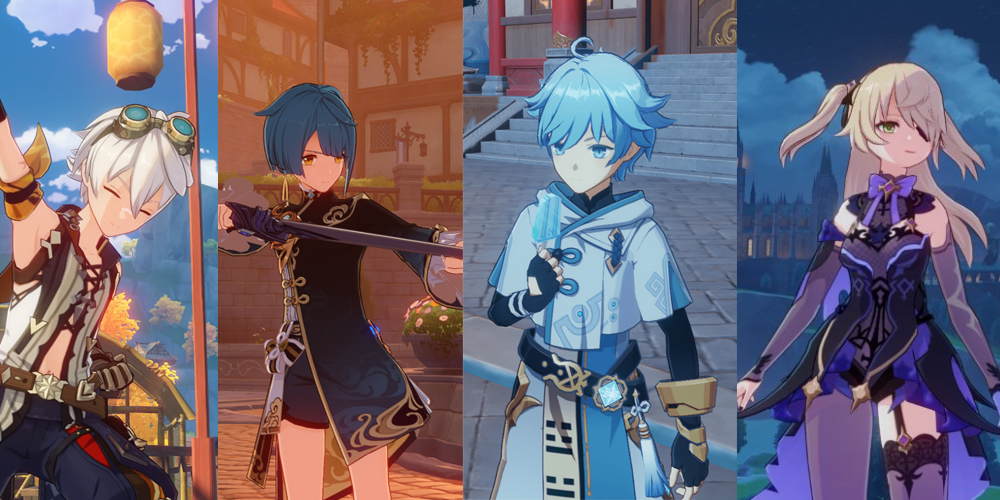 Some of us aren't luckier than others is not something that I want to experience playing this game. This team is dedicated to everyone who keeps on pulling the four-starred characters no matter in which banner. I relate on a spiritual level.
It's completely fine, though! Frankly, just because they are four-starred doesn't mean they aren't good characters; just a tad bit easier to pull. Honestly speaking, I had a massive crush on Xinyan that I kept on pulling Zhongli's banner to get her. 
From the many characters in the game, the best combination for an all four-starred team would be: Bennett, Xingqiu, and Chongyun, and Fischl. As they all hold different elements, it's a big plus point if you like to play with your elemental damage and want to trigger chained elemental reactions back-to-back.
You can use Fischl and Bennett interchangeably as the Main DPS. But out of the two, I'd say Bennett makes a better Main as you can just summon Oz through Fischl and then change to other characters while Oz assists.
With a Hydro, an Electro, a Pyro, and a Cryo, whichever elemental reactions you use would surely bring in massive damage in a battle. There are a variety of reactions you can trigger and whichever combo you wish to use wouldn't be any useless than the other.
This team is great whether you wish to fight in close-ranged battle or otherwise. With Fischl as an Archer and Oz on her side, an extra Electro DMG is guaranteed. On top of that, Bennett and Chongyun has a rather wide-ranged AoE DMG. In the middle of all this, Xingqiu's skill lasts for quite long which guarantees a Hydro element.
Roles:
Fischl – Sub DPS
Bennett – Main DPS
Xingqiu – Sub DPS
Chongyun – Sub DPS
Why This Team Is Great:
With both Bennett and Xingqiu, you get double healers even if their main roles aren't healers.
Bennett gives you extra ATK if your characters' HP is above 70% during his Elemental Burst which is supposed to heal.
You can fight from a distance or head-on. This team is great either way.
Technically, you have two Mains (Fischl and Bennett) if the other is on cooldown.
This team unlocks an Elemental Resonance that increases both Elemental and Physical RES by 15%.
3. Best Elemental Combo Team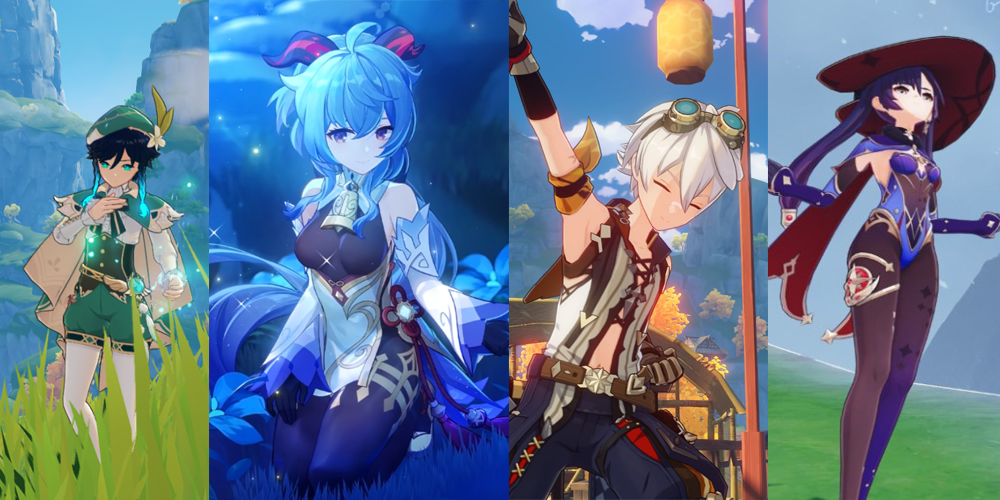 One of the most enjoyable things playing Genshin Impact is… the animation. Though, obviously, it comes with Elemental DMG. If you like playing Elemental and enjoy switching characters as you play, then the best combo possible for this would be: Venti, Ganyu, Bennett, and Mona. 
I know, they seem like they all fight from a distance. But there's a reason why this is the best Elemental Combo Team, right?
As the main DPS, Mona is the center of this party and everyone is there to complement her element. But that doesn't mean the rest is less important or can simply be switched with the others.
Arguably, everyone except Bennett probably deals the biggest damage in each of their elements. That being said, when put together for an elemental reaction, it would deal a massive DMG wherever they go. 
Each of their Elemental Burst complement each other very well. While Mona's would deal an insane amount of damage, Bennett's backs it up as a buff, Venti's stuns, and Ganyu's skills can taunt and trigger frozen reactions.
Bennett, though does not deal DMG as big as Diluc, helps as a Pyro and a healer. His Elemental Burst heals characters within a certain range, which would instead buff the ATK when their HP is above 70%. Plus, he's easier to pull than Diluc. Furthermore, Pyro reacts well with every element in this party.
Roles:
Venti – Utility
Mona – sub DPS
Ganyu – Main DPS
Bennett – sub DPS
Why This Team Is Great:
Elemental Reactions! Chained ones! Damage party!
You can use each of them as a main in case you don't feel like changing characters.
This team lets you fight from a pretty safe distance from the enemies.
Plus, Mona and Ganyu's Crowd Control ability makes it even easier to attack the enemies from afar.
If you enjoy strategic play instead of a one hit damage, this team is also good to go!
2. Best DPS Team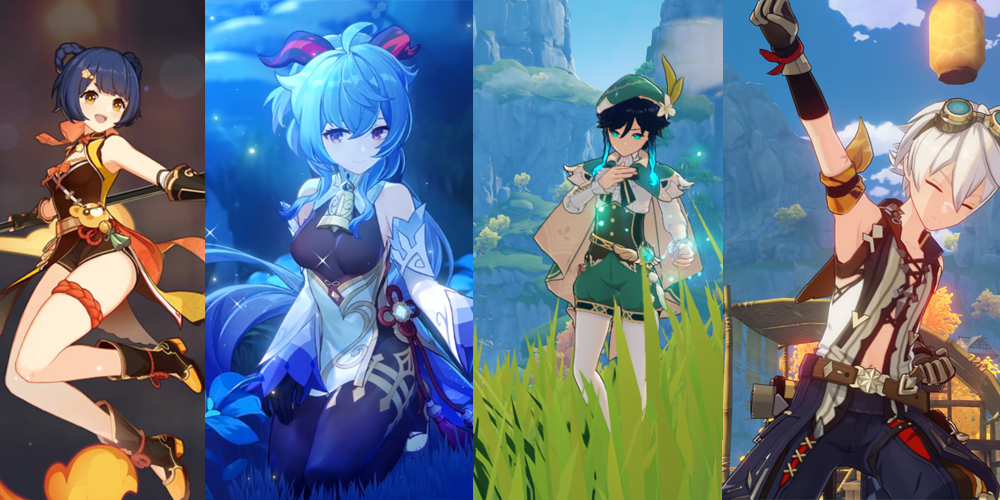 Now, at the end of the day, I understand that people play Genshin Impact to fight. It's the action that brings out the thrills of the game. Combining 4 characters that would bring the best DMG in a fight is particularly hard to do.
This one might be controversial (like any other day on the Internet), and I definitely thought of mentioning Diluc here because: DMG. But, at the end, I think  he's an obvious mention and there is another combination that works well even without him: Xiangling, Ganyu, Venti, and Bennett. Please don't curse me just yet.
As one of the newest additions to the five-starred characters, Ganyu quickly made her way up on the best DPS ladder. Not only her Elemental Skill and Elemental Burst, her charged attack might as well be the highlight of this team.
The best combination for this team happens when their Elemental Bursts is filled. As Bennett's and Venti's Elemental Bursts are activated (or even if it's just one of them), Ganyu's charged attack would trigger the Melt reaction over and over again. 
So, why Xiangling? As her Elemental Burst brings forth flames dancing around the character, this would directly affect Ganyu's Elemental Burst, which summons hails. As the enemies are hit with her ice, Xiangling's fire would trigger the Melt reaction continuously until the duration ends.
The fight might probably be done first before the Elemental Bursts do.
Roles:
Xiangling – sub DPS
Bennett – sub DPS
Ganyu – main DPS
Venti – sub DPS
Why This Team Is Great:
Venti's ability to stun the enemies and Ganyu's Crowd Control ability is the perfect match; bringing in enemies to one side and then blast them not long after.
Bennett provides extra ATK with his Elemental Burst, in the case your HP is over 70%.
Ganyu's charged attack doesn't have a cooldown; just Stamina Consumption, which is considerably faster to wait for.
On top of Venti's Elemental Burst and Ganyu's Elemental Skill, Xiangling's Guoba can be summoned to shoot flames before taking off to hit the enemies with either Ganyu's or Venti's charged attack.
1. Best Overall Team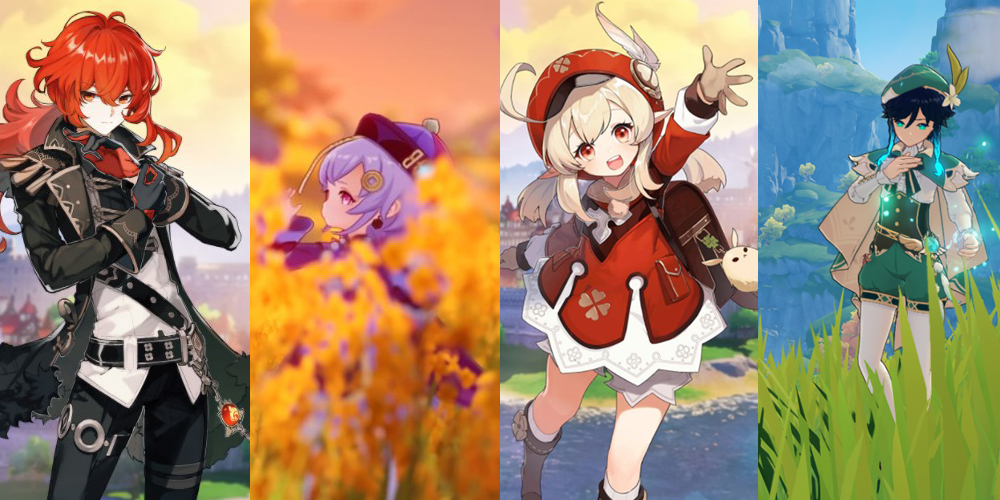 Now, here we are. As if the Best DPS team wasn't hard enough to pick, I somehow dared myself to open this title. What even is 'Best Overall Team'? It's going to bring me a lot of curses, that's what it is.
When I say 'Overall', in my mind it means they're great for… practically everything. You can bring them to a fight, to explore, everywhere! This is a cheating combination, to be honest, with Diluc, Qiqi, Klee, and Venti.
If you're going into a fight, having Klee and Diluc together means a Pyro damage party, as if having only one of them doesn't bring in enough damage. If you're going to bring them for an exploration, Venti's air current helps you up, Klee and Qiqi's passive skills would mark places filled with Monstadt's and Liyue's specialties, and Diluc's claymore and his Pyro element can farm crystals in a blink. 
Even if the Elemental Reactions isn't as variable, this team would still bring insane damage with a very good buff. As Klee's Elemental Skill would spread bombs which leads to AoE, Qiqi can heal, and Venti's Elemental Burst can stun. I guess it's safe to say they don't really need the Elemental Reactions for extra DMG.
Roles:
Diluc – Main DPS
Klee – Sub DPS
Qiqi – Utility
Venti – Utility
Why This Team Is Great:
This combination is strong against any kind of enemies.
With Diluc giving insane DMG and Qiqi giving massive amounts of HP heal, the possibility of 'losing' is pretty small.
Venti's passive skill reduces gliding stamina by 20%.
Diluc and Klee's Elemental Burst together result in a very wide Pyro AoE with massive DMG.
Now how was that list? I'm sure there are things you agree with, and some that you don't. Comment down below and tell us your best Genshin Impact teams.
You May Also Be Interested In:
Image Gallery