CSGO Cases Guide: CSGO Best Cases To Open
Updated: 03 Apr 2020 7:50 pm
Twenty years of CounterStrike and the cases are still hitting
Over Twenty Years, and Over Thirty Cases. How do you know what to open?
While buying and trading directly with other players might be the most cost-effective way of getting the skins you want, cases not only offer you a chance at rare skins for a fraction of the cost but opening them can also be quite the experience. Maybe you don't have the money for an expensive skin, or maybe you want to surprise a friend, either way, cases still have value. Whether to add some style to your game or to take a shot at something rare, this is a list of the five best cases to open in CS:GO. 
1. The Glove Case
The Glove Case trades out the ability to pull a rare knife with the chance at a set of gloves. While not exclusively sci-fi themed, many of the skins available have vivid colors and bright highlights. Even gloves aside, this case contains one of my favorite collections.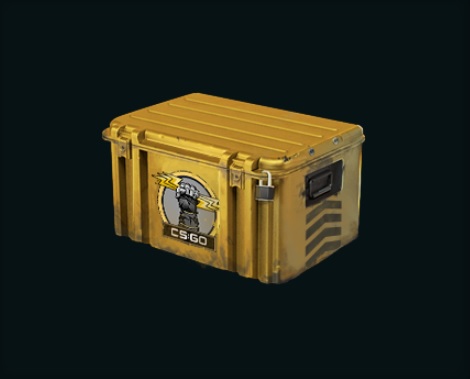 The Glove Case
Possible Drops:
CZ75 - Auto Polymer
Glock - 18 Ironwork
MP7 - Cirrus
Galil AR - Black Sand
MP9 - Sand Scale
MAG-7 - Sonar
P2000 - Turf
Dual Berettas - Royal Consorts
G3SG1 - Stinger
M4A1-S - Flashback
Nova - Gila
USP-S - Cyrex
FAMAS - Mecha Industries
P90 - Shallow Grave
Sawed-Off - Wasteland Princess
SSG 08 - Dragonfire
M4A4 - Buzz Kill
2. The CS20 Case
The CS20 case was introduced in October of 2019 to celebrate the 20th anniversary of Counterstrike and it does so in style. Packed full of detail and nostalgic fan service, this case is more than a safe bet for great skins.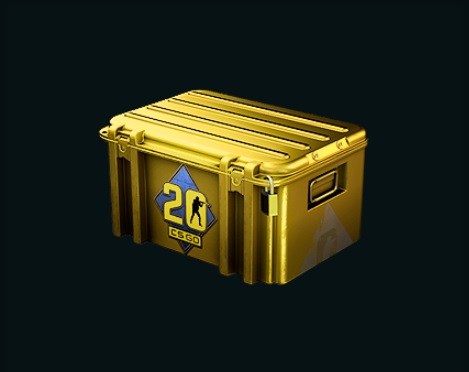 CSGO's 20th Anniversary Case brings a lot of nostalgic fan service
Possible Drops:
CS20 - Case 
Dual Berettas - Elite 1.6
Tec-9 - Flash Out
MAC-10 - Classic Crate 
MAG-7 - Popdog
SCAR-20 - Assault
FAMAS - Decommissioned
Glock-18 - Sacrifice
M249 - Aztec
MP5-SD - Agent
Five-SeveN - Buddy
P250 - Inferno
UMP-45 - Plastique
MP9 - Hydra
P90 - Nostalgia
AUG - Death by Puppy
AWP - Wildfire
FAMAS - Commemoration
3. The Gamma 2 Case
The Gamma 2 Case is packed with detailed skins, most of which are made to look like 3D modifications of your guns. Only most? Well, even the 2D models like the p90 Grim are absolutely print-worthy.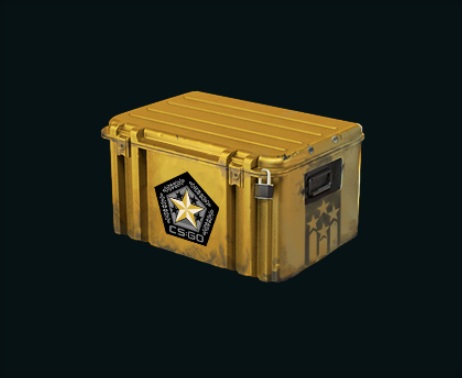 The Gamma 2 Case is emblematic of Valve's 3D skin phase
Possible Drops:
CZ75-Auto - Imprint
Five-SeveN - Scumbria
G3SG1 - Ventilator
Negev - Dazzle
P90 - Grim
UMP-45 - Briefing
XM1014 - Slipstream
Desert Eagle - Directive
Glock-18 - Weasel
MAG-7 - Petroglyph
SCAR-20 - Powercore
SG 553 - Triarch
AUG - Syd Mead
MP9 - Airlock
Tec-9 - Fuel Injector
AK-47 - Neon Revolution
FAMAS - Roll Cage
4. The CS:GO Weapon Case
The Arms Deal collection is full of quality pieces, and its own style that other cases haven't really stepped on. Dark primary colors and metallic highlights are the signature theme of this case. There may not be many different pieces available in this case, but with headlining, options like the Case Hardened AK, the Hypnotic Deag, and a Lightning Strike AWP, this case is bringing quality well over quantity.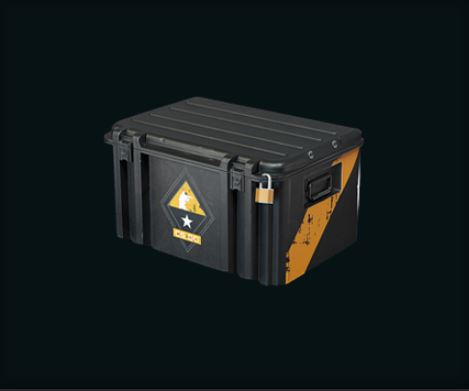 The Weapon Case might have an uninspired name but its skins certainly aren't
Possible Drops:
MP7 - Skulls
AUG - Wings
SG 553 - Ultraviolet
Glock-18 - Dragon Tattoo
USP-S - Dark Water
M4A1-S - Dark Water
AK-47 - Case Hardened
Desert Eagle - Hypnotic
AWP - Lightning Strike
5. The Falchion Case
Headlining with the infamous AWP Hyper Beast, the Falchion actually offers a wide variety of skins. From the minimalist Bunsen Burner G18 and Elite Build P90 to the more stylized Evil Daimyo M4A4 and CZ75 Yellow Jacket, this case has both variety and style. As the namesake of this case, you also have a chance at drawing the rare Falchion knife itself.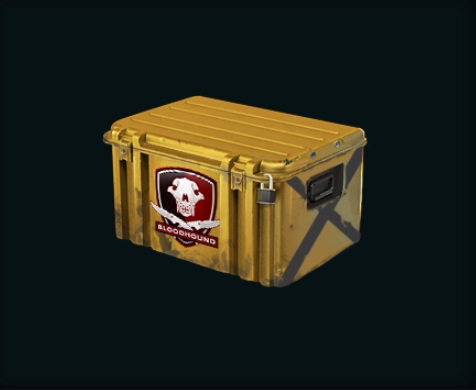 The Falchion Case may be known for its knife but it holds value knife or no
Possible Drops:
Galil AR - Rocket Pop
Glock-18 - Bunsen Burner
Nova - Ranger
P90 - Elite Build
UMP-45 - Riot
USP-S - Torque
FAMAS - Neural Net
M4A4 - Evil Daimyo
MP9 - Ruby Poison Dart
Negev - Loudmouth
P2000 - Handgun
CZ75-Auto - Yellow Jacket
MP7 - Nemesis
SG 553 - Cyrex
AK-47 - Aquamarine Revenge
AWP - Hyper Beast
You may also be interested in:
Image Gallery