[Top 10] CS:GO Best Bayonet Skins
Updated: 20 Sep 2021 12:46 am
Get ready, the skins and prices you are about to see are staggering!
10 - Vanilla Bayonet Knife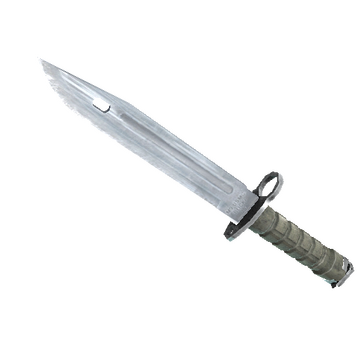 This knife is very simple and subtle yet perfect for every occasion.
It features a silver mesh accompanied with a very gentle glare and a smooth, polished surface which in my opinion is versatile in any loadout that you put it in.
Overall, it is minimalistic and not too flashy, making it a balanced option.
Price - $284.83
9 - Freehand Bayonet Knife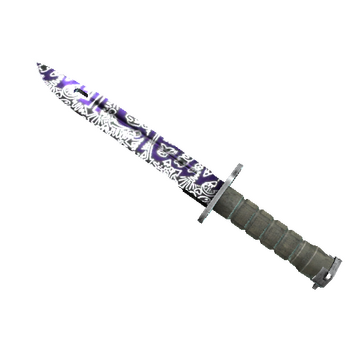 This knife has a very detailed pattern, meaning that you can have a chance at getting a rare pattern that looks great in general.
Its surface is also extremely reflective and shiny giving it a nice finish overall.
This is a great addition to your inventory because its color scheme is fairly neutral and will go with any skin that you pair it with.
Price - $259.69
8 - Damascus Steel Bayonet Knife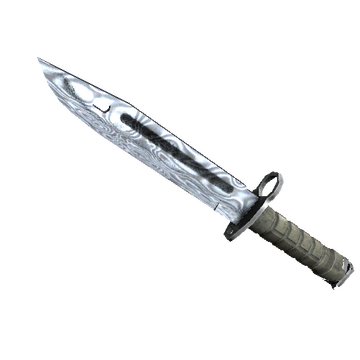 The pattern on this knife is amazing and if you look at it for a long time, you'd probably get dizzy.
The color scheme fits perfectly and the glare gives it a great contrast that makes any inventory even better.
The best part is that the pattern is blue while the blade's color is white, so they really blend in together and make a trippy knife overall!
Price - $217.50
7 - Stained Bayonet Knife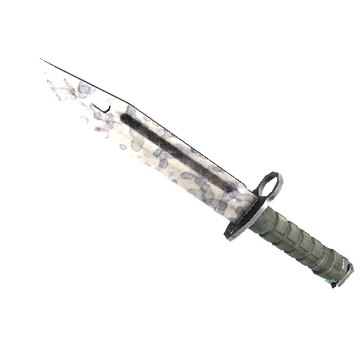 This weapon sounds like something that's not promising yet it is way better than it sounds.
The gray fade along with the dark spots scattered across the blade makes it that the knife's colors really blend in together to form a spectacular accent.
It's also cool how it has the granite mesh on it along with the glare so it can look amazing in any loadout that it's put in.
Price - $266.98
6 - Marble Fade Bayonet Knife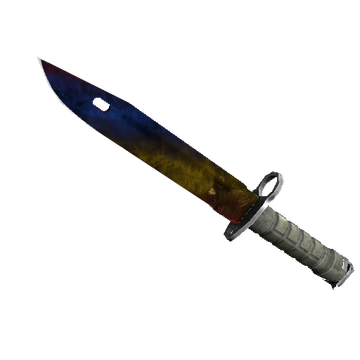 This knife is simply beautiful.
It has a red-blue-yellow fade and if you are lucky you can get a Fire and Ice pattern, an ultra rare and expensive pattern where the knife is only blue and red.
This knife is ranked relatively low on this list because in dark areas the knife can look dim. However, in the sunlight this knife will reflect like no one's business!
Price - $465.00
5 - Fade Bayonet Knife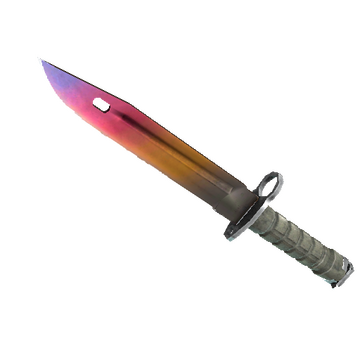 This knife consists of pink, purple, gold, and white gradients.
It is very pretty due to the colors on it and is comparable to "Oil Spill" skins from other games with weapon skins.
It is sure to catch your teammates and enemies attention due to its price and style!
Price - $406.49
4 - Bright Water Bayonet Knife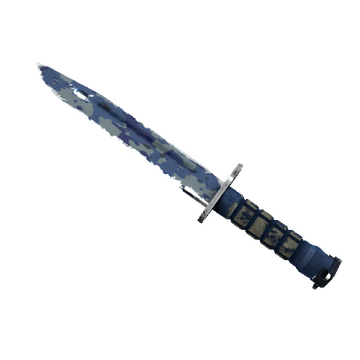 Have you ever wanted a camo that looks amazing and in another color scheme?
The Bright Water skin consists of a camo accent that has cyan and white spots all over the blade, which looks amazing since the marine contrast really adds beauty to this knife.
It doesn't look over the top with a balanced glare and it doesn't really stick out too much which makes it compatible with anything the character already has.
Price - $249.98
3 - Slaughter Bayonet Knife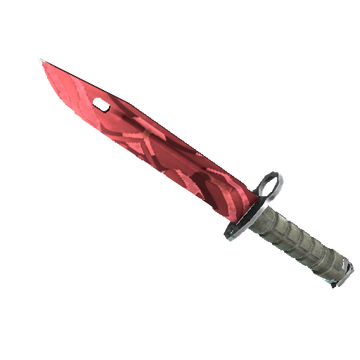 This knife is simply stunning. It has a red/crimson randomized pattern representing the blood of your enemies.
The patterns on this knife are reflective and shiny, and can have rare patterns like Marble Fade or Freehand.
An example of these patterns are diamonds in the knife, which skyrocket the value of this weapon.
Price - $377.68
2 - Tiger Tooth Bayonet Knife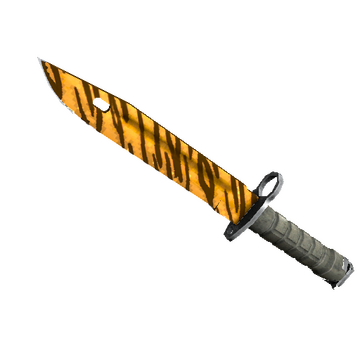 This weapon has a great tiger accent with perfect fades and gradients and black marks.
It doesn't light up too much and it doesn't dim all the time.
It's a balanced masterpiece with a perfect design and a semi-polished mesh and there's nothing to complain about!
Price - $352.07
1 - Gamma Doppler Phase 2 Bayonet Knife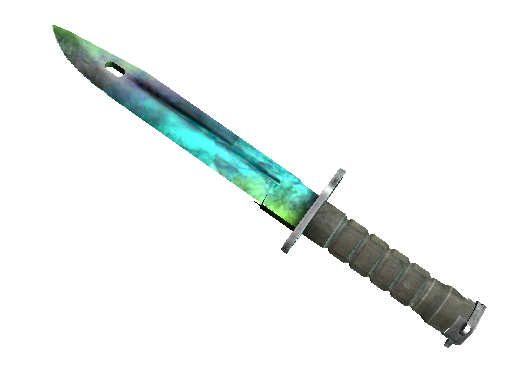 This knife checks all the boxes for a perfect bayonet knife.
It features a blue, purple and green gradient with noise on the edges of the blade which adds to its value.
The color combination is perfect along with a balanced glare and subtle fades, which in conclusion, makes this the best bayonet knife in my opinion!
Price - $556.85
You may also be interested in :
Image Gallery