[Top 10] Animal Crossing: New Horizons Best Furniture
Updated: 16 May 2021 3:08 am
The furniture options in New Horizons are almost endless!
Furniture has been a huge part of the Animal Crossing games since they first came out, so it's no surprise that there are tons of furniture options in Animal Crossing: New Horizons.
The game even features the Happy Home Designers who will evaluate your choice of décor every Saturday night.
The next day you will wake up to a letter in your mailbox with your score, and depending on how many points you get, you might score a nifty plaque or a new piece of furniture.
There are many different ways to acquire furniture in Animal Crossing: New Horizons.
You can buy furniture at Nook's Cranny as well as the Nook Stop. You also might find furniture from balloons, by shaking trees, or as gifts from villagers. There are also furniture DIY recipes you can use to spruce up your home.
The options are truly overwhelming, so read on to find out 10 of the best pieces of furniture in Animal Crossing: New Horizons.
10. Bonsai Shelf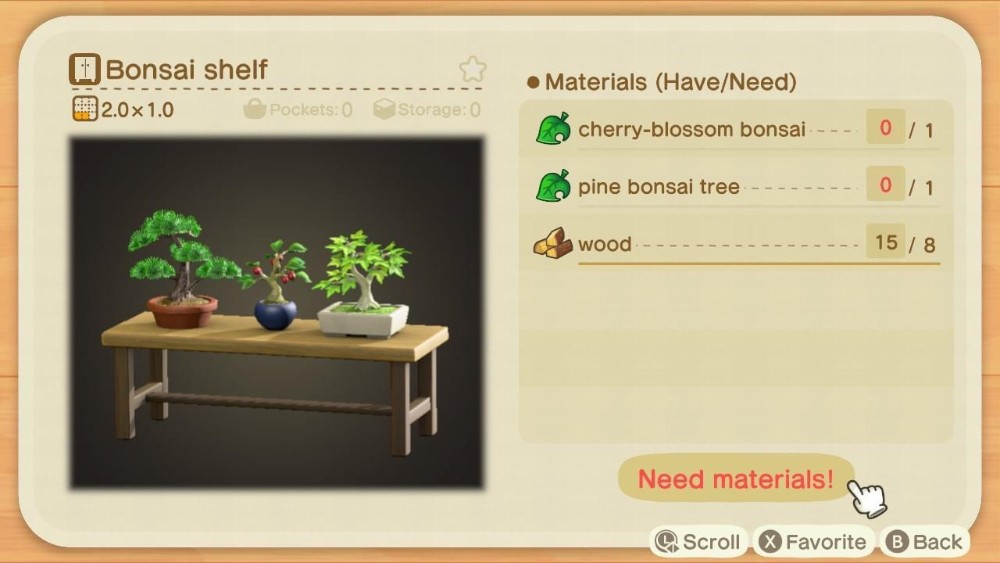 You're looking at the Holy Grail of DIYs.
The Bonsai Shelf ranks right alongside the infamous Ironwood Cupboard as one of the most popular pieces of furniture in New Horizons.
Not only will you likely have to wait a while for a villager to give you the Bonsai Shelf DIY (I finally got mine from Kabuki), but one of the required components is the cherry-blossom bonsai. Unfortunately, the cherry-blossom bonsai is only available during the cherry-blossom season, which only happens for 10 days at the beginning of April.
Your options are to be really patient (like me) and wait around until April if you already don't have the cherry-blossom bonsai or time travel in the game. Be aware that time travel might mess things up like causing villagers to move if you go too far into the future, so keep this in mind if this is the route you decide to take.
Once you get the Bonsai Shelf, it will likely be a permanent fixture in your home as a testament to all of the trouble you went through to get it.
Why the Bonsai Shelf Is Great:
It's a great-looking décor item, and having one to show off in the game means that you are in this for the long haul.
How To Get the Bonsai Shelf:
Acquire the DIY from a villager, usually the cranky type.
Get a pine bonsai, a cherry-blossom bonsai, and 8 pieces of wood and craft at a DIY table.
9. Arcade Games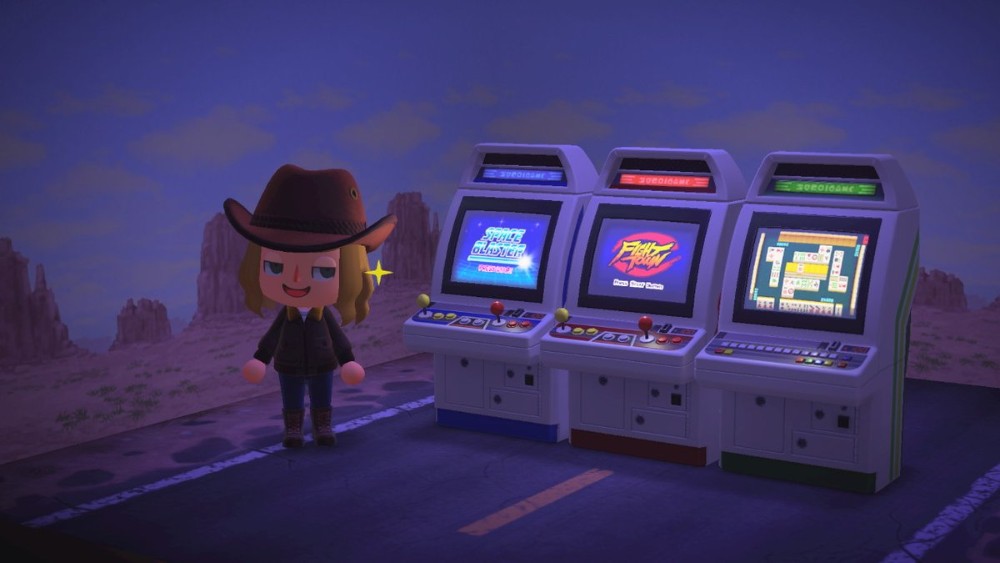 An arcade in the middle of a road is perfectly normal, right?
The Arcade Games in New Horizons are available in 3 different versions with a mah-jongg game, a fighting game, and a space combat game.
These arcade machines are extremely popular furniture items in New Horizons, and some players make entire rooms around their Arcade Games.
Other companion pieces of furniture that are also popular include pinball machines, a dartboard, a foosball table, and even a ping-pong table.
Unfortunately, you can't actually play the games, but if you interact with them, there's a short action sequence on the screen.
Why the Arcade Games Are Great:
They really liven up any room and make it fun, and it's a blast getting to design your very own arcade around them.
How To Get the Arcade Games:
These will be randomly available at your upgraded Nook's Cranny shop for 64,000 bells.
8. Elaborate Kimono Stand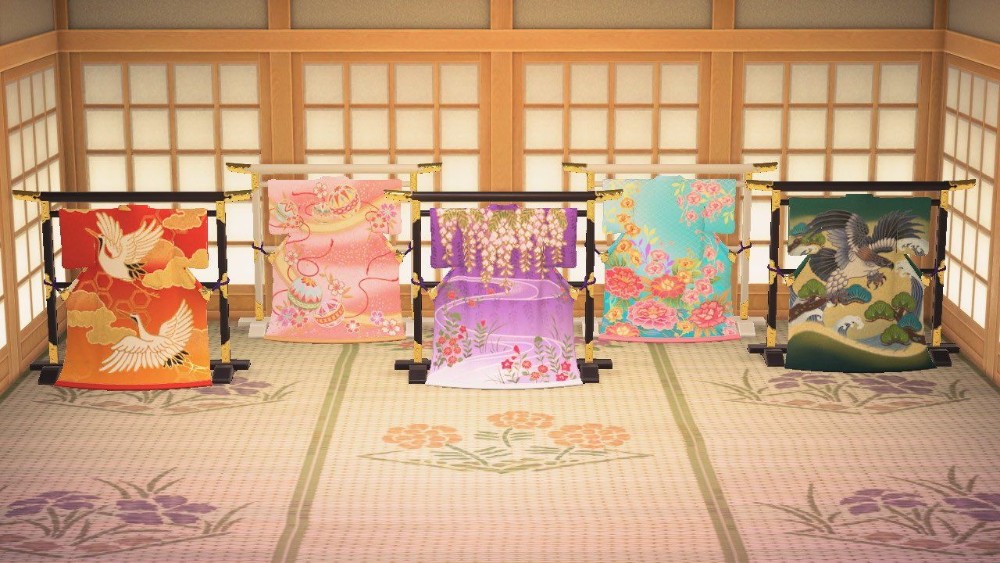 Each kimono is a stunning work of art.
The Elaborate Kimono Stand is one of the rarest pieces of furniture in the game, and without trading with another player it could be a while before you get the one you truly want.
These pieces are only available at Nook's Cranny once you have upgraded it, and each one would make a beautiful addition to your home décor.
Each kimono features murals, with some being more detailed than others, but they are all very colorful and they stand out when you put them in a room.
Why the Elaborate Kimono Stand Is Great:
These one-of-a-kind furniture pieces are very rare, and each one of them features beautiful artwork.
How To Get the Elaborate Kimono Stand:
These are randomly available at your upgraded Nook's Cranny for a whopping 220,000 bells.
7. Wall-Mounted TV (50 in.)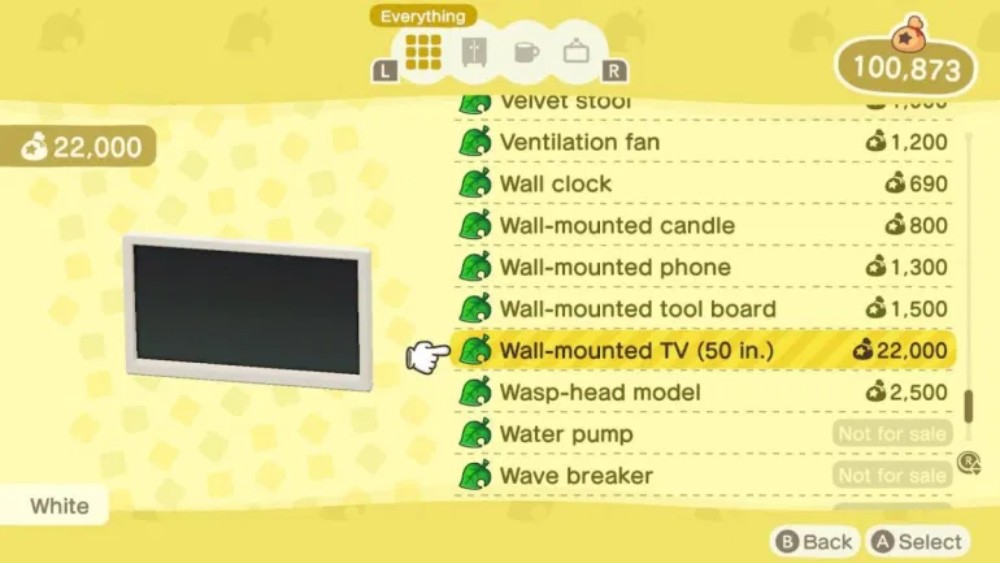 I don't even have a TV that big in real life.
The Wall-mounted TV (50 in.) is one of the most fun pieces of furniture to have.
While there are other TVs available in the game, including the Juicy Apple TV DIY, this TV is large enough for you to really see the details on the screen.
There are random "TV shows" and "commercials" that play throughout the day, and if you stay up late enough at night, you will even get to see the famous color bar pattern and TV "snow."
The TV is available in a range of colors, so you can get one that matches your wallpaper perfectly.
Why the Wall-mounted TV (50 in.) Is Great:
Turn it on to see the often funny "shows" that play at random throughout the day. This TV is big enough to let you see what is happening on the screen.
How To Get the Wall-mounted TV (50 in.):
This TV is sometimes available at your upgraded Nook's Cranny for 22,000 bells.
6. Street Piano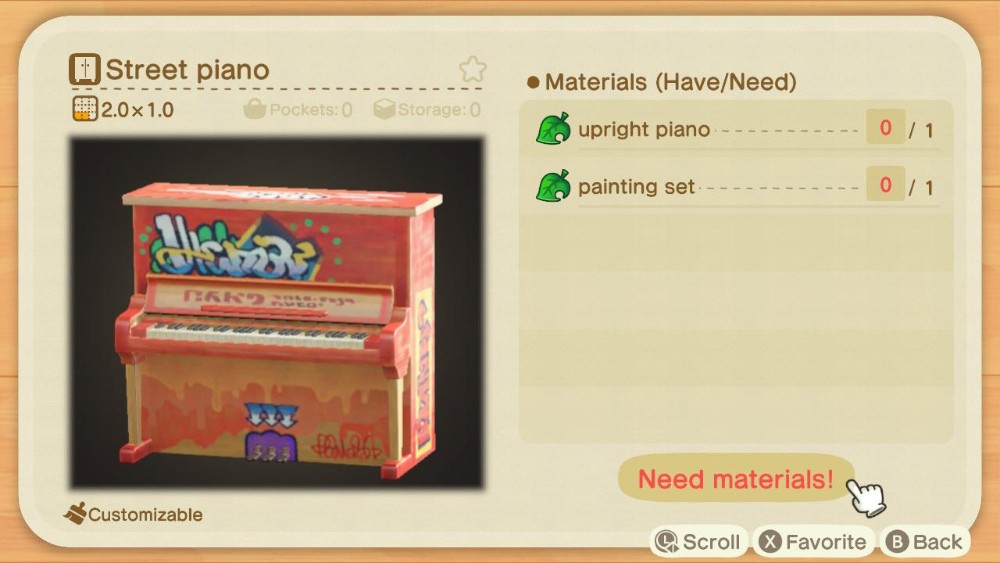 Put this Street piano out on your island and watch your villagers jam.
The Street piano is one of the rarest DIYs in New Horizons, and it is one of the most fun pieces of furniture.
Not only can you "play" the piano by interacting with it, but the piano itself is customizable between a grungy street style with graffiti and a dreamy pastel version.
It's not an easy DIY to obtain, as it is given to you by sisterly type villagers only. Every island starts with a sisterly villager and a jock villager, so you have a chance in the very beginning, but don't hold your breath.
On top of that, you also have to be lucky enough to have an upright piano, which is only available at Nook's Cranny for 53,000 bells. The style is definitely worth it, though.
Why the Street Piano Is Great:
It's another super-rare item, so having it lets you show off your clout. Plus, it's fun to play and it's customizable.
How To Get the Street Piano:
After learning the DIY from a sisterly type villager, acquire an upright piano and a painting set and craft the piano at a DIY table.
5. Flying Saucer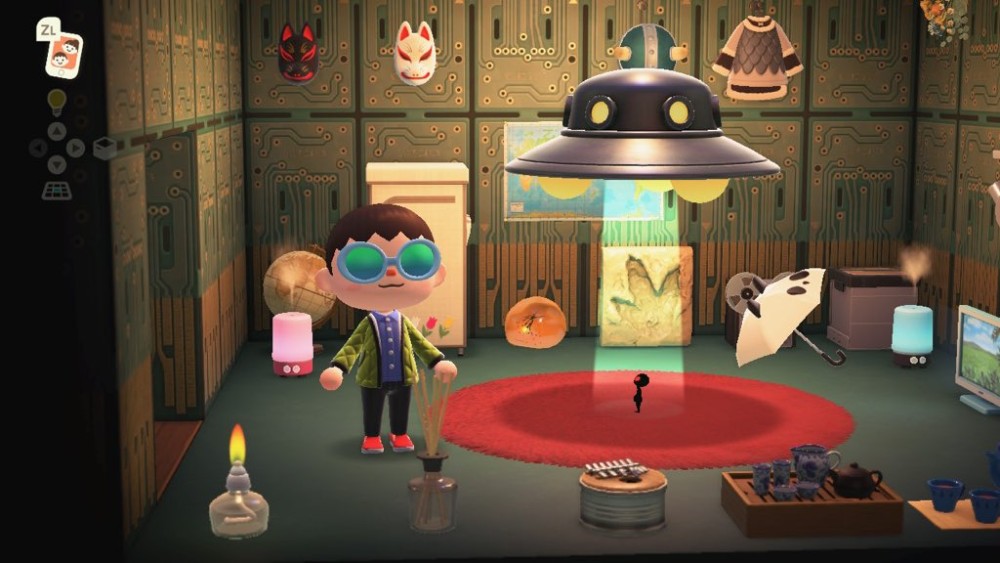 You'll get to meet the little green men with this one.
The Flying Saucer is a great piece of furniture in New Horizons simply because an alien beams down when you approach it.
I was pretty amused the first time I saw this, and it honestly never gets old. I still can't resist walking up to it when I'm roaming my island just to see that little alien beam down.
Aside from the flashing lights and tiny alien that arrives, you will be treated to a series of sounds that represent the alien speaking to you. Everything about it is great, and you will not be disappointed if you make this DIY.
Why the Flying Saucer Is Great:
When you approach the Flying Saucer and interact with it, a light beam shines down with a tiny little alien who speaks to you in a strange language.
How To Get the Flying Saucer:
After learning the DIY from Celeste, acquire 15 star fragments and 10 iron nuggets and craft at a DIY table.
4. Crescent Moon Chair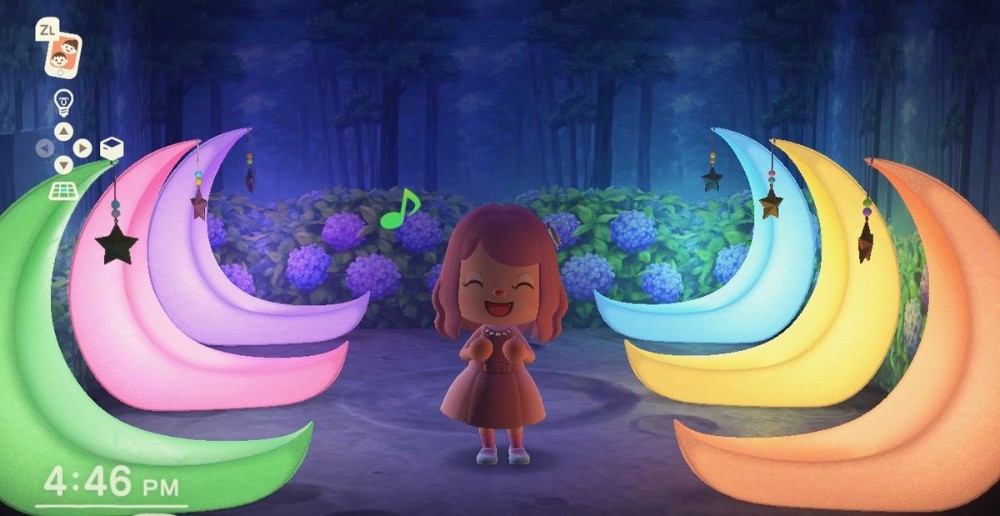 You could be swinging on a star, but have you tried sitting on the moon?
The Crescent Moon Chair DIY is another recipe that you get from Celeste, and if you visit other islands, you will quickly learn that this is a very popular piece of furniture.
This was one of the DIYs that I just couldn't wait to get when I started playing this game and saw this furniture on another island.
One of the reasons it is so popular is the fact that it can be customized in 6 different colors, plus white. Despite how outrageous it is, the Crescent Moon Chair is one of the most versatile pieces of furniture and it goes well with almost any décor style.
Why the Crescent Moon Chair Is Great:
You can change the color AND it lights up. What's not to love about it? It's also a great way to use up those extra star fragments you will eventually accumulate in your inventory.
How To Get the Crescent Moon Chair:
After learning the DIY from Celeste, you will need to collect 7 star fragments and 1 large star fragment and craft at a DIY table.
3. Hyacinth Lamp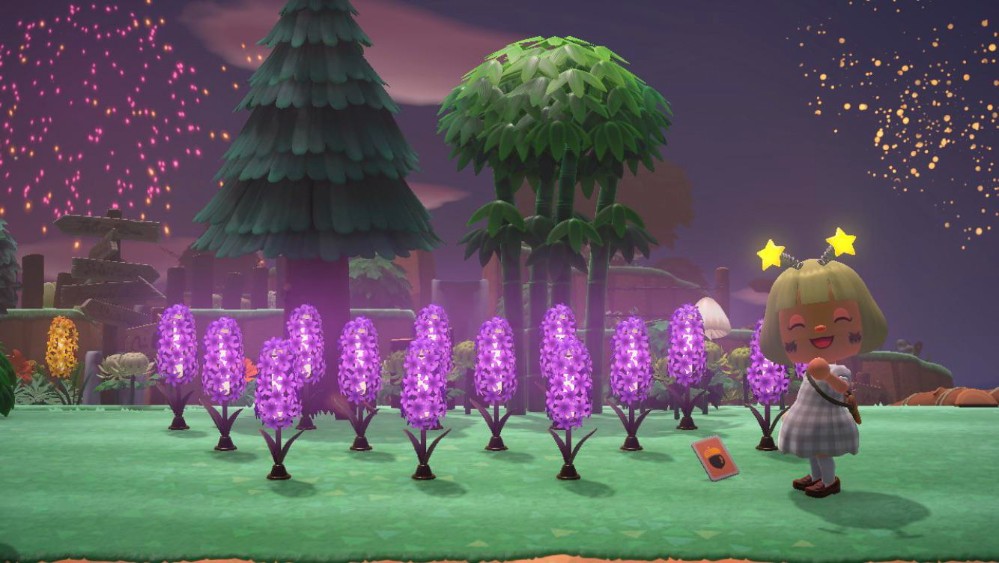 A lot of flowers had to be picked for this picture to happen.
The Hyacinth Lamp is a great furniture DIY that you will learn from a sisterly type villager.
The main thing standing in the way of this recipe is the fact that you will need to have some purple hyacinths growing on your island. This is going to take some work from you because it is unlikely to just happen by accident.
To grow purple hyacinths, you will first have to purchase red and yellow hyacinth seeds from Nook's Cranny and breed them together to make orange. Then, it's really just a matter of breeding orange hyacinths together until you get purple.
This won't happen right away, and there's always a chance to get a blue hyacinth instead of a purple one, but with a little patience, it will happen. To get more purple hyacinths easily, simply plant one with some open space around it and be sure to water it. After a couple of days or so, the purple hyacinth will clone itself and a new purple hyacinth will pop up next to it.
Keep doing this process until you have plenty of purple hyacinths, as this recipe is going to need 5 of them for each lamp.
Why the Hyacinth Lamp Is Great:
This is kind of a rare piece that you don't come across very often on other islands. It's customizable to be purple, blue, or yellow, and it looks really great on the island at night.
How To Get the Hyacinth Lamp:
After learning the DIY from a sisterly villager, grow and pick 5 purple hyacinths, and gather 3 pieces of clay to craft at a DIY table.
2. Jukebox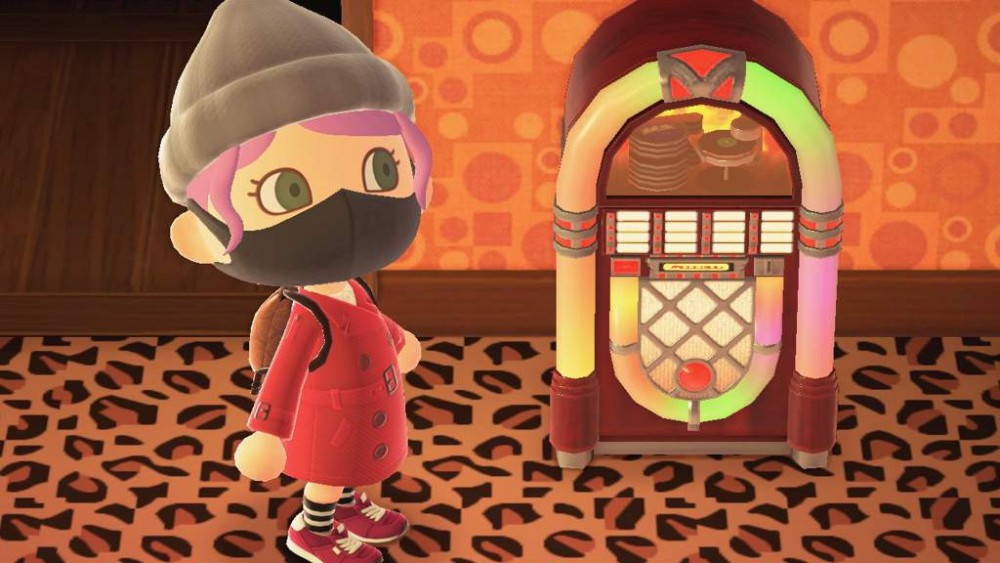 The jukebox adds a cool retro vibe to your home.
The jukebox is a very popular furniture item in the game, and with good reason.
Not only will it play your collection of amazing K.K. Slider albums, but the jukebox itself is really well done with lots of details. Oh, and did I mention it lights up?
This is a fun piece to include in any type of décor, but it pairs especially well with the Diner series of furniture, and it would look great in a game room setting as well.
The jukebox isn't an extremely rare item in the game, either, and there's a good chance you will get one from a balloon.
Why the Jukebox Is Great:
It looks cool, it lights up, and it plays music. It's easy to see why this piece is so popular.
How To Get the Jukebox:
It will appear randomly in your upgraded Nook's Cranny for 5,600 bells.
1. Pipe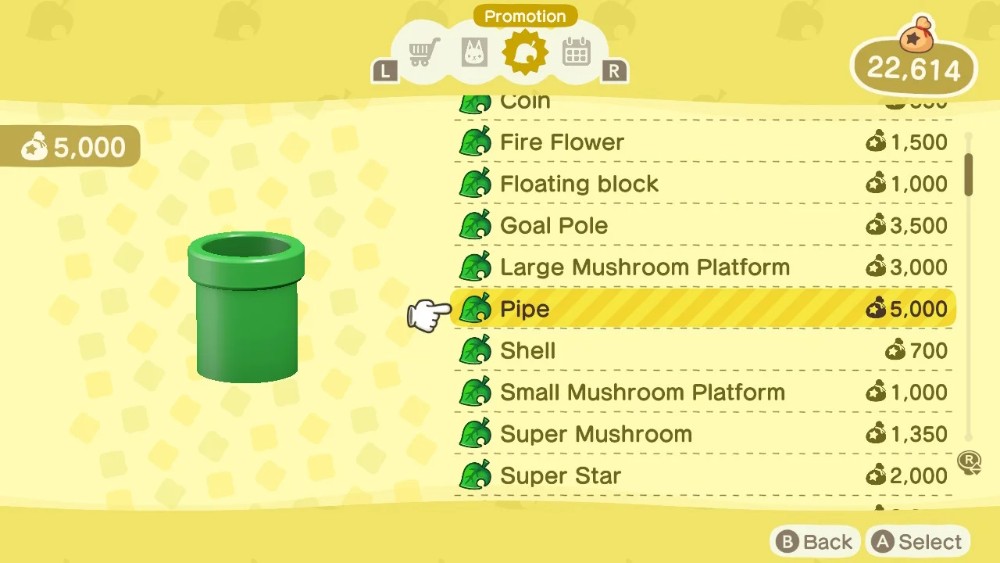 Now, you're going places.
The Pipe is a special item that was added in the March 2021 update to celebrate the 35th anniversary of Super Mario Brothers.
It may look like an ordinary pipe from the old-school game, but it actually allows you to travel if you have another Pipe at your destination point.
This piece of furniture is a game changer. This means you can place one pipe outside of your house and place another pipe in front of a destination you frequent, such as Nook's Cranny, and travel between the two in a flash.
Simply approach one of the Pipes and press the "A" button to be transported to the other pipe. I have found this to be super helpful in getting from one side of my island to the other in a hurry by placing a pipe on opposite sides of my island.
Why the Pipe Is Great:
In addition to being a piece of nostalgia, the Pipe lets you basically warp from one place to another. It really doesn't get any better than that.
How To Get the Pipe:
Make sure you have updated to at least version 1.8.0, which was made available for download in February of 2021.
Go to the Nook Stop and click on the "Promotions" tab to find all of the Mario-related furniture and clothing items, and purchase for 5,000 bells.
You May Also Be Interested In:
Image Gallery