[Top 10] Animal Crossing: New Horizons Best Clothes and How to Get Them
Updated: 17 Apr 2021 2:31 am
Already got away to your island getaway? Be sure to be fashionable for it!
While there are  already many different art pieces, bugs, and fish to collect in 'Animal Crossing: New Horizons' (2020), clothing is another item which players  can hoard.
Not only does it help you complete your catalogue- even though the only reward offered for that is the satisfaction you did it- but it can also help you pass Label's fashion checks and earn rewards.
In this article, we'll be exploring the top 10 best clothing items in 'New Horizons,' explaining how to get them, as well as their benefits.
So sit back and take a break from grinding to collect the countless bells you need to pay back Tom Nook. Remember that if by the end there's nothing you found here you would wear, there's always pro designs you can make.
10. Browline Glasses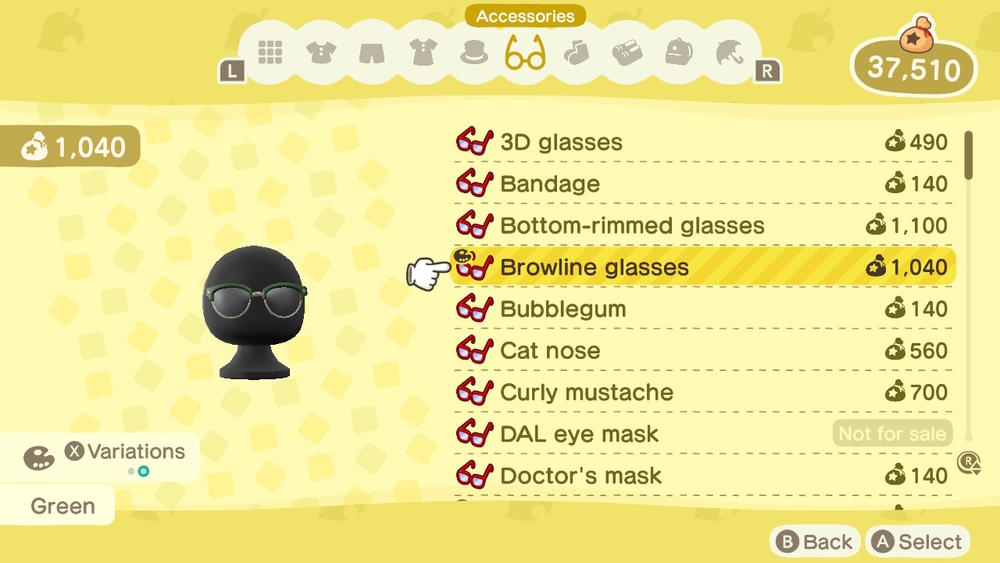 Some wonderful Browline Glasses, sure to add a flare to any outfit!
Browline glasses are a face accessory in 'New Horizons' which, as the name states, are glasses. They can be worn with other facial accessories such as half masks.
Why browline glasses are great:
Allows the player to better portray how they look in person.

Not only does this item come in multiple colors, it's perfect for players who wear glasses. As someone who has to wear glasses myself, I always love when I'm able to reflect that in characters I play as.

An everyday clothing choice.

One of the categories that Label will challenge you with is 'Everyday.' These glasses are sure to be a great compliment to the rest of the outfit, earning you some sweet, sweet tailor tickets.
How to obtain:
This item can be obtained from the Able Sisters store for 1,040 bells. Be sure to use the changing room to see all the different color options! If you don't have the Able Sisters yet, you can get them from Mabel when she visits. Note that there's a chance either way they might not be in stock that day, and there will be few color choices if you have to get them from Mabel in the Plaza.
9. Recycled Boots
An eco-friendly outfit option!
Recycled boots are a shoe item in 'New Horizons' that is one of the first shoe options the player can wear. You can wear them with any pants, skirts, or dress-up outfits.
Why recycled boots are great:
Low cost.

No bells? No problem! This clothing option is only available via crafting, making this free for players. .

Early outfit options.

Since you can get the recipe for this item early on in the game, it's one of the first clothing options you can choose to change into.

Eco-friendly clothing.

Ok, 'New Horizons' may just be a game, but it feels at least a LITTLE good knowing you've taken digital trash and upcycled it into a new item.
How to obtain:
To obtain this item you have to acquire the DIY recipe. This can be done by fishing and catching a boot, which will give your character the idea for a recipe. All you'll need to do is capture another boot and- voila! A brand new pair of boots!
This item cannot be bought from anywhere and must be crafted by the player. 
8. Denim Pants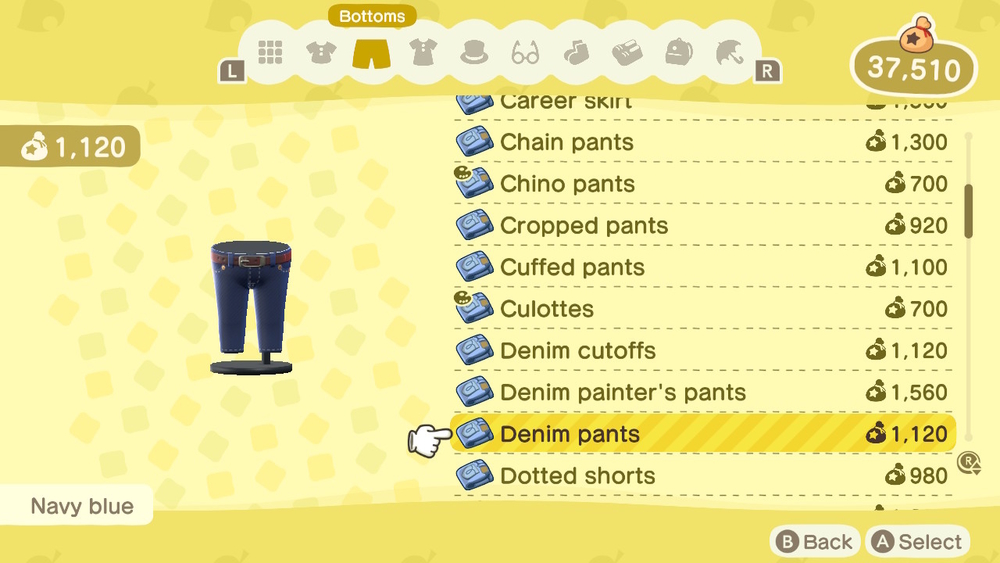 Any every-day fashion choice.
Denim pants are exactly what you'd expect: pants made of denim. They're a great go-to item when you're looking for the perfect bottoms to go with any top.
Why denim pants are great:
Goes with EVERYTHING!

This clothes item goes with anything during any season. Even though there aren't many shades available- a few blues, black, and white- it just seems basic and classic enough to mesh with anything!

Fairly priced.

Listen, I hear you. "Anything over 1,000 bells is too much!" As much as you'll be wearing these though, you'll get your bang for the bells.
How to obtain:
This item can be either bought from the Able Sisters or from the Nook Stop terminal's shop, selling at 1,120 bells at both. Stock changes daily with either so be sure to check often!
7. Visual Punk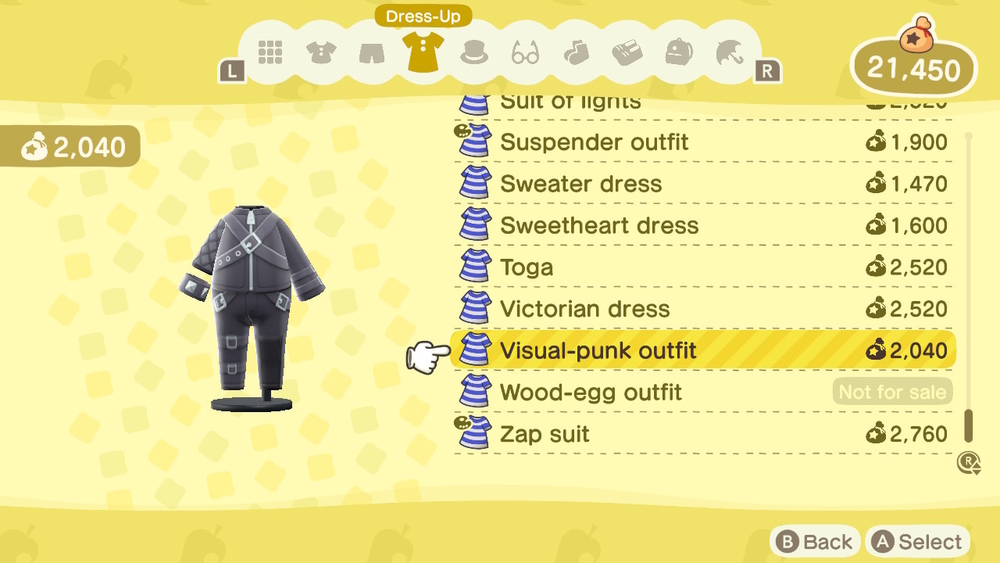 The jumpsuit version of the visual-punk outfit.
Are you rebellious? Why not show that with this Dress-Up outfit that's sure to make your town's villagers turn their heads.
Why the visual-punk outfit is great:
Label's goth fashion check.

Maybe you're trying to go for a more pastel cutesy aesthetic. This is a nice piece to have in your closet in case Label appears and asks for your best goth outfit. No need for a shirt and shorts- this counts as both!

Headbanging to K.K. Slider.

If K.K. Slider shows up, you know it's going to be a party when you're wearing this. Your villagers are sure to be jealous and embarrassed with their own fashion failures.
How to obtain:
This outfit is only available from the Able Sisters, priced at 2,040 bells.
6. Jockey Uniform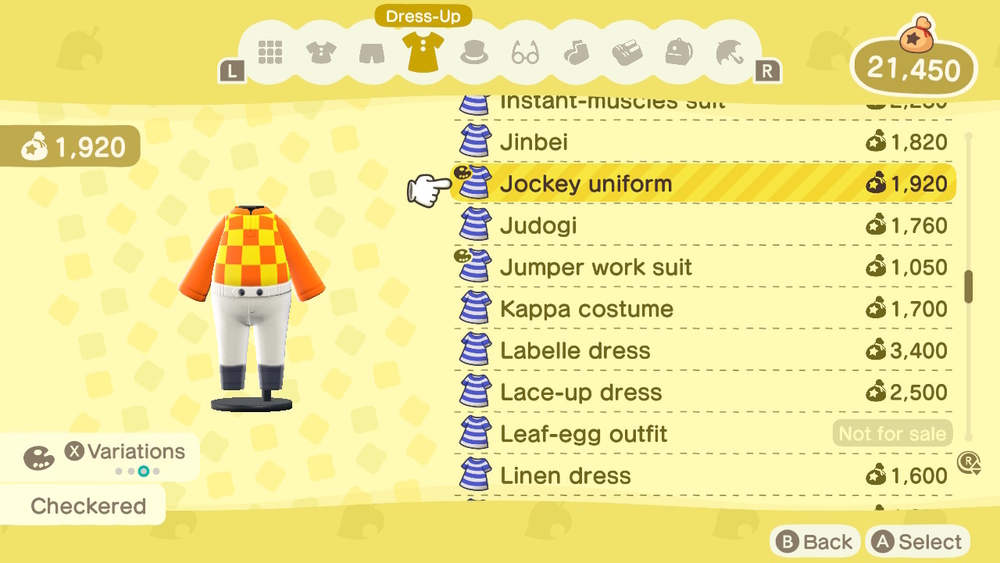 No horses were harmed in the usage of this outfit.
Next we have one of the most colorful- as well as confusing- outfits: the jockey uniform! It raises many questions, such as why would a jockey uniform be necessary in a world full of anthropomorphic animals? Unfortunately Nintendo never got back to us to answer that, although it would have helped if we actually sent them the letter in the first place.
Why the jockey uniform is great:
Looking sporty.

Much like the visual punk outfit, this counts as both a top and bottom during a fashion check. Wear it when Label asks for a 'sporty' outfit, and she's sure to be wowed.

Running an island full of horses.

Themed islands are in and with a closet full of jockey uniforms, all horse residents, and a racetrack layout you're sure to gain all the internet fame you'll ever need. (Author's note: Be sure to email us screenshots of your island if you do actually do this)

Colors galore.

The jockey uniform can be bought in many different styles, all with different colors incorporated into the design. If you're looking for something flashy, you can always count on a jockey uniform.
How to obtain:
This outfit is available only through the Able Sisters, though I've also received it from a few of my villagers (not horses). At 1,920 bells, this outfit is a little pricey but also a guaranteed sporty outfit.
5. Judogi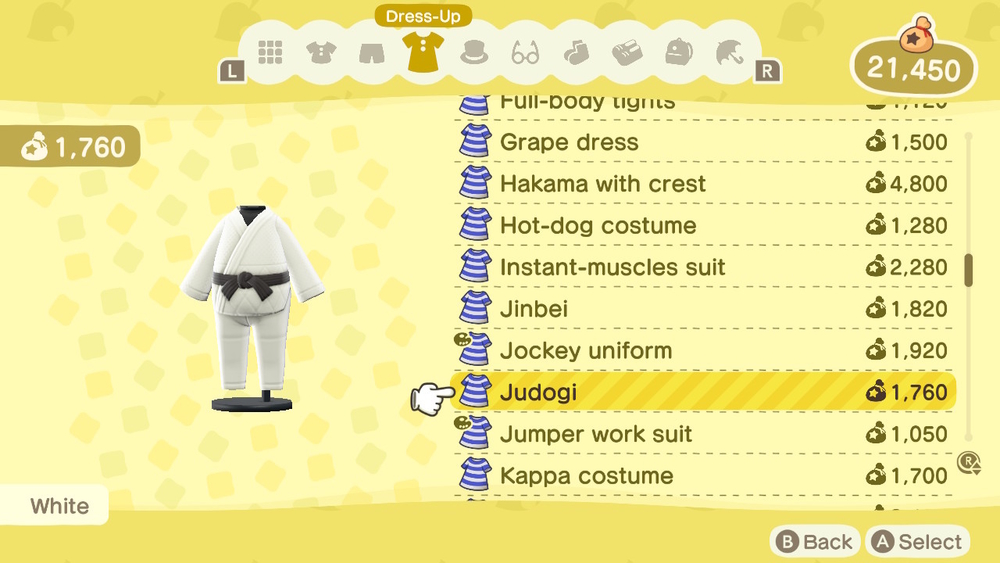 A judogi is not to be confused with a karate uniform.
Have you ever wanted to claim to be a black belt despite not being on? The judogi might be for you! This is a traditional outfit worn by practitioners of Judo. It might not be a karate black belt, but whoever you're bragging to doesn't have to know that. We won't tell if you don't. 
Why the judogi is great:
You can blend in well.

It's no secret that Animal Crossing is a game created in Japan, which means it has many Japanese cultural influences and references in the game. It's very easy to incorporate much of that in your island design- even without intent. In the  judogi outfit, you don't tend to stick out at all among those Asian influences.

Easy to decide on.

The judogi only has one color option: white cloth with a black belt. Because of this, you don't have to spend countless hours at Able Sisters trying to decide which outfit is going to go BEST with those pink cute sneakers you have.
How to obtain:
The judogi is available only at the Able Sisters for a price of 1,760.
4. Dreamy Dress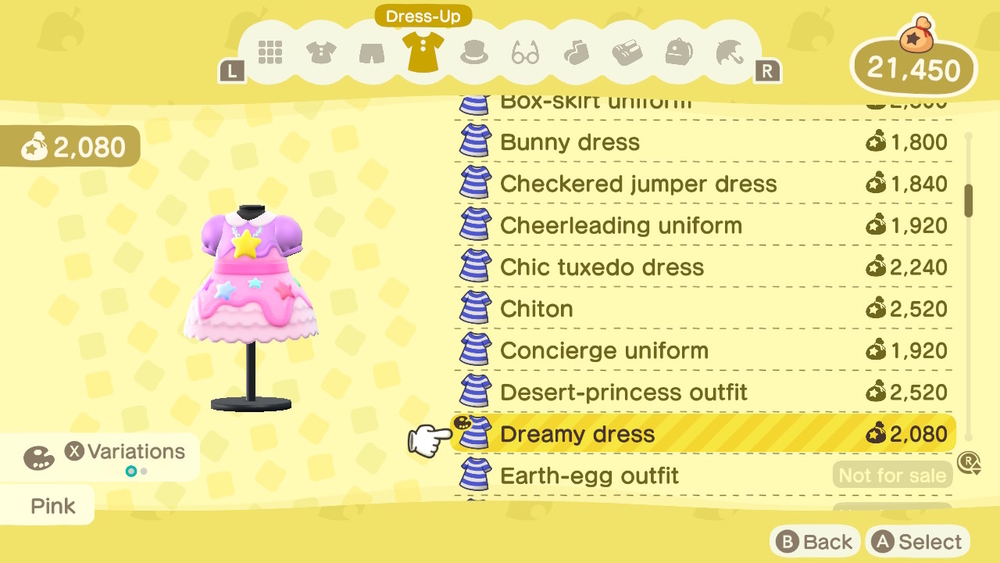 An outfit option right out of a fairytale.
If you're looking to leave others breathless, the dreamy dress is your best bet. This outfit comes in four different color options, all pastel. It's a dazzling fantasy design that we're sure you'll love.
Why the dreamy dress is great:
Fairy tale approved.

If Label is in town and challenges you to dress in fairy tale attire, this is a great outfit for you to put on. Just like the previous outfits, it counts as a top and bottom combined. Pair it with some cute shoes and Label will adore it!

Regal attire on a not-so-royal budget.

It's no secret that there's royal attire in the 'Animal Crossing' games, including crowns and tiaras. The dreamy dress gives a regal appearance without costing too many bells.
How to obtain:
This dress is lovingly handmade by the Able Sisters and can be found at their store.
3. Cherry-Blossom Pochette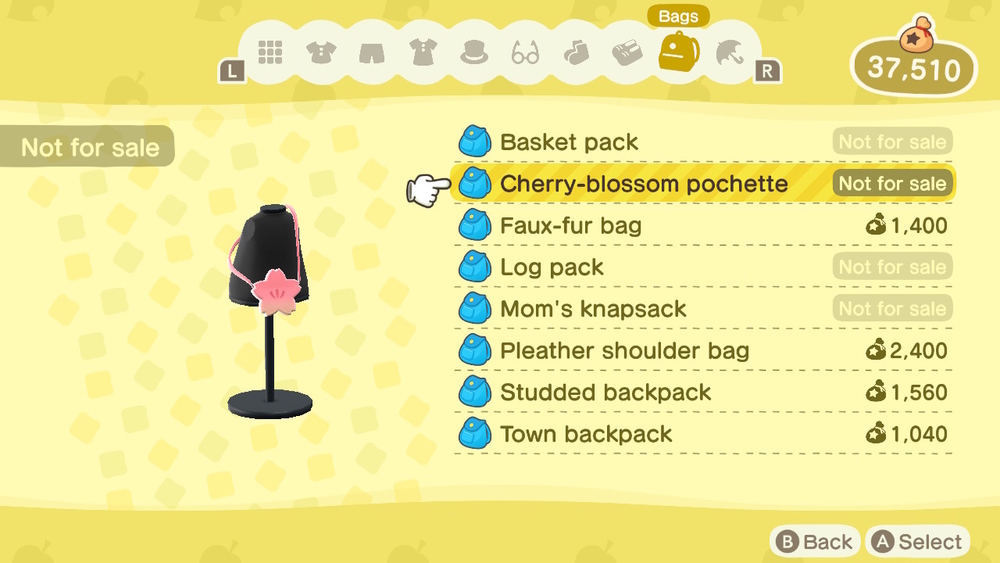 We're not sure about the practicality of this one, but it's cute as can be!
In 'New Horizons,' Nintendo added a new great fashion item we can wear: bags. They add no bonus other than complementing our outfits. When the cherry-blossom pochette was found by time travellers, the entire community went crazy. Here's why it's awesome and how you can make it yours.
Why the cherry-blossom pochette is great:
In this season.

Not only is the pochette 'in' during spring, you can only find the items to craft it DURING spring. More specifically, during cherry blossom season. Once you've made it though, you'll match well with the beautifully blossoming hardwood trees.

Cute to boot!

We recognize not many of the items on this list have been 'cute,' but if that's the aesthetic you're going for this pochette is a must have. Not only is it cute and pastel, it has a whimsical element to it.
How to obtain:
This item can only be crafted using materials from the cherry blossom season. From April 1st to April 10th, you'll need to pop as many balloons as you can as well as collect cherry blossom petals with a net. Once you get the DIY recipe as well as 6 petals, you'll be able to craft this super cute item!
2. Viking Helmet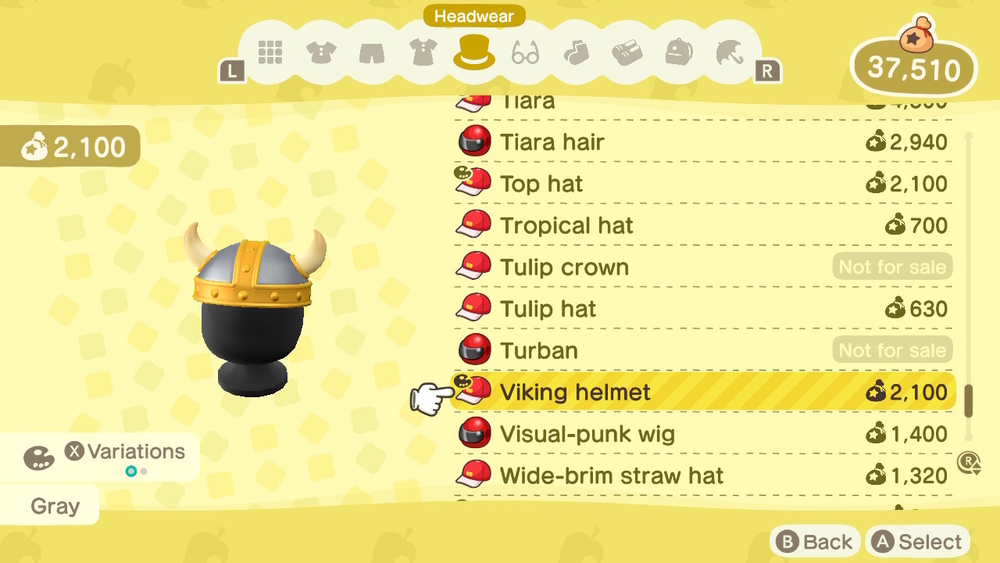 A classic 'Animal Crossing' look for you to wear.
The viking helmet has been a staple headwear accessory in the 'Animal Crossing' series since 'Wild World' (2005), though its roots can be traced back to the horn helmet the player had to wear in 'Animal Crossing' (2001).
Why the viking helmet is great:
A traditional clothing item.

In the original 'Animal Crossing' (2001) game, male and female characters both had to wear hats, with males having a 'horn hat' they could customize. Come 'Wild World' (2001) on the DS, players had more autonomy over what hats they wished to wear, giving players the option of purchasing a viking helmet.

Unisex.

While this clothing item was initially available only for male characters to wear, it can now be worn by anyone. It doesn't seem to contradict any outfit either, even giving a warrior tone to the magical dress.
How to obtain:
The viking helmet can be purchased from the Able Sisters as a headwear accessory for 2,100 bells.
1. Flame Tee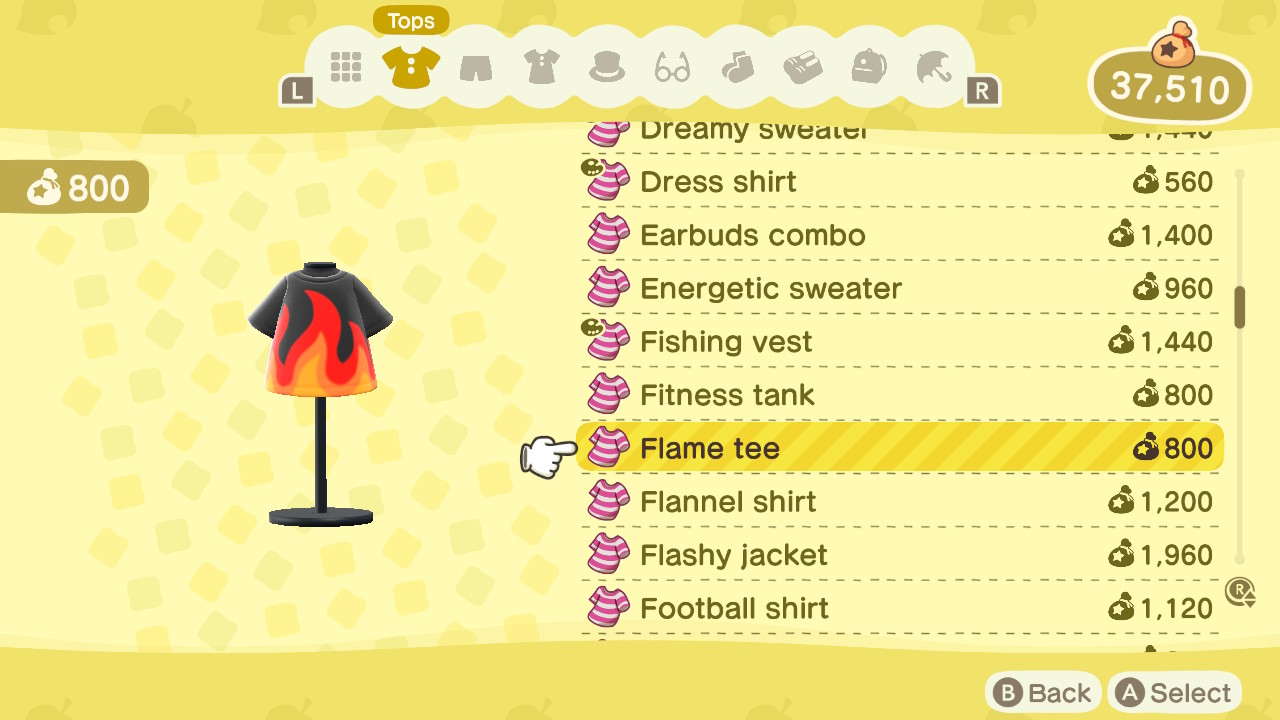 A shirt that you're sure to look hot in.
Like the viking helmet, the flame tee is a clothing item with roots back to 'Animal Crossing' (2001). Unlike the viking helmet, however, this outfit option was obtainable in the first game without being forced on the player.
Why the flame tee is great:
It's simple.

Some of the clothing in 'New Horizons' can be over the top in colors, patterns, and designs. With the flame tee, however, you get a patterned outfit as simple as it can come: a tee with flames on it. It's perfect for that casual 'I woke up like this' look.

It's a great gift.

After reaching a high enough friendship level with a villager, you're able to give them daily gifts. While the flame tee might not match their aesthetic or be a furniture item (which rates more highly in game as a gift), it's the perfect thing to give if you're on a budget.
How to obtain:
This item is available from the Able sisters for 800 bells.
You May Also Be Interested In:
Image Gallery