[Top 10] Best Star Wars Games For Android
Updated: 09 Apr 2023 9:12 pm
Every character in this picture has had an important role in the galaxy big or small, noticed or unnoticed.
The star wars community has been getting bigger over the past years, with all the movies and games virtual and physical released, there is enough to keep one interested for many years. They have mobile games for both Apple and Android. Today I will be giving a top 10 list of the best Star Wars games for Android. 
10. Star Wars Galaxy of Heroes
Year Released November 24th , 2015 (Android, IOS, IPadOS)
What makes this game interesting is the amount of recent updates. With every new movie/show that comes out their main characters are added and that brings more excitement to the game overall because it keeps everything fresh. The gameplay is also interesting because it's not your average card game, when in battle your entire team is placed down and plays together. 
Choose This Game If You Like : 
Card games.You can collect all your favorite star wars characters and make the team you always wanted. 
Turn based action with a bit of strategy. Having to attack based on turns makes the player need strategy along with a solid team, keeping the games interesting and challenging at times.
 A game where you can battle against different enemies from the main era's. The player has game modes such as light side battles and dark side battles, in these battles you face off against familiar faces and travel to locations like Dathomir for example.
The player builds a squad of up to five of characters to take into battle where he or she engages in combat with another team or opponent. The game has different modes that generally have different build restrictions and some modes allow the player to bring a sixth character supplied by his or her in-game Allies. 
Fun Factor Score : 91/100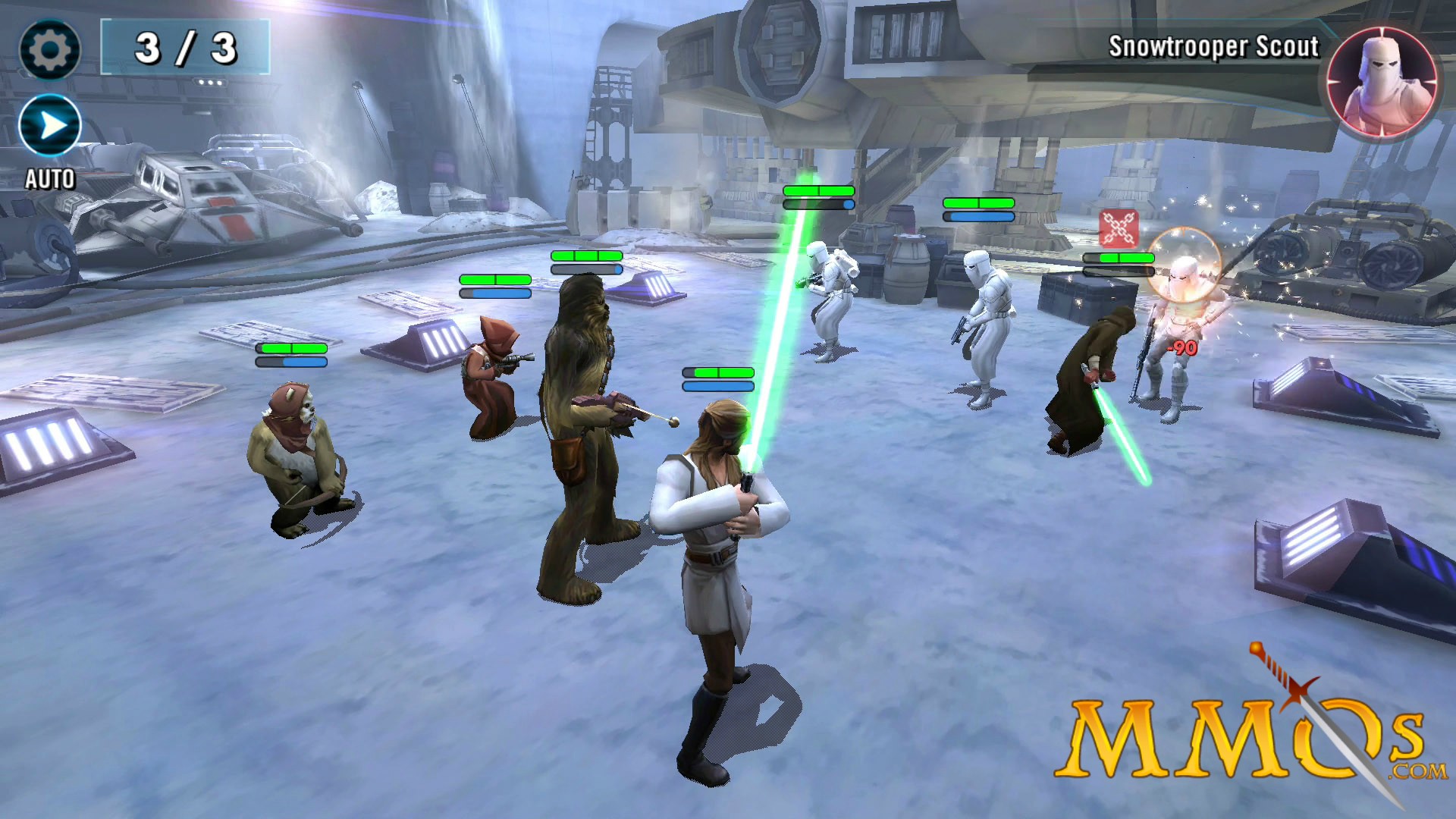 What's happening here is a classic battle on one of the modes. Qui-Gon and Chewbacca are supported by a jawa and an ewok.
9. Lego Star Wars TFA
Year Released July 28th, 2016 (Android , Microsoft Windows, Nintendo 3DS, PlayStation 3, PlayStation 4, PlayStation Vita , Wii U, Xbox 360, Xbox One, OS X, iOS)
What's interesting about this game is how they introduce voice acting for all of the characters which previous lego titles did not have. (Now instead of the grunts and hmm's you get conversation)
Choose This Game If You Like : 
Fast paced action with humor. This game injects humor whenever it can making the game not boring and the fast pace keeps you on your toes.
Third person view and solving puzzles. The third person view is great because of the open world the players get to discover and the puzzles keeps the game from being too easy at times.
Knowing the extra parts that might not have shown up in the movie. With all the sidequests and different chat dialogue you can learn something new.
LEGO Star Wars The Force Awakens introduces new gameplay mechanics, including the enhanced Multi-Builds system, where players can choose from multiple building options to advance the game. Players engage in intense new Blaster Battles for the first time, utilizing surrounding environments to drive back the First Order. 
Fun Factor Score : 86/100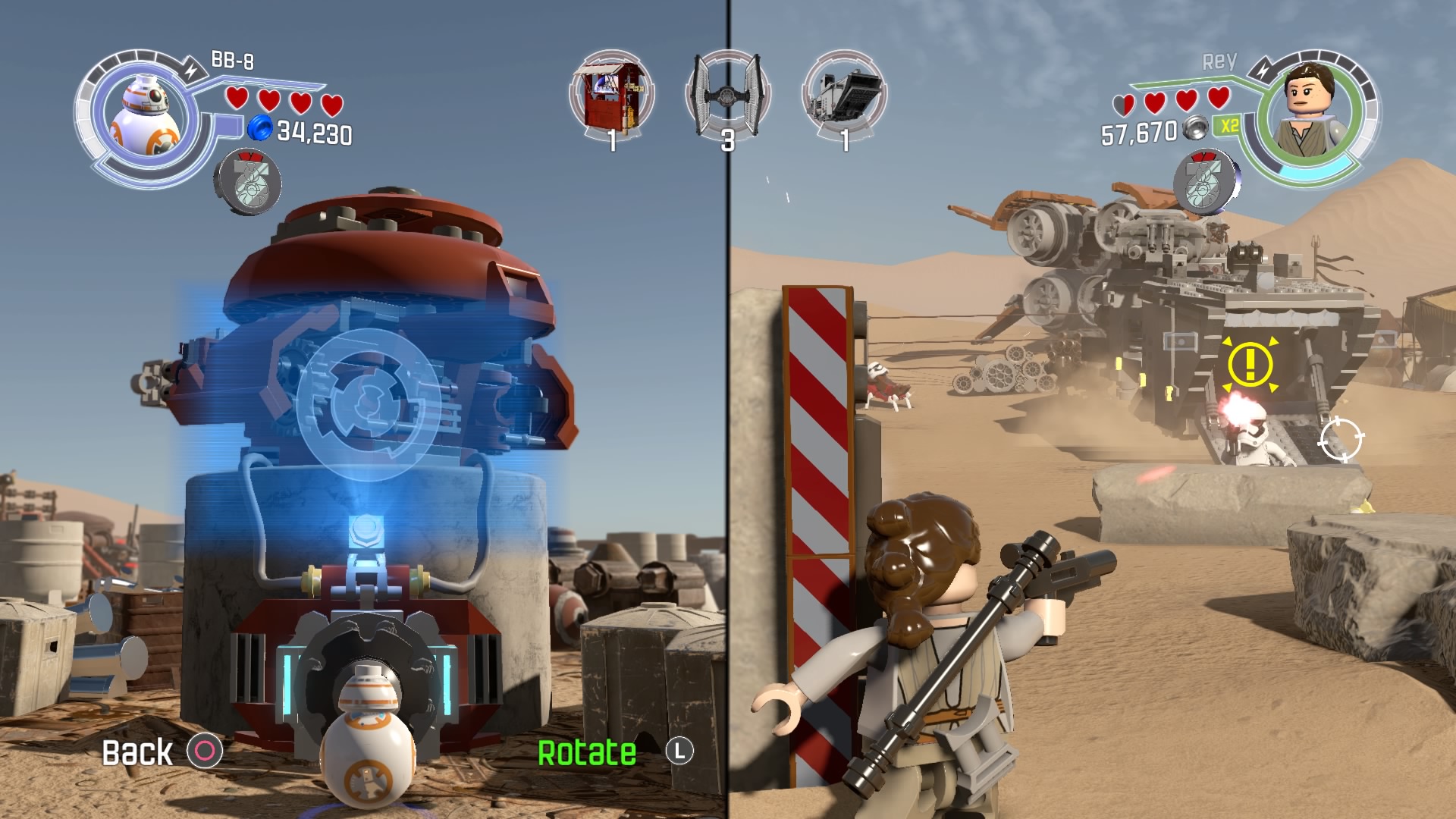 Teamwork makes the dream work! This scene is during the beginning of the force awakens but with a lego twist to it.
8. Lego Star Wars The Complete Saga
Year Released November 6th, 2007 (Android, Nintendo DS, PlayStation 3, Wii, Xbox 360, Mac OS X, iOS, Microsoft Windows) 
What's interesting about this game is how they combine the first lego star wars game and its sequel into one. The ability to start at the beginning for each saga is great, for example you can start with episode one or go straight to four skipping three and two. 
Choose This Game If You Like : 
Legos! Without a doubt this game is for people who love legos, it's not just for kids. 
To take place in the main stories as if you were one of the main characters. 
Collecting heroes/villains. This is no card game but there are over 40+ characters for the player to unlock, rather it be through the main story or using studs to purchase it. 
The objective of the game is to successfully progress through the entire story while collecting Gold Bricks along the way. New additions to The Complete Saga include a 2-player Battle Arena mode called Arcade Mode. There are also "new" Minikit vehicle bonus missions and the red power bricks from Lego Star Wars II: The Original Trilogy. 
Fun Factor Score : 83/100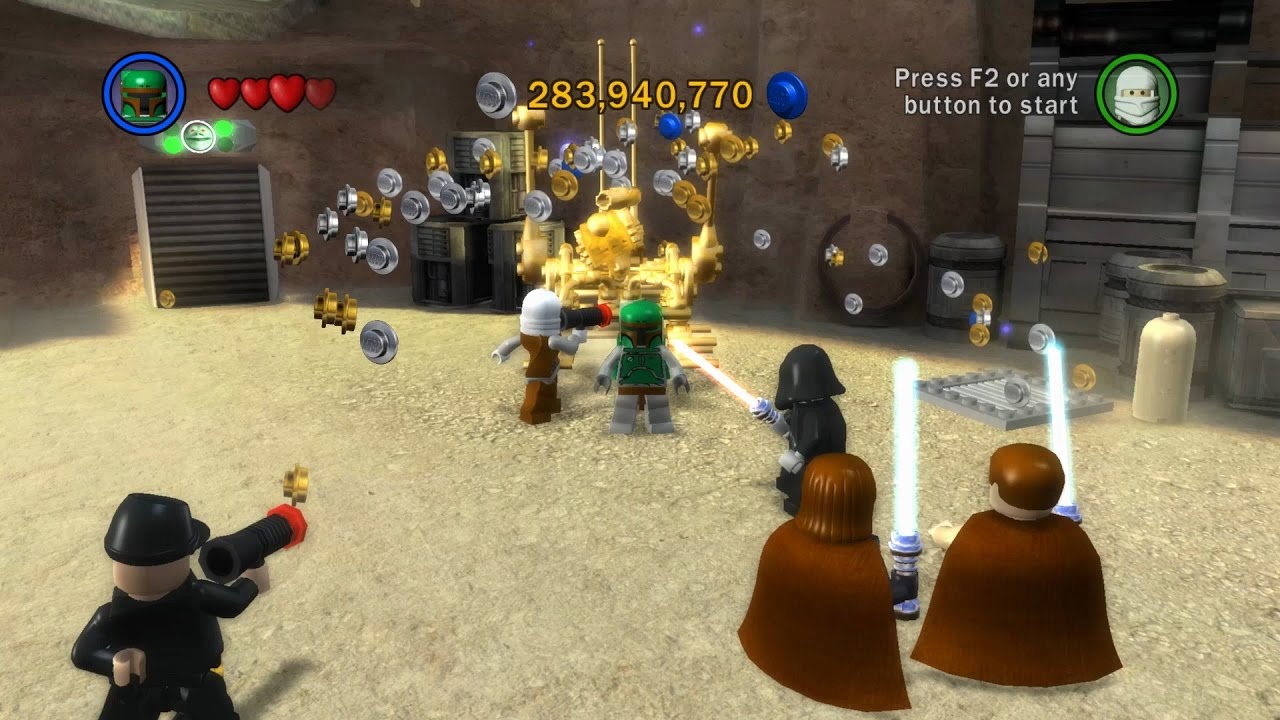 Any Time is a Fun Time! Just killing time in the Cantina area where all the stories are.
7. Star Wars Pinball 7
Year Released February 2013 (Xbox live, PC, PlayStation 3, PlayStation 4, PlayStation Vita, Wii U, Nintendo 3DS, Android, iPhone, Nintendo Switch) 
Set in a galaxy far, far away, Star Wars Pinball lets you interact with the most iconic characters, and relive the greatest moments of the Star Wars universe mixed with exciting pinball action! Star Wars Episode V: The Empire Strikes Back, Star Wars Episode VI: Return of the Jedi, Darth Vader, Starfighter Assault, Star Wars: The Clone Wars, and Boba Fett.
What's interesting about this game is the design that's put into it. For example one of the maps looks like an imperial hanger. They also included characters from the recent Star Wars titles like the solo movie and the rise of skywalker. 
Choose This Game If You Like :  
To chill and relax while seeing your favorite characters. This game is great for those times when you have nothing to do and want to get that high score. 
Having different levels and scenery. What's great about this game is the map changes and moves sometimes based on what your pinball hits, 
Having a lively feeling while getting that old arcade feel.  
The game features power ups on certain targets, a versus battle where you go against another villain from the movies, and the classic pinball style form. 
Fun Factor Score : 92/100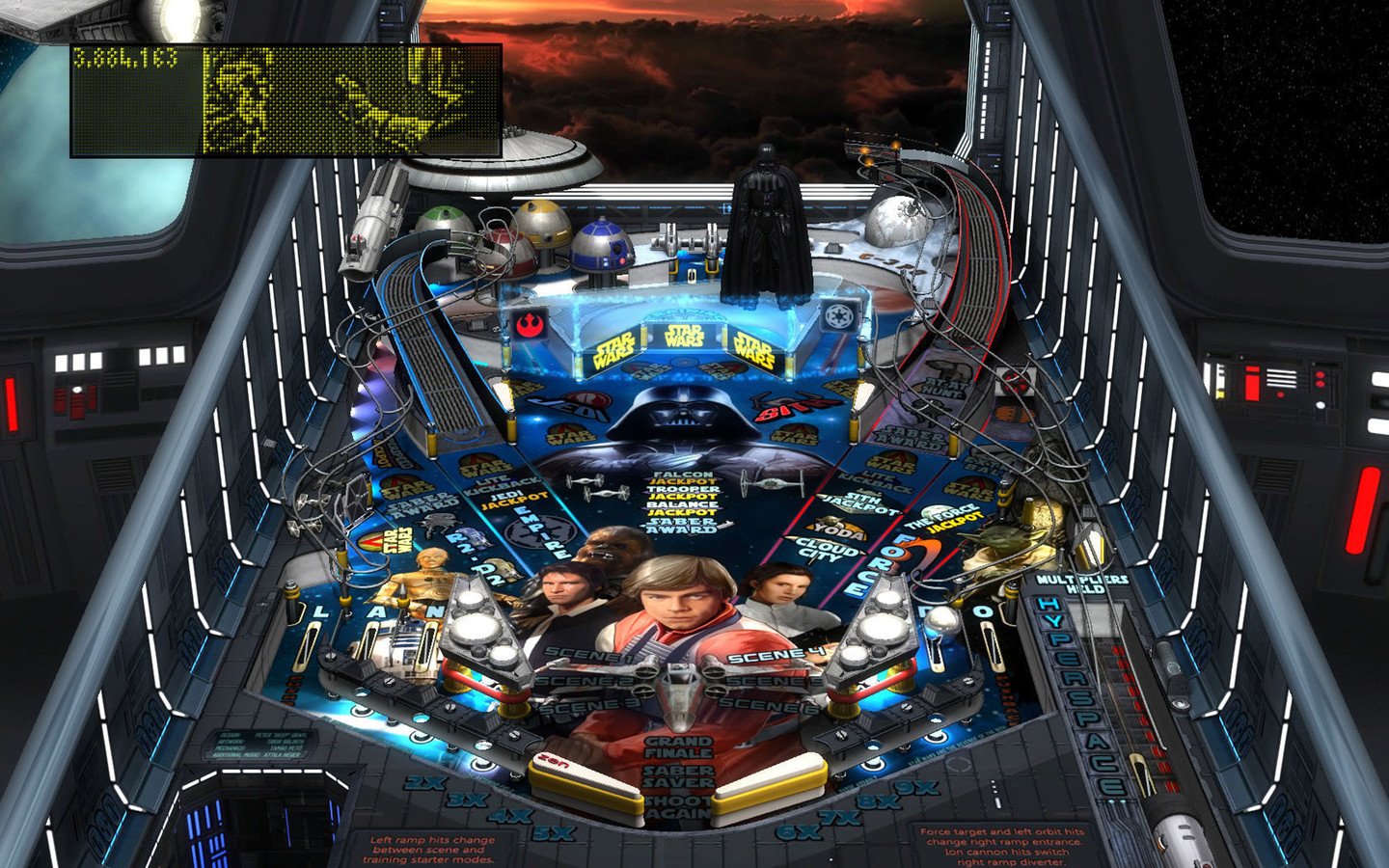 Are you strong enough to take on Vader in this Imperial hanger?
6. Star Wars: Starfighter Missions
Year released August 6th 2020 (Android, IOS) 
The interesting thing about this game is the amount of starfighters this game has for just being a mobile game. 
Choose This Game If You Like :  
Flying games that feel exciting! 
Simple space invader type games.  
Star Wars space battles. For a mobile game it's not the best flight game but is really fun when it comes to high scores and getting to the next level. 
Experience the unique characteristics of iconic Star Wars planets as you fly over breathtaking vistas or have an all out battle in orbit. Players can fight for the light side or dark side in three different game modes that allow you to experience iconic Star Wars battles inspired by the Classic and Sequel Star Wars trilogies. 
Fun Factor Score : 89/100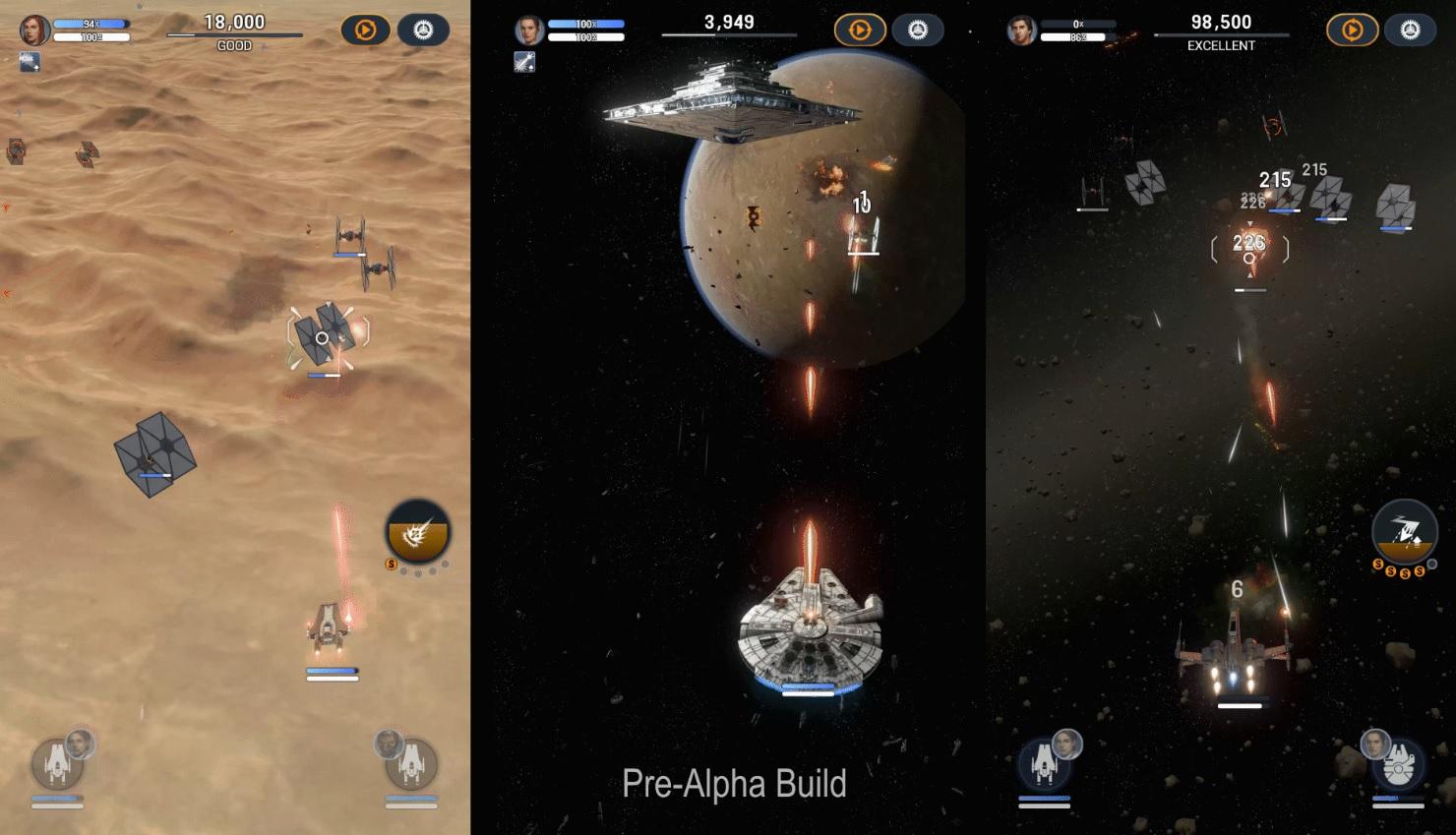 Every battle on the planet or in space you'll be ready for the empire.
5. Star Wars Commander
Year Released August 21st, 2014 (Android,iOS) 
What was Interesting about this game was the gameplay style. You get to command your forces and take down enemy strong points, get to your opponents base and destroy it and you win. (sounds easier than it really is)
Choose This Game If You Like : 
Clash of clans but want a star wars take on it. This game doesn't copy that game all the way, though it uses its format and structure when building bases and defenses.
Strategy and needing to think before you battle. As fun as it is to attack a rebel base with walkers you need to plan out your move before using troops.
Players use the touchscreen as their input and receive orders from the characters using holograms. You build up your base by acquiring credits and alloy and deploying various buildings. Special hero units can be created in the game and these heroes are unique to each side. For example, players on the side of the Rebel Alliance can recruit Han Solo, or Luke skywalker. 
Fun Factor Score : 90/100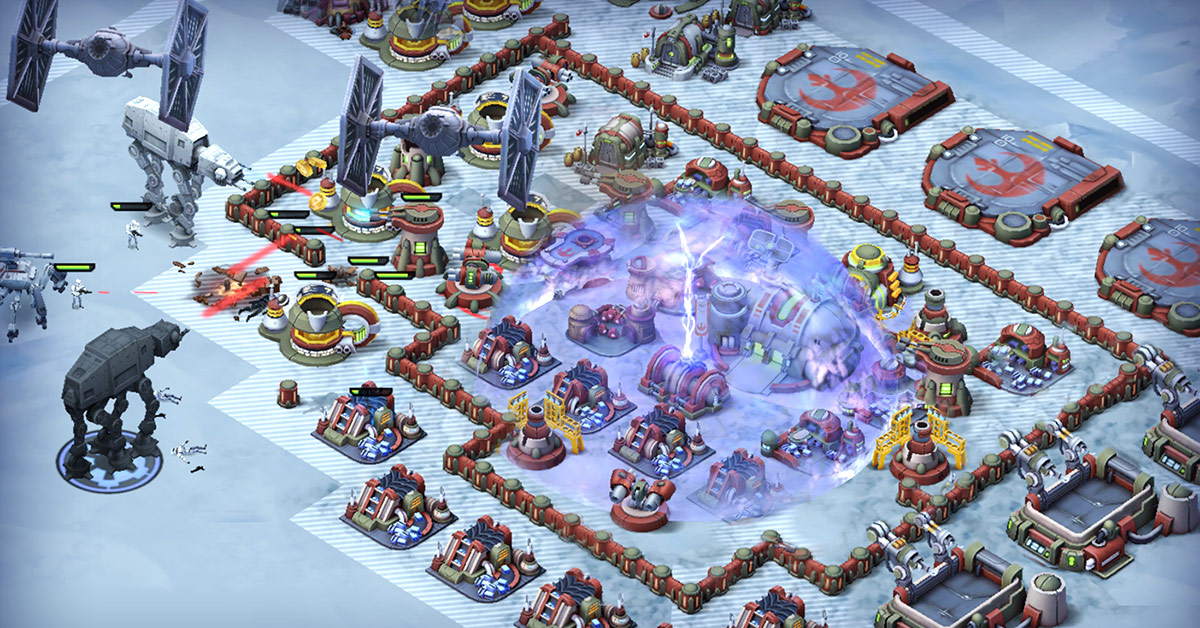 Looks like they learned from Hoth.
4.  X Wing Flight
Year Released January 15th, 2015 (Android, iOS) 
What's interesting about this game is that for being fan made, this feels like an actual star wars game when it comes to space battles. The sounds added and music played just makes this game better and when you're flying in the trench of the death star in the millennium falcon.  
Choose This Game If You Like : 
Simulators and want to know what being inside a fighter looks like. This game includes a first person mode where you can see inside the cockpit in detail. 
A game where you can test out certain fighters and fight in simple space battles. Now don't let that make you think this isn't any fun, With all simulators this game gives you the experience to play as a starfighter or hero. 
The game features in this game are pretty straight forward. You get to choose a ship and battle on select planets and destroy every enemy fighter to win. While doing so you're able to fly around using your touchscreen that has inputs for the controls and have access to one of the three weapons during the game.
Fun Factor Score :  70/100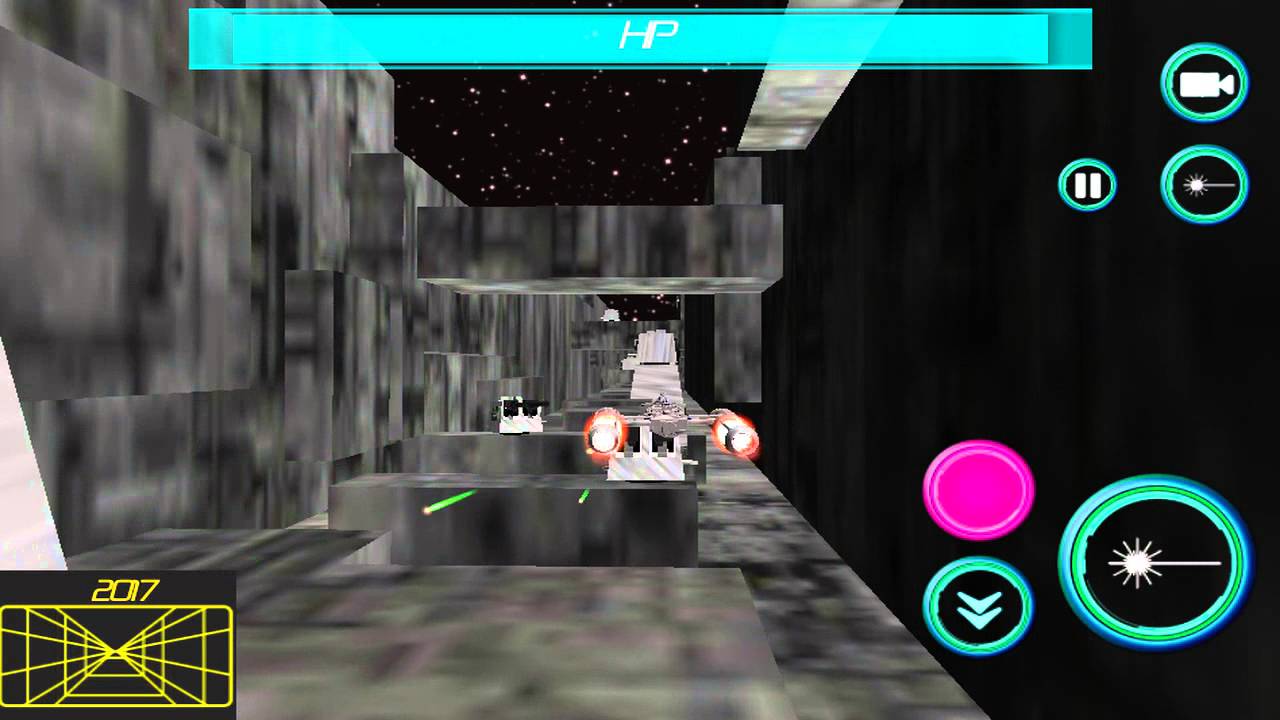 These turrets never knew what hit them! 
3. Lego Star Wars Battles
Year Released September 24th 2021 (Google play, IOS)
What's interesting about this game is how it brings lego star wars, mobile games, and Versus battles into one allowing for a good combination that mixes the old with the new. 
Choose This Game If You Like : 
One on one battles or huge battles. Having the battlefield to use you have the option to only use one character (not recommended) or put down everything you have. 
Card games with interactive pieces to it. For every turn an interactive action is made showing the move the player made. It makes the card you have feel alive instead of always in your deck.
Third person real time action. Every time you place a character down you see the game playout in real time. Example seeing darth vader walk after putting him on the field.
Star Wars: Lego battles lets you use over 40 units from all eras of the Star Wars universe like AT-ATs, Y-wings, TIE fighters and characters from Star Wars: The Phantom Menace, Star Wars: A New Hope, Star Wars: The Clone Wars, and more. Build up your power and level up your troops to take out your opponent.
Fun Factor Score 92/100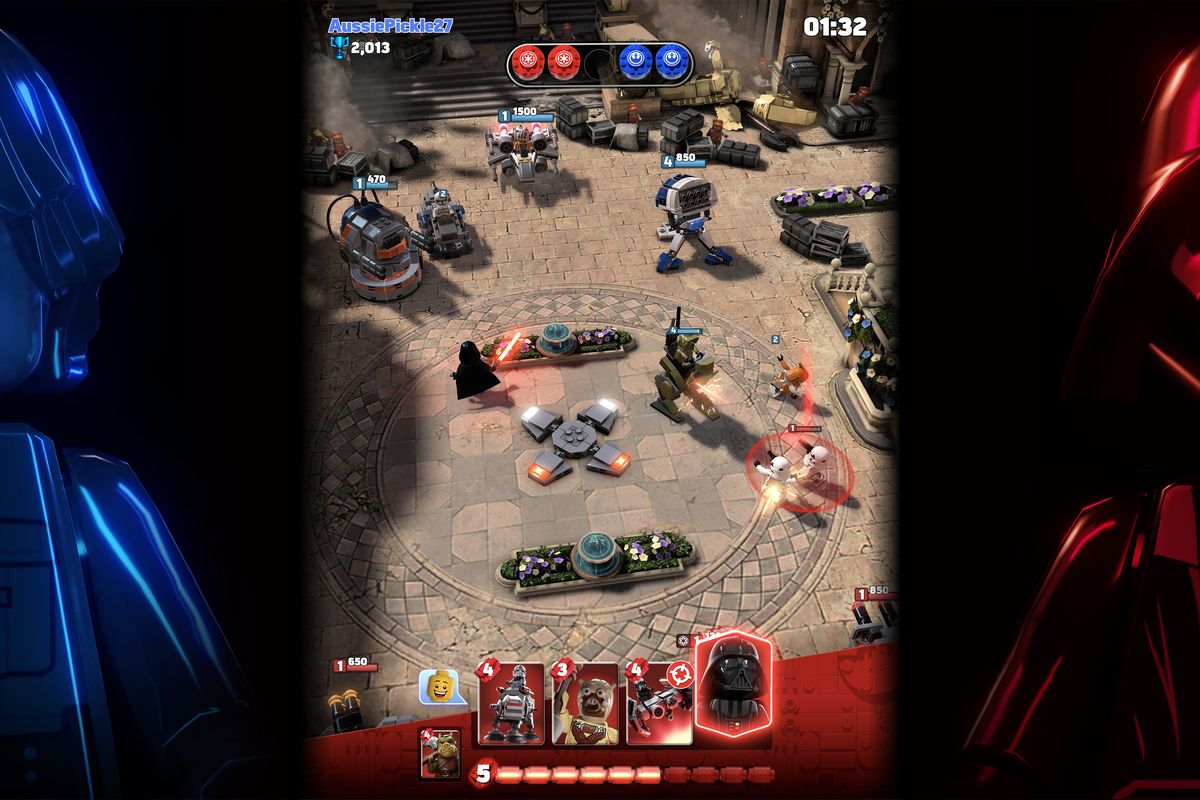 This player knows how to use the full might of the dark side! 
2. Star Wars: Knights of The Old Republic (KOTOR)
Year Released July 15th 2003 (Xbox, Microsoft Windows, Linux, OS X, Android, iOS, Nintendo Switch)
What's interesting about this game is how the story is better than the actual gameplay/combat. This game takes you on a classic star wars adventure and adds new lore and reasons for questions we didn't have answers to. 
Choose This Game If You Like : 
Humor but seriousness at times. The game injects humor at points but can get very dark and serious. For example your companions will say something light hearted and then you're thrown into a cutscene of Malak and his plans. 
A game with a fresh Star Wars story to get into. When you play the game and experience the story it will feel as if you're watching a movie. 
Being able to have freedom with the character you create. There are 6 classes to choose from and you can customize your build to match that jedi in your roleplay. 
Combat is round-based; time is divided into discrete rounds, and combatants attack and react simultaneously. The number of actions a combatant may perform each round is limited while each round's duration is a fixed short interval of real time. The player can configure the combat system to pause at specific events or at the end of each round. 
Fun Factor Score : 97/100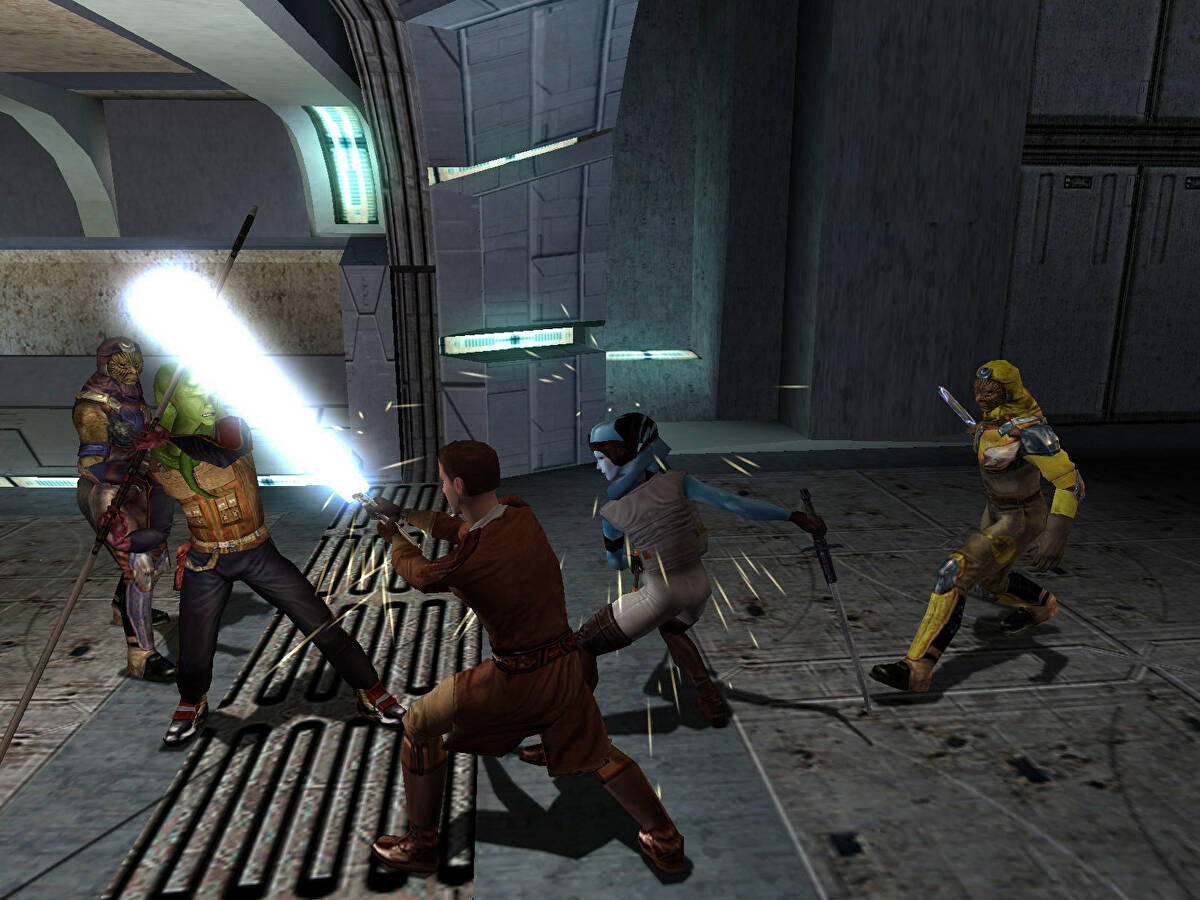 The Vulkars may run things in the undercity though they weren't ready for this! The player had just used a disguise to get down to the lower levels.
1. Star Wars: Knights Of the Old Republic 2 Sith Lords (KOTOR 2) 
Year Released December 6th 2004 (Xbox, Microsoft Windows, Linux, OS X, Android, iOS, Nintendo Switch) 
The interesting thing with this game is how it takes place during the aftermath of the 3 wars previously. We get to see the galaxy in a state that's never been seen before. Also because the rush this game went through was more heavy with its writing than the last installment. 
Choose This Game If You Like : 
Lore and mystery. This game is jam packed with lore from each sides light and dark, and by the beginning of the game you'll have this mystery to figure out.  (no spoilers in case you haven't played it) 
A game where you can travel with more than one companion. KOTOR 2 allows you to travel with up to 3 characters in your party yourself included.
The first game and I want to know more about that universe. Taking place 5 years after KOTOR 1 you get to see the same planets you visited and witness what years of war did.
Knights of the Old Republic II is not a turn based game but is a role-playing video game played from a third-person view that features pausable real-time combat. Combat and interactions with the environment and non-player characters in KOTOR 2 are based on the d20 System as in Star Wars: Knights of the Old Republic or D&D. The game starts with a character creation screen with several choices to make and there is also an option of letting the game do it automatically. (sometimes it helps). There are 30 new Force powers, which are manifestations of the Force. 
Fun Factor Score :  98/100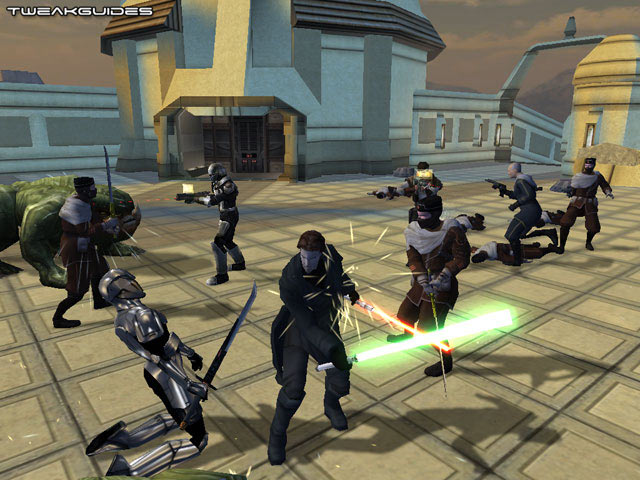 These Sith Guards picked the wrong day to come into work. (should've called off.)
You may also be interested in: