[Top 5] Valorant Best Knife Skins and How To Get Them
Updated: 29 May 2022 11:52 am
Fancy a knife, anyone? With such killer designs, who could say no!
Did you know that knives are an extremely underrated way of getting kills in Valorant? 
Valorant is an FPS game that once you start playing, it's almost impossible to stop. Thanks to multiple maps and a wide variety of agents, there seems to be something for everyone! But you know what gamers love just as much, if not more than, gameplay? Equipment skins. And Valorant has a lot of them. While there are dozens of gun skins to choose from (and trust me, we love to talk about those), today it's all about the knife skins. So here are the top 5 Valorant knife skins and how you can get them!
5. Ruin

This knife skin is out to ruin everyone's day.
See the Ruin in action: https://youtu.be/ecoUoQWJqhA 
The Ruin knife skin from October of 2020 is perfect for anyone who loves some cutthroat dragon vibes. The traditional oriental style with red, black, and gold details is seriously stunning and I'm not surprised to see that it's part of the top five! 
4. Sovereign

Step into your rightful role as ruler with this elegant blade. 
See the Sovereign in action: https://youtu.be/8HDIEmu2RBg 
As a complete opposite to our number 5 spot, the Sovereign Knife (or sword) was released in June of 2020 and is an elegant silver blade decorated with a golden hilt resembling a noble bird. With an available upgrade to unlock an ethereal blue glow, this knife skin is perfect for anyone who wants to bring a bit of beauty to the battlefield. 
3. Reaver

Get ready to attack from the shadows. 
See the Reaver in action: https://youtu.be/td0CBq84Uzs 
Hello, tall, dark, and handsome. Or should I say, short, dark, and handsome? The Reaver skin is something out of an evil fairytale, decorated with silver, black, and purple details and completed with a wicked blade that will send any foe running in fear! This dagger skin was initially released during Valorant's beta phase in November of 2020. 
2. Celestial Melee Fan

Is it a bit hot in here? 
See the Melee Fan in action: https://youtu.be/0LaNEpboCQs 
Do you want to channel the Kyoshi Warriors from "Avatar: The Last Airbender"? Well, then you've got to get your hands on the Celestial Melee Fan from the February 2021 release! This unique golden skin has a classic Asian style which features beautiful artwork that depicts a bright orange sunset hanging over cloud draped mountains that are nestled in blue ocean waves. There's a reason this beauty is sitting pretty at number 2 on the list!  
1. Glitch Pop Dagger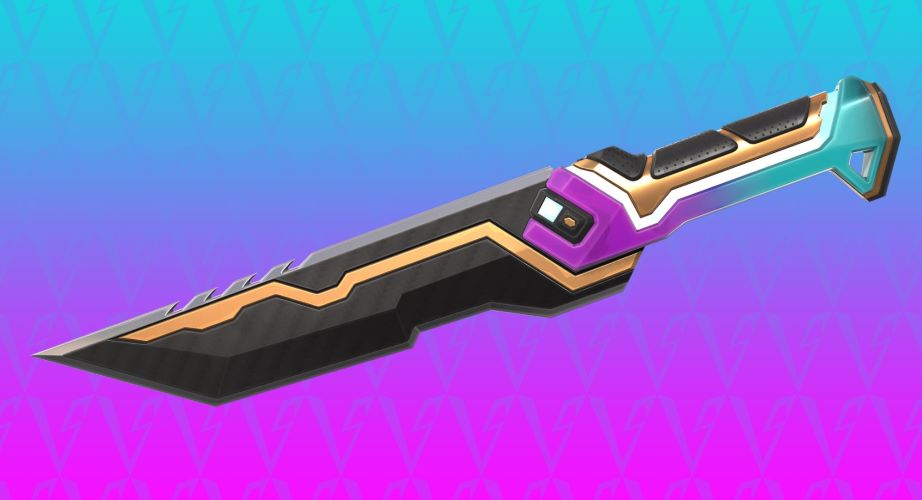 Candyland, here we come! 
See the Glitchpop in action: https://youtu.be/7ELFFVl47Ms 
Here we are at the number one spot. It's loud, it's proud, and it's covered in funky colors; we're talking about the Glitch Pop Dagger skin from the 2020 August Glitch Pop release! This amazing anime-styled knife skin is popular for good reason as it has a killer combination of black, gold, purple, and teal colors that really make it visually appealing. Add in the fact that this baby lights up with different colors and it's easy to see how you'll never be bored with this knife in your arsenal! 
Also be sure to read:
Image Gallery