[Top 7] Sims 4 Best Wedding Locations
Updated: 30 Oct 2020 9:14 pm
Test out all of these gorgeous wedding venues with Father Winter!
7. Ancient Ruins, Windenburg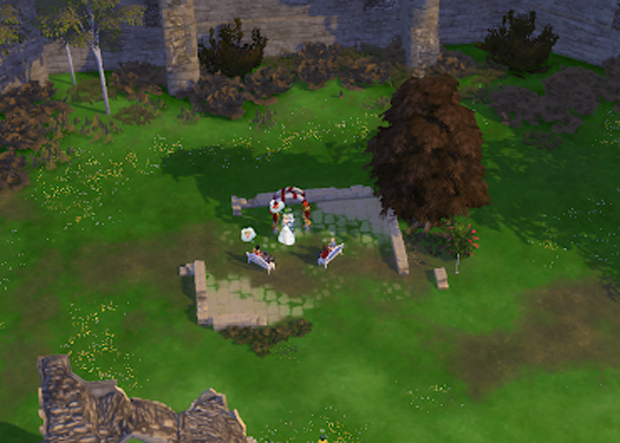 A small wedding party enjoying Father Winter's first wedding in the 'Ancient Ruins'.
Taking the seventh spot on our list of wedding venues is the Ancient Ruins in Windenburg. This is an extremely cool venue for any wedding, and getting married in historical ancient ruins is just so epic it hurts.
What Makes Ancient Ruins Great:
This is an interesting one, but it made the top 7 list because it is so unique. Plop down a wedding arch and some seating and you've got the coolest wedding venue known to man. Party among crumbled bits of an ancient society and enjoy the best day of your life! That seems pretty illegal, but this is the Sims, so go for it.
The lot itself is extremely tiny (I mean extremely tiny), but the explorable area around is pretty large. Your wedding guests can all pack into the tiny lot for drinks and cake and then spread out to dance and mingle. Invite the whole town down to these fragile ancient artifacts to party all night!
6. Wedding Church, Not In World (Found on the Gallery)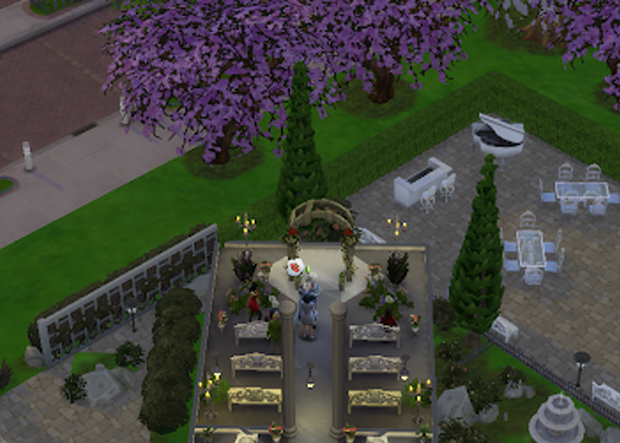 A lovely wedding at the 'Wedding Church'  in which we invited only people we met at the Welcome Wagon.
This 'Wedding Church' by lololaura is an incredible build, and it uses only the base game! Download it from the gallery by searching Wedding Church - it'll be a great addition to one of your worlds.
What Makes Wedding Church Great:
This venue is beautifully designed, and every wedding my sims have had here has been incredible. The bar and tables out back make for a great hang out spot, and the piano is great for a hired musician. 
Everything in this build is from the base game, and because it's on the gallery, this lot can be placed anywhere! Place the Wedding Church in an empty space in Newcrest, or if you want to be chaotic, just bulldoze someone's house! Your wedding to Father Winter is the top priority anyway.
5. Magnolia Blossom, Willow Creek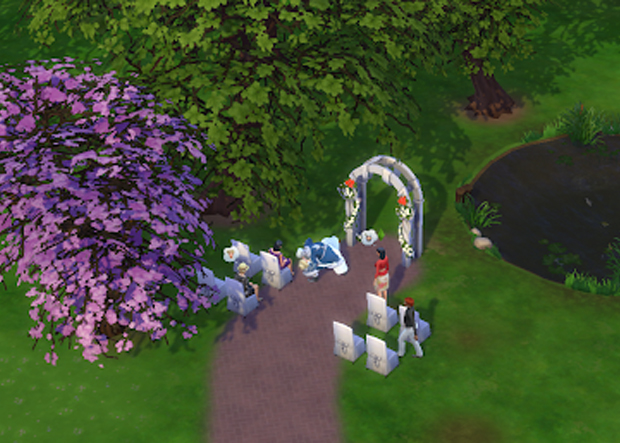 A gorgeous outdoor wedding in 'Magnolia Blossom' park.
This base game park is one of the best in the Sims 4, and its lush vegetation, cute ponds, and nice pathways make for a lovely outdoor wedding venue!
What Makes Magnolia Blossom Great:
If you don't have any extra packs, this venue is an excellent option for your wedding. The scenery is incredible, and there are plenty of places for you to place down the arch and chairs!
The building on this lot is white and pretty, and it definitely fits the wedding venue aesthetic!! Plus, there are tons of tables for you to put your wedding cake on. Don't forget a portable speaker and bar. You'll want your wedding to have plenty of songs in simlish and juice flowing all night!
4. Sand Simoleon Beach, Sulani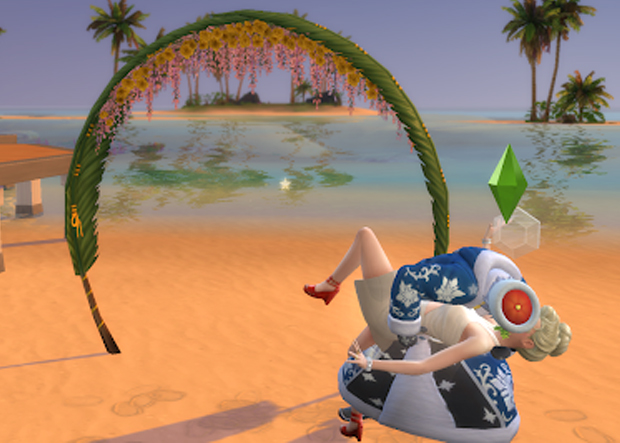 Father Winter and Judith Ward's third wedding, this time in Sulani!
Destination wedding! Invite the people you met yesterday at the Welcome Wagon to your elegant beach wedding!
What Makes Sand Simoleon Beach Great:
This beach is simpler and has a more chic style than the other beach in Sulani. The white and sandy brown tones in the furniture and lot items are perfect for your tropical wedding. This arch doesn't originally come on the lot, so you'll need to place one yourself.
Beach weddings make lovely memories, beautiful pictures, and an unforgettable ceremony. Place chairs along the beach if you want a more elegant and formal feel, or just place an arch and get going if you're feeling casual!
3. Club Calico, Brindleton Bay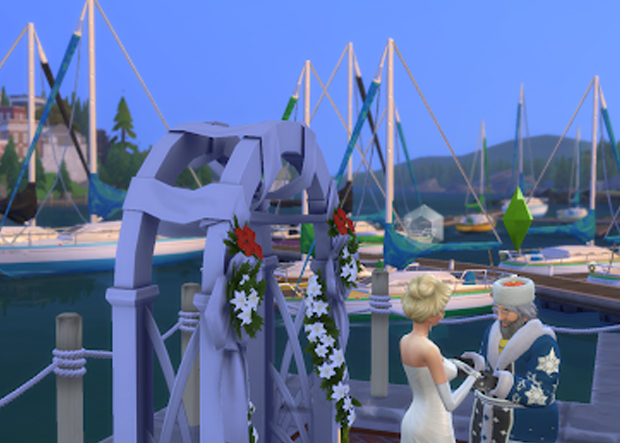 What a lovely wedding out by the bay at 'Club Calico'!
This lot has a romantic wedding arch ready for you right on the water, and the lounge is perfect for the reception! Plus, the ships and sea in the background really set the tone for a beautiful night.
What Makes Club Calico Great:
The whole lot's nautical style is perfect for outdoorsy, romantic sims! Gather your favorite sims to watch you marry Bob Pancakes for the sole purpose of starting drama. It'll be beautiful.
An afterparty at Club Calico is sure to be epic. Dancing the night away and swimming with your new husband will give your big day a grand finish. If you get bored, you can always wall up the pool! (Disclaimer - no sims were harmed in the making of this article)
2. Von Haunt Estate, Windenburg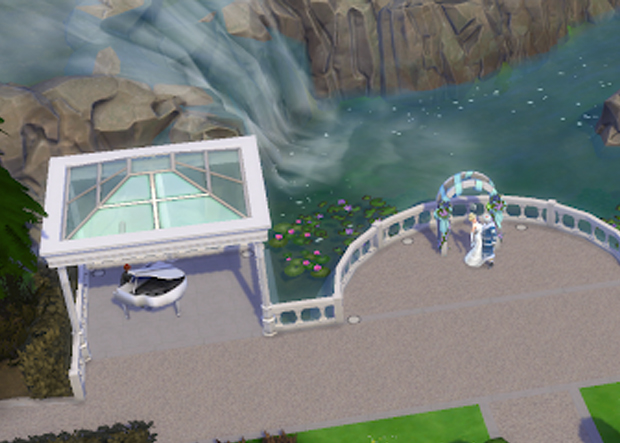 A ridiculously boujee wedding next to the waterfall at 'Von Haunt Estate'. 
Plan your wedding at the Von Haunt Estate to show off to the sims in your neighborhood. This estate is so expensive, so grand, and so over the top it is sure to impress all of your guests - even the Landgraabs!
What Makes Von Haunt Estate Great:
The wedding arch and piano in the picture are there by default, so you don't need to set up where you'll get married! The background is a beautiful waterfall, to the right there is a huge maze of bushes, and the walkway to the arch is spectacular!
If you delete the guard ropes (oops, sorry old historical house!), you can use the fully functioning kitchen and living spaces. There's even a bedroom upstairs if you want to get the honeymoon started early!
1. Myshuno Meadows, San Myshuno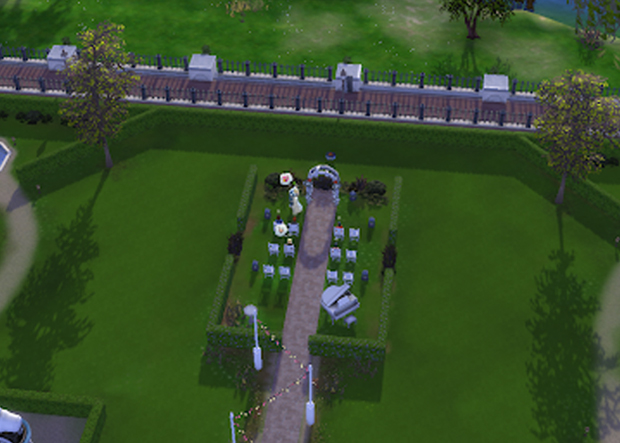 The easiest, prettiest, and most convenient place to get married - 'Myshuno Meadows' park!
This is 100% the perfect place to get your sims married. Grab the dude you met 3 hours ago and marry him in this beautiful park!
What Makes Myshuno Meadows Great:
This lot already has this whole wedding area set up for you. The chairs, piano, and archway were there before Judith Ward and Father Winter even showed up! If you just met some random townie at the gym and you're getting married, this is the perfect place to do it.
Not only does this lot already have a gorgeous ceremony area, it has a fully functional kitchen for you to bake the cake! Is your sim incredibly poor and trying to marry Geoffery Landgraab in less than 24 hours? Fear not! You can bake your cake and get married all on the same lot.
Check out those views! This park has a gorgeous lake behind it which makes for some fantastic wedding pictures. Myshuno Meadows undoubtedly earns the top spot on our list!
You may also be interested in:
Image Gallery