[Top 5] Rainbow 6 Siege Best Lesion Loadouts
Updated: 07 Sep 2021 11:53 pm
The nerf didn't even make a lesion to his name. Get it? Lesion basically means damage, so... okay I'll stop
The codename Lesion is really appropriate for this operator. His Gu mines releases a toxin which damages attackers that get close to their radius, affecting their vision and mobility. Despite the nerf which removed the initial damage from his Gu mines, he remains to be one of the most played operators in Siege, to no one's surprise really. Not only does his Gu mines inflict damage overtime and affect vision. They also put a stop to enemies' momentum, and the sound from a Gu mine donating also serves as an alarm.
5. SIX12 SD with Laser + Q-929 with Suppressor + Impact Grenades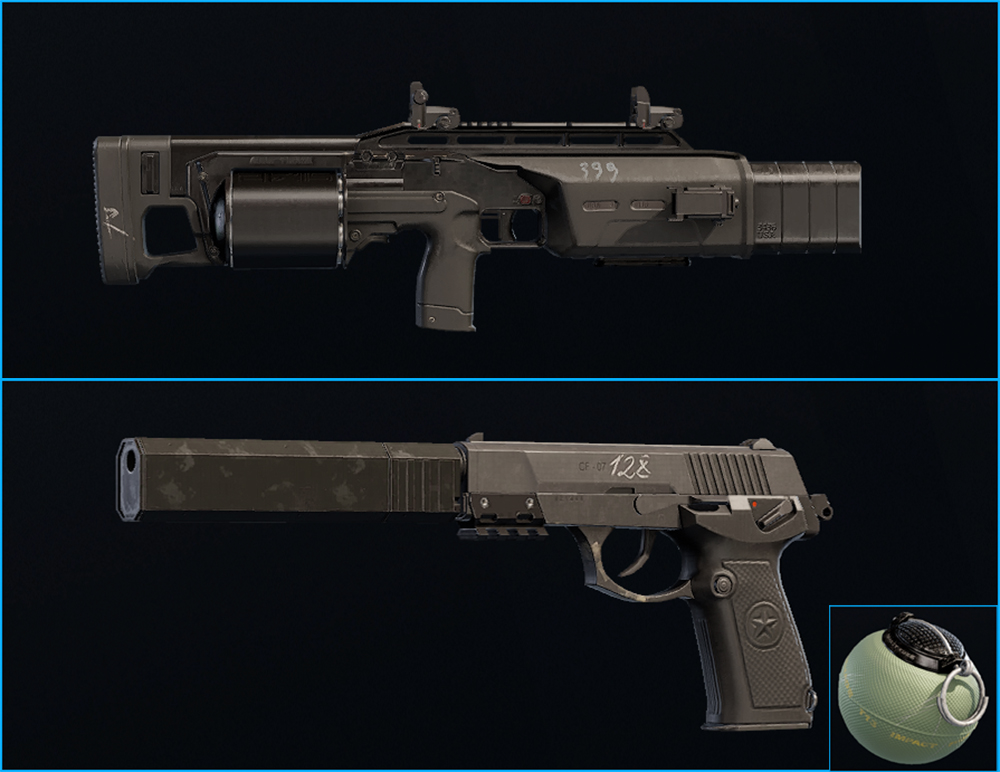 Shotguns lack range, but it compensates with angles.
Most players use Lesion for anchoring. Rightfully so. Anchoring with Lesion is the safest way to play him. The longer he is alive, the more powerful he gets, because there's gonna be more Gu mines on the ground, granted that the maximum that Lesion can deploy is 8.
But more adventurous players also use Lesion for roaming because Gu mines can be used to deter enemies that are hunting or flanking you. You can use the suppressed handgun for destroying attacker drones, and the shotgun is for harassing your enemies, especially those who stepped on your Gu mine, or those above wooden floors. Use the impact grenades when you need to create escape holes through walls.
Excels in:
Roaming
Close range
Harassing enemies from different angles
4. T-5 SMG with Red Dot and Suppressor + Q-929 with Muzzle Brake + Impact Grenades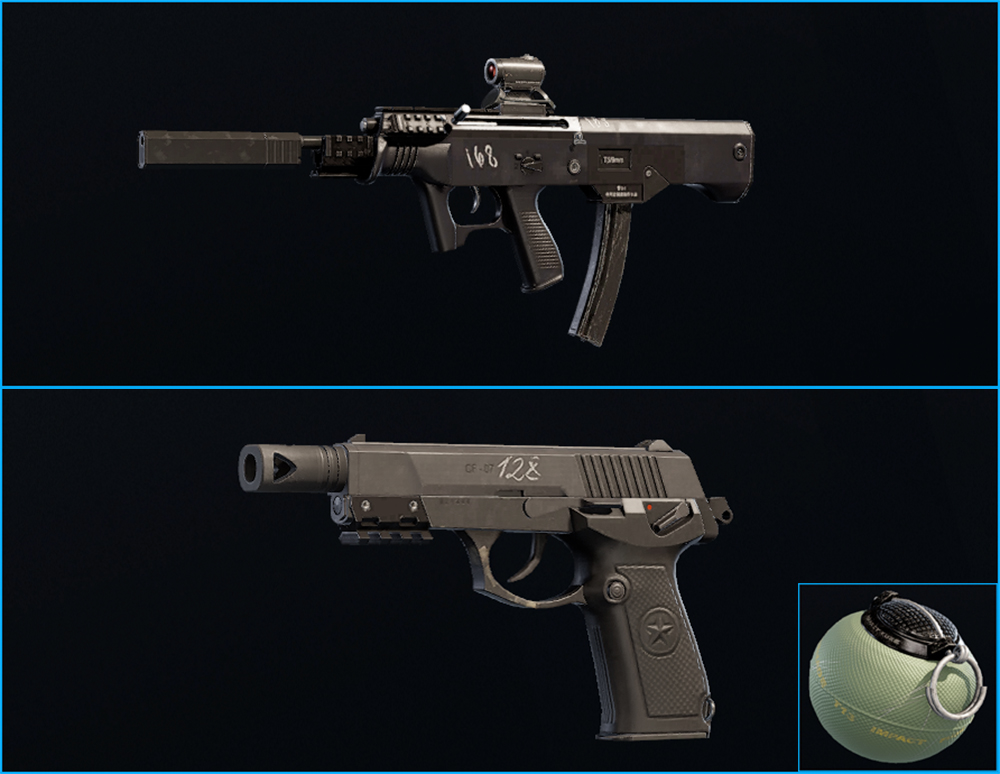 I love it when enemies react slowly to me shooting them because they don't know where I'm at
Another loadout that is great for harassing enemies. Since the SMG already has a suppressor, the handgun doesn't need one, allowing for more damage for when your smg needs to reload. You can shoot attacker drones with your suppressed SMG and kill or harass enemies with it, while also making it difficult for them to know the direction the shots are coming from.
Excels in:
Roaming
Stealth
Close to medium range
3. SIX12 SD + Q-929 with Suppressor + Impact Grenades
With this loadout, you'll be discouraging enemies from rushing to your objective area.
A great loadout for anchoring with Lesion. The Gu mines slow your opponents' down, and it's when they are encumbered that it is best to come at them with a shotgun. With this, you'll be letting go of the laser so that you can always have your shotgun at the ready without potentially alerting the enemies to your position. And once they're close enough, and preferably poisoned with a Gu mine, you surprise them with this high impact shotgun.
Excels in:
2. T-5 SMG with Compensator and Red Dot + Q-929 with Suppressor and Laser + Impact Grenades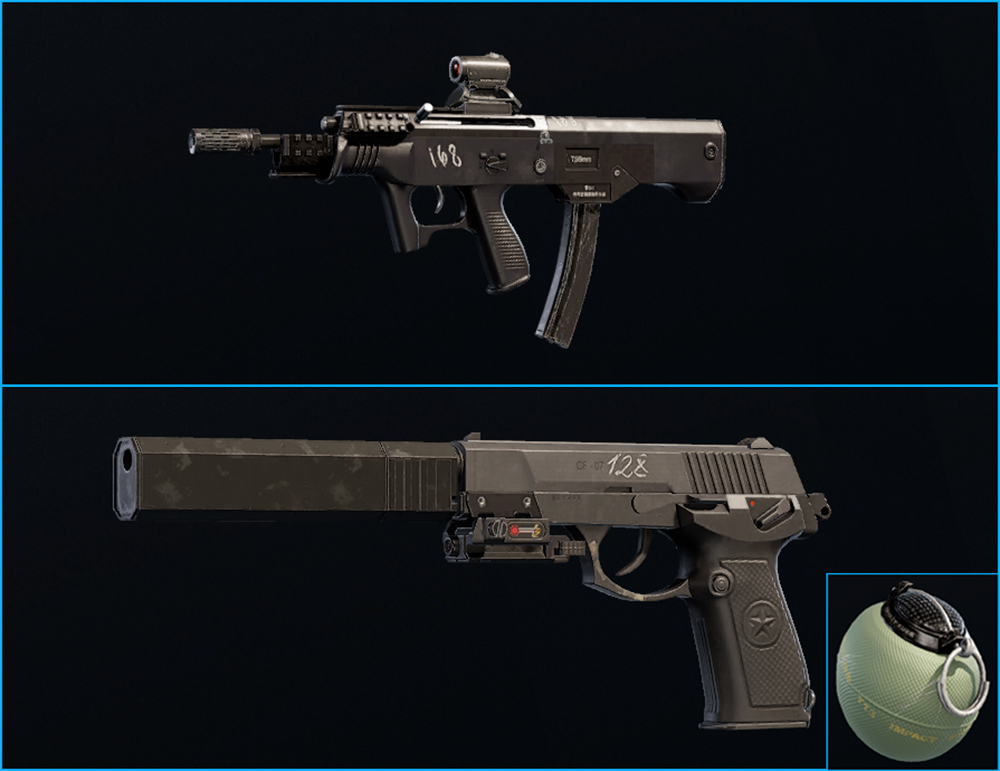 Precision is key
Compensators give you the maximum control of your gun especially with sustained gunshots, thus, it is highly recommended to use for both beginners and experienced players alike. You just can't go wrong with a compensator. And for a low damage gun like the T-5, compensators will 'compensate' for the low damage with the best recoil control that you can get. 
The laser on your handgun won't alert your enemies to your position as long as it's holstered, which will be most of the time especially when you're anchoring, so it's gonna' be alright, since you will probably only use it on enemies when your primary needs to reload. The added benefit for flick shots from the laser will also really help when switching to your handgun.
Excels in:
Accuracy/recoil control
Anchoring
Close to medium range
1. T-5 SMG with Flash Hider and Holographic + Q-929 with Suppressor and Laser + Impact Grenades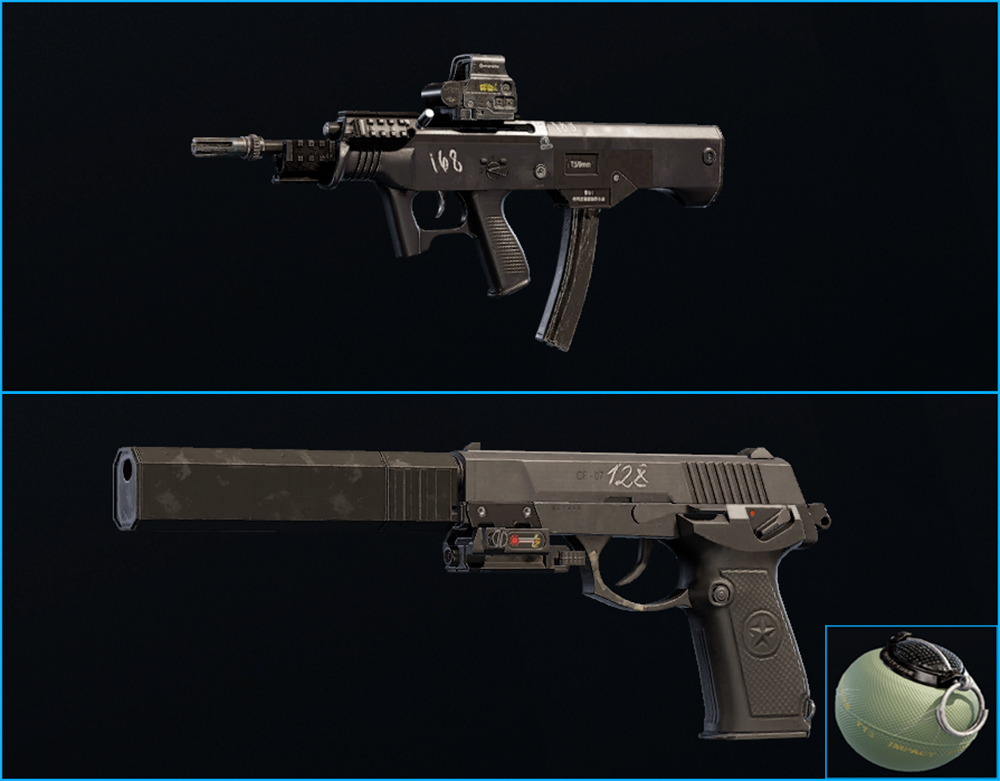 The flash hider is underrated
The flash hider on your SMG adds recoil benefits, but not as good as the compensator. It also hides the muzzle flash and hides the directional threat indicator of shots, but not as well as the suppressor. The thing is, it does what both suppressor and compensator do, except for making the gunshots silent. And especially for a gun like the T-5 SMG which has a low recoil to begin, flash hiders are just perfect. Especially when partnered with holographic sights for added sense of control.
Excels in:
Anchoring
Recoil control
Close to medium range
Attention operator, please be advised. There is a new directive from Six. Read up on these related articles, and prepare for deployment:
You May Also Be Interested In: