Rainbow 6 Siege Attachment Guide (R6 Best Attachments For Every Weapon)
Updated: 29 Jun 2019 7:30 pm
Listen to our lord and use the best attachments possible for your weapons.
What Are The Best R6 Weapon Attachments?
Rainbow Six Siege is many things, it is a hardcore First Person Shooter that requires a lot of forethought, strategy and gun skill to play at higher levels, it is a fun game that tests even experienced players, and it is also a game that can seem overwhelming when it comes down to choosing which operators, which weapons, and which attachments you want to use.
Outside of the ACOG, the sights seem to be almost exactly the same with slight cosmetic differences, all of the barrel attachment descriptions can start to read similarly after a while, and things like laser sights, silencers, and extended barrels seem to have very little drawbacks and a lot of benefits. Have no fear, I am going to try and break down the differences between all of the attachments and help the learning curve, whether for new players or players simply trying to rank up, get easier.
Now generally speaking, until you learn the recoil patterns of each weapon, you should try your best not to spray; using bursts on full auto should do the trick. The recoil patterns of every gun are different and that is why every barrel attachment will interact differently with them. But regardless of the attachment, full auto spraying will render the barrel attachment null after the first couple of seconds, as the recoil carries your barrel up towards the sky, which is where your operators spirit will go if you full auto too often without practice.
Barrel Attachments
There are five barrel attachments, although one is practically useless but I will include it for the sake of clarity. The compensator, the suppressor, extended barrel, flash hider, and muzzle brake. Each of these interact differently with each operators weapon, so not only should you try to understand the function of the attachments but also get a general sense of the recoil pattern your operators weapon has.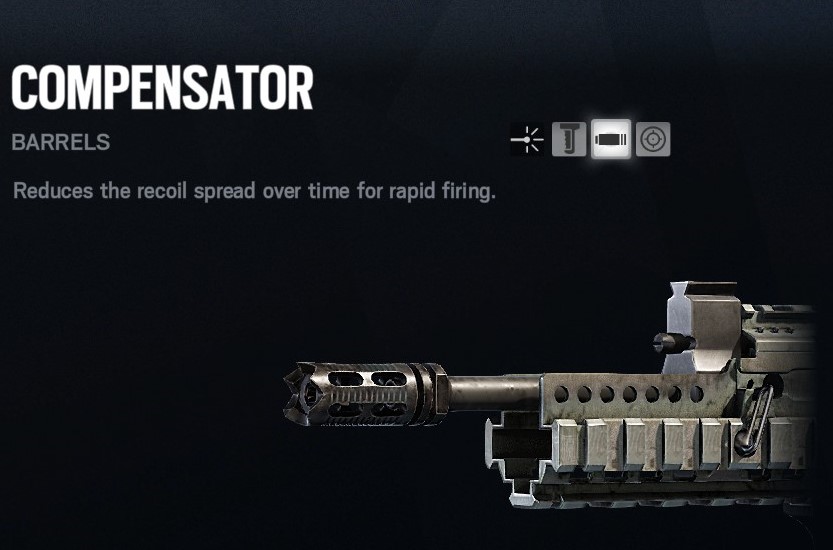 The compensator is great for spraying into rooms.
The Compensator does not affect the initial climb of the recoil, but produces a tighter pattern for the weapon, so it will not spray wildly after the initial burst, but on a more controllable and predictable pattern. This is a better choice for weapons with a wild and unpredictable recoil pattern such as Twitch's F2, and for weapons which will be used to spray down enemies, like LMGs.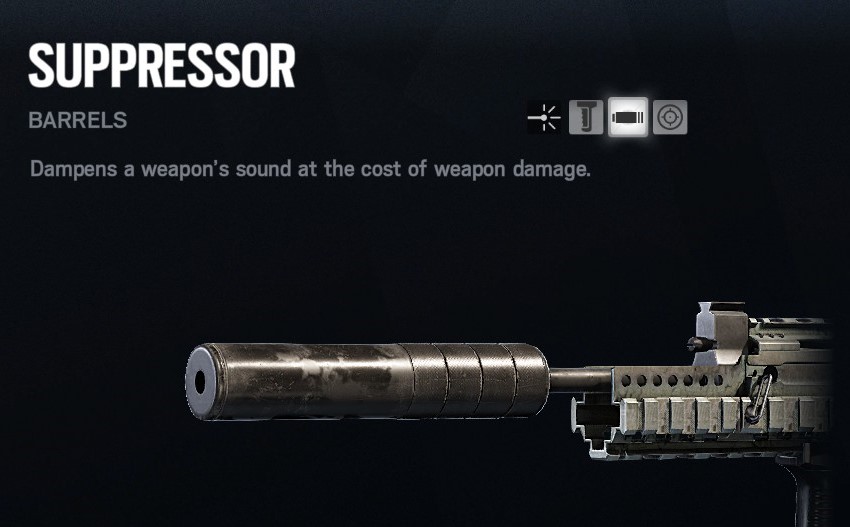 A great choice for stealthy players.
The Suppressor is a more complicated choice, I would not call it useless or bad, but it can often be difficult to make up for the loss in damage. It will reduce, but not completely, silence your shot, remove any indication of where the bullets are coming from, and hide any tracers your bullets may show, but it will also reduce the damage of each bullet, resulting in more time to kill.
This attachment does not change the recoil whatsoever, so I can only really say this is an attachment that is indicative of your playing style. If you want to try and be stealthy, and are good at getting the drop on people, then this may be a good choice, but for anyone else, I would recommend steering clear.
There are some weapons with silencers attached permanently to them such as the MP5SD from Echo, enjoy them as they come with no downsides and only strengthen the weapons. I also run suppressors on my pistols (outside of the D-50) simply because it makes stealthily destroying cameras and drones easy.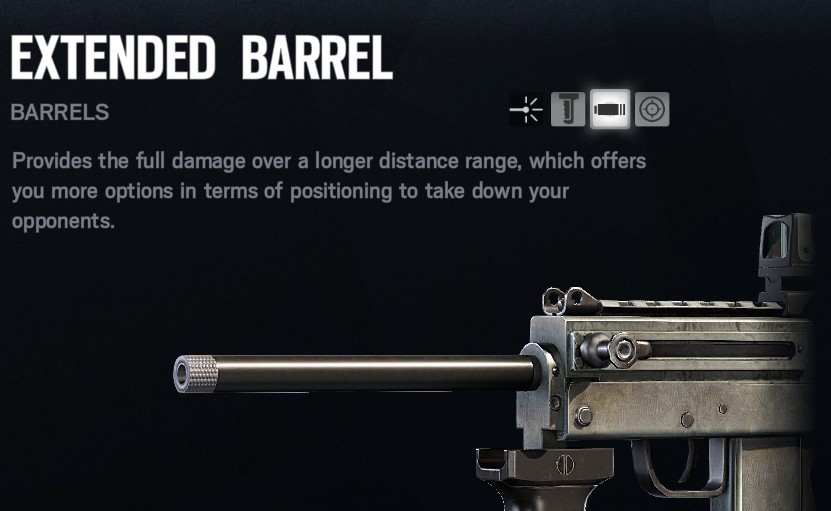 A great choice for those with a death wish and Ela shotgun mains.
The Extended Barrel is the only choice in the barrel attachments that I would call useless or broken. It claims to improve damage after 10 meters or so, but realistically there are very few angles or times in this game that you will be that far away from the enemy (that is about 33 feet).
You are better off using any other barrel attachment for the recoil control. If there are no choices in barrel attachments which change the recoil, like Frost's 9MM C1, then you may also consider that the extended barrel makes your gun more visible as a result and will make sneaking, or hiding in a corner less safe. My personal opinion is to never use this attachment, but your mileage may vary.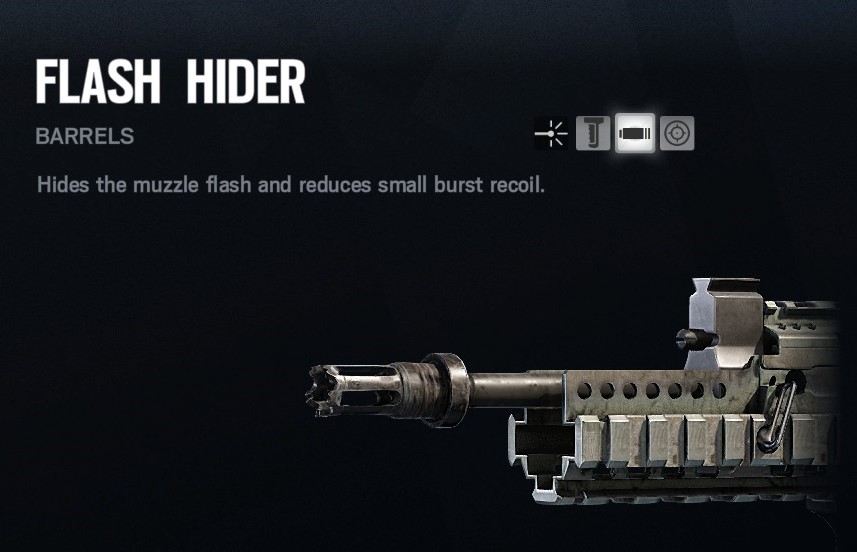 The perfect middle ground barrel attachment
The Flash Hider is always a viable choice. When you shoot a gun, the muzzle flash can obscure certain parts of the screen and make it difficult to see who you are shooting at, the muzzle flash moves the flash towards the side of your screen.
It also reduces the recoil of your first shot, slightly improves the predictability of the recoil pattern (less so than the compensator), and reduces the time it takes for your gun to go back to its starting firing position after you stop shooting. This is sort of the middle ground between a compensator and a muzzle brake.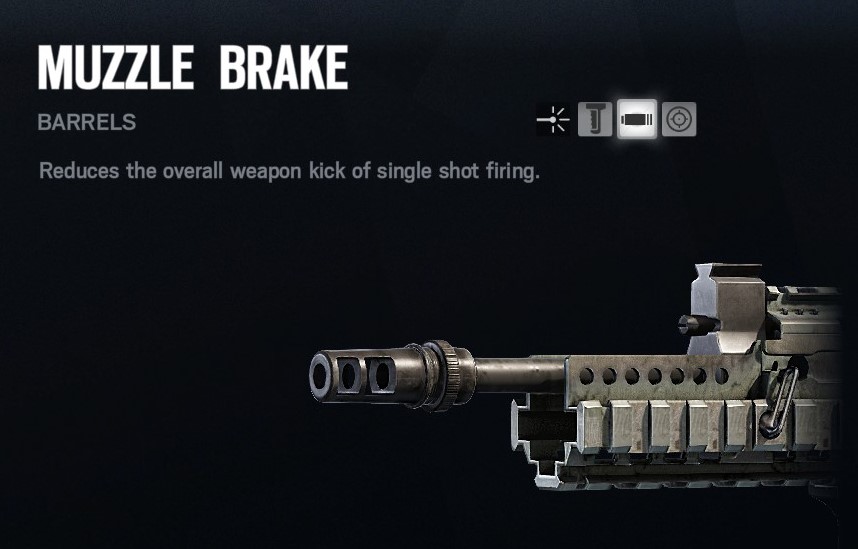 Great for DMR's.
The final barrel attachment is the Muzzle Brake. It is the most useful when firing in short bursts. It reduces the first shot recoil, more so than the flash hider, and reduces the amount of time it takes for the weapon to get back to its firing position, also faster than the flash hider.
Sight Attachments
Those were the barrel attachments, and they are likely the most confusing at first glance but hopefully those descriptions will make choosing them a bit easier. The sights can also be a bit confusing. The ACOG is obviously a scope with magnification, but what is the difference between the reflex, red dot, and holographic sights?
All of these sights have marked differences, but unlike the barrel attachments, they can not be measured in recoil patterns, or anything like that. They simply come down to preference, so try each one out and see what you like. I will only detail the effects they may have on your time playing.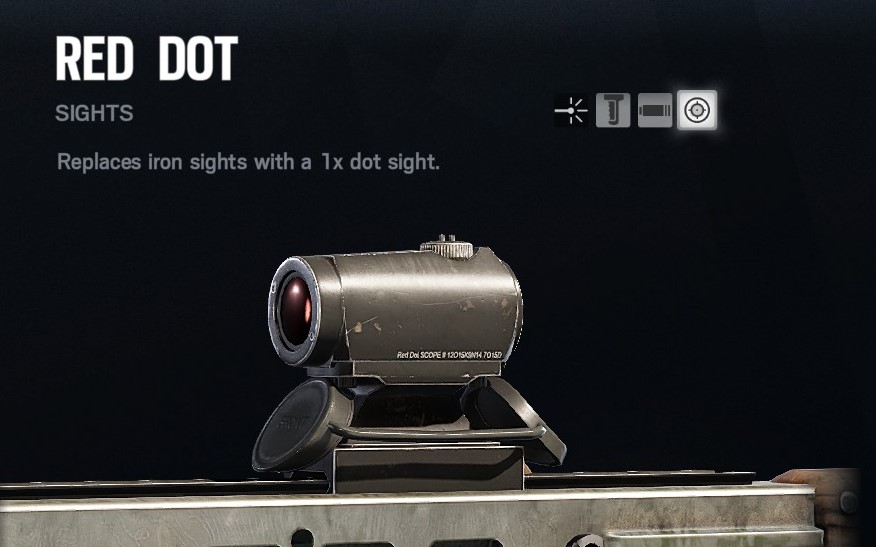 The unloved stepchild of the Rainbow Six community, some can use it well.
The Red Dot Sight is generally considered to be the worst sight because of the amount of space the sight takes up when you are scoping in, this makes it harder to use peripheral vision to spot enemies not directly in your crosshairs.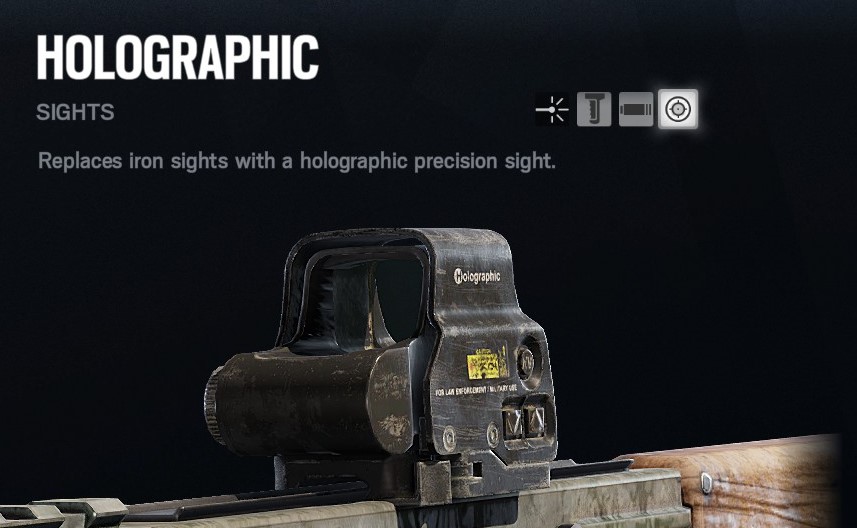 Good for long range if you have no ACOG option.
The Holographic sight takes up a lot of space on the periphery too, but less so than the red dot sight, so it is a good choice for longer distance if you don't have or don't want to use the ACOG.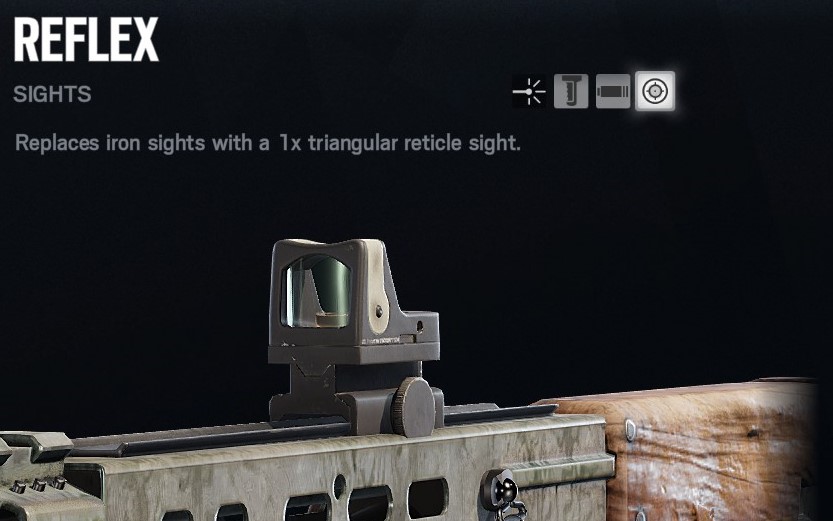 Probably the best non-ACOG choice.
The Reflex sight is a great choice because it takes up the least amount of space on screen. This allows you to see the enemy in your crosshairs and also be aware of your surroundings, more so than with the other two sights. You will have to adjust to the triangle reticle rather than a dot or target sight.
The Spetsnaz sights, however, function a bit differently. Most of their sights have less peripheral blocking, but the actual reticles might be harder to get used to. My personal opinion is the reflex and ACOGs on Spetsnaz run great, but try it out for yourself.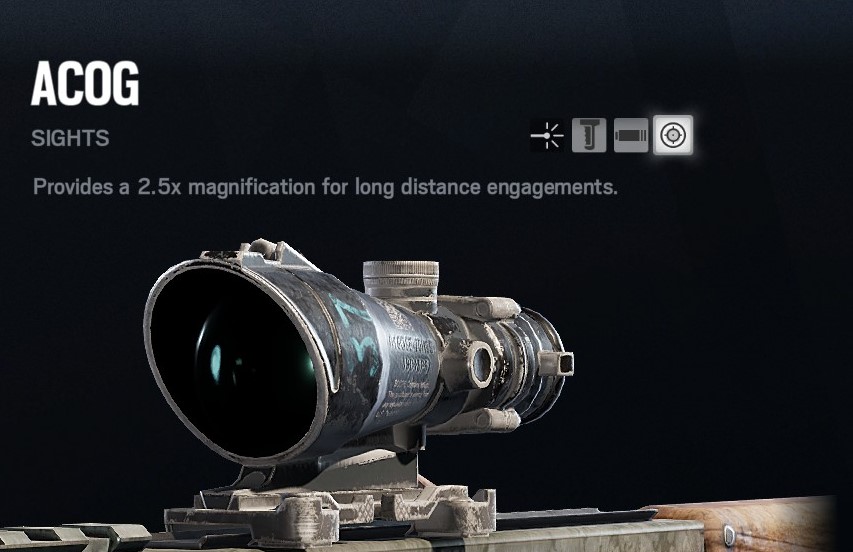 Use it if you got it, best choice.
The ACOG is generally considered the best choice for a sight in this game, but that is heavily dependent on your playstyle. It has a 2.5x Magnification which means you will everything zoomed in much more than with the other sights and will be able to pixel peak and spot peekers more effectively.
If you play Ash and want to run in, equipping an ACOG can sometimes result in issues as it zooms in further than you would want in a close setting, but if you are holding angles, pushing with your team, and watching flanks, the ACOG will be a great choice for catching roamers or finding people on site.
I generally choose the ACOG when possible and the reflex when it is not available, but like I said, this is completely preference, so try each of them out and see which one feels the best.
Grip Attachments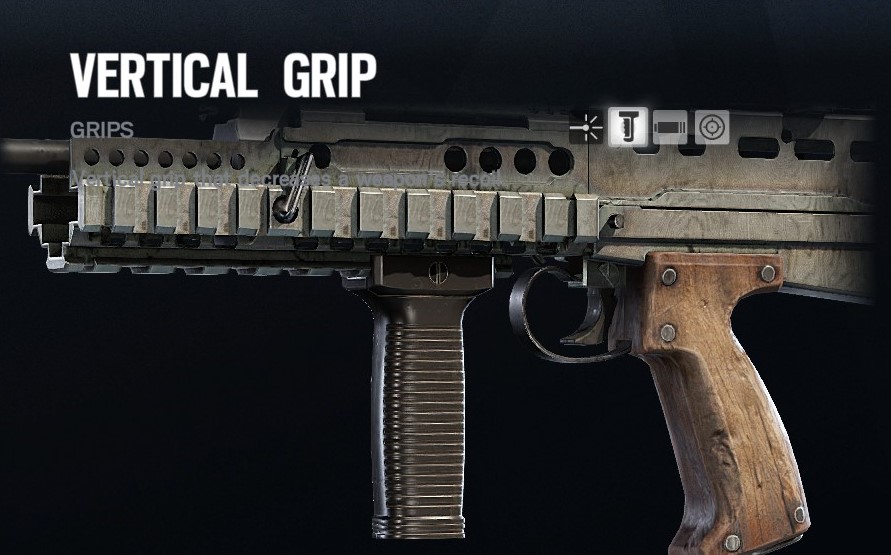 Always a great choice, especially when you don't have a handle on the recoil.
Grips are the next attachment worth mentioning but they are simple. The Vertical Grip reduces vertical recoil, and the Angled Grip lets your bring the weapon up to your face faster. Generally, the vertical grip is the best choice. Until you master the recoil pattern of the weapons, that extra recoil control will be a big help.
The only time I can recommend an angled grip is for DMR's and weapons with low rates of fire and low recoil like Valkyrie and Warden's MPX. The lower rate of fire and controllable recoil means that the angled grip will allow you to aim down sight much faster than your enemy and get the drop on them.
This one, much like the sights, is down to your preference. If you trust your recoil control or have a slow firing weapon, use the angled grip for the fast ADS time, if you are unsure or using a gun with a fast rate of fire, use the vertical grip.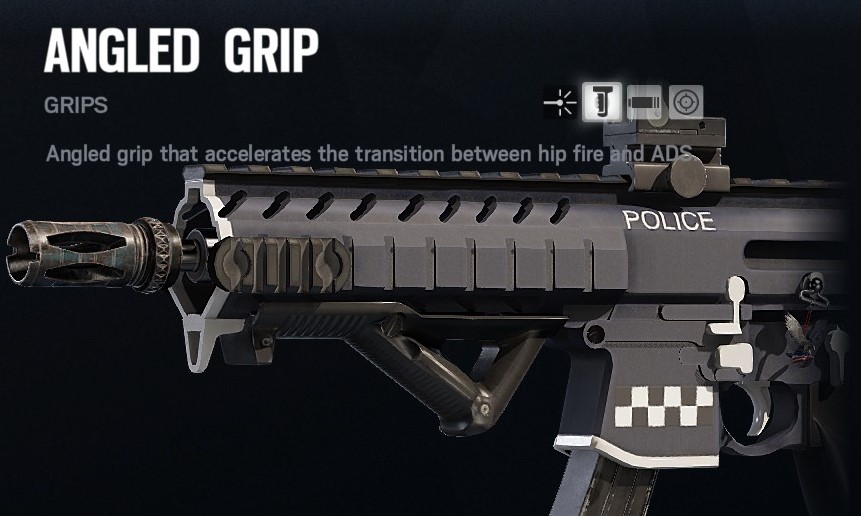 Bring it up faster than your enemies, and they will fall down faster than you've ever seen.
Under-barrel Attachments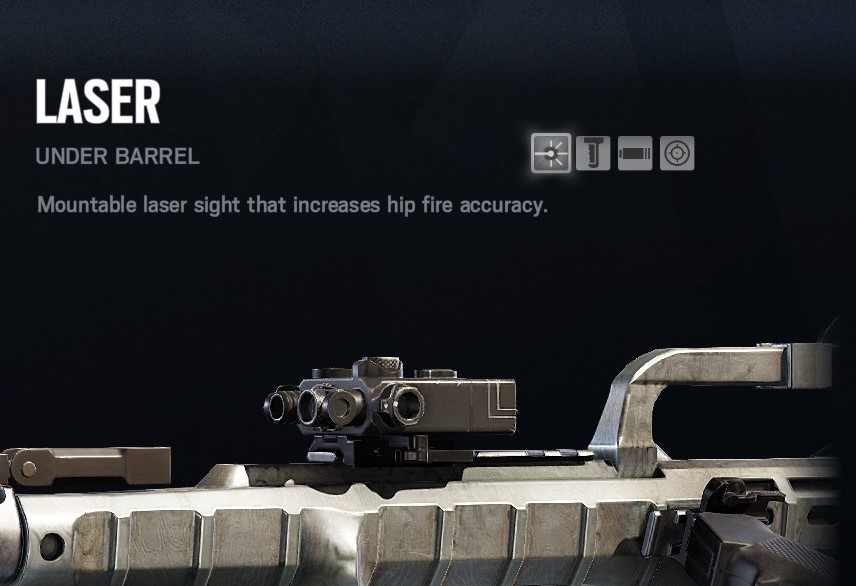 This thing has killed more people who wield it than those who go against it.
The final attachment worth mentioning is a cherished meme in the Rainbow Six Community, the fookin' Laser Sights, named so by Thatcher. You may think that there is no downside, as it lowers the hipfire spread significantly. But unlike many other first person shooters, the enemy can see where your laser sight is pointed if they are nearby.
Shotguns can benefit heavily as the spread will be directed towards your enemy and allow you to simply hip fire away when they come near. But, there have been many situations where I have been in a 1V1, and I see a laser sight on the wall in front of me or on a ceiling nearby, just to turn and pre fire them. Much like grips and sights, it is a preference for some, and I can not tell you it would be wrong to use it.
If you are running in and rushing, it is a good choice because there will not be time for them to even look for the laser sight, but if you are methodical or play more sneakily, this will hurt you more than it will help you.
Having a general understanding of these attachments can be hard at first glance, especially when you consider the different types of recoil patterns in the game, but hopefully now that you have a better understanding of these attachments, you can climb the ranks even faster.
Weapons and Attachments of Choice
FMG9 (Smoke, Nokk)
Flash Hider
The recoil on this SMG is relatively predictable and doesn't climb much (vertical recoil), so the flash hider helps in each category for recoil and will help keep your screen clear of muzzle flash.
Reflex Sight
This gives you the clearest peripheral vision and doesn't obscure the screen. Generally if there is no ACOG, I will recommend the Reflex for this reason.
M590A1 (Smoke, Mute, Thatcher, Sledge, Warden)
Reflex Sight
Laser Sight
This depends on your play style, but if you enjoy sitting and waiting for enemies to appear just so you can pop up with the shotgun, the tighter spread can really help and allow one shot to be all you need.
SMG11 (Sledge, Smoke, Mute)
Flash Hider
The flash hider really is a good catch-all barrel attachment, this weapon is uncontrollable if you fire more than four bullets at a time. If you can not trust yourself to burst, I can not recommend this weapon, but if you can discipline yourself to use short bursts, the SMG11 with a flash hider lets your first shots stay controllable.
Reflex Sight
Vertical Grip
This is absolutely necessary here, the recoil of this little gun is unbelievable, and needs every control it can get
The laser sight is an option, but I would not recommend using this gun with hip fire, so for that reason, I would keep it off.
P226 Mk 25 (Sledge, Thatcher, Smoke, Mute)
Suppressor
You can choose either a suppressor or a muzzle brake for most pistols. The recoil is not bad so I stick with a suppressor so I can sneakily destroy drones, or cameras without too much noise.
Once again, you likely won't be using pistols with hipfire (unless you are playing a shield character), so the laser sight is unnecessary.
MP5K (Mute)
Reflex Sight
Compensator
The recoil on this SMG is hectic and the compensator can allow it to become more controllable and predictable.
L85A2 (Thatcher, Sledge)
ACOG Sight
Flash Hider
The recoil is manageable so the flash hider brings something good from each of the barrel attachment types.
Vertical Grip
AR33 (Thatcher)
ACOG Sight
Flash Hider
Vertical Grip
UMP45 (Castle, Pulse)
Reflex Sight
Compensator
At first glance, the UMP45 seems to have very little recoil, but once you use it more often you will notice that in longer bursts it begins moving to the right. Enough so that trying to compensate with your mouse can cause issues aiming. The compensator will do the work for you and allow you to focus on controlling the little vertical recoil there is.
Vertical or Angled Grip
The vertical recoil is more controllable than most SMG's, so if you think you have a handle on it, get the Angled Grip, but if not the vertical grip is always great.
M1014 (Thermite, Castle, Pulse)
Reflex Sight
Laser Sight
This is a semi automatic shotgun than can shoot as fast as your press the mouse, but beware of the recoil and spread. Once you can control it a little better, this thing can be very powerful. The laser sight will tighten the spread of the shotgun pellets.
5.7USG (Thermite, Ash, Castle, Pulse, Nokk)
M45 MEUSOC (Thermite, Ash, Castle, Pulse)
556xi (Thermite)
ACOG Sight
Flash Hider
Relatively easy to control, the flash hider will help keep it stable.
Vertical Grip
R4-C (Ash)
Reflex Sight
Compensator
The high rate of fire can make the recoil very unpredictable and the compensator will help with that.
Vertical Grip
G36C (Ash)
ACOG Sight
Flash Hider
Vertical Grip
SQ-CQB (Twitch, Lion, Doc, Rook)
MP5 (Doc, Rook)
ACOG Sight
Some of the few operators on defense to be gifted the ACOG, and it is a gift. Hold tight angles and pixel peeks with these operators and you will understand why they are chosen so often.
Muzzle Brake
By firing in bursts, this will allow you to get accurate shots off, and return to the original firing position very quickly which will in turn allow you to pre fire and burst fire while holding any angle accurately.
Vertical Grip
P90 (Doc, Rook)
ACOG Sight
This weapon has a much higher recoil than the MP5, so be aware of that when using the ACOG
Muzzle Brake
Once again, you will want to use bursts with this weapon because of the high rate of fire, so the muzzle brake allows you to get the first shots off very accurately.
P9 (Doc, Rook, Twitch, Montagne)
Suppressor/Muzzle Brake (Montagne)
Laser Sight
While using a shield, you should try not lowering your shield. Hp-fire will become your new best friend and a muzzle brake and laser sight combo will help.
LFP586 (Doc, Rook, Twitch, Montagne)
This weapon has no attachments worth putting on. The 6 round magazine means that this weapon is not generally chosen by Montagne players as hip-firing becomes much more risky.
F2 (Twitch)
ACOG Sight
I recommend the ACOG because of my play style, but with the hectic recoil of the F2, the Reflex might be a better choice for some.
Compensator
With the new recoil pattern for Twitch, I personally prefer the compensator to make up for the unpredictability.
Vertical Grip
417 (Twitch, Lion)
ACOG Sight
Flash Hider
Good middle ground between the Compensator's recoil tightening and Muzzle Brakes first shot recoil reduction.
Vertical Grip
9x19VSN (Kapkan, Tachanka)
Reflex Sight
Compensator
The recoil is very manageable on this SMG, so all you really need is a compensator to control the spread for longer bursts.
Vertical Grip
SASG-12 (Kapkan, Tachanka, Finka)
Reflex Sight
A suppressor is offered on this monster of a shotgun, and although it will decrease damage, this weapon does so much damage that you won't really miss it. I have known people who swear by the suppressor on the "Sausage Gun", as it is known in the R6 community, but be careful. Between the length of the barrel, adding on the suppressor will make this thing stick out from almost anywhere on the map.
Vertical Grip
Laser Sight
This is up to you again, but with the vertical grip and a laser sight, up close, there is nothing like this gun.
PMM (Kapkan, Tachanka, Glaz, Fuze)
Gsh-18 (Kapkan, Tachanka, Glaz Fuze)
Ots-03 (Glaz)
Reflex Sight
Glaz has a unique thermal scope that is active when standing still, but it can be flipped away in favor of another sight.
Muzzle Brake
With DMR's, muzzle brakes are often the best choice. Reducing the first shot recoil and allowing it to go back to its starting position faster is very important with these rifles.
AK-12 (Fuze)
ACOG Sight
Flash Hider
The recoil can be harder to control but is relatively predictable, unless you are firing in bigger bursts.
Vertical Grip
6P41 (Fuze, Finka)
ACOG Sight
Flash Hider
The only other option is a suppressor, so reducing recoil is key.
Vertical Grip
M870 (Jager, Bandit)
Reflex Sight
Laser Sight
Again, this is preference, but laser sights on shotguns can be very powerful if used cautiously.
416-C Carbine (Jager)
Reflex Sight
Flash Hider
The recoil is very predictable and tight, so reducing the first shot recoil allows you to get very accurate and powerful bursts down.
Vertical Grip
MP7 (Bandit)
No Sight
Now this is a bit different, but my strong preference is to use Bandits MP7 without an additional sight because the iron sights are so clear. This will not generally be more than a mid-range weapon at most, and I would recommend trying this weapon without the sights.
Flash Hider
The recoil can still be strong with this weapon, but reducing the first shot recoil can really do wonders if you are aiming for headshots.
P12 (Jager, Bandit, IQ, Blitz)
Suppressor/Muzzle Brake (Blitz)
I would like to note that for Blitz, you are better off using a Muzzle Brake simply because it is your main weapon and reducing recoil would be important
Laser Sight (Blitz)
While using shield operators, you should try to lower your shield as rarely as you possibly can, therefore hip-firing will be very important for you. The laser sight will help manage the spread.
G8A1 (IQ)
ACOG Sight
Compensator
The recoil is very manageable and the compensator simply makes the spread that much thinner.
Vertical Grip
AUG A2 (IQ)
ACOG Sight
Flash Hider
Another weapon with a very manageable recoil. Flash Hider just improves every aspect which is already strong.
552 Commando (IQ)
ACOG Sight
Flash Hider
Slightly harder to use than the AUG, the muzzles blasts up as soon as your burst more than a couple rounds out. This way, the first shot recoil makes small bursts more manageable.
Vertical Grip
9MM C1 (Frost)
Reflex Sight
I prefer using no barrel attachment because a suppressor will lower damage and the extended barrel will simply give your position away easier.
Angled Grip
Super 90 (Frost)
C8-SFW (Buck)
ACOG Sight
This weapon has one of the more ridiculous recoil patterns and climbs and as a result the ACOG may hurt more than it hurts, but a reflex is also a good sight to run with Buck
Muzzle Brake
The recoil is unbelievable, the muzzle brake ensures that the first shot is accurate, and that small bursts can be used effectively.
CAMRS (Buck)
ACOG Sight
Muzzle Brake
The DMR will benefit from reducing first shot recoil and quicker return to original firing position.
MPX (Valkyrie, Warden)
Reflex Sight
Compensator
The recoil is very low, but so is the damage. This ensures the recoil stays predictable with longer bursts
Angled Grip
The recoil is low enough that it is likely not necessary, the fast ADS time will benefit you greatly in firefights.
SPAS-12 (Valkyrie)
D-50 (Valkyrie, Blackbeard, Nokk)
Muzzle Brake
Recently introduced in Phantom Sight for the D-50, the muzzle brake makes this pistol into a very strong second option, and the recoil is greatly reduced.
SR-25(Blackbeard)
ACOG Sight
Muzzle Brake
The muzzle brake is always a strong choice on DMR's
Vertical Grip
Mk17 CQB (Blackbeard)
ACOG Sight
Muzzle Brake
By using small bursts with this rifle, you can have very little recoil.
Angled Grip
I think Blackbeard with an Angled Grip is strong simply because the added weight of the shield makes him move slower than almost any other character. This brings his ADS back into normal territory
SPAS-15 (Caveira)
M12 (Caveira)
Reflex Sight
Flash Hider
The recoil is manageable, and the flash hider provides the best of both worlds from the Compensator and the Muzzle Brake, albeit in weaker boosts.
Luison/PRB92 (Caveira/Capitao)
Suppressor
Caveira is a stealthy character and the suppressor helps achieve her intended goal.
PARA-308 (Capitao)
ACOG Sight
Flash Hider
The recoil is manageable on this weapon, and the Flash Hider provides the best of both worlds with its first shot recoil reduction, and reduction in recoil spread.
Angled Grip
Very manageable recoil with a low rate of fire, any advantage you can get so that you can start firing first is one you should take.
M249 (Capitao, Gridlock)
Scope
This is a unique scope introduced in Burnt Horizon, it is like the ACOG, but it seems clearer and less obstructed.
Compensator
Machine Guns can be used with massive bursts of fire because of their large magazine capacity. The compensator ensures the bursts can go on accurately for a much longer time than the enemy will feel comfortable with.
Vertical Grip
MP5SD (Echo)
ACOG Sight
Another defender with an ACOG sight, a very useful tool, particularly for holding strong angles.
Vertical Grip
This SMG is unique because it has an attached suppressor which means there is no choice for barrel attachments.
SuperNova (Echo, Hibana)
P229 (Echo, Hibana)
Bearing 9 (Echo, Hibana)
Reflex Sight
Flash Hider
This weapon can only be reasonably used by burst fire. Even in a panic, going full auto will ensure that you will lose the firefight. Use small bursts, and the flash hider will guarantee your first shot or two will be accurate.
Type 89 (Hibana)
ACOG Sight
The high recoil makes a reflex sight a good second option for those uncomfortable playing with the ACOG
Flash Hider
The pull of this weapons recoil, to the right, can be so powerful that you are better off just burst firing. Use the flash hider to insure that your bursts will be deadly accurate.
Vertical Grip
Vector (Mira)
Reflex Sight
Compensator
The high rate of fire, and high recoil means that you have to either use long bursts or aim for the head. The compensator allows you to use longer bursts, but the flash hider would be better if you focus on the head.
Vertical Grip
ITA12L (Mira, Jackal)
ITA12S (Mira, Jackal)
USP40 (Mira, Jackal)
C7E (Jackal)
ACOG Sight
Flash Hider
The C7E is deadly accurate, but the flash hider ensures a small climb and a less unpredictable recoil pattern in longer bursts.
Vertical Grip
PDW9 (Jackal)
Reflex Sight
The reflex is perfect as this gun is a close range monster.
Compensator
You may have to use longer bursts for this weapon, so this will help with any unpredictable recoil patterns
Angled Grip
The recoil is very manageable, and getting the drop on someone with this weapon is very important. The damage is low, and the rate of fire isn't the fastest.
T-5 SMG (Lesion)
Reflex Sight
Compensator
The recoil can get unpredictable in longer bursts, but is otherwise manageable. The compensator ensures it will stay more predictable.
SIX12 (Lesion, Ying, Nokk)
Reflex Sight
Laser Sight
The laser sight may not be the best choice for Nokk, simply because she must remain stealthy and the laser sight makes that harder.
Q-929 (Lesion, Ying)
T-95 LSW (Ying)
ACOG Sight
Compensator
The large magazine makes the Compensator attractive because you can shoot much longer with more predictable recoil patterns.
Vertical Grip
Scorpion EVO 3 A1 (Ela)
Reflex Sight
Compensator
When they nerfed Ela's SMG, they really made sure the recoil was as unpredictable as can be. The compensator will help at least keep the gun aimed in the general direction that you want it to be aimed.
Vertical Grip
FO-12 (Ela)
Reflex Sight
Extended Barrel
The extended barrel is completely useless, except in this one circumstance. If you are going to be using this strange little shotgun, the extended barrel will help the pellets reach the enemy a little bit more evenly.
Vertical Grip
Laser Sight
RG15 (Ela, Zofia)
This pistol comes with a reflex sight
Suppressor
M762 (Zofia)
ACOG Sight
Compensator
The flash hider would be useful to keep the first shots more accurate, but with the slow rate of fire, you will need more than a burst to kill someone. The compensator will help keep the strange and unpredictable recoil of this weapon under some sense of control.
Vertical Grip
LMG-E (Zofia)
ACOG Sight
Compensator
Always useful with a large round magazine, which you will generally spend spraying into a window.
Vertical Grip
MK 14 EBR (Dokkaebi)
ACOG Sight
Muzzle Brake
When the first shots matter and you can't really burst, Muzzle Brakes will generally be the best choice.
Angled Grip
With the lack of any real recoil on a semi auto rifle, the Angled Grip helps make sure you can ADS before the enemy can.
BOSG.12.2(Dokkaebi, Vigil)
Reflex Sight
Angled Grip
This strange shotgun acts as a DMR, with a slug rather than pellets. The angled grip will help you get the weapon up faster so you can accurately hit the enemy.
C75 Auto (Dokkaebi, Vigil)
There is a suppressor option, but I generally think this machine pistol is better of without it for the increased damage.
SMG-12 (Dokkaebi, Vigil, Warden)
Reflex Sight
Vertical Grip
K1A (Vigil)
Reflex Sight
Flash Hider
The recoil is relatively manageable, but still needs some help so that is why I chose the flash hider over the compensator even though there is a small tendency for this weapon to move towards the right and up when firing.
Vertical Grip
V308 (Lion)
ACOG Sight
Compensator
With the large magazine, this leaves the option of spraying open and attractive.
Vertical Grip
Spear .308 (Finka)
ACOG Sight
Flash Hider
A stable weapon with little recoil, combined with Finka's recoil reducing ability means the Flash Hiders best of both worlds ability will do well.
Vertical Grip
ALDA 5.56 (Maestro)
ACOG Sight
Compensator
With the large magazine, low damage and unpredictable recoil, spraying or aiming for headshots is a priority, so either the compensator or muzzle brake are good choices.
Vertical Grip
Some recommend using the laser sight with the ALDA 5.56, I personally don't, but it isn't a bad choice for when the attackers run into the room. So experiment with that if you are interested.
Mx4 Storm (Alibi)
Reflex Sight
Compensator
You will need long bursts for this weapon to be generally effective, and the compensator helps to keep the recoil predictable.
Vertical Grip
ACS12 (Maestro, Alibi)
Reflex Sight
Vertical Grip
Laser Sight
Bailiff 410 (Maestro, Alibi)
No useful attachments here, but it does come with a permanent reflex sight.
Keratos .35 (Maestro, Alibi)
Muzzle Brake
This powerful pistol and its intense recoil can be used effectively with the help of a muzzle brake.
SPSMG9 (Clash)
P-10C (Clash, Warden)
AR-15.50 (Maverick)
ACOG Sight
Muzzle Brake
Reducing first shot recoil is important for a weapon with such a powerful shot and such a low rate of fire.
Angled Grip
Reducing the ADS will make sure this deadly rifle gets the drop on the enemy player.
M4 (Maverick)
ACOG Sight
Flash Hider
The flash hider is truly the best of both worlds, the recoil can be unpredictable though, so keep an eye on that. The climb of the rifle without the flash hider makes it really a chore to use.
Vertical Grip
1911 TACOPS (Maverick)
TCSG12 (Kaid)
ACOG Sight
Angled Grip
With the low recoil of a DMR rifle, the Angled Grip is usually preferable.
AUG A3 (Kaid)
Reflex Sight
Flash Hider
Predictable and consistent recoil makes flash hider the best choice here.
Angled Grip
Very predictable recoil makes angled grip useful.
.44 Mag Semi-Auto (Kaid, Nomad)
It comes with a permanent ACOG style scope.
AK-74M (Nomad)
ACOG Sight
Muzzle Brake
Definitely an unpredictable weapon, but try to burst with it and take advantage of the first shot recoil reduction of the Muzzle Brake.
ARX200 (Nomad)
ACOG Sight
Flash Hider
The low ammo count per mag makes bursting, rather than spraying, a necessity and in that case the low recoil is helped out by the Flash Hider.
P10 Roni (Mozzie)
Reflex Sight
Compensator
The high rate of fire, and the controllable climb makes ensuring the predictability of long bursts important.
Vertical Grip
Commando 9 (Mozzie)
Reflex Sight
Flash Hider
Very predictable and controllable recoil makes the Flash Hider a great choice.
Vertical Grip
Super Shorty (Mozzie, Gridlock)
Red Dot Sight
Laser Sight
SDP 9mm (Mozzie, Gridlock)
F90 (Gridlock)
ACOG Sight
Compensator
There is a noticeable drift to the right with this weapon, and the compensator definitely helps get it under control.
Vertical Grip
There it is, the comprehensive list of attachments for all the weapons of each operator in Rainbow Six Siege. The important thing to remember in all of the analysis and strategy in this game is to have fun, and to rarely take someone's word as gospel.
Although I have been playing this game for years and consider myself to be at least good, you may put a Compensator on a weapon that I recommended for you and hate it. Either that means you can learn to play with it, or you simply play better with another option. While the barrel attachments do make a noticeable and unique difference to every weapon, it is important to get a feel for the attachments and weapons after reading this list.
Good luck to you and I hope to you see you Platinum and Diamond!
Also be sure to check out these articles:
Image Gallery