How Much Is Rainbow 6 Siege? Rainbow 6 Siege Price
Updated: 21 May 2018 8:56 am
Rainbow 6 Siege By Ubisoft
If you have not heard about Tom Clancy's Rainbow 6 Siege yet then you have been living under a rock for the past two and a half years. This exhilarating FPS has been dominating PC and consoles since December 2015. Now it has even been getting more attention in the world of Esports. Rainbow 6 is into its third season of competitive play and has major tournaments that the top Esport teams have stake in. Evil Geniuses and Penta Sports just to name a couple. Enticed now? Well good, there are still plenty of ways to get your hands this unique and fantastic title.
Rainbow 6 Siege PC
For the PC gamers out there you could search for the game at a retailer or order a hard copy if that is your thing. However, for the millennials in the crowd there is one online market that I would recommend for this purchase, Ubisoft's online store (Click here to go to the Rainbow 6 page). At the time of this writing Ubisoft has Rainbow 6 Siege free to play for the rest of the weekend and up to 50% off on all editions of the game, so if you are still on the fence you should not be with 50% off. Don't get me wrong Steam is still a great way to get games and the Ubisoft sale still reflects the on the Steam Market place, however, the Ubisoft Store has a great break down of what you are getting when you are deciding between purchases.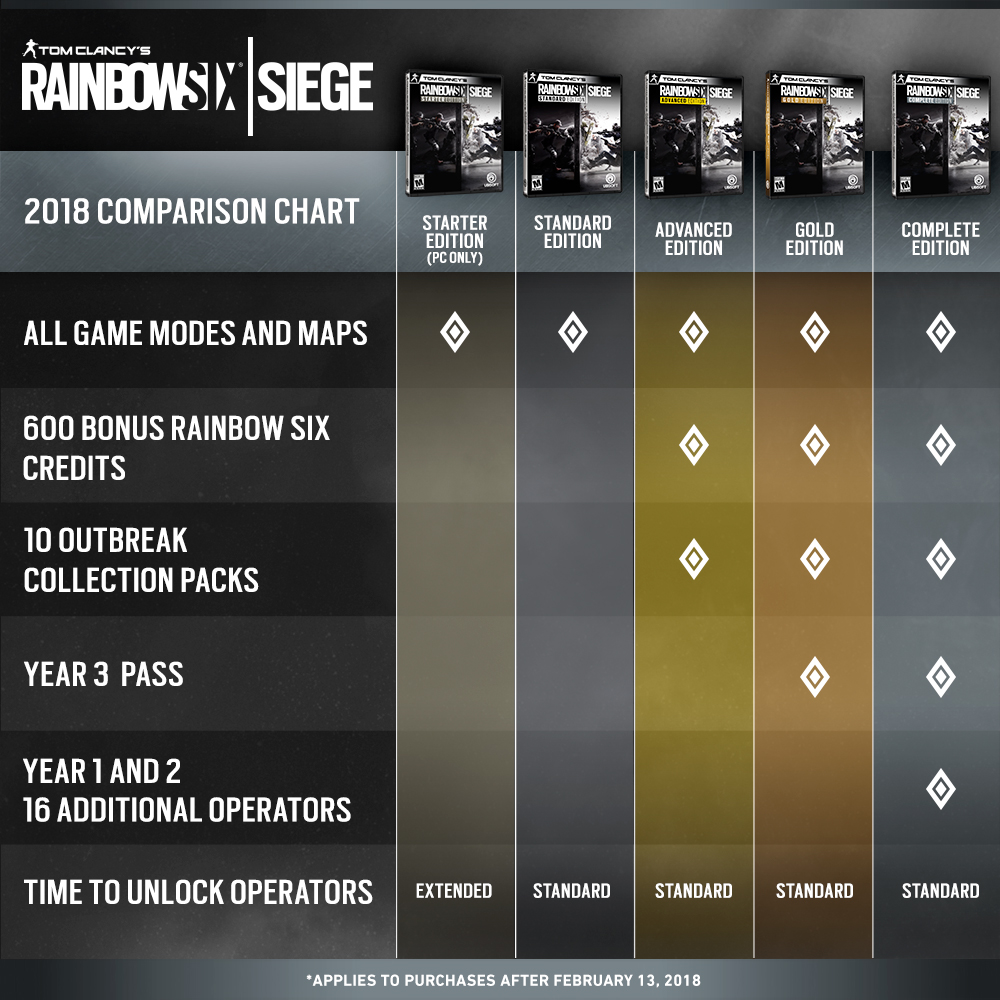 Bundle Comparison Break Down (Courtesy of Ubisoft)
This breakdown is right there in the Ubisoft store for you to compare. If you are not familiar with the game and its contents, let me break it down. The 600 Bonus credits are in-game currency that you can spend to get special weapons and character skins. The credits are not earned in-game like renown (another type of currency earned from experience), rather they have to be purchases with real hard earned money to get more. The 10 Outbreak Collection Packs are packs that you open to hopefully get good loot drops (more skins and weapon charms). These are essentially like Overwatch's Loot Crates or Fortnite's Llama's. The Year 3 Pass is just like any other season pass it allows access to that season's map and specific operators. Since it is obviously season 3 you can unlock the season 1 and 2 operators immediately if you buy the complete edition. To help out even more below are prices for PC and console gamers. Prices reflect the current sale, after this weekend Rainbow 6 will go to its regular price.
Rainbow 6 Siege Steam Price
Prices per edition on Steam (PC)
Starter Edition (PC Only): $10.04

Standard Edition: $19.99

Advanced Edition: $29.99

Gold Edition: $44.99

Complete Edition: $64.99
Rainbow 6 Siege Console
For the PS4 and Xbox owners that might be reading this head over to the PlayStation or Microsoft Store to pick up Rainbow 6 Siege. Both console stores have the title and all the same editions as the above breakdown, but you can download it right from the stores and still get the Ubisoft sale prices.
Rainbow 6 Siege PS4 Price: *(Without the extra savings as a PlayStation Plus member)
Standard Edition: $24.99

Advanced Edition: $35.99

Gold Edition: $53.99

Complete Edition: $77.99
*If you are a PlayStation Plus member than you get an extra 10% off which makes the editions the same price as the Microsoft Store.
Rainbow 6 Siege Xbox One Price:
Standard Edition: $24.99

Advanced Edition: $30.00

Gold Edition: $45.00

Complete Edition: $65.00
If you are a sort of hard copy collector than you will be missing out on a lot of the deals that the online markets offer. For the hard copy you will be shelling out $30 or the standard game at retail stores and about $60 for the Gold Edition for any platform. Also note that you cannot get the complete edition in a hard copy. The sales end after this weekend so you still have time to get a great deal on a great game.