LoL Best Bard Skins That Look Freakin' Awesome (All Bard Skins Ranked Worst To Best)
Updated: 18 Sep 2022 1:39 am
Bard the Wandering Caretaker
Looking for Bard info isn't common. Good for you choosing the greatest champion in the game. And good for me to help you find out which one is it's best skin. But first, an introduction.
Bard is a troubadour, a cosmic entity called by the music produced by Runeterra. The wandering caretaker came to the human world to save it from corruption, as that is its mission. It's able to sense the future through music, that's why it knows that something bad will happen to Runeterra.
It's probably the strangest champion in LoL. Its gameplay is unique. It might be the perfect champion to main as support because the abilities design feels like a natural guide for what you have to do. Collecting the meeps forces the player to roam and they do it faster with the portals. The wide range R is one of the greatest ultimates in the game. There are countless ways you can use it (but please try not to troll your team). 
This champion is perfect for those who love to be relaxed and carry a game as a support while wandering in the rift. Playing with it is a peaceful experience and you get to be accompanied by soft music and tingling bells. I hope you are one of those rare subjects who plays with it often, and if you're not, I hope you're considering playing it. Trust me, you will have a beautiful experience while learning.
If I didn't convince you to try it, this list will do. He has one of the cutest skins in the game!
5. Bard Bard
Skin spotlight: 
Well, the title speaks for itself right? There's not much to say about it. It was released in November of 2016.
I dislike the model design, it looks boring and old. I believe the concept is great and fun, unlike the model. Although they could have done so much better, it is the cheapest skin so I guess it's ok. The only thing I'm constantly thinking about is playing it with Draven-Draven. Ironically stupid and probably troll but still. Would you give it a try?

Kinda funny that there's nothing holding the mask.
How to get Bard Bard: this is available in the game client's store for 750 RP.
 
4. Elderwood Bard
Skin spotlight: 
It is the first skin released in 2015, along with the champion itself.
I've never seen this skin in-game, which I find odd because Elderwood is a fine concept for Bard. I read that the Q animation feels weird compared to other skins or the original bard. The rest of it is magnificent.
The mystical feeling gets an upgrade in this one with the cold palette in blue-purple tones. If I had this skin I'd definitely use it often. Besides, it reminds me of Ori and the Blind Forest. The vibes are the same so I can say with confidence that I prefer this skin over the rest (except for Astronaut Bard).
How to get Elderwood Bard: you can purchase it on the game clients' store for 975 RP.

Isn't it wonderful? Skin spotlight:
 
3. Cafe Cuties Bard
Skin spotlight:
The last skin released for Bard back in 2021.
A ridiculously beautiful skin, this time we have Bard as a living teapot. Meeps are cute cups of tea; somehow it reminds me of Beauty and the Beast. Its face is way too similar to Tibbers from Cafe Cuties Annie, same expression and same mustache.
It's a highly colorful skin, a little too much in my opinion. Thousands of details come at sight, the more you look at it the more details you'll find. Sound effects are quite interesting too.
If you like cute and pinkish concepts you'll love this one. There's a nice detail when using the E, pay attention to it.
I personally find it strange. It doesn't feel natural for Bard but it had a great reception from players. This one is just not my cup of tea, but it might be yours!
How to get Cafe Cuties Bard: it's available in the games store for 1350 RP.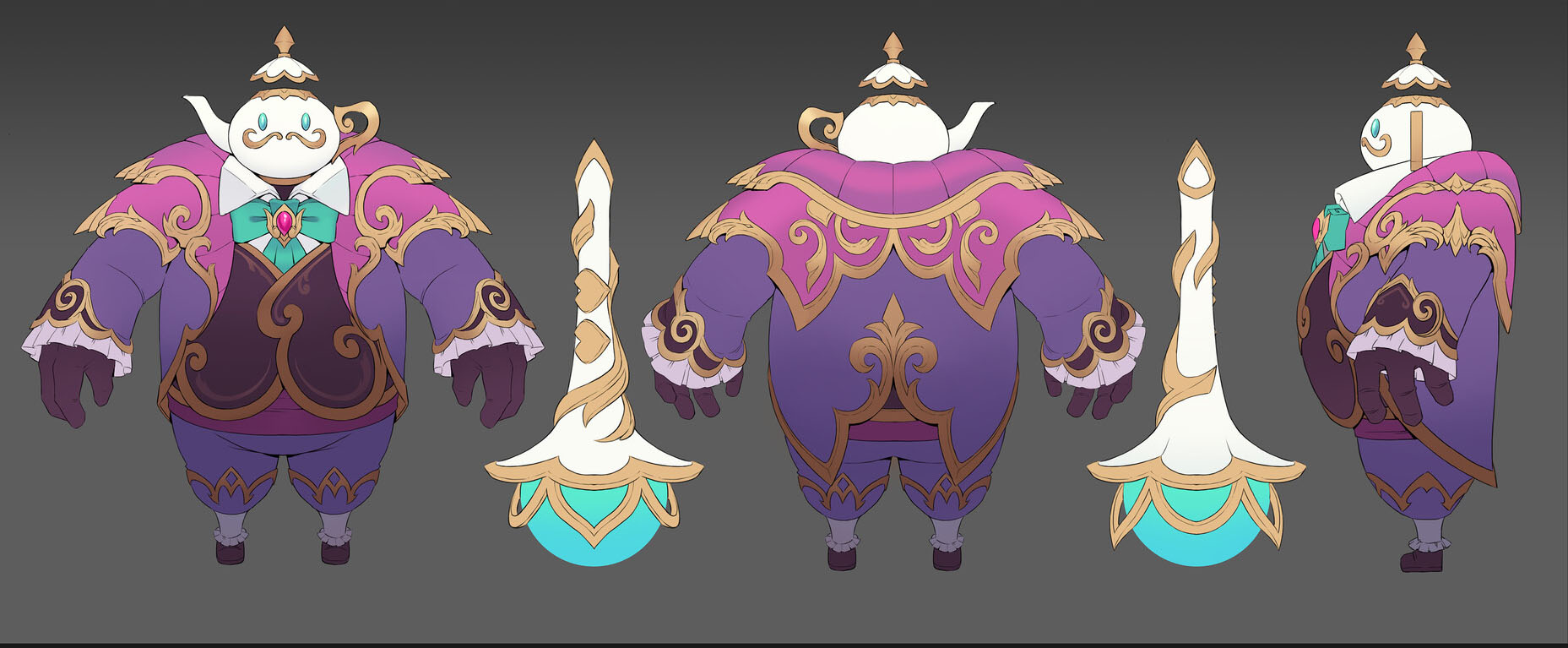 This is the final concept art.
2. Snow Day Bard
Skin spotlight: 
What a lovely expression. Have you seen its eyes? Bard looks all smiley and tender. I just love it so much, it gives me the need to hold him tight. No wonder all Bard players have this skin, it's perfectly beautiful. It's a must-have. The meeps as penguins are too catchy, I totally love how they managed to make sense out of it. The basic attack with the meeps upgrade is so bonny. Recall makes me smile every time I watch it. I'm so grateful they created this skin for Bard. Don't think about it twice with this one, you won't regret having it.
How to get Snow day Bard: it's available for purchase in the game's store. It costs 1350 RP.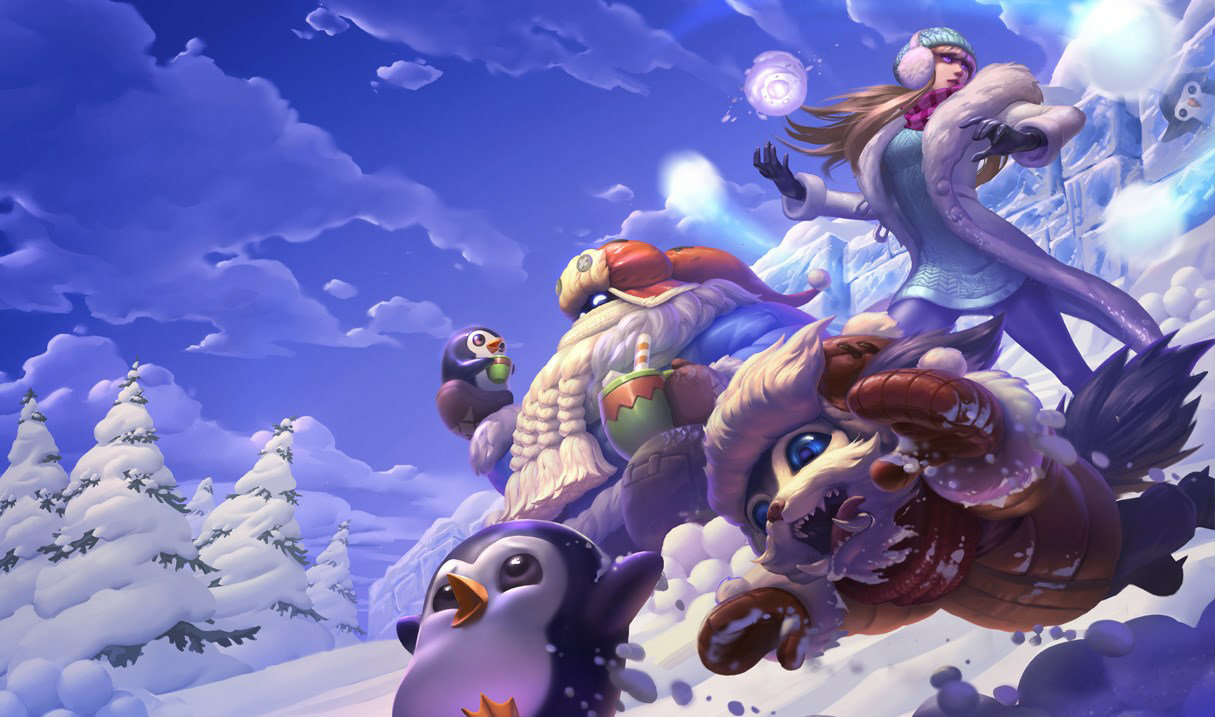 Look at them having fun together!
 
1. Astronaut Bard
Skin spotlight: 
Riot nailed it with this one! Even the splash art is the loveliest.
Being Bard a cosmic entity, this skin fits perfectly. Visual and sound effects are flawless. They added ambient alien music while collecting chimes and it makes the gameplay much more enjoyable.  Everything about this skin makes me really happy. It's a wholesome skin that you must have if you're thinking about playing Bard.
It's worth every cent and it also has eight chromas. We can't ask for more. I bet they'll have a very hard time making a better skin than this one for Bard.
How to get Astronaut Bard: available in the game's store for only 1350 RP.

I can't get enough of this chromas, I would buy them all!
You may also be interested in:
Image Gallery