League of Legends: Who Will Win the 2015 World Championships?
Updated: 05 Sep 2015 9:27 pm
Ah, the glorious trophy.
It's the beginning of the end… of Season 5. What are you waiting for?
It's that time of year again: the 2015 League of Legends World Championships will take place in Europe this year, a cross-country trek that'll showcase some of the most talented LoL esports teams in the world.
The tournament will kick off in Paris this year for the Group Stages on October 1-4 and October 8-11, moving to London for the Quarterfinals on October 15-18, to Brussels for the Semifinals on October 24-25, and, most importantly, to the Mercedes-Benz Arena in Berlin for the Finals on October 31. At least we all know what we'll be doing instead of trick-or-treating this year.
This year there have been a few small changes in how regional seeding will work. After the Garena Premier League (GPL) split into the League of Legends Masters Series (LMS) last year, GPL's two guaranteed seeds have been transferred to the LMS (which includes top teams from Taiwan, Macau, and Hong Kong). The current GPL, on the other hand, now falls into the International Wildcard category and will compete for those two spots at the championship tournament.
Remember last year? Yeah, so do we.
The second and last game that SSW lost last year… Impressive? You can say that again.
Samsung White dominated at last year's world championships, winning the tournament with only two losses during their entire trek to the top. Mata's support (and subsequent MVP award) and Dandy's jungling combined with the team's incredible synergy to create a lethal playstyle that trampled on every team that they played against.
This year's championship should be no less exciting – with the amount of talent present in this year's pool of teams, the 2015 LoL World Championships will be a sight to see. Who will end up at the top?
10. Gravity (GV)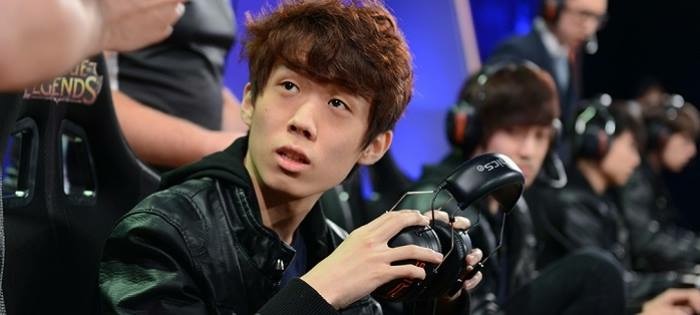 Gravity's jungler Kang "Move" Min-su notices something that we can't see.
Coming in at number ten, Gravity winning is quite frankly wishful thinking on my part… North America isn't up to par with the strength of regions like Korea and China, not by a long shot, but Gravity's recent out-performance of Team Solo-Mid seems to indicate that maybe North America isn't hopeless after all.
Excellent shotcalling and lane rotation should work in Gravity's favor, and that'll hopefully help them out during the tournament.
9. Origen (OG)

The famous backdoor-ing xPeke smiles and shows off his very white teeth.
This one is also a pipedream of mine; considering their (rather depressing, in my opinion) loss earlier this split against Fnatic, Origen doesn't seem to have a huge chance at succeeding at the championship. They do have veteran players who have made right plays in the past, though, so who knows? Certainly they'll at least give the tournament their 100%, which means that we, the viewers, will hopefully get to see some brilliant plays and masterminded ganks.
8. Jin Air Green Wings (Jin Air)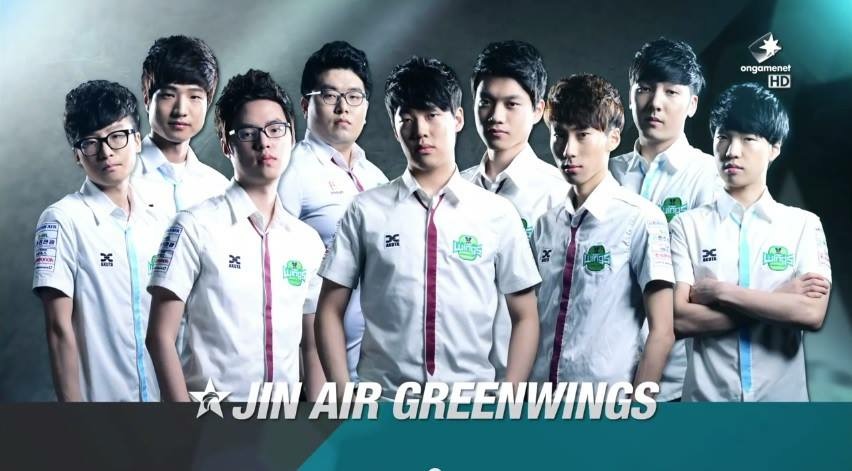 Here come the Jin Air Green Wings, passing the test of talent with flying colors.
Though Jin Air have been rather inconsistent over the past few months, their recent win over Najin and their best attempt at defeating SKT earns them a place among the best. Assuming they make worlds, their ADC Woo-hyung "Pilot" Na should be able to continue his current streak of success.
7. Qiao Gu (QG)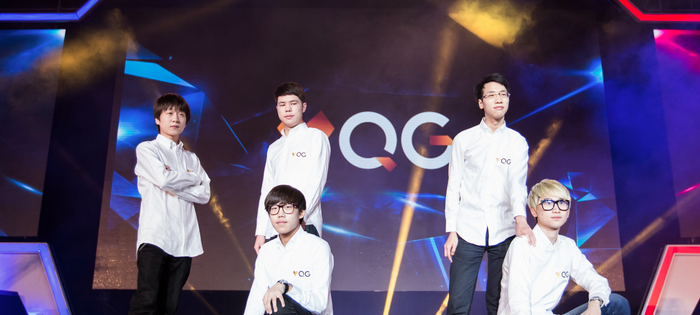 Qiao Gu team members pose for the camera.
Qiao Gu has been very strong in China lately; as of now, they're ranked first in the regular season, and they haven't dropped a match yet. But whether or not they'll even make it to worlds is a huge "what if," because with China's current point system they're at a grand total of 30 points (compared to EDG's 300 points and practically guaranteed spot at worlds) – it's not technically the team's fault that they didn't play in the Spring Split, but, well, it's coming back to haunt them now.
In terms of team strength, though, Qiao Gu is up there with the rest of them. Especially with the talented jungler that is Baek "Swift" Da-Hoon, if Qiao Gu actually makes it to the championship they'll likely hold their own.
6. ahq e-Sports Club (AHQ)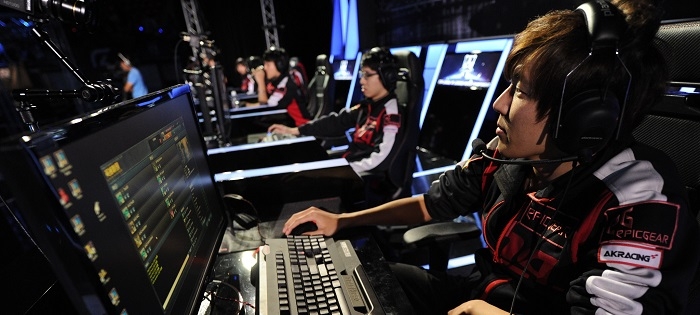 AHQ focusing on their computer screens during the Season Four Group Stage.
AHQ is undoubtedly the strongest team in the Taiwan region. Though Hong Kong Esports and Machi Esports caused AHQ to lose for the first time(s) this season, AHQ team members use an aggressive playstyle that should carry them pretty far in the world championships.
5. Fnatic (FNC)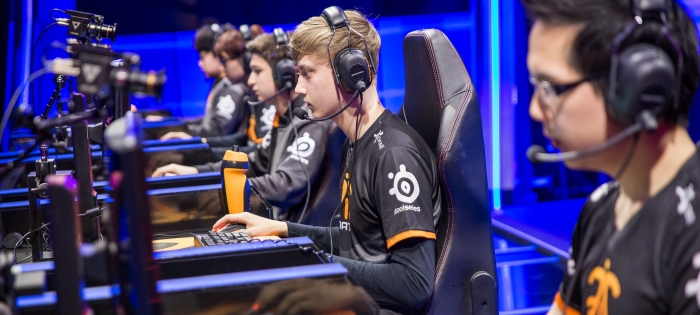 Fnatic's Martin "Rekkles" Larsson clicks furiously as he attacks and damages his enemies.
Now that Fnatic has won their back-to-back matches against H2K and Origen (which means that they're still undefeated!), I think it's pretty safe to say that the European team will bulldoze through the EU LCS Playoffs, go to worlds, and do pretty well there. I will say that their competition in Europe isn't necessary the toughest or the strongest, so it'll be interesting to see how Fnatic fares during the tournament as they face teams on the international level.
4. LGD Gaming (LGD)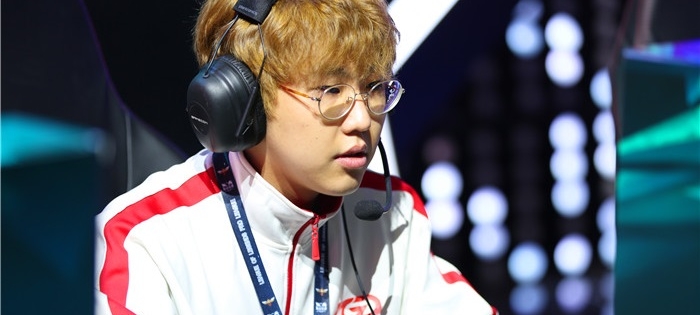 LGD's Gu "imp" Seung-bin concentrates intently on his AD-carrying.
LGD Gaming has made massive improvements in recent weeks, including a 3-1 win over Qiao Gu during the Demacia Cup. And though OMG and Snake placed second and third, respectively, in the Demacia Cup, it's hard to see those two teams doing the same thing in the LPL playoffs.
With a top-three player in the world at every position on their team and with their recent successes, it's not difficult to imagine that LGD will do well in the weeks to come.
3. KOO Tigers (KOO)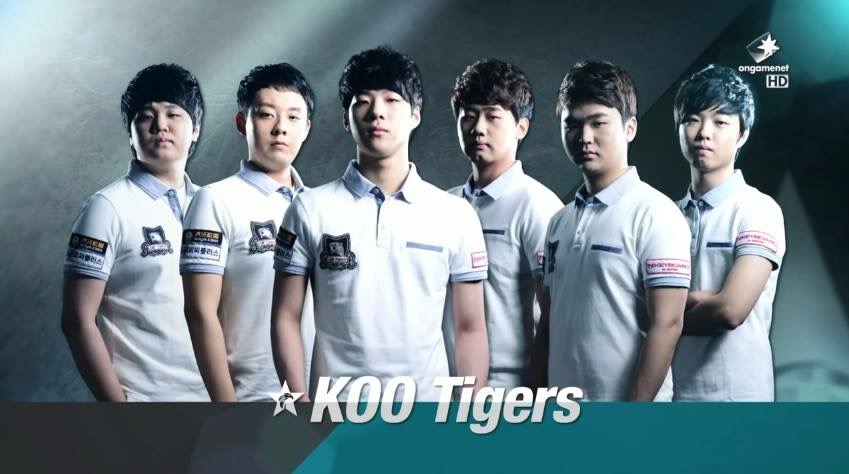 The KOO Tigers fix you with an intense stare… better watch out.
I have KOO Tigers in the third most likely slot because they've been on a roll in Korea, losing only a single game during their seven consecutive match wins; with SKT in the picture and with EDG on the prowl, though, the KOO Tigers might not have quite enough space to shine during the tournament.
2. SKTelecom T1 (SKT)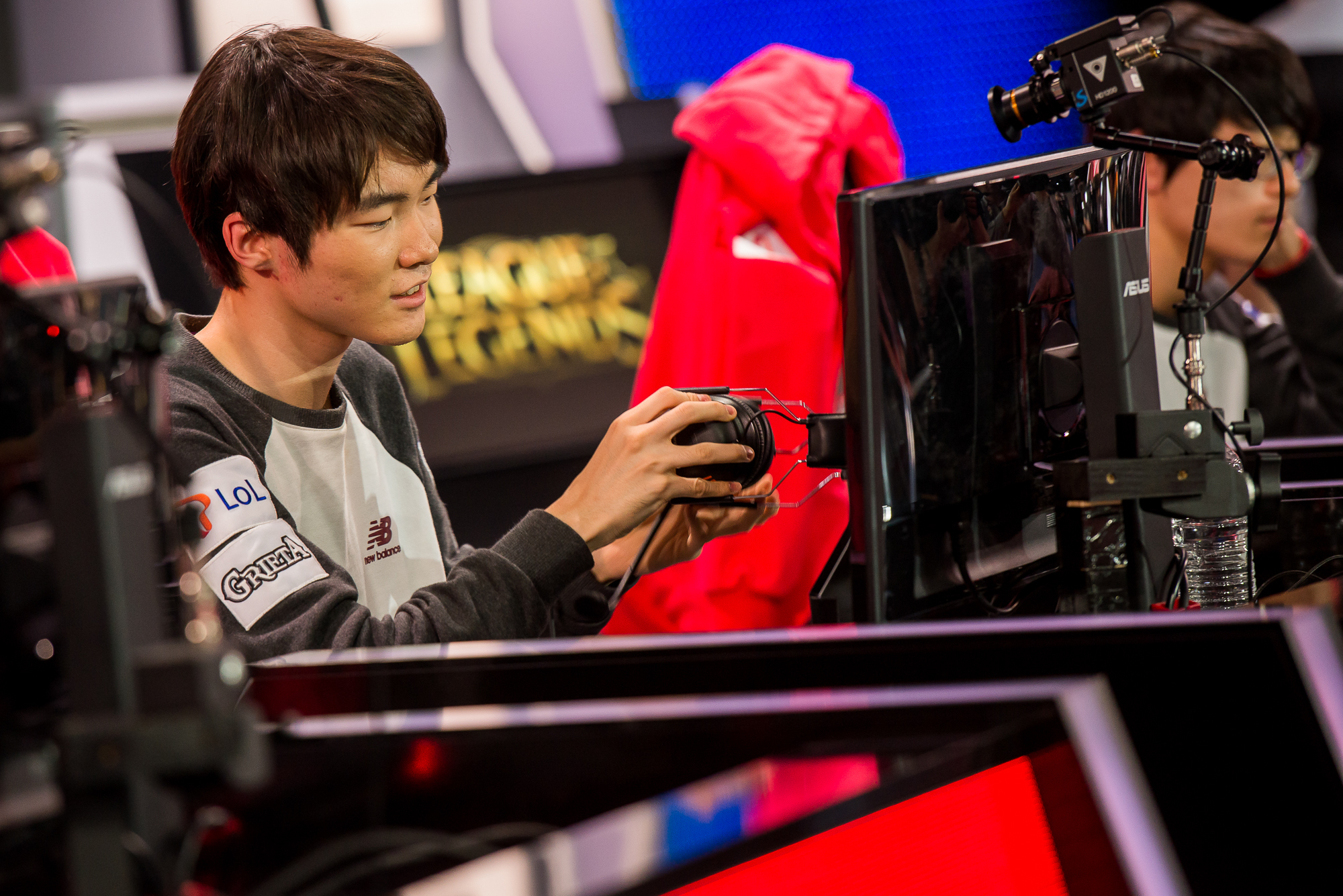 The legendary Faker adjusts his headphones.
This is where it gets good! SKT has been very consistent so far in the Summer Split, and it doesn't seem like they'll be failing anytime soon. And unlike EDG, they've actually managed to win games with their substitutes Jae-hyeon "T0M" Im and Ji-hoon "Easyhoon" Li.
Also, with the legendary Lee "Faker" Sang-hyeok rounding out their team roster, it's very, very hard to imagine SKT losing very much during the tournament. They are not at the number one spot, however, because, let's be honest, the caliber of this season's Korean teams has fallen a little. Not to mention the whole EDG-won-MSI thing.
Korean and Chinese playstyles are also very different, though. So we really won't be able to tell what'll happen this year at worlds until we actually get there… That's one thing to look forward to, at least.
1. Edward Gaming (EDG)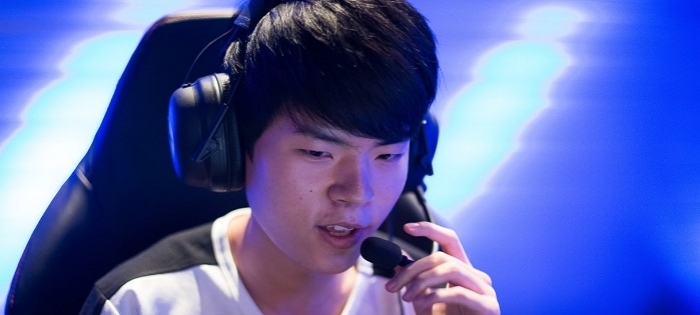 Edward Gaming's ADC, Kim "Deft" Hyuk-kyu, speaks into his microphone.
To nobody's great surprise, EDG tops off the list of teams most likely to win the world championship this year. Especially when they play with their main roster, EDG is nigh impossible to defeat. They've had some ups and downs lately because they've been doing some rather interesting roster experimentation – Tong "Koro1" Yang not playing, Yang-hyun "BaeMe" Kang going in for Heo "PawN" Won-seok – but hey, it's all about that experience, right? Without all the tweaking, EDG is easily one of the strongest teams there is.
Need I mention the Demacia Cup wins under their belts? And with Pawn destroying in mid-lane and Ming "ClearLove" Kai emerging as one of the best junglers in the world, AND with one of my favorite ADC-support pairs in the LoL esports world, it's hard to envision EDG doing even marginally poorly during the world championships.
A game by any other name wouldn't be as sweet….
You definitely don't want to miss worlds this year! The top teams from all around the world are coming together for this tournament, as they have done in years past, and as always, that means a clash of the best and the brightest esports teams in the gaming world.
That's something we all want to see, and who knows what upsets and brilliant outplays we'll be witness to this October? In the meantime, you can check out a few things that League of Legends can teach you, or maybe you can even try your hand at some other Mobas.
Related Articles
League of Legends: 10 Epic Moments That Shocked Fans Worldwide
10 Most Overpowered Ultimates in League of Legends
10 Most Famous League of Legends Players
Image Gallery