[Top 10] Genshin Impact Most Beautiful Characters
Updated: 15 May 2021 10:25 am
It wouldn't be a lie to say Genshin Impact has a very impressive graphic; not only the landscapes and the details, but also the characters. They're all unique with different features, which is great because beautiful is a big umbrella adjective with everyone having different standards for it.
Personally, I find pretty much every character in the game beautifully designed: some of them more to the cute side, some cooler, and some elegant. At the end of the day, it's a matter of preference.
For me, beautiful doesn't equal feminine. It's just a word that describes something that is aesthetically pleasing to my eyes. That said, this list will consist of exactly that: characters that I think are designed most beautifully in Genshin Impact.
I'll try to be as objective as possible, but, at the end of the day, beautiful is such a subjective word so everyone's entitled to their opinions. This isn't 'ranked' because it's not a beauty contest and I really feel like they're all beautiful in different ways.
 Alphabetical order, it is!
10. Beidou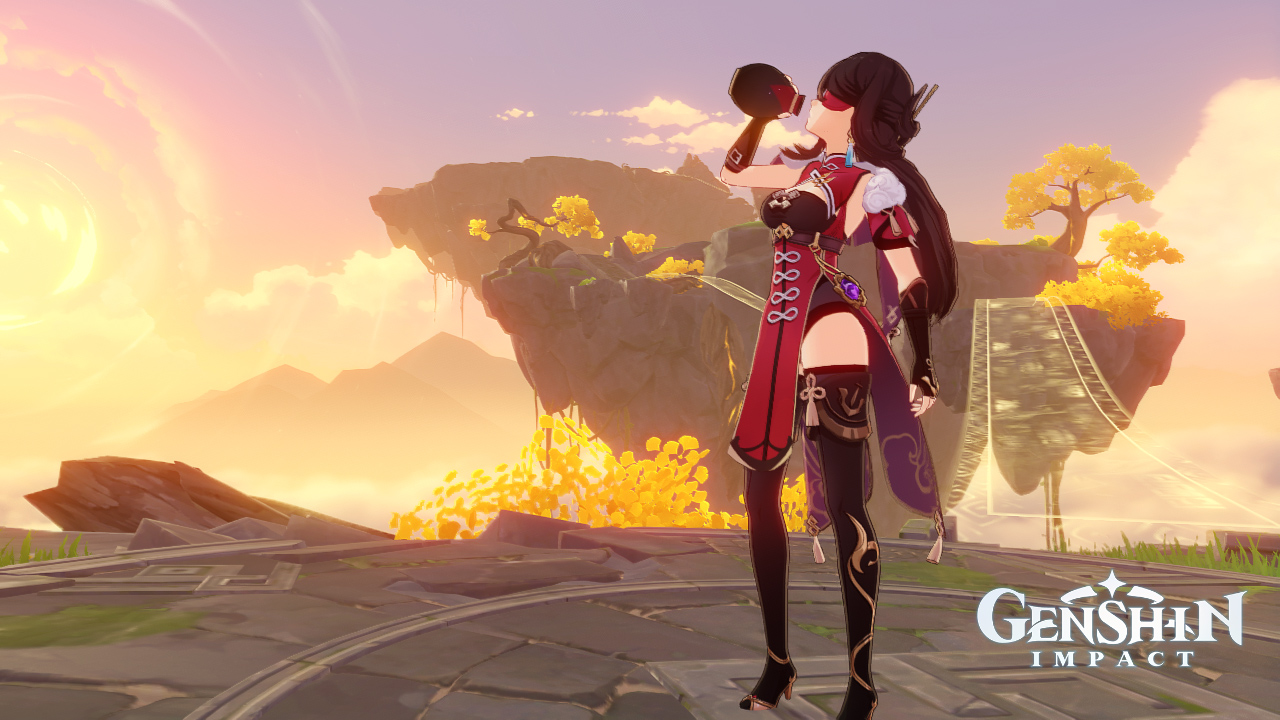 The captain of The Crux from Liyue, Beidou, starts off this list. Since the very beginning I've laid my eyes on her, I just know she's the very definition of cool. The fact that she's a captain of a ship *cough* a pirate *cough* also makes her all the more interesting.
With a rather tall and curvy figure, Beidou is dressed in red with a hint of purple and black. To me, she has one of the best designed costumes in the game. The gold accents on her top and stockings are also something that easily catches the eyes, giving her a touch of elegance despite her supposedly rough personality.
Also, her eyepatch makes a statement about her ship background, which is pretty cool. Her long hair in a half updo is also a rather feminine touch, adding a soft aura even a little. If you look at her from behind, you wouldn't guess she's as rough as people made her to be.
9. Fischl
Not only her eccentric personality, Fischl is also rather eccentric in her fashion. But I believe that's what makes her design pleasing to the eyes: her uniqueness.
With a rather short purple dress, Fischl has a rather detailed pattern in the clothing department. If anything, her costume is rather asymmetric because of the different design on her right and left sides: her gloves, the arms of her dress, even down to her stockings.
Also, she wears an eyepatch for some reason, but I think it's a rather cool touch for someone who claims to be a Princess. I don't know if a lot of you would agree with her being here, but, for me, her eccentric touches and unique patterns are beautiful.
8. Ganyu
Graceful is a word that I always use when describing Ganyu because I'm not sure if there's any other word that fits her as much as 'graceful'. From her soft blue hair and her black and white costume, Ganyu is easily one of the most graceful characters in the game.
She also has a lot of red touches, but what immediately catches your eyes would be the horns on her head. I find it very interesting that she's half Qilin, a beast, and yet she's the very epitome of graceful. I guess it's to tell players not to judge a book by its cover.
Her black bodysuit accentuates the little color she has on her costume, making her all the more elegant. Not only her costume design, even her Elemental Skill and her Elemental Burst animation are rather sophisticated.
It's really no surprise that she's one of the most popular characters in the game.
7. Jean
Jean is the very definition of picture perfect. She's beautiful, capable, responsible, and independent. If there's anything about Jean that someone might frown upon, it's her tendency to push herself too much when it comes to helping her people in Monstadt.
With blond hair, tied up with a black ribbon, Jean is also another character that is poised and refined. Her costumes are white with hints of navy and gold, which shows her elegance all the more.
Her idle animations are also rather elegant: softly fixing her hair or reaching out for dandelions that fly away. I guess when you're someone with a strong sense of justice and are happy to work with it, you're bound to become someone like her one way or another: dignified and elegant.
6. Keqing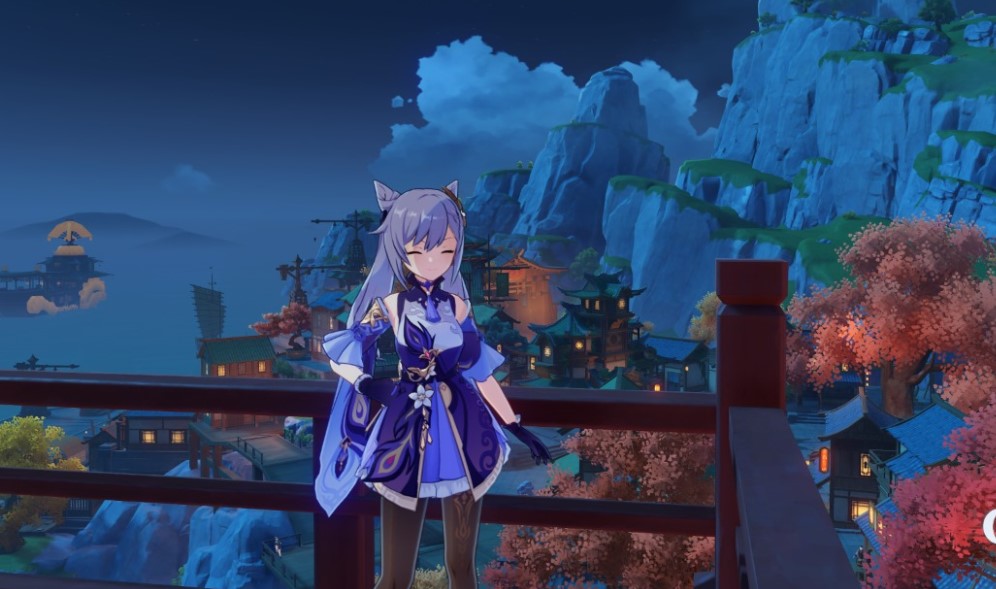 Keqing, yet another Electro character, is unsurprisingly in this list. Designed in purple from top to bottom, Keqing is designed perfectly.
Her rather unique odango hair is her main point, which looks a bit like cat ears. I'm not sure if that's a big point in making people find her attractive, but it's definitely something I take note of. Plus, her eyes are the color of amethyst, which is always a cool feature in any character.
Her dress is also rather unique, with her shoulders showing in between and accents of blue and gold. I guess it's a thing to give gold accents for characters with a rather poised setting.
5. Lisa
I promise I'm not biased towards Electro vision holders, but am I to blame if almost everyone of them makes it to this list? I'm going to say no for my sake.
Lisa is a rather pitiful character, realistically speaking. As one of the free characters in the game, Lisa is rather unused compared to the other characters. Regardless, she also has one of the most beautiful designs in Genshin Impact.
Her dress is more navy than it is purple, but like Keqing, she also has gold accents and some purple and white. A purple rose adorns her hair, tying it together, and another on her hat. There's also a golden rose on her hip, a very beautiful detail, if I might say so.
For me, though, what I like the most about Lisa's overall design is the way the sky turns purple when her Elemental Skill is held instead of pressed.
4. Mona
Mona Megistus, the Great Astrologist, is another obvious character to be on this list.
Personally, I find her design really unique without being too excessive. With a rather purplish outfit with a hint of red and gold (does everyone have gold accents?), Mona has a rather distinctive costume. Her witch hat makes a statement, one that says she's in the field of magic through and through.
 The stars glittering her costumes from head to toe is also a special touch, reminding us of her astrologist background. The big compass on the side of her thigh is something that's rather characteristic of her: bold and daring.
Also, she has a rather pretty idle movements where constellations appear around her, making her design all the more aesthetic.
3. Ningguang
Next is Ningguang, the ultimate representation of elegance. Since the very beginning of her appearance, Ningguang has easily caught people's eyes with her design from head to toe.
To this moment, I'm not sure what's the best thing about her design; is it her long, white hair? The way it's tied into a ribbon? Or is it her slit dress that shows off her red mark going up her thigh? Or maybe it's the black accent throughout her rather bright color?
I think the answer is as simple as: Ningguang is just beautiful. Plus, the hint of red makeup on her face is a plus in making her look intimidating even through her rather soft features.
Much like Ganyu, Ningguang isn't only beautiful in appearance but also her style of fighting. As a Catalyst, Ningguang uses gems to attack her enemies. Neat, right?  
2. Rosaria
The cold beauty that is Rosaria is also rather pleasing to the eyes. From her outfit alone, you wouldn't guess she's a sister in the Favonius Church. But I think the irony makes her design even more interesting.
With a lot of red accents, you might mistake her for a Pyro vision holder though her tendency to be cold and her pale skin would say otherwise. Rosaria's costume is also rather full of simple patterns: not too much to make it excessive, but enough to make it not look boring.
Her sleeves go to the edge of her fingers, ending with gloves with rather sharp ends. Personally, I find this and the belts on her thigh to be the main points of her costume.
1. Xiao
Last but not least, Xiao ends this list as the only male characters in the game. I didn't mean for him to be the only one here, but the other male designs are rather simple and cool instead of beautiful; if I were to put on more, Zhongli, Venti, and Albedo would probably also make the list.
That said, I believe Xiao is on par with Ningguang when it comes to detailed costume designs. He's adorned with all sorts of colors and patterns (even tattoos and his Yaksha mask), the colors blending well with each other, making a rather aesthetic picture.
Also, his costume is rather unique, even more when you compare him to the other male characters in the game. It's not a simple top and bottom, he has a few accessories here and there, which might seem a lot but not really. 
To top off, his Elemental Burst is also rather beautiful despite its destructive nature. Along with this is his idle animation, in which he puts on his mask or he's reaching out to an Anemo spirit.
You May Also Be Interested In:
Image Gallery