[Top 3] BF5 Best LMG
Updated: 15 Apr 2021 2:29 pm
Support class in BFV is explosively fun but why is everyone going LMG lately?
Maybe it's due to Battlefield V's new meta and its unfriendliness to MMGs, these days you'll be hard-pressed to get a good MG position and when you do the chances of blueberries blocking your FOV are 99.9999%. That's why a good amount of us are reaching for our less cumbersome LMG. So with that in mind grab your shape charges and let's go over some yippy fellas that require less reloading whilst inspiring new metas.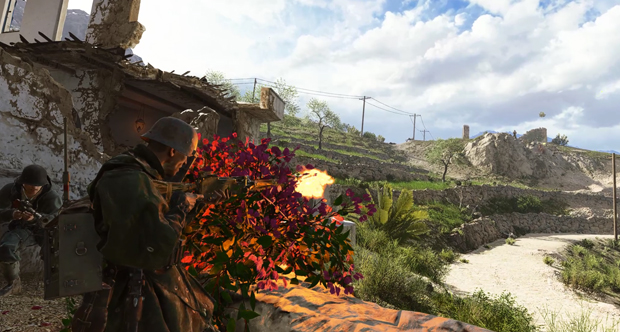 Support gunner suppresses the hills with an LMG on BFVs beautiful Adriatic map: Mercury
3: M1918 A2 Browning Automatic Rifle "leet lmg"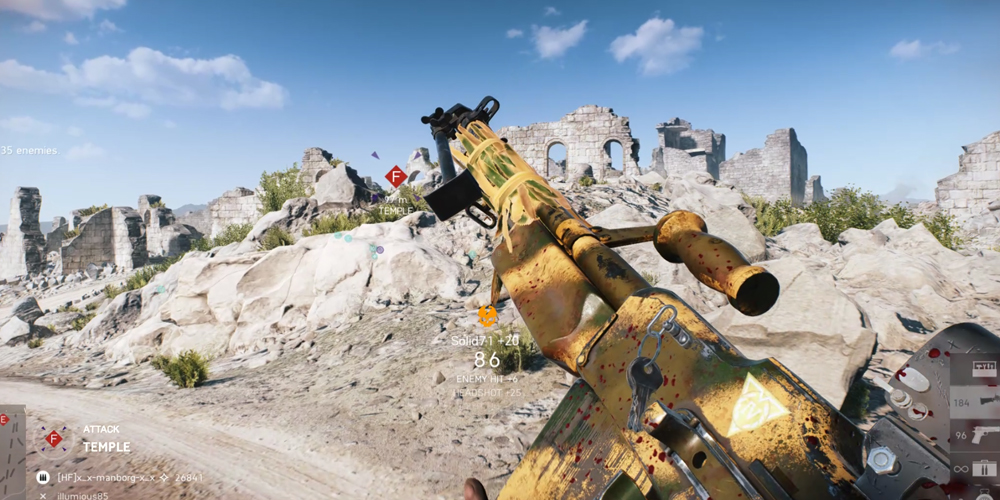 B.A.R. with all the Jungle Drippings... and house keys?
At first, this thing was hard to handle and I wasn't sure what role it fulfilled. This lasted 5 minutes then it quickly shared its deadly secrets. The B.A.R. tries to fulfill all the roles and it has completely stolen our beloved FG-42s position as the aggressive light machine gun of choice... Cries in fallschirmjager.  
So, If you want something that can hit from afar with single-fire or spray someone point-blank against the wall then just grab yourself a BAR. It's a faster firing FG-42 with slightly more side-to-side recoil (.35° rather than .22°). If you're learning how to tame this beast make sure to only expose yourself to 1 enemy at a time. That way you can reload and put another 5-20 rounds in the others.
Disclaimer: this thing is tied for the loudest LMG with Chauchat! ... If or rather when enemies inevitably counterattack your position: stay low, listen for those angry footsteps, and then let the B.A.R. reintroduce itself.
Major Exploits
Tap for Accuracy: your single-shot grouping will be extremely tight with this weapon, that's why it's the leet choice: slow down your rate of fire and it becomes a self-loading rifle with a bigger magazine
Yippiest: highest rate of fire of all the Light Machine Guns (720 RPM)
Close Encounter Extraordinaire: this gun will be there for you when those medics come knocking at your door, its indiscriminate hip fire should lay down anything within ten feet
WelterWeight: due to its decent mid-range abilities this gun is well suited for 10-40m combat and can out class every other LMG provided you control the recoil
BAR Gun in FOV 
Class: Support
Unlock: Company Coins
Fire Mode: Auto 
Rate-of-Fire: 720 rpm
Max Damage: 25.1
Bullet-Velocity: 740 m/s
Reload: 2.45-3.30 s
Mag: 20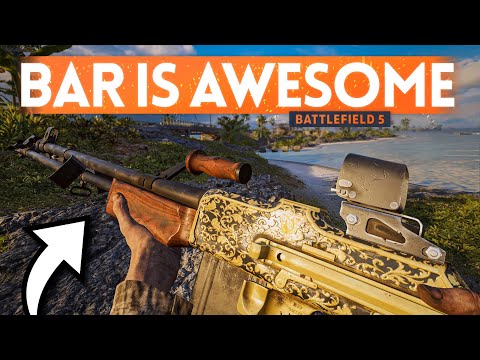 BAR IS AWESOME After The Hotfix Battlefield 5 New Weapon
2: Chauchat "BFVs m240b"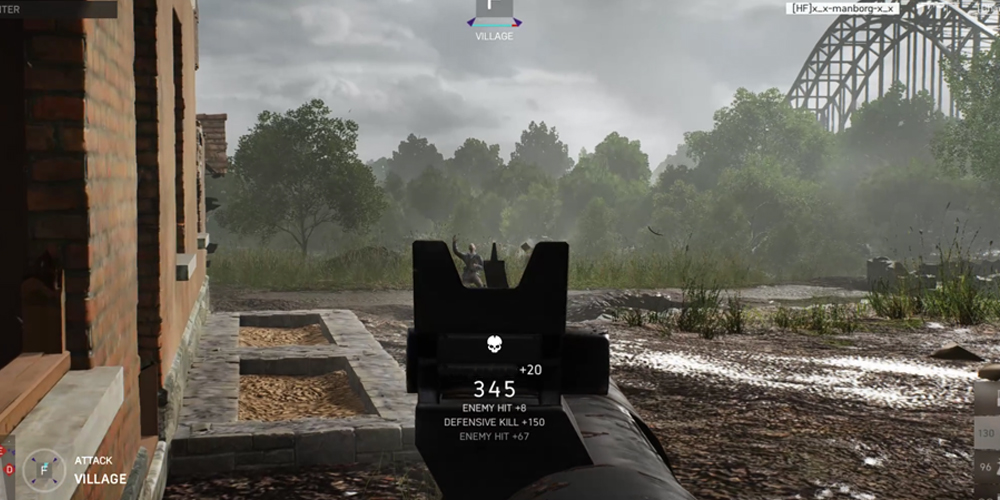 Chauchat laying down more victims
Hey, look everybody there's actually an LMG in the game now! It's been years since DICE nerfed all the machine guns in BF1 and subsequently passed the disease to BFV. 
Nevermore says the Chauchat... BFV finally received its hard-hitting LMG when this french bulldog arrived on June 4, 2020. Since then it's been pinning fools. Use this and it'll feel like you're hurling spears at the enemy. When you get a headshot you know that player is about to start running in which case your carefully placed second slug can land wherever it pleases to complete the kill. Sure it kicks, but so do mules and their useful AF. 
Major Exploits
Damage: best damage in class
Range: best drop off damage of all MG's, aka best range in class
Sound: the grinding sound it produces makes it feel like an Auto Cannon
Fun: this gun requires practice but can deliver the killing blow quickly which makes it immersive and enjoyable 
Chauchat in FOV 
Class: Support
Unlock: Company Coins
Fire Mode: Auto 
Rate-of-Fire: 327 rpm
Max Damage: 35
Bullet-Velocity: 720 m/s
Reload: 4.15-5.8 s
Mag: 20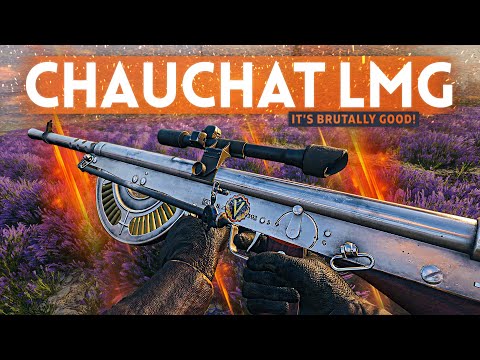 New CHAUCHAT MG is BRUTALLY GOOD in Battlefield 5! (New Map Gameplay)
1: Lewis Gun "lewis gun"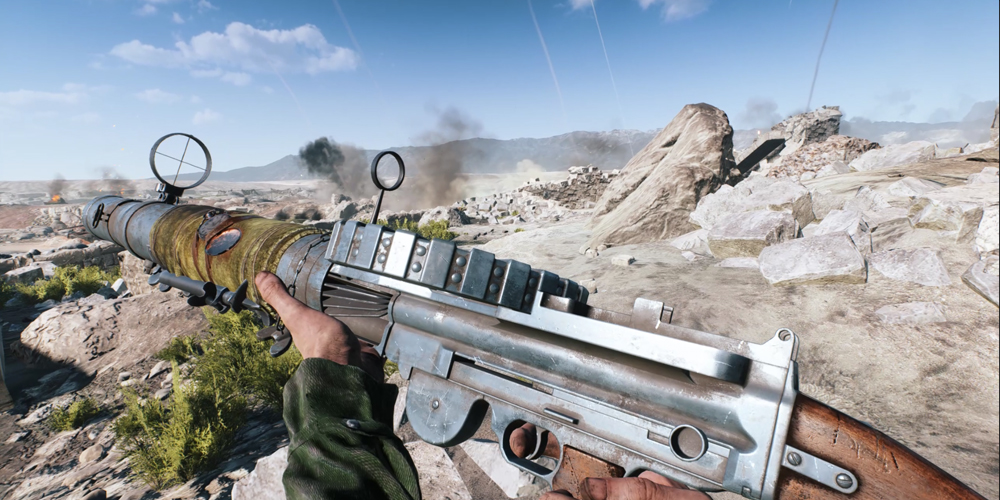 Lewis Gun with BF1 commemorative skin
If you've read other articles of mine you may have noted I always use community nicknames or make my own up. This time seems… Less creative. That's because it's the Lewis gun! I can't rename this renowned work-horse. We've been mowing down the overzealous with it since BF1. If you're a tactician you should grab this sucker it will NEVER fail you. Just point and shoot; then subsequently duck! 
Major Exploits 
Consistency: with the lewis gun you'll never be wondering why you're looking at the sky or where that bullet just went: they all end up where you're aiming
More Bullets: largest mag of all the LMGs, great for those prolonged engagements when you need to teach enemies multiple lessons
Doubles as an MMG: this gun can feel like an MMG with the better bipod upgrade but you can still fire in ADS while moving, thus: this gun is a SAFE MMG, it allows you to feel like a gunner but you don't feel stuck
Solid: this gun is highly recommended for beginners or people who don't want to learn recoil patterns… it's just straight up and down a good gun and has little to no surprises
Never Countered: this gun can be "outclassed" but it will never be "hard countered", you're never going to feel like you had no chance, the lewis can return accurate fire in every situation
Lewis Gun in FOV 
Class: Support
Unlock: Support Rank 10
Fire Mode: Auto 
Rate-of-Fire: 539 rpm
Max Damage: 25.1
Bullet-Velocity: 740-840 m/s
Reload: 3.55-3.83 s
Mag: 47-97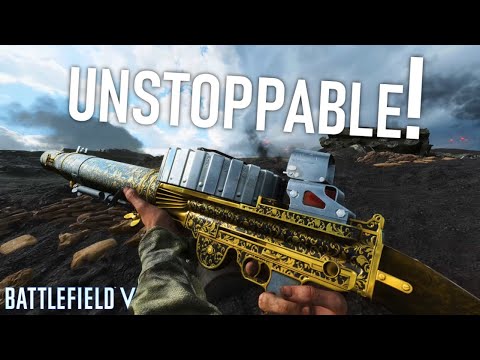 The MAX UPGRADED Lewis Gun is UNSTOPPABLE! - Battlefield 5 Support Gameplay  
 Advice gathered through experience and grinds, hard data supplied by our clever friends at sym.gg and battlefield.fandom.com/wiki/Battlefield_Wiki.
You may also be interested in:
Image Gallery