Heroes of the Storm: Equinox Will Be Coaching Simplicity
Updated: 19 May 2018 12:37 am
Coaching, for Equinox, will be a new perspective on a familiar game.
15 May, 2018 Simplicity announced that Jon "Equinox" Peterson is joining their team as Head Coach. Equinox most recently played for No Tomorrow (formerly SpaceStation Gaming) from June 2017 to May 2018, as a flex player and most recently the off-laner.
Equinox has been a staple in the Heroes of the Storm scene since Alpha, playing competitively since 2014. He became known for his Kerrigan play and a play style featuring unique hero picks and aggressive shot-calling. Outside of the game, his social media is filled with droll comments and playful hassling of his fellow players.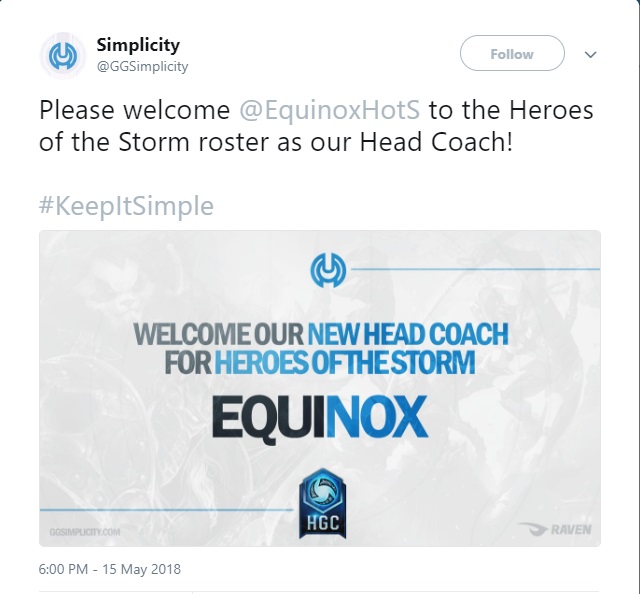 Who is Simplicity?
Equinox joins a team with nearly unparalleled experience within Heroes of the Storm. Simplicity fields a roster originally registered in the HGC as 'Old Gods'- an apt description for a team with a combined 13+ years of professional Heroes of the Storm experience[34] - all four current players have been playing competitively for over 3 years.
Warrior player John Paul "KingCaffeine" Lopez, and Ranged Assassin turned Support Keiwan "k1pro" Itakura were both members of the legendary Cloud9 team that won the inaugural 2015 Heroes of the Storm World Championship at Blizzcon. KingCaffeine[35]  and k1pro have continued to play as teammates for the majority of their professional careers across three and half years and six different organizations.
In the 2018 Heroes Global Championship season, Simplicity struggled throughout the first half of the season. With a 5-9 win-loss record, they secured 6th seed and qualified for the play-offs where they fell to Gale Force Esports in a hard-fought 3-2 match. With the addition of Equinox as head coach, Simplicity looks to emulate the past successes of their storied players and break into the higher ranks of HGC North America.