The Best Moments from Heroes of the Dorm 2018
Updated: 17 May 2018 10:14 pm
Nothing quite matches the feeling of crushing your opponents beneath your feet
The competition, skill level, and plays shown during the 2018 Heroes of the Dorm showed just how much the tournament has grown in the last four years. Whether you missed the action, or want to reminisce about the best moments, let's take a minute to enjoy the moments that kept things exciting.
Top 5 Plays from the Round of 64
The first week of elimination play witnessed the little Genji-that-could along with an unbelievable play from John's Hopkin's Tristan "Solian" Orton-Urbina on Garrosh saving Elizabeth "Kylaris" Reiland's Chromie from the wrath of a Stitches hook. The Round of 64 saw a healthy dose of upsets and domination across the ranks. It may have left our brackets in tatters, but these plays made it all worth it.
Top 5 Plays from the Round of 64
Top 5 Plays from the Round of 32, a.k.a. Upset City
Of the 32 teams that entered this round, no one predicted the 16 that emerged. Upsets reigned supreme, with tournament strongholds like LSU and Minnesota falling in stunning sweeps to Carleton and Fullerton, respectively. Maiev was the name of the game- the night elf warden starring in a number of the week's top plays.
Top 5 Plays from the Round of 32
Top 5 Plays from the Round of 16
After the Round of 32, the hopes of underdogs everywhere were flying high, but the Round of 16 saw more predictable results. The dominance of Cal and UCI laid to rest the plucky dreams of Carleton and UQTR. The week three games saw miracle core defenses, wild team-fights and moments of impressive coordination.
Top 5 Plays from the Round of 16
Top 5 Plays from the Round of 8
The Round of 8 saw scrappy, hard fought battles as each team clawed their way towards the Heroic Four. In the end the teams who kept their cool and stayed calm came out on top. The Top 5 Plays from the Round of 8 go to the teams who didn't let chaos get the best of them. From intense last minute pushes, to displays of incredible team determination and grit, these plays showcase the pure willpower needed to reach the top levels of this tournament.
Top 5 Plays from the Round of 8
First Canadian Champions
Undoubtedly, Heroes of the Dorm 2018 will go down in history as the year the Canadians won it all. Rouge Et Au was not only the first Canadian team to reach the Heroic Four, they are the first Canadian team to win the tournament and claim both full college tuition, and this year's bragging rights. The moment Laval realized that all their hard work had paid off is a heartwarming moment of eSports history.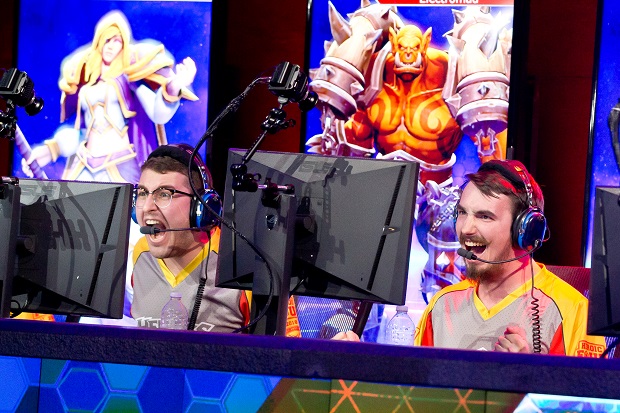 The moment they knew they'd acheived everything they worked for.
After the confetti settled onstage, the Rouge Et Au team captain Jérôme "Earth" Levesque spoke with host Anna Prosser Robinson.
"For years, it was only a US team [as national champions], not even one Canadian team in the top four, and we just won Dorm, not only the top four. It was an amazing Heroes of the Dorm. It was an incredible, special thing [that was] well done."