Heroes of the Storm Contest! Join Now To Win An Epic Hero Skin
Updated: 16 Jun 2015 1:44 pm
A battle royal of legendary proportions!
Win the Malfurion Stormrage "Storm Mantle" skin in our Heroes of the Storm contest!
Heroes of the Storm is a team brawler of heroic proportions starring your favorite Blizzard characters. The game is free to play - check it out here.
PC gaming's most epic crossover is now a reality. Iconic heroes and villains from legendary franchises Warcraft, StarCraft, and Diablo fight for supremacy in Heroes of the Storm – Blizzard's fun, fast, and explosive hero brawler.
One of those heroes is Malfurion Stormrage, who first appeared in 2002's Warcraft III: Reign of Chaos. If you love Malfurion, you're in for a treat; we're giving Gamers Decide readers the chance to win his "Storm Mantle" Hero Skin for use in Heroes of the Storm!
Now up for grabs - Malfurion Stormrage's "Storm Mantle" skin: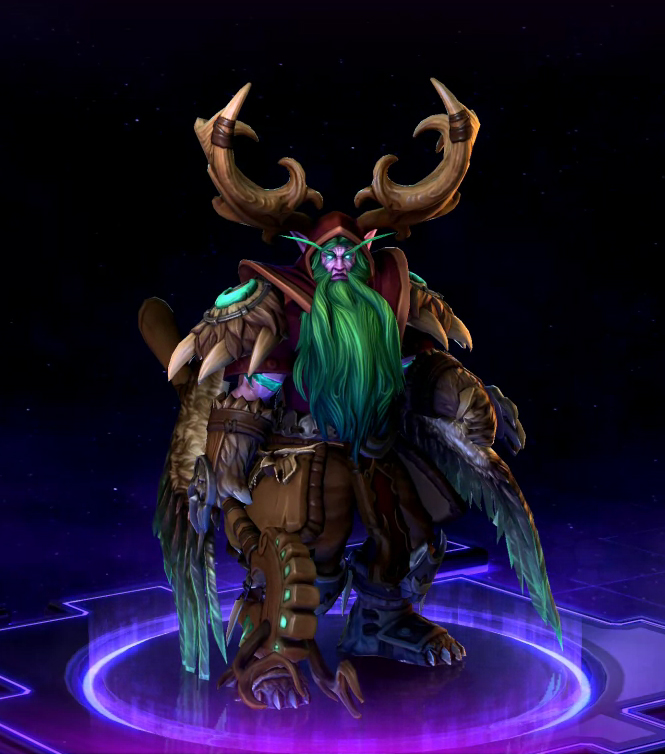 Although Broll Bearmantle had saved the Archdruid's life from Azgalor's blade, it had cost him his own. Even now, Malfurion wears his armor to remind him of the sacrifices that saved Hyjal.
How To Win
Want a cool Malfurion "Storm Mantle" skin? You just have to follow these easy-as-pie instructions:
Step 1: Make sure you have a Gamers Decide account. If not, please register using your real identity and a valid email (that's how we'll be able to contact you if you're a winner).
Step 2: Share this contest page on Facebook using the Facebook share button below.
Step 3: Complete the slogan, "What I love most about Heroes of the Storm is…" and post it in the comments section below this article.
Just remember:
Slogans must be 25 words or less. Those 25 words already include "What I love most about Heroes of the Storm is…" so that leaves you with a maximum of 15 more words to get creative.
Post only one slogan. If you post more than one, only the latest will be considered for the contest.
Example slogan: "What I love most about Heroes of the Storm is Malfurion's badass, 10,000 year-old-beard."
Step 4: Make sure to complete steps 1 – 3. Submission deadline is July 20, 2015; slogans submitted after said date won't be considered.
Once the contest ends, we'll go through all your slogans. The 50 best slogans will win Malfurion Stormrage "Storm Mantle" Hero Skins.
So what are you waiting for? Get writing!
… or do you need some inspiration? Well how about some background info on everyone's favorite night elven Archdruid?
Malfurion Stormrage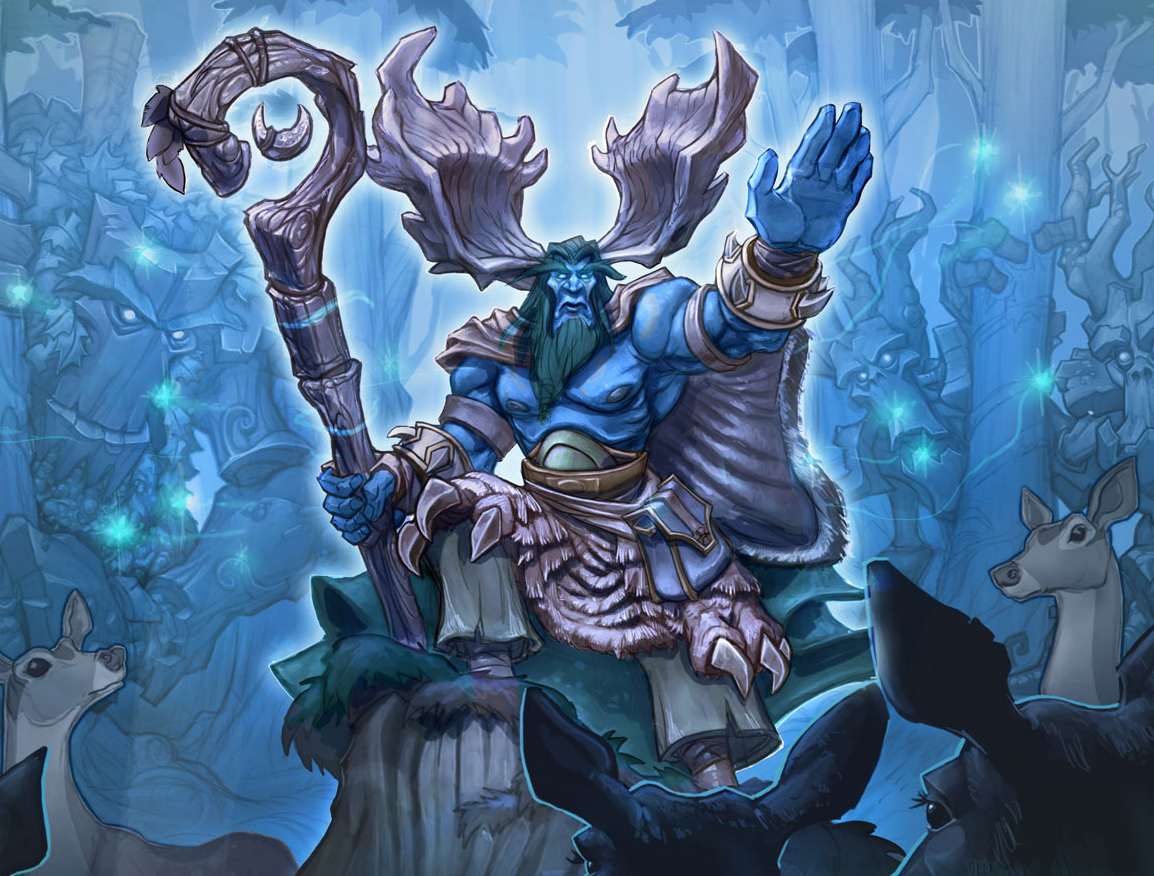 Real friendly with animals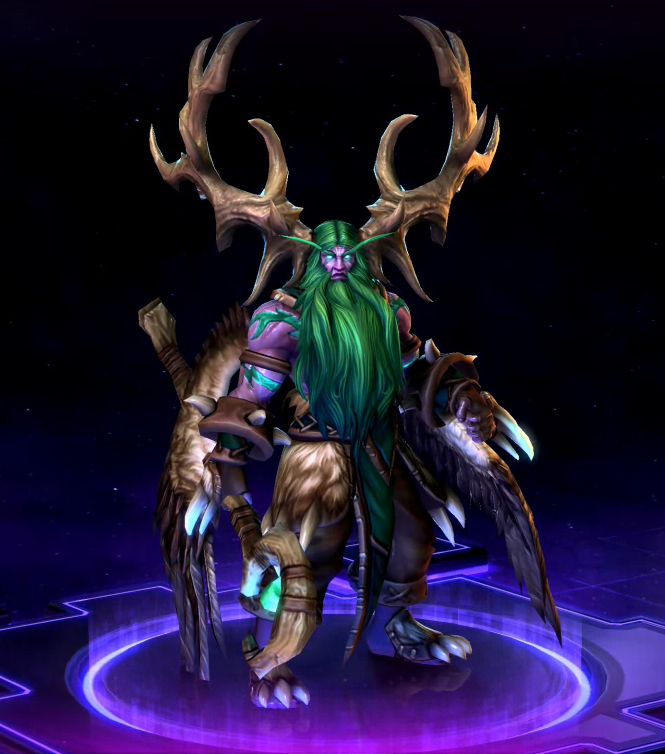 Rockin' the antlers
As Azeroth's greatest druid, Malfurion Stormrage is mentored by the demigod of nature, Cenarius, whom he communes with through the Emerald Dream. Aided by the power of the wilds, Malfurion defends his allies and his lands from those who would seek them harm.
In Heroes of the Storm, he uses those powers to return health and mana to battered and exhausted allies. But when push comes to shove, he commands roots to entangle and crush unfortunate targets. His most lethal offensive spell damages and silences enemies, preventing them from casting magic.
Eternal Conflict
In Heroes of the Storm, the newest battleground Malfurion will be doing battle in is the Diablo-themed Eternal Conflict. Feast your eyes on these spectacular screenshots of this new arena!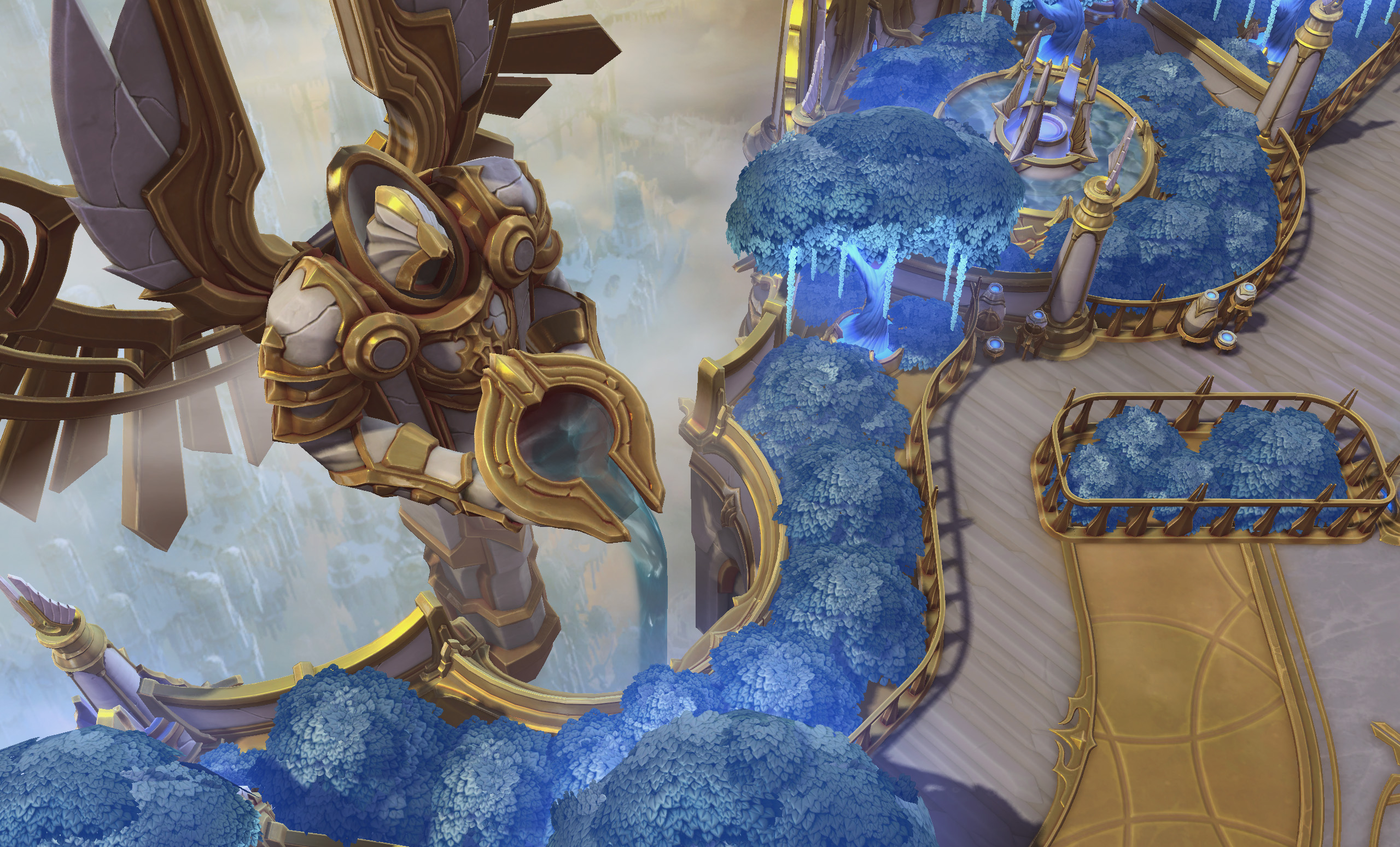 Heavenly vistas await you in Eternal Conflict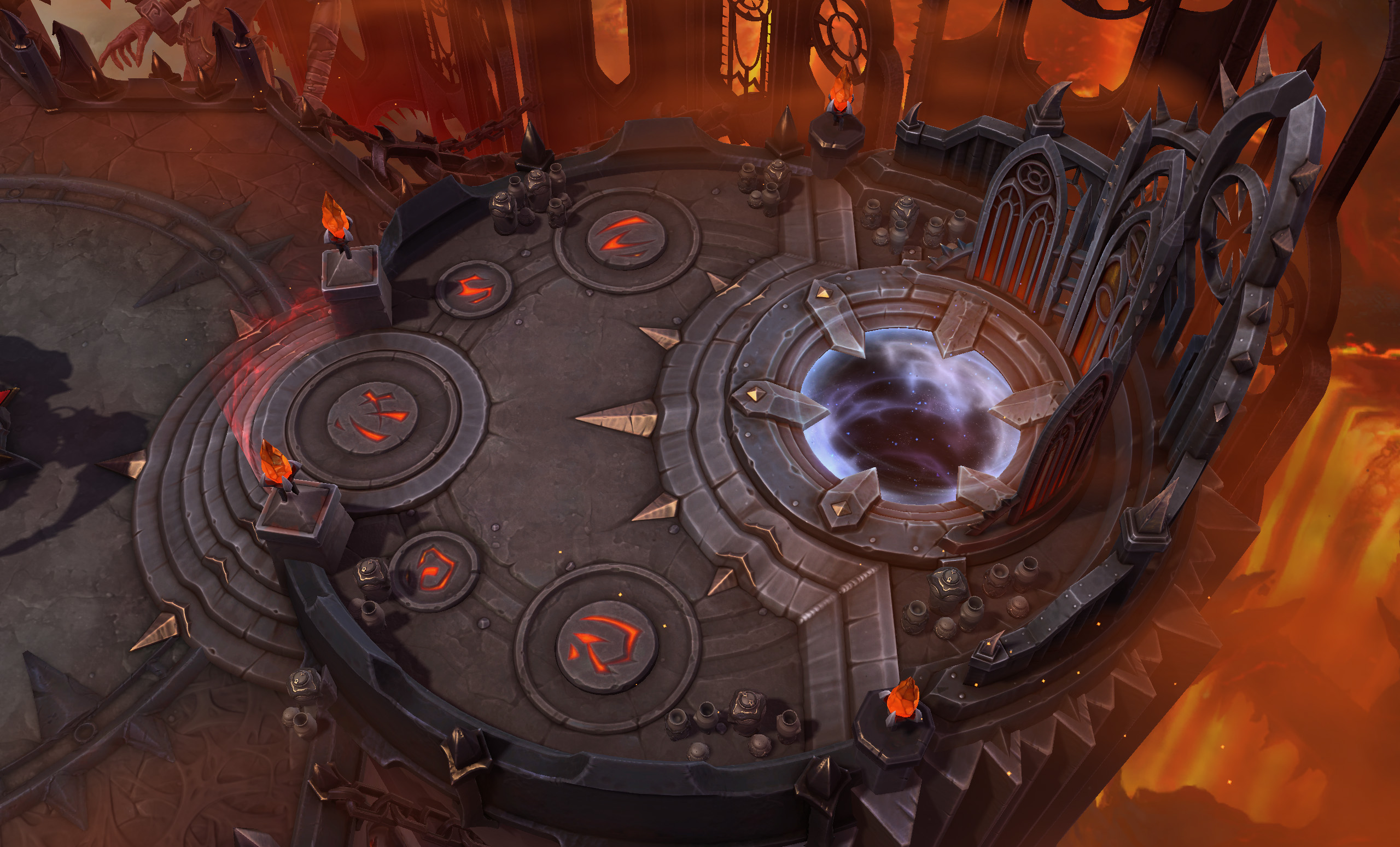 As do hellish visions of the demonic realms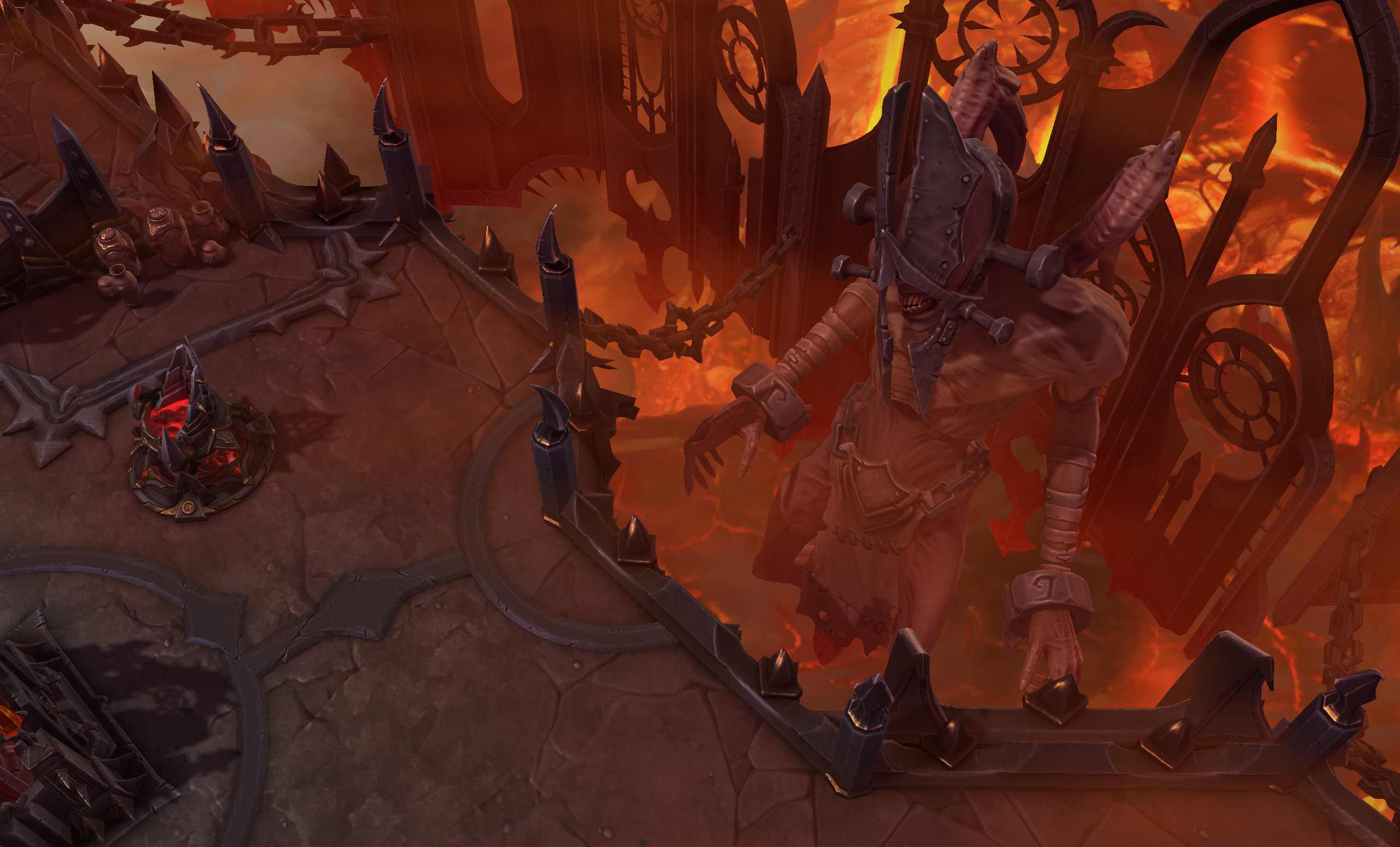 Hey! I remember you from Diablo III!
For more images of the Eternal Conflict and Heroes of the Storm's newest hero, the Butcher, check out the image gallery below.
But hey, as pretty as these pictures are, they don't compare to the real thing. If you want to experience this spectacular battle royal for yourself, you'll have to play Heroes of the Storm. Good news is, it's totally free to play – just follow this link to the installer's download page.
So how about it? Do you have what it takes to battle alongside the legends of PC gaming? Check out Heroes of the Storm and find out!
Image Gallery