Top 10 Best Shooter Games for Switch
Updated: 21 Jun 2019 11:44 pm
Fortnite
If the Playstation and the Xbox aren't really your cup of tea and you aren't a big PC gamer, then you probably default to the Nintendo consoles.
If you're tired of Mario and Zelda, then the Switch probably feels like a godsend to you. With all of the new ports coming from Steam, you've finally got a chance to play a wider variety of game types!
Today we'll take a look at 10 of the best shooter games available on the Nintendo Switch.
10. My Friend Pedro
8 Minutes of My Friend Pedro Gameplay
My Friend Pedro is a third-person shooter that pairs an aerobatic ballet killer with a bizarre but sentient banana on a journey to eliminate a band of underworld gangsters. You'll use your body as a weapon, with all of your amazing flips and spins, as often as you'll use your guns to execute all those split-aim kills and to line up the perfect ricochet shots. This game appreciates style almost as much as it does destructive violence.
Top 3 Things That Make This Game Great :
The slow-mo ability effect that add style and precision to your kills, creating special stunt shots for more points
The aerobatic character movement, allowing you to flip, spin, and twist through combat, which launches you from point to point throughout the level
The side-scrolling motorcycle battle sequences that give you a break from the person-to-person shoot outs and let you have intense vehicle battles with lots of explosions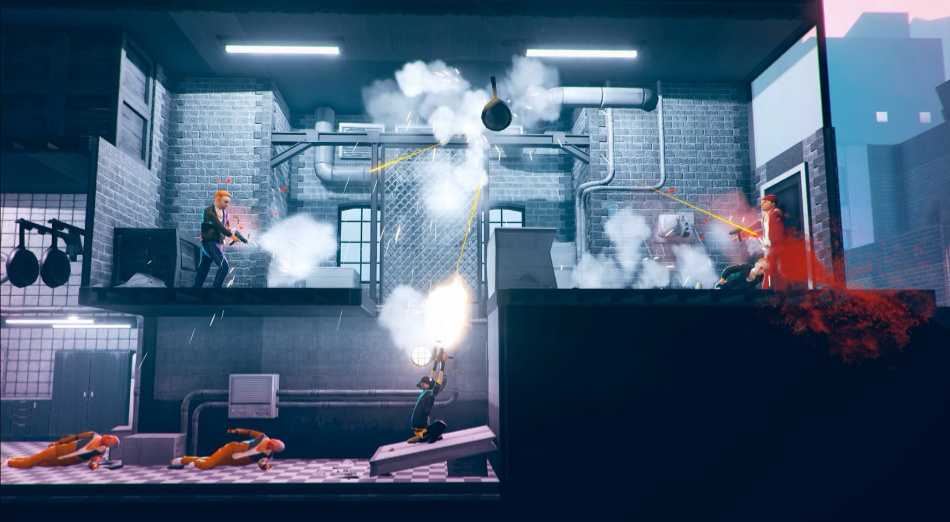 Be trigger-happy in My Friend Pedro but do it with intention—plan your shots carefully to ricochet around the level to get extra kills easy.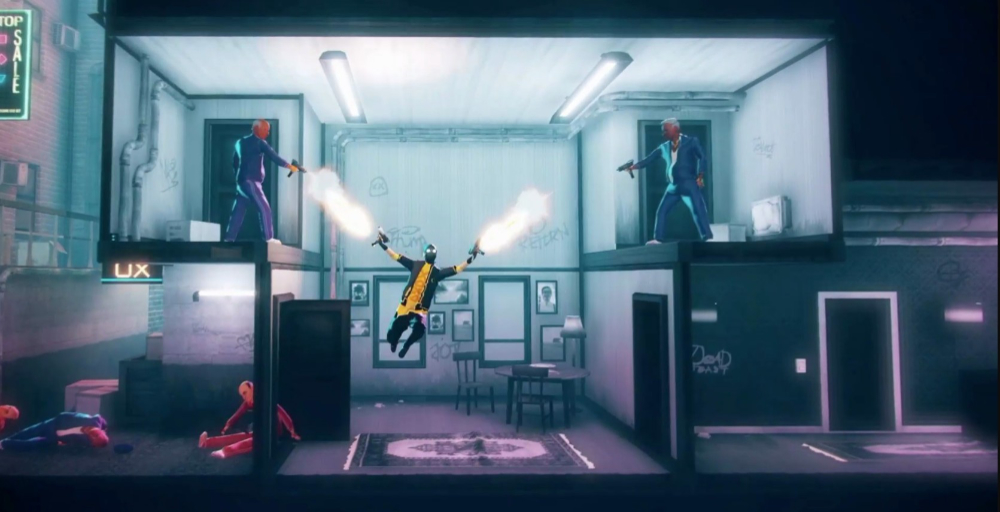 This game is all about the split-shot so when you're surrounded, hit that slow-mo ability and take the time to steady your aim.
9. Wolfenstein: Youngblood
Wolfenstein: Youngblood E3 2019 Gameplay
In Wolfenstein: Youngblood you play as one of the two daughters of our previous protagonist, B. J. Blazkowicz who went missing sometime after the events of the last game. Jess and Soph Blazkowicz will mow down any Nazi scum that stands between them and the search for their father. Bring a friend and turn on co-op mode to gun down Nazis and liberate Paris together. Barge in as one  with guns blazing or split-up and coordinate your attacks more carefully using your suit's stealth-capabilities. Either way, your goal is to kill as many Nazis as possible and bring your father home safe and sound.
Top 3 Things That Make This Game Great:
The new leveling system and skill tree so you can build out your characters
The new special coins that are hidden throughout the world which allow you to buy mods for your weapons—this encourages more complete exploration of areas
Enemies level with you, so you still have a combat challenge when you revisit areas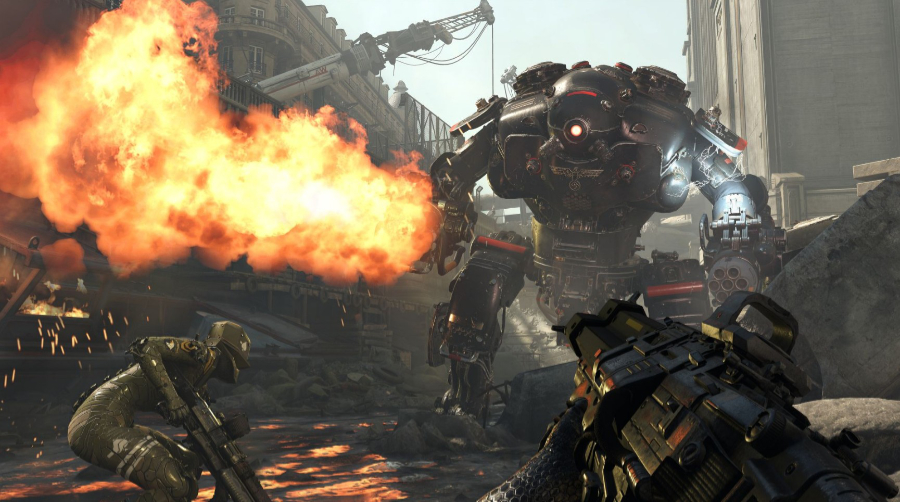 Be prepared for giant Nazi-Mechs with strong armor, it'll take you coordinating with your ally carefully to bring them down.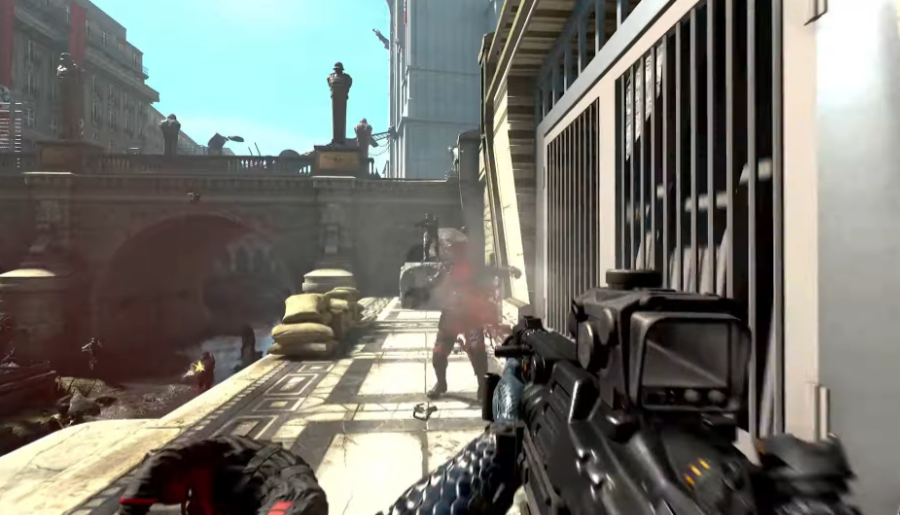 Fast-paced battle means racing through areas and gunning down all Nazis that stand in your path.
8. Sniper Elite V2 Remastered
Sniper Elite V2 Remastered Switch Gameplay
Pick up a rifle as Karl Fairburne in Sniper Elite V2 and join the Allies at the Battle of Berlin during World War II. You'll need to engage the enemy with as much stealth as possible, using your sniping skills to help pick off foes one by one. If you accidentally draw too much attention to yourself, you can use objects in the environment to distract from your location by causing explosions or other loud noises. Whatever you do, don't hang around one spot for too long, try to stay on the move while you accomplish your objectives.
Top 3 Things That Make This Game Great:
Last known position marker that shows you were the enemies last saw you and where they'll be shooting, which aids in your ability to get stealth shots
Tagging that allows you to mark your enemies so you can more easily avoid trouble while sneaking around
Awesome slow-mo kill-cam animations when you've nailed an impressive shot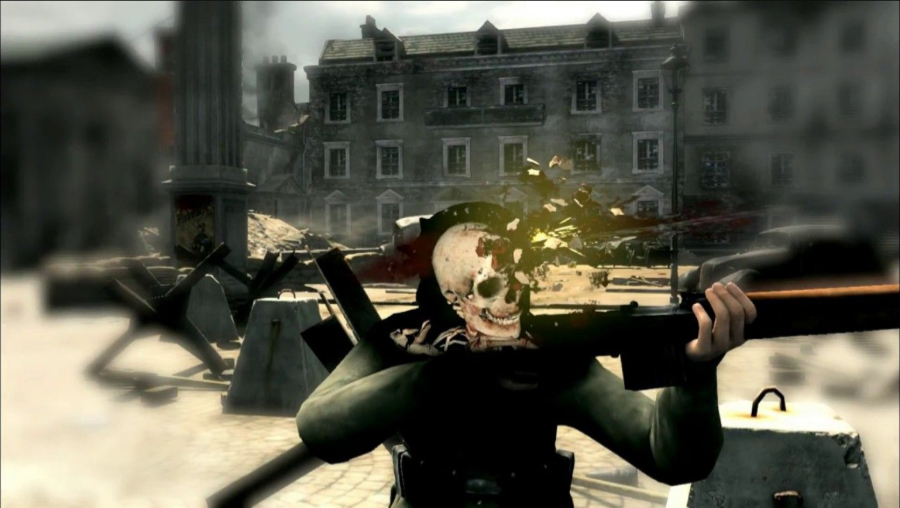 The x-ray feature sometimes makes an appearance during the kill-cam shots to show just how precise your shot really was.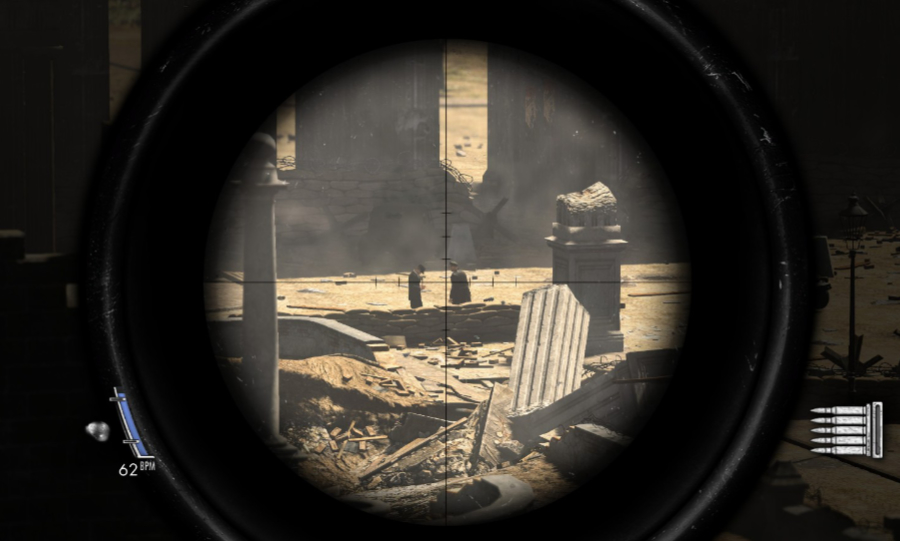 You'll have to compensate for bullet drop and breathing when you're trying to make a scoped head-shot.
7. Splatoon 2 - Starter Edition
6 Minutes of Splatoon 2 Switch Gameplay
Splatoon 2 isn't your typical shooter game. In this game your goal is to cover as much territory as possible with the ink of your color, using rollers, sprayers, or automatic shooters that fling ink everywhere. Each match is timed, so you want to cover as much ground as possible as quickly as possible—to make this more effective, unlock weapons with the biggest coverage range or fastest splatter speeds. This is a co-op 4-v-4 game, so coordinate your weapon types with your friends to create the most effective strategies for inking the widest area while doing the most damage to your opponents.
Top 3 Things That Make This Game Great:
Unlocked gear comes with slots that have hidden abilities so you get more than you bargained for
The social hub world has a great community focus and is kind of like a better designed miiverse
The variety of game modes that give you something to do no matter what mood you're in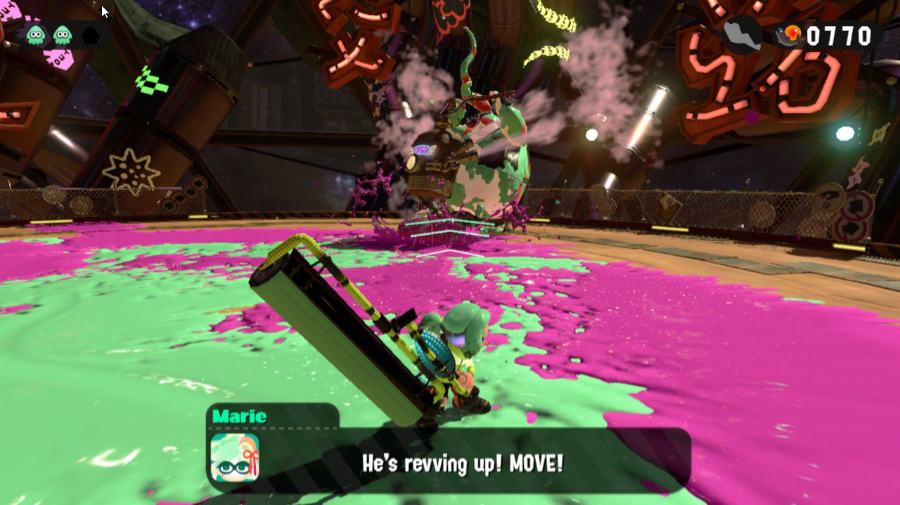 Although most Splatoon players focus on multiplayer mode with their friends, there is still a story-mode for single player if you're more into some casual solo play.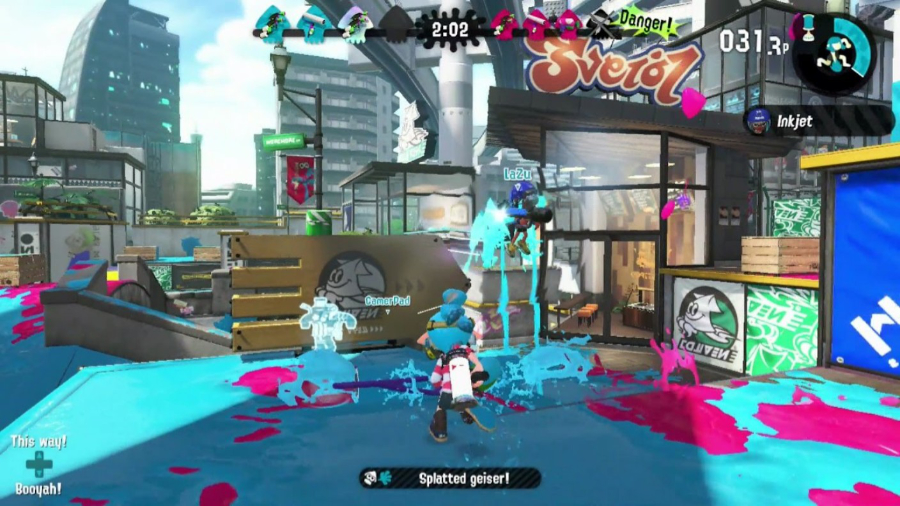 In multiplayer mode, work with your teammates to each defend your own sections of turf so you cover as much ground as possible.
6. Fortnite
Fortnite Gameplay on Switch
Now you can take Fortnite with you anywhere when you play on Switch. You can be on the run for real while you're outrunning the border of the eye of the storm. In Fortnite, you'll be randomly dropped into a map area scattered with weapons and other equipment. This is another battle royale to the death, so gear up and see how long you can survive. You can use the build abilities to set up and fortify a camp area, but I wouldn't stay too long if I were you. If other players don't get you, the storm will!
Top 3 Things That Make This Game Great:
Fortnite is FREE to play—you don't have to spend a penny to play with other people
The insane but super-fun cosmetic enhancements available for your characters—there's no end to the customizations if you're willing to pay for them
Cross-platform play so you can join friends no matter what device they play on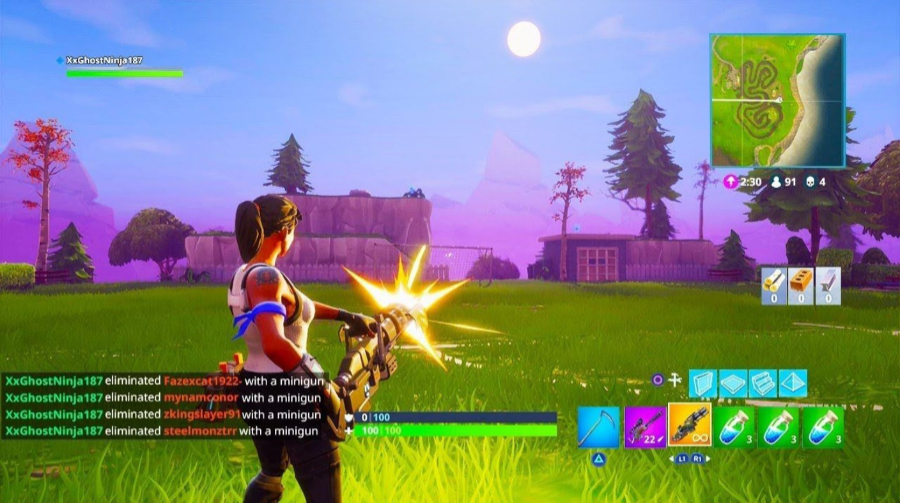 Remember when playing Fortnite on the Switch, some gun types will work a lot better than they do on other platforms.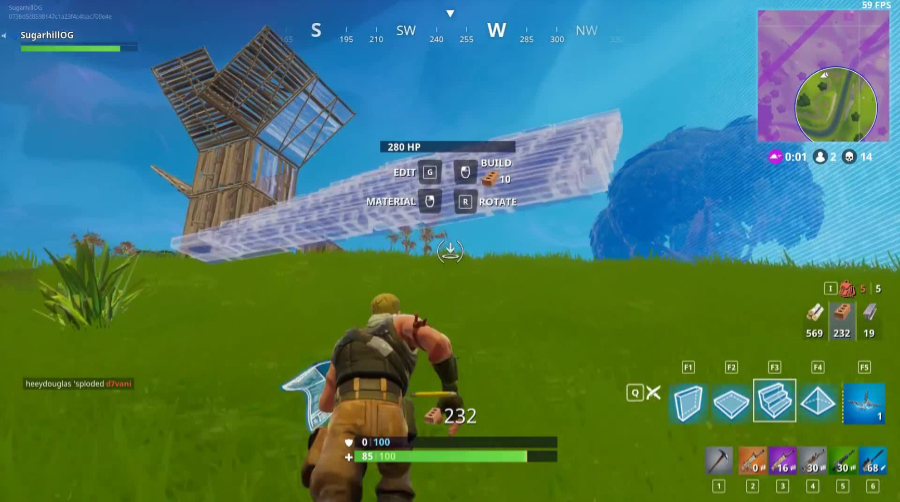 Building in Fortnite on the Switch might be a little harder and other players may not use it as much on this platform, but sometimes it's the only thing that can save your life.
5. Cuphead
5 Minutes of Cuphead Gameplay
In this Indie release, you and a friend will play as Cuphead and his brother Mugman who lost to the Devil in a gambling match. Now they have to collect enough Soul Contracts to satisfy their debt with the Devil to win their souls back. You'll fight through several levels chasing the runaway debtors and fighting multiple big Bosses, until you finally come face-to-face with the Devil himself one last time.
Top 3 Things That Make This Game Great:
The traditional 1930s music and animation styles, painstakingly hand-crafted for authenticity—this game is like stepping straight into a vintage cartoon
The game's difficulty level—it harkens back to some of the early NES games that took countless attempts before you could beat a level
Really thoughtful and challenging boss battles that involve boss transformations and lots of strategic play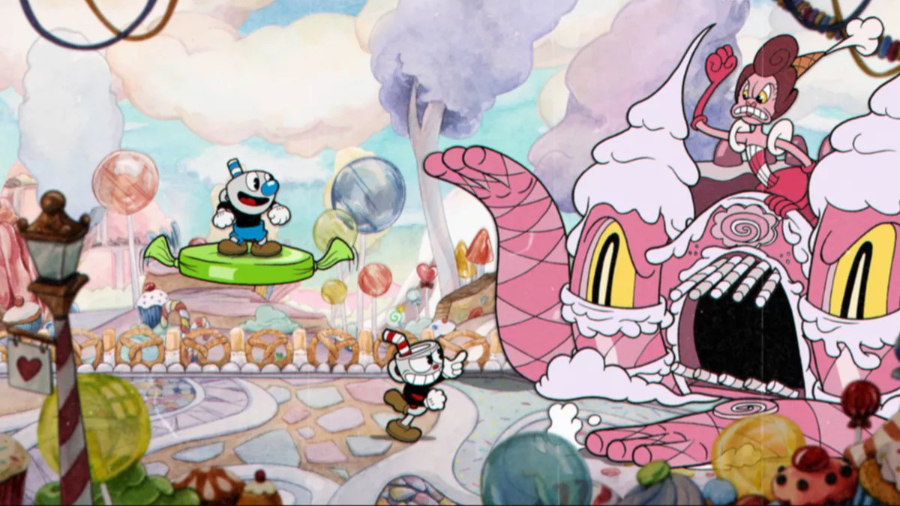 Don't mistake the cute visuals for a sign of simple gameplay, these bosses are difficult and require careful timing and strategy.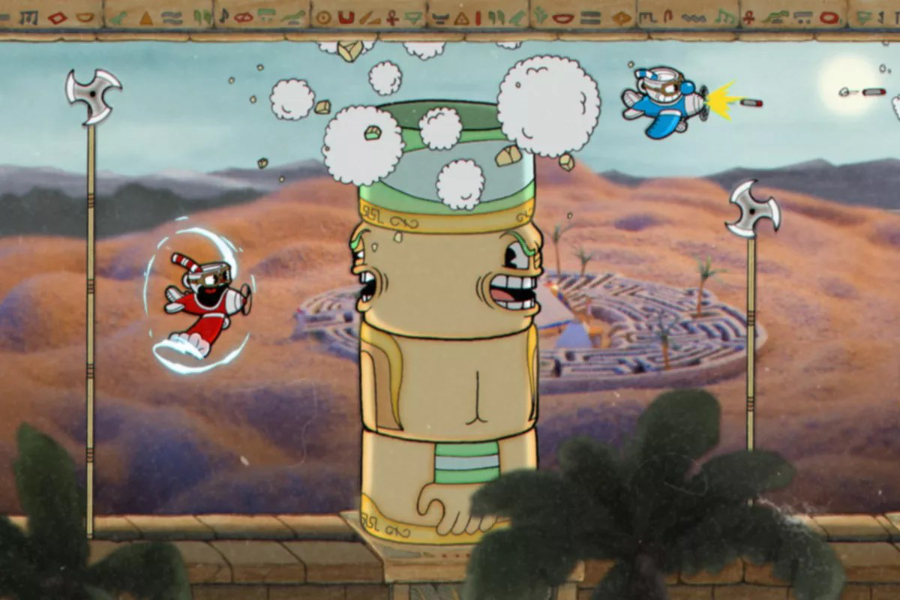 You don't just fight on the ground—for some of these battles, you'll take to the air and transform into bombs that will explode on your enemies.
4. Resident Evil 5
Resident Evil 5 Gameplay on Switch
Resident Evil 5 finally comes to the Nintendo Switch. Playing as Chris Redfield, you'll venture into Kijuju, Africa to stop villain Ricardo Irving from smuggling bio-organic weapons out of Africa on the black market. With your partner Sheva, you'll have to fight off the supernatural creatures known as the Majini in a co-op adventure of survival.
Top 3 Things That Make This Game Great:
This is everything you love about the Resident Evil series in more of an action-adventure setting and style of gameplay this time
Great cinematic shots in the heat of the moment in normal gameplay
The co-op mode is really engaging and adds a strategic element to the campaign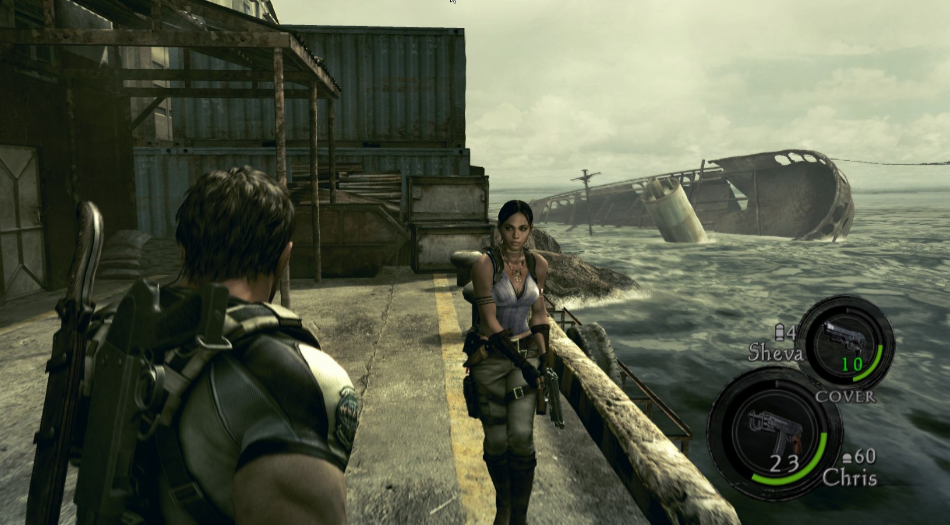 Resident Evil 5 is much brighter than any of its predecessors, lacking more of the horror elements for which the franchise is known.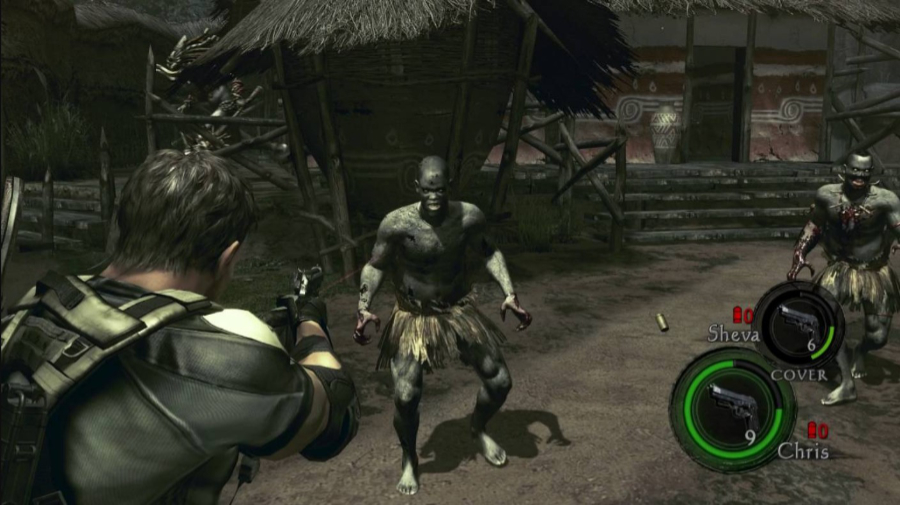 Though the game doesn't come across as scary at all, it's still a very thrilling action game with a lot of intense and exciting shoot-outs.
3. Wolfenstein II: The New Colossus
25 Minutes of Wolfenstein II: The New Colossus on Nintendo Switch
With Nazis in control, B.J. Blazkowicz returns to America as Liberty's last hope. You'll take control of Blazkowicz and fight your hardest to put the next great American Revolution into motion. Set in the 1960s, there's a weirdly effective mix of drama and comedy in this game, delivered perfectly by the game's compelling characters. Gameplay is as fast-paced and immersive as you've come to expect from the Wolenstein franchise. And as usual, don't forget to throw a little stealth into the mix for some satisfying melee kills.
Top 3 Things That Make This Game Great:
The writing and voice acting is great in this installment of the franchise
There are multiple ways into and out of areas, giving you the perfect chance to use those stealth abilities and unlock special perks
Upgrade parts are scattered about so you can improve the effectiveness of your weapons in battle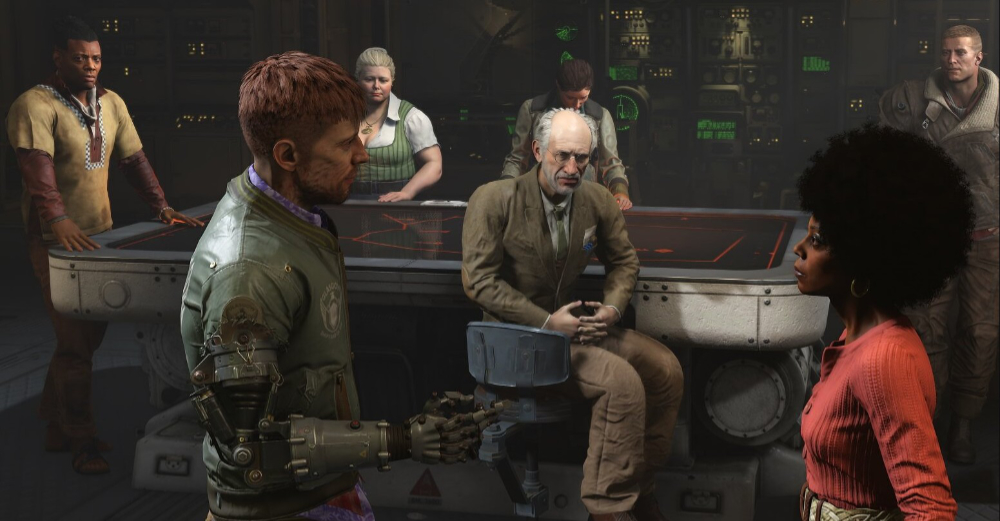 The amazingly well-written characters are what give this game its edge over the competition. You may come for the gun fights but you stay for the dialogue and character development.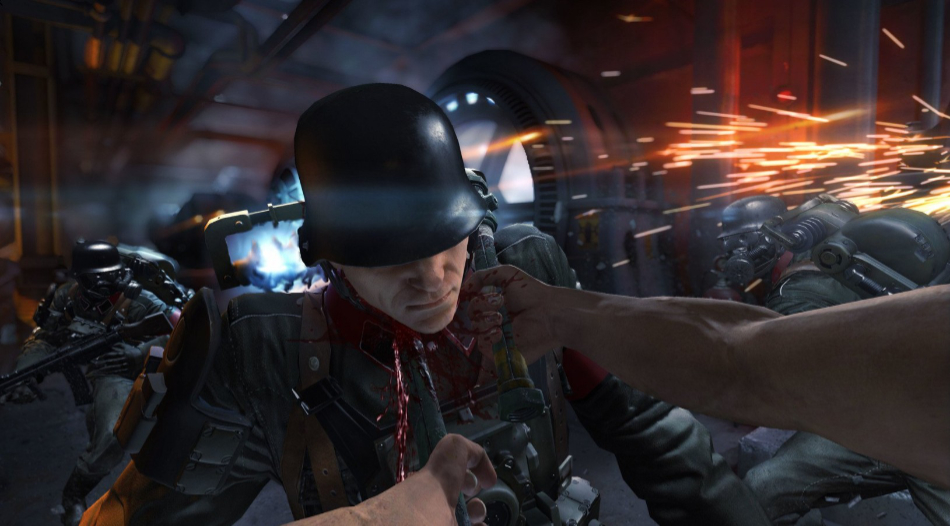 Melee can be incredibly satisfying in The New Colossus, so get in there and get your hands dirty.
2. Doom Eternal
Doom on Switch Gameplay
Doom comes back to Nintendo with its release of Doom Eternal for the Switch! Fight off the forces of Hell as they invade Earth. Face down old familiar foes with your upgraded movement abilities and superpowers—wall climb to get the advantage of the high ground and dash out of danger. Find the power-ups hidden throughout the area so you can grow strong enough to eliminate the threat to mankind before it's too late.
Top 3 Things That Make This Game Great:
New mechanics that allow for better maneuverability and movement skills
Multi-tiered level design that puts a threat around every corner but also above and below you
Getting a new, more in-depth look at the entire Doom universe than ever before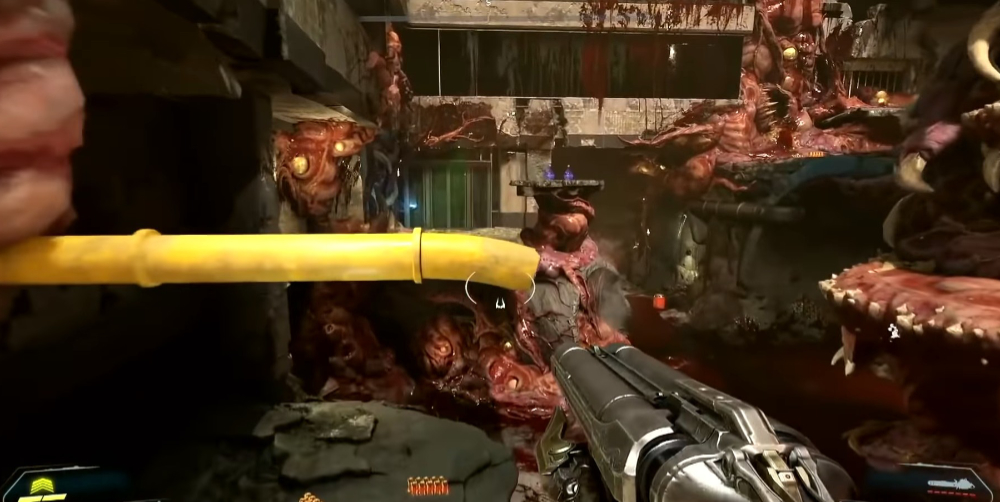 In Doom Eternal, you'll find new ways to get around levels, so keep an eye out for all of the swing-bars, wall climbing locations, and more.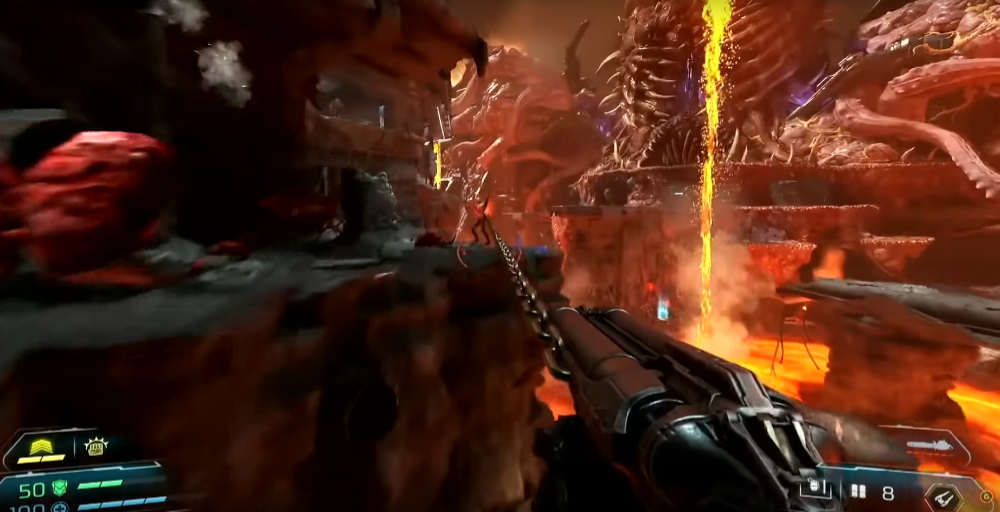 There's a new weapon in town—the meathook—and you're gonna love the versatility you can get out of this thing.
1. RICO
RICO for Switch - Campaign & Daily Challenge Gameplay
For more co-op fun, try RICO, where you and your buddy will both take on the role of a police detective who doesn't always play by the books. Each mission you accept will be procedurally generated, so you'll never know quite what to expect; however, your goal is always the same: locate and take-down the baddies, putting an end to their criminal activities. If you're up for a bigger challenge, try Daily Play cases and follow the scores on the leaderboard—can you reach the top?
Top 3 Things That Make This Game Great:
Since no two levels are ever the same, each case or challenge will feel new
There's a progression system so if you get to a gang boss and feel like you're under prepared, you can go back down a path you skipped and grind up
Fun, casual gameplay that you can play co-op online or local with split-screen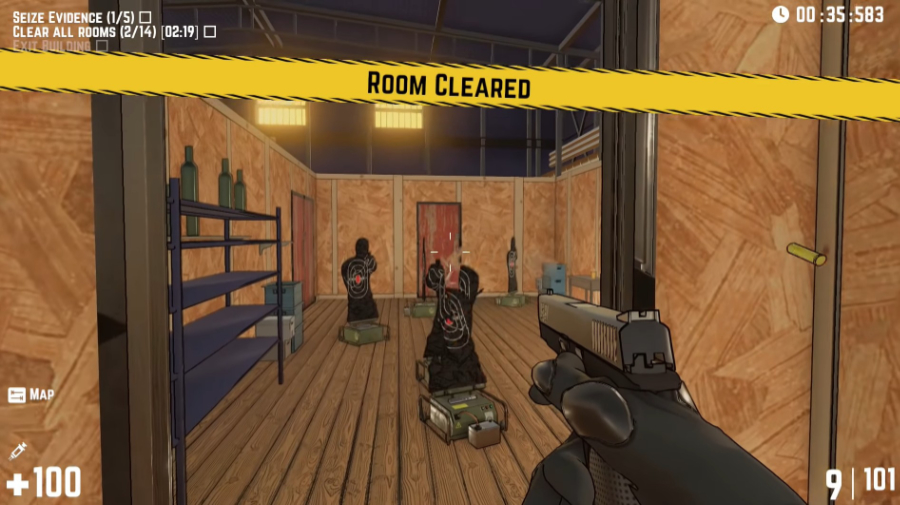 RICO gives you a great opportunity to get in some target practice to hone your skills before taking on a case.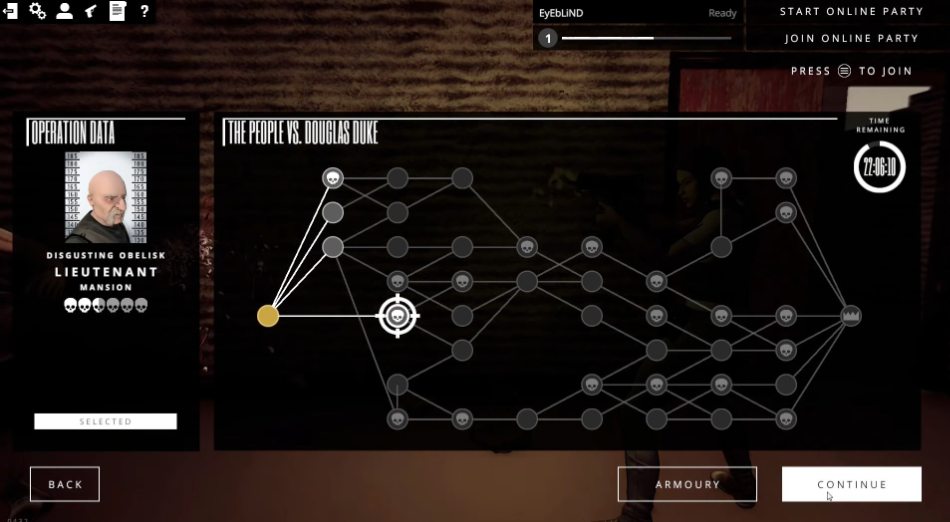 With procedurally generated levels, each mission will feel brand-new and give you an exciting case to solve.
You may also be interested in:
Image Gallery