[Top 5] PoE Best Armor Sets for Chieftain That Are Powerful
Updated: 06 Oct 2022 8:31 pm
"For Tukohama!" If there's one thing the Chieftains do, is being their God's instruments, and they have no qualms about it!
[Top 5] PoE Best Armor Sets for Chieftain That Are Powerful
A great ascendancy, which sadly gets relegated to being the worse Inquisitor, the Chieftain still sees some actions with certain strong item combos and can definitely demolish the content easily, when properly geared.
5 – Fire Reap Chieftain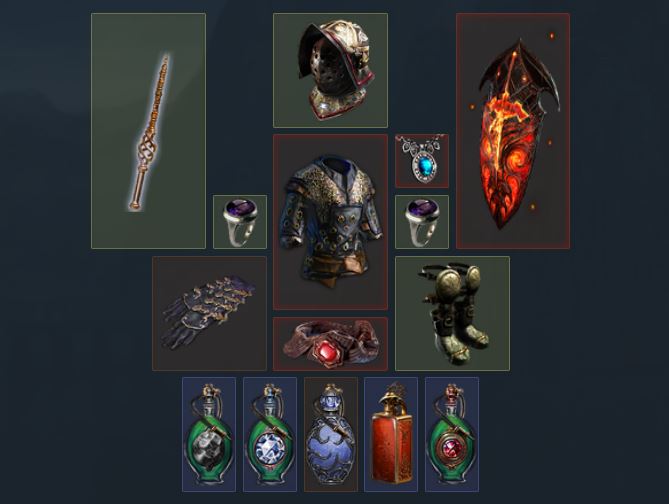 A unique take on this one, doing its best to be as immortal as possible but still retaining a substantial amount of damage, this Reap Chieftains makes use of Transcendence and Damage Taken Conversion to literally ignore all Physical damage, while also stacking as much armor to reduce all incoming elemental damage even further than what's possible!
Helmet
This was the type of helmet that was only possible in Sentinel League due to its wonderfully (you'll be missed) Recombinators, by recombinating 2 Temple Conversion Mods with a Betrayal mod, essentially getting a Helmet with over 25% total Physical damage taken as an element, whichever (though preferably, fire).
Body Armor
Here is the fix to Transcendence harsh mod of -15% to Maximum Res. Loreweave is an old, and often forgotten item, which locks your resistance to a fixed amount. It's a wonderfully unique item, because it's one of the few craftable uniques, as to make it, all you need is 60 unique rings. Loreweave has the unique Mod "Your Maximum Resistances are X%" and this means that there is absolutely nothing in the game that can reduce or increase your Maximum Res now. It just is. And of course, you'll want as high as possible, which is 78%.
Gloves
This is a perfect item to help boost your clearing, chaining explosions and making the build entirely enjoyable, especially if you're using a pretty Herald of Ash MTX. Asenath's Gentle Touch is one of the best uniques in my opinion, in the sheer comfortableness it brings.
Boots
This you'll want to cap anything you're missing, stats, resistances, chaos res, life, but most definitely, you'll want as much Movement speed as possible. A flexible slot.
Weapon
Though this was made significantly easier with recombobs, getting a +1/+1 Phys/All weapon is crucial. You'll also want as much spell damage as possible, spell crit chance, crit multi, fire damage, double damage, cast speed. Anything else after the +2 is gravy.
Shield
Yet another big part of why this build works is this beauty of a shield. Chieftain being so strong and capable of taking a lot more fire damage than other builds, takes this shield to the next level, by guaranteeing that, not only do you get a further 20~27% Phys Damage taken as Fire, but you also transfer a portion of your Cold and Lightning damage as Fire as well, making it that much easier to protect yourself with a Ruby Flask.
Amulet
Whereas previously people used Omniscience to insanely scale the damage, since this item, combined with Loreweave, is a cheating item to instantly make all Alt Ailments work instantly and smoothly, without worrying about anything. You do have to balance your two highest attributes in order to make this amulet work, but that's the least of your problems.
Belt
Arn's Anguish is a favourite of mine. Though it's no Mageblood, this belt is a beauty for damage, especially on such defence-oriented character, like Chieftain, who lacks some extra oomph as far as damage go. At 7 Endurance Charges, that means you'll have 21% Chance to deal Triple Damage! That's about 80% MORE damage, in average!
Rings
These are your Resistance and Stats slots, like your boots. You can also get, through Recombinators, some Maximum Endurance Charges as well, but those are rare and will be going away when Sentinel League ends.
https://poe.ninja/challenge/builds/char/insane19/%EB%B3%BC%EB%B9%A8%EA%B...
4 – Consecrated Path Totems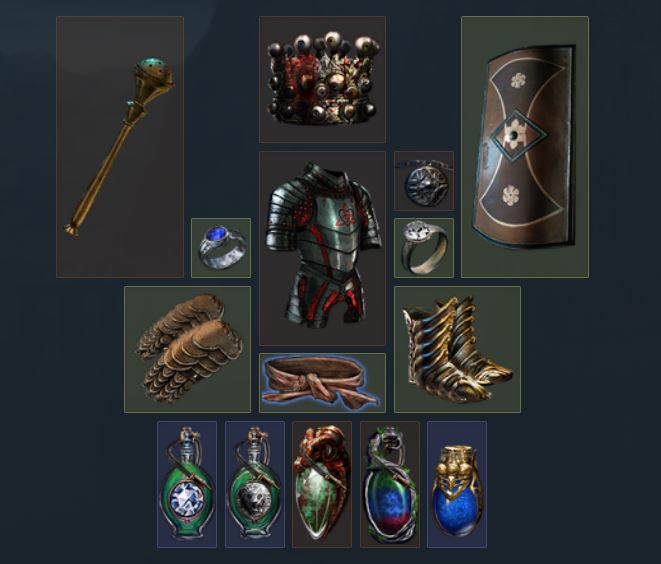 Consecrated Path is the perfect Totem skill, because it's one of the few skills that can move their totems after casting, and if you get enough attack speed, it can walk alongside you, without you having to recast them!
Helmet
Since we aren't a Berserker that can take advantage of Redblade Banner and use Battlemage's Cry to its upmost effect, we're forced into using the original piece of the combo, a Crown of Eyes, which transforms all your spell damage (which you're getting from Iron Will, after converting all the melee strength bonus into Spell Damage) at 150% of the value. This means, if your character has 1500 Strength, and you're using Iron Fortress AND Iron Will and Crown of Eyes, that you're getting over 650% increased damage to ANY attacks!
Body Armor
Iron Fortress, as mentioned before, is the best Strength-Stacking chest piece, to enable the combo.
Gloves
Any rare with as much Strength, Life, and resistances as you need them. Getting some % Damage per Strength Implicit is also a good idea.
Boots
You can either go with a regular Alberon's Warpath, for 18% increased Attributes, or got with a strong pair of Hunter boots with % Strength as well as a lot of Flat Strength. Life, and whatever else you get, is great.
Weapon
Brutus' Lead Sprinkler. The reason we even have flat damage in the build, which scales supremely well with Strength stacking. At 1500 Strength, that's equal to an average 1,200 eDPS weapon and with a high crit chance to boot!
Shield
Normally you could go with a Tukohama's Fortress for a lot of Life and easy +1 Totem, but that means you're going Blood Magic, which sucks in this kind of game nowadays. That said, some builds can make that work. You'll want a +1 Totems Shaper shield here, with as much Strength, Life and resistances as you can get. If you're insanely lucky and can get % Life gained on Block, that'd be even stronger.
Amulet
If you're strapped for cash, a good, solid alternative is by using a well rolled, catalyzed Astramentis, for easy 130+ all attributes. That said, in the Kalandra League, you can get insanely good amulets with high amounts of flat attributes on top of good stats, like life, crit Multi or even chaos Resistances. Those will be more expensive, but very worth it.
Belt
Synth % Strength Belt with as much flat Strength, Life and resistances as possible.
Rings
Ideally, you'd want % Strength Synth bases with as much flat Strength as possible. Kalandra jewelry is a big plus if you can find good ones.
Full details: https://poe.ninja/challenge/builds/char/tontanfree1/Ki_mochi?time-machin...
3 – Blade Vortex Chieftain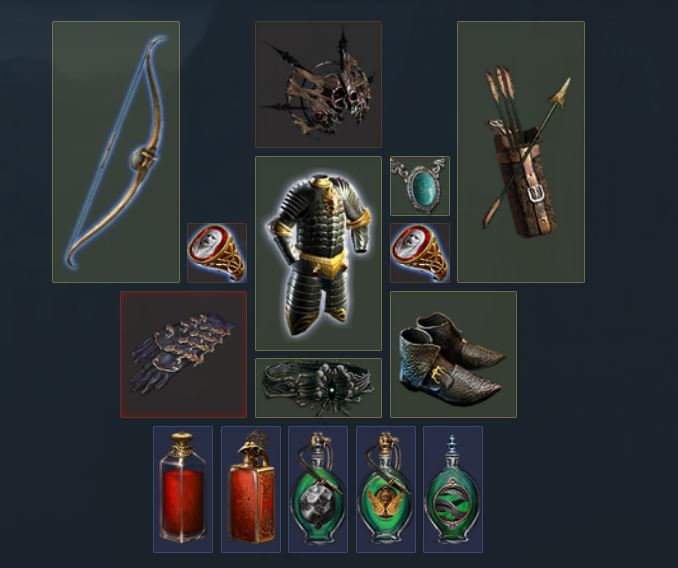 This is a monster clearer with fairly respectable single target damage, though it isn't a bosser by any stretch of the imagination. Fully converting all your damage into Fire, and scaling the Blade Vortex with a strong bow is the way to go.
Helmet
The Devouring Diadem is a fantastic item because it allows you to remove all the mana issues of the build, while also giving a massive of Reservation Efficiency, which then allows you to fit in one or two extra auras.
Body Armor
Since this build runs Tempered by War, in order to increase survivability, you'll want as much Maximum fire resistance as possible. Being a Chieftain means you take even less fire damage, and it enables this whole playstyle, at the cost of needing much more Cold and Lightning Res to fully cap out. You'll want to increase your Maximum fire resistance, as well as improving Purity of Fire's effect, by clever and strong use of Eldritch implicits on this body armor. After that, get as much life and Cold/Lightning Res as possible.
Gloves
Asenath's Gentle Touch. This is what makes this build such a beast at clearing. When you kill an enemy, it will explode, and since we're converting 100% of Phys to Fire, these explosions will not only become fire, but all our fire damage scales it substantially, making massively long chains of explosions.
Boots
Life, Movement Speed, as much Cold and Lightning Resistance as possible. If you can get some Chaos Res, that's even better.
Weapon
Since we're using a bow to scale our damage, you'll want a 18% Chance to Deal Double Damage with Spells Synth base, and then spam Deafening Essences of Woe (for 140+ %Spell Damage) until you get +1 Socketed Gems. Try and annul everything else, leaving at most 1 extra Suffix. Cold, Lightning, Dex, anything that is good for you. Then you just Multi-mod for +2 Socketed Supports (To scale Empower's Gem Level) and even more Double Damage, and you're weapon of mass destruction is done.
Quiver
Life, Resistances, Attributes.
Amulet
Since we're scaling Gem Levels of our Blade Vortex, you'd want at least a +1 Phys or +1 All, and getting both, plus a lot of life, would be glorious. Res, Attributes, anything else is gravy.
Rings
As we are a Phys to Fire Build, and we can scale a LOT of our damage with 'Gain as Fire' from Herald of Ash, we try and scale HoA as much as possible using %Fire Damage and %Increased Buff Effect Circle of Anguish rings. Getting good Implicits is also a great idea.
Belt
A good rare belt, preferably Stygian, with as much Cold, Lightining and Chaos Resistance as possible, as well as a big chunk of Life.
https://poe.ninja/challenge/builds/char/Krtalic/Hsintzuwoaini?time-machi...
2 – Ancestral Warchief Totems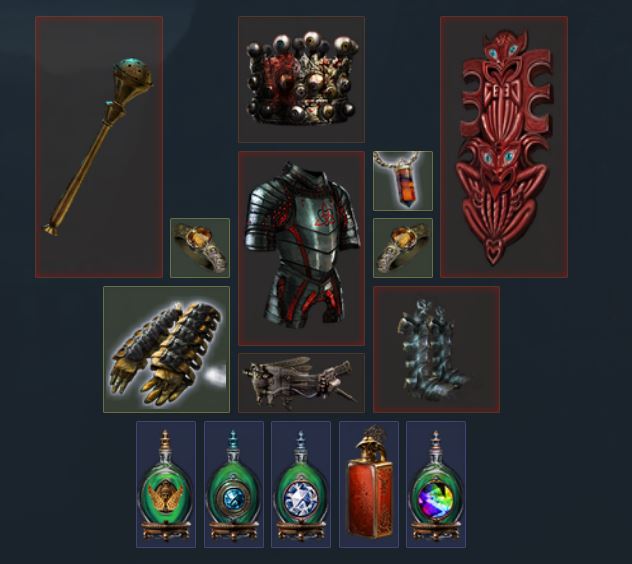 Yet another Strength Stacking build, making great use of Iron Will and Iron Fortress, this build has so much damage that it seems unfathomable. And yet, it's right there, and can deal with any content in the game.
Helmet
Crown of Eyes. Same as the Consecrated Path Totem build, this is because we aren't a Berserker that can abuse Redblade Banner and achieve infinite Warcry Power. So we use this helmet for 150% Spell to Attacks conversion.
Body Armor
Iron Fortress, THE strength stacking body armor.
Gloves
You'll want a strong Rare, with as much Int, Strength and Life as possible. The Implicits are also a big source of damage, since we're dealing 99,9% Fire damage, you'll want both Exposure, as high as you can get, and Intimidate Chance. 15% is more than enough. Anything else is gravy.
Boots
You can either go with a Hunter Influenced Boots with lots of flat Strength and % Strength, or with the cookie cutter and easy to corrupt Alberon's Warpath for the 18% Strength.
Weapon
Brutus' Lead Sprinkler, the source of most of our Flat Fire damage, and why we are a Strength Stacker.
Shield
You can go for a strong Shaper Shield with +1 Totem, or go with this simple and easy Shield, which lets you drop a point from the Passive tree. It also gives some damage and is a great item to corrupt since no one uses it.
Amulet
This is a great use of Kalandra mirrored jewelry. You can get upwards of 150 Flat Strength as well as a ton of Crit Multi, which this build really loves.
Rings
More Kalandra jewelry for as much Life, Strength, Accuracy and Attack speed as possible.
Belt
Mageblood. The reason this build even has any resistances at all, as well as being the best item in the game.
Full Details: https://poe.ninja/challenge/builds/char/felhuy/kalasandros?time-machine=...
1 – Righteous Fire/Fire Trap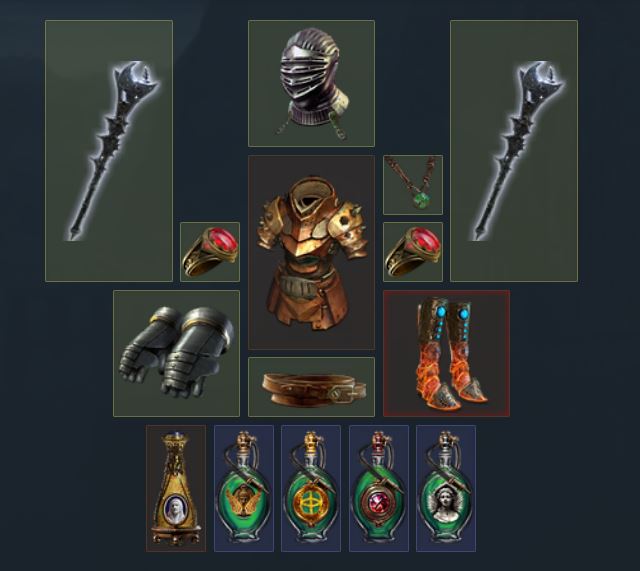 Despite Inquisitors being the best around for this type of thing, Chieftains are the original Righteous Fire Ascendancy, and they still can do extremely well when properly geared.
Helmet
You'll want an Elder Helmet spammed with Essences of Horror, hoping for a lot of life and either Burning Damage or Concentrated Effect (ideally both, but those are expensive). You then finish the craft with a +1 AoE Gems.
Body Armor
A great body armor, though you're losing out on a lot of life, Brass Dome will make you so tanky and indestructible that it's worth the sacrifice.
Gloves
You can get a lot of Fire Dot Multi here, as well as Exposure to Fire, if you roll it well. IT's also a fantastic place to get as much Life and Resistances as possible.
Boots
Legacy of Fury, the reason RF rose so much into popularity, and how RF feels so good to play, since before you'd sometimes miss a few stragglers. These boots make it so everything around enemies you kill also die quickly and gives quite the satisfying feeling.
Weapons
You'll want as many Gem Levels as possible, as well as Fire Dot Multi and Fire Damage, and DoT Multi.
Amulet
As much DoT Multi, Gem Levels, Fire damage and Life as possible.
Rings
Vermilion Rings with as much Dex, Life, Resistance and Recoup as possible.
Belt
You can either go with a Stygian or Leather Belt, with Elder Influence and then rolling it with Pristine Fossils. It can give a ton of Life, Life Regen Rate and % Max Life, which is great since RF deals damage based on your Maximum Life.
Full details: https://poe.ninja/challenge/builds/char/shadow45011/MyKalandraBurns?time...