[Top 5] PoE Best Armor Sets for Assassins That Are Powerful
Updated: 06 Oct 2022 8:30 pm
Silent and Deadly. The Assassin can find his targets in the darkest of coves and topple a kingdom with a single dagger.
 [Top 5] PoE Best Armor Sets for Assassins That Are Powerful
Forgotten from the Meta, and overshadowed by Occultists, Assassins used to hold the definite mastery of Power Charges and all of the specializations from it. But despite all that, Assassins can still hold their ground, especially if you snag some of Trickster's new passives.
5 – Chaos Spark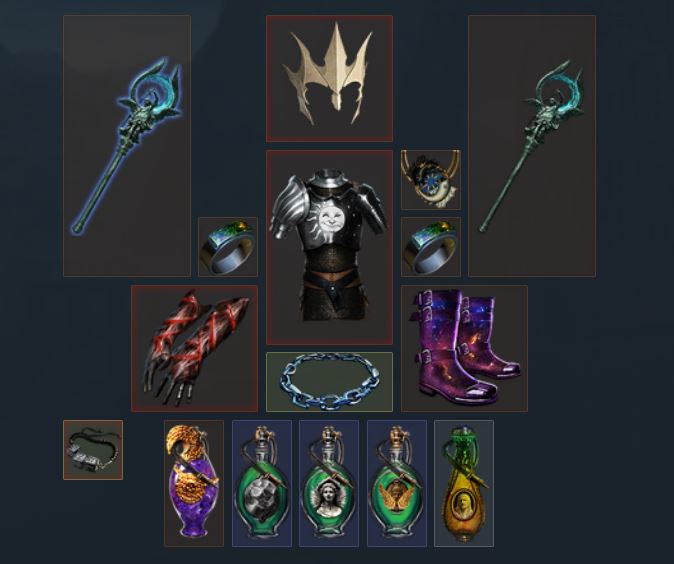 Though preferably done with an aura bot, to boost your damage to the heavens, Spark is still a fantastic skill depending on the arena, because of the bounces. This iteration makes smart use of certain passives and unique items to gain a lot of chaos damage based on our elemental damage, as well as gaining a ton of damage that way.
Helmet
Eber's Unification makes it so every 2 seconds, we debuff enemies in front of us, reducing their Chaos Resistance by a whopping 20%! This is as massive as Occultist's debuff, and one of the highest sources of damage increase for chaos builds. Since we're also scaling as many Power Charges as possible, we definitely want it with a good corruption and enchanted to give Spark +3 Projectiles, which is massive for both clearing and single target.
Body Armor
This is a big source of our damage mitigation as well as damage. Not only do we gain up to 20% Elemental Damage as Chaos (and remember, since we're converting Lighting, to Cold, to Fire, all of that gets extra 20% Chaos too!) but we also get 25% of Elemental Damage taken as Chaos instead. This means we can essentially ignore 25% of ALL elemental hits, since we're 100% Immune to Chaos, thanks to Chaos Inoculation.
Gloves
Shadows and Dust is a great pick-up for easy corruptions until we hit a good implicit. It's also the best gloves for free Rampage, which is more cast, attack and movement speed as we map, and it has a substantial chunk of Crit Multi to boot.
Boots
This is an easy slot for +5 Pierce for our Spark, as well as giving us a lot of movement speed and Phasing, with some defences as well.
Weapons
Double Nebulis, for a lot of extra damage, if you have an Aura bot to boost your resistance to 90%. If you do, both of these weapons will give you over 1200% increased damage since we're converting 96% of our Lightning damage into Cold, which then becomes Fire. And this all increases the Chaos damage we deal as well. Perfect for a duo build.
Amulet
Marylene's Fallacy. Again, this is perfect for a support with Destructive Link, which grants you his Critical Chance, which will be 100% when they're using Trypanon. And because of it, you're getting almost 300% Crit Multi without suffering the massive downside of the amulet!
Rings
Two Calls of the Brotherhood, both with Elemental Catalysts, to up their conversion rate to 48% each.
Belt
The only rare item in the build, which assumes you're playing with an Aurabot who will grant you massively strong Purities to reach the 90% Cap as well as overcap you in resistances. You'll want as much ES as possible and attributes as you need them.
Build Details: https://poe.ninja/challenge/builds/char/maydie13/Ontop_LoK?time-machine=...
4 – Rolling Magma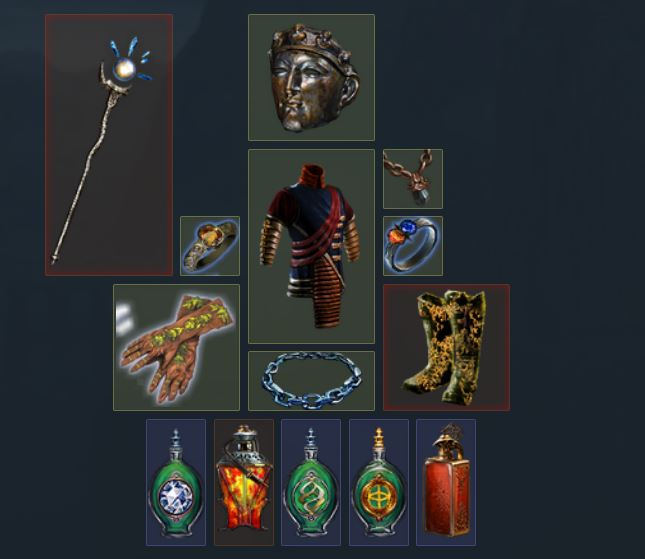 A bit unconventional perhaps, but a fun build capable of breezing through maps quickly and comfortably. It makes smart use of certain items to achieve a buttery smooth playstyle, with more than enough damage to deal with all the content.
Helmet
You'll want a helmet already with a Helmet Enchant, since it improves the clearing and damage a lot, for a +1 Chain. It's also a fantastic place to pick up a lot of RME, using Eldritch Implicits as well as Loathing Essences. Go for Life and Resistances as you need them.
Body Armor
As we're an evasion-based character, you'll want a strong Sadist Garb with as much Life, ES/Eva (Ghost Dance) and as much Spell Crit as possible. It's also a good place to pick up a free + Curse, with some clever crafting.
Gloves
Unnerve on Hit as well as some Life Leech to help things along. Besides that, you'll want as much life, ES, and Resistances as possible, and Attributes as you need them.
Boots
A big reason why this build plays so smoothly is The Stampede, which makes it so your Cyclone never reduces your speed, as well as making it so you always have 50% extra movement speed. The downside is that increases in Movement speed also don't impact you. But you also get an extra Anoint, so you're gaining further damage!
Weapon
Sire of Shards, the reason this build even has a clearing, making it so Rolling Magma goes outward in a circle, covering the whole screen in Projectiles.
Amulet
You'll want a +1 Fire with as much Crit Multi, attributes, resistances and Life as possible.
Rings
Great place to pick up Kalandra Jewelry, with a lot of life, Crit Multi, Fire damage. Otherwise, going with a solid Synth Base with 6% Damage (can go up to 7% with crit catalysts) per Power Charge is a great pick up, since we have 7 of them!
Build Details: https://poe.ninja/challenge/builds/char/Shiningingy/TwinkleTackleMagma?t...
3 – Vaal Blade Vortex Assassin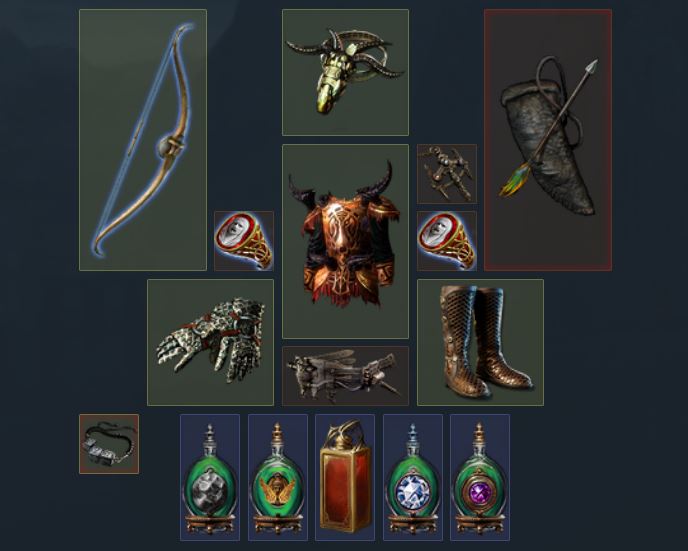 This is a great example of a build that can scale almost to infinity with a lot of investment. BV's main issue is the single target, but this much investment and currency put into the build make this a monster at not only clearing packs insanely quickly but also demolishing bosses in instants!
Helmet
A good choice here is by having a double-influenced helmet with +1 to Power Charges (we're scaling those, so make sure to pick them up!) as well as a +1 maximum number of Seals for Unleash, making our life much easier. Try to get as much Life and Attributes as possible.
Body Armor
The Crux of the build, and why it can clear so effectively, a rare crusader mod, with Enemies killed have a % chance to explode, deleting entire packs in the blink of an eye. Smoohing it together with a Spell Crit Hunter mod is a great way to scale your damage and consistency!
Gloves
This is how you'll get a big chunk of your Phys to Fire conversion, with crafted mods as well as Eldritch Implicits. Try to get as much attributes as possible, since we're an Omni Build too. Beyond that, Life is the only major thing you'll want from them.
Boots
Here's a big spender for the build. You'll want boots with Onslaught, Tailwind and as much Movement speed as possible, preferably with 'Cannot be Chilled' mod, from Jun. Life is a bonus.
Weapon
Here's where you'll put your VBV, and you'll go for a +3 Bow, with Double damage and as much Spell Damage as you can get, as well as Crit Multi.
Quiver
A Signal Fire, which grants an easy 50% conversion to Fire, but also grants a massive buff of over 30%  Phys Gained as Extra Fire. Double corrupting it for even more Gain Phys as Extra is a great way to improve your damage.
Amulet
Crystalized Omniscience, since it's the best way to scale damage, while also providing a ton of resistances.
Rings
Since we're scaling Herald of Ash's buff effect, for the crazy Gain X% Phys as Extra Fire, we're going with Circle of Anguish, and as much Fire damage and Crit Multi as possible.
Belt
Mageblood, the best unique in the game, will help you cap out on the rest of Resistances, as well as provide a ton of damage and defence.
https://poe.ninja/challenge/builds/char/cicapair1/TownStrongMan?time-mac...
2 – Ice Spear Cast on Crit
Being a staple build in PoE for ages, Cast on Crit only gets better and better as time moves on, with new and improved uniques as well as discovering new ways to further the build. As a whole, though, it is a pretty solved build, without many nuances now. Some uniques are essentially mandatory, while others come and go depending on buffs and other aspects.
Helmet
Here you'll want at least a +1 Power Charge Warlord Influence with an Awakened Orb Redeemer and Maven'ed Nearby Enemies have -12% Cold Res, as well as getting as much ES as possible, since we're ES based. It's also crucial to have a +1 Ice Spear proj enchant, as that's a direct boost to damage.
Body Armor
Shavronne's Wrappings is the bog-standard for Low Life builds, enabling it to deal with chaos damage as a LL. Getting a Shav's with as much ES as possible is also crucial, and it's the perfect item to feed to the Temple in the hopes of getting +2 or +4 corruptions.
Gloves
Here you'll want as much ES, dex, Accuracy and whatever other resistance that you can get. It's also a fantastic place to pick up Unnerve on Hit as well as Cold Exposure.
Boots
Here you'll want a Hunter/Shaper influenced boot with Cooldown Recovery Rate, for the Cast on Crit as well as Tailwind, preferably a Maven'ed Tailwind. Movement speed is also crucial, but after that, pick up as much ES as possible, as well as resistances.
Weapon
Cospri's Malice, no surprise there, as a Cold CoC build, this is the perfect weapon. You'll have to balance the attack speed well, because of how trigger rates work for Cast on Crit.
Shield
A staple for all LL builds, is Prism Guardian, which grants a fantastic amount of Life Reservation Efficiency as well as an easy +4 corruption and life cost for auras.
Amulet
Presence of Chayula, a fantastic combo with any LL build, as that grants a massive chunk of Chaos Resistance as well as provides a lot of ES based on our life, and stun immunity!
Rings
Ideally, you'd want a Power Charge Ring, since we stack those, as well as a ring with Frostbite on Hit ring. You'll need a lot of Dexterity, ES, and resistances, but the most crucial aspect is Minus Mana Cost since that's the only way you'll be able to cast your spells inside your CoC!
Belt
Mageblood, as usual.
https://poe.ninja/challenge/builds/char/BrookSoso/JustLikeThat?time-mach...
1 – Doryani's Prototype Arc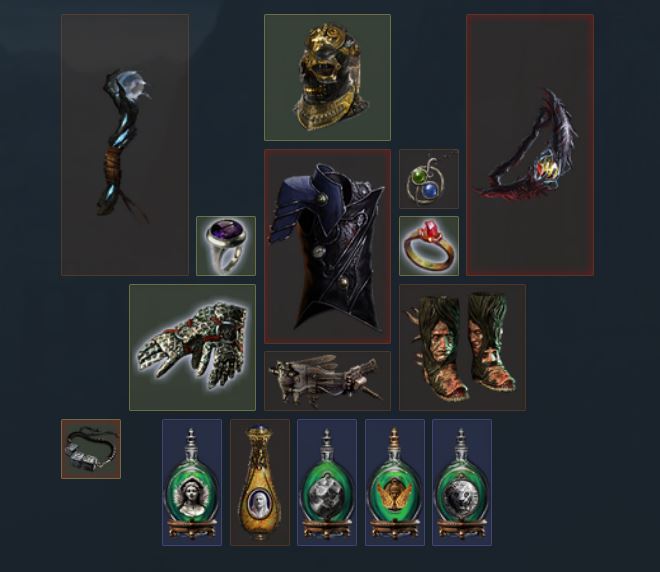 This is a massively Strong build, that can definitely clear all content easily, without much care in the world. All you need is some pretty expensive gear and some luck to craft insane rings. The build revolves around the Doryani's Prototype, as well as stacking a bunch of Power Charge which then becomes Frenzy Charges as well.
Helmet
One of the cheapest and easiest to craft, a +1 Power Charge Warlord Helmet, with as much Life as possible.
Body Armor
You can make do with a cheaper, non-corrupted Doryani's Prototype, but since we scale supremely well with levels, getting a +2 Duration is amazing for Arc and Vaal Arc. This chest piece is the reason this whole build even works, and can deal as much damage as it does at the side issue from having to stack negative 200% Lightning resistance.
Gloves
Yet another 'cheap' part of the build, any gloves with Unnerve on Hit and as much Chaos, Attributes, and Cold and Fire Resistance as possible.
Boots
Ralakesh's Impatience, is the sole reason this build functions, as far as Charge Generation, since to cast, we need to be standing still. It also bypasses the downside of Inner Conviction, which blocks us from gaining Frenzy Charges naturally, but since this makes the minimum equal to the maximum, and we can increase the maximum of Frenzy with Badge of the Brotherhood, by increasing our Power Charges, we essentially get free Frenzy Charge Generation while standing still!
Weapon
Void Battery is a no-brainer in a Power charge stacking build since it gives 20% increased Spell Damage per Power Charge. With 11 Charges, that's over 200% increased damage on a single item!
Shield
Yet another strong shield that has a downside negated by Ralakesh's Impatience, Malachai's Loop, which grants +2 Power Charges at the cost of losing all your power charges when you reach maximum. But since our Minimum becomes the Maximum, that's completed negated, and we get 15% Increased Spell damage per Power charge on top!
Amulet
Badge of the Brotherhood. The unique which enables the whole thing, making your Maximum Frenzy Charge equal to your Max Power Charges. It also grants a ton of CDR for travel skills per Frenzy and Elusive Effect per Power Charge.
Rings
The reason Doryani's Prototype even works You'll want Kalandra Jewelry with as much Life, Resistance, Cast Speed, Crit Multi, but crucially, you'll want at least -140% Lightning Resistance, to reach -200% with the -60% from Kitava's Debuff. This is crucial to make the build function at all, and it's one of the most expensive parts of the build.
Belt
The king of belts, Mageblood. It's why we can reach over 50k Armor and survive any sort of Lightning Damage at all. No better belt in the game, which is why it's over a Mirror in price right now.
Build Details: https://poe.ninja/challenge/builds/char/_%EB%94%94%EC%95%84/Monster_ABCD...