[Top 10] Genshin Impact Best Food Buffs (And How To Get Them)
Updated: 11 Sep 2022 9:29 am
Best food is Paimon!
In every game, gamers always have a go-to meal whenever they need to heal, boost, or even revive the characters they are using. Genshin Impact is no different. With a countless selection of dishes in the game, we will be ranking the dishes with the best food buffs in the game.
Genshin Impact has a myriad of buffs, from healing to the revival of characters. This guide will tackle the most used (abused) dishes in the game because of those buffs.
10. Five Pickled Treasures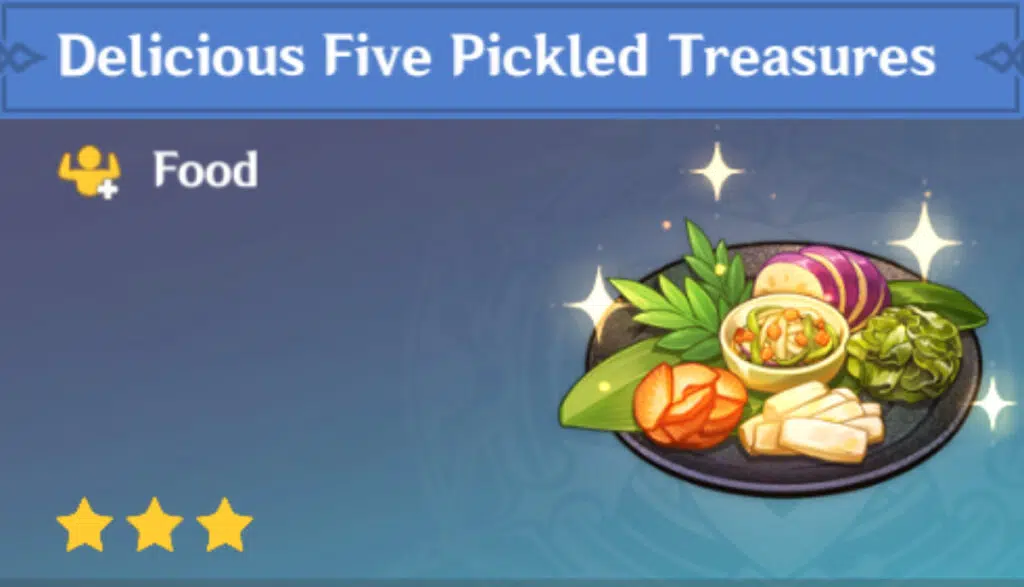 Loosely based on the Japanese dish "Tsukemono," this salad is a staple to many travelers as they traverse the many regions of Teyvat. As it restores stamina, the salad is always a welcome help whenever a traveler is climbing, gliding, or swimming throughout the many terrains across the region.
What is it? 
Pickled vegetables. A round of fermentation makes food richer and also allows it to keep for longer. There were originally only four "treasures," but for auspiciousness' sake, the four vegetables were mixed and plated up with one additional "treasure" added in, hence the name "Five Pickled Treasures."
Stats:
How to get it:
Recipe: sold in Shimura's
Ingredients: 2 x Radish, 2 x Carrot, 2 x Lavender Melon, 2 x Seagrass
9. Grilled Tiger Fish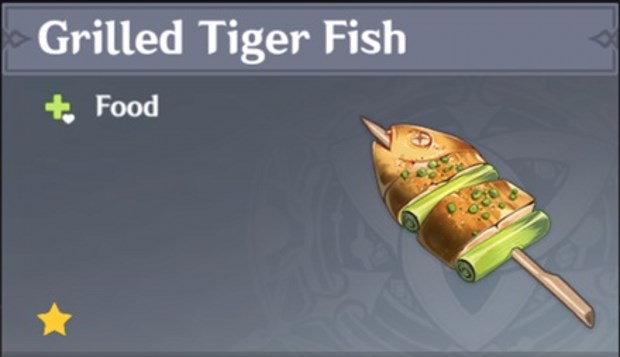 Ask any Genshin Impact player and they will recognize this grilled fish. Because it is simple to prepare with few ingredients, the fundamental and well-known cuisine of Liyue is the go-to healing dish of novice players in the game. It was formerly known as "Grilled Ticker Fish." However, the recipe has changed over the years due to the rapid loss of the Ticker Fish population.
What is it?
A fish kebab grilled over an open flame. The fish is a fresh catch straight from the harbor, lightly picked and swiftly grilled. Its aroma attracts the street cats. Indeed, freshness is the secret of flavor.
Stats:
Restores 9% of Max HP and an additional 1,000 HP to the selected character.
How to get it:
Recipe: sold in Wanmin Restaurant
Ingredients: 1 x Fish, 1 x Pepper
8. Moon Pie 
A dish fitting for the city of Mondstadt. As one of the first 4-star dishes encountered in the game, this dish gives a substantial amount of defense as well as additional shield strength which is effective to shield characters such as Zhongli, Noelle, Beidou, and Diona.
What is it?
A traditional staple from Mondstadt. Not only is the pickled meat within deeply flavorful, but the meringue has also maintained its sweetness and moisture through the baking process. This dish is not to be missed at any festival in Mondstadt.
Stats:
Increases all party members' Shield Strength by 30% and DEF by 200 for 300s.
How to get it:
Recipe: Mondstadt Reputation Level 7 reward
Ingredients: 4 x Raw Meat, 4 x Bird Egg, 3 x Butter, 2 x Flour
7. Barbatos Ratatouille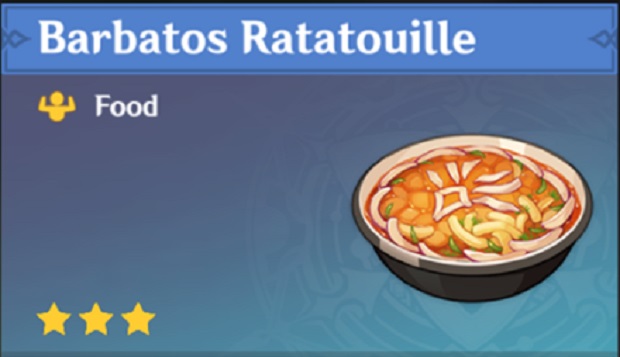 A dish named after the God of Wind and Freedom. This dish can take you wherever you want to go as it replenishes Sprinting stamina and Gliding stamina. So as long as you have the dish, the Wind God will always guide you.
What is it?
A simple chowder with a long history. The ingredients are similarly traditional and simple. No matter where you are, a piping-hot chowder of this sort can always give you a sense of real and unsurpassed satisfaction.
Stats:
Decreases all party members' gliding and sprinting Stamina consumption by 20% for 900s.
How to get it:
Recipe: Obtained by talking to Vind in Stormbearer Point.
Ingredients: 4 x Carrot, 4 x Potato, 4 x Onion
6. Fullmoon Egg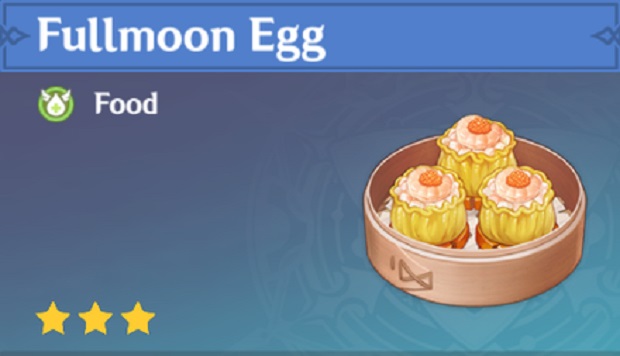 This dish from the world-famous Shumai looks and tastes so good that it helps your characters recover from injuries (with bonus healing as well). One of Liyue's customary snacks is this Chinese-inspired dish.
What is it?
One of Liyue's traditional snacks. The egg has been beaten into the flour to form a dough and the shrimp and fish have been diced, minced, and packaged into the shape of a teacup, before being garnished with whole shrimp and steamed in a pot. The resulting design is like that of clouds embracing the moon, hence the name Fullmoon Egg.
Stats:
Revives a character and restores 1,200 HP.
How to get it:
Recipe: sold in Xinyue Kiosk
Ingredients: 4 x Fish, 2 x Shrimp Meat, 2 x Bird Egg, 1 x Flour
5. Qingce Stir Fry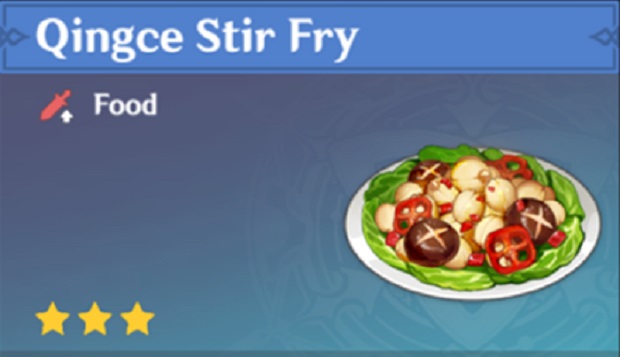 Any player in Genshin Impact appreciates a cuisine with little components. Whereas farming for ingredients, as well as preparing them for the final recipe, can be a hassle. This dish is famous among gamers since it provides a significant level of attack increase with relatively simple ingredients.
What is it?
A dish cooked over a roaring fire. They say it was originally just a rustic dish that everyone in Qingce Village knew how to make. But quite unexpectedly, its crispy and spicy dishes gained the recognition of people from elsewhere, and thus began to spread throughout the Liyue region.
Stats: 
Increases all party members' ATK by 194 for 300s.
How to get it:
Recipe: sold by Ms. Bai
Ingredients: 3 x Mushroom, 2 x Lotus Head, 1 x Jueyun Chili, 1 x Cabbage
4. Universal Peace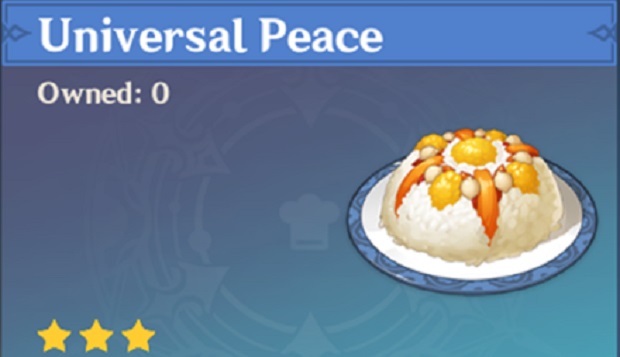 One of my personal favorites. Because of its simple ingredients, this cuisine is one of the most commonly used in the game. Because it has become a staple in Liyue cuisine, the components for this meal are widely available and reasonably priced in marketplaces and merchants. This meal is particularly popular among game players due to its ease of access and excellent healing.
What is it?
Colorful staple food. Maintains perfect balance between soft and fragrant rice and all kinds of carefully selected sweet ingredients. This dish is mainly known for its meaning as a symbol of prosperity and peace, and less so for its taste. However, with such noble ideals behind it, its flavor should not disappoint.
Stats:
Restores 32% of Max HP and an additional 1,250 HP to the selected character.
How to get it:
Recipe: sold in Wanmin Restaurant
Ingredients: 4 x Rice, 2 x Lotus Head, 2 x Carrot, 2 x Berry
3. Golden Shrimp Balls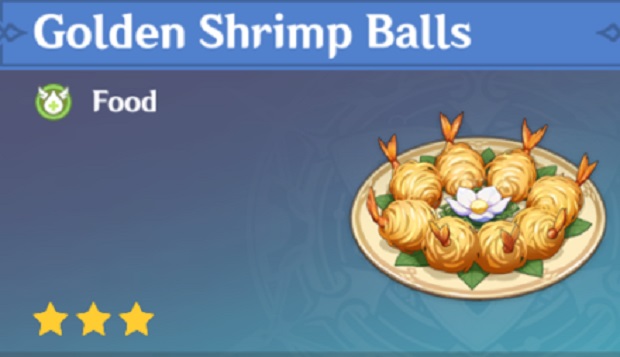 Many consider this meal a Tempura version because it can resurrect characters who have fallen during battle, saving any player from failing quests or domain runs. Another reason for its appeal is its ease of access. Players may cook this life-saving recipe using relatively minimal ingredients.
What is it?
A deep-fried shrimp dish. The aroma assaults your senses, while the crispy potatoes bring out the light sweetness of the shrimp meat. This, in tandem with its cute, small shape, makes it very enticing indeed.
Stats: 
Revives a character and restores 1,200 HP.
How to get it:
Recipe: Liyue Reputation Level 1 reward
Ingredients: 5 x Shrimp Meat, 4 x Potato, 3 x Flour
2. Jade Parcels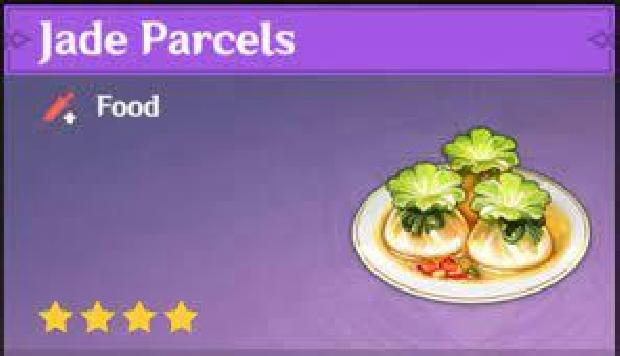 This recipe, loosely based on a Chinese delicacy called "Jade Cabbage Dumplings," was one of the first 4-star dishes discovered early in the game, and with relatively simple ingredients, it quickly became one of the favorite dishes to utilize in the game.
What is it?
An exquisite-looking dish. The ham's sweetness is locked inside the fresh vegetables, drizzled with a spicy broth. Delicious is an understatement.
Stats: 
Increases all party members' ATK by 272 and CRIT Rate by 8% for 300s.
How to get it:
Recipe: Cooking Showdown quest reward
Ingredients: 3 x Lotus Head, 2 x Jueyun Chili, 2 x Cabbage, 1 x Ham
1. Adeptus Temptation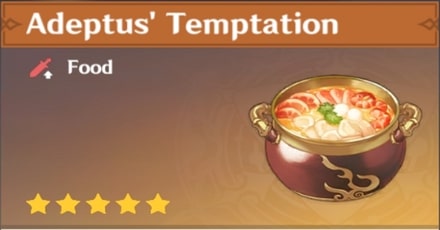 It's easy to see why it's ranked first on the list. As the first 5-star dish in the game, it  boosts not only the attack of the party but also the party crit rate With references to one of China's most famous delicacies, the Buddha's Temptation, a sharkfin soup, this dish is likely one of the most used (and abused) power-up dishes in the game for all the right reasons.
What is it?
A complex, famous type of Liyue cuisine, in which specially selected ingredients are submerged and slowly bowled into soup stock. The recipe scribbled from memory alone was enough to urge the adepti to once again return to the world of men.
Stats:
Increases all party members' ATK by 316 and CRIT Rate by 10% for 300s.
How to get it:
Recipe: obtained in a chest in Qingyun Peak
Ingredients: 4 x Ham, 3 x Crab, 3 x Shrimp Meat, 3 x Matsutake
The objective of this guide is to showcase the most popular dishes in the game as it is also the most efficient in terms of buffs. Although explaining the dishes caused me to salivate, it is no doubt that players tend to analyze the dishes based on its ease of access or availability and the effect these dishes have.
You may also be interested in:
Image Gallery