[Top 5] Genshin Impact Best Artifacts For Diluc
Updated: 14 Apr 2021 9:33 pm
The infamous wealthy owner of Dawn Winery, what could he be hiding?
Diluc, the wealthy owner of Dawn Winery, is simply one of the most popular characters in Genshin Impact. Not only due to his wonderful character graphic, but also due to his massive DMG.
A top tier warrior who wields Claymore that slays enemies without hesitation, Diluc is undeniably strong with Pyro DMG following wherever he goes. Having him means you get a very reliable main DPS in your party; his DMG is so good that he's not your best choice as a support.
Even so, having a good set of artifacts is a need to build him as best as you can. With suitable artifacts, you can push him to the fullest so fights would be nothing but a piece of cake.
Contemplating which artifacts to put on can be a problem, I would know, as Genshin Impact offers a variety of artifact sets all with different effects. But here are the 5 sets of artifacts that you can try to use for Diluc; to mix them up or to use them as a full set is all up to your liking. 
Have fun figuring it out!
5. Bloodstained Chivalry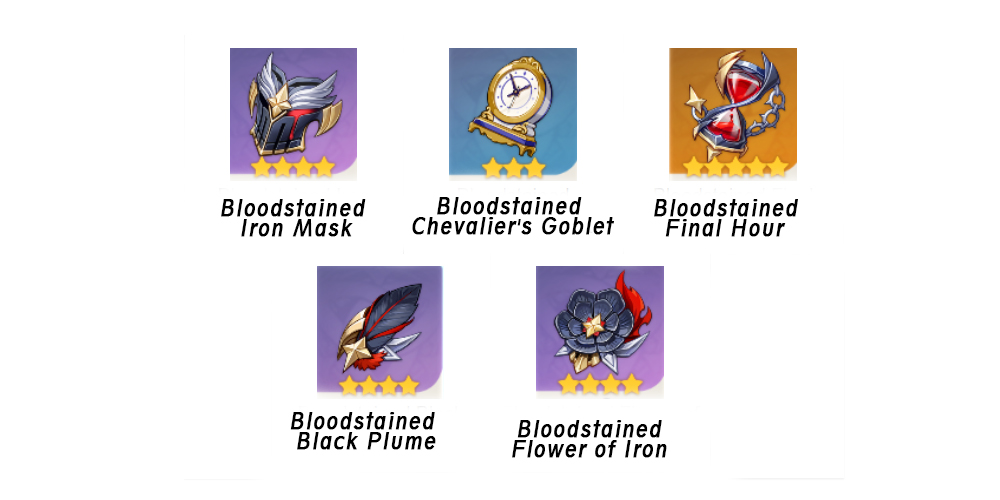 Bloodstained Chivalry details:
2-Piece bonus: Physical DMG +25%
4-Piece bonus: After defeating an opponent, increases Charged Attack DMG by 50%, and reduces its Stamina cost to 0 for 10s. Also triggers with wild animals such as boars, squirrels and frogs.
Source: Clear Pool and Mountain Cavern
To be completely honest, this isn't exactly Diluc's to-go artifact, though it's still good enough if you've got ones with good stats.
The Bloodstained Chivalry set is one of the best choices if you aim to maximize Physical DMG more than anything else. Usually, mixing two of this set with another that pushes overall ATK or Elemental DMG would be the better choice than using all four of Bloodstain Chivalry.
But, as Diluc's Charged Attack is also great to spam (quite different with other Claymore wielders), the 4-Piece bonus is also somewhat good enough if you want to use the full set on Diluc.
The reason why this set isn't exactly for Diluc is because it focuses only on Physical DMG. With the amount of DMG his Elemental Skill and Burst does on top of his Normal and Charged Attack, it'd be a shame if his Elemental DMG isn't built instead of his Physical DMG.
Why Bloodstained Chivalry Is Great:
Physical DMG boosts
Supports Diluc's Charged Attack
The 4-Piece bonus can be triggered even with wild animals
4.  Martial Artist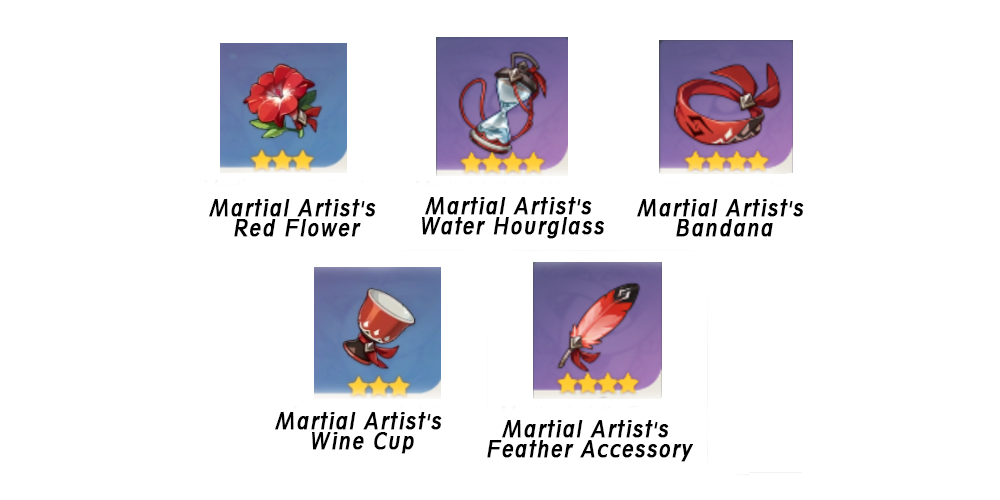 Martial Artist details:
2-Piece bonus: Increases Normal Attack and Charged Attack DMG by 15%.
4-Piece bonus: After using Elemental Skill, increases Normal Attack and Charged Attack DMG by 25% for 8s.
Source: Hidden Palace of Zhou Formula
Martial Artist is another great artifact to use to build your main DPS in general, as both of its bonuses affect DMG done by Normal and Charged Attack.
Even more, the 4-Piece bonus is triggered through the use of Elemental Skill. This is great for Diluc whose Elemental Skill is recommended to be used continuously. Also, as his Elemental Burst infuses his Claymore in Pyro elements for a few seconds after it's activated, timing the Elemental Skill and Burst together would result in a bigger DMG by his Normal and Charged Attack.
Unfortunately, this set is maxed at four stars, so the stats wouldn't be as variable and as much as the five starred artifacts. Though, this means, farming this particular artifact would be easier. 
Why Martial Artist Is Great:
Easier to farm
Boosts both Normal and Charged Attack DMG
Supports Diluc's Elemental Skill use
3.  Berserker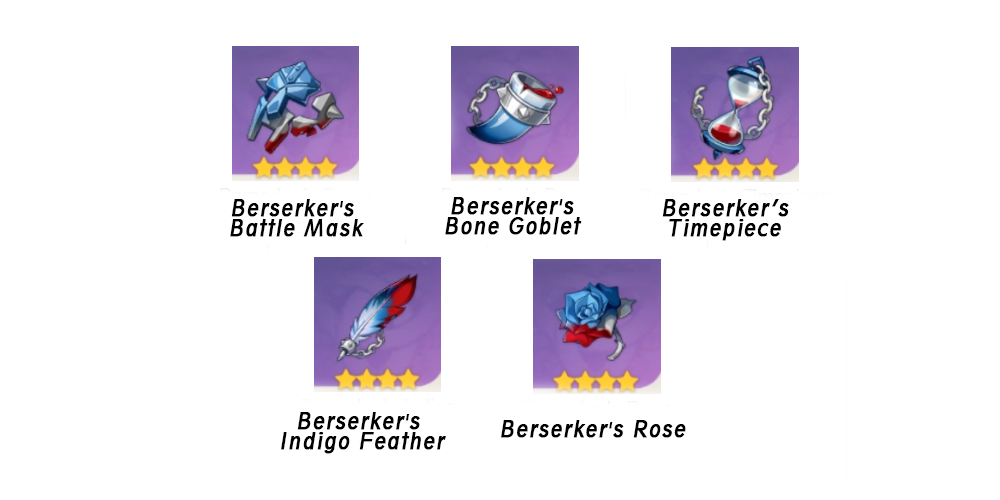 Berserker details:
2-Piece bonus: CRIT Rate +12% 
4-Piece bonus: When HP is below 70%, CRIT Rate increases by an additional 24%.
Source: Bosses' drops (3 and 4 Stars), Chests (3 Stars)
Berserker is one of those artifacts that is pretty straightforward with their effects; boost the CRIT Rate.
The 2-Piece doesn't even have a condition, it simply adds your CRIT Rate by 12% the moment you have two pieces of this artifact set on. Even the second bonus doesn't have a hard condition to meet: you just simply have to have your HP below 70% to get an additional 24% CRIT Rate.
Berserker, along with Gladiator's Finale, might be one of the few artifacts that you manage to compile the full set quite early on if you don't miss a day fighting bosses.
Despite its great bonus in the form of CRIT Rate, because Genshin Impact doesn't just give you CRIT Rate, Berserker can only go up to 4 stars. A shame, but maybe it'll be too good as a five-starred artifact.
Why Berserker Is Great:
Both bonuses boost CRIT Rate
Easier to farm
Good for anyone, honestly
2. Gladiator's Finale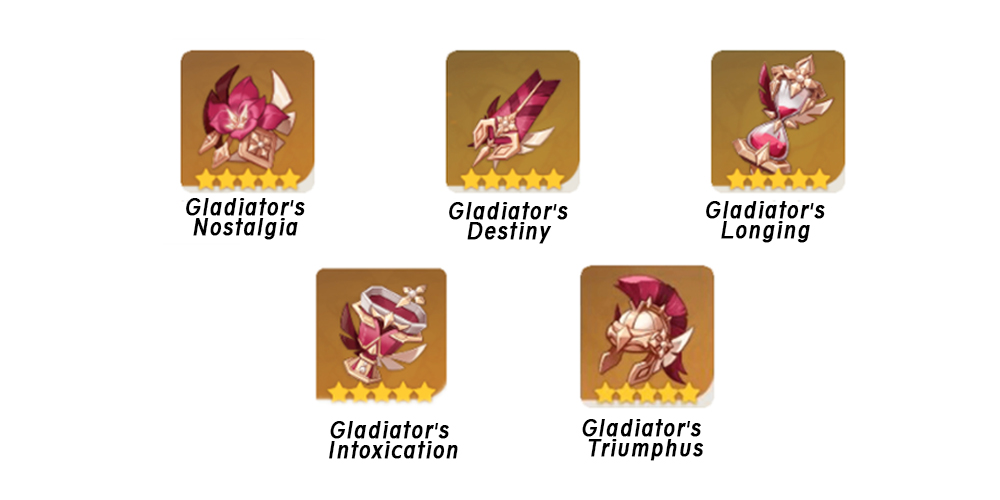 Gladiator's Finale details:
2-Piece bonus: ATK +18%
4-Piece bonus: If the wielder of this artifact set uses a Sword, Claymore or Polearm, increases their Normal Attack DMG by 35%
Source: Bosses' drops on World Level 2+ (4 Stars), Bosses' drops on World Level 3+ (5 Stars)
Unsurprisingly, Gladiator's Finale is also wonderful for Diluc (and practically most of the characters in the game). The reason why this particular set is great is because it boosts overall ATK, adding +18% as a bonus. I hope you'll find amazing stats within these artifacts.
Gladiator's Finale is terrific as a 2-Piece or as a whole set, though the latter is rather limited. The first bonus is great for literally anyone, that's why usually players use two of this and two of the other to build their characters.
For Diluc, using the full set wouldn't be a bad idea, either. As he uses Claymore, the 4-Piece will get him a 35% Normal Attack DMG. 
There's no need to explain why this is good for Diluc, a main DPS.
As I said in Berserker, Gladiator's Finale is probably one of the sets that you can compile early on if you're always fighting bosses.
Why the Gladiator's Finale Is Great:
Boosts overall ATK by +18%
2-Piece bonus is great for anyone, but the 4-Piece bonus can be optimized by Diluc
Boosts Normal Attack DMG
5 stars artifacts (= more stats)
1. Crimson Witch of Flames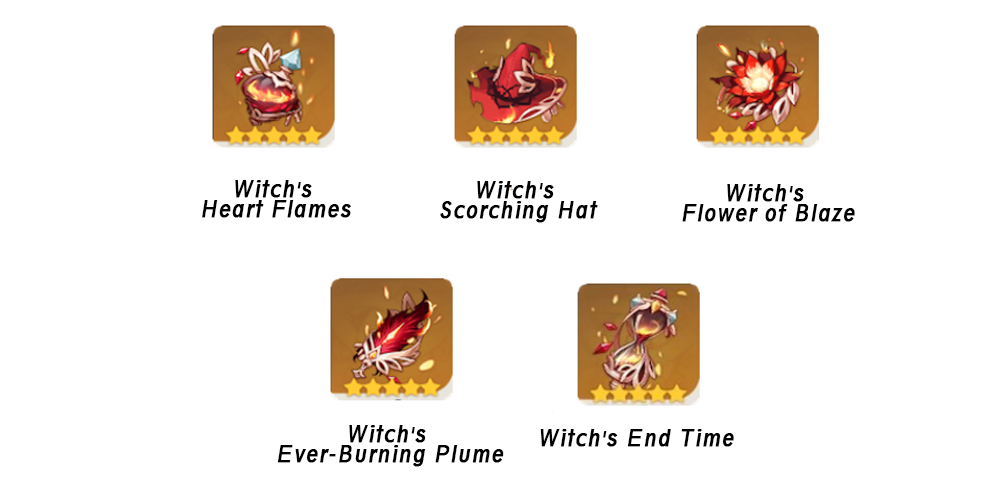 Crimson Witch of Flames details:
2-Piece bonus: Pyro DMG Bonus +15%
4-Piece bonus: Increases Overloaded and Burning DMG by 40%. Increases Vaporize and Melt DMG by 15%. Using an Elemental Skill increases the 2-Piece Set Bonus by 50% of its starting value for 10s. Max 3 stacks.
Source: Hidden Palace of Zhou Formula
Crimson Witch of Flames is arguably the best artifact for your Pyro Characters.
Whether you wish to use only two pieces or the whole set altogether is up to you. Either way, they will help Diluc as a Pyro character as best as they can.
To maximize the use of the full set, though, you have to work in tandem with your other characters. You'd have to change them back and forth so you can trigger Elemental Reaction over and over again to get that increased DMG.
It's not hard work, really, even more when you have characters with Elemental Skill that can be left behind once switched out like Chongyun, Fischl, Ganyu, and Mona.
Why Crimson Witch of Flames Is Great:
Great for Pyro characters
Encourages Diluc's Elemental Skill use
Boosts Elemental Reaction through Pyro
Supports team work for Elemental Reaction
You May Also Be Interested In:
Image Gallery