Genshin Impact: How To Find Unusual Hilichurl
Updated: 29 Mar 2022 10:03 pm
Unusual Hiluchurl are so unusual that we'll tell you a few tricks to find them!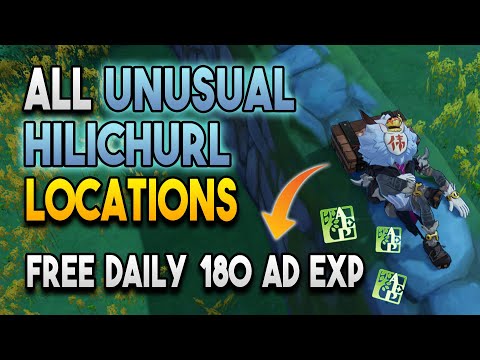 Why is it important to know how to do this?
When you find an Unusual Hilichurl, you'll get an Achievement, and if you find a certain amount of them you'll get a namecarad! You need about 50 Unusual Hilichurls to get this namecard.
Thankfully, Unusual Hilichurls are not random and they have 14 programmed locations. It'll take you about 25 days to complete this Achievement, but you can always use Co-op Mode to search for Unusual Hilichulrs in other player's worlds.
How to find Unusual Hilichurl in Genshin Impact?
In Mondstat, you have 6 possible locations for your Unusual Hilichurl:
North-East of Cape Oath on the edge of the cliff.
North of Starfell Lake in Stormbearer Mountains next to a Shrine of Depths west of the Anemo Hypostasis.
Dadaupa Gorge, on a cliff near the Teleport Waypoint.
On the edge of Wolf of the North Challenge's arena.
At the base of the big tree in Windrise, in front and on the right side from the Statue of the Seven. This is the easiest to find.
One is the dilapidated stone bridge southwest of the archon statue in Stormterror's Lair.
In Liyue, you have 8 possible locations:
North East of Liyue Harbor, on top of a mountain.
At Qingyun Peak, on the cloud-shaped rocks below the nearest teleporter.
In the Qingce Village's flower fields.
At Tianqiu Valley, directly west of the nearest teleporter.
In the middle of Cuijue Slope.
At Linguju Pass, in front of a green tent near the teleporter.
At Mingyun Village, east of the Statue of the Seven.
On the top of a large cliff east of the Stone Gate teleporter. 
Once you find one you just have to defeat it. It'll appear a large HP line, but don't worry, it's so easy to defeat! It'll always give you cabbage as a reward, but it is said that they can give you Primogems too!
You May Also Be Interested In: