[Top 3] Genshin Impact Best Builds For Ganyu
Updated: 06 Oct 2021 7:50 pm
Ganyu, ever so graceful with her steps
Ganyu is easily one of the best archers in the Genshin Impact universe. As her Cryo element proves to be one of the strongest, too, it's not surprising that she can take either the main DPS role or the sub DPS just as well. She knows what she's doing.
She is, in a way, kind of similar with Klee. Both her Elemental Skill, Trail of Qilin, and Elemental Burst, Celestial Shower, deal AoE Cryo DMG. Not only that, if you attack using her Charged Attack, it could deal AoE too.
When her Elemental Skill is activated, Ganyu brings in her Ice Lotus. This is great because not only does it deal AoE DMG once destroyed (or time is up), it serves as a Crowd Control ability, too. Enemies will be taunted while Ganyu can step back and aim her arrows while they're focused on her Ice Lotus.
Her Elemental Burst is also amazing, remembering it doesn't just deal AoE Cryo DMG but it continuously showers down shards of ice in a rather wide area, making enemies get hit by those ice.
Here are some of the few best builds you can use on her.
3.  Cryo DPS Build: Amos' Bow – Wanderer's Troupe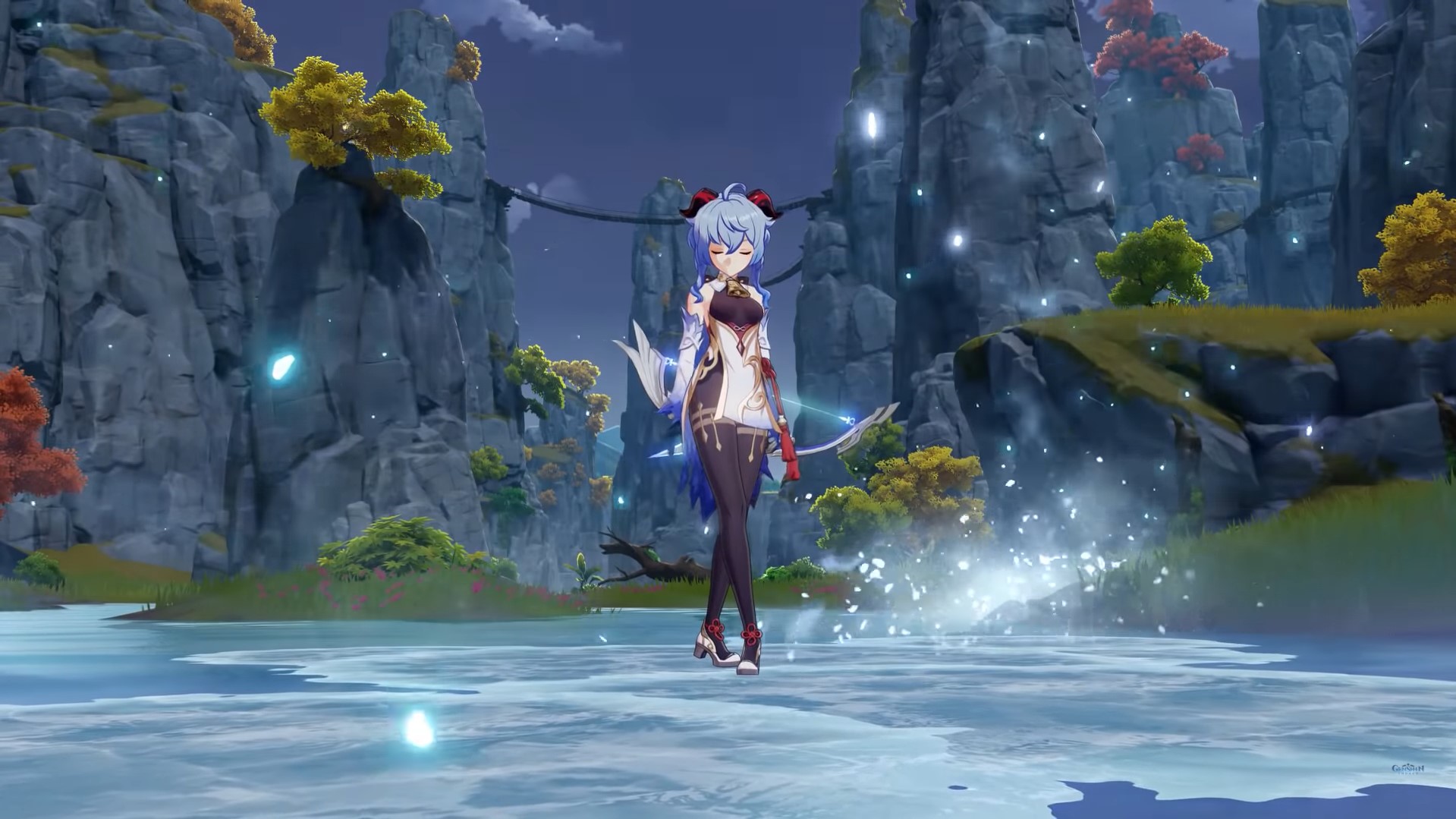 As a Cryo DPS, this build depends on Ganyu's constant use of her Charged Attack more than anything. For this purpose, Amos' Bow and Wanderer's Troupe artifacts set is needed.
To start off, Ganyu's Charged Attack has 2 levels according to how long it is charged. Level 1 simply deals Cryo DMG, and Level 2 fires off Frostflake Arrow which deals Cryo DMG that would bloom into AoE Cryo DMG on hit.
Amos' Bow increases DMG done by Normal Attack and Aimed Shot by 12-24%. Furthermore, it boosts the DMG from arrow shot by 8-16% for every 0.1s that the arrow is in flight, up to 0.5s. This can be stacked up to 5 times for each arrow.
The best artifacts for this purpose would be the full set of Wanderer's Troupe. While the two-pieces set gives a +80 Elemental Mastery, the full set increases Charged Attack DMG by 35% for a Catalyst or a Bow user. It can't be any more perfect.
This set and the weapon complement each other in the way that it boosts the DMG done by Ganyu's Charged Attack in particular. Keep in mind that because her Elemental Mastery is enhanced through this set, her Cryo DMG would be further upgraded.
Constantly using her Charged Attack is a great choice not only because of this, but also because her Ascension 1 increases her CRIT Rate of her Frostflake Arrows by 20% for 5 seconds. 
Why the Cryo DPS Build Is Great:
This set optimizes her Talents 
Ganyu's Charged Attack DMG is prioritized
You don't have to wait for CD and can use her Elemental Skill as a secondary attack
Cryo DPS Build: Amos' Bow – Wanderer's Troupe full details:
2.  Sub DPS Build: Skyward Harp – Noblesse Oblige and Blizzard Strayer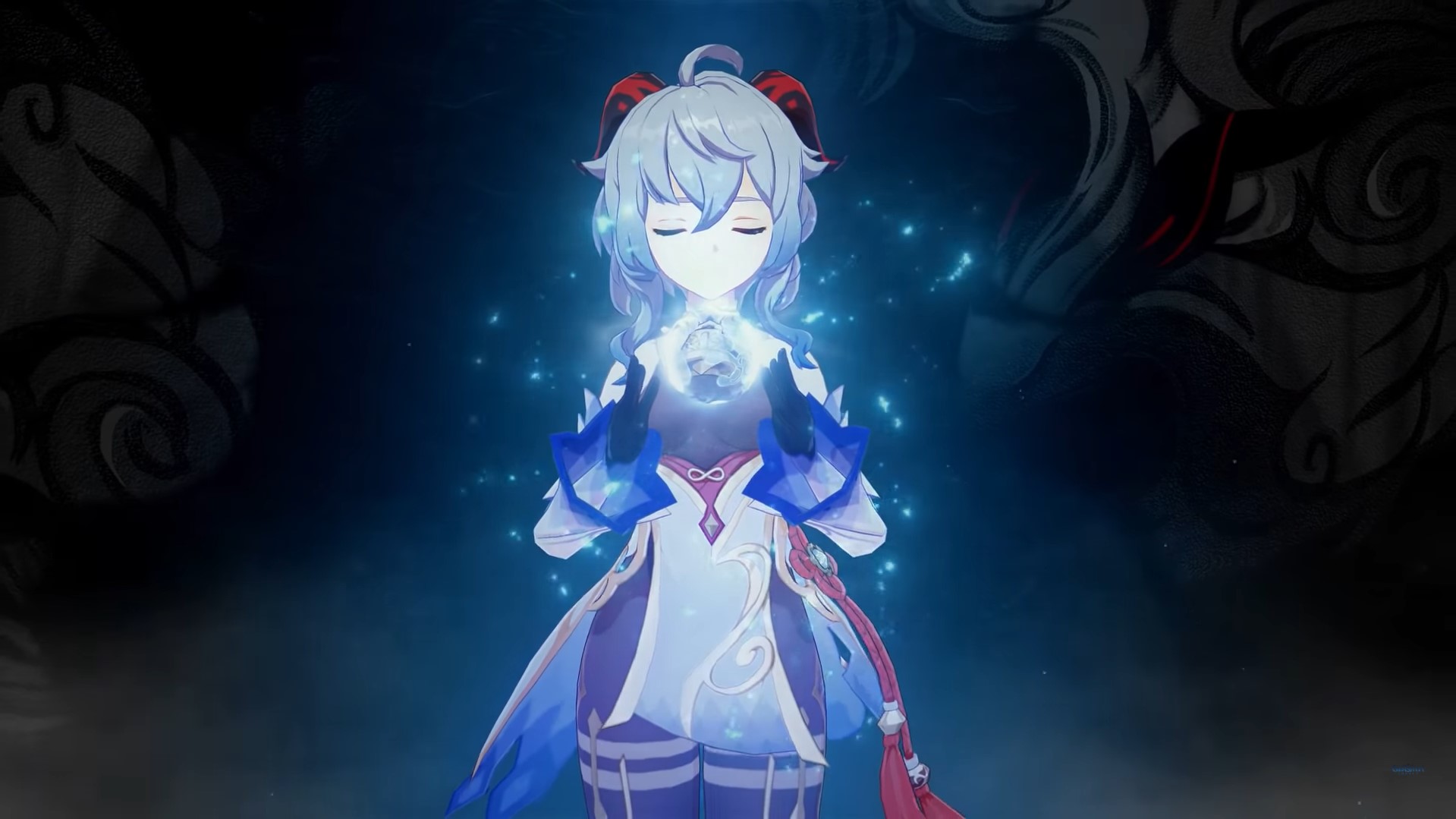 Frankly speaking, Ganyu's Cryo Vision is to die for. With the way her Elemental Skill and Burst go, you can switch her out with another Vision holder character to trigger Elemental Reaction or any other kind of attack.
The Skyward Harp is great for this because it increases CRIT DMG by 20-40%, and hits have a 60-100% chance to inflict a small AoE ATK that would deal 125% Physical ATK DMG. This can only occur once every 4-2 seconds. The numbers are according to its Refinement level.
As a sub DPS, mixing two sets of Noblesse Oblige and Blizzard Strayer would be the best for her. As Noblesse Oblige gives a 20% bonus for Elemental Burst DMG, Blizzard Strayer gives a 15% Cryo DMG.
There's a second option for the artifact set; you can also use the full Noblesse Oblige set, as it would increase all party members' ATK by 20% for 12 seconds after activating Elemental Burst. A very good effect for a support.
Skyward Harp isn't exclusively Ganyu's best bow, to be honest. It's just one of the best weapons in the game and it matches with basically every archer. That being said, if you wish to use a replacement, The Stringless is a good one to go.
The Stringless is great because its secondary stat is Elemental Mastery, a much-needed stat for Ganyu's Cryo Vision as a sub DPS. On top of that, it increases DMG done by Elemental Skill and Burst by 24-48%.
Why the Sub DPS Build Is Great:
Her Elemental Skill and Burst offers a rather massive DMG for Elemental Reaction (with your main DPS)
The artifacts set boosts her Elemental Burst but also her Cryo DMG in general
If you're using The Stringless, this will increase all of her Elemental DMG are pushed
Sub DPS Build: Skyward Harp – Noblesse Oblige and Blizzard Strayer full details:
1. Free-to-play Build: Favonius Warbow – Blizzard Strayer and Noblesse Oblige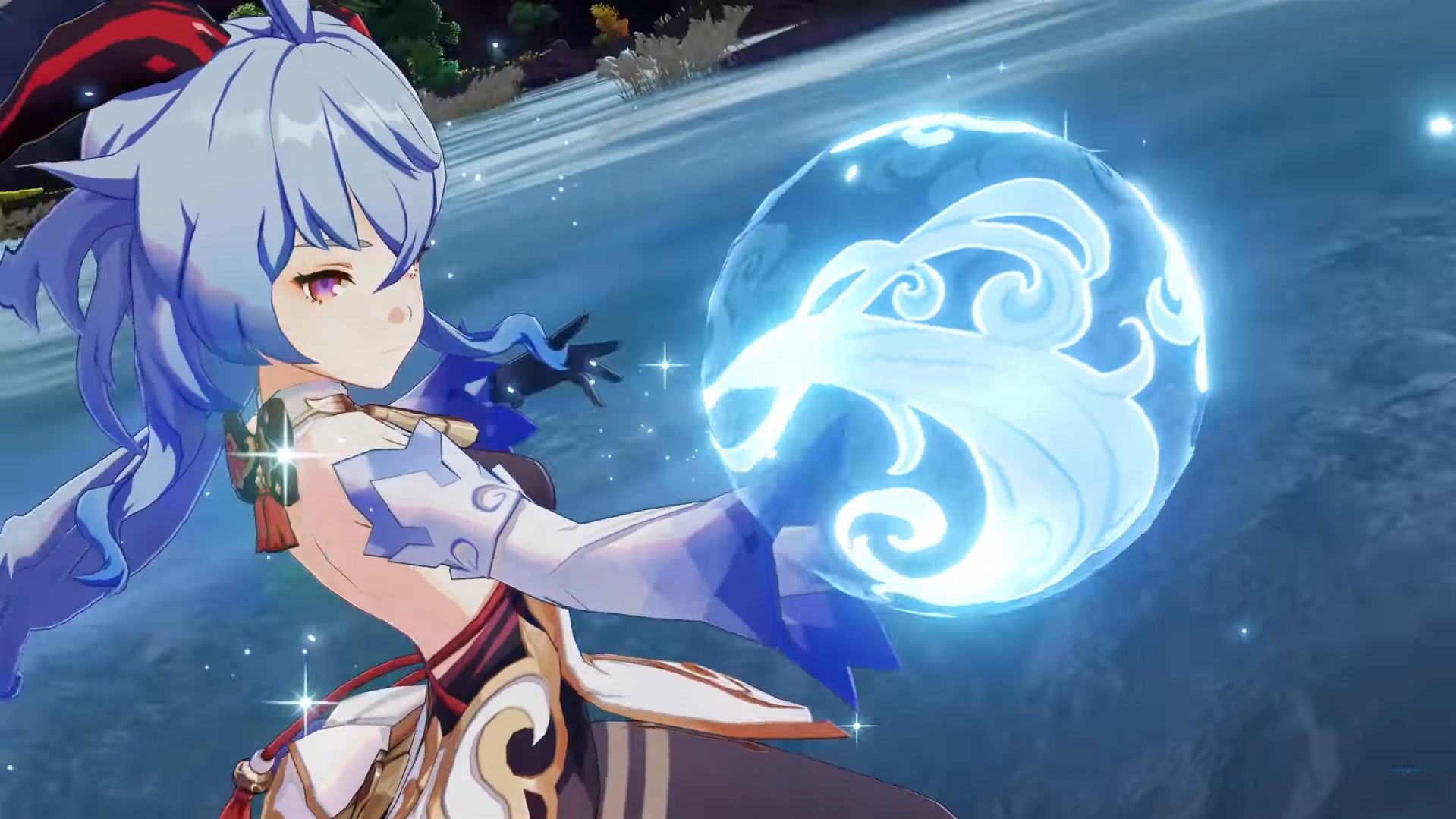 This build doesn't have a big difference with the sub DPS build, I know. But because the purpose of the f2p build is for easier farming, the Favonius Warbow and Blizzard Strayer along with Noblesse Oblige set is the match for this.
Favonius Warbow gives you a 60% chance to make CRIT Hits generate a small amount of Elemental Particles, which can only occur once every 12 seconds.
Just like the previous one, The Stringless is also a great replacement for this build as it increases Elemental Skill and Burst DMG by 24-48% along with its Elemental Mastery sub stat.
As the two-pieces set of Noblesse Oblige gives you a 20% bonus DMG done by Elemental Burst, the two-pieces set of Blizzard Strayer offers a +15% Cryo DMG Bonus.
For a change, using the full set of Blizzard Strayer is a good call, too. As the full set will give you a 20% CRIT Rate when a character attacks an opponent that's affected by Cryo. If the opponent is Frozen, your CRIT Rate gets another additional 20%.
Why the Free-to-play Build Is Great:
This weapon is rather easier to get 
The set optimizes her Elemental DMG
It focuses on her Elemental Skill and her Elemental Burst
 Free-to-play Build: Favonius Warbow – Blizzard Strayer and Noblesse Oblige full details:
You May Also Be Interested In:
Image Gallery