[Top 10] Fortnite Best Maps To Play Alone
Updated: 26 Aug 2022 4:42 pm
Alone? No worries.
Want to spend some quality time playing alone? Look no further.
Sometimes you just feel like chilling alone and spending some time with yourself playing Fortnite while vibing to some music in the background. The best thing about Fortnite is that you can have just as much fun alone as you can with friends, just because of the fun nature of the game. 
Even though playing solo battle royale is fun in Fortnite but sometimes when it's not your day, even that can feel frustrating and you feel like getting off the game. In this case, the creative game mode of Fortnite comes in clutch.
Hence, I've created a list of creative maps that you can hop into on one of these days and have an absolute blast all by yourself. 
10. CANDY RUSH DEATHRUN 1498-8205-1926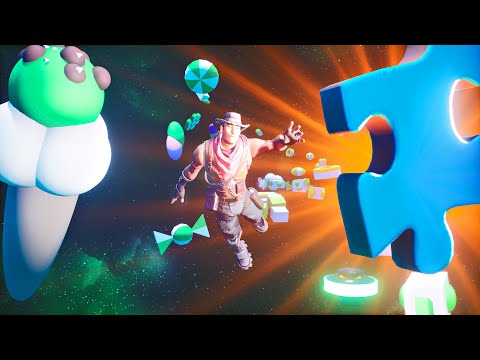 Map gameplay
This is a candy-themed death run, the most entertaining form of game mode for someone playing alone. This death run has a happy vibe to it with loads of colors and a good map design. That paired alongside easy levels with a variety of difficulties makes it a very good map for players of all levels.
Why CANDY RUSH DEATHRUN is  Good for Playing Alone:
Map design: The map is filled with lots of good color themes making it look very appealing.
Difficulty level: The maps range from easy to hard and are playable by all players.
9. SKULL ISLAND 8929-1132-7769
This is a very cool map with a pirate theme mixed in. The map is based on a long-lost island named "Skull Island". Here your boat crashes and you need to parkour your way out to freedom. This freedom isn't easy to achieve since you need to make big leaps and strong decisions to make it out.
Why SKULL ISLAND is Good for Playing Alone:
Gameplay: The parkour is well made in terms of object positioning and that makes it a bit hard yet fun.
8. JURASSIC HORDE 3080-8181-2050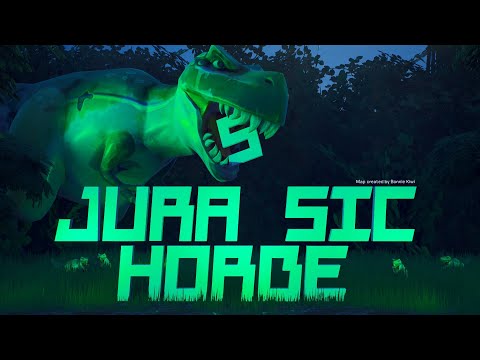 Map gameplay
This map is a remake based on the famous movie, "Jurassic Park" and a brilliant one too. The story goes with your car flipping over and you being stuck in some trailers nearby. The problem here is that there are flesh-craving dinosaurs in your vicinity. You need to escape in one piece among the dinosaurs.
Why JURASSIC HORDE is Good for Playing Alone:
Map: The idea of the movie is very well executed in this map.
Gameplay: The escape side of the gameplay on this map is very well thought out.
7. EXONITE 2 7102-1131-6537
Map gameplay
This is a very cool survival game with a very unique crafting feature for such maps. The map creator integrated realness to this map where you need to drive, craft, and do anything to survive the zombie attack on your town. 
Why EXONITE 2 is Good for Playing Alone:
Open world: The map is an open world with the freedom to walk, drive or run in the town, inside the map.
Crafting: You can craft better items by using scraps and less-worthy items.
Map design: The town on the map is very well made with good attention to detail.
6. 50 LEVEL JUNGLE DEATHRUN 6244-6897-8480
Map gameplay
This is another death run located in a jungle. The map has been made well to give the outlook of being stranded in an actual jungle. This scenery makes it fun to try to escape death traps made according to the location. The levels are also well made and not as difficult.
Why 50 LEVEL JUNGLE DEATHRUN is Good for Playing Alone:
Map: It has a great design that fits the jungle look and the name it's based on.
5. GOTHAM CITY 6233-7126-7833
Map gameplay
The DC fans will adore this map. It is a remake based on the famous movie "Batman" where Batman lives in a city named Gotham. It is a huge open world map replicating the original Gotham City in Batman. The gameplay is very fun with loads of tips and quests.
Why GOTHAM CITY is Good for Playing Alone:
Gameplay: The game is filled with tips so you don't get lost.
Quests: You're given missions to do which gives you direction towards the story.
4. MEDIEVAL ZOMBIE RUSH 9079-1872-7549
Map gameplay
This gameplay in this map takes place in a huge castle filled with zombies after your blood. You need to progress through the waves of zombies with a limited amount of resources to make it out alive. The good thing about this map is that you can trade resources like ammo inside the castle, in case you run out of it.
Why MEDIEVAL ZOMBIE RUSH is Good for Playing Alone:
Map design: The castle is very well built.
Trading system: The trading system to get resources is well built too.
3. ESCAPE THE ANCIENT RUINS 2105-4880-7093
Map gameplay
This is one of the most beautiful escape maps created with a brilliant map design paired up with smart gameplay. The map is designed on multiple huge landscapes with very attractive visual themes. The map gives you loads of challenges and puzzles that you need to solve to get through.
Why ESCAPE THE ANCIENT RUINS is Good for Playing Alone:
Map design: It has very attractive visual themes and the map is based on several huge landscapes.
Gameplay: The map is filled with fun quests, challenges, and puzzles that you need to work through.
2. CRYPTIC CAVERNS PARKOUR 7770-9539-5964
Map gameplay
Cryptic cavern is a map with a very unique design as it's based underground, in the mines. The gameplay is parkour-based where you need to jump for your life, to get out of sticky situations. There are special coins that you need to collect on the map which let you proceed to the further levels.
Why CRYPTIC CAVERNS PARKOUR is Good for Playing Alone:
Unique map: The map is based on underground mines hence it has a very unique and appealing design.
Coin collection: You need to collect special coins to progress further.
1. CASTLE IN THE SKY 0130-7403-6429
Map gameplay
This is one of a kind map with a very adventure game-based feel. The map is based on a castle made among the clouds in the sky. This gives a very aesthetical look to the map. The gameplay is very special too since it's one of the only maps that allows you to interact with different characters on the map to proceed. The map characters are placed in many locations and talking to them gives you directions and quests.
Why CASTLE IN THE SKY is Good for Playing Alone:
Interaction: You can interact with characters on the map to get directions and quests.
Design: The map is placed in the sky among clouds and the map creator has made sure it looks as beautiful as it sounds.
You may also be interested in:
Image Gallery