Final Fantasy XV Best Outfit For Each Party Member (And How To Get Them)
Updated: 12 Sep 2021 7:12 am
The Fab Four wearing outfits inspired by FFXIV
In Final Fantasy XV, Attire is an option in the menu that allows the players to change the outfits of the characters on-screen. The Attire is FFXV's version of equipping armor. 
The awesome part about Attire is that the character's appearance really change per outfit that you select. You do not just get to dictate their fashion sense but you also get great stats and buffs, too.
In this guide, I will be ranking the best outfits obtainable in the game. To avoid confusion, I will only be obtaining outfits that you may still obtain at this time. For example, the Steam pre-order bonus outfits will not be included in this guide as there is no other current way to obtain them.
I will be dividing the ranking into two. The first one will be outfits that can be worn by all four characters or by Gladiolus, Prompto, and Ignis. The second division will be for Noctis-exclusive attire.
Outfits for the Team (Ranked)
8. Crownsguard (Ignis-exclusive)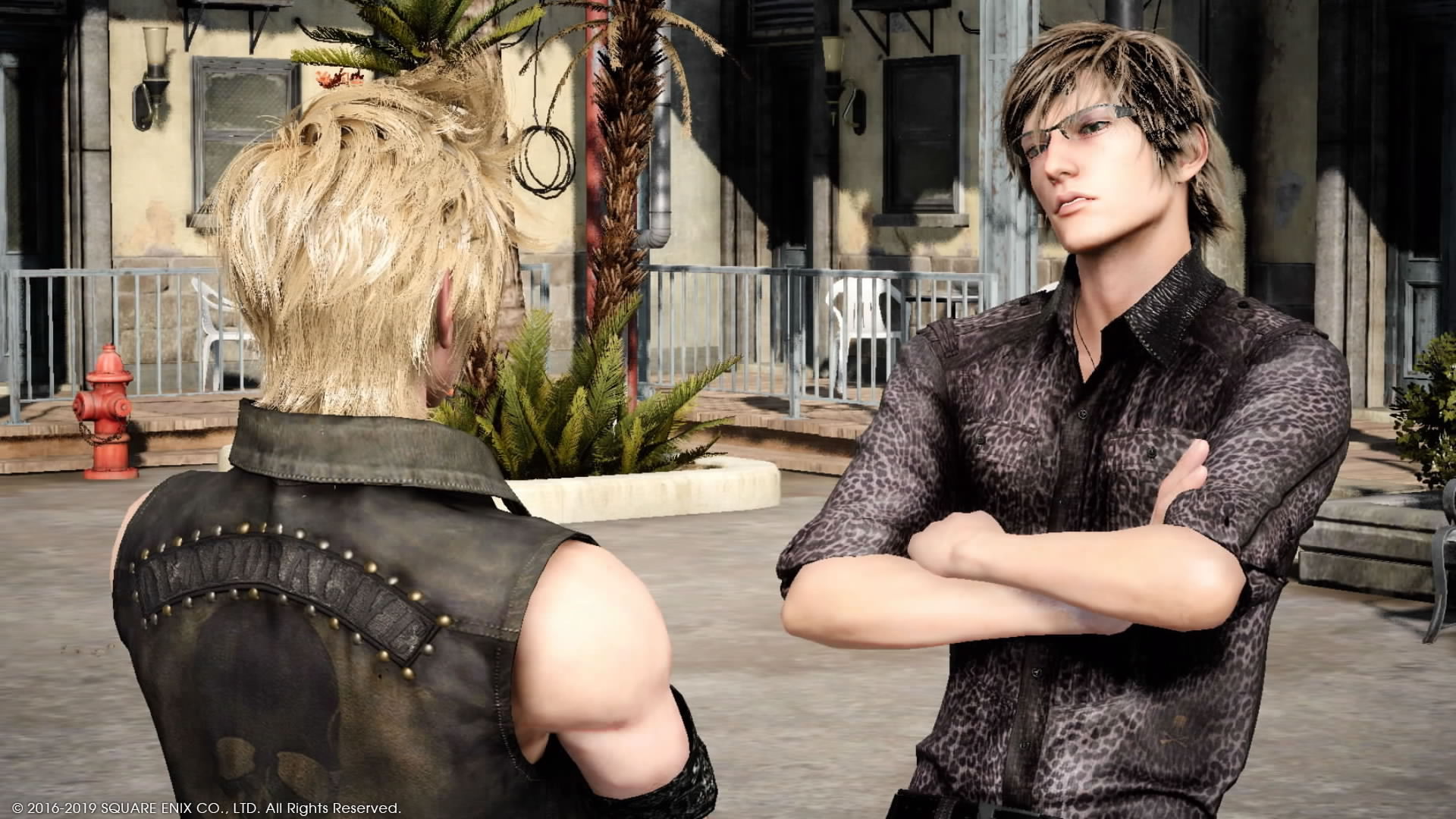 Ignis in the Unkenot Crownsguard Attire
The Crownsguard is your prize for completing Episode: Ignis. The two versions of this are Crownsguard Casual and Unkempt Crownsguard.
This Attire is canonically in-line with the game's plot as it is just Ignis' Jacketless Crownsguard Fatigue worn and damaged after the events of Altissia. Although, with the Unkempt Crownsguard, you get that outfit with a new (and more fabulous) hairstyle for Ignis.
If you will follow FFXV's storyline, you are supposed to finish Episode: Ignis after completing the main plot. With that being said, getting a disheveled version of an outfit that you have from the start is a bit of a letdown. But, hey, at least Ignis' strength increases with this one.
Crownsguard Details
Crownsguard Casual – Strength +30%
Unkempt Crownsguard – Strength +35%
7. Tundra Attire (Prompto-exclusive)
The Tundra Attire is obtainable by completing Episode: Prompto. This is the attire that you use while playing the Episode and you may use it in the main game after finishing it.
I love the stats of this outfit. Prompto has lower HP stats than the other 3 characters and letting him wear this outfit gives him a fair HP boost. Although, you might not want to use this when battling enemies with Fire-based attacks.
Tundra Attire Details
Max HP +20%
Vitality +20%
Fire Res. -30%
Ice Res. +60%
6. Rugged Attire (Gladiolus-exclusive)
This, I believe, is the TRUE jacketless version of Gladiolus' Crownsguard Fatigue. Yes, give Mama all the muscles... 
This outfit is obtainable by scoring 500,000 points in Episode: Gladiolus' Score Attack Mode. Which makes sense for Gladio to just remove his top after fighting so much.
This outfit (or lack thereof) is great for exploration as it further boosts Gladiolus' item drop rate. It increases his strength as well as there is no more fabric blocking his movement.
Rugged Attire Details
Strength +30%
Vitality -30%
Boosts item drop rate
5. Glamour Prism (For the whole team)
This Attire is a homage to Final Fantasy XIV. You may obtain these after completing the side quest Adventurer from Another World. In order to unlock this side quest, you must reach Chapter Four and complete the story quest The Hexatheon's Blessings: Touch the first runestone.
The outfits are inspired by the Eorzean garb of FFXIV. It is medieval in nature and I love that it brings you back to classic Final Fantasy. The stats are good as well, especially when doing dungeon runs.
On top of that, how cute is Noctis as a catboy?
Glamour Prism Details
Vitality +24%
Spirit +50%
4. Kingsglaive Garb (Prompto, Gladiolus, and Ignis)
The Kingsglaive Garb will come out in your inventory once you reach Chapter 14. There are two versions of this outfit – the jacket and the jacketless version.
I like the idea that a special outfit comes out for the final chapter of the main story of the game. It gives that extra drama and oomph. I like that it is a mix of rugged and refined. Although, I do question how much movement will the boys make in leather pants without being uncomfortable.
Kingsglaive Garb Details
Jacketed Version - Vitality +30%; Spirit +30%
Jacketless Version - HP Recovery rate +6%
3. Casual Outfit (For the whole team)
The Casual Outfits are part of your inventory from the start of the game. It is nice to see the boys in "normal people" wear especially when they explore cities and outposts. It lets them look less like a sore thumb.
The Casual Outfit is also great in battle. The jacketed versions give you immunity to post-magic status. The jacketless version gives a whopping 20% boost to your Crit Rate!
Casual Outfit Details
Jacketed - Immune to Enfeebled, Disenchanted, Burnt, Frozen, Shocked
Jacketless - Critical Rate +20%
2. Crownsguard Fatigues (Gladiolus, Ignis, and Prompto)
These are the clothes that our boys will wear from the get-go.
It is stylish. It brings the personality out. The stats are great. Most of all, it is the default outfit!
This is the ideal outfit for exploration especially during battles as it gives a surge of stat boosts.
Crownsguard Fatigues Details
Jacketed – Max HP +20%
Jacketless - Strength +20%; Magic +20%
1. Magiteck Exosuit (For the whole team)
After Patch 1.13, this outfit has become part of your default inventory at the start of the game.
Will just remind you that FFXV is a game geared towards first-timers. Thus, in an attempt to make the gameplay less rage-quittable and more fun-loving, the Magitek Exosuit was born.
Wearing this outfit makes the boys look like Warframe characters. While exploring, it gives no status boost whatsoever except making the boys look like aliens.
When you initiate a battle, the suits glow yellow and you become invincible. Yes, invincible meaning no damage, no status ailments, no nothing!
Invincibility is available for 30 real-life minutes per day. Thus, if you plan to use the Exosuit during dungeon crawling, I suggest you do it fast. Once the 30 minutes are up, you can no longer be invincible during battle. You have to wait for one whole real-life day in order to use the Invincibility boost of the Exosuit.
I will not stop you from using the Exosuit in every fight available but I will just warn you that doing so might take away most of the fun and the challenge of the game.
Personally, I used the Exosuit during the Melusine quest and the MA-X Angelus-0 random encounters.
Magitek Exosuit Details
Makes the wearer invincible for a time.
Outfits for Noctis (Ranked)
9. Choco-Mog Tee
The Choco-Mog Tee is initially part of the limited-time 2017 Moogle Chocobo Carnival Event of FFXV. Soon after, all players may obtain this by downloading the free Holiday Pack DLC from their respective console stores. Alternately, this is also part of the Royal Edition of the game.
This outfit makes Noctis look like a Moogle fanatic. Just like any festive or convention outfit, wearing it outside the festival makes you look like a sore thumb. The stat is not even that noticeable.
There are a lot more useful outfits than this. If you are aiming for recovery rate, there are way better outfits.
Choco-Mog Tee Details
8. Ardyn's Ensemble
This outfit can be obtained by completing Episode: Ardyn. You can get the Episode in your respective console stores or as part of the FFXV: Complete Edition on Steam.
If you will follow the plot's timeline, you must finish Episode: Ardyn before playing the base game. You can already use this outfit as early as Chapter One!
I highly recommend this outfit especially if it is your first time exploring the world map at night. The Dark Resistance boost will save your life.
Ardyn's Ensemble Details
Magic +50%
Dark Res. +100%
Taking Dark damage temporarily boosts Noctis's Str by +100.
7. Master Assassin's Robes
Like the Choco-Mog Tee, this outfit used to be part of a limited-time event. This time, it is FFXV's collaboration with Assassin's Creed. After Patch 1.29, this outfit became part of your default inventory.
It is cool to see Noctis in Assassin Creed clothes. This is fitting when he is phasing as it is synonymous with Assassin Creed's battle style.
Satisfyingly enough, wearing this outfit reduces the MP cost of phasing. There is no difference whether you use the hooded version or the normal one. If you use phasing every ten seconds (like me), this outfit is a great fit for you.
Master Assassin's Robes Details
Reduces the MP cost of phasing
6. Noodle Helmet
This is obtainable as a free DLC in console stores. It is also part of the Royal Edition.
Just like the Choco-Mog Tee, this outfit makes you look like a fanatic… of cup noodles. I mean, if you are a gamer or if your best friend is a screen then most likely you already are. Might as well bring that love for instant noodles in the game.
Unlike the Choco-Mog Tee, this is worthwhile wear. You may look silly but at least you have a +20% HP Recovery Rate.
Noodle Helmet Details
5. King's Knight Tee
This is a free DLC in your console stores. Like other DLC's, it is also available in the Royal Edition.
This is the most powerful t-shirt that I have ever come across. What kind of fabric will allow great resistance to the elements?
Talk about video game inception. Wearing this on Noctis is directly equivalent to you wearing a shirt of your favorite video game. Just make sure it's Final Fantasy XV.
King's Knight Tee Details
Shot Res. +25%
Fire Res. +25%
Ice Res. +25%
Lightning Res. +25%
Dark Res. +25%
4. Trendy Outfit
This is an upgraded version of Noctis' Casual Outfit. It is a free DLC and also part of the Royal Edition. 
The jacketed version of Noctis' Casual Outfit is him sporting a bulky bubbly jacket. Who wears that? In summer? In the desert? No one.
The Trendy Outfit is the Casual Outfit except that Noctis loses the cap and switches the bubble jacket for a silky bomber jacket. The bomber jacket is stylish as hell. If only there was one in real life…
The stats for the Trendy Outfit is the same as the Casual one. So, if you plan to use the Casual Outfit, I suggest taking a few seconds to download and equip this for Noctis instead.
Trendy Outfit Details
Jacketed - Immune to Enfeebled, Disenchanted, Burnt, Frozen, Shocked
Jacketless – Critical Rate +20%
3. Kingly Raiment
This unlocks along with the Kingsglaive Garb in Chapter 14.
You may recognize this as King Regis' outfit in Chapter One. This makes it very fitting when you finally obtain it. Wearing the Kingly Raiment increases Noctis' survivability which you will definitely need in the following events of the game.
Kingly Raiment Details
Jacketed Version - Vitality +30%; Spirit +30%
Jacketless Version - HP Recovery Rate +3%; MP Recovery Rate +6%
2. Royal Raiment
The Royal Raiment is the traditional formal wear of Lucian Kings. You may obtain this as part of the Royal Edition or buy it from the console store. It costs less than a dollar.
Who can resist a man in a suit? Noctis never looked as delicious as he does when wearing the Royal Raiment. Although, I do have to say, just like in real life, the suit emphasizes Noctis' poor posture.
The stats are great as well. The best one for me is that the jacketless version voids the stamina bar. Unlimited sprinting here we go!
The only reason why this is not on the top spot is that the outfit is locked behind a paywall. It might be a minuscule one but it is a paywall regardless.
Royal Raiment Details
Jacketed Version - Max HP +25%; Max MP +25%; MP Recovery Rate +6%
Jacketless Version - Magic +30%; Grants infinite stamina
1. Prince's Fatigues
Sometimes, you do not have to look too far for the best. The best outfit for Noctis is the one he is already wearing at the start of the game.
The outfit is stylish. Enough that you can cosplay it without looking like a sore thumb while walking around the mall. Now, I think that makes the outfit great as it fits both the worlds of reality and fantasy.
The best part of this outfit is that the stat boosts are great all-around. The numbers are significant no matter what part of the game you are using it in.
Prince's Fatigues Details
Jacketed - Max HP +20%
Jacketless - Strength +20%; Magic +20%
You may also be interested in:
Image Gallery