[Top 10] CSGO Best CT Agents - Who To Choose
Updated: 21 Sep 2021 5:10 pm
The bomb has been defused
10) Operator - FBI SWAT

Members of the FBI's SWAT team are deployed in high-risk situations. Counterterrorism, hostage rescue, and bomb refusals are a few of the many disciplines FBI SWAT agents specialize in.
The Operator here is a "Distinguished Agent" in rarity and is probably the least appealing of all the Counter-Terrorist agents. 
A blacked-out head and olive drab from the shoulder are down. The FBI Operator may be boring, but boy is he useful. It may not be the best color for every map, but the muted green helps the Operator blend into several maps and dark hiding spots. 
See Operator - FBI SWAT in action: 
9) Seal Team 6 Soldier | NSWC SEAL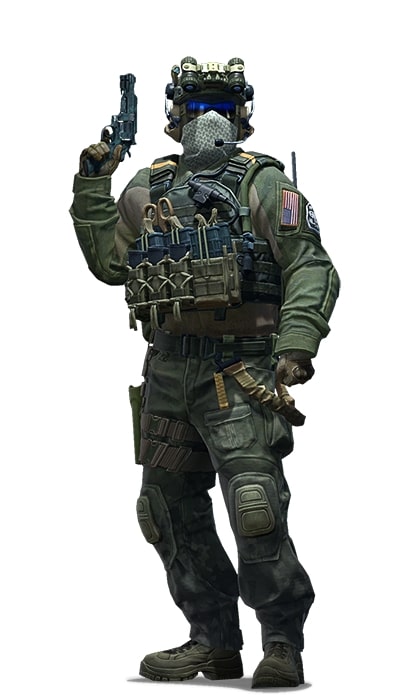 Combat-ready and hungry for wins, SEAL Team 6 soldiers know how to get the job done.
This CT agent starts to break up the standard silhouette when not looked at head-on. Unfortunately, this man's massive number of extra magazines is quite bulky and makes his physical appearance much wider than normal.
See Seal Team 6 Soldier NSWC SEAL in action:
8)1st Lieutenant Farlow | SWAT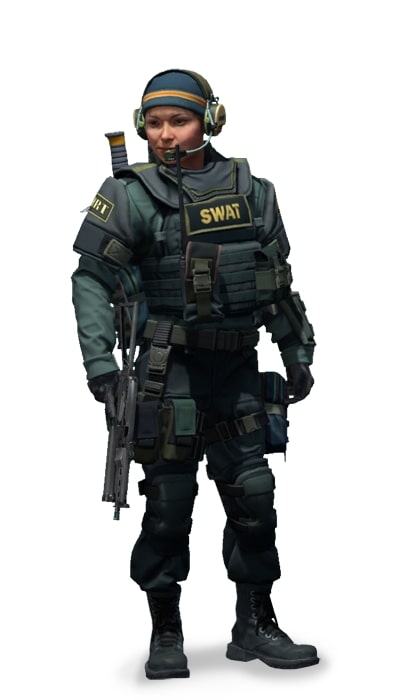 Smart as a whip and relentlessly polite, 1st Lieutenant Farlow is one of the most beloved and respected officers in SWAT. A master tactician in hostage and barricade situations, Farlow quickly climbed the SWAT ranks. Don't be tricked by her overwhelmingly cheerful nature. She can dispatch bad guys in the blink of an eye and not think twice about it.
See 1st Lieutenant Farlow | SWAT in action:
7) 'Two Times' McCoy | USAF TACP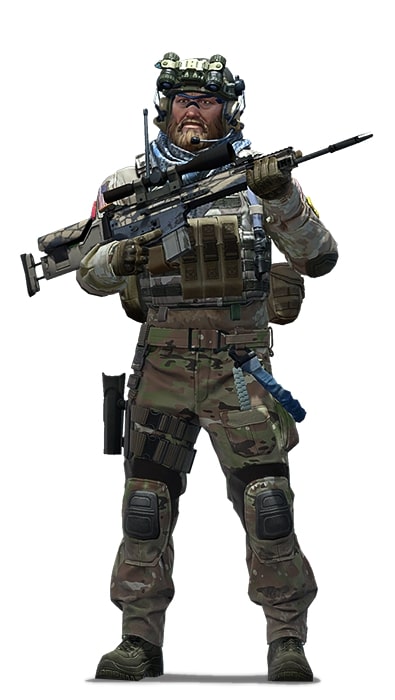 'Two Times' McCoy earned his nickname by completing TACP's field training twice. Official records mark this up to a scheduling mix-up, but his teammates report restraining him from completing the trifecta. With inhuman reserves of physical and mental stamina, McCoy often finds himself the last person standing at the end of any conflict—physical and verbal alike.
With low-profile gear and dark colors, McCoy also has the richness of not carrying a massive backpack. 
McCoy's equipment is super low profile and combinations in super well with most maps. The general blue highlights along his kit add a delicate touch to the general similarity of the CT agents. 
See 'Two Times' McCoy | USAF TACP in action:
6) Michael Syfers | FBI Sniper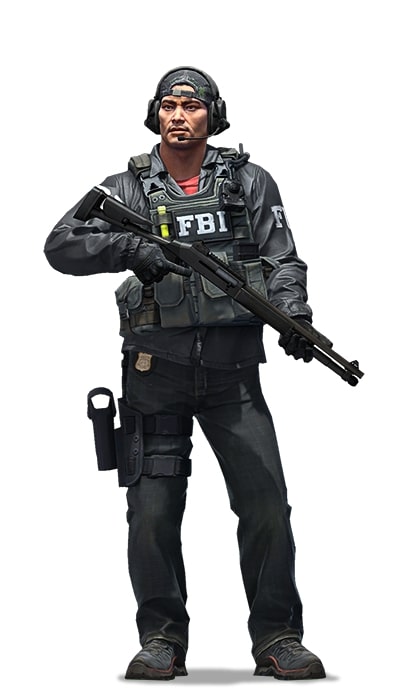 An ex-Division I athlete, Syfers was recruited by the FBI after a catastrophic knee injury ended his sports career shortly. Yet even in crisis, he remained positive. It's rare to find someone whose desire to succeed is matched by their desire to do good, but Syfers checks both boxes.
Full black and fairly low profile. The colors are a miracle and a curse. Syfers' all-black get-up helps him disappear when commanded, but it also makes him stand out when in the open. But this isn't much of a punishment considering how many CTs already stand out.
See Michael Syfers | FBI Sniper in action:
5) Sergeant Bombson | SWAT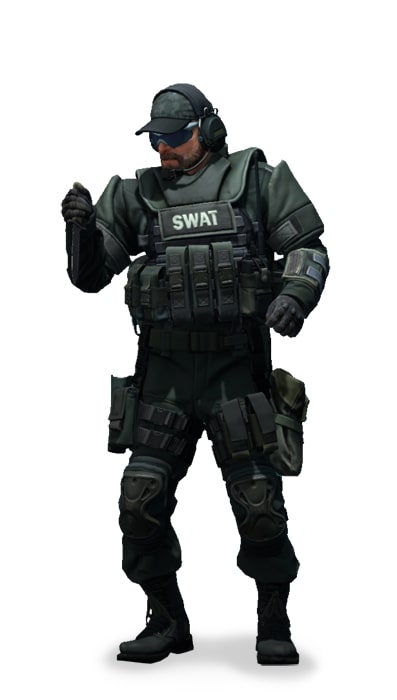 Tyler Bobson earned his moniker after becoming SWAT's go-to officer for effective Explosive Ordnance Disposal. With his incredible ability to locate even the most well-hidden IEDs, Bombson's keen hearing is exceeded only by the noble Greater Wax Moth.
See Sergeant Bombson | SWAT in action:
4) Lt. Commander Ricksaw - NSWC SEAL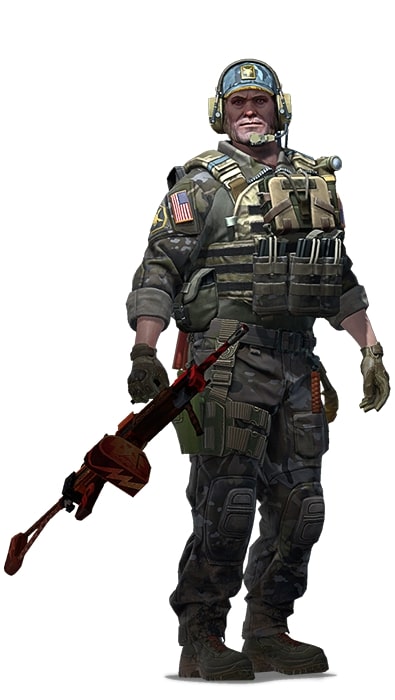 Lt. Commander Ricksaw's comically laissez-faire attitude toward heavy combat keeps his SEAL team calm and deadly in the most desperate situations. Having lead more special ops than any other SEAL to date, Ricksaw knows life is short and encourages his team to make the most of the time they have—including willingly serving up bullets and frag grenades to high-value targets on any occasion.
A big, intimidating CT agent. Looks great, but isn't super practical. 
Big and bulky, more so than others. Ricksaw here is one of a few agents that genuinely have an issue with the bulkiness of his backpack. His rig looks big but doesn't stick out that much, and his colors are excellent for hiding both in the dark and in the open. Unfortunately, his hat is bright blue and that's his only style piece. 
See Lt. Commander Ricksaw - NSWC SEAL in action:
3) 3rd Commando Company | KSK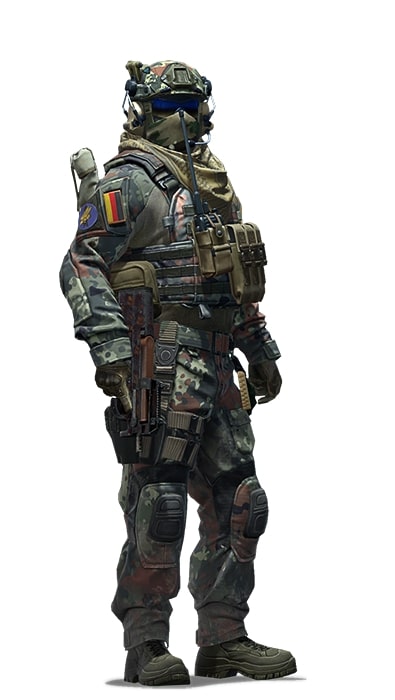 An elite soldier from Germany's Kommando Spezialkräfte, members of the 3rd Commando Company are hand-picked to be part of KSK's Operational Forces.
The 3rd Commando Company agent is pretty plain in name and may not look very unique. His color design, thinner side profile, and much less uniform silhouette all serve to make him very tactically beneficial.
See 3rd Commando Company | KSK in action:
2) Cmdr. Mae 'Dead Cold' Jamison | SWAT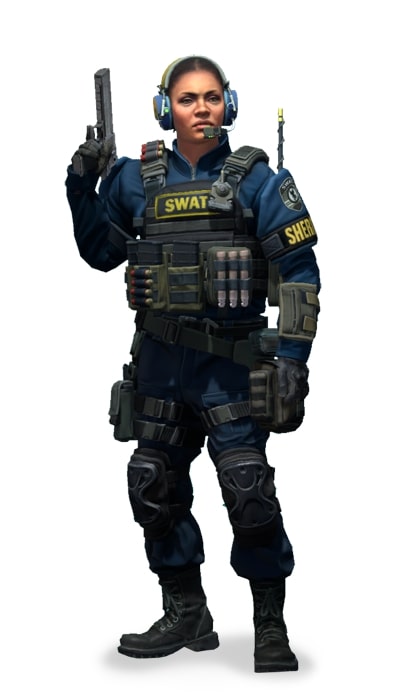 Cmdr. 'Dead Cold' Jamison has just about seen it all. Skeptical and wry amid deadly combat, others could mistake her for being nonchalant about the chaos at hand. They would be wrong. Nothing gets past Dead Cold, not bad guys with AK-47s, junior officers that call her 'Ma'am,' or an opportunity to make elite officers smirk under pressure.
See Cmdr. Mae 'Dead Cold' Jamison | SWAT in action:
1) Special Agent Ava | FBI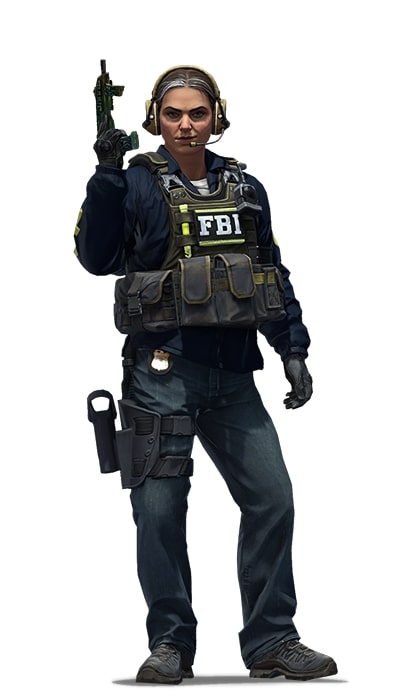 Initially underestimated, Special Agent Ava soon became her team's ultimate secret weapon. Despite receiving three out of five possible FBI Honorary Medals, Ava is surprisingly indifferent to her accomplishments. The way she sees it, it's nothing compared to growing up with four older brothers in urban New Jersey. Special Agent Ava takes pleasure from the simple things: clean wins, cold beer, and turning bad guys into a thin crust pizza.
She has deep blues and a greyed-brown rig with a very slight amount of gear to clutter things up.
See Special Agent Ava | FBI in action:
You may also be interested in: