[Top 15] CSGO Best AK Skins That Look Freakin Awesome!
Updated: 25 Jun 2021 1:54 am
I could really use a makeover.
Ever since the nerf to the SG 553, the AK-47 has reemerged as the weapon of choice. AK skins from amateur to pro players are still common today. That said, here are the top 15 AK-47 skins currently in CSGO.
15. Neon Revolution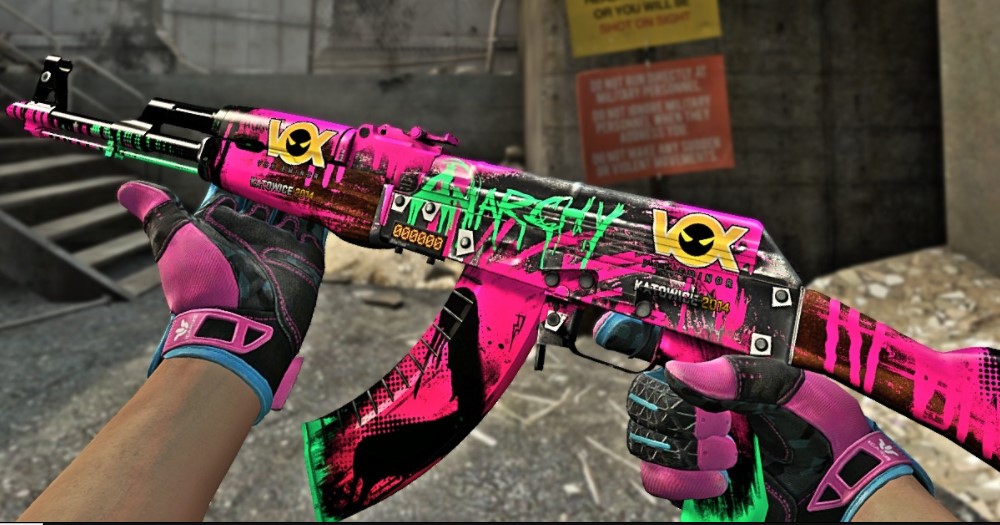 Anarchy never looked so good.

Introduced in 2016, the Neon Revolution features hydrographic decals dipped in neon pink, green, and black paint. It also displays a pink and black skull on the receiver (body) and stock (end). Even a racing car could be designed like this.
Unique neon pink skin with a touch of green
Skull decals fit well with the word, "Anarchy"
Good contrast between the black and pink drip paint
How to get the Neon Revolution
Most CSGO skins, including the AK-47, are on the steam community market. Often a case and key are required as well. For the Neon Revolution, you can buy a gamma 2 case for about $.15 and a key for $2.50. Keep in mind, however, that not every case offers the skins you want; rather you only have a small chance (usually) of getting them. Prices may also fluctuate, depending on the demand and release date. Directly buying a factory new version, then costs about $52 whereas minimal wear and field tested are estimated at $29 and $21 dollars, respectively, and for the time being.
See the Neon Revolution in action
14. Rat Rod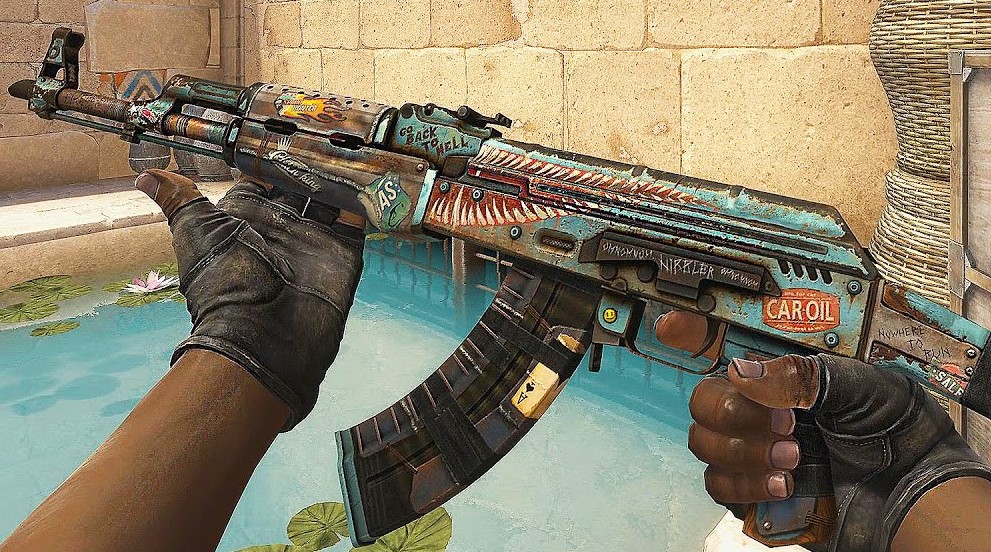 You'll need it for the Apocalypse.

Featuring a rusty blue and brown paint job, the Rat Rod looks like it was recovered from a wasteland junkyard. Details such as the duct tape on the magazine/stock and the phrases, "Go back to hell," and, "Nowhere to run," further illustrate the point. The receiver, or main part of the AK-47, shows the mouth of a vicious creature with sharp teeth. Little did I know that the A of spades is considered to be a symbol of bad luck and death as well.
Apocalyptic/junkyard/wasteland theme
Features a car oil sticker, as running cars are often hard to find from an Apocalyptic setting 
Rusty barrel and duct tape signify the gun's longevity
How to get the Rat Rod
The brand new skin costs about $10. However, thanks to an apocalyptic theme, the battle-scarred version could work as well, costing around $4 instead.
See the Rat Rod in action
13. Jet Set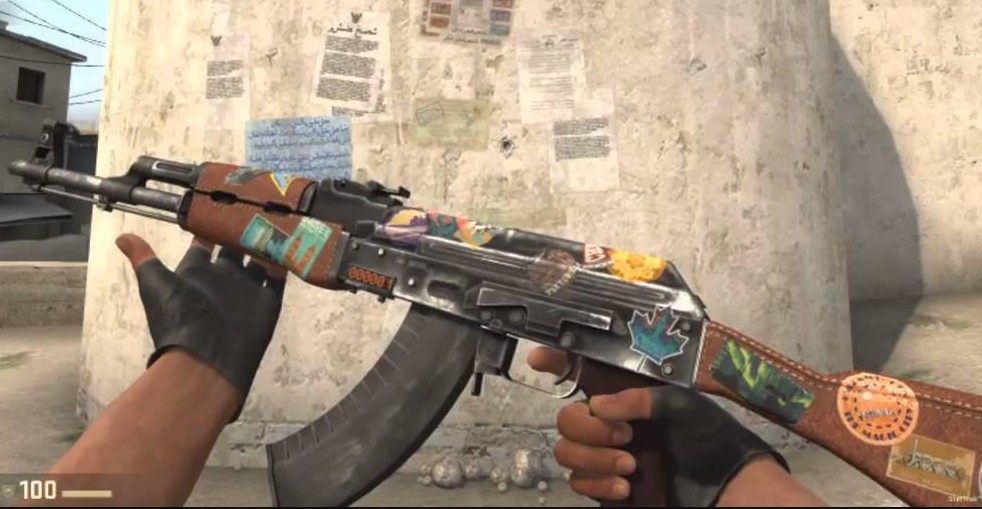 Oh, the Places You'll Go!- Dr. Seuss

Wrapped in brown leather, Jet Set was fortunate enough to travel around the world, visiting countries and states within the U.S., Canada, and Europe. Souvenir stickers and iconic symbols of Ottawa, Basel, Pottsville and other locations are dispersed throughout. Leather like this reminds me of a luggage suitcase when traveling abroad.
Variety of souvenir stickers along with complimentary images
Brown leather may be reminiscent of traveling
Unique colors for each sticker
How to get the Jet Set
The skin is somewhat rare, with less than 30 listings on the steam market. It widely ranges from $87 (battle scarred) to $935 (factory new). There is no case for it either.
See the Jet Set in action
12. Orbit Mk01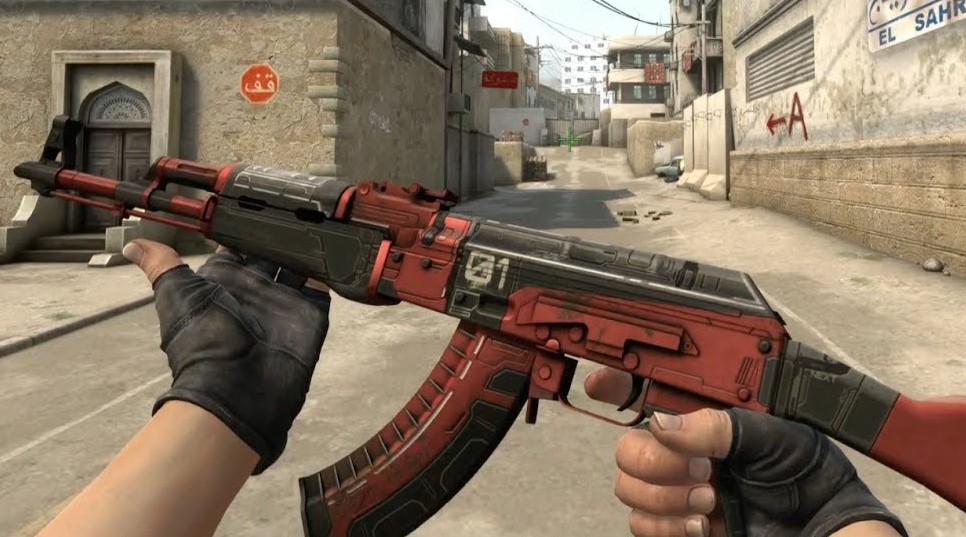 The aliens are out there somewhere. I know it!

A weapon that seemingly originated from outer space, the Orbit offers a scarlet red with a gray and black design made of metal panels. The number 01 is inscribed, possibly referring to a particular colony or space department. Whatever is out there, at least you'll be ready this time.
Black/grey skin with a dark blood red color
Outer space theme
Black and red metal panels appear as individual compartments, combining to make the Orbit
How to get the Orbit Mk01
It's more affordable compared to the other AK-47 skins. You can get a field tested version for about $10 or a factory new version for about $15. Interestingly, the hydra key and case combined cost about $10 as well, assuming you can even get the skin.

See the Orbit Mk01 in action
11. Vulcan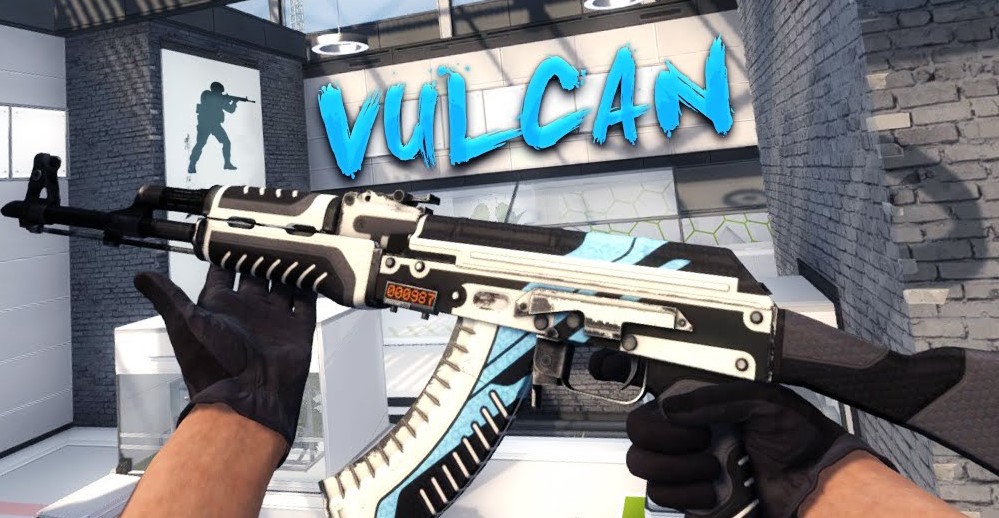 A fine addition to any sports collection.

The Vulcan is a mixture of blue, black, grey, and white shades. Introduced in 2014, it was inspired by various sport designs, as noted by the white football, "laces" on the magazine or by the paint job of a race car. If you take a closer look you can also see a blue hexagonal grid pattern. Whatever position you play in CSGO, the Vulcan's got you covered.
Offers a blue, black, and white color theme
Reminiscent of a sports racing car
The hexagonal pattern looks similar to the texture of an American football
How to get the Vulcan
Vulcans are often expensive, ranging from $27 to $258. The middle ground or field tested version is about $57. If you're feeling lucky, you can also buy a Huntsman case and key for around $4.50.
See the Vulcan in action
10. Frontside Misty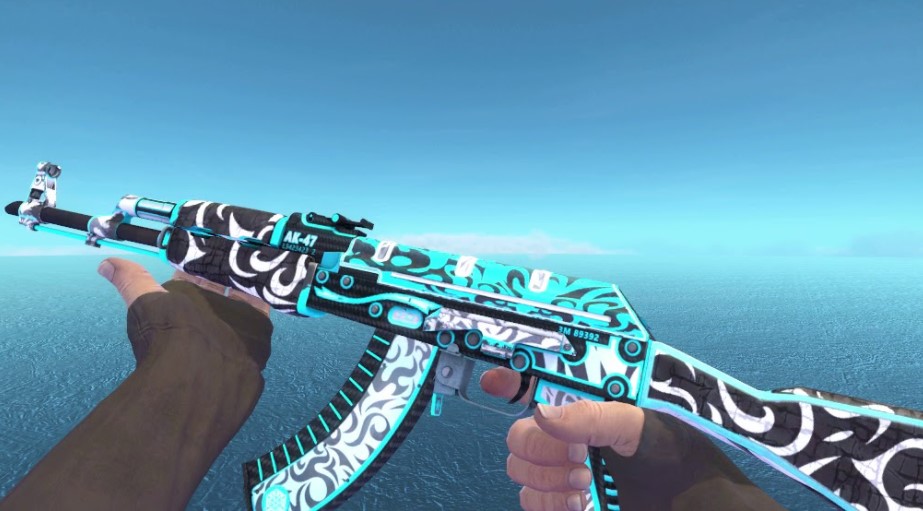 Ideal for surfing and snowboarding.

This arctic colored skin features black and white curly waves, combining the elements of snow and water. The outline is a light arctic blue, making this AK stand out even more. On the magazine and handle, you can see an image of a snowflake. Seems fitting for a map like Austria or Seaside.
Snowy icons/decals
Arctic blue waves
Water and winter sports theme
How to get the Frontside Misty
A new one goes for about $50 on the steam market. If that's too much, you can also get the minimum wear skin for around $26 or field tested version for about $16. Alternatively, you can buy a shadow case skin and key for about $2.60 and hope it's there.
See the Frontside Misty in action
9. Redline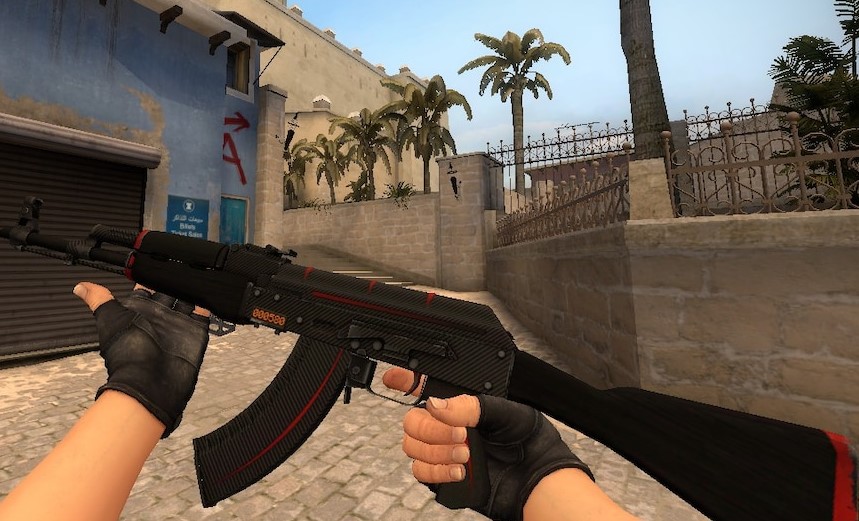 This is how it's done.

Introduced in 2014, the Redline (AK-47) was the successor to its AWP counterpart. It features a carbon-fiber body resembling a dark gray and black color. The stock and handguard (near the barrel) also show streaks of red. Speaking of colors (or shades), in Western culture, red and black is often associated with symbols of death, passion, and power.
Carbon fiber finish
Body appears black/dark gray
One of the darker themes for the AK-47
How to get the Redline
When I bought mine a few years ago (field tested), it was about $20. Fortunately, the price has dropped to roughly $16 at the moment. However, there is no factory new version, as it was never released and the minimal wear skin goes for about $57. Again, these are price estimates, as the cost can change over time. You can also buy the operation phoenix weapon case and key for ~$3, but there is no guarantee as to what's inside.  
See the Redline in action
8. Point Disarray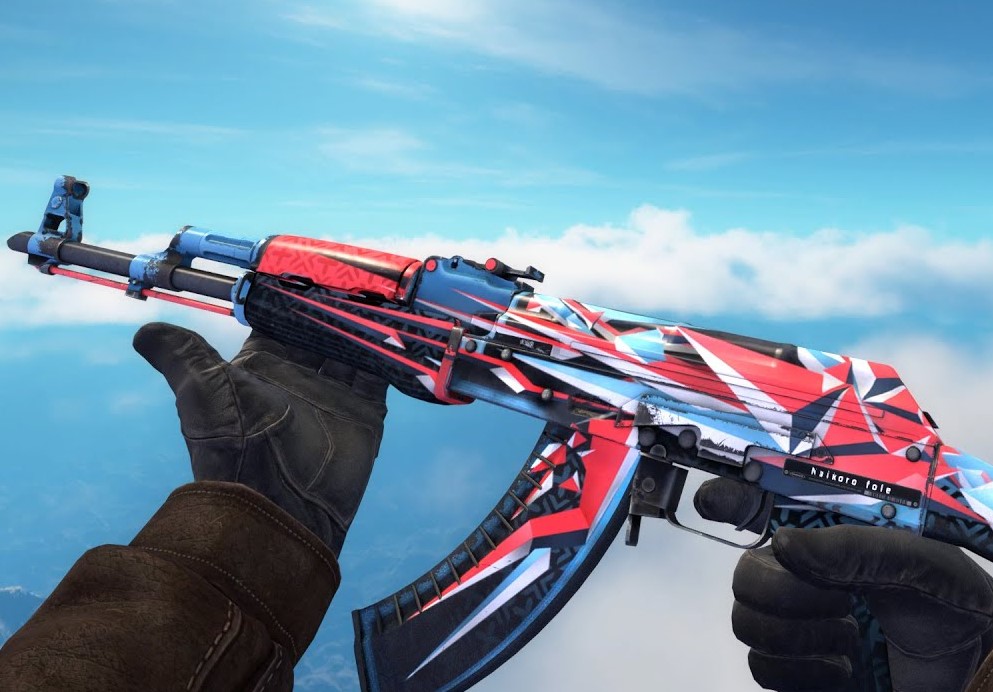 The perfect combination of Chaos and Order.

Released in 2015, the Point Disarray uses red, white, and blue 3D shapes in an orderly, yet chaotic fashion. Other geometric (non-natural) shapes such as the cross or x, are prevalent throughout the skin. It kinda reminds me of the 4th of July and those refreshing rainbow popsicles.
Chaos and Order theme
Red, white, and blue colors
3D Shapes
How to get the Point Disarray
It ranges from ~$20 (well worn) to $43 (factory new). A revolver case and key for the skin is about $2.55. Again, you can find all of this on the steam market. 
See the Point Disarray in action
7. Asiimov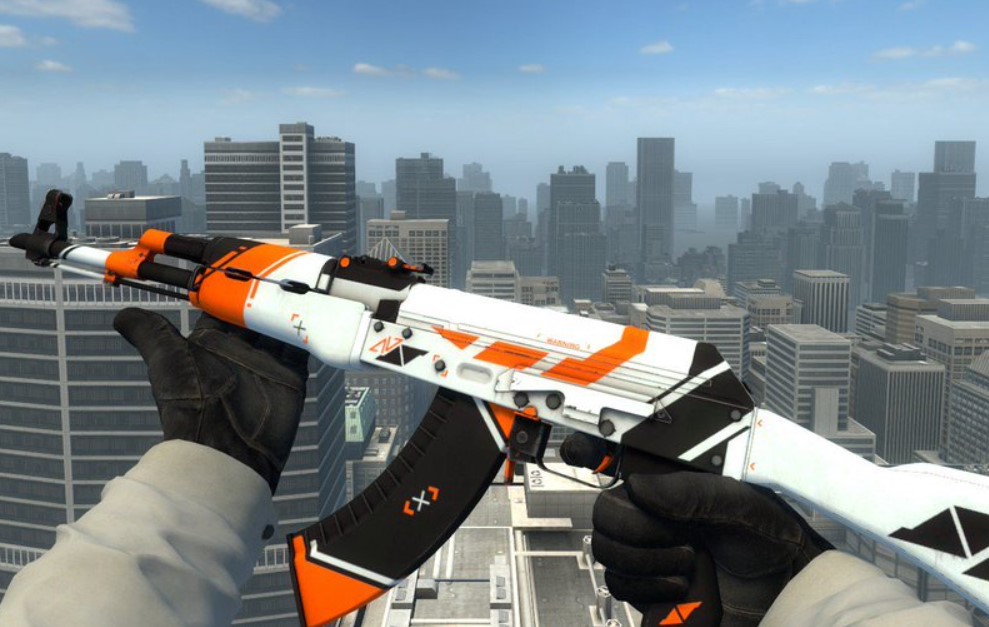 Half-Life anyone?

Using a sci-fi design, the Asiimov features an orange, black, and white custom paint job. On the magazine and handguard (near the barrel), you can see decals of a locked-in crosshair. Geometric orange and black shapes are allocated across the skin, echoing the word, "Warning." Because of its unique design, the Asiimov remains as one of the most popular skins today.
Sci-Fi/Futuristic design
Geometric shapes featuring pyramids, triangles, and parallelograms
Clean cut design
How to get the Asiimov
A fairly expensive skin, the Asiimov ranges from ~$25 (battle-scarred) to ~$164 (brand new). Field tested and minimal wear skins cost ~$31 and ~$52, respectively. You might be able to find it in a danger zone case (with a key) for about $2.55.
See the Asiimov in action
6. Wild Lotus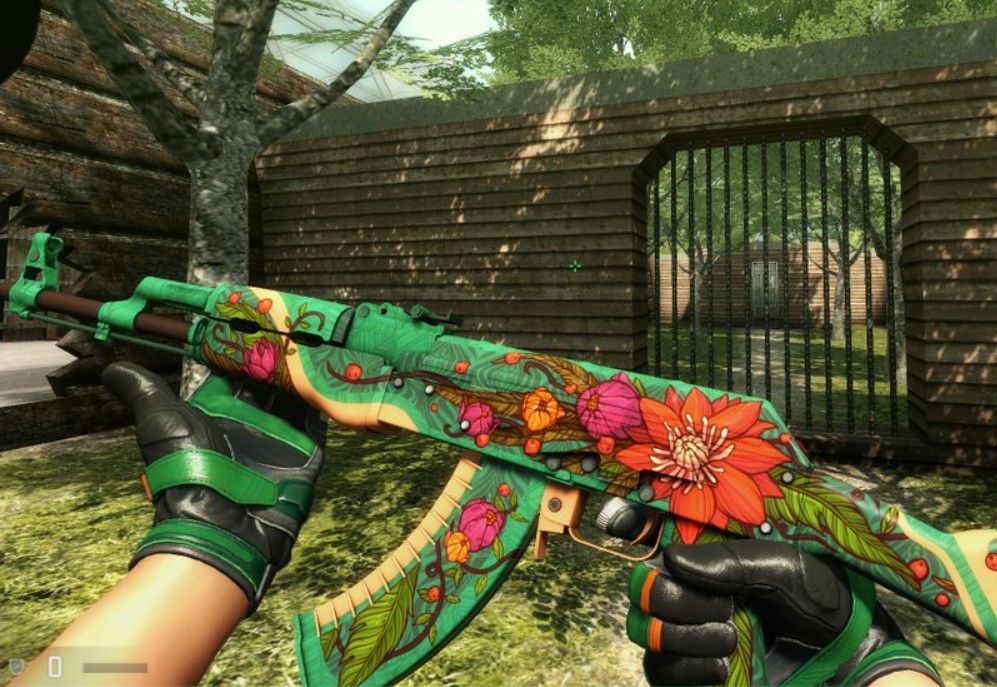 Even when its roots are dirty, the Lotus still manages to produce a beautiful flower.

Recently added in 2019, the Wild Lotus depicts various orange and razzleberry blooming flowers. Leaves and branches are presented as well. The background uses a teal forest green and beige colored path to enhance the flowers. Overall, it's a nice contrast compared to the various geometric shapes and darker themed skins we see today.
Beautiful orange and razzleberry flower theme
Teal green background makes you feel surrounded by a luscious pond
Currently, the only AK-47 skin with a flower pattern
How to find the Wild Lotus
Currently, there are less than 10 listings for the Lotus. In fact, it's one of the most expensive AK-47 skins on the market, ranging from ~$1,150 to ~$2,600. There is no case for it either.
See the Wild Lotus in action
5. Bloodsport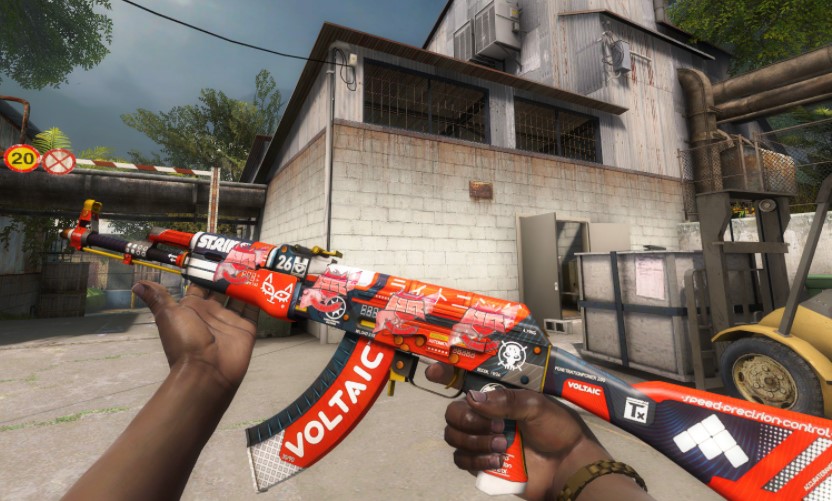 "There is no hunting like the hunting of man."-Ernest Hemingway

The body is adorned with red, white, gray, and black colors. Decals, such as the cat, arrow, and skull are depicted throughout the body and stock. Words such as, "Penetration Power 200,"  and, "Reload 2.5S," are imprinted as technical terms. "Speed, Precision, Control," is in fact then, a very accurate description of what this AK does.
It looks as it if was, "professionally" designed
Red and black theme
Plenty of unique decals to choose from
How to find the Bloodsport
The skin ranges from ~$50 to ~$64, depending on the condition. There is no battle-scarred version either. Might as well save for a new one. Otherwise, you can test your luck by buying the spectrum case and key for about $2.75.
See the Bloodsport in action
4. Neon Rider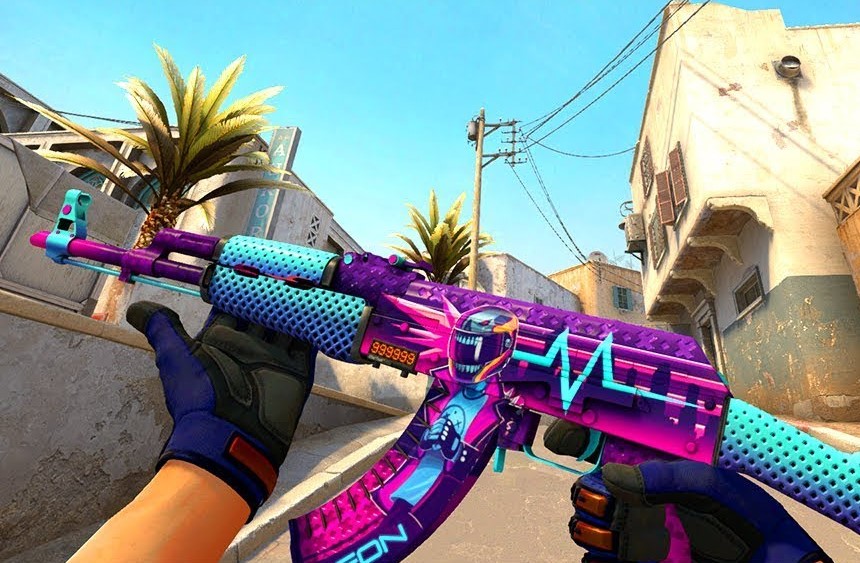 A close relative of the Neon Revolution.

Unlike most AK-47 skins, the Neon Rider uses gradient or transitioning neon colors such as purple, pink, and blue. On the body and magazine, you can see not only an intimidating biker, but an optical illusion of the helmet, or skull. The "M," in the middle also resembles a heartbeat alive and well. Such a dazzling combination of colors if you ask me.
Alternative neon skin
Resembles neon wallpapers or racing cars
Futuristic/Diner/CyberPunk vibes
How to find the Neon Rider
Ranges from ~$22 to ~$100. A Field tested skin costs roughly $34. You can try to get one from the horizon case and key for ~$2.55.
See the Neon Rider in action
3. Case Hardened (Blue Gem)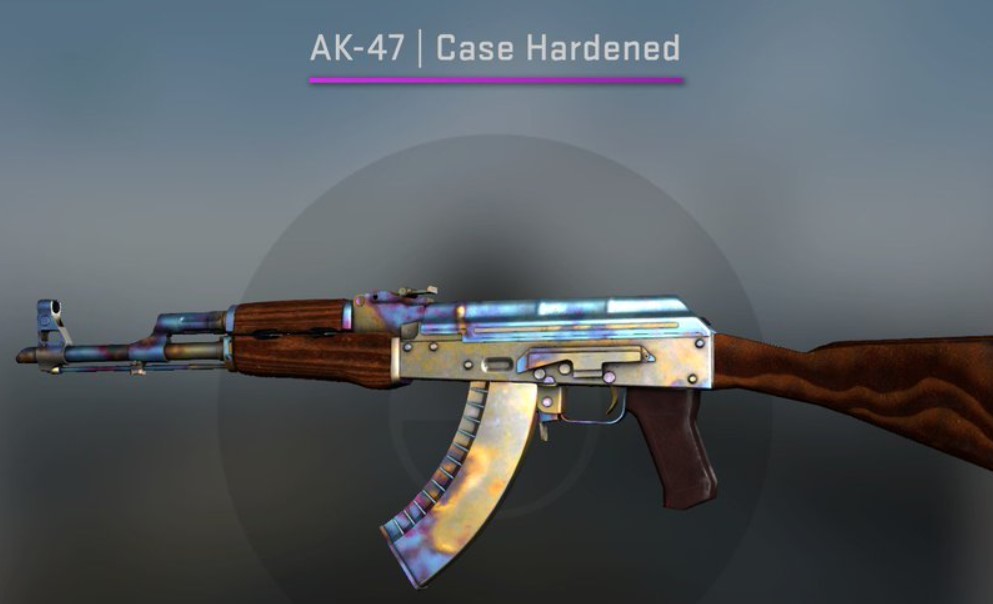 It's really shiny.

A variation of the original, the # 1 ranked (the bluer, the better) case hardened blue gem is so rare that it's found in less than 1% of all case hardened skins. With that said, the price greatly increases. Not that expensive skins are always better, but the blue gem stands out because of its crystal blue coating infused with a light wooden charcoal color, giving it a beautiful shine.
One of the rarest skins on the market
Shiny light blue
Unique wood charcoal color
How to find the Case Hardened Blue Gem
It's extremely hard to find. Rumors say it can go anywhere from $2,000 to 30,000. You might have no choice then but to buy multiple CS:GO weapon cases and keys for about $30 apiece. Tough call, I know.
See the Case Hardened Blue Gem in action
2. The Empress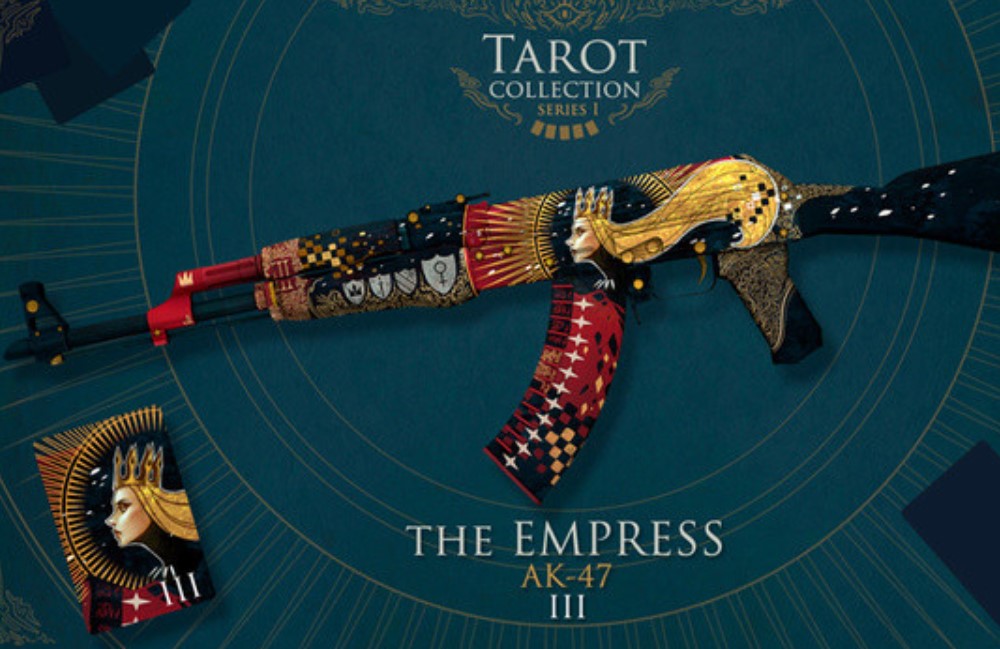 Opportunity comes in many forms.

Using a dark red, starry blue, and gold color, The Empress (tarot card) represents wealth, opportunity, and harmony. A lady with golden hair and a crown appears in the middle. On the very end, you can see what appears to be the night sky, as she is omnipresent. Overall, the night background matches very well with the image of a golden crown, symbolizing her power and authority over mankind.
The only AK skin that features a tarot card
The stock uses a night sky theme
The body features golden colors
How to find the Empress
​On the steam market, it ranges from ~$28 (battle scarred) to ~$39 (field-tested) to ~$111 (factory new). You can try a spectrum 2 case and key for about $2.55 as well. 
See the Empress in action
1. The Legion of Anubis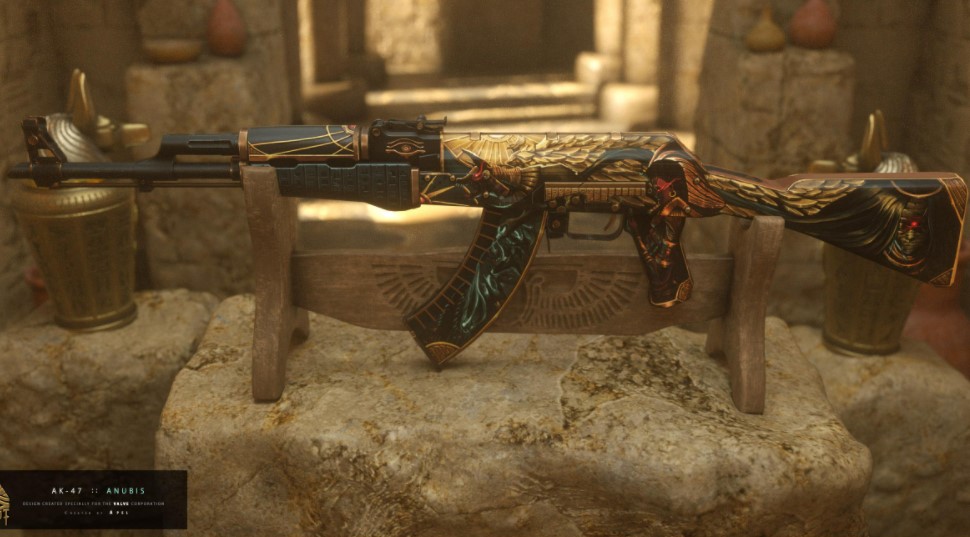 The power of life and death is in your hands.

Always a tough choice, but the Legion of Anubis ranks as #1, or at least close to it. By using golden light and dark green colors along with eye-catching symbols, the Anubis illustrates the power of two Egyptian gods: Ra and Anubis. Rather than opposing each other, they represent the balance between life and death; one that creates life while the other resides over the dead. Other decals include a red-eye mummy, a golden Egyptian eye, hieroglyphs, and a pharaoh. Anubis then reminds us of what the Egyptians believed thousands of years ago, and yet, its presence is still felt to this day.
Cool Egyptian symbols and hieroglyphs
Life and death theme
Features ancient gods and powers
How to find the Legion of Anubis
It's not the most expensive skin, but it's not too inexpensive either, ranging from ~$20 (battle-scarred) to ~$82 (new). If you prefer a field-tested version it's about $40 whereas the minimal wear skin is about $55. Alternatively, you might find it in a fracture case skin with a key for ~$3.
See the Legion of Anubis in action
You may also be interested in:
Image Gallery