Top 10 CS:GO AK47 Skins (Best CSGO AK-47 Skins)
Updated: 15 Oct 2019 9:59 am
Top 10 AK-47 Skins That Rock
Show Them Who's Boss With The Best CSGO AK-47 Skins That Rock! 
Ever heard the phrase "Skins equal skills"? Well if that were the case, having these skins would without a doubt leave you fifty bombing every game, you'd make s1mple and kennyS look like they forgot their safeties on, so without wasting anymore time, let's take a look at some of the best AK47 skins in CS:GO.
10. Elite Build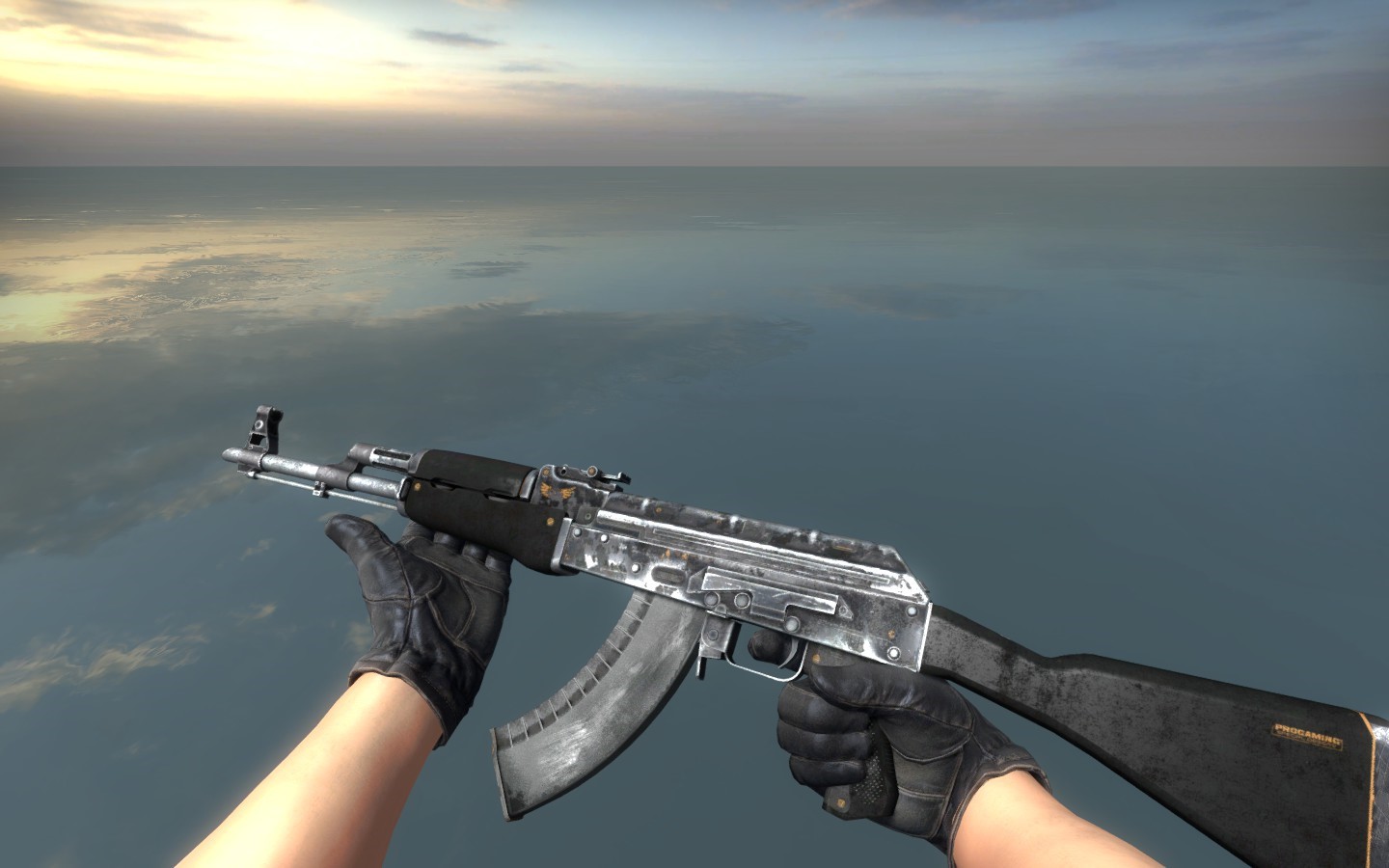 Most AK47 skins are notorious for costing quite the pretty penny right off the bat, this skin however, is not one of those. While one of the more common skins, the elite build is still beautifully designed and the black, grey and orange outlining and details mesh together quite well, you are sure to feel like one of the elite players after picking up this skin.
As I said previously, the elite build is easy on the eyes and your wallet, with the price of a Battle Scarred Elite Build sitting at a low $1.7, unless of course you are rolling in cash, in which case you may be more interested in the factory new StatTrak alternative, which comes in at $21.5, seeing as I'm broke, I'd stick with the former.
Skins = skills average kills per game: 32
See the AK-47 Elite Build in Action
9. Safety Net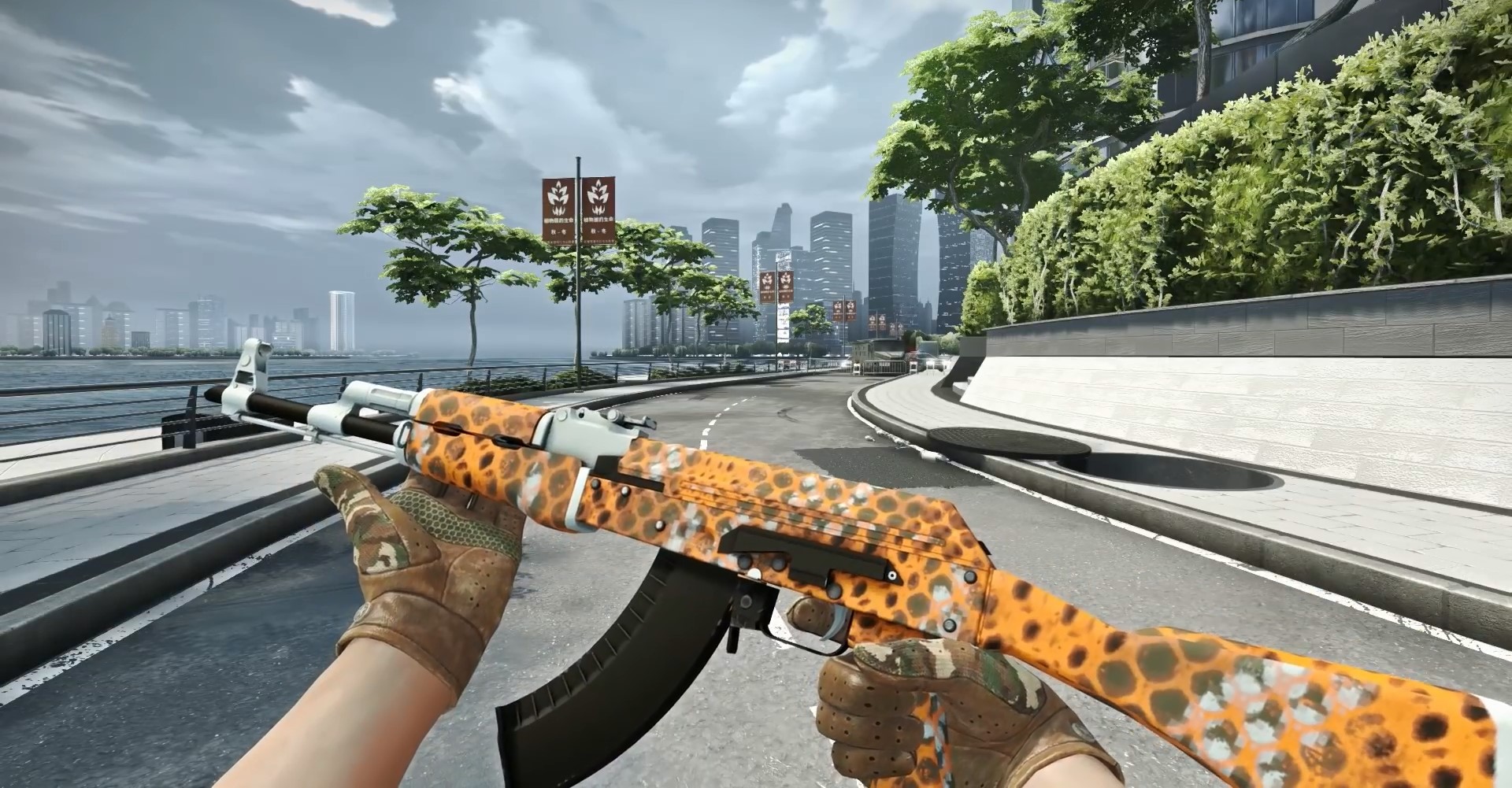 Now, I believe it is a crime that this skin is so rarely used or heard of, because it is a gorgeous skin. The monotony of the black and white, combined with the overlay pattern of orange weaving is like a delectable meal for your eyes that search hungrily for something beautiful. The black magazine, while simple, is a perfect fit for the weapons complex mix of colours and patterns and adds to its appeal.
When you start to add aesthetic value, the price tends to rise however and although this skin is often overlooked and not often used, it still takes a piece out of your wallet, but I believe it is well worth it for this underappreciated skin. If you  would prefer not to sell a kidney for a skin, then the battle scarred edition should do you justice, coming it at $13.21, but if you've already lost one kidney and don't mind selling another, you can go for the Factory New StatTrak version, sitting at $251.03. I think my Safari Mesh will do for me, and yes I can hear you mocking me from in front your screen for my barely $1 skin!
Skins = skills average kills per game: 37
See the AK-47 Safety Net in Action
8. Orbit Mk01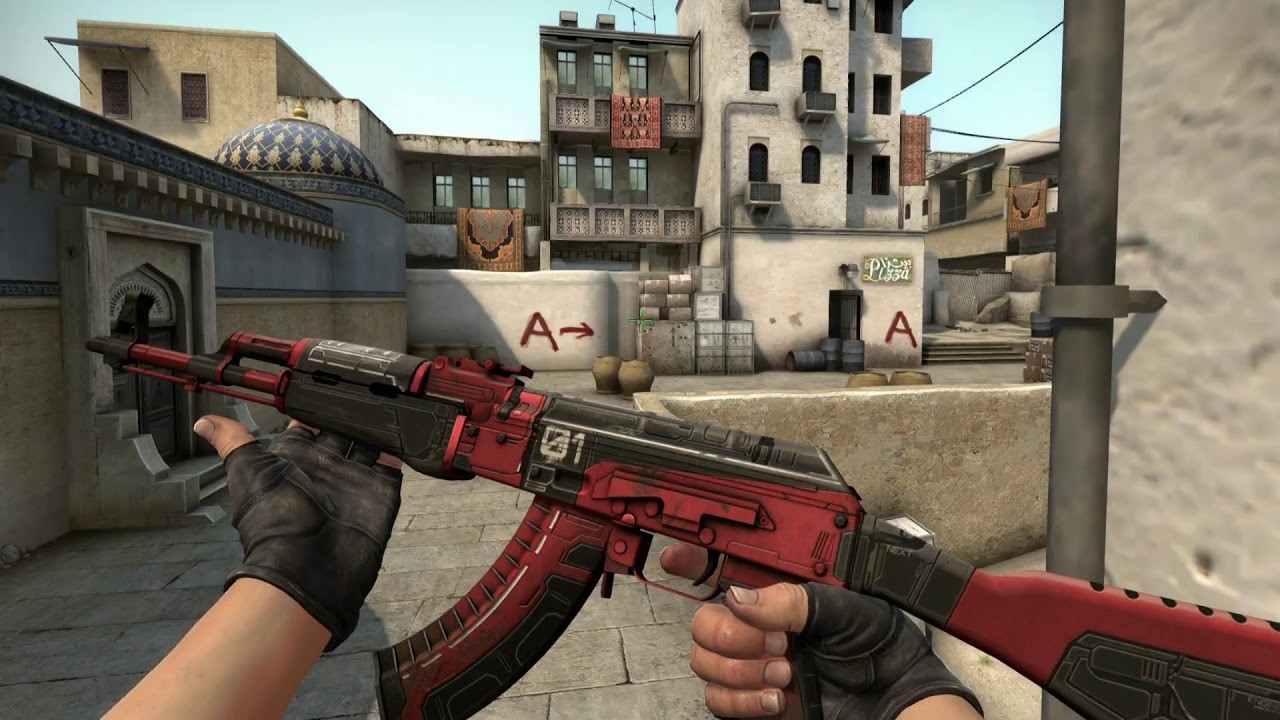 Ah yes, a classic, the Orbit Mk01's semi-futuristic industrial design may sound like a strange combination, but I can assure you that the combination of dark grey and rust red, alongside the almost robotic decals make for a truly worth while purchase, especially considering the fact that you won't really be breaking the bank to afford it.
$8.1. That's all it will cost you to get your hands on the Battle Scarred edition of this beautiful skin. However as always, we have those who wouldn't mind putting in the extra coin for a better version, that's where the $40.78 Factory New StatTrak alternative makes it's appearance, although that is a bit more of a bank breaking amount, I love this skin and would definitely put in the extra penny if I could afford to.
Skins = skills average kills per game: 42
See the AK-47 Orbit Mk01 in Action
7. Frontside Misty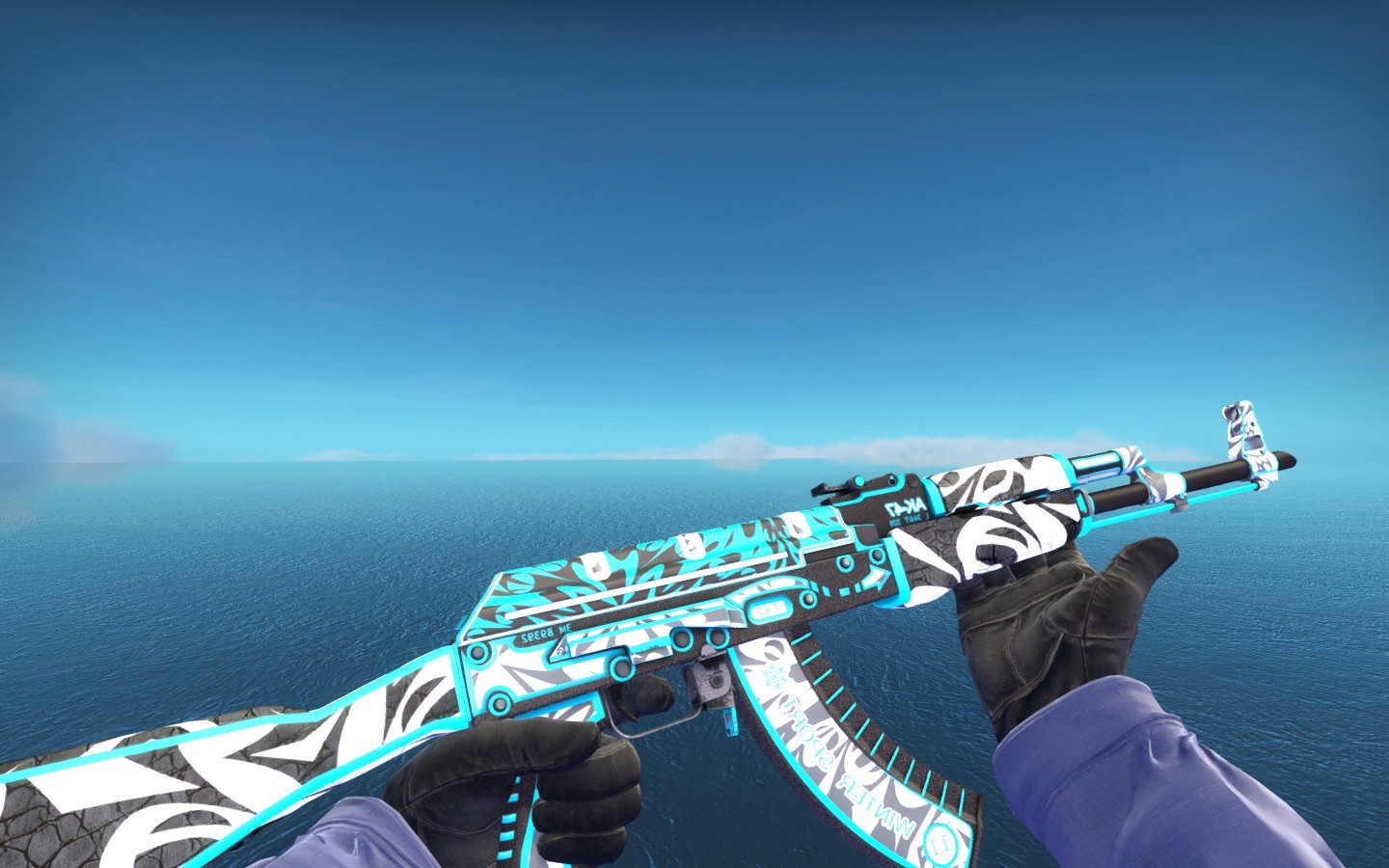 Imagine walking through the mountains, you feel the rocks poking at your feet, the occasionally grass blade gently brushing past your leg as you make your way across the magnificent mountain range. A breeze caresses your face and flaps through your shirt as a perfect balance of wind and sun cool and heat you. That is the feeling I get when I pick up this skin. There isn't really much you can say about it, the somewhat chaotic centre is beautifully balance by the calmness and serenity of the outer decals, it really is an amazing skin.
Too be honest, I was quite surprised when I took a lot at the price of this one, the Battle Scarred checks out at a low $9.98, while the $102.08 Factory New StatTrak version makes you wonder how people can even afford it without losing a few organs to the black market.
Skins = skills average kills per game: 45
See the AK-47 Frontside Misty in Action
6. Redline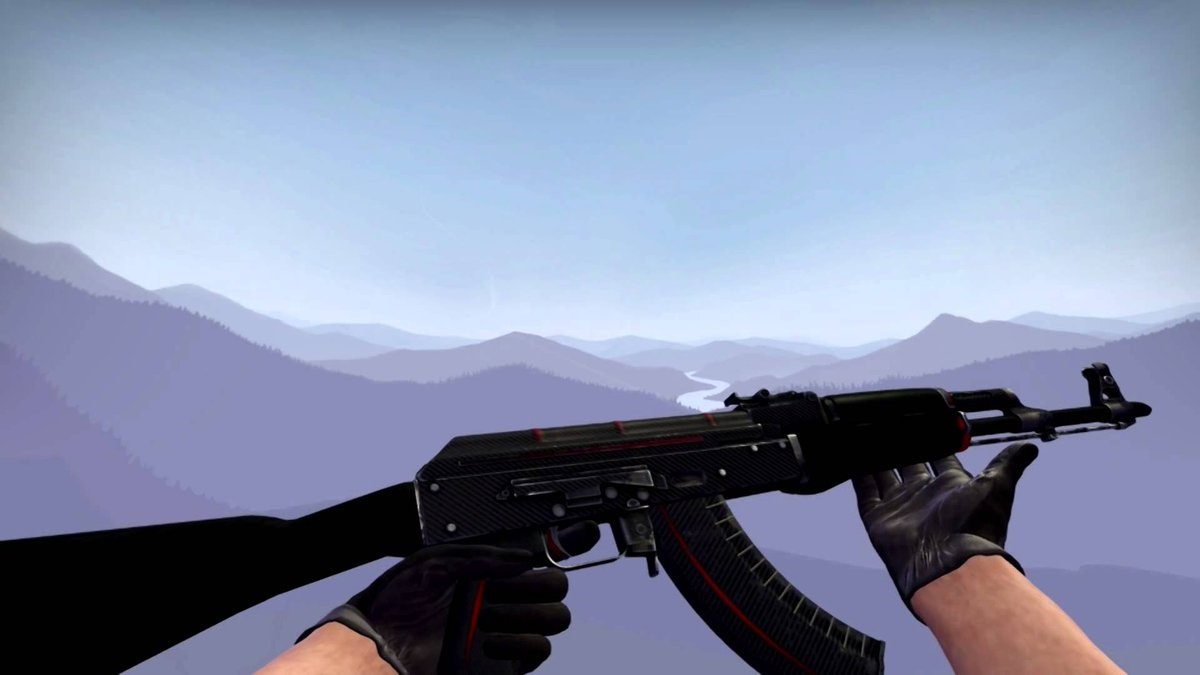 Ah the classic Redline, everyone knows about this skin, if you don't I am not really sure how you even know what a skin is, because when it comes to the ak47, everyone has heard of it at some point or another. The Redline is simple, a dark black skin with bright red decal outlines along certain grooves and indents. The skin is well known and relatively cheap for it's aesthetic quality, it is definitely a great skin, that is well known in the community.
The AK47 Redline is actually quite easy on your wallet, all it will take you is $6.65 and a Battle Scarred edition is yours, while the Factory New edition of both the normal and StatTrak versions do not exist, there is still the Minimal Wear version for you to throw your parents hard earned money at, because face it, if you are spending $123.59 on a skin when you could just spend $6, you aren't using your own money.
Skins = skills average kills per game: 47
See the AK-47 Redline in Action
5. Wasteland Rebel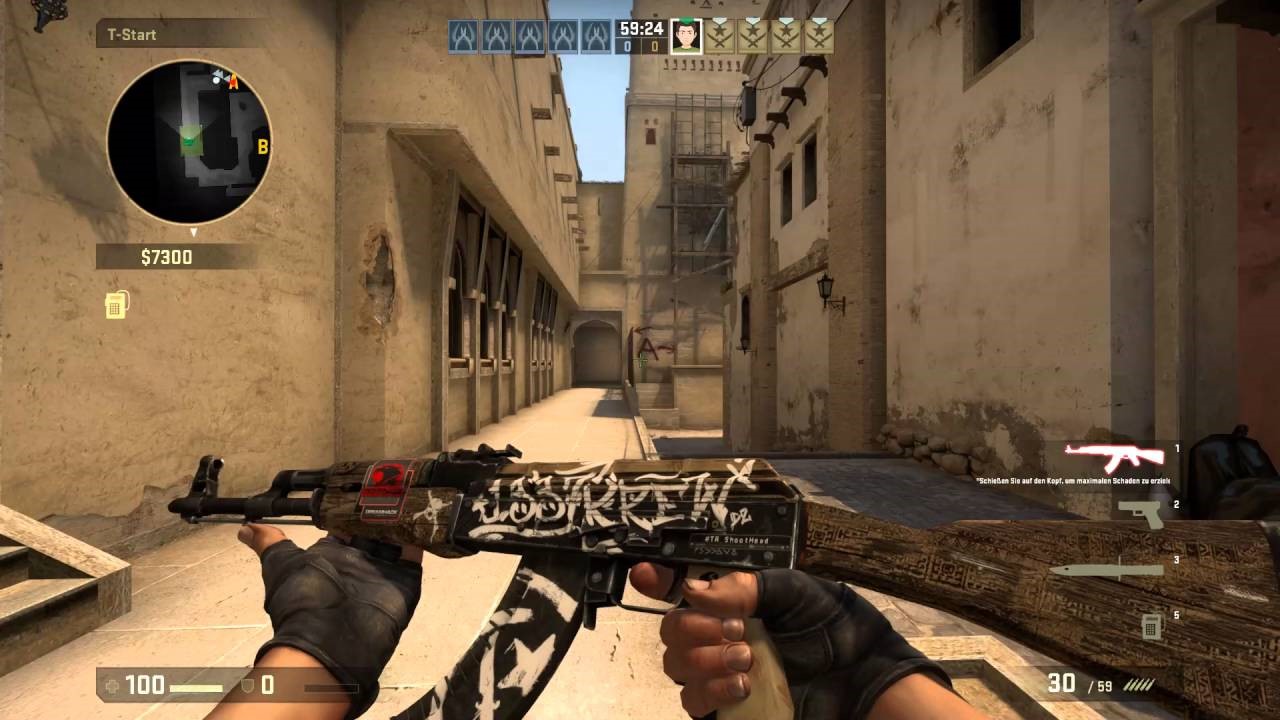 Now this here, is a personal favourite. The almost dirty-messy style of the Wasteland Rebel only attributes to the beauty of the weapons intended design, combined with the war paint type graffiti, holding on to this weapon is sure to make you feel like a rebel fighting for the freedom of his people and destroying all those who appose you.
The wasteland rebel is a really nice skin with a pretty average price tag in the world of AK47 skins. If you have $16.87 just lying around you can pick up the Battle Scarred version, or if you have $102 dollars stashed in your mattress you can get yourself a Minimal Wear StatTrak version. I have neither of these so I'll just take my non StatTrak safari mesh and go cry somewhere.
Skins = skills average kills per game: 50 (Damn it feels good to be a gangster)
See the AK-47 Wasteland Rebel in Action
4. Fuel Injector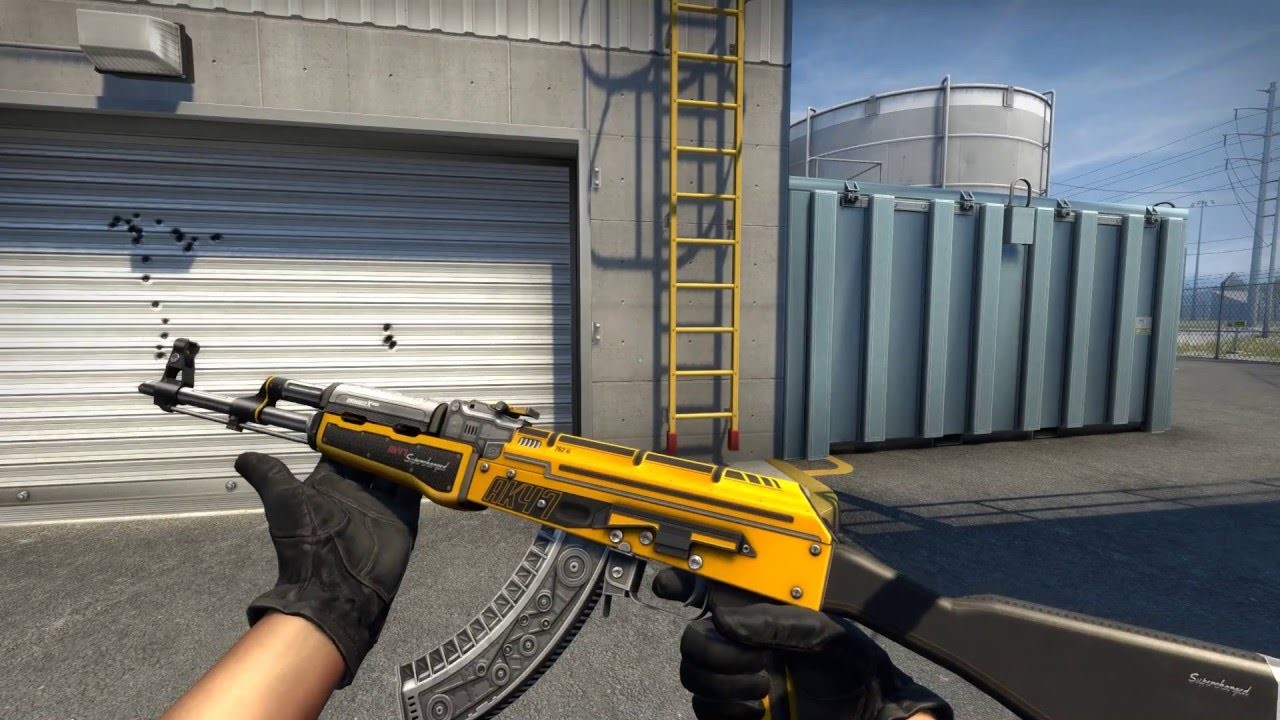 Remember the song black and yellow? Well, this is that song, but as a gun. I really like this skin, as you hold the gun, you will feel thousands of nozzles injecting skills into you at the point of contact, sending hot boiling confidence surging through your veins and god like aim and reflexes tearing through your muscles. The black and yellow combination of this skin look amazing (obviously), but it is the small details like the gears and chains along the magazine that really give it this spot on the list.
Ok, if you are looking at this list thinking, "I am looking for a great skin, but I don't want to pay too much, then you might want to look away for now and just tell yourself you can afford it, because the price is a little scary. To get a hold of this skin, Battle Scarred, not even Field Tested, just Battle Scarred, already takes a nibble at your wallet at $26.94, while the Factory New StatTrak just rips apart your whole wallet in front you, eats the pieces and laughs at you while doing it, with a price tag of $481.64. That is literally the price of my computer (well, second hand anyway). Yes, I can still hear you mocking me.
Skins = skills average kills per game: 54
See the AK-47 Fuel Injector in Action
3. Neon Rider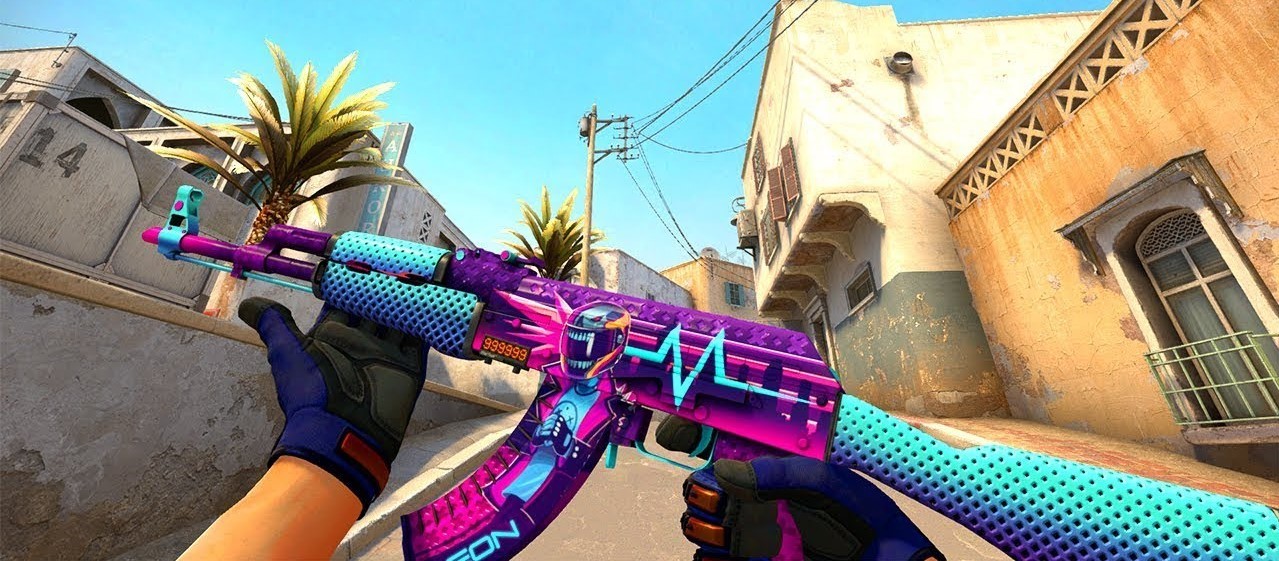 Do you like luminous, neon and bright colours? Good, because then you can get yourself the Neon Rider, this skin looks really good, it is amazing how the people who made this skin could mix the bright purples, blues and pinks so well together to make such a magnificent skin, I especially love that they included an actual rider along the magazine and base of the gun, with a grey helmet on. The details of the skin are jaw dropping and you are sure to notice something new every time you take another look.
Alright, the Neon Rider doesn't have quite as big a price tag as the Fuel Injector, but it sits pretty close to it, with a price of $25.49 for a Battle Scarred edition, the Factory New StatTrak still may not cost as much as that of our previous entry in the list, it still pretty much punches your wallet in the face at $428.45. If you can afford that, then you are that guy with all the expensive skins that I always wish I could slap in real life.
Skins = skills average kills per game: 58
See the AK-47 Neon Rider in Action
2. Vulcan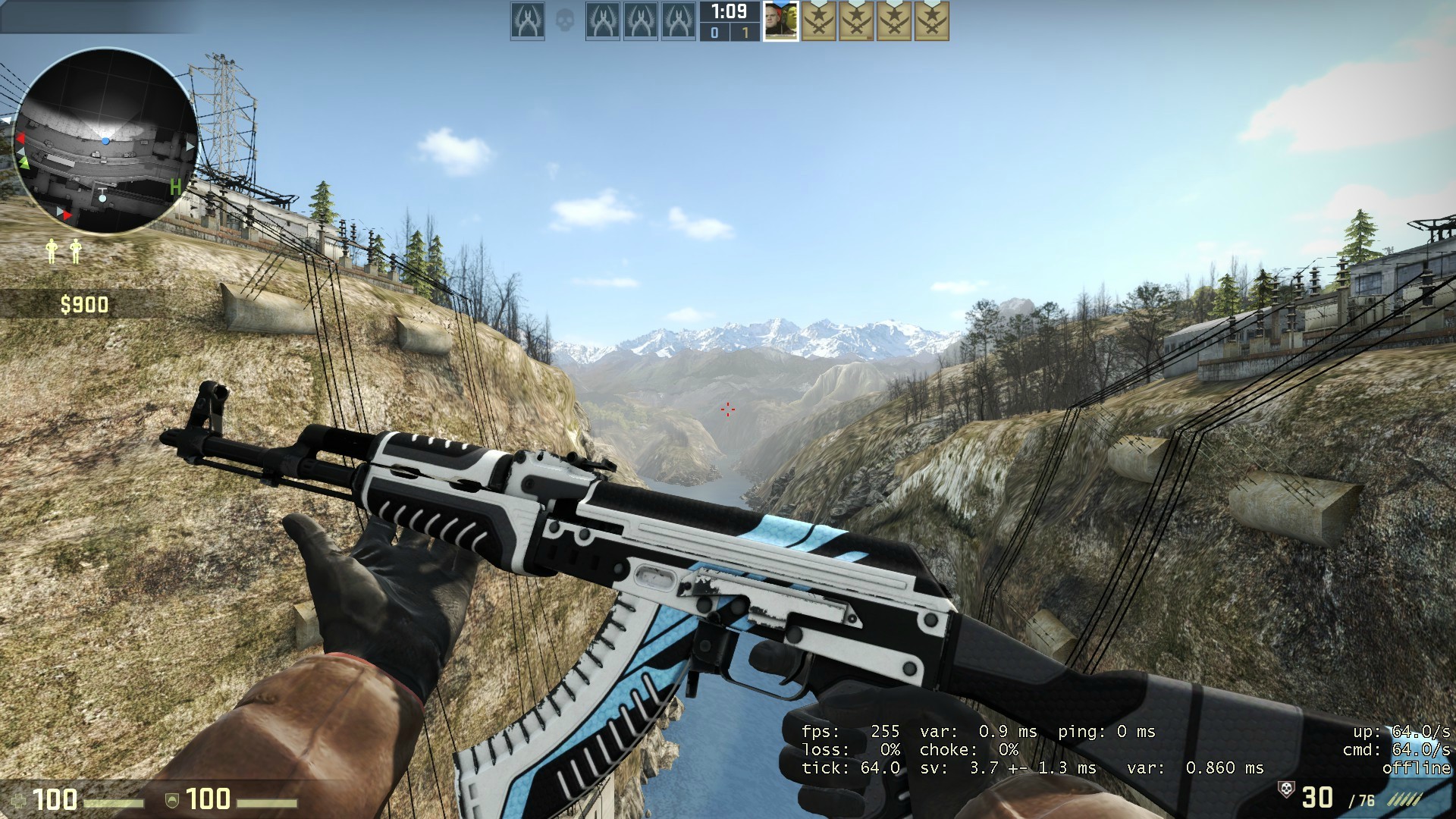 I don't know what it is about the Vulcan, but I can guarantee that while you hold it, you will feel like a god wielding a mighty cannon that obliterates any foes that dare to oppose your unquestionable power. This skin just looks incredible, the white, black and light blue mesh very well together, this along with the details make this skin without a doubt look a futuristic weapon built to lay siege to the opposition through a ferocious onslaught of hot lead.
The Vulcan, in my eyes, is actually fairly cheap for its' incredible looks, costing you only $17.37, or just like with all the other items on this list, you can just throw money at the market and get a Factory New StatTrak for $342.81.
Skins = skills average kills per game: 62
See the AK-47 Vulcan in Action
1. The Empress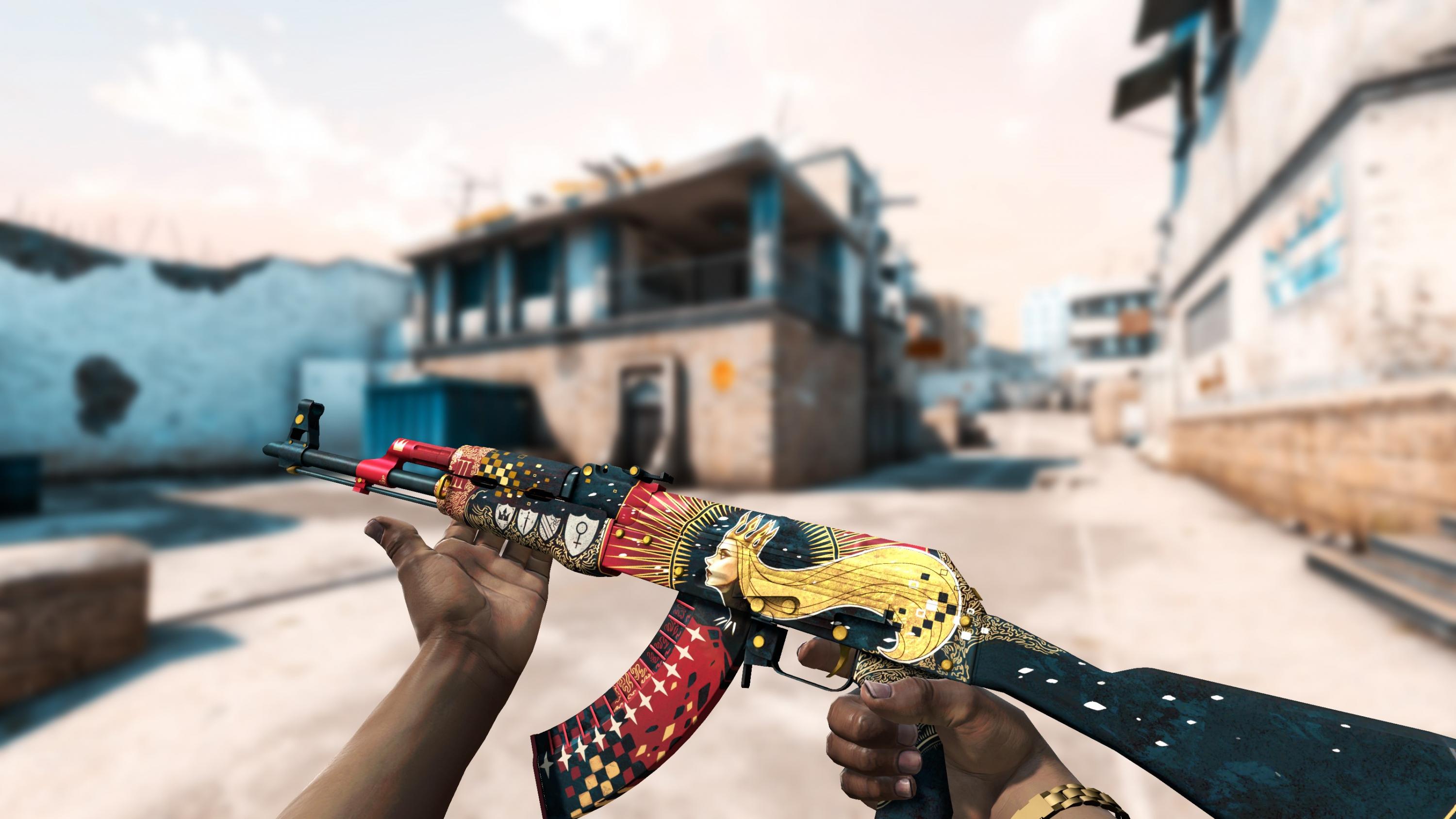 This skin is beautiful. From the dark blue-green butt stock to the gorgeous bright hair that runs the length of the body, all the way to mix of bright red, yellow and white along the magazine, this skin is truly deserving of its name. When you hold The Empress, you will feel like a god, the celestial energies of all the gods of CounterStrike will flow through you giving you the power to obliterate your feeble opponents, you will headshot ever opponent, kill 4 enemies every round and headshot the AWPer straight through mid doors without ever even seeing him or knowing he was there. You will be the lord of CounterStrike, provided you sit upon a throne of solid gold, with a pillow to soften the seat made from cash.
This skin is not cheap, no two ways about it, The Empress Battle Scarred alone is a mad $40, with the Factory New StatTrak checking out at $432.11, so not the most expensive top price in the way of the Factory New StatTrak, but without a doubt the base Battle Scarred is a force to be reckoned with alongside the other non StatTrak versions of the AK skin.
Skins = skills average kills per game: 64 (Quick Note: In order to get this many kills in a game where you win 16-0, you would have to get 4 kills every single round without fail, don't worry though, you have The Empress, you have already won)
See the AK-47 The Empress in Action
You may also be interested in:
Image Gallery