[Top 10] Animal Crossing: New Horizons Best Items To Sell!
Updated: 18 Aug 2021 8:11 pm
Sick of buying turnips? We all are!
Out of the couple of thousand items available on Animal Crossing: New Horizons, there are at least 600+ of those that you can craft by obtaining DIY recipes. All of them can be sold at Nook's Cranny, but only 10 of them have a really high selling price. Taking out some of the rarest of them (hybrid flowers and the gold series of furniture), here are the top 10 best items to sell during your island adventure!
10. Tall garden rock - 9,000 Bells
Screenshot from Reddit: u/strwbby_
A tall garden rock is a great item to decorate the exterior of a house, garden, or forest-themed island due to its look of one tall and a small rock combined; it cannot be customized. Its DIY recipe is mainly given by a female villager with a snooty personality and its selling price is 9000 bells. It can be made with 60x stone, one of the most common materials to get in when gathering resources.
9. Shell fountain - 9,450 bells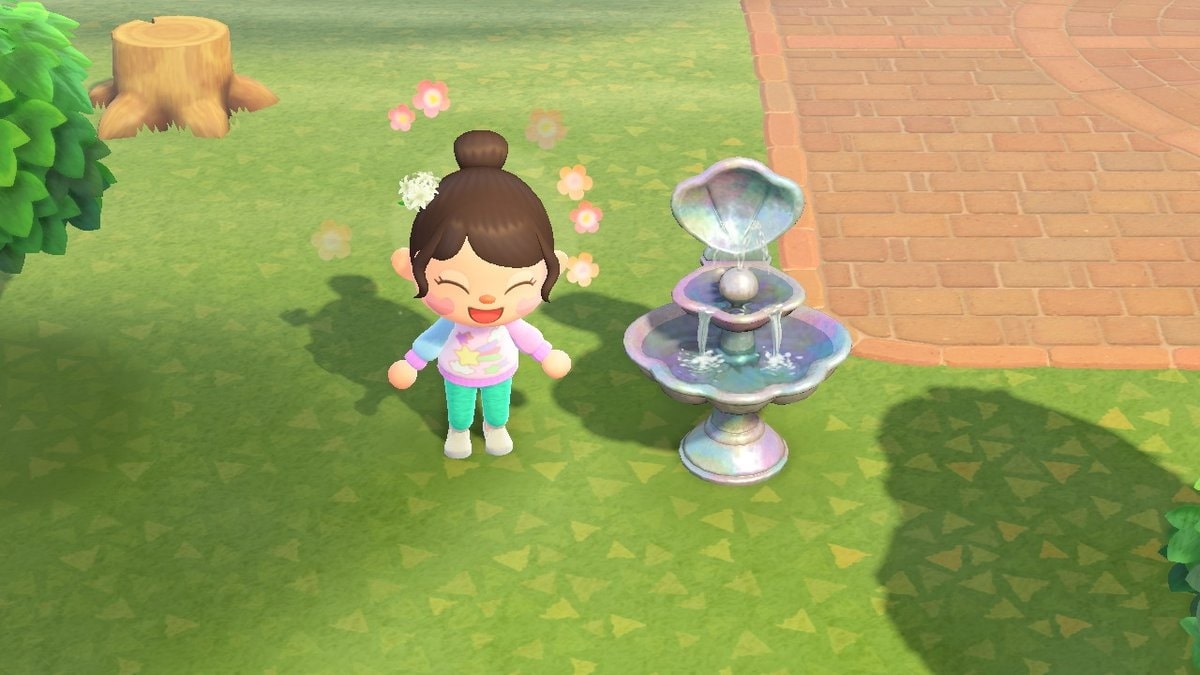 Screenshot from Twitter: @pocketbby1
A shell fountain is a craftable houseware which DIY, if not found in a message bottle, it's given by a neighbor with a lazy personality; this can be Bones, Zucker, Sherb… Its selling price is 9,450 bells and if not sold, it can be customized to six different colors and be used as decoration on a beach-themed, island or any villager with an exotic designed exterior house. 
8.  Ironwood cupboard - 9,780 bells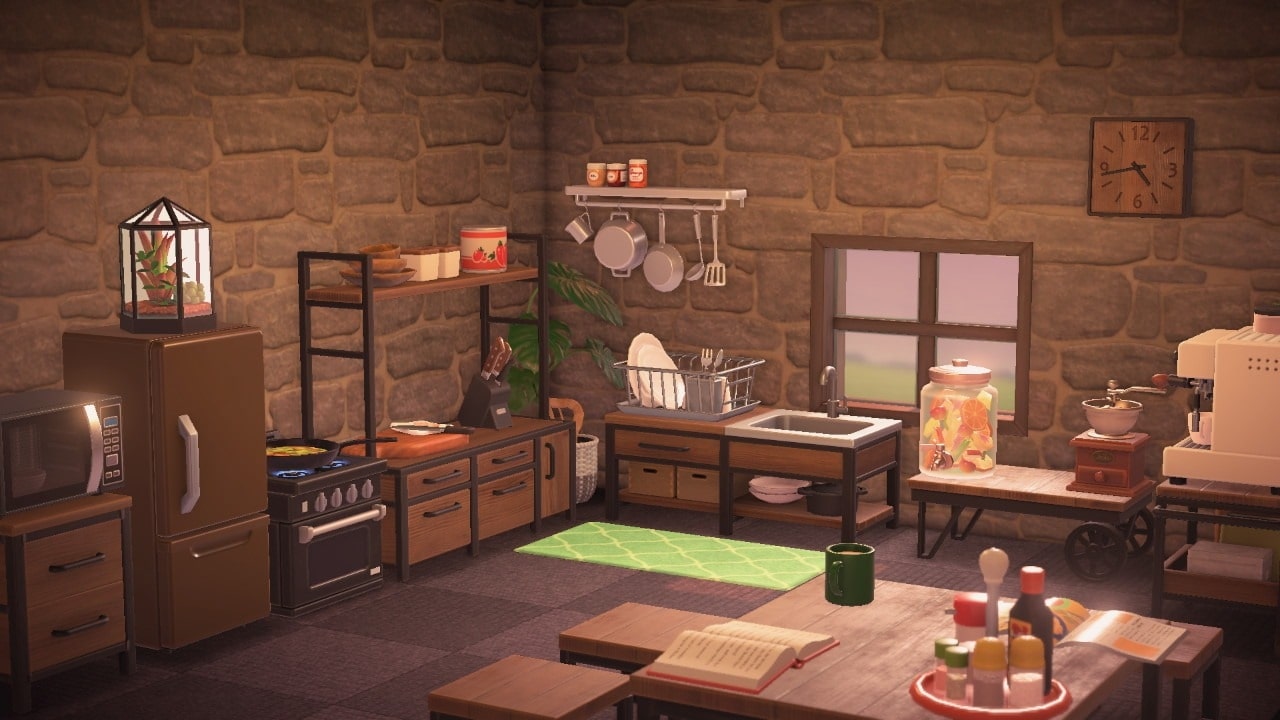 Screenshot from Reddit: u/TPR9
The ironwood cupboard is one of those essential pieces of furniture to make a perfectly complete and decorated kitchen. It can be crafted with 12x wood, 6x iron nugget and 1x ironwood dresser; its DIY recipe can be found at the house of a villager with a snooty personality and can be sold at Nook's Cranny for 9,780 bells. It doesn't have as many variations as spot #9, but it looks great when placed correctly in your house.
7. Ironwood bed - 9,900 bells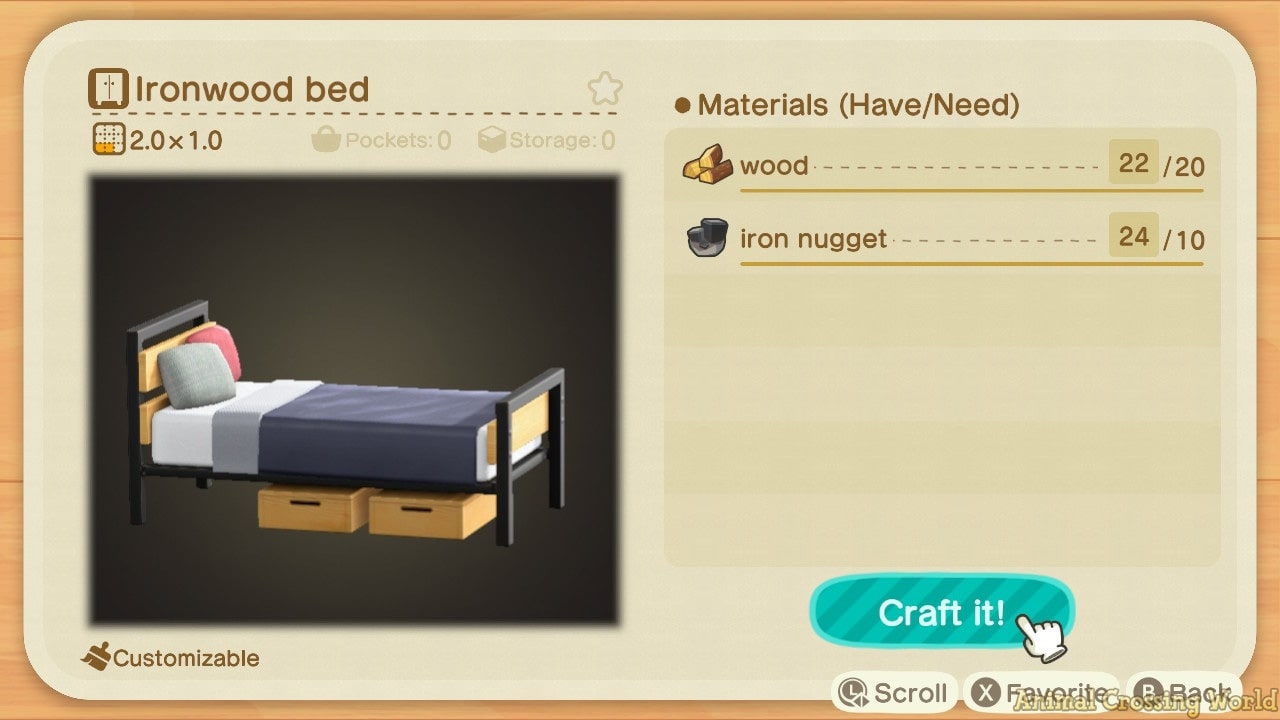 Part of the ironwood set of furniture, the ironwood bed is a customizable item that can be made with just 20 pieces of wood and 10 iron nuggets. It has a great selling price of 9,900 bells with Timmy and Tommy and you can get the recipe from a smug villager like Marshal or Raymond. The ironwood set is highly recommendable when you're thinking of designing a modern-looking interior or an exterior restaurant on your island.
6. Shell bed - 10,200 bells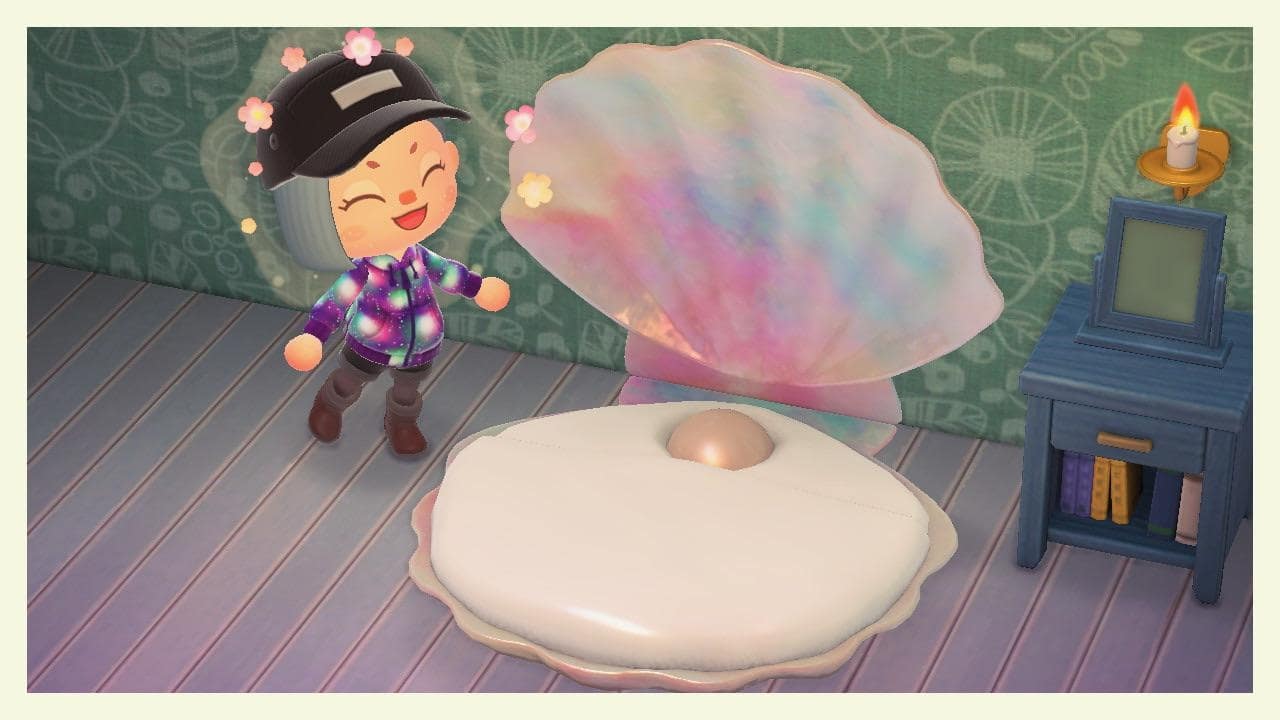 Screenshot from Reddit: u/TheGoodFailure
Here's when we reach the line where selling prices are above the not at all bad 10,000 bell selling price. This DIY recipe can be obtained from villagers with a peppy personality such as Cookie, Ketchup, and Piper; or it can be found on a message bottle. It doesn't just look great on an elegant themed island or outside the house of a neighbor with a snooty personality; it also can be sold to the tanooki brothers for the great price of 10,200 bells.
5. Iron shelf - 10,500 bells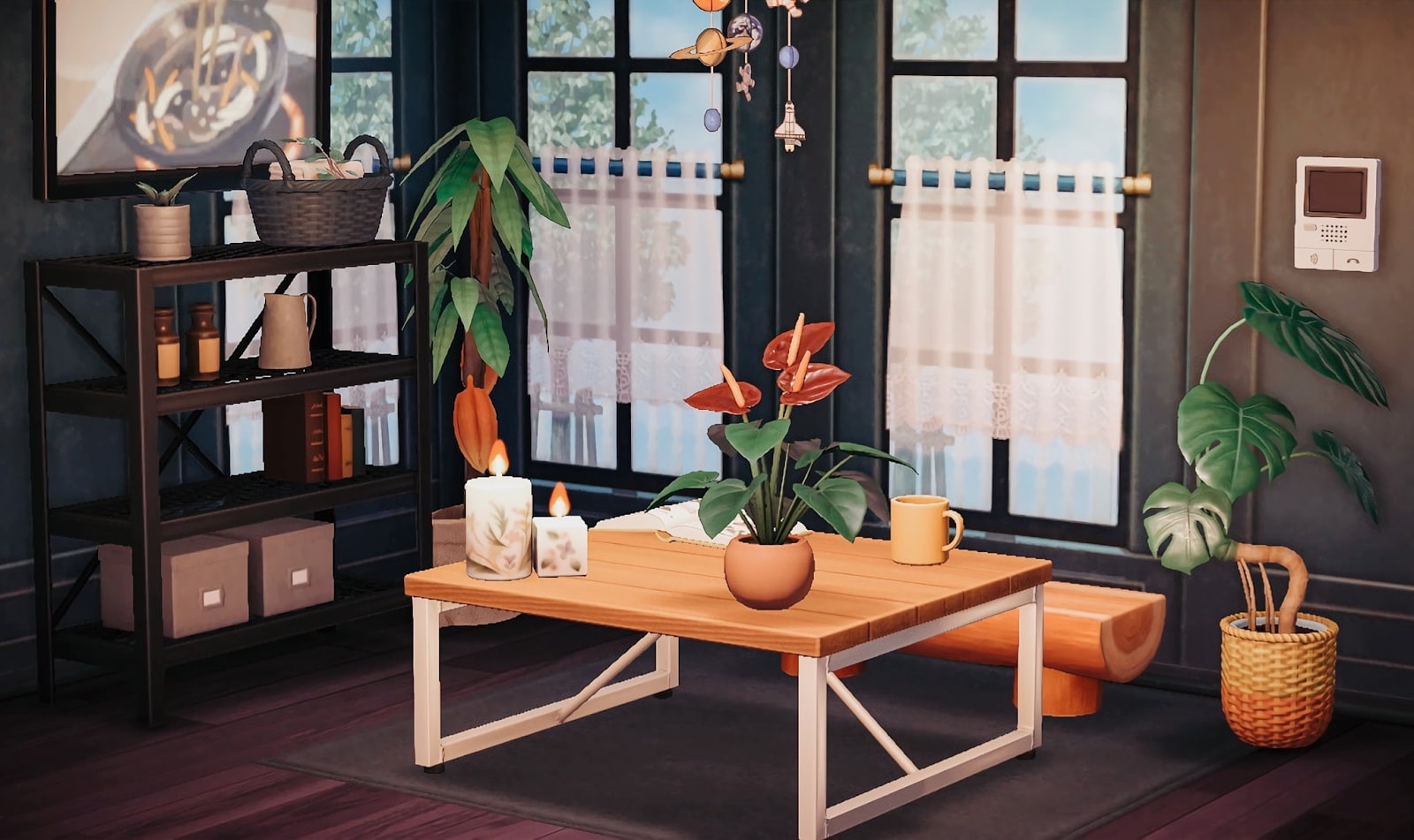 Screenshot from Twitter: @nookimchi
As you might've already guessed, the ironwood set of furniture crafting is a very great way to get easy bells. You can get this DIY recipe from villagers with a sisterly personality; Cherry, Muffy,,and Pashmina are perfect examples of them. A single piece of Iron Shelf can be sold at Nook's Cranny for the price of 10,500 bells.
4. Shell arch - 12,360 bells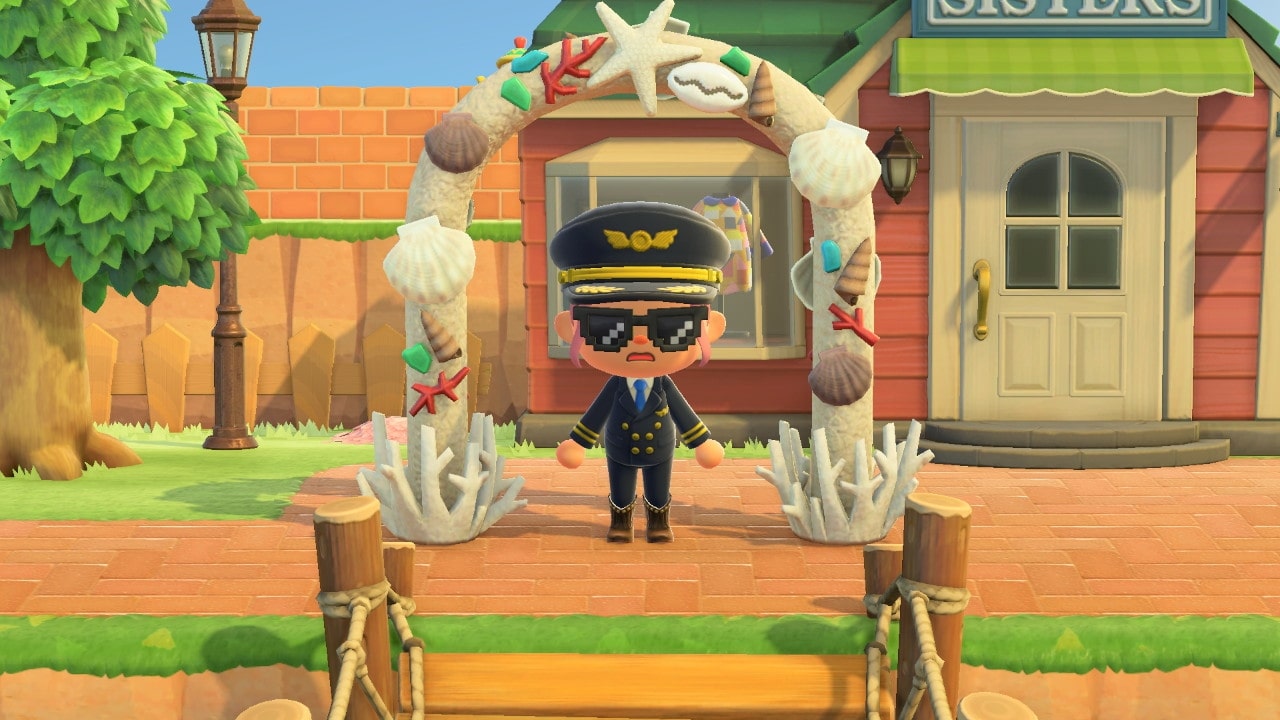 Screenshot from Reddit: u/thunderbirbthor
The highest selling item from the fancy Shell Furniture Set; its DIY cannot only be obtained from message bottles but from villagers like Stitches, Rex and Simon who have lazy personalities. It might be quite difficult to craft since you need to collect 3x sea snail, 3x venus comb, 3x sand collar, 3x coral, 3x giant clam and 3x cowrie; but it can be sold for 12,360 bells and it looks gorgeous as an entrance to the beach.
3. Iron frame - 15,000 bells
Screenshot from Reddit: u/dcaseyjones
It takes only 20x iron nuggets to craft this exotic-looking item that sells to Timmy and Tommy for the amazing price of 15,000 bells. There is a chance that villagers like Bam, Dom, and Goose will give you this DIY recipe when you find them at their house building something. It can be customized into 3 different variations: red, gray, and black.
2. Street piano - 26,755 bells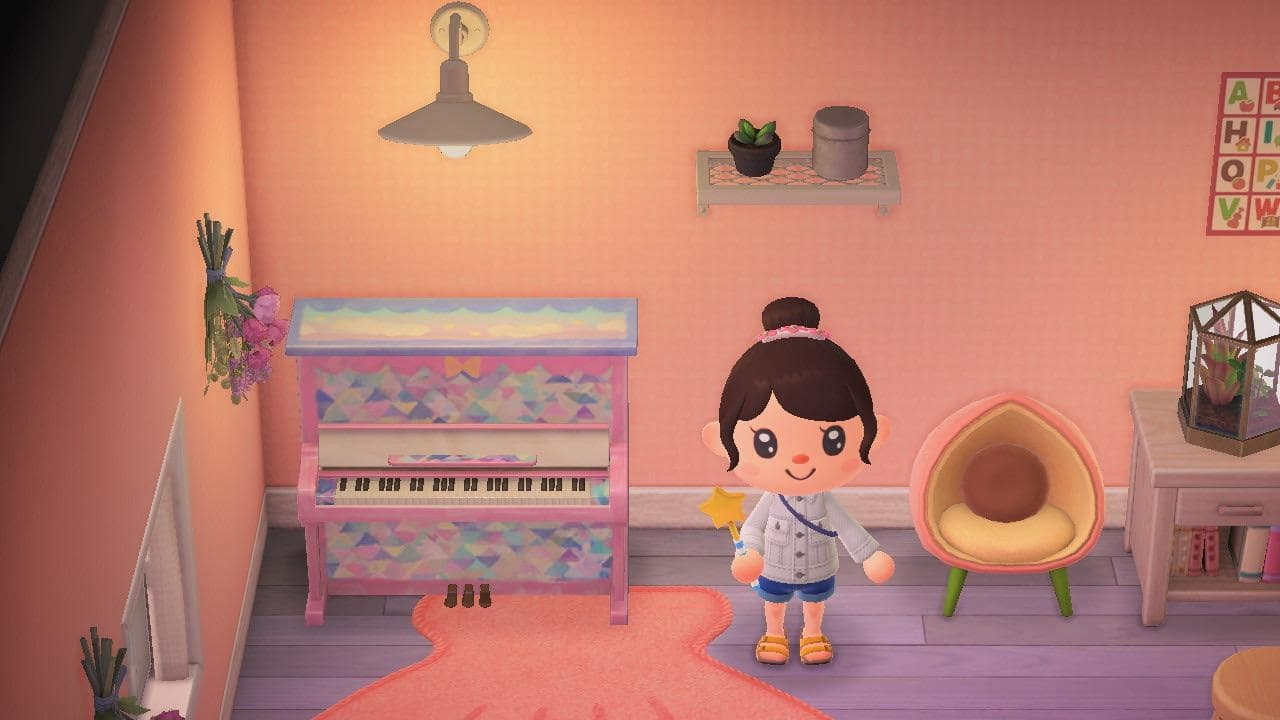 Screenshot from Reddit: u/birds_of_the_air
This exclusive great looking piece of furniture that would look awesome anywhere you place it over your island can be crafted after getting the DIY recipe from Phoebe, Katt, or Plucky, who are villagers with an uchi or sisterly personality. It only takes 1 upright piano and 1 painting set to craft it, and it sells for a price of 26,755.
1. Trophy case - 33,690 bells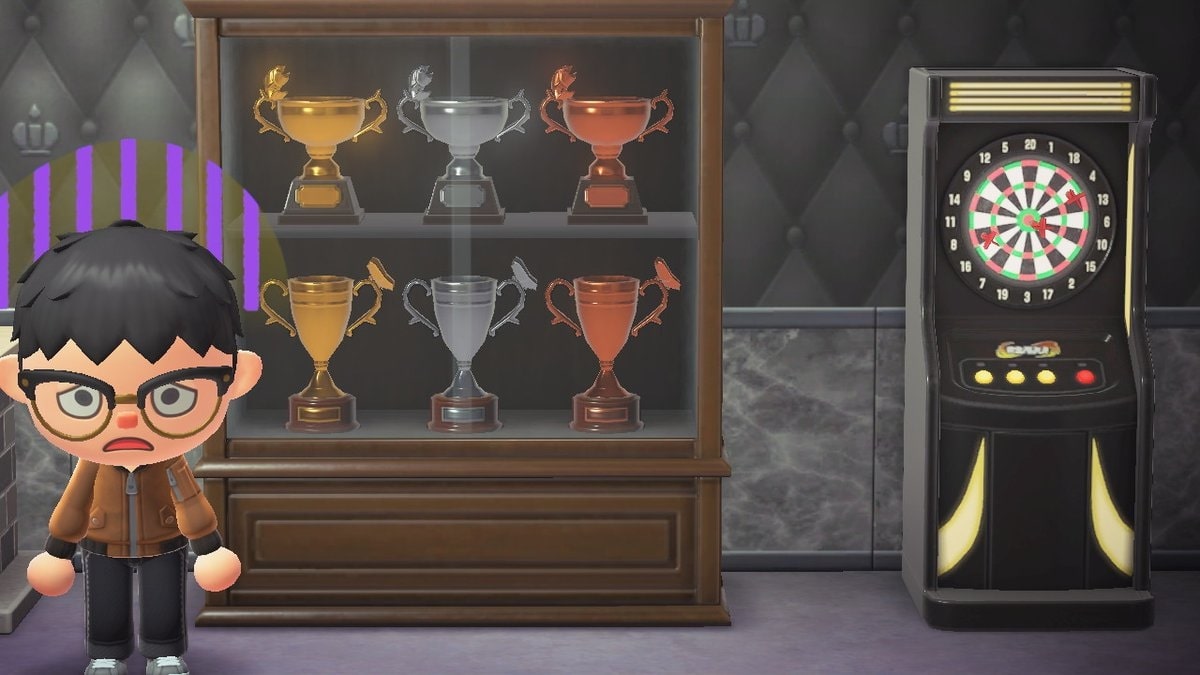 Screenshot from Twitter: @CloudShoreNews
Without taking into account items that require either hybrid flowers or a high amount of gold nuggets, this is the highest selling item on Animal Crossing: New Horizons. It gives a lot of points when the Happy Home Academy is reviewing your house and it follows an expensive/living room theme. It looks better when placed on the inside, but it would give a great look outside a jock villager's house, the same personality type that can give you its DIY recipe. It sells at Nook's Cranny for an insanely high price of 33,630 bells. It takes 24 pieces of hardwood, 6 iron nuggets and 3 gold nuggets to craft.
You may also be interested in: