League of Legends: TSM's Bjergsen is holding an AMA on August 18th
Updated: 18 Aug 2017 11:08 pm
The announcement image for the AMA/giveaway.
It's been about 8 months since Bjergsen's last AMA, so this is a good time for another.
Bjergsen and the rest of Team SoloMid have a lot of sponsorship deals with big name companies such as HyperX, but the most recent of these sponsors to join the TSM family is T-Mobile. Yes, the cellphone company has joined forces with TSM to fund their continuous improvement. In celebration of this, Team SoloMid has announced an AMA (ask me anything) on Twitter with Cloud9's Sneaky, which will take place on stream on August 18th at 8 PM PST. This will be happening on Bjergsen's stream.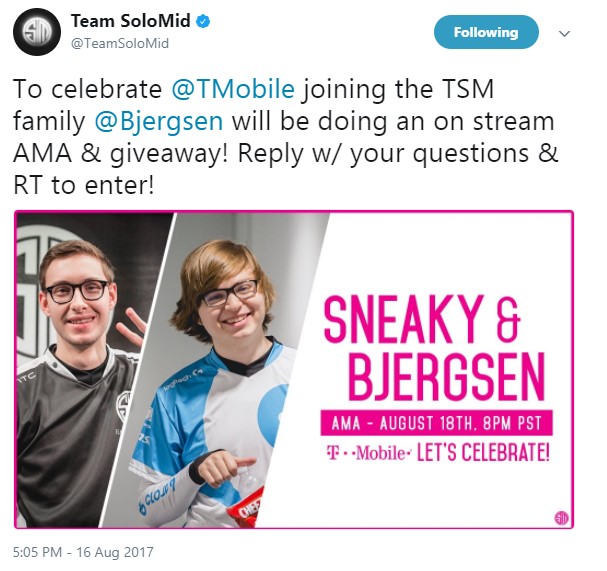 Team SoloMid's tweet about the AMA.
There was also a giveaway mentioned in the tweet, which has had no extra details revealed as of the time of writing. There is also no information about the length of the AMA or the nature of the questions that will be answered, you can however ask the questions in response to the tweet. This is also the same way to enter the giveaway, you retweet the reveal of the giveaway after replying with a question. Currently there are 670 retweets, which means a 1/670 chance to win. That's definitely better than nothing. This is going on concurrently with an ongoing giveaway for HyperX Fury DDR4 RAM, which I discussed in this article. The giveaways work in different ways, so the article is worth a read if you're interested in winning a computer upgrade. Otherwise, make sure to enter the giveaway if you care enough, and check out the AMA if you're open when that happens.