Call of Duty: World War 2 Poised To Be Best Selling Game of 2017
Updated: 23 Jun 2017 8:52 am
The World War 2 setting has given fans a huge sigh of relief.
A Quick Look At The History of Call of Duty
The first Call of Duty installment was released by Activision 14 years ago, back in 2003. The game transported players into the battlefields of World War II and won over 80 game of the year awards. The franchise has come a long way since then, with a new installment released each year and has accumulated a total of over 100 million players over the course of its lifetime (a number bigger than the population of Germany, France, and the UK).
The upcoming CoD World War 2 will be the 16th installment in the series.
The series is well known for its live action TV commercials that feature Hollywood celebrities like Jonah Hill, Chris Pratt and Megan Fox.
Call of Duty: Modern Warfare 3 TV ad - Chris Pratt & Jonah Hill
Why CoD World War 2 Will Be Top Sales in 2017
In the last three years, Activision has released three COD installments:
Advanced Warfare (2014, 21 million copies sold)
Black Ops 3 (2015, 25 million copies sold)
Infinite Warfare (2016, estimated 12 million copies sold)
All have one thing in common. They were the best selling games for their respective years. Each COD title in the last 3 years outsold every other video game released in the same year. Collectively as a franchise, the game has generated over $10 Billion dollars in revenue since 2003.
In the last few years, the series has gravitated toward a futuristic combat style, as seen in Advanced and Infinite Warfare. This shift has caused a vocal backlash from the fanbase and is evident on the Infinite Warfare Reveal Trailer where the youtube video received 3.5 million dislikes. It's a clear sign from fans that they prefer a more present-day, realistic style of combat rather than "Star Wars" or "Titanfall 2"-like shooters (although you have to admit Titanfall 2 looks pretty darn cool).
Luckily, Activision responded positively to fan feedback and have taken the right steps by developing CoD World War II. The reveal trailer was released on YouTube on 26 April and has so far received 17 million views.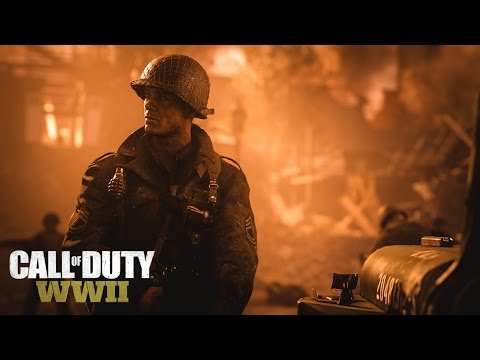 Official Call of Duty®: WWII Reveal Trailer
Things are looking good for Activision and the majority of fans have responded positively to the trailer. We are seeing a strong wave of excitement from fans of the series as they wait for the game to be released. If things continue on this way, Activision should claim its top spot once again in 2017 for best selling game of the year.
Release Date
Call of Duty World War II is scheduled for release on November 3, 2017. It seems Activision has strategically picked its release date to take advantage of the holiday season and Christmas gifting. This is also the time of year where consumers spend the most money. The game will be available on the PC, PS4 and Xbox one. Activision has priced the game at $99.99 dollars and those who decide to preorder will have access to the beta.
You may also be interested in:
Is Activision About to Bring Call of Duty to The Big Screen?
50 Images That Show Us The Evolution of Call Of Duty
5 Reasons Why Call of Duty Infinite Warfare Got Over 2 Million Dislikes on YouTube