[Top 15] Stardew Valley Best Farm Layouts
Updated: 05 May 2020 4:20 am
Farming is essential and these layouts will ensure your farm is at it's max potential.
In a game that revolves around currency and efficiency, establishing a farm layout that maximizes product and profit is important. Since its release date in 2016 members of the Stardew Valley community have created some impressive farms. We're going to count down the best farm layouts to help you set up your farm for success.
Disclaimer: Depending on a players personal playstyle, layout placement may vary. All layouts featured are great in their own ways! Additionally, all layouts featured in this list are for the standard farm layout, not specialty farm layouts. 
15. Spacious Farm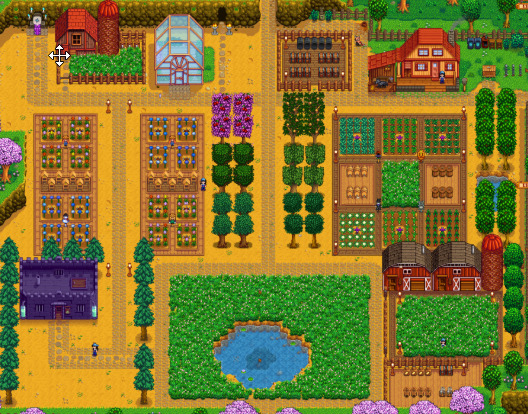 For players who don't want an overly claustrophobic farm, this spacious farm layout is both efficient and spread out.
What Makes this Layout Great: 
This layout gives the player a nearly complete setup with plenty of room to spare. 
Allows for more buildings to be placed in the future if the player wishes to expand their farm. 
14. Orchard Farm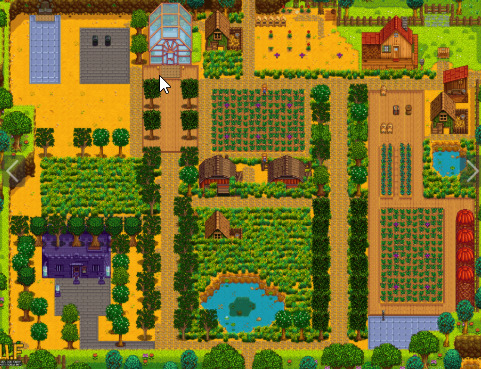 This farm layout allows for long lines of fruit trees and plenty of area for the other essential categories of player's farms. For the players who like to process wine and juice, this one's for you! 
What Makes this Layout Great: 
Maximizing the long lines of the farm, this layout puts a larger focus on fruit trees. With more trees, players can maximize their wine and juice production and earn themselves a hefty profit. 
For those looking to follow a layout and have room for your own projects, this layout leaves the far left corner nearly empty for all of your creative necessities. 
13. Animal Farm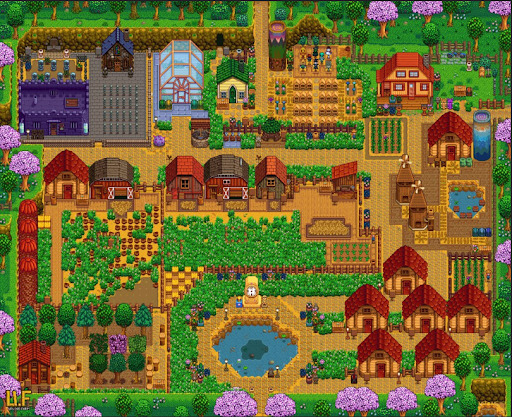 Both coops and barns offer players a unique experience that members of the community either hate or love. Nonetheless, caring for animals is a lot of work and for those willing to do that work, this is the layout for you! 
What Makes this Layout Great: 
This layout not only allows farm animals to roam but allows the player to have a plethora of animals. 
Paired with the proper care needed for quality starred animal products, this farm layout can produce players with a sizable amount of money. 
12. Junimo Farm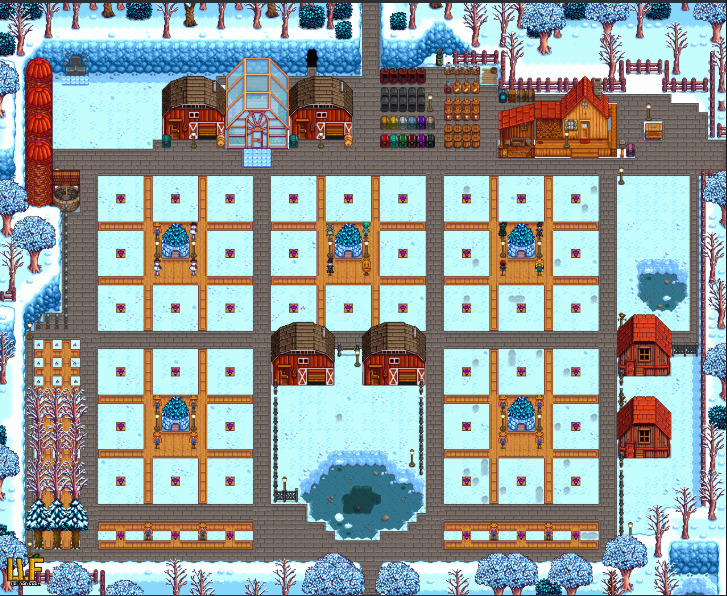 This particular farm layout has a large focus on automatic farming. This setup allows for players to largely gain their money through crops. 
What Makes this Layout Great: 
Junimo Huts are evenly spread across the farm, causing automatic collection of crops. Iridium sprinklers in each quadrant automatically water the surrounding crops.
This layout has a farming focus but doesn't discredit the other properties of every farm. 
11. Bee Farm
While this farm is aesthetically pleasing, it also serves a larger purpose that most casual players of Stardew Valley may not take into consideration. The true value of the Bee House. 
What Makes this Layout Great: 
The plethora of bee houses in the center of the farm surrounded by flowers allows players to collect Flower Honey, which sells for more than flowerless honey. 
Every inch of available space in the player farm is covered in this layout, decreasing the re-growth at the start of each season.
10. Organized Farm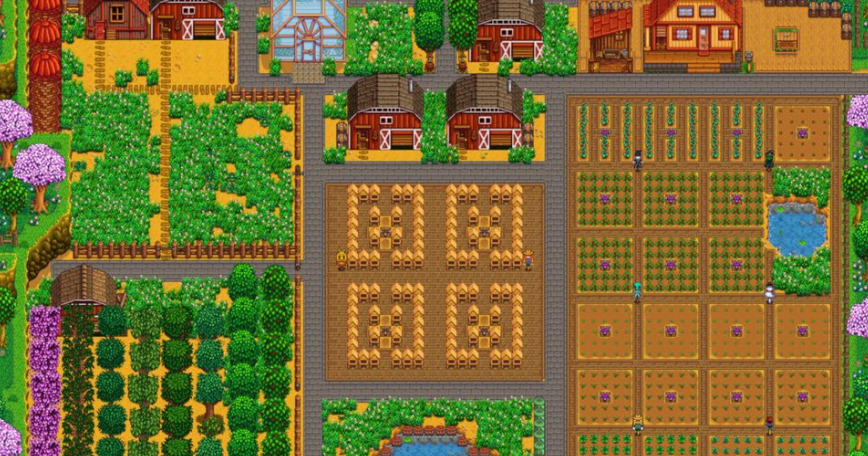 For neat freaks and players who like things symmetrical, this nice and organized farm is the layout for you. Although it is similar to many farms on this list, it is versatile and aesthetically pleasing. 
What Makes this Layout Great: 
Includes all major farm categories spread across the farm
All sections serve their own unique purpose and provide easy organization for mid to end game players.
9. Forest Farm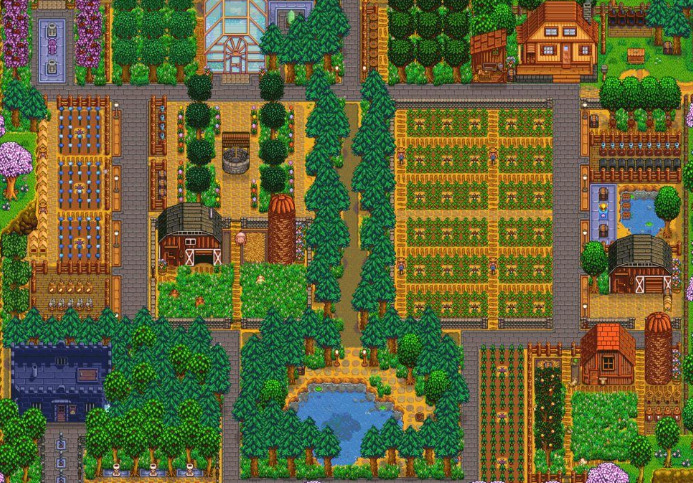 Similar to the Orchard Farm, this farm has a focus on large amounts of trees. However, this particular layout showcases the wild trees rather than an excess of fruit trees. 
What Makes this Layout Great: 
Organizing your wild trees instead of letting them grow rampant around the farm saves room for other sections.
Wild trees produce raw materials that are useful in crafting and this layout separates them by tree type helping for even more specificity. 
8. Wood Planked Farm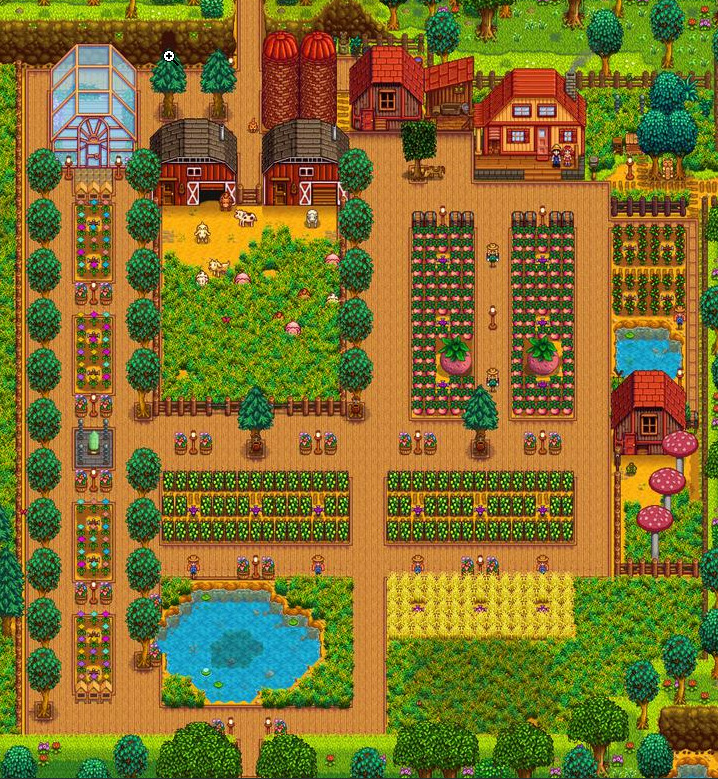 For players looking for an interesting take on the original farm, look no further than what I call the Wood Planked Farm. What this farm lacks in productivity it makes up for in uniqueness. 
What Makes this Layout Great: 
 Wood planks throughout prohibits large amounts of growth within the changing of the seasons.
For players who are looking to beautify their home towards the end game, while making a decent amount of money this is the project for you.
7. Shed Farm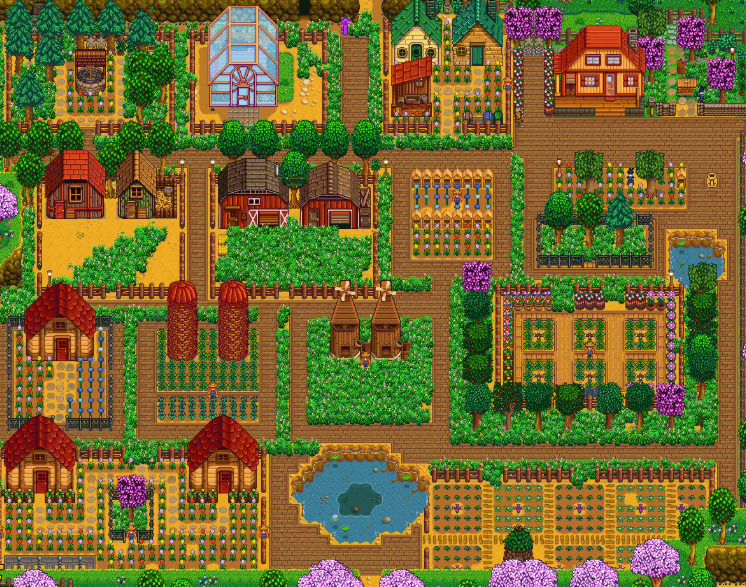 What this farm has going for it is not only nicely spread out and sectioned off areas within it but also a plethora of storage space. Players who are looking to maximize their chests, kegs, cheese makers, etc. a layout like this is perfect for you.
 What Makes this Layout Great: 
Placement of the sheds in the corner of the farm allows for all of the extra out of home storage to be centered into one area, making it easier for the player to collect in one trip.
This layout has pathways that clearly connect and allow for easy access to all sections of the farm. 
6. Realistic Farm
What I like about this layout is its attention to a true farm vibe. Although this layout doesn't incorporate any Slime Hutches or crazy Stardew exclusive buildings, this layout is quaint and efficient. 
 What Makes this Layout Great: 
This layout breaks the farm map into thirds and it works. It is organized with a purpose.
Layout focuses on real world farm design. Including large patches of grass for animals to graze, decent amounts of forest and a sizeable section of sheds and crops. 
5. Crystalarium Farm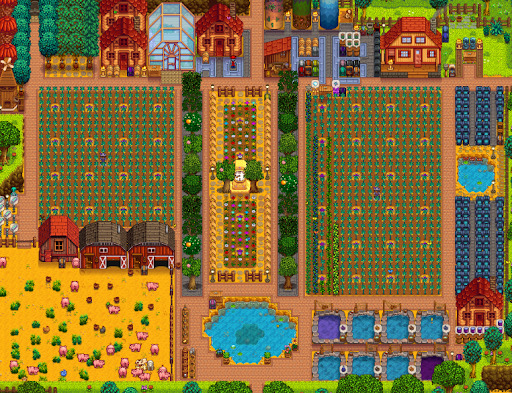 This layout sections on a significant portion of the farm to produce minerals. Unlike many of the other layouts mentioned, the creator of this layout focuses largely on the production of mining resources. 
 What Makes this Layout Great: 
Although expensive, the long line of Crystalariums will earn you big cash and is a smart investment.
Even with the large chunk of farm dedicated towards minerals, the farm still manages to incorporate sizable crop fields, animal buildings, bee houses, and fishing ponds. 
4. Stardew Brewery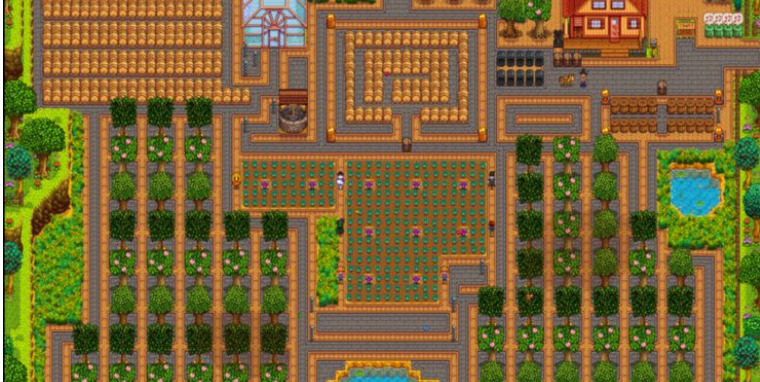 Similar to the Orchard Layout I mentioned earlier, this farm takes a focus on wine and juice production to a whole new level. With both aesthetically pleasing lines and sections and a hefty earning coming players way, it's easy to see why someone would layout their farm this way. 
 What Makes this Layout Great: 
For players who are looking to make some serious cash and don't really care for having so many different buildings to manage, this is a simpler one task layout. 
With all of those kegs, wine and juice profits will have players living in luxury. So much luxury that they could wipe this layout clean and redo it if they wished to. 
3. Hedge Heaven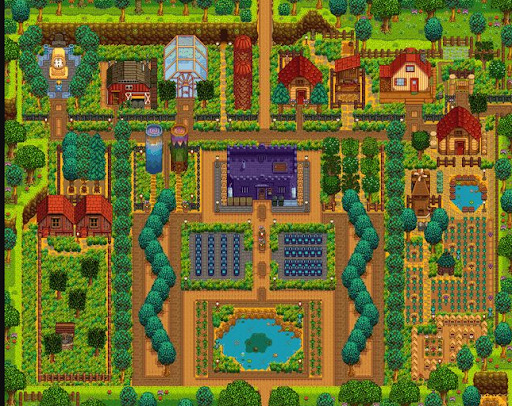 What makes this layout great is its artistic take on the player farm. Much like many of the layouts included on this list, it is sectioned off nicely but its artistry adds even more to this lively farm.
 What Makes this Layout Great: 
This farm includes many of the end game elements while incorporating an interesting take on the player farm
What this farm does differently than most is its sections are lengthy rather than wide. 
2. The Superior Spacious Farm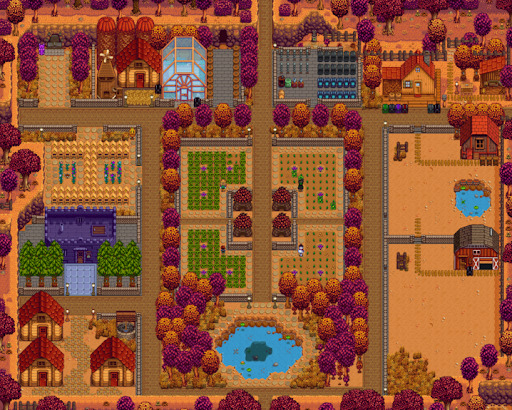 Similar to the first layout on my list, this farm includes large sections of spacious areas. What makes this farm far better is overall aesthetic and productivity. 
What Makes this Layout Great: 
Each section is bordered by fences giving a very sectioned off and organized feel.
For players who are into aesthetically pleasing farms and high productivity, this layout is perfect. It allows for maximum money making potential and soothing looks. 
1. End Game Farm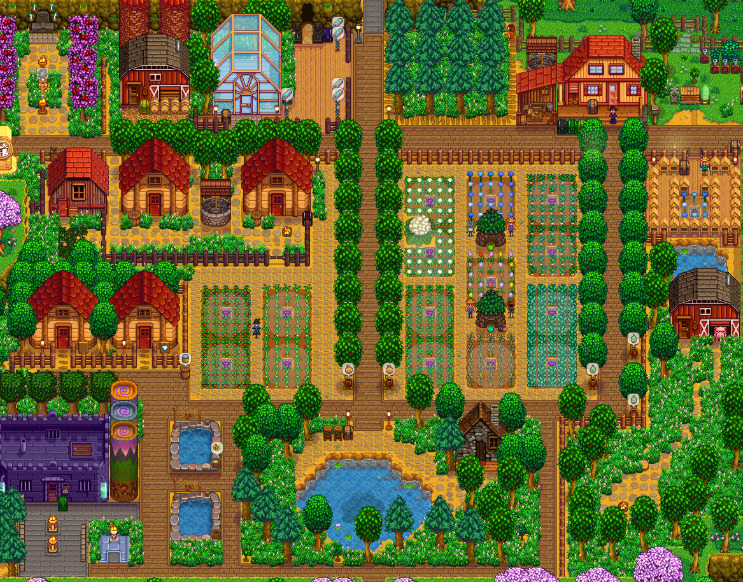 What places this layout at number one on my list is the fact that it combines a little bit of everything that I liked about the previous layouts mentioned. It contains an evenly distributed amount of every main in game activity. 
 What Makes this Layout Great: 
This layout allows for players to be productive in every facet of the game while still having a spacious and uncluttered farm. 
This layout is more of an end game layout just because of home cost. It would be to achieve something like this but, nonetheless it is a layout that is well worth the price of creation.  
That concludes my list of the best Stardew Valley Farm Layouts! I don't know about you guys but these amazing layouts have sparked my creativity. If you need me I'll be in game trying to incorporate all the fantastic sections of each of these farms. Next time you see me my farm will be number one (no bias of course).
You May Also be Interested in:
Image Gallery