[Top 3] Stardew Valley Best Crops for Each Season
Updated: 15 Mar 2021 10:49 pm
Crops, they're not just tops...
[Top 3] Stardew Valley Best Crops for Each Season
Spring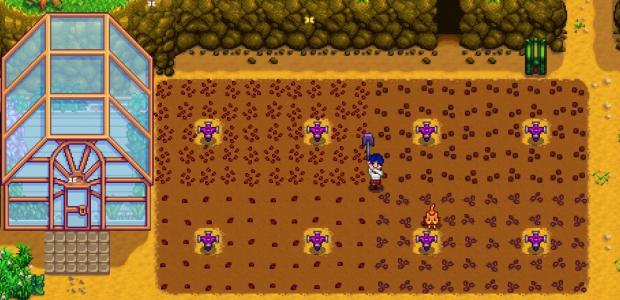 3) Parsnips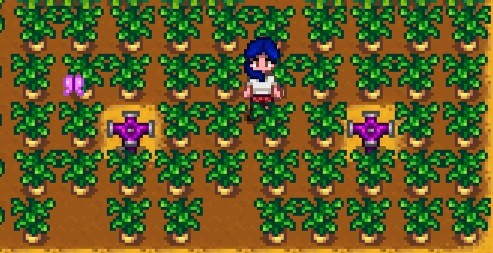 The very first crop you will get when starting the game; Upon loading into the world of Stardew Valley, you wake up in bed on the 1st of Spring. To the left of the bed, in the middle of the room, is a chest of 15 parsnip seeds to start your farming fortune.
As a seasonal favourite, Parsnips are easy to grow, cheap to buy, and bring back a decent profit when just starting. At 20 gold per seed, Parsnips can be bought every day of Spring at Pierre's (except on Wednesdays before the community center is completed).
What makes Parsnips great:
Easiest Crop to obtain
Only takes 4 days to grow
Cheap (20g)
15g profit per Parsnip
Parsnip details:
20g on purchase
Available for purchase on 1st day of Spring onward (until the end of Spring)
15g profit per harvest (at base value)
One of the quickest crops to grow (4 days)
Putting a Parsnip in the Seed Maker will give you up to 3 more seeds
2) Strawberry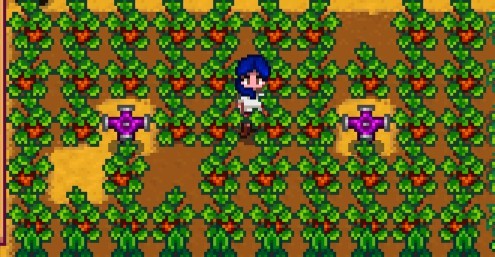 In the first year, you will only be able to get Strawberries at the Egg Festival on the 13th of Spring each year, so don't use all of your seeds in one go. Strawberries are one of the handful of crops that reproduce crops after the first initial harvest and, if planted on the day of the Egg Festival, you can get two additional harvests of Strawberries. If planted on the first day of Spring, however, you can get an additional 5 rounds of Strawberries after the first harvest.
What makes Strawberries great:
100g per seed when purchased
120g per strawberry when sold (at base value)
Keeps producing after the first harvest
Can make strawberry jam
Strawberry details:
Takes 8 days to grow (when watered every day)
Takes 4 days to reproduce crop after the first harvest
Put a strawberry in the Seed Maker to make up to 3 seeds per Strawberry
1) Rhubarb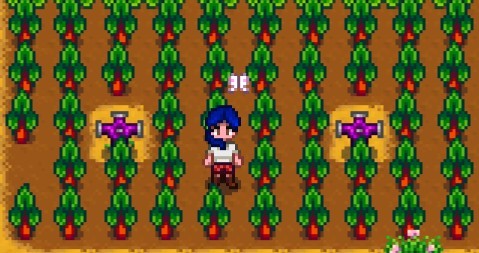 One of the crops that you don't see until after you unlock the Bus stop is Rhubarb. Rhubarb can only be purchased from the desert shop Oasis by Sandy, at 100g per seed it costs the same as Strawberries but has no purchase conditions (Can be purchased at any point).
Per harvest, you get 220g with each Rhubarb that you sell and that's at base value but you can only plant, grow and harvest Rhubarb twice in the Spring season unless you use the greenhouse.
What makes Rhubarb Great:
Each seed only costs 100g
A profit of 120g per crop
Can get 2 full harvests before the season ends
Rhubarb details:
Have to unlock the Bus Repair first
Takes 13 days to fully grow
Can only be planted in Spring
Every single crop sells for 220g (at base value)
Summer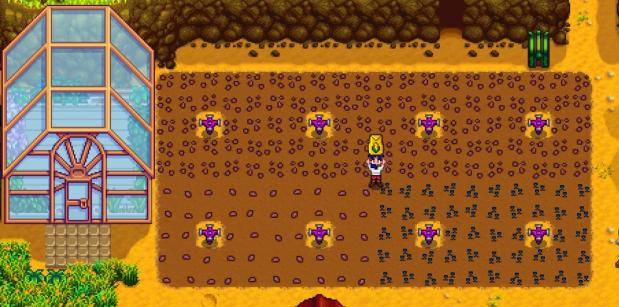 3) Corn
Corn, a crop that's worth the time it takes to grow. Corn has one of the longest growing times out of all the crops in Stardew Valley. It takes 14 days to fully mature (without fertilizers) and multiple harvests isn't always guaranteed, but if planted on the 1st of Summer, it does prove useful.
Corn is one of the few crops that grow through 2 seasons so you can plant Corn on the 1st of Summer, it will keep producing Corn until the 28th day of Fall.
What makes Corn great:
50g per Corn
Reproduces Corn every 4 days after the first harvest
Grows through 2 seasons
Can be used to make Oil with the Oil Maker
Corn details:
Costs 100g per seed
Sells for 50g per Corn (at base value)
Takes 14 day to fully mature
Keeps producing Corn every 4 days
Grows through Summer and Fall
2) Melon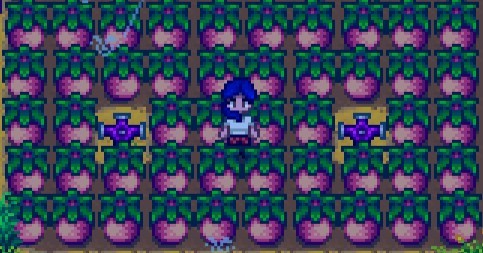 Available for purchase from the 1st of Summer at 80g, Melons are a semi-easy purchase in the 1st year and bring back fairly good profit. As one of the prettiest crops in the game, Melons are a great choice for new Farmers, just remember to save your money to buy the seeds.
They take less time to grow than Corn and sell for much more gold, but unfortunately do not reproduce crops. During the Summer season, you can plant, grow and harvest Melons a maximum of 2 times.
What makes Melons great:
Only cost 80g
Sell for 250g (at base value)
Can be used to complete the Community Centre
Melon details:
Costs 80g per seed
Sells at 250g per Melon Crop
Takes 12 days to fully mature
Available to purchase form 1st of Summer
Only grows in Summer
1) Starfruit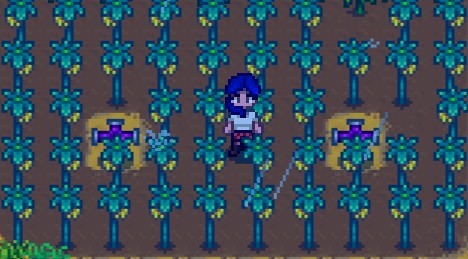 Another crop that can only be purchased from the desert shop Oasis, meaning the Bus will have to be repaired before buying them. Once able to be purchased through, Starfruit is certainly a great addition to your farmlands.
At 13 days, they take a little while to grow and only produce one crop per seed. They may also be a little expensive for a fresh-faced Farmer at 400g per seed, but would definitely be a wise purchase by year 2.
What makes Starfruit great:
Each Starfruit sells for 750g (at base value)
Can be planted, grown, and harvested a total of 2 times
Value can be increased massively by making Starfruit jelly or Starfruit wine
Starfruit details:
Purchased for 400g per seed
Sells for 750g per crop (at base value)
The bus has to be repaired before purchase
Can only be grown in Summer
Can have a maximum of 2 harvests per summer season
Fall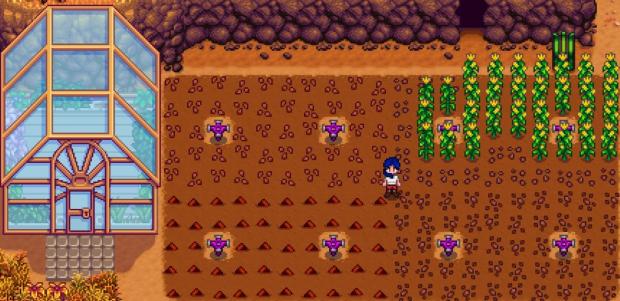 3) Artichoke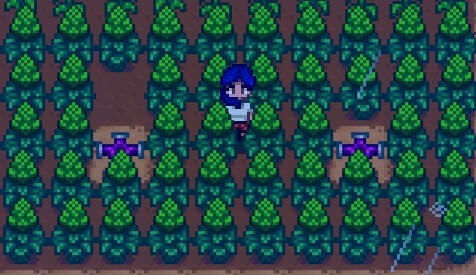 Not available until year 2, Artichoke can feel like a fresh, new option of seeds while the regular round of Fall seeds may seem slightly boring. At only 30g per seed, Artichoke is cheap and a very good investment for the farmer who is frugal with their gold.
Artichoke takes 8 days to fully mature and does not reproduce from the same crop but if planted from day 1 of Fall, you can expect to get 3 full harvests from Artichokes by the end of Fall.
What makes Artichoke great:
Cheap at 30g per seed (Available in year 2)
Sells for 160g per Artichoke (At base value)
Profit of 130g (at base value)
Artichoke details:
Can only be purchased 1st Fall year 2
30g purchase price
160g sell price when at the basic value
An ingredient in 2 different meals
Only takes 8 days to grow
2) Pumpkin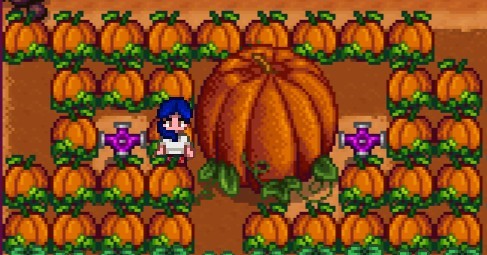 When growing Pumpkins, you can sometimes get lucky enough to wake up in the morning and find a Giant Pumpkin. A Pumpkin is one of 3 crops that can produce a giant version and a crop needs a space of 3x3 tiles to have the possibility of producing a Giant Crop.
A fall favourite, the Pumpkin can be purchased from Pierre's on the 1st of Fall for 100g but takes 13 days to fully mature and harvest.
What makes Pumpkin great:
Costs 100g per Pumpkin seed
Sells for 320g per Pumpkin (at base value)
Can be made into Pumpkin Juice with a Preservation Jar
Can get 2 full harvests per Fall season (if planted on 1st of Fall)
Pumpkin details:
The purchase price is 100g
The selling price is 320g (at base value)
Takes 13 days to fully mature and harvest
Is available from year 1
It is part of a quest
1) Sweet Gem Berry
In its seed form, it is called a Rare Seed and it takes 24 days (all season) of Fall to fully grow. It is the most expensive seed to purchase in Stardew Valley, it costs 1,000g to buy from the traveling cart. (Travelling Cart is only available on Friday and Sunday).
While expensive, once fully matured, the Sweet Gem Berry sells for 3,000g per crop so the time and gold are certainly worth it.
What makes Sweet Gem Berry great:
Sells for 3,000g per crop (at base value)
Sweet Gem Berry details:
The purchase price is 1,000g
Sell price at base value is 3,000g
Takes 24 days to fully grow
Can only be purchased from the traveling cart
May not always appear in the traveling cart every appointed day
You may also be interested in:
Image Gallery