[Top 5] RDR2 Horses And How To Get Them
Updated: 26 Feb 2021 4:47 am
He's Definitely Not Juicing Bro
What are some of the best horses in Red Dead 2 and where do you find them?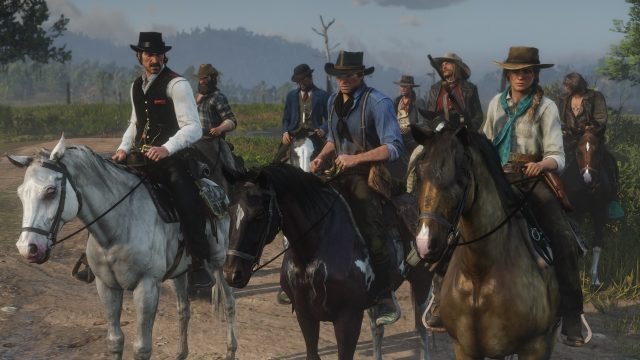 Van Der Linde Gang and their wild stallions
Red Dead Redemption 2 offers a wide range of customization in almost every aspect imaginable, yet one of the more impressive aspects is horse breeds and appearances. Although it is a story-based game with super-realistic graphics, having a trusty companion that can carry you throughout the map while also making you look like a force to be reckoned with as you progress through the story is an absolute must. Whether your goal is to ride through the swamps of Saint Denis on a unit of a horse to scare off those damned Night Folk, or the hardy bear-ridden mountains and woods of the Grizzlies to hunt some game, or viciously escape the law atop a valiant speed demon, or maybe just to make everyone in camp jealous with your rare and neck-breaking hotrod, here are the Top 5 Best Horses In RDR2 And How To Get Them.
5) Mustang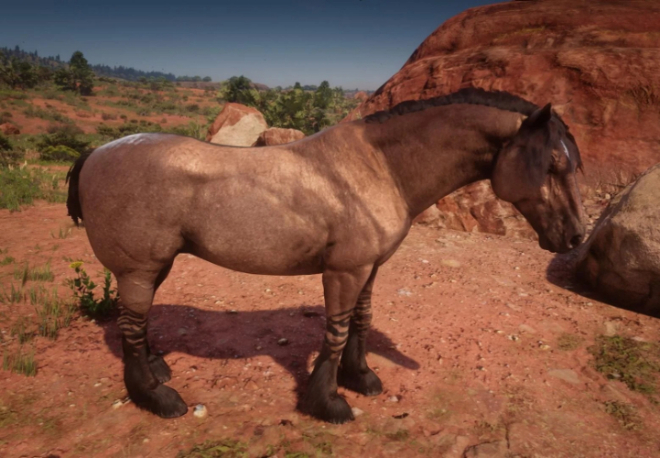 Wild Tiger-Striped Bay Mustang
It's only fitting that this list begins with one of the most dashing, testosterone-pumping, lady-killing daredevils the world of Red Dead has to offer. The Mustang will  give you a run for your money (no pun intended), and have quite a few NPCs reminding you of "what a fine-looking animal you got there." It may not be the quickest breed in the game, but this mofo is without a doubt the toughest and one of the most loyal steeds you'll come across.
They're relatively valuable, but can't be bought in any stables. The Tiger-Striped Bay coat sits at the top with a worth of $450, while the other two (Grullo Dun, Wild Bay) are at a mere $130, so I wouldn't recommend taming and flipping them unless you haven't been feeling too lucky at the poker table.
Mustangs especially excel at but are not limited to:
Being harder to break/tame than most breeds.
Loyal, disciplined, and practically fearless
Perfect for combat scenarios, due to its Multi-Class type
Decent Speed, HP, & Stamina
Stats:
Health: 5 (Tiger Striped), 4 (Grullo/Wild Bay)
Stamina: 5 (Tiger Striped), 4 (Grullo/Wild Bay)
Base Speed: 4 (Tiger Striped), 3 (Grullo/Wild Bay)
Base Acceleration: 3 (Tiger Striped/Grullo), 2 (Wild Bay)
To find the best of the bunch, here's where you can look:
Tiger-Striped Bay Mustang Location 
4) Nokota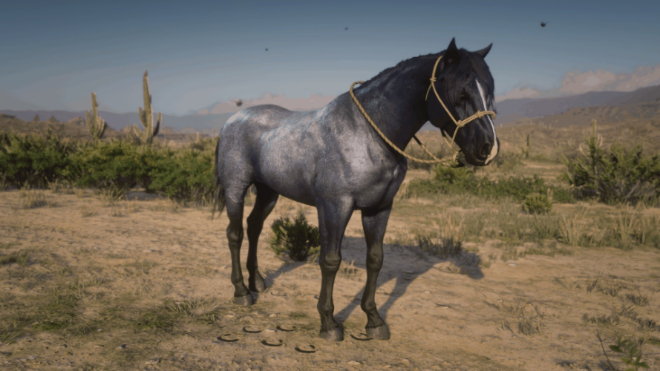 Wild Blue Roan Nokota
The Nokota is the trotting image of a drag-racing hotrod of the 1800s. Though they come in a variety of coats, each one is the perfect fit for the mysterious adrenaline-junkie cowboy/outlaw looking to kick up some dust in everyone's faces who, for whatever reason, pulls up beside you looking to test what's under the hood or, ya know, the mane.
Like the Mustang, the Nokota's small and muscular frame makes this horse a buffed-up pretty boy/girl, except you probably shouldn't bring this fella into a gunfight. Dodging bullets is probably more practical than absorbing them with this specific breed. But, of course, that's not all, the qualities of this horse consist of:
Race Handling, able to make sharp turns & doesn't get impatient
Race Class, built for short & quick bursts of speed (limits stamina)
Typically healthy, health/stamina cores drain slowly
Stats:
Health: 3
Stamina: 3
Base Speed: 7 (Reverse Dapple Roan), 4 (Blue Roan & White Roan)
Base Acceleration: 5 (Reverse Dapple Roan), 3 (Blue Roan & White Roan)
Here's where you can find all 3 coats of this breed:
Nokota Locations For All Coats 
3) Arabian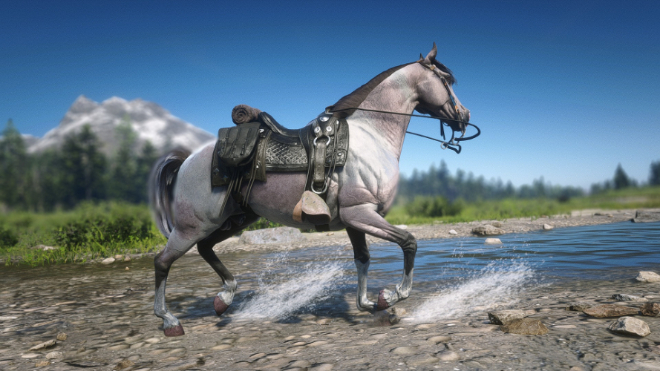 Rose Grey Bay Arabian
The Arabian is not only a speed demon but also very aesthetic. Though not the fastest or sturdiest horse in the game, it's still one badass animal you'd love to equip your saddle on.
The rose grey bay Arabian (pictured above) is arguably the best of the bunch in terms of its coat, compared to the other 3 (including white, black, and warped brindle), as well as sporting the best health and stamina of them all. With both white and warped brindle-coated Arabians being available early in the game's story mode, either of the two would make for one helluva companion and means of transportation for everyone's favorite outlaw, Mr. Morgan.
Some things that are particularly special about this breed though are listed below:
Each coat wields varying, yet relatively high stats
Superior Class
Elite handling
I'd suggest visiting Seamus in Emerald Ranch to sell a few of those gold teeth our dear friend Arthur may or may not have looted off of some O'Driscolls before going for one of these bad boys (or.. you know.. girls).
Stats:
Base Speed: 6
Base Acceleration: 6
Health: 5 (White), 6 (Black), 7 (Rose Grey Bay)
Stamina: 5 (White), 6 (Black), 7 (Rose Grey Bay)
Here's how you can find all 3 coats:
All 3 Arabian Horse Locations
2) Turkoman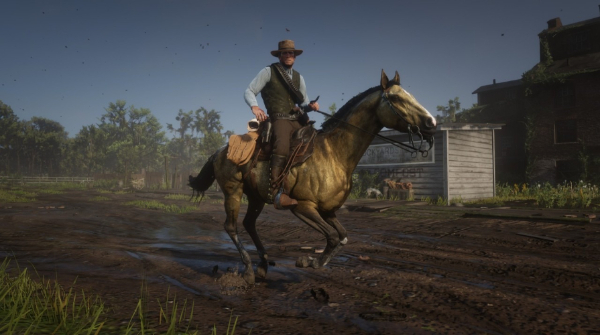 Arthur Riding A Gold Turkoman
Now, this one right here is one of my personal favorites (don't let the #2 rank fool you). This tall, lanky beast is almost unfair to race against, seeing as it's got one of the highest speed ratings in the game. Pair that with its high HP, and you got the perfect getaway vehicle/powerhouse any gun-toting psychotic outlaw could wish for.
It's a bit costly though, sitting at a whopping $950 but hey, robbing trains and selling gold bars sound pretty lucrative when you think of purchasing a solid gold savage that basically deflects bullets and can nearly break the sound barrier. Also, did I mention the damn thing is literally gold? Oh, and silver is cool too, I guess. (Just kidding, it's actually pretty sick if you happen to find it).
Some things that make the Turkoman special include:
Multi-Class type
Standard Handling, may get a little restless but overall disciplined
Each coat can be bought from stables, or encountered in the wild during ambushes/lawmen pursuits
Stats:
Health: 7
Stamina: 5
Base Speed: 6
Base Acceleration: 5
Here's how you can find them:
All Turkoman Coats Locations 
1) Missouri Fox Trotter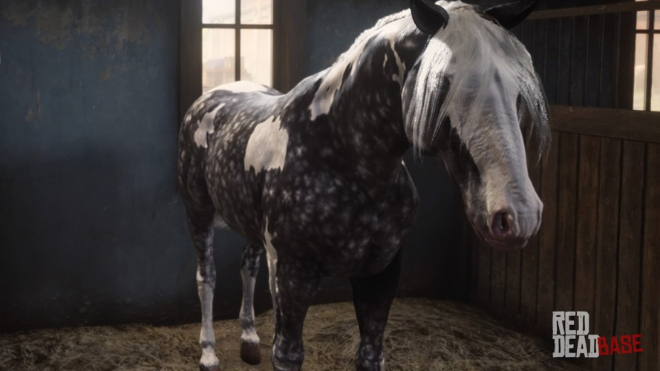 Silver Dapple Pinto Missouri Fox Trotter
And now, finally, the demigod of all breeds and my personal favorite, the Missouri Fox Trotter. I don't even know where to begin on this horse. It's incomprehensibly fast, has an assload of stamina, and is possibly the sexiest breed in the entire game (definitely not sexualizing an animal, but my point still stands). Even if you manage to acquire the Legend of The East outfit for either John or Arthur, it still wouldn't be complete without a badass ride to match like the Missouri Fox Trotter.
This is an all-around horse, capable of basically everything every other breed on this list provides. Some of the more impressive qualities include:
Multi-Class Type
Standard Handling, mostly comfortable to steer
Exceptionally healthy, cores drain slower than most breeds
Perfect for both racing and combat
Stats:
Base Speed: 7
Base Acceleration: 5
Health: 5
Stamina: 6
Now, this breed is particularly expensive, so stacking up on some dough is a must since you'll be spending around $950 on this savage. Despite that though, I'd highly recommend the Missouri Fox Trotter over any other breed without question.
Here's where you can find one for yourself:
Missouri Fox Trotter Locations Of All Coats 
You May Also Be Interested In:
Image Gallery