[Top 7] Red Dead Online Best Horses and How to Get Them
Updated: 04 Feb 2023 8:29 pm
Good boah: You'll need a trusty steed to navigate the world of Red Dead Online.
What are the best horses in Red Dead Online, and how do you get them?
The world of Red Dead Online is vast, and the limited fast travel system means that you'll spend a lot of time journeying from Point A to Point B. Fortunately, RDO has a multitude of options when it comes to horses. Whether you want an all-rounder, pure speed, or a four-legged tank, there's a horse out there for you.
None of them are cheap though, and it can be hard to figure out which horse you want to spend your hard-earned money on. That's where this guide to the Top 7 Red Dead Online Best Horses and How to Get Them comes in. Read on to find out how you can be hoofin' it in style.
Remember, you have to spend time on your horse to reach Bonding Level 4 and buy a good saddle to unlock the best stats for any horse in Red Dead Online. 
7. American Standardbred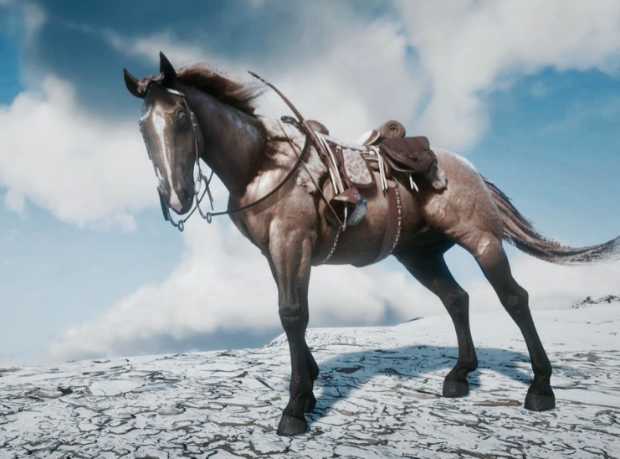 Who's cold: An American Standardbred stands defiantly atop a snowy mountain.
The American Standardbred is the least expensive breed in the Racing category, and it unlocks early too. High stamina means you can gallop for miles without having to stop and feed your horse. The American Standardbred handles nicely and will get you where you're going in a hurry, and at a reasonable price point. 
What the American Standardbred Excels In
Good speed and acceleration
Very agile
Good stamina
American Standardbred Details
Palomino Dapple coat has the best stats
Handling type: Racing
Costs 6 Gold.
How to Unlock the American Standardbred
Level up to Player Rank 39
6. Turkoman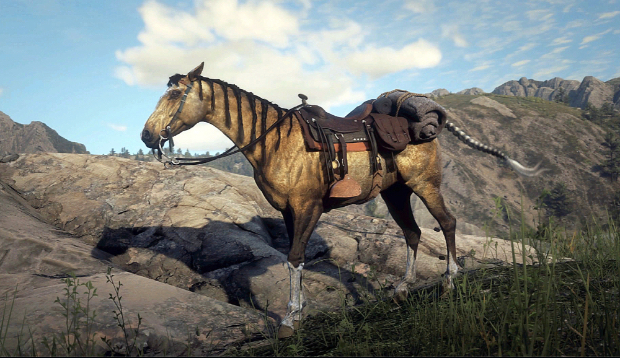 Lookin' stylish: This Turkoman sports the Braided mane and tail options for added flair.
The Turkoman is a cross-breed of a warhorse and a racing horse, and you can see it in the stats. This beast has plenty of giddyup, but also, a ton of Health. The Turkoman makes a solid steed for almost any situation. Trivia time: in real life, the Turkoman breed of horse was actually extinct before the time that Red Dead Online takes place.
What the Turkoman Excels In
Good speed
Good acceleration
Very high Health
Turkoman Details
All coats have the same stats but Dark Bay coat unlocks first
Handling type: Standard
Costs $925
How to Unlock the Turkoman
Level up to Player Rank 56
5. Norfolk Roadster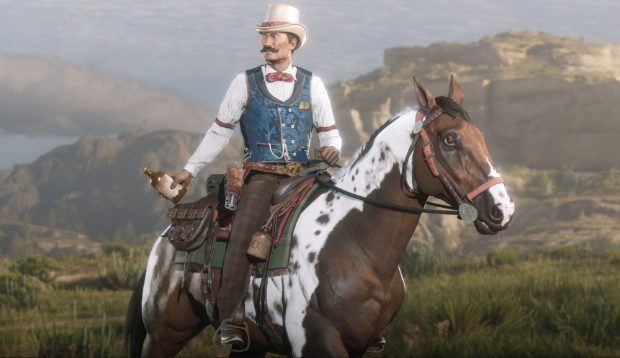 One for the road: A moonshiner enjoys the fruits of his labors from the back of his Norfolk Roadster.
The Norfolk Roadster is able to travel great distances at a good pace, thanks to its high Speed and Stamina stats. However, you will need to take the Moonshiner role to access this beauty of a horse, and the very best variants require you to max out your Moonshiner rank. Good thing the Moonshiner role is fun to grind!
What the Norfolk Roadster Excels In
Very fast
Good acceleration
Very good Stamina
Norfolk Roadster Details
Spotted Tricolor and Dappled Buckskin coats have the best stats
Handling type: Standard
Costs 3 Role Unlock Tokens and $950.
How to Unlock the Norfolk Roadster
Reach Moonshiner Role Rank 20
4. Thoroughbred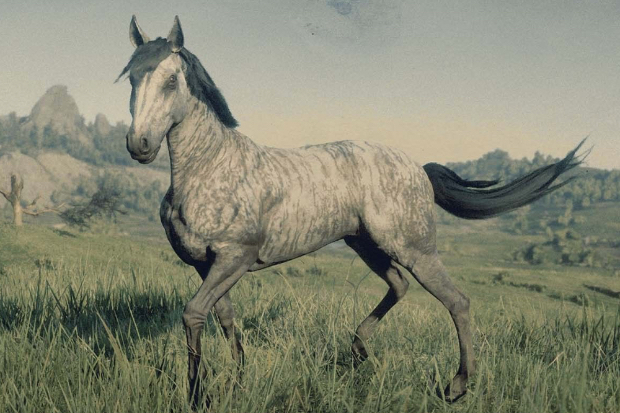 Is that a zebra: The Brindle Thoroughbred has the most unique looking coat in Red Dead Online and really stands out from the herd.
Thoroughbreds are pure-blooded racehorses. If you want to go fast and don't want to break the bank, you can't go wrong with the Brindle variant. The Thoroughbred's Stamina and Health aren't the highest, but they are typically good enough for most situations.
What the Thoroughbred Excels In
One of the best top speeds in the game
Very agile
Doesn't spook easily
Thoroughbred Details
Brindle coat has the best stats
Handling type: Race
Costs 18 Gold
How to Unlock the Thoroughbred
Level up to Player Rank 51
3. Nokota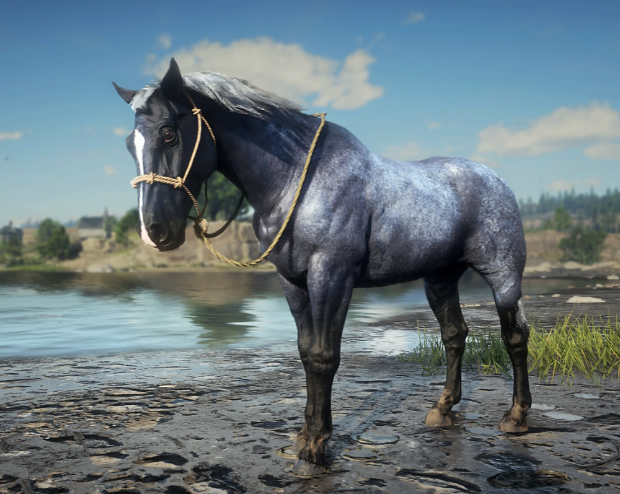 Bath time: A Reverse Dapple Roan Nokota prepares to wash off in the river.
A well-built, sturdy racehorse, the Nokota packs a sudden burst of speed that rivals the fastest horses in the game. They also have very good Health compared to other Racing class horses. The Nokota doesn't have the highest Stamina, but can cross short distances very quickly.
What the Nokota Excels In
Extremely fast
Very agile
Good acceleration
Nokota Details
Reverse Dapple Roan coat has the best stats
Handling type: Race
Costs 18 Gold
How to Unlock the Nokota 
Level up to Player Rank 48
2. Missouri Fox Trotter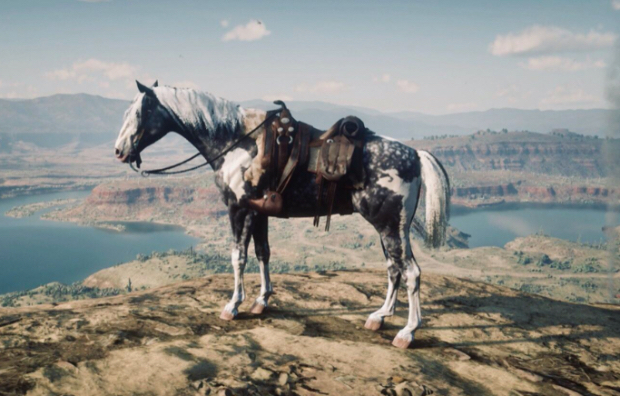 On top of the world: A Missouri Fox Trotter takes in the sights.
The Missouri Fox Trotter is a cross-breed between a racehorse and a workhorse, which means it is both fast and incredibly sturdy. Whereas many of the other fast horses will spook if you get too close to a predator and throw you off, I've gone "wolf-bowling" on my mine and she didn't even slow down. The Missouri Fox Trotter makes for a fantastic all-around horse and just barely loses out to our Number 1 choice.
What the Missouri Fox Trotter Excels In
Extremely fast
Pretty good acceleration
Not easily spooked by predators
Missouri Fox Trotter Details
Comes in two coats, both with the same stats and price
Handling type: Standard
Costs $950
How to Unlock the Missouri Fox Trotter
Level up to Player Rank 58
1. Arabian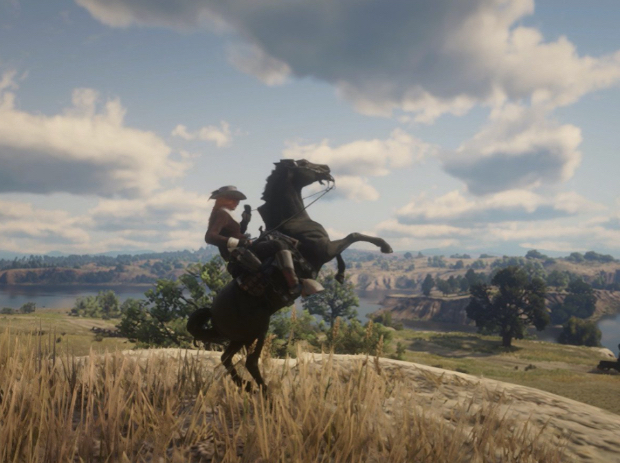 Rearin' to go: A bounty hunter rears his Black Arabian before riding into town to dispense justice.
Nothing looks more iconic standing tall against the sunset than an Arabian horse, and it's also by far the fastest horse in Red Dead Online. Health and Stamina are both solid, and although the Arabian is a little skittish, you'll be able to easily outrun any threat. It's little wonder that this horse exists in it's own category, simply called "Superior." But save your Gold if you want to own a Black Arabian, because it's also the most expensive horse in the game!
What the Arabian Excels In
Extremely fast
Extremely agile
Best acceleration in the game
Arabian Details
Black coat has the best stats
Handling type: Elite
Costs 42 Gold.
How to Unlock the Black Arabian
Level up to Player Rank 70.
Also Be Sure To Read:
Image Gallery