Top 15 Best Minecraft Skins That Look Freakin Awesome!
Updated: 25 Oct 2021 8:44 pm
Looking for a fresh style? These skins will blow you away!
What Are The Best Minecraft Skins?
If someone asked you to be the next Iron Man, would you do it? Well look no further because now you can! Minecraft has over 1,000,000 custom skins that have been made by community members. This article will give you a sneak peek at the coolest ones!
*These skins have been graded on design intricacy, visual appeal and attitude in order to determine their respective ranks. Some skins are not compatible in Bedrock.
15. Luigi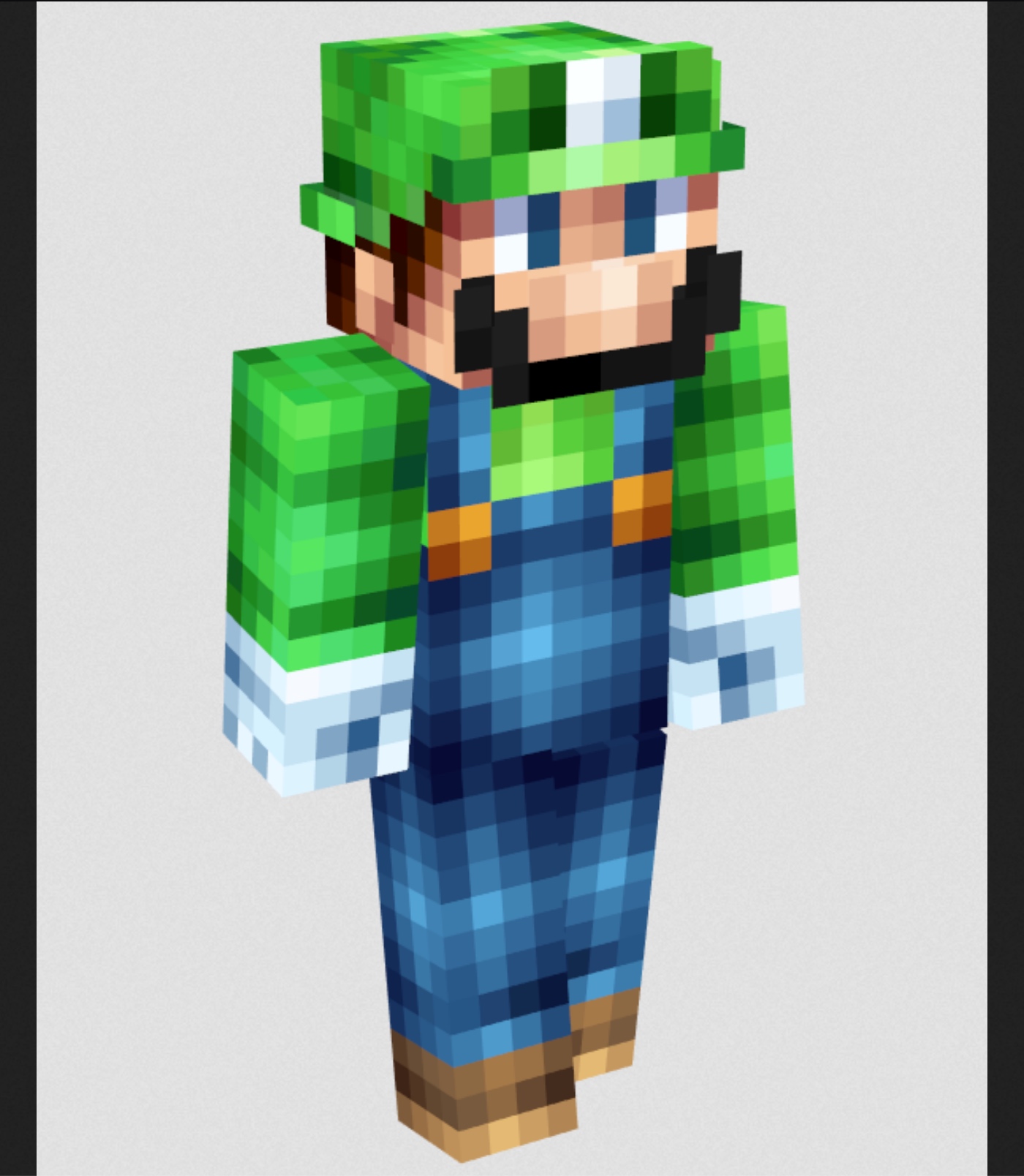 Luigi is one of Minecraft's most downloaded skins. People love to play as this iconic figure!
Luigi is Mario's slightly younger twin brother. This skin is known around the world as it is one of the most infamous gaming characters ever. It is similar to his brother's but with a green shirt and hat in place of a red one. Take him into your Minecraft worlds and have some fun!
What's great about this skin:
Work with a friend to pair the Mario brothers together. Run around your worlds trolling the community and your friends with this classic pair!
Equip some diamond armor and look like a boss! The green on turquoise mix never fails to look great.
Recreate some of Luigi's famous video game moments. Build Luigi's Mansion: Dark Moon or other games you enjoyed! There's a ton of possibilities!
Download: https://namemc.com/skin/af7ed5385e871599
14. Ronald McDonald

Uhh yeah I'll have a large fry. Make your usual McDonalds order with Ronald!
"Dun dun dun dun dunn, I'm lovin' it." Is this horrifying or cheerful? That's up to you to decide. The classic McDonald's clown is in Minecraft! Wear this skin featuring his signature red hair, yellow suit and chalked skin!
Some cool things about this skin:
This skin looks great with iron armor. The white glint seamlessly blends with the clown's style. The hint of red that'll stick through the under the helmet and on the arms will look great!
Make Ronald a horror movie character! Chase your friends with an axe or sword while playing creepy music to entirely change this character's narrative.
Build a fast food shop in your realm or server. This can be a quick source of resources and there's no better skin to wear than this one in your shop!
Download: https://namemc.com/skin/92dc849b88446490
13. Groot

Groot is a badass tree from the Marvel Universe. Don't get on his bad side!
I am groot.
Cool things about groot: 
I am groot.
I am groot.
I am groot.
Download: https://namemc.com/skin/dec8a12db26453a1
12. Minion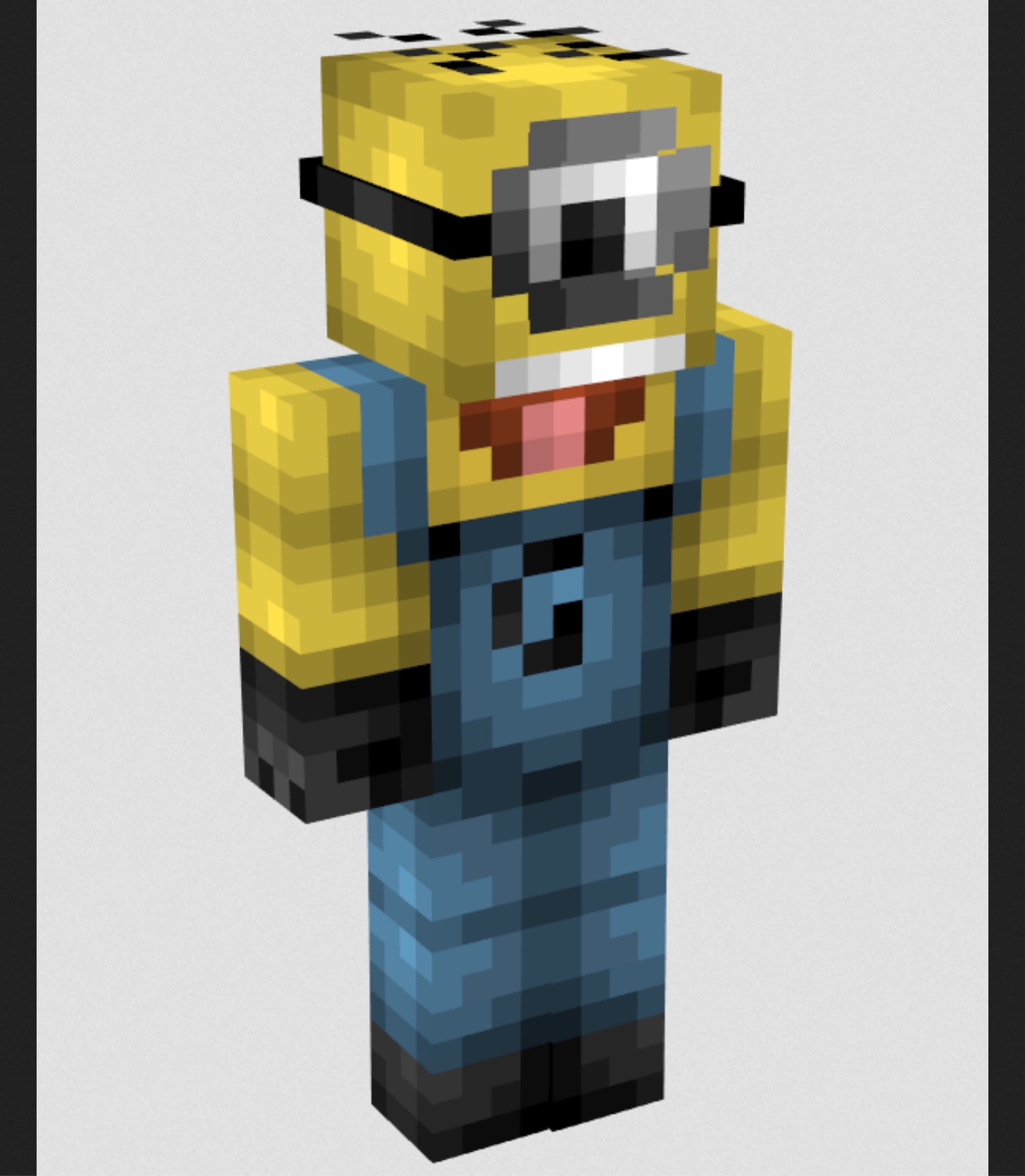 Minions love to run around and be crazy. Just look at that smile!
These yellow creatures from the Despicable Me franchise are a hilarious twist of comedy and productivity! They have a wide range of emotions that make them a perfect fit for any player. Wearing their signature denim overalls and their one goggle, this skin is awesome if you're looking for a lighthearted appearance.
Things you can do with this skin:
Build your own variation of Minion Rush, the mobile game developed my Gameloft. Add parkour and death traps throughout and see who among your friends can get the furthest!
Collaborate with your friends to all wear this skin for priceless comedic moments! Run around a secret lair underground and act crazy. Comment below with a picture, too … I would love to see that!
Suit up with diamond armor and diamond weapons! If Gru was in the MC world, he surely would have developed some dope armour by now. Take on the ender dragon and other mobs while looking awesome.
Download: https://namemc.com/skin/c6177e339ee66a1d
11. Grandpa Froyd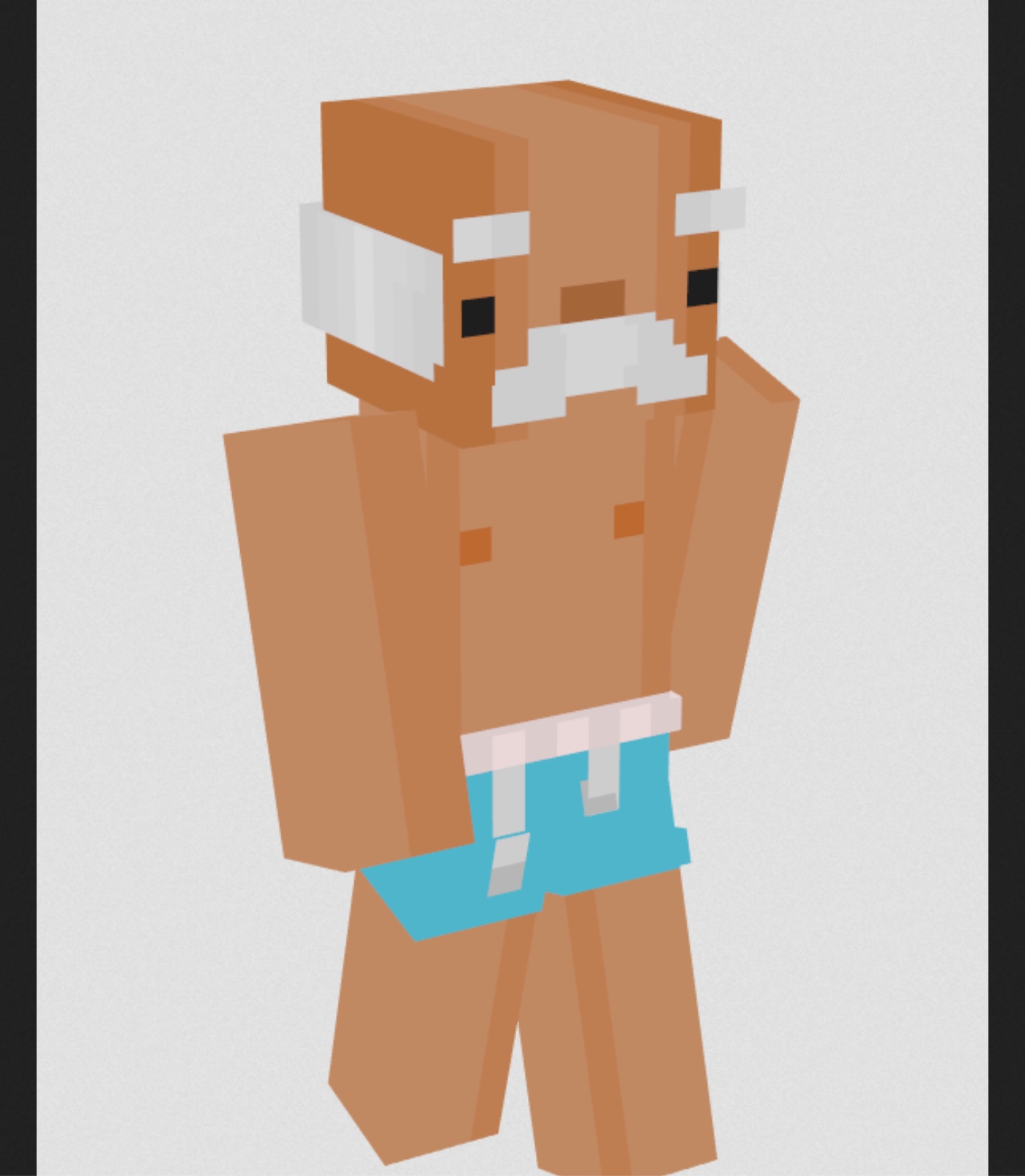 Uh oh crazy Grandpa Froyd escaped the house. What will he do this time?
Grandpa got Grandma's life insurance and now he doesn't know how to act! He's been wandering around the country club wearing nothing but a speedo. At least he's in great shape, though!
What's great about this skin:
Have you built a yacht or even just a pool? Grandpa Froyd would love to come visit! He looks great walking around the community.
You don't need any armor to look great! Grandpa has a picture-perfect body that he is proud of. Show the ladies what wisdom really looks like.
Join a designated roleplay server and actually be a crazy grandpa. Most players have never tried this but many find it very rewarding and you may, too!
Download: https://namemc.com/skin/745a1fc8db81aa97
10. Mario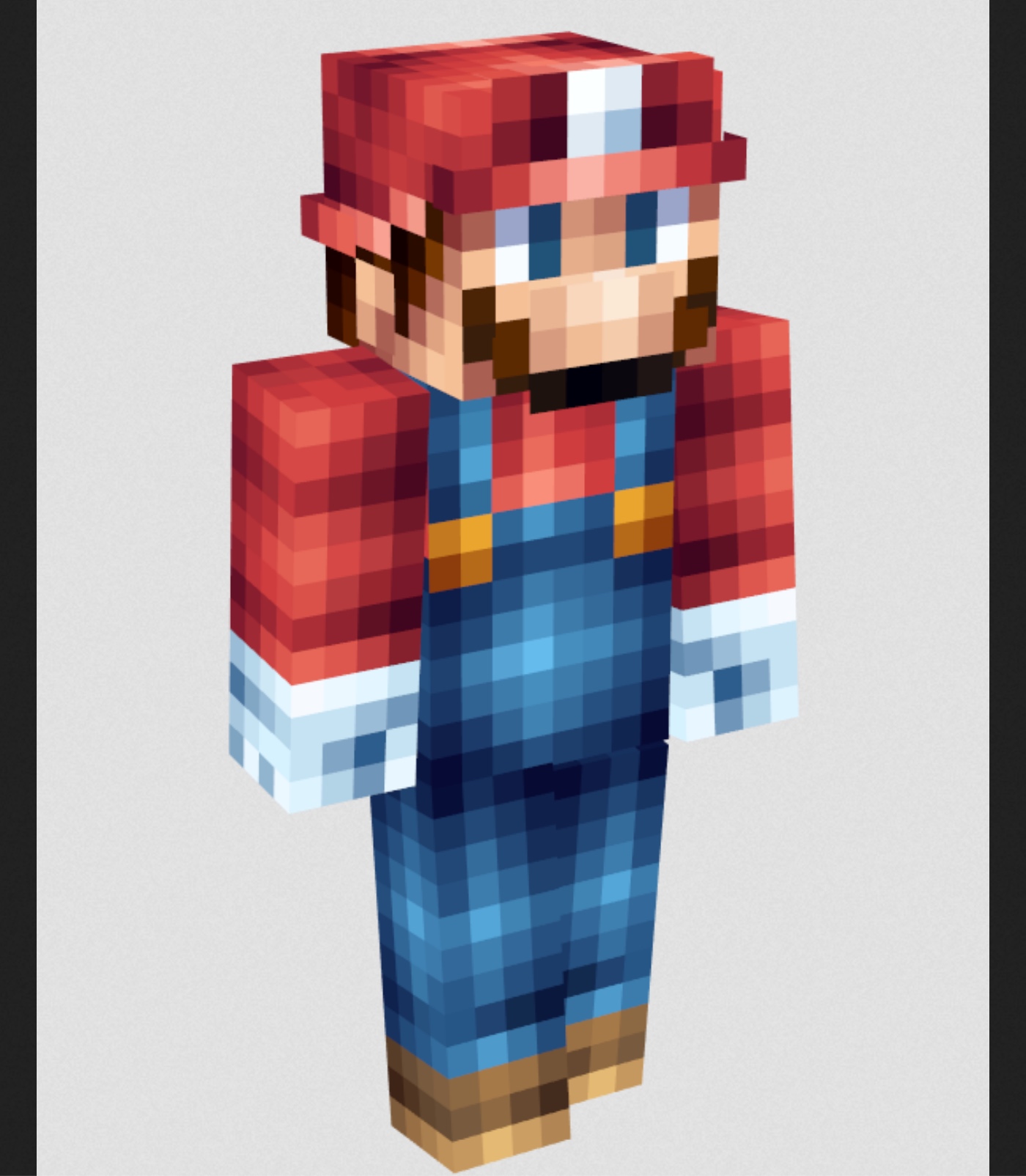 Mario and Luigi combine to be the highest-downloaded brothers in the history of all Minecraft skins.
Mario is one of the most iconic figures in gaming history. His classic red shirt, denim overalls, and square nose are recognized instantly around the world. Mario decided to take a break from plumbing to play Minecraft!
What's awesome about this skin:
Mario is the perfect skin for anyone looking for something casual that stands out. Run around your world and show him off!
Don't you think Mario holding a sword would be a cool twist? You can make this happen! Slaughter animals and kick butt in PVP with Mario.
Make cool redstone contraptions while in character! Mario was created to be a carpenter and then a plumber; let his construction skills run through you.
Download: https://namemc.com/skin/2a87230f18f02373
9. Agent Chicken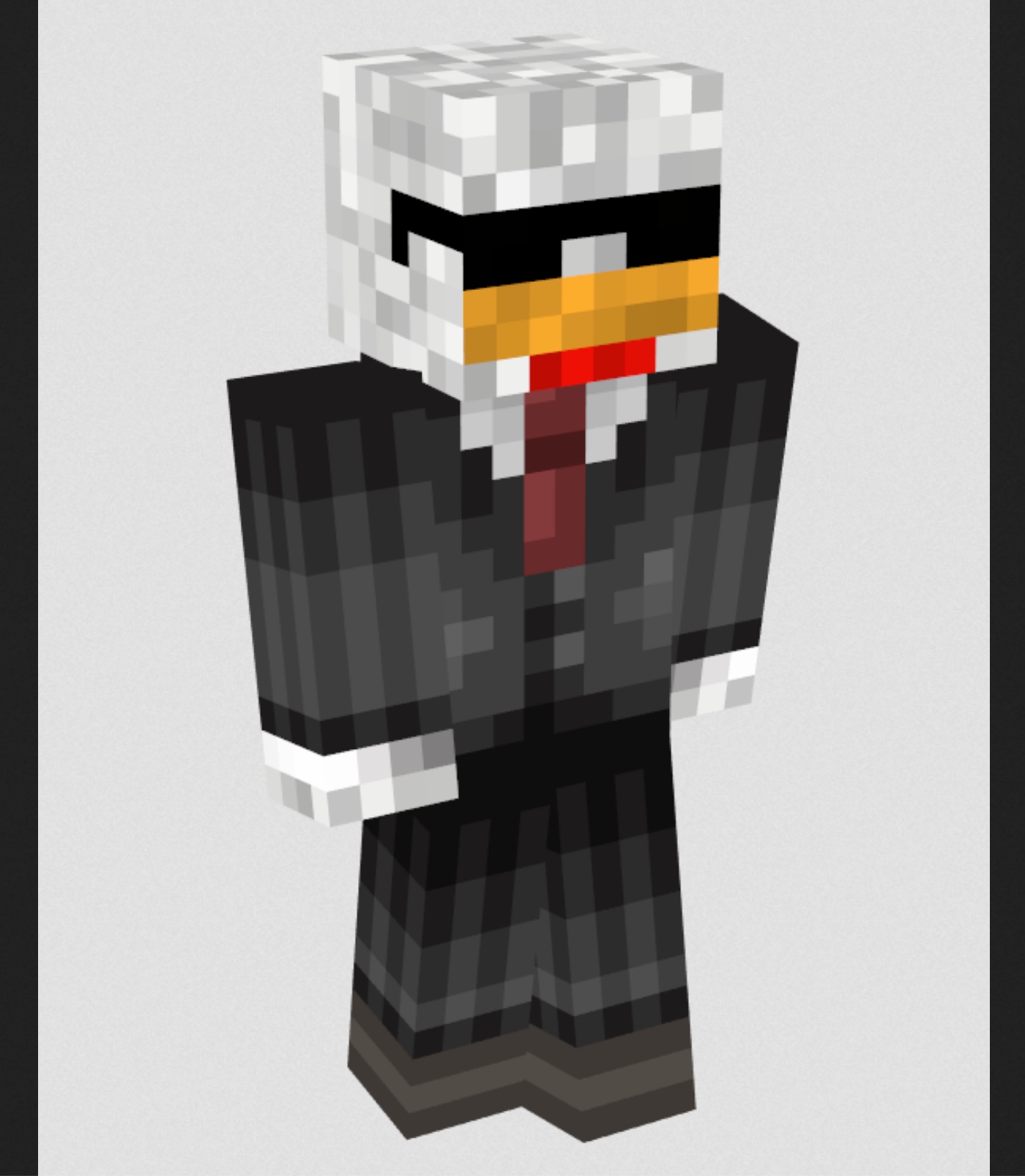 The name is Chicken, Agent Chicken. Kick some feathery butt with this guy.
Being a chicken wearing a suit will change the way you look at chickens! Flex on the haters with this fashionable suit and cool shades. Solve some crimes on your way to building a massive base!
Cool things about this skin:
Build an enormous chicken coop instead of a house! Building to fit this character is so much fun!
Test your creativity and build a giant chicken head! Take a screenshot and comment it down below!
Did one of your friends realize their diamonds were stolen? This is a job for Agent Chicken! Put your detective skills into action and help your community to be a hero.
Download: https://namemc.com/skin/f8b844fc8ebd6c37
8. Batman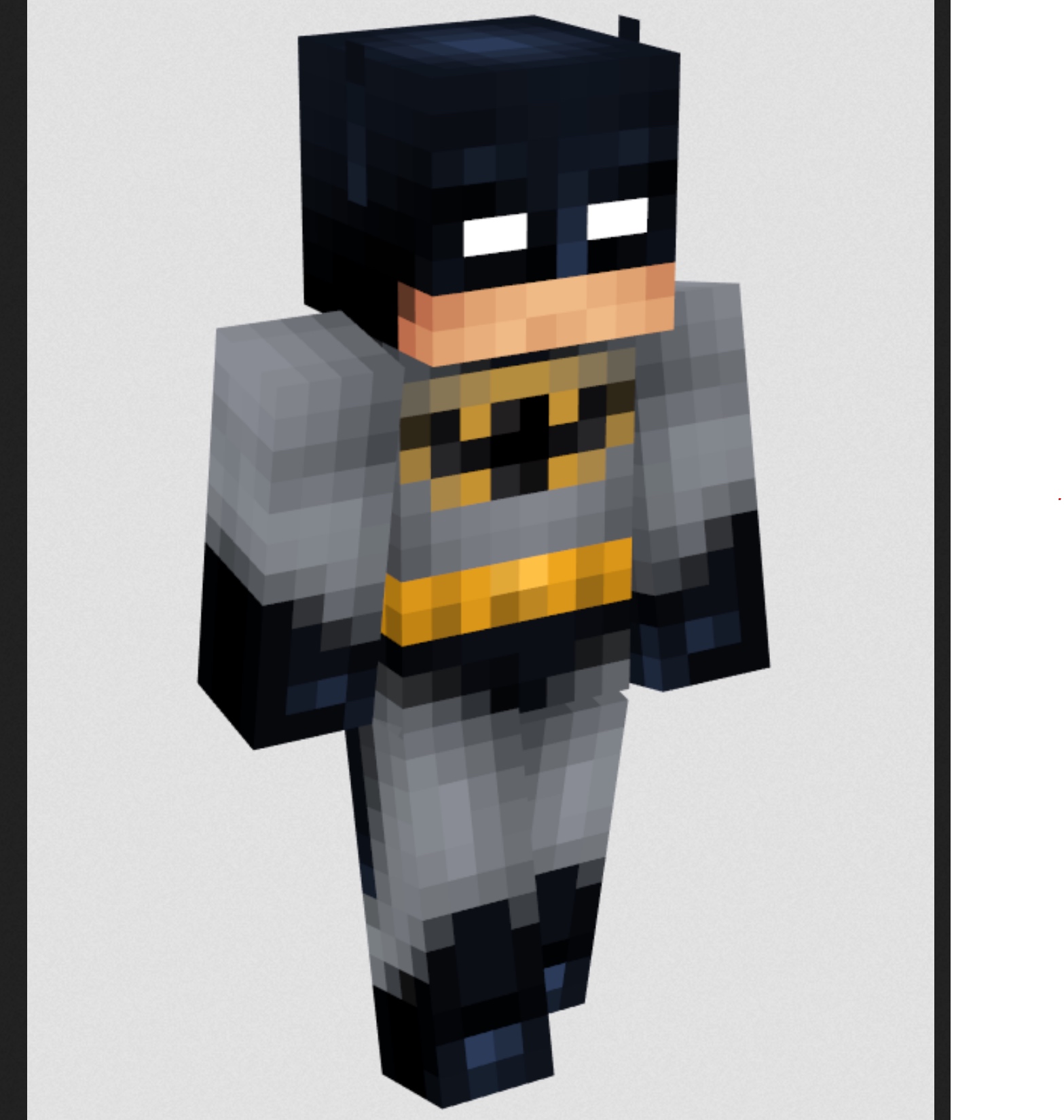 Have a glass of water nearby when using Batman. His hoarse voice is awesome but painful!
Batman is an iconic figure in the entertainment industry. From what started in the original DC comics and starred in blockbuster movies, the Dark Knight has now come to Minecraft!
Sweet Batman things to do with this skin:
Protect your builds in fashion! Creepers, skeletons, zombies, and even your friends will be coming out to get you. Show them who's boss with this skin!
If you have a cape, you can reenact some of Batman's most iconic cinematic moments! Fly out of a waterfall-hidden cave or take down the Joker with style.
Download the Grappling Hook Mod and shoot across your builds like Batman himself. He is known for having a bunch or cool toys, it's time to get some of your own, too!
Download: https://namemc.com/skin/537836feca2abb7d
7. Spiderpig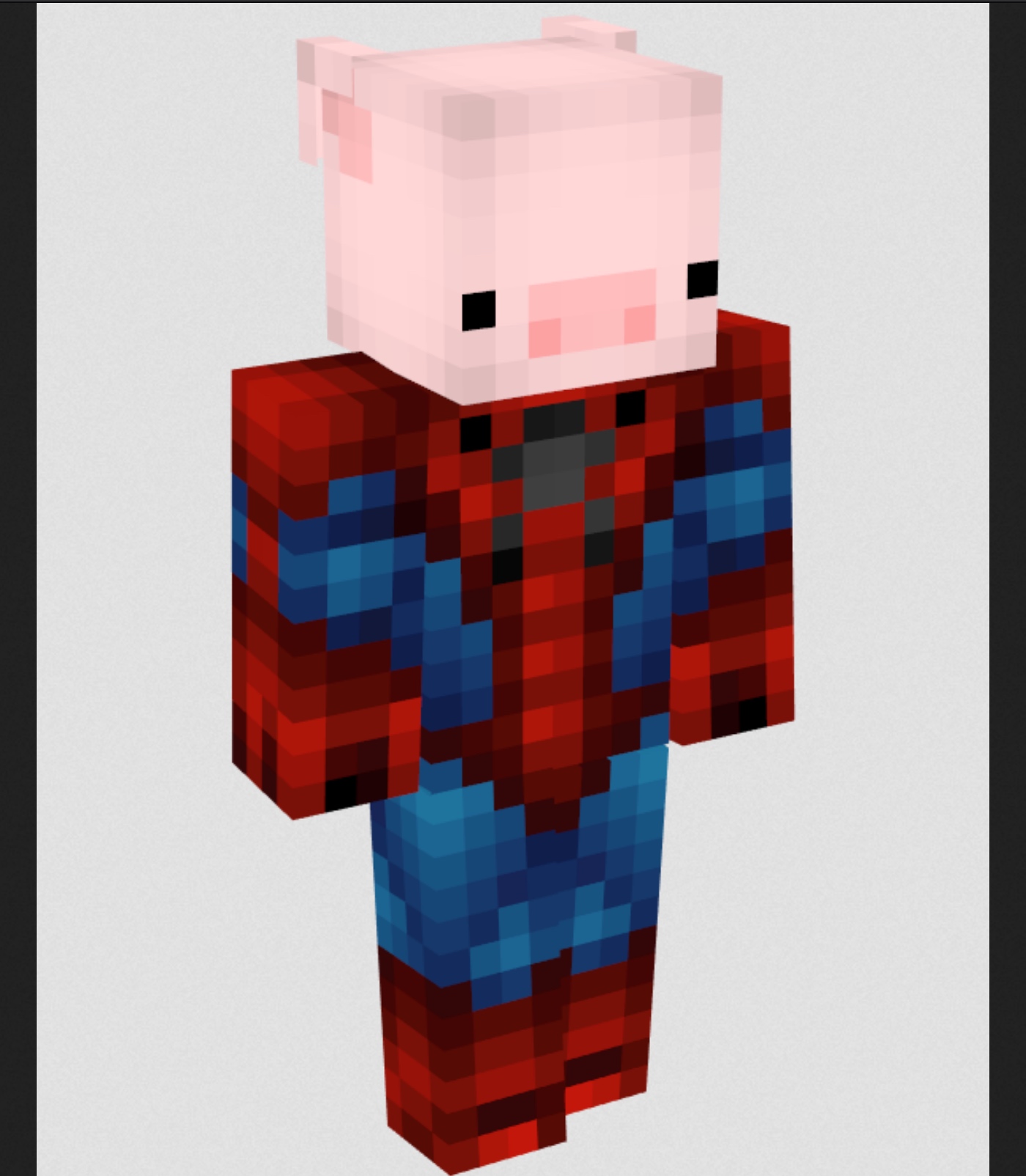 If you ever see this skin in your world, run - or be this skin yourself! He's a crime fighting boss.
"Spiderpig, spiderpig, does whatever a spiderpig can." You've heard of Spiderman, now get ready for Spiderpig! He is the neighborhood hero of farms across the world. This goofy combination will get a laugh out of your friends!
Save the day with these features:
Look out for grievers and save your friends in costume! Swing in to save the day when you're needed the most. Maybe you'll find your MJ this way.
Spiderman doesn't usually kill his targets but Spiderpig was raised differently. Charge your enemies with a sword or axe and look awesome!
Download the wall-jump mod to jump up walls. It'll look so cool and all your friends will love it!
Download: https://namemc.com/skin/82b496c3e8ce8db0
6. Nightcrawler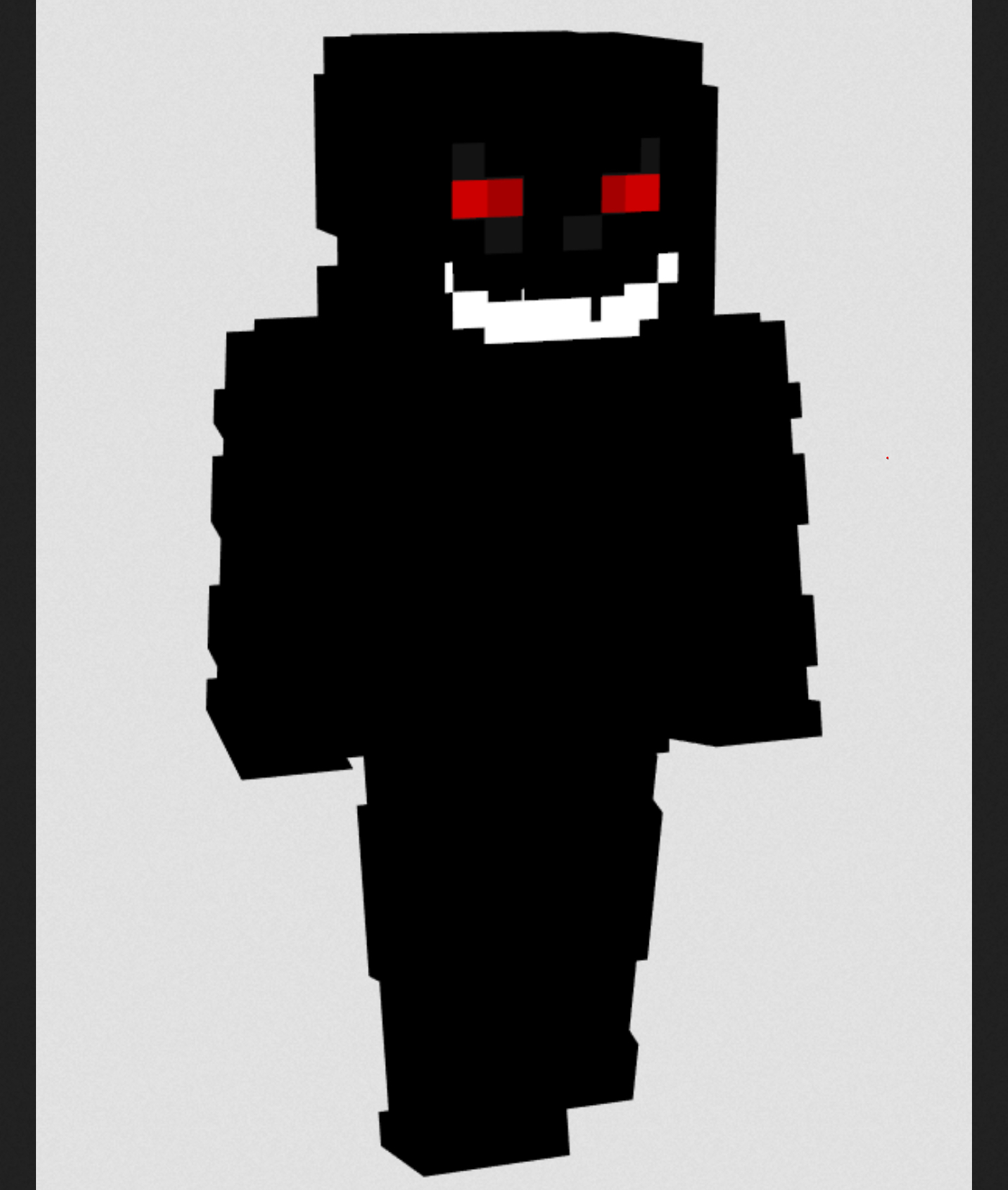 Shield your eyes from his abyss. You might just get lost in his absorption!
This skin's mischievous smile will haunt your friends! Nightcrawler is a midnight-black skin with varying levels of depth. He is designed to strike fear in all of your enemies.
What's great about this skin:
This skin perfectly fits the mold of someone who likes pranks; he's creepy, mysterious, and wreckless. Run around and commit all the jokes you want with this guy!
Do you like to sneak around in the dark? There is no better way to scare your buddies than popping out this evil grin at them from behind a tree.
Imagine this all-black skin with iron armor. The direct white versus black contrast makes for cool pictures in front of your builds!
Download: https://namemc.com/skin/38fa699c208462f1
5. Chewbacca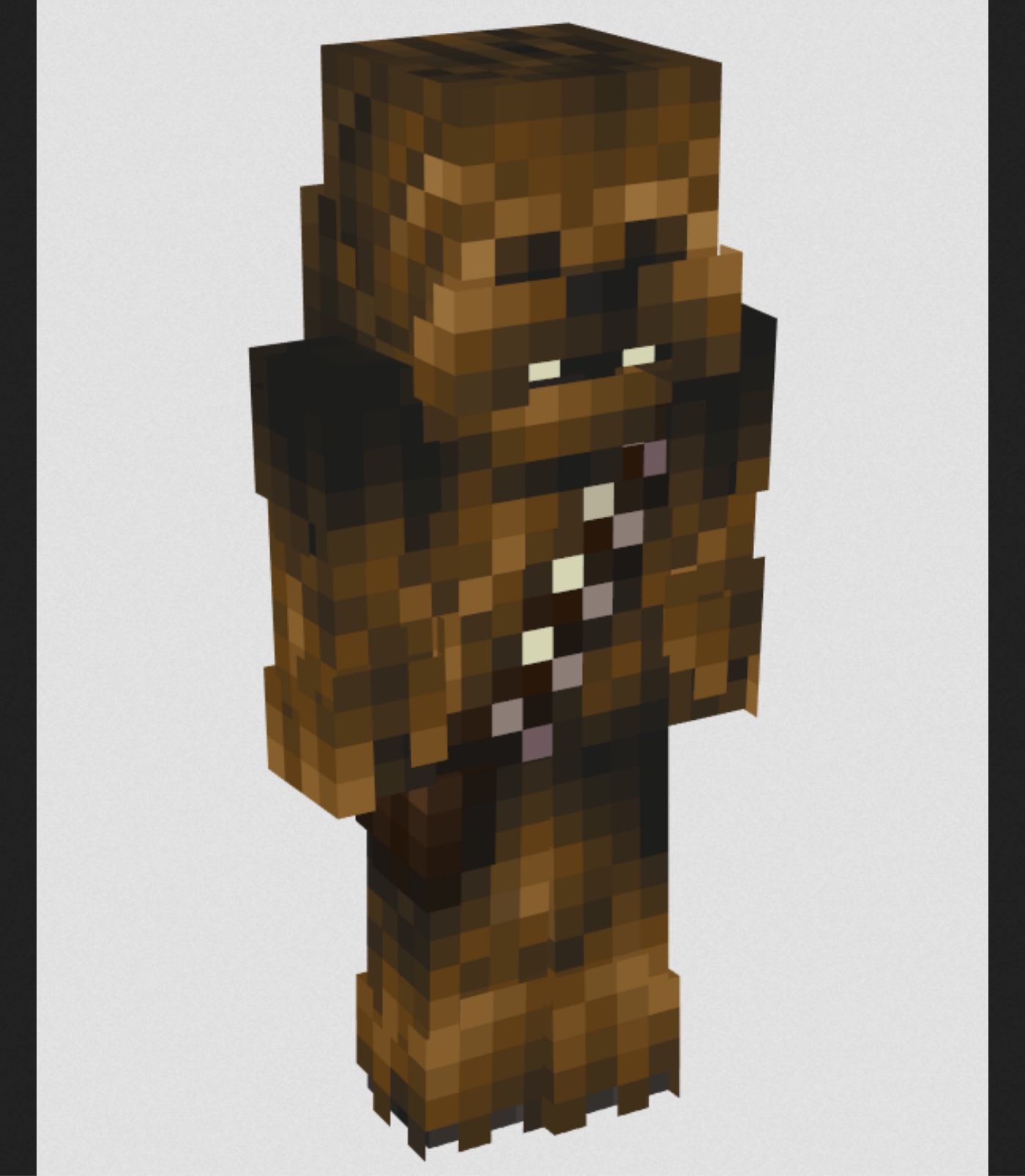 Chewbacca is one of the best known Star Wars characters. His humorous but tough persona is loveable!
Star Wars fans will run at the chance to play as Chewbacca. What better character is there? Legend has it his creation was inspired when George Lucas saw his dog in the passenger seat of a car. Now is that an origin story or what!
Why this skin is cool:
Find or craft a crossbow and reenact Chewie's most iconic scenes. Defeat the galactic empire of your server!
Can you imagine an 8 foot tall beast charging at you with an axe? It's terrifying! Intimidate your friends with Chewbacca's tough look. If you use 3rd party communication, give them your best Chewbacca yell, "RRWWWGG."
A creative base idea is to build a giant Millennium Falcon. With this skin, you will fit right in with your home. Start your own Chewie narrative!
Download: https://namemc.com/skin/45015805a2fc2038
4. Iron Man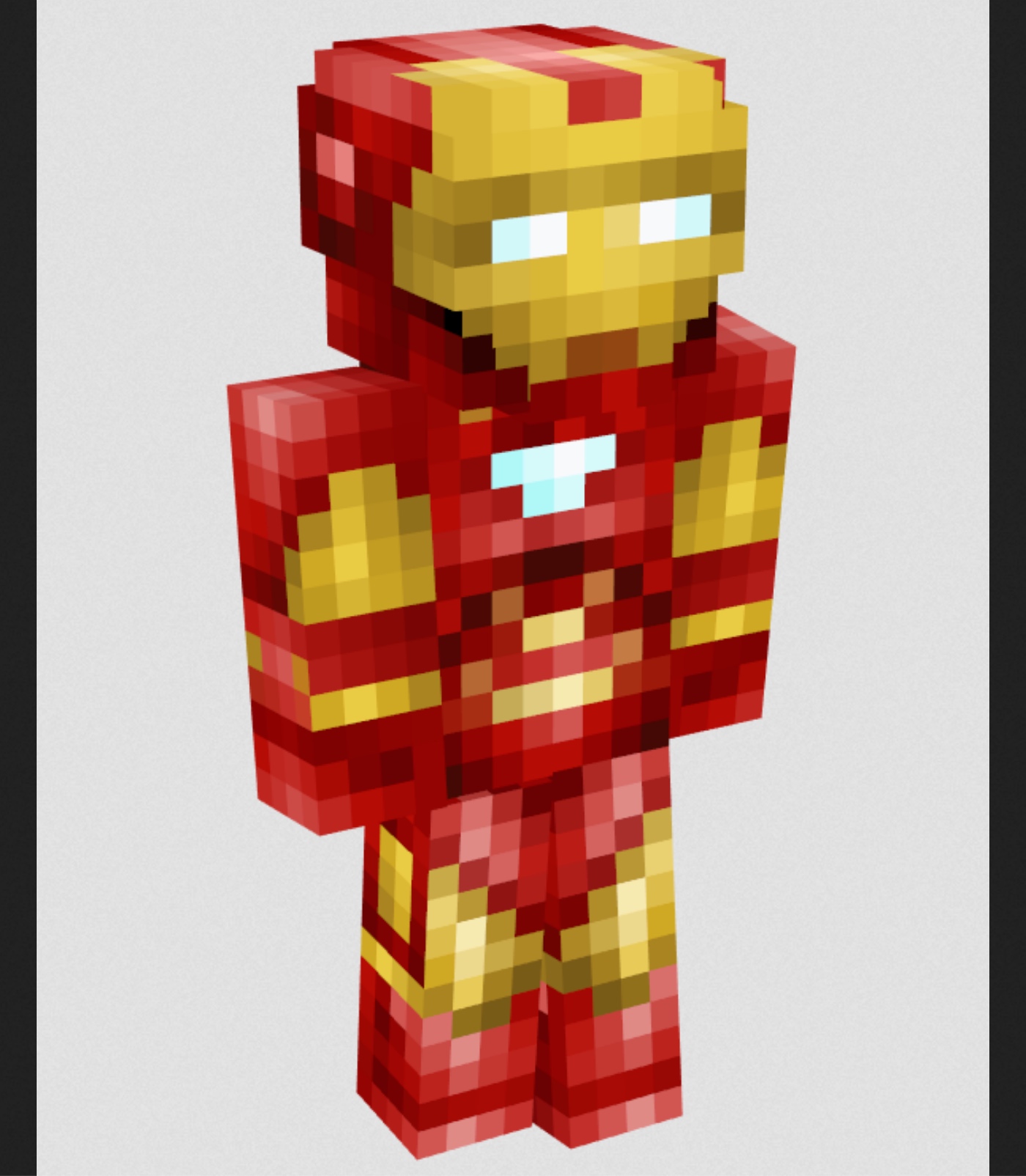 Iron Man kicked off the Marvel Universe's Saga. Go back to its roots and play as the founding character.
Are you looking for a quick, easy way to become a figurative billionaire? If this is a question you ask yourself, click the link below! Tony Stark's super-suit is free at your disposal. With the arc reactor in your hands, what will you do with it? 
Sick things about this skin:
Battle evil in your Minecraft worlds with Iron Man. Whether it be mobs or other players, show off your diamond armor and take the fight to them!
Find a cliff and rebuild Tony Stark's modern Malibu Mansion. Don't forget the super-suit vault underground. Take a picture and share it with us down below!
Go get the girl you've dreamed about. No one can resist Iron Man's luxurious flare and charm.
Download: https://namemc.com/skin/9d7ab48a508270f8
3. Galaxy Walker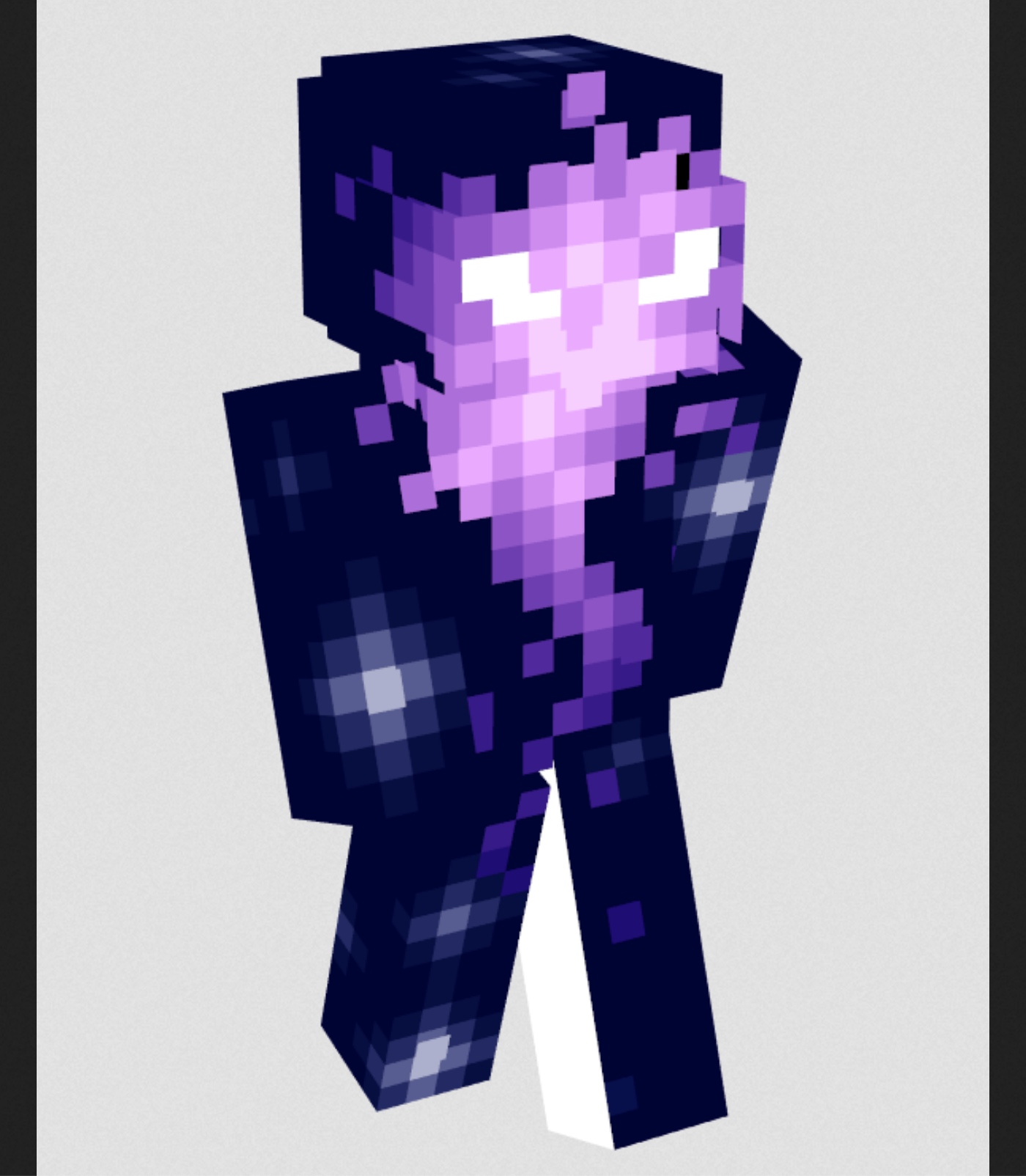 Galaxy Walker is a beautiful mix of colors and fiestyness. Those eyes mean business!
The mystique surrounding this skin is well worth the wonder. How did an entire galaxy collapse into one human form? I have no idea, but the Minecraft gods have done it. This colorful galaxy simulation is awesome!
What makes this skin cool:
Imagine how cool this skin would look with iron armor. The sheek white glare will accommodate the purple and blue galaxy!
The nether portal is a distant friend! Galaxy Walker loves commuting across dimensions, too. Take them sightseeing in their natural habitat.
Take this theme seriously and download a modpack, like antimatter chemistry, and play Minecraft in a whole other world. You'll really feel like you belong!
Download: https://namemc.com/skin/34557b3fd5fb96b1
2. Watermelon Man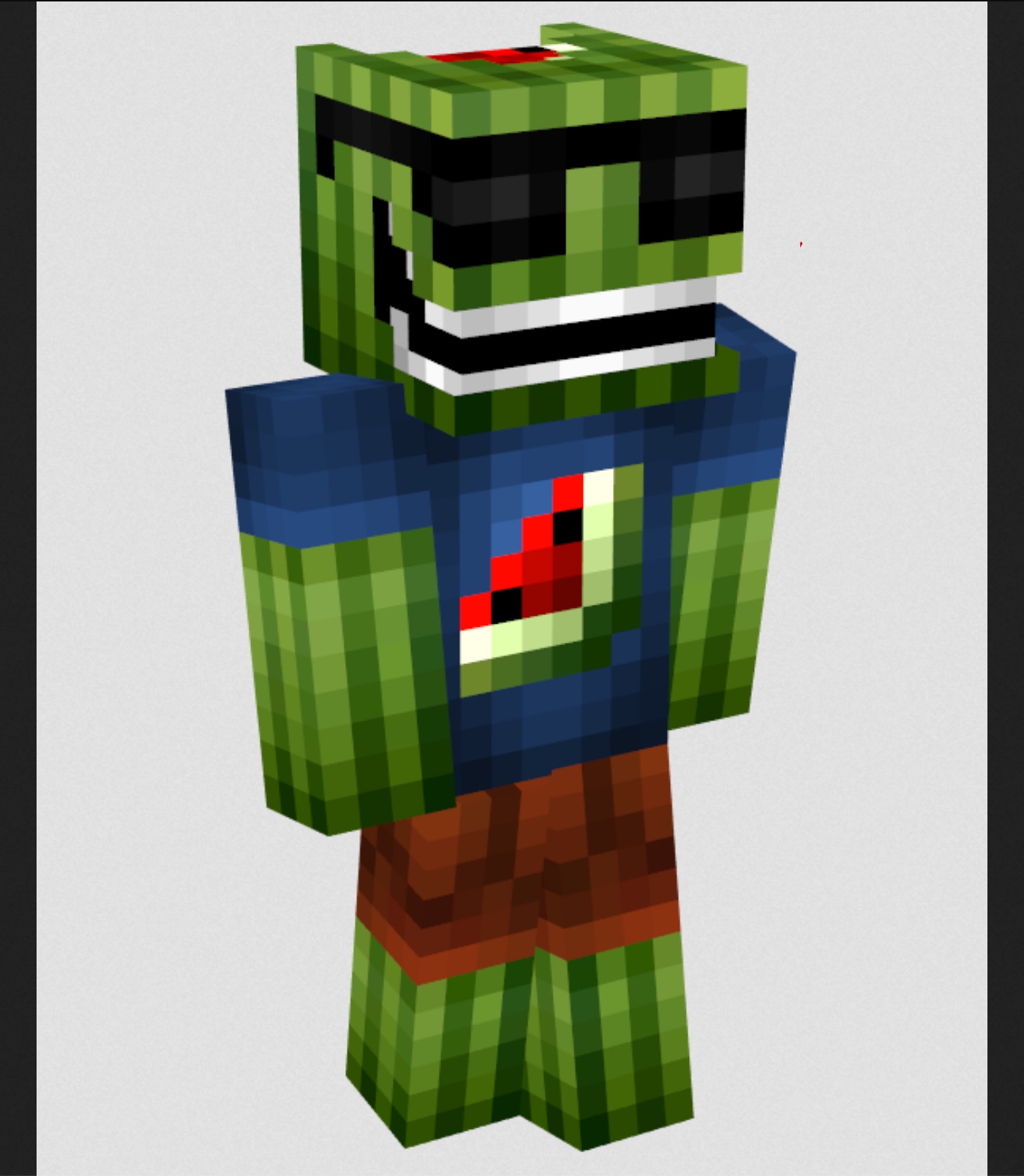 Mr. Watermelon Man knows how to dress up! This hilarious skin knows how to work with what he has.
Get a taste of this guy! Mr. Watermelon Man will steal your woman, or man, in a heartbeat. Just take one look at the pristine smile; he is trouble!
Get groovy with these features:
Show off your good looks with this skin. Swagger, flavor, personality....you name it, he's got it. Play with your friends and just watch their reactions!
Construct massive melon farms and take advantage of the hilarious photo opportunities that arise! 
Don't pass up on the chance to listen to your his theme song: Watermelon Man. This is a standard in Jazz music and has been played by some of the industry's greatest musicians.
Download: https://namemc.com/skin/6dafe477d32229d5
1. TechnoManiac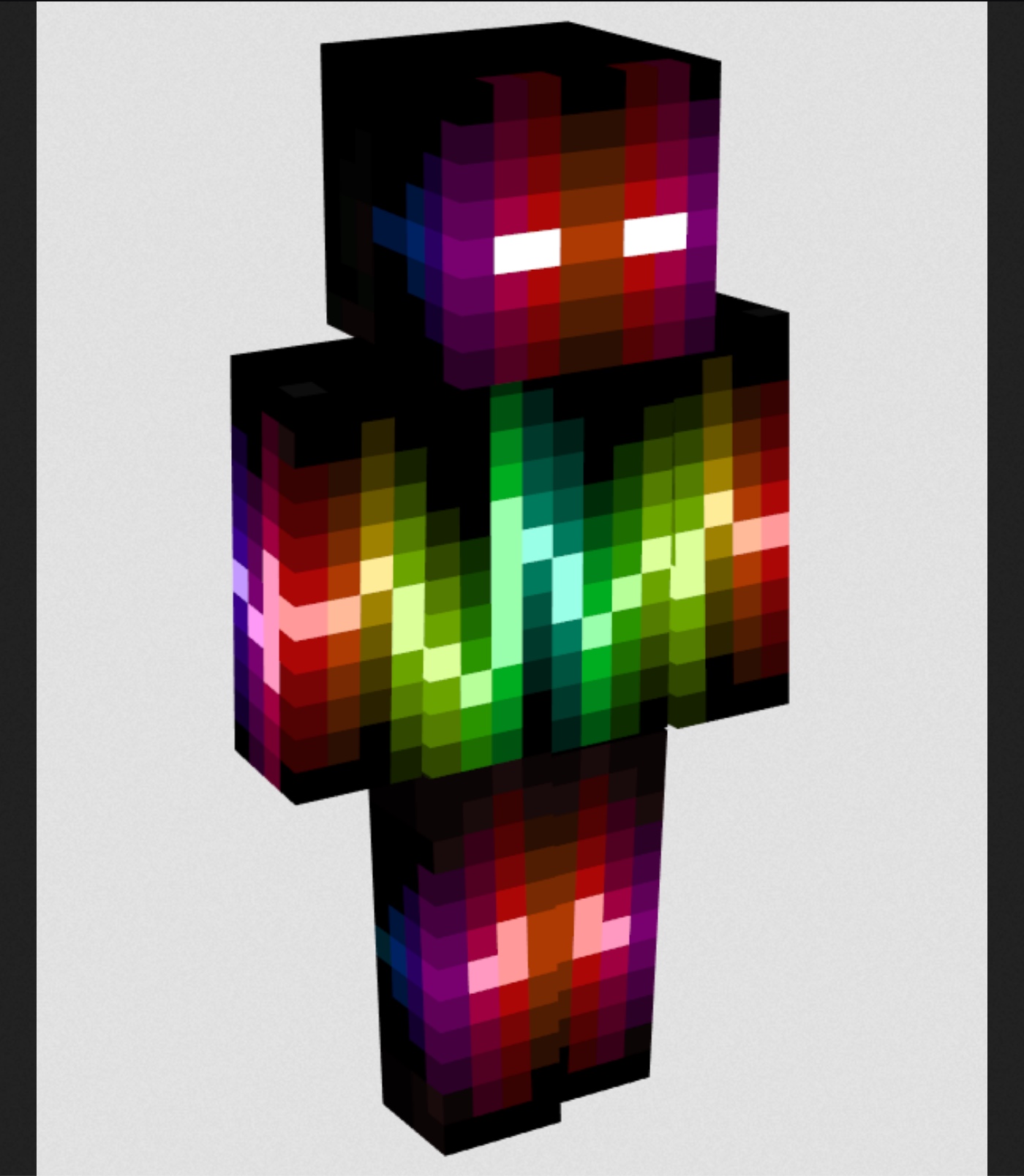 This skin is a beautiful blend of bright colors and trouble. TechnoManiac is a serious skin!
TechnoManiac is the next big DJ. No one knows how to light up the party with some sick beats like this skin. The gender-neutral skin has a black base but features colorful streaks across the body.
What's great about TechnoManiac:
Build a DJ booth and party with TechnoManiac. Lead your friends through a playlist of absolute bangers and rock out.
Create a city with friends and highlight the never-sleeping city life with this skin. Build and chill through the nights. Make sure to take awesome pictures from rooftop balconies and yacht clubs!
Perfect for racing, TechnoManiac will look like a blur when players see you zoom past them! They'll never know what just happened.
Download: https://namemc.com/skin/f0142119de8f7b4e
If you enjoyed this article, you may also be interested in:
Thank you for reading this compilation of the best Minecraft skins of 2019. Let me know what skins you love to use!
Image Gallery