Genshin Impact Best Ways To Get Violetgrass [Top 5 Ways]
Updated: 27 Oct 2021 8:36 am
Violetgrass can be tricky to obtain
Violetgrass is used by some characters as an ascension material
In all Teyvat you can find all kinds of collectible items, most of them are different and vary from region to region. This time we're going to talk about Violetgrass, a type of plant that can be found in Liyue that's used to ascend characters and prepare delicious dishes. 
Want to know what are the best ways to farm this plant? Find out here!
5. Quick NPC Dialogue
You can obtain five Violetgrass after talking to Mengmeng, a little girl who collects them to make a flower chain for his friend Yu. Mengmeng is located near the Statue of The Seven in Liyue at Dihua Marsh, Bishui Plain.
How does it work?
Go to the Statue of The Seven in Liyue at Dihua Marsh, Bishui Plain, and talk to Mengmeng.
Talk to her and choose the dialogue option "What are you doing?".
She'll explain it to you, then choose the dialogue "It might be bad to pick so many flowers…"
Then she'll tell you about the flowers she picked up and offer five of these to you. And that's it, five easy Violetgrass.
4. Shopping at Wangshu Inn
(Watch the video to know the steps to it)
Thanks to this method you can buy every three days Violetgrass from Verr Goldet at the Wangshu Inn, located in Dihua Marsh, in Liyue. You can buy other things from her, such as recipes and other items.
How does it work?
Once you're in the Wangshu Inn, located in Liyue, go upstairs and find Verr Goldet who's at the reception.
Talk to her and choose the shop dialogue. You'll find Violetgrass among the items for sale.
3. Let's go to the pharmacy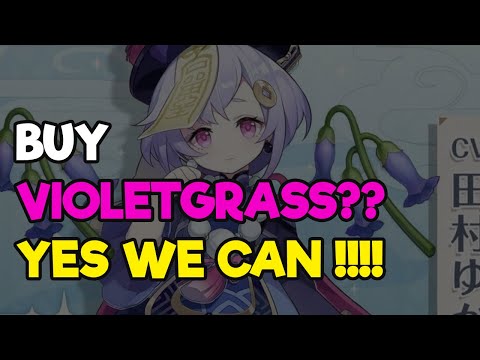 (Watch this video to know the stepts of it)
This method also allows you to buy up to five Violetgrass every three days. You can buy them at the Bubu Pharmacy in Liyue Harbor, yes, that place where Qiqi works. There you can buy other flowers and even a recipe.
How does it work?
In Liyue Harbor, go to the Bubu Pharmacy.
Talk to the Herbalist Gui, and choose the shop dialogue among the options, there you'll find the Violetgrass.
2. Farmer in the serenitea pot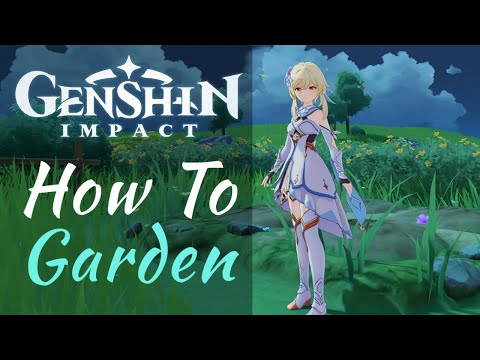 (This video will explain you in more detail how it works)
The last 2.0 version introduced the Gardening system for the serenitea pot. Thanks to this, you can plant seeds of flowers or other goods, such as carrots, in a special field in the serenitea pot. 
For this you need seeds of the specific plant that you wish to cultivate, which can be bought from Tubby, the serenitea pot spirit. You can plant as many seeds as you want in the craftable Gardening fields.
How does it work?
First you need to craft the plot where you're going to plant your seeds, each of these plots has space for four seeds.
So based on that, you can calculate the number of materials you'll need to craft the plots and the number of seeds you could buy.
After you have everything, it's time to set the plots in your serenitea pot, once it's done, go one by one and plant your seeds. which will be ready in 2 days and 22 hours.
1.  Liyue World Exploration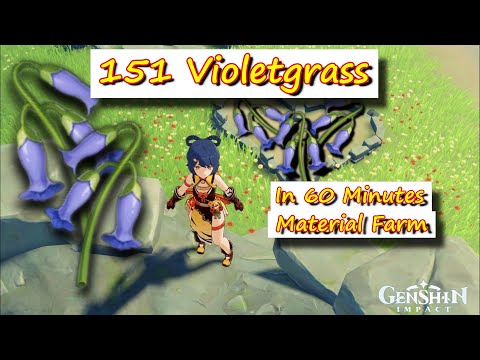 (A quick guide to 160 Violetgrass)
This is by far the easiest way to get a huge amount of any plant or collectible item. In the whole region of Liyue there are up to 151 Violetgrass scattered all over its map. Although you might think that it would be terrible to explore the map to get them all, it's actually pretty easy thanks to the interactive map which marks you the location of each item you want.
How does it work?
To make things easier start by setting the interactive map of Teyvat and selecting the Violetgrass.
Now go ahead, spot by spot and get all the Violetgrass in Liyue. 
You May Also Be Interested In:
Image Gallery