[Top 15] Dota 2 Best Physical Damage Heroes (Ranked)
Updated: 24 Oct 2022 9:57 pm
Need physical damage in your team? Here are the best heroes for that.
In DOTA 2 there are 3 types of damage: pure, magical and physical damage. When we think of physical damage heroes, we typically think of hard carriers who can 1v5 in the late game. Who is the best hero to pick when you need a physical damage dealer in your team?
 
15. Weaver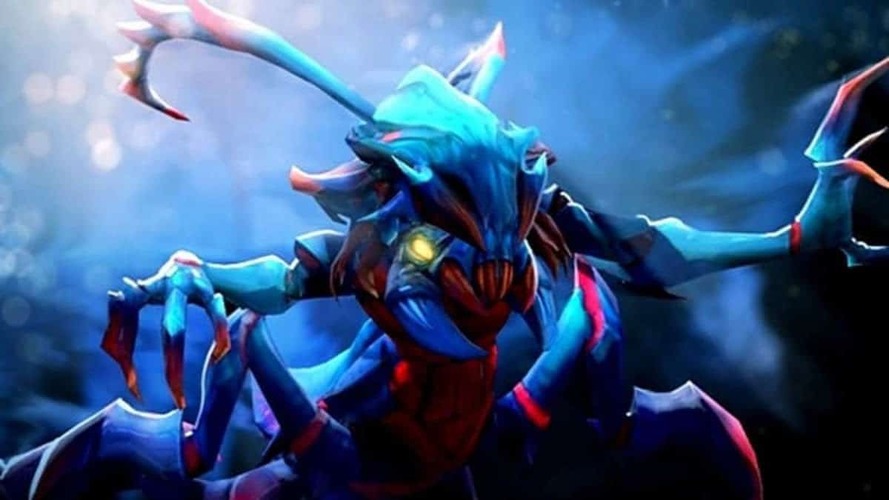 Skitskurr, the Weaver
Bug, who, according to legend, created the entire DOTA 2 universe, Weaver is one of the best heroes to deal single-target damage. His skills give him great mobility, invisibility, and powerful ultimate. He struggles against heroes with catch and lockdowns. Typically, he is played in the Carry position. He needs a few items before he is ready to deal some serious damage. You should pick him when your team needs physical damage; enemies have only squishy heroes; or the enemy team lacks lockdown (spells with stun, root, or taunt).
What makes Weaver Great: 
Ability the Swarm launches a swarm of bugs. If they latch onto an enemy hero, they attack him, give vision and reduce armour.
He has great mobility thanks to the Shukuci ability. When used, weaver becomes invisible and gains maximum movement speed. This ability makes him elusive and hard to deal with.
His passive ability Geminate attack, dispatch two attacks at once, every 3 seconds on max level. This helps him with the last hitting during the laning stage and also increases his damage during the game.
His ultimate ability, the Time Lapse, warps Weaver backwards to whatever position he was in five seconds earlier. He regains the HP and mana from that time. This allows Weaver to reset during the fight.
See Weaver in action
14. Clinkz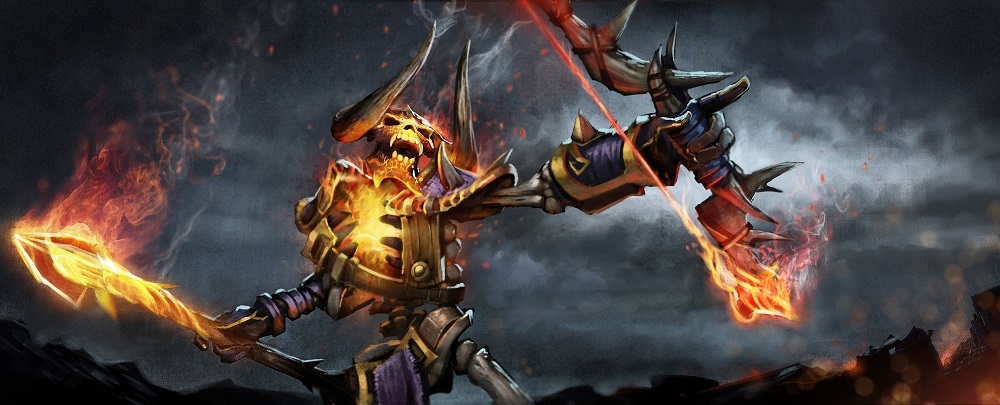 Clinkz, the Bone Fletcher
The burning skeleton is the nightmare of every support player. With his invisible ability, he can scout enemy heroes who are alone and then kill them in a matter of seconds. You can pick him when you need a hero for fast pickoffs. He is played as a Mid or Carry. He has a very straightforward plan and needs only one or two items to start fighting. But you should always be aware of your positioning because it only takes one or two longer stuns to kill you.
What makes Clinkz Great:
With the combination of two spells, Burning Barrage and Searing Arrows, you can hundred to zero most of the heroes in the game. If you also have Gleipnir, you can root them and prevent them from escaping.
The third spell, Skeleton Walk, gives you invisibility and increases your movement speed. And if you buy an Aghanim's Shard, after you leave invisibility, two skeletons are spawned. They attack the nearest enemy.
His ultimate ability consumes neutral creep. Clinkz gains max health and damage based on the creep's stats. This makes you more taniker.
With Clinkz, you can snowball pretty hard. If you are ahead, you can solo kill anybody. Thanks to Searing Arrows, you can also push fast.
See Clinkz in action
13. Troll Warlord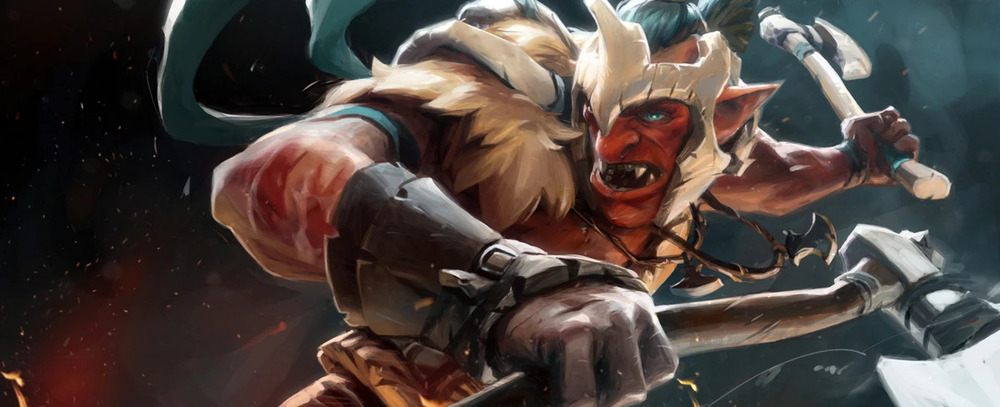 Jah'rakal, the Troll Warlord
There is no better hero in DOTA for one-versus-one situations than the "1v1 King." He is the only hero that can choose and switch between ranged and melee attacks. His toolkit makes him a strong laner; he can farm pretty fast, he is good to take Roshan with, and also, he is great at pushing towers. Mostly used as Carry, but he can also be played in the middle lane. With every attack on the same unit, his attack speed increases. With items like Skull Basher or Abyssal Blade, you can "Perma stun" your enemies. But on the other hand, he is easily countered by items like the Ethereal Blade, Heaven's Halberd or Eul's Scepter of Divinity. Also, you should be aware, when you use your ultimate, Troll becomes uncontrollable, which allows enemies to kite you.
What makes Troll Warlord Great:
Ability Berserker's Rage allows you to change between melee and ranged attacks. Your second spell changes according to the attack type you choose. When you are in melee mode, you can hurl your axes, which gives you evasion. When you are in the ranged mode, you can throw your axes and slow enemies. 
His passive ability, the Fervor, is the core of this hero. Your attack speed increases with every attack on the same unit. Just make sure that you attack the same target or your passive resets.
During your ultimate, you become invincible. You gain additional attack speed and lifesteal.
See Troll Warlord in action
12. Juggernaut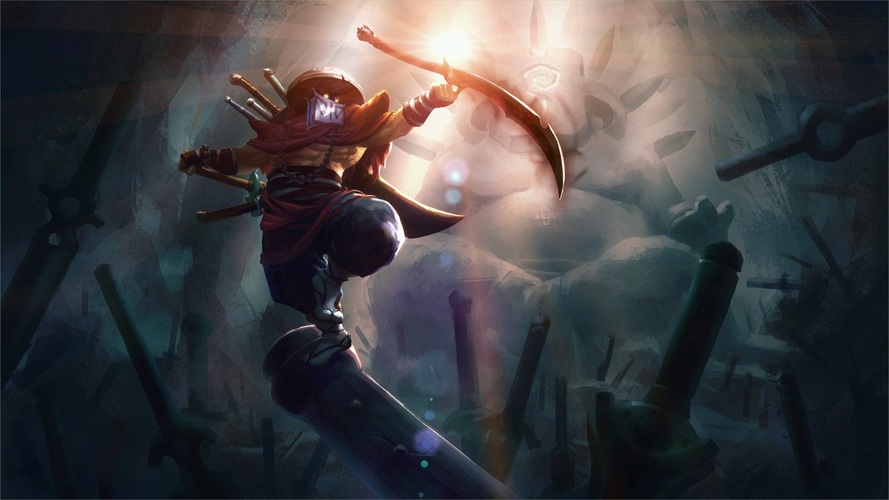 Yurnero, the Juggernaut
DOTA's Samurai, Yurnero the Juggernaut, is the greatest swordsman in the game. He is one of the faces of DOTA. This month he was picked in over 3 million games. He is one of the traditional Carries, and every Carry player should master this hero. His tool kit has built-in magical immunity, a little bit of magical damage, a healing ward, and critical hits. He is considered a good pick in almost any situation.
What makes Juggernaut Great:
His first spell is Blade Fury. After you use this ability Juggernaut starts to spin his sword around. You deal magical damage and have magic immunity. You can use this spell both offensively and defensively. You can also upgrade this ability by buying Aghanim's Shard.
You can summon the Healing Ward, which heals up to 5% of your (and your allies') health per second. This gives you sustain during the laning phase, helps with pushing, or you can reset after a team fight.
Blade Dance is Juggernaut's passive spell. It gives a chance to deal critical damage on each attack.
His ultimate ability is Juggernaut's signature spell, Omnislash. The Juggernaut leaps towards the target enemy units and then slashes the target and other nearby enemy units at an increased attack rate. This is where the physical damage of this hero shines. By buying Aghanim's Scepter, you also gain a new ability, the Swiftslash, which is the "budget" version of the Omnislash with a lower cooldown.
See Juggernaut in action
11. Visage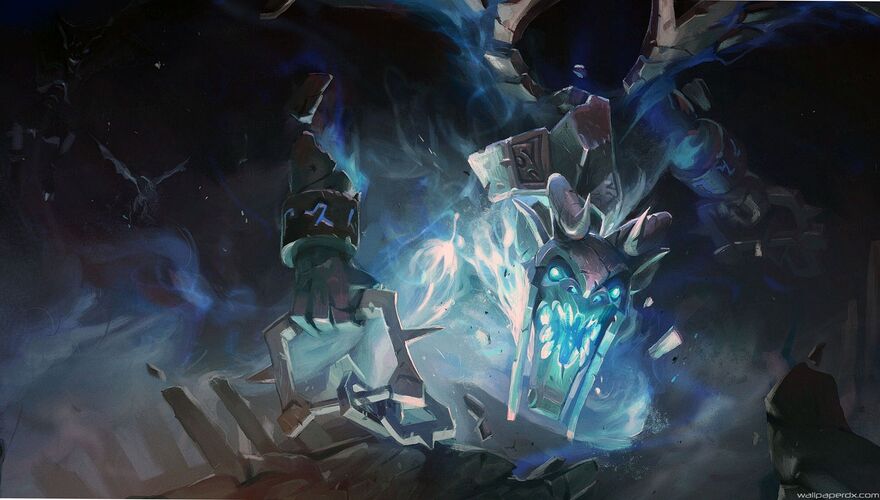 Visage, the Bound Form of Necro'lic
Simply known as "the Bird." Visage is one of the best tower pushers in the game. Additionally, he melts any low-armour hero. His ultimate summons 2 familiars, he can scout areas with them, and they also stun and attack. He likes to build items that give powerful auras, such as Wraith Pact, Drum of Endurance, and most importantly, Assault Cuirass. With AC and level 15 talent, his physical damage output becomes even more ridiculous, with all this armour reduction. He requires a little bit of practice before you can comfortably pick him in your games. And also, he is countered by illusion heroes or heroes with AOE spells that kill his familiars. Visage is one of the few heroes who can be played in the Offlane while still having the same impact as a position 1 or 2.
What makes Visage Great:
We start with his ultimate ability to summon Familiars. Familiars are flying units. They are affected by all of Visage's spells and auras. Familiars are used to scout areas, stun enemies, and mainly deal huge amounts of physical damage.
Grave Chill is his first spell. Visage drains the movement and attack speed of the targeted unit, gaining it for itself and nearby familiars. Thanks to this spell, Visage can out-trade almost any hero and win his lane.
His second spell is a magical nuke with a low cooldown that deals up to 420 damage (540 with level 20 talent) every 4 seconds.
His sustain comes from a passive ability, Gravekeeper's Cloak. Visage creates a barrier around him that reduces incoming damage. If he receives damage from a player, one layer is removed and it takes time to recover. With all layers up, he can reduce 80% of incoming damage.
Aghanim's Scepter grants Visage a new spell. Silent as the Grave turns Visage and Familiars invisible. They have bonus movement speed and upgrade Visage movement type to flying. After they leave invisibility, they deal bonus damage. 
See Visage in action
10. Meepo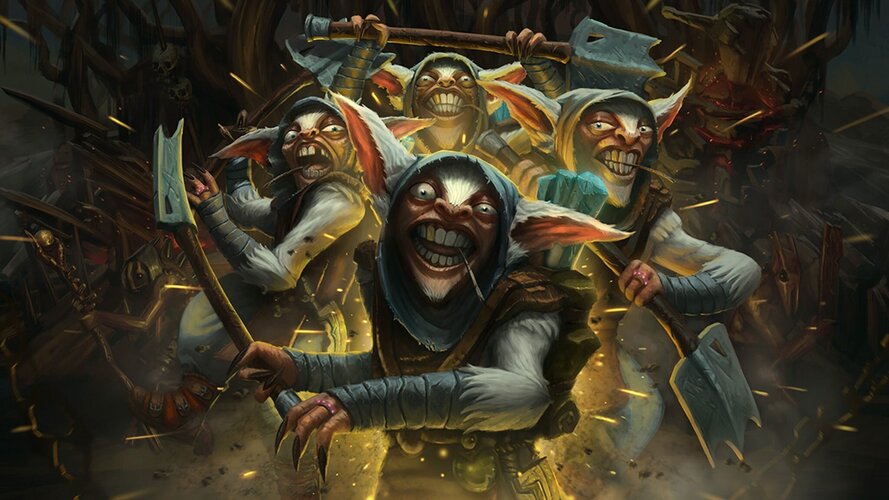 Meepo, the Geomancer
Either you love or despise this hero. Meepo is the most snowballing hero in the game. In lore, he is just a couple of guys with shovels, but in-game he can be a real nightmare to deal with. Usually played on the Middle lane. He can farm much faster than any other hero, and he also gains more exps. Before you hop into the game, you will need to practice your micro skills, because you will control 4 units. But if you master this hero, you will have a really powerful weapon in your hero pool.
What makes Meepo Great:
Meepo summons an imperfect, semi-autonomous duplicate of himself, which can gain gold and experience. They share experience, attributes and abilities with the main Meepo. This is his ultimate ability, Divided We Stand, and you can skill it at level 4 instead of 6. But here is one downside: if one Meepo dies, they all die.
Poof is an active spell that teleports one Meepo to another. It deals magical damage in the area. There is a famous Blink+Poof combo that you will have to practice.
When using Earthbind, you throw a net on an enemy. They are rooted for 2 seconds. Ransack is his passive spell, you steal enemy health and heal other Meepos for the same amount.
The more stats the main Meepo has, the more damage you deal with all Meepos. Essentially, you are attacking with 4 units, so the physical damage you deal is pretty high.
See Meepo in action
9. Ursa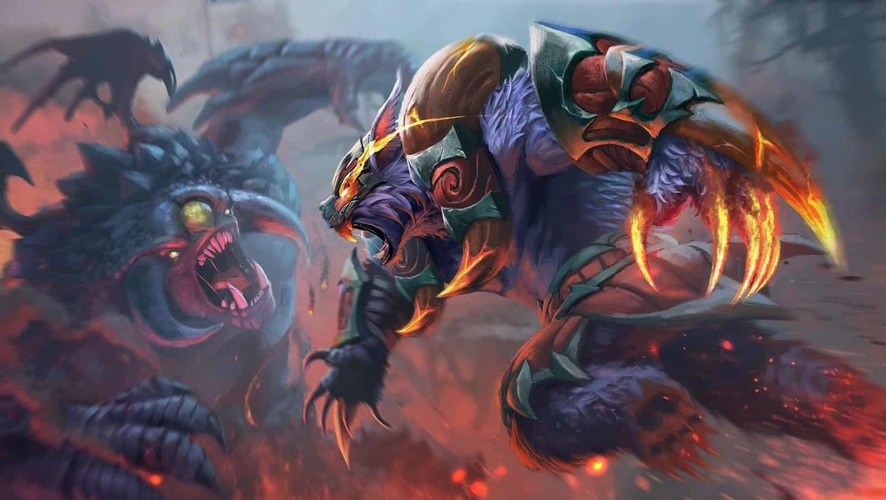 Ulfsaar, the Ursa Warrior
Roshan's biggest phobia, Ulfsaar the Warrior. This big angry bear is another traditional Carry on the list. The essence of this hero lies in his passive ability, Fury Swipes. With his claws, Ursa deals additional damage with each attack, so the longer you fight, the more damage you deal. This passive also works on Roshan, which makes Ursa the single best hero to take Rosan. His gameplay revolves heavily around Aegis, so you need to kill Roshan as soon as possible.
What makes Ursa Great:
With Earthshock, Ursa leaps forward, slows enemies and deals magical damage. A fantastic way to secure the last hits on the lane. Additionally, if you have Aghanim's Scepter, while you use Earthshock, you also become Enraged for 1.5 seconds.
His second spell is Overpower; he gains extra attack speed for his next few hits.
As I already mentioned, Fury Swipes is the core of this hero. The max level damage per stack is 37(49 with level 20 talent). This is a Physical Damage Type ability.
Ursa's ultimate is Enrage. He gains damage reduction and status resistance, and also removes any existing debuffs. During his ultimate, Ursa is almost impossible to kill.
See Ursa in action
8. Marci
Marci
The most loyal companion of Princess Mirana. Marci is one of the newer additions to the DOTA 2 hero roster. First appeared in DOTA: Dragon's Blood. She is more of a Support or Offlane hero than a Carry. She is played across all 5 positions. Her ultimate, however, has enormous physical damage potential.
What makes Marci Great:
Her first spell is Dispose. She grabs an ally or enemy and throws it behind her. Slowing and damaging enemies in the process.
Rebound is her second spell, which gives her mobility. She bounces off the friendly hero into the distance. If she lands on enemies, they are stunned and damaged.
Ability Sidekick has both support and carry potential. She chooses ally hero, they both gain bonus damage and lifesteal for 7 seconds. This can act as a "steroid" for some heroes. For example, Lone Druid's bear with Sidekick buff destroys towers in a matter of seconds.
Finally, her ultimate ability, Unleash, is what turns this lovely girl into a rampaging monster. Marci taps a hidden power, gaining Fury charges that allow her to deliver a rapid sequence of strikes that slow the movement and attack speed of the target for 2 seconds. With only a few items like Skull Basher or Black King Bar, she can deal insane amounts of damage during her ultimate.
See Marci in action
7. Phantom Assassin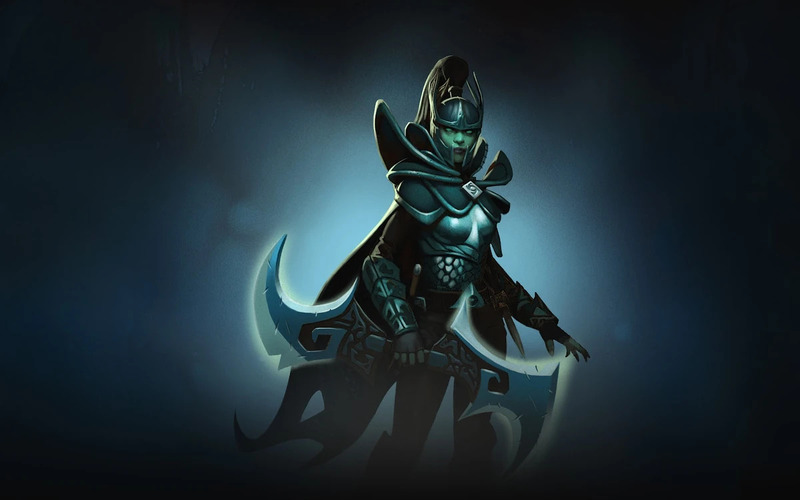 Mortred, the Phantom Assassin
Mortred, the Phantom Assassin, is the definition of the physical damage-dealing hero. Her gameplay is pretty straightforward. You slow enemies with a dagger, then blink onto them and crit them to death. She is the second most-played hero in DOTA 2 with more than 645 million overall games. Phantom Assassin has evasion built into her skills, which gives her great survivability but is countered by Monkey King Bar. She is played as Carry, and she is one of the few heroes for whom the Battle Fury is an essential item.
What makes Phantom Assassin Great:
The Stifling Dagger is her first spell. She throws one of her daggers at an enemy. The enemy is slowed and damaged. This is a great ability to secure the last hits in the lane. The daggers can also proc passives and items. One of the most satisfying moment in DOTA is when you instantly kill the enemy support with just PA's dagger.
With Phantom Strike, you can close the gap between you and your opponent. Mortred teleports to the enemy or friendly unit. If it is the enemy, she gains attack speed and lifesteal.
Her third ability is Blur. She passively gains evasion. If the spell is activated, Phantom Assasin becomes impossible to see until near enemy heroes.
Coup de Grace is her ultimate ability. This is a passive that, at max level, gives PA a 15% chance to crit with 450% critical damage.
After she buys an Aghanim's Shard, she gains a new ability, the Fan of Knives. This ability is one of the few ways to apply the Break status effect that disables most passive abilities. Which is a great way to counter heroes with strong passives, such as Bristleback, Timbersaw, etc.
See Phantom Assassin in action
6. Windranger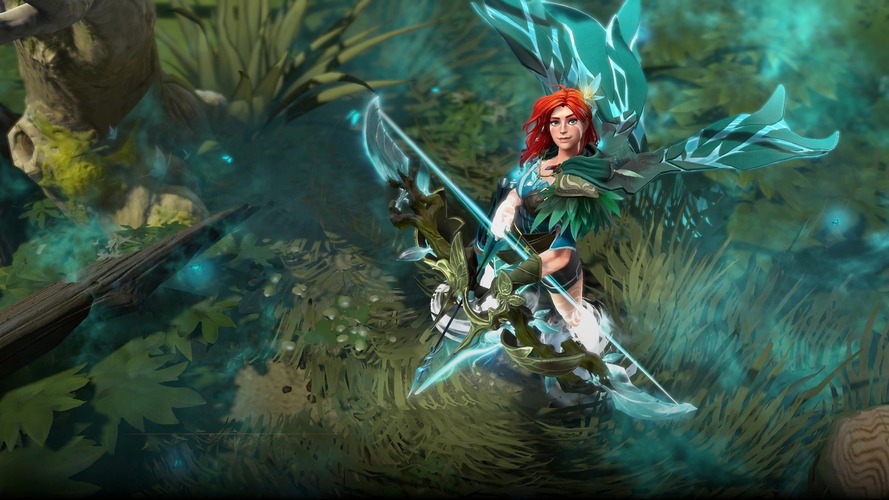 Lyralei, the Windranger
Lyralei is, with Visage, the only intelligence hero on the list. Windranger can be played as Support or as Carry. Her abilities include stun, magic damage spell, evasion, and ultimate, which grants her incredible attack speed. In this list, we are looking at the Carry Windranger build. If you want to make this build work, the best lane for her is the Middle as, she needs levels and gold.
What makes Windranger Great:
Shackleshot is the stun. Lyralei shackles the target to an enemy unit or tree in a line directly behind it. If there is no enemy or tree present, the stun duration is much lower.
Windranger charges her bow with Powershot, a magical damage spell that damages everything in its way.
When the third spell, Windrun, is activated, Windranger's movement speed is increased; she has 100% evasion; and she also slows enemies around her.
Her ultimate Focus Fire channels the wind to gain additional attack speed (up to 500, which means that she attacks every 0.23 seconds), her damage is reduced by 20%, and she can also proc item effects. If she has items like Daedalus or Monkey King Bar, her physical damage output during this ultimate is terrifying.
See Windranger in action
5. Sven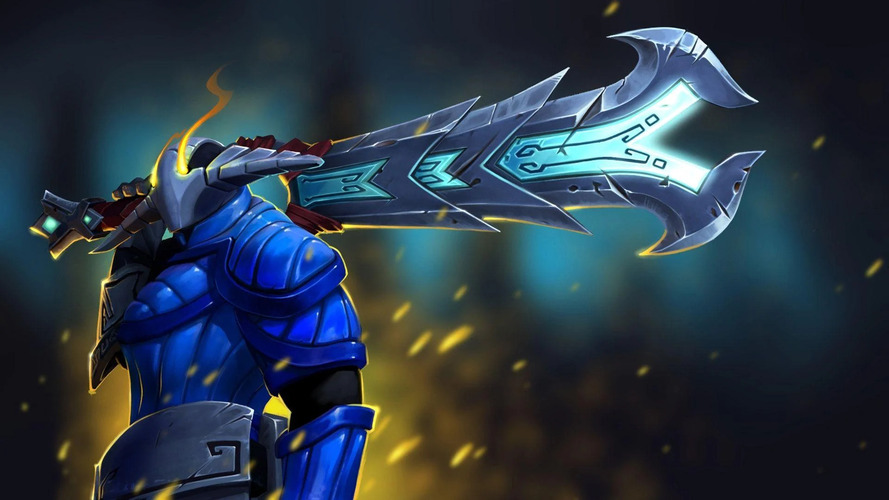 Sven, the Rogue Knight
Sven, who was once a member of the Vigil Knights, became the Rogue Knight who solely answers to himself. Sven is your typical well-rounded Carry hero. He excels at farming thanks to his passive ability, which gives him cleave. His farming ability becomes even better when you buy items like the Mask of Madness and Echo Sabre. When you pair him with a "steroid hero" like Io, he could easily take number one on this list.
What makes Sven Great:
His first ability is Storm Hammer, Sven unleashes his magical gauntlet that deals damage and stuns enemy units in a small area around the target.
Great Cleave is the passive ability that I mentioned above. At max level, you deal 100% cleave damage. You can ask your support to stack some camps in the jungle to farm even faster.
With his third spell, Warcry, you gain movement speed and bonus armour. You can use it to gang the enemy or when you need to retreat from the fight.
What makes Sven a physical damage-dealing beast is his ultimate, God's Strength. For 35 seconds, you gain bonus damage. That is 200% more damage at the max. If you add items like Daedalus, Sven tears through any hero in the game.
See Sven in action
4. Terrorblade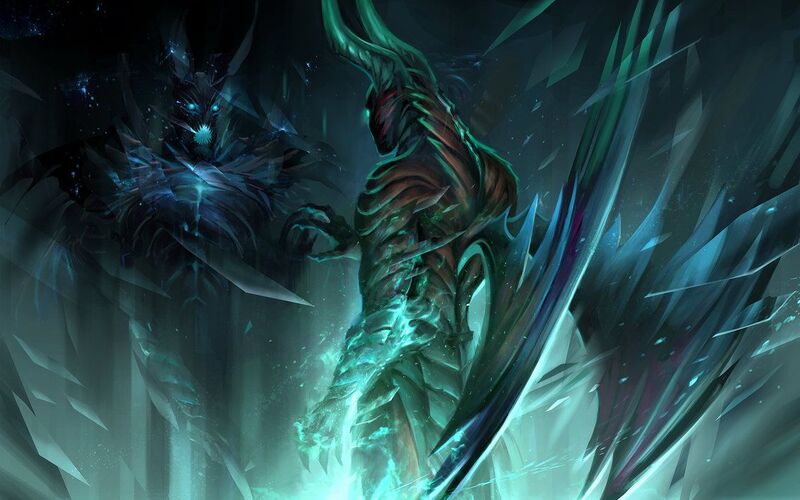 Terrorblade, the Demon Marauder
Even other demons dread this lawless hellion. The Terrorblade is considered one of the best hard carries in the game. He has almost everything: farming, split pushing, tower damage, physical damage, reset, slow, and illusions. His signature spell is Metamorphosis, Terrorblade and his illusions transform into even more powerful demons, gain bonus damage, and become ranged instead of melee. There are a few downsides to this hero; you should be familiar with the right farming patterns and be able to micro-manage your illusions; he is weak in the lane, and most importantly, he is too cooldown dependent. If your Metamorphosis is on cooldown, you are much weaker.
What makes Terrorblade Great:
When you use his first spell, Reflection, the dark reflections of all enemy heroes in a target area are created. Enemies are slowed and attacked by their dark reflections.
With your second spell, Conjure Image, you create the illusion of your hero. You can create up to 3 illusions, with this spell. They deal 70% of your damage, therefore the more powerful your hero, the more powerful your illusions. Terrorblade uses his illusions in fights or for farming. To be more effective, you can clear more jungle camps or push lanes with them. Additionally, you can also buy the Manta Style to create even more illusions.
Metamorphosis is your strongest spell. When used, Terrorblade and nearby illusions transform into powerful demons with a ranged attack. In this form, he becomes a serious damage dealer and pusher. But the cooldown for this ability is 150 seconds.
With his ultimate, Sunder, Terrorblade swaps health with the targeted hero. This can act as a save or reset when you are low on health, just swap it with an enemy. This can easily turn a lost team fight in your favour.
See Terrorblade in action
3. Shadow Fiend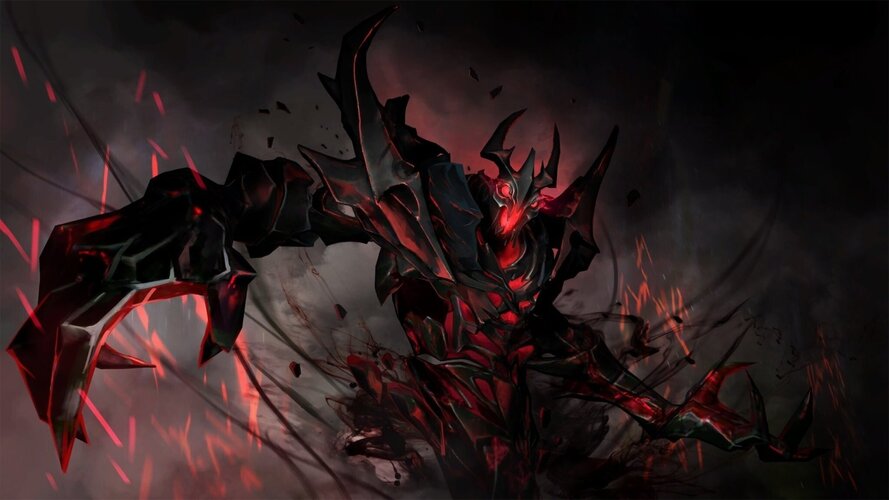 Nevermore, the Shadow Fiend
Shadow Fiend was once a must-have for every mid-player, but now he can also be used on the sidelane as Carry nowadays. Before the game starts, you have to make a tough decision. Do you play Magic or Rightclick SF? It all depends on enemy heroes and the current patch, but you can always make both builds work. With the magic build, you rely on your Shadowrazes and your ultimate to deal most of the damage (which is magical). You typically buy items like Arcane Blink, Eul's Scepter of Divinity, and Aghanim's Scepter. If you decide to go the Rightclick SF route, most of your damage comes from your attacks. Thanks to your passives, you deal an enormous amount of physical damage. You build items like Daedalus, Satanic, and Silver Edge to ramp up your damage output even more.
What makes Shadow Fiend Great:
Shadowrazes are your magic spell. The Shadow Fiend razes the ground directly in front of him. You have 3 types of Shadowrazes; short, middle, and long distance. Also, each Shadowraze adds a stacking damage amplifier on the target that causes the enemy to take bonus Shadowraze damage per stack, which decreases turn rate and movement speed. With a little bit of practice, you can outplay your opponents on the lane with Shadowrazes alone.
His other active spell is his ultimate, Requiem of Souls. Nevermore releases all captured souls, dealing damage, slowing and fearing all enemies around him. When you play Rightclick SF, you use your ultimate mainly to apply a fear effect on enemies.
What makes physical damage Shadow Fiend's work is his passive Necromastery and the Presence of the Dark Lord. With Necromastery, the soul of every unit killed by SF is captured. He can capture up to 20 souls. Each soul gives SF bonus damage. The Presence of the Dark Lord reduces the armour of nearby enemies. If you have in your team items like Desolator or Assault Cuirass, your armour reduction is even higher. With all this armour reduction and bonus damage, the Shadow Fiend deals an insane amount of physical damage. 
See Shadow Fiend in action
2. Templar Assassin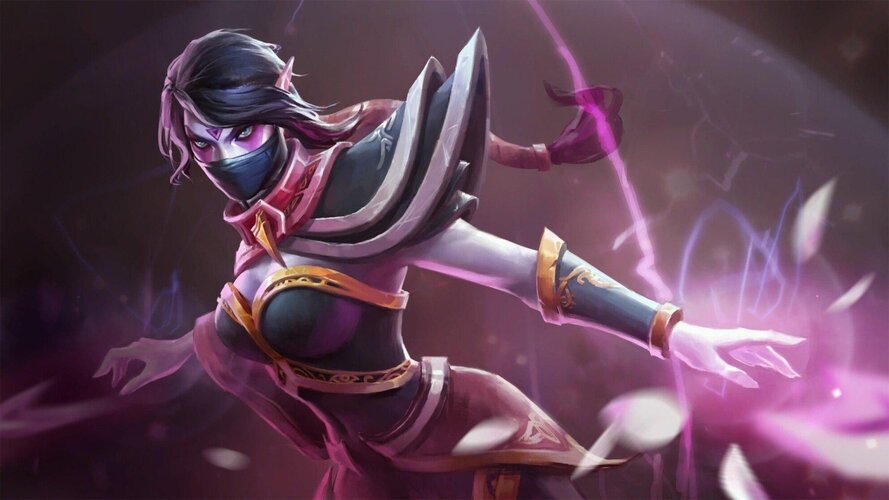 Lanaya, the Templar Assassin
Second on the list is Lanaya, the Templar Assassin. Her ability to pick off enemies in a span of seconds makes her a popular choice when your team lacks a physical damage dealer. Similar to SF, she was played exclusively in the middlane, but in the latest patches, more people started playing her in the sidelane. 
What makes Templar Assassin Great:
Her first spell is Refraction. When used she gains 6 instances that block any incoming damage and gains bonus damage. Level 25 talent increases bonus damage per instance of Refrection even more. This great way to protect yourself while your damage output rises.
Lanaya's second offensive spell is Meld. TA becomes invisible and stays in the same spot. If Meld's invisibility is broken by attacking an enemy, she will deal bonus damage to the enemy and reduce their armour.
Her passive ability is Psi Blades. Psi blades slice through the attacked unit, splitting and damaging enemy units directly behind it while gaining bonus attack range. You will need a little bit of practice to fully use this ability. This passive is great for farming jungle camps or out-push lanes.
Her ultimate are Psionic Traps. TA places the trap on the map. This trap gives vision, so this is a good way to scout areas. When you spring the trap with the enemy in the area, they become slowed and are damaged over time.
If you combine her tool kit with items like Desolator and Daedalus, all this bonus damage and armour reduction will overwhelm any enemy hero.
See Templar Assassin in action
1. Chaos Knight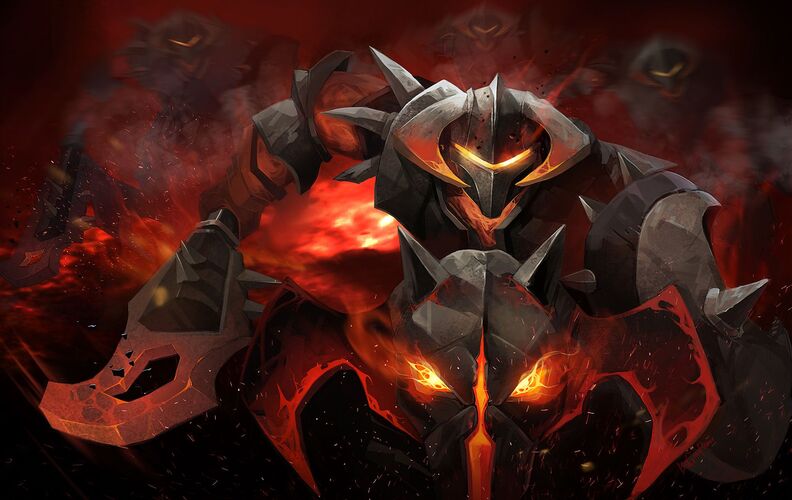 Chaos Knight
Chaos Knight is the strongest of the Fundamentals in lore, and he is also the best single-target physical damage dealer. There is a line in his lore: "Where rides the Chaos Knight, death soon follows." This is also true in the game. Together with his illusions, he can do a massive amount of damage, and most enemies vanish as soon as CK attacks them. His biggest weakness is that he is dependent on his illusions. So, when his ultimate is on cooldown or the enemy has ways to clear illusions with AoE spells, he is not as strong.
What makes Chaos Knight Great:
His first spell is a stun. He throws Chaos Bolt onto an enemy, stuns it for a random duration and deals random damage.
After he summons his illusions, his second spell, Reality Rift, is how he initiates. Chaos Knight and illusions are teleported in front of the target. Additionally, the armour of the enemy hero is decreased.
Chaos Strike is his passive ability that allows CK and his illusions to deal a critical strike of varying strengths and lifesteal, for a percentage of the damage dealt.
His ultimate is Phantasm. When used, Chaos Knight creates up to 3 illusions (at max level) of himself. They are strong illusions that deal 100% of CK's damage.
Chaos Knight only really needs the Armlet of Mordiggian to start roaming around the map. He comes online much faster than other carry heroes, so he can snowball quite hard.
See Chaos Knight in action
You may also be interested in:
Dota 2 Best Role For Beginners (Ranked)
[Top 10] Dota 2 Best RPG Maps That Are Fun!
[Top 10] Dota 2 Best Tower Defense Maps That Are Fun!
[Top 15] Dota 2 Best Physical Damage Heroes (Ranked)
[Top 15] Dota 2 Strongest Heroes Based On Lore