[Top 10] Dota 2 Best Imba Heroes That Wreck Hard!
Updated: 12 May 2022 12:51 am
Totally IMBAlanced!
With so many heroes in the game, it is evident that not all of them are as good as the others, in the current meta. The stronger heroes are generally referred to as IMBA (short for imbalanced). These heroes are bestowed with buffs by Icefrog, allowing them to naturally have an edge over the others and essentially dominate the game.
To help you find the best-imbalanced heroes to enhance your gameplay, we have compile111d this list of the best 10 IMBA Heroes That Wreck Hard. These heroes are very much relevant in the current meta, hence they help you dominate your games!
10. Centaur Warruner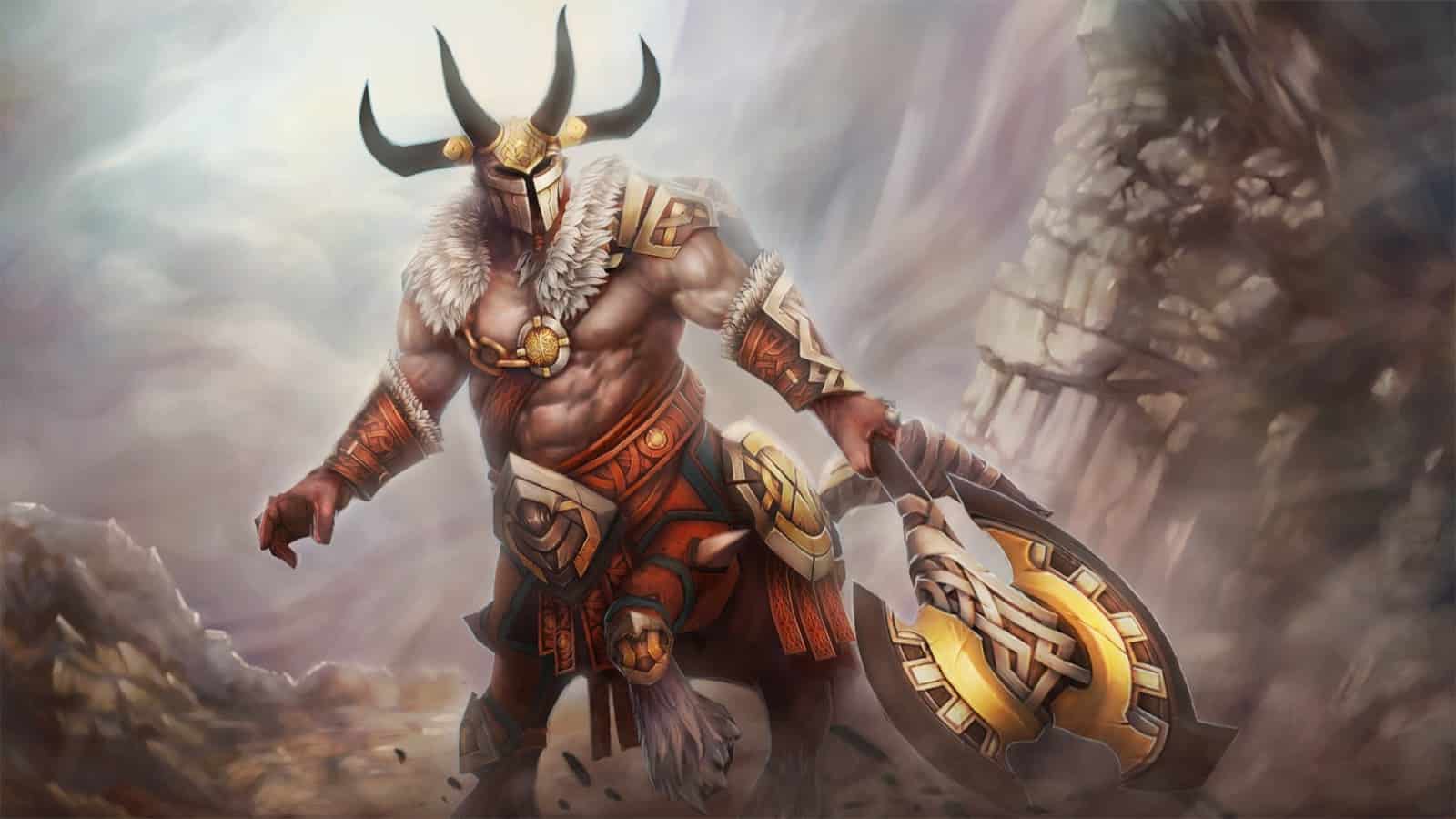 The war chieftain has seen many strong enemies, his forces have destroyed empires and defeated great warriors. Centaur is naturally a great counter to any ranged hero due to his ability to gap close with both his ultimate and the Blink Dagger. He can return some serious damage back to his enemies and it is further amplified with the Blade Mail. Sniper can not fight alone or target a farmed and fat Centaur.
Why is Centaur Warruner an IMBA hero? 
Blink Dagger combined with Hoof Stomp can be used to catch heroes.
Centaur can also utilize Stampede to cover the distance.
Double Edge can easily finish off enemies after Centaur initiates on him.
Items to buy on Centaur Warruner
Blink Dagger
Blade Mail
Force Staff
Aghanim's Scepter and Shard
Crimson Guard
https://dota2.fandom.com/wiki/Centaur_Warrunner
9. Juggernaut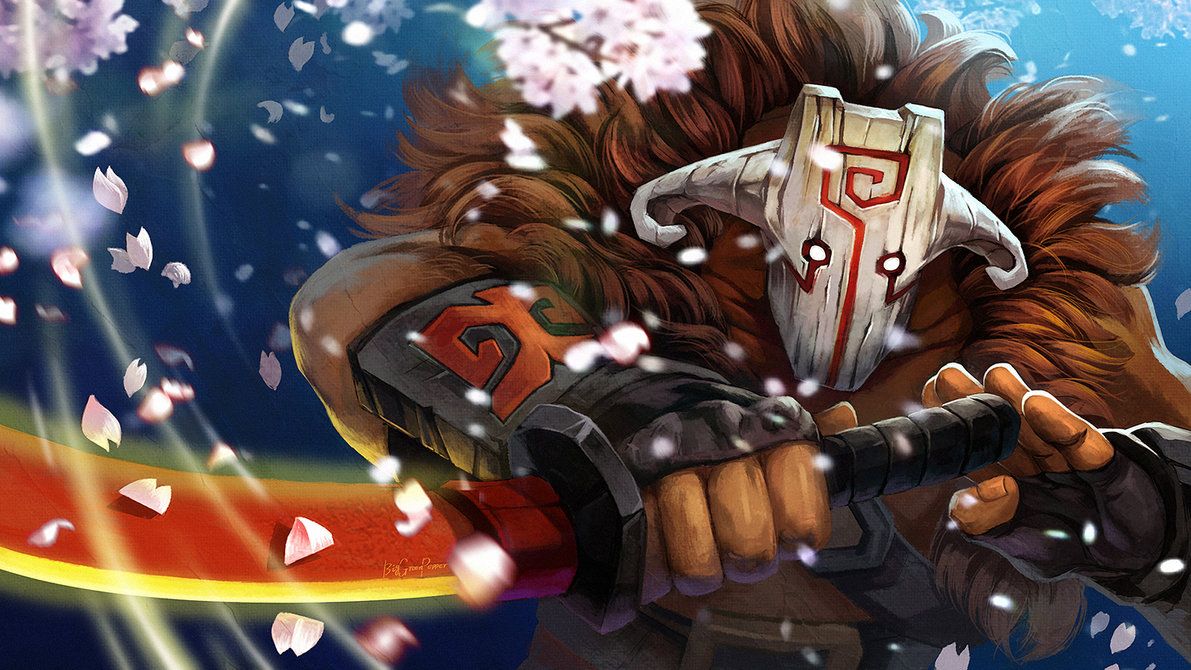 The masked Samurai is a deadly hero that is better left untamed. It is impossible to contain him if he unleashes his true potential. Juggernaut is considered to be a beginner-friendly hero but only the advanced players understand the true potential and mechanics of this hero. Not only is he great at farming, but he can also control the tempo with his ultimate. He is also known as one of the most flexible heroes in the game in terms of item builds.
Why is Juggernaut an IMBA hero? 
Does more with levels as opposed to farm.
Great base movement speed, armor, and attack speed.
Great talent tree that scales well with items.
Items to buy on Juggernaut
Diffusal Blade
Sange and Yasha
Aghanim's Scepter and shard
Butterfly
Eye of Skadi
https://dota2.fandom.com/wiki/Juggernaut
8. Slark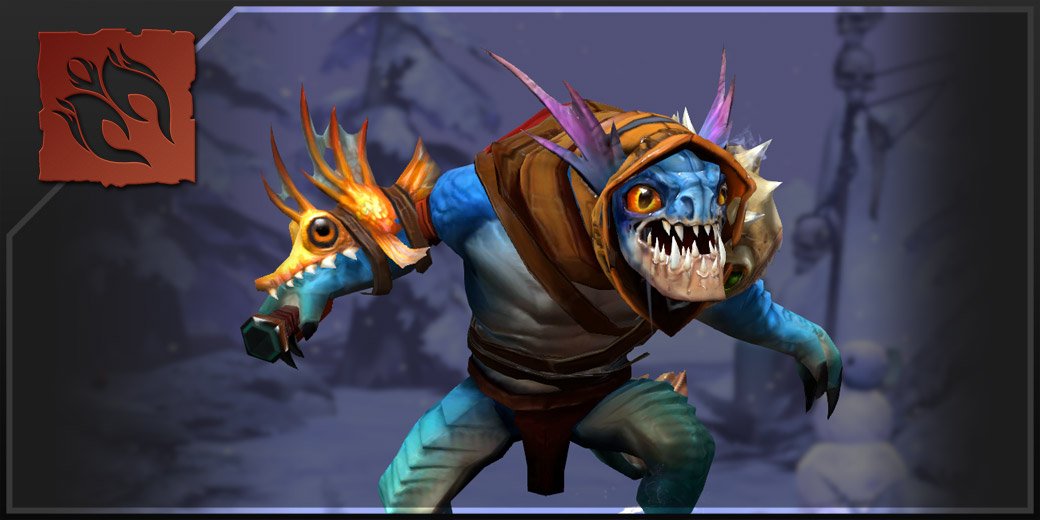 This vicious creature of the deep sea knows no bounds. Slark is one of the stealthiest and deadly carry heroes in the game. His lethal skills make him quite popular in the current meta. Diffusal Blade makes him immensely strong as it causes WK to lose mana quickly. He can also purge off WK's stun, allowing him to chase the latter effortlessly. Slark also farms faster compared to the Wraith King, which gives him an advantage over him in the late game.
Why is Slark an IMBA hero?
Slark carries Diffusal Blade to burn mana in an attempt to shut down Reincarnation.
Dark Pact, if timed correctly, can dispel stuns and slow.
Items to Buy on Slark
Diffusal Blade
Aghanim's Shard
Black King Bar
Eye of Skadi
https://dota2.fandom.com/wiki/Slark
7. Lone Druid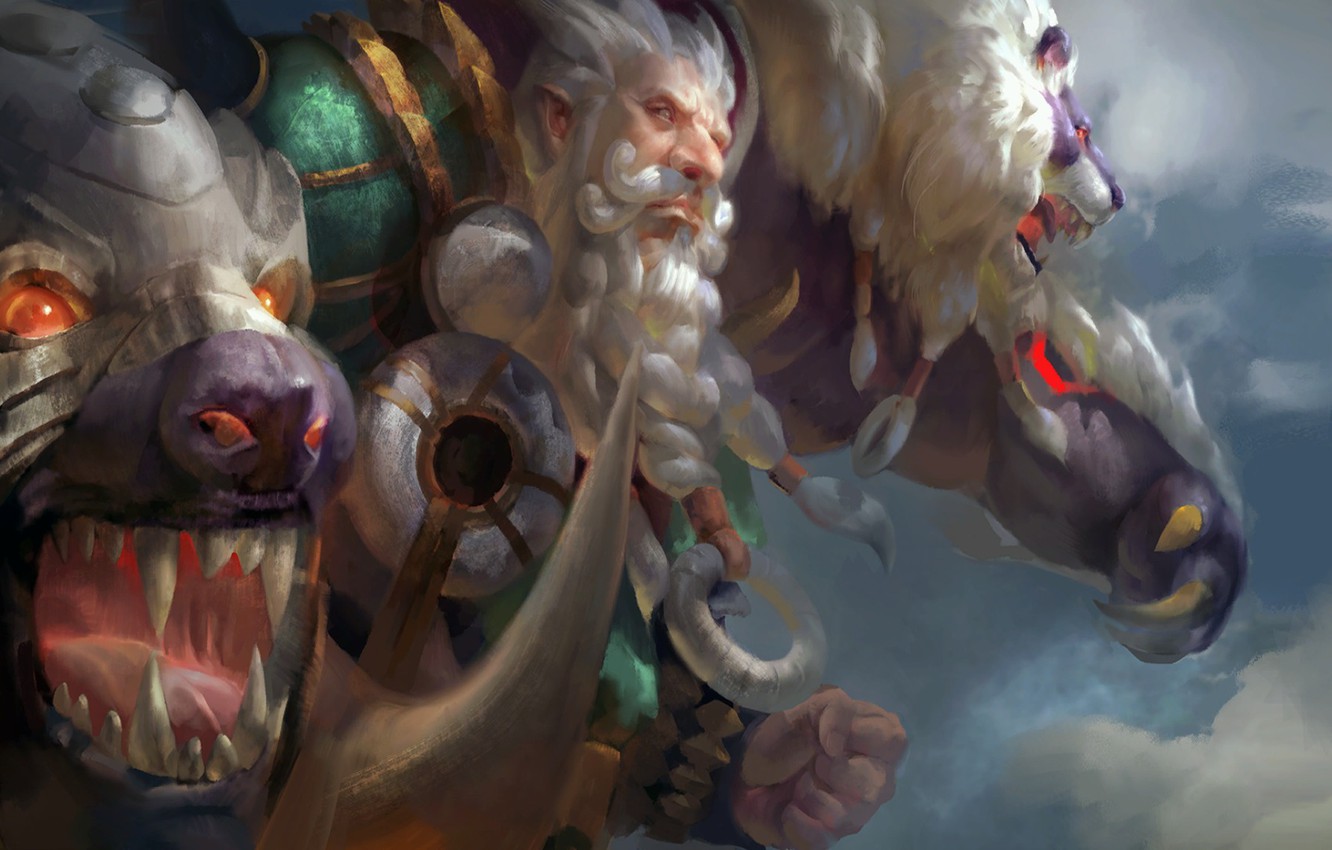 This wise and kind Druid isn't lonely by any means! His pet bear takes care of any problems that come his way. Lone Druid is played as a carry majority of the time, this is due to the vast potential that the bear has to offer. Sometimes it may feel like the bear is the primary hero and LD is the pet! The bear can easily trap and shred through enemy armor with damage-dealing items. Decent micro-skills are required to play this beast! 
What makes Lone Druid an IMBA hero? 
Tanky Spirit Bear can soak up damage while farming the jungle.
Has serious synergy due to the Spirit Link, which allows him to gain HP.
Can ward off enemy heroes and neutrals with Savage Roar, while still attacking them.
Mows down towers and squishy heroes with just a few items!
Items to buy on Lone Druid
Desolator
Assault Cuirass
Monkey King Bar
Silver Edge
https://dota2.fandom.com/wiki/Lone_Druid
6. Wraith King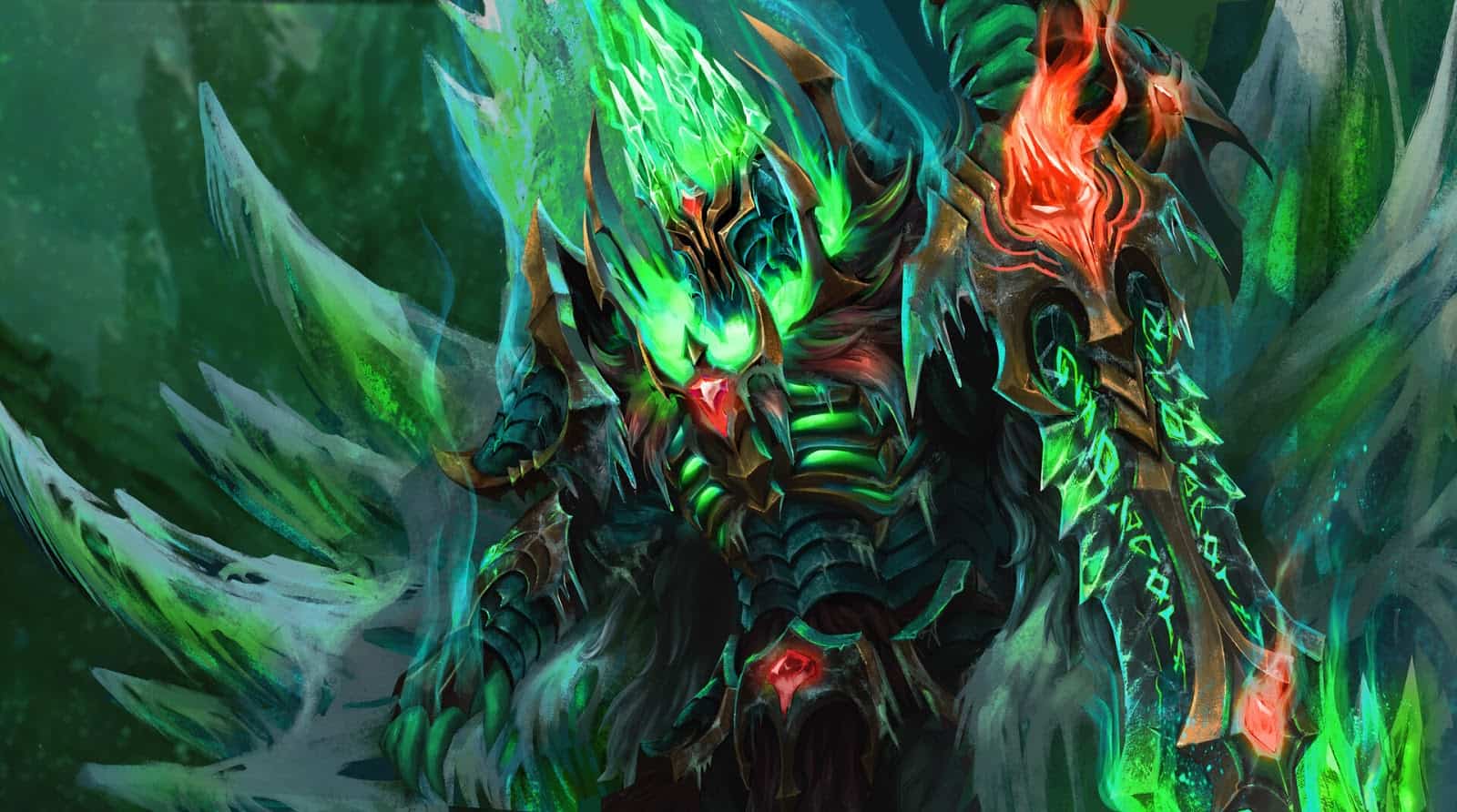 None stand a chance against the Wraith King! He resurrects from his shattered bones and comes back with a vengeance! His vigor and lifesteal make him one of the most badass heroes in the game. Wraith King is a great addition to your team if you are lacking a hard-hitting carry. He is known to farm quickly with the addition of the skeletons, which allows him to split push, he is also durable in fights due to his ultimate which brings him back to life!
Why is Wraith King an IMBA hero?
Great Lifesteal and Crit potential
Skeletons can push lanes while he farms away
High base damage
Items to buy on Wraith King
Blink Dagger
Armlet of Mordiggian
Monkey King Bar
Desolator
Black King Bar
Assault Cuirass
https://dota2.fandom.com/wiki/Wraith_King
5. Troll Warlord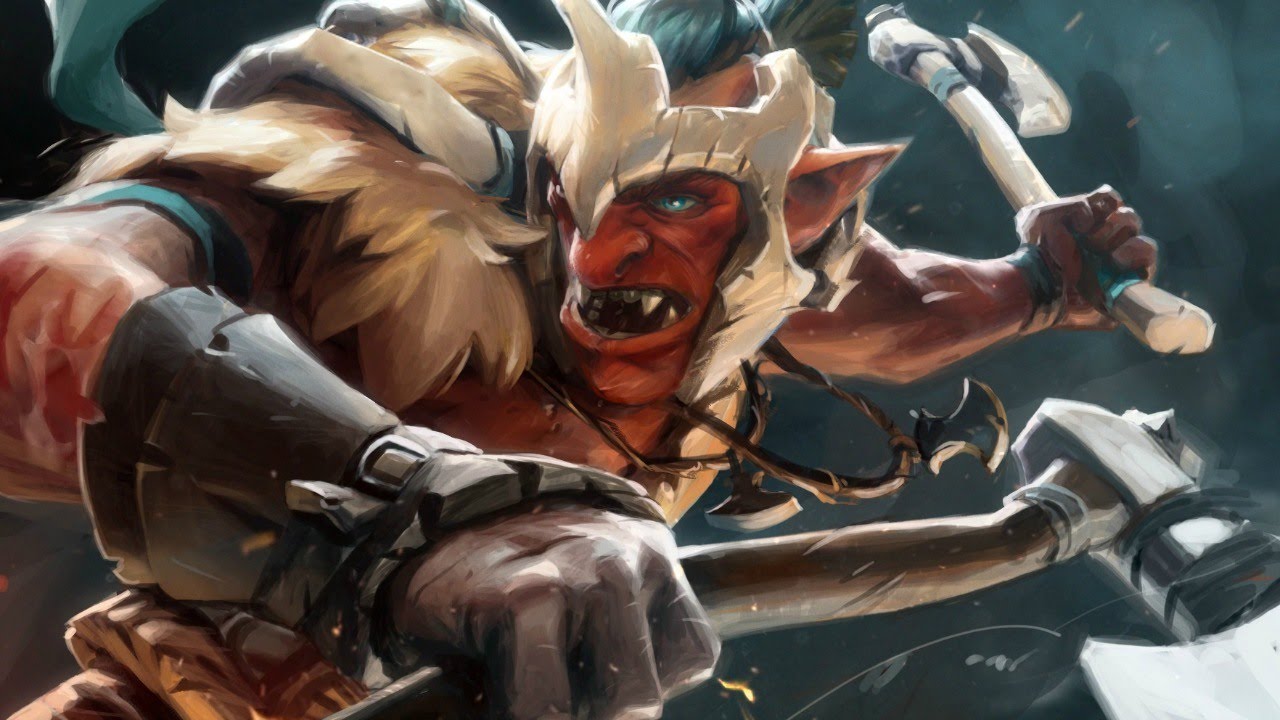 Jah'rakal the Troll Warlord has seen his fair share of battles, he has drawn so much blood that it puts Bloodseeker to shame! From being able to survive 1v5, Troll is also capable of farming quickly and turning his foes into dust! He is nimble and agile enough to rip his enemies apart in the nick of time! He is also one of the few heroes who are able to solo kill Roshan! His fearless spirit and vigor are unparalleled. 
Why is Troll Warlord an IMBA hero? 
Troll is more reliant on levels as opposed to farm
That being said, he farms relatively well compared to his foes due to his AoE abilities
He can stand his ground with Battle Trance. 
Items to buy on Troll Warlord
Skull Basher
Satanic
Battle fury 
Diffusal Blade
Monkey King Bar
https://dota2.fandom.com/wiki/Troll_Warlord
4. Sven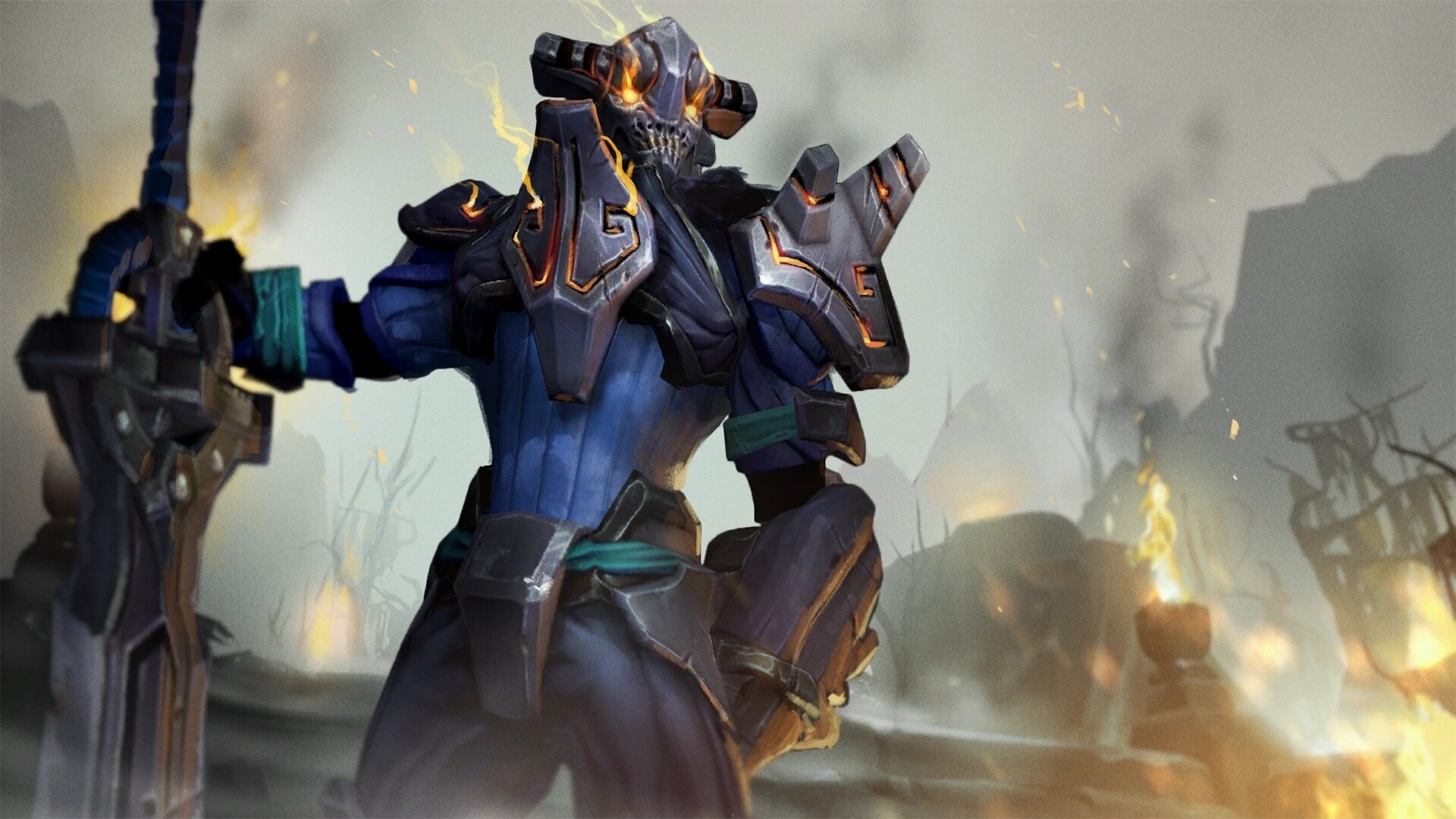 The rogue knight is known for inducing fear into his enemy's minds, his fierce moves and heavy sword scare all the foes away. Sven is known to be one of the best carry heroes in the game. There are various reasons why Sven is ranked so high on this list. He has it all, AoE stun, ease of farming, movement speed, and double damage. Sven is capable of dominating the battlefield all by himself! The items only supplement his abilities and enhance his presence during team fights. 
Why makes Sven an IMBA hero? 
Sven can 1 hit kill squishy heroes.
Aghanim's Scepter allows him to pounce on enemy heroes and stun them at the same time, a great gap closer.
His AoE stun, Storm Hammer, is a useful crowd control spell.
Items to buy on Sven
Echo Sabre
Assault Cuirass
Daedalus
Black King Bar
Bloodthorn
https://dota2.fandom.com/wiki/Sven
3. Broodmother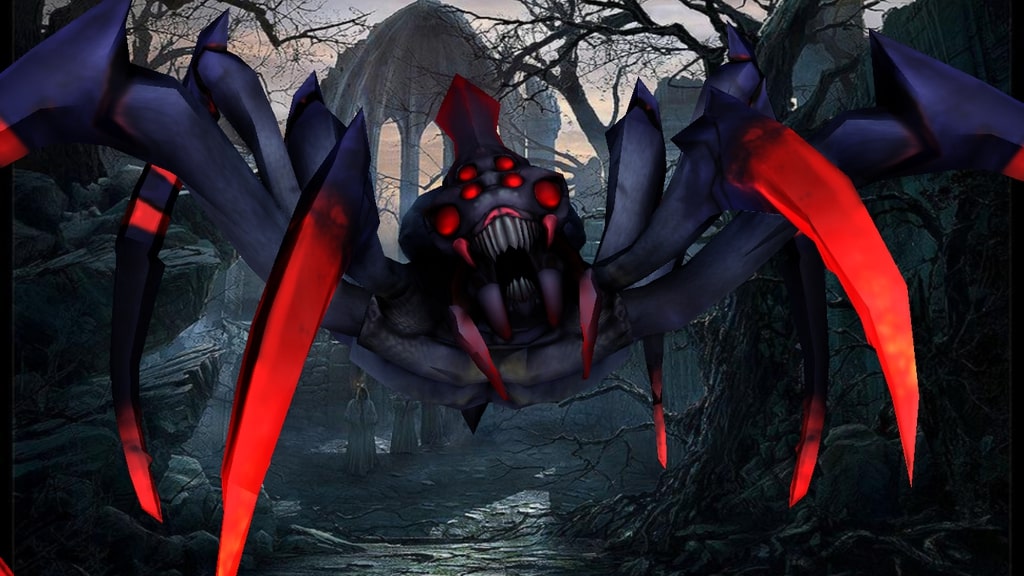 Whether you have Arachnophobia or not, I'm sure you're afraid of the almighty Broodmother. Unless you're an AoE damage dealing core, you should be afraid of this 8-legged menace. Her foes do no AoE damage unless they have Radiance or multiple AoE spells, which means Brood has free rein for the first 30 minutes of the game, and may possibly be knocking at your tier 3s. All it takes is Insatiable Hunger and Diffusal Blade to melt enemies!
Why is Broodmother an IMBA hero? 
A great Broodmother player can easily clear waves and micro efficiently.
With Diffusal Blade, Broodmother can prevent enemies from using spells
Items to Buy on Broodmother
Aghanim's Scepter
Black King Bar
Diffusal Blade
Bloodthorn
https://dota2.fandom.com/wiki/Broodmother
2. Spectre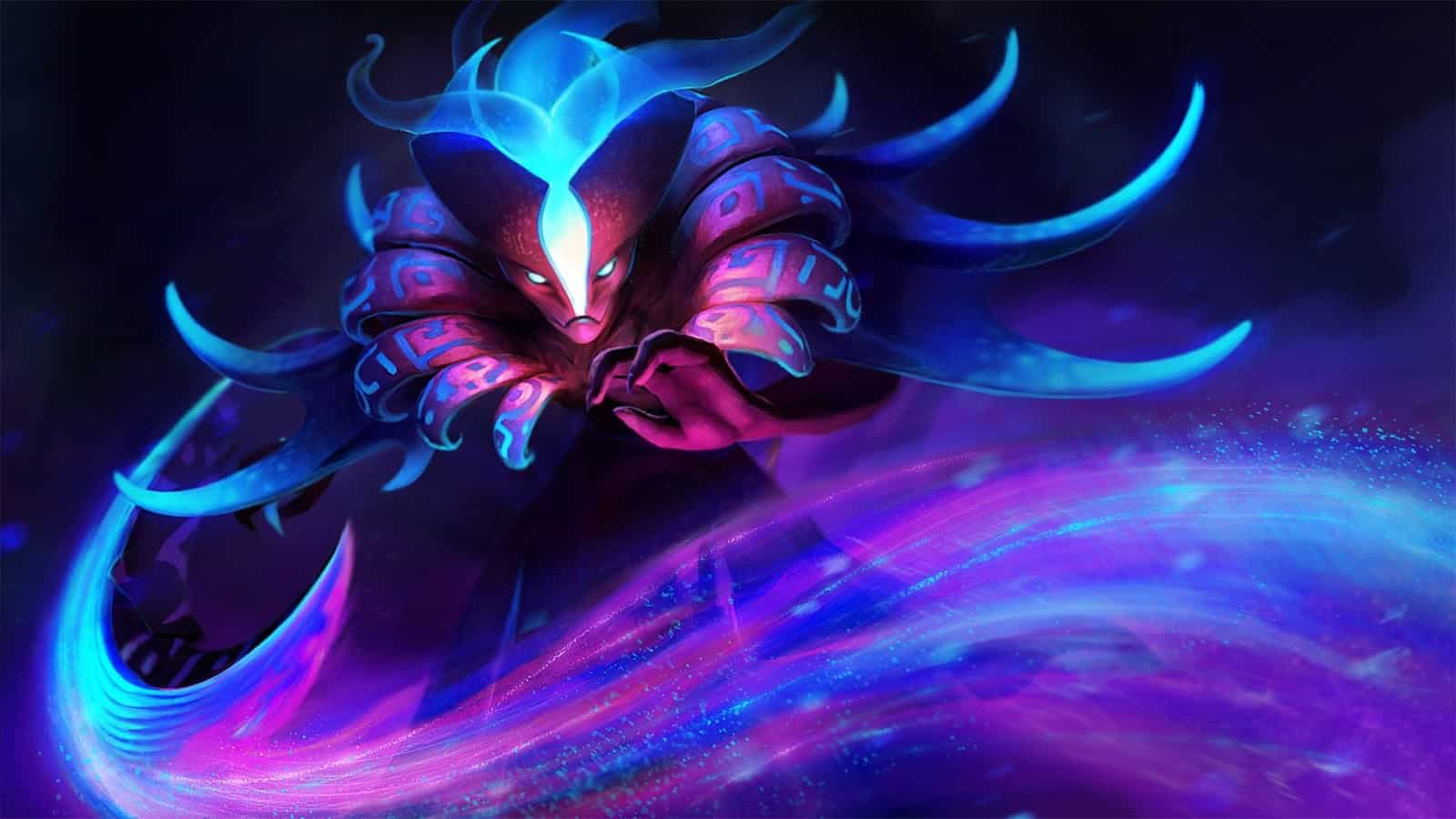 Spectre is a melee carry, which is already a disadvantageous position to be in, despite all the odds, Spectre manages to triumph by naturally being a tanky hero and farming faster than her foes in the early game. The late-game potential to quickly solo kill squishy heroes and supports from anywhere on the map is unmatched by any other carry in the game! All you need is a few items to face against an entire team alone.
Why is Spectre an IMBA hero? 
Haunt instantly allows her to get up and close to her foes, and Spectral Dagger makes it difficult to escape from her.
Spectre out carries most counterparts due to her farming potential.
Immense global presence
Items to buy on Spectre
Blade Mail
Radiance
Diffusal Blade
Abyssal Blade
https://dota2.fandom.com/wiki/Spectre
1. Lycan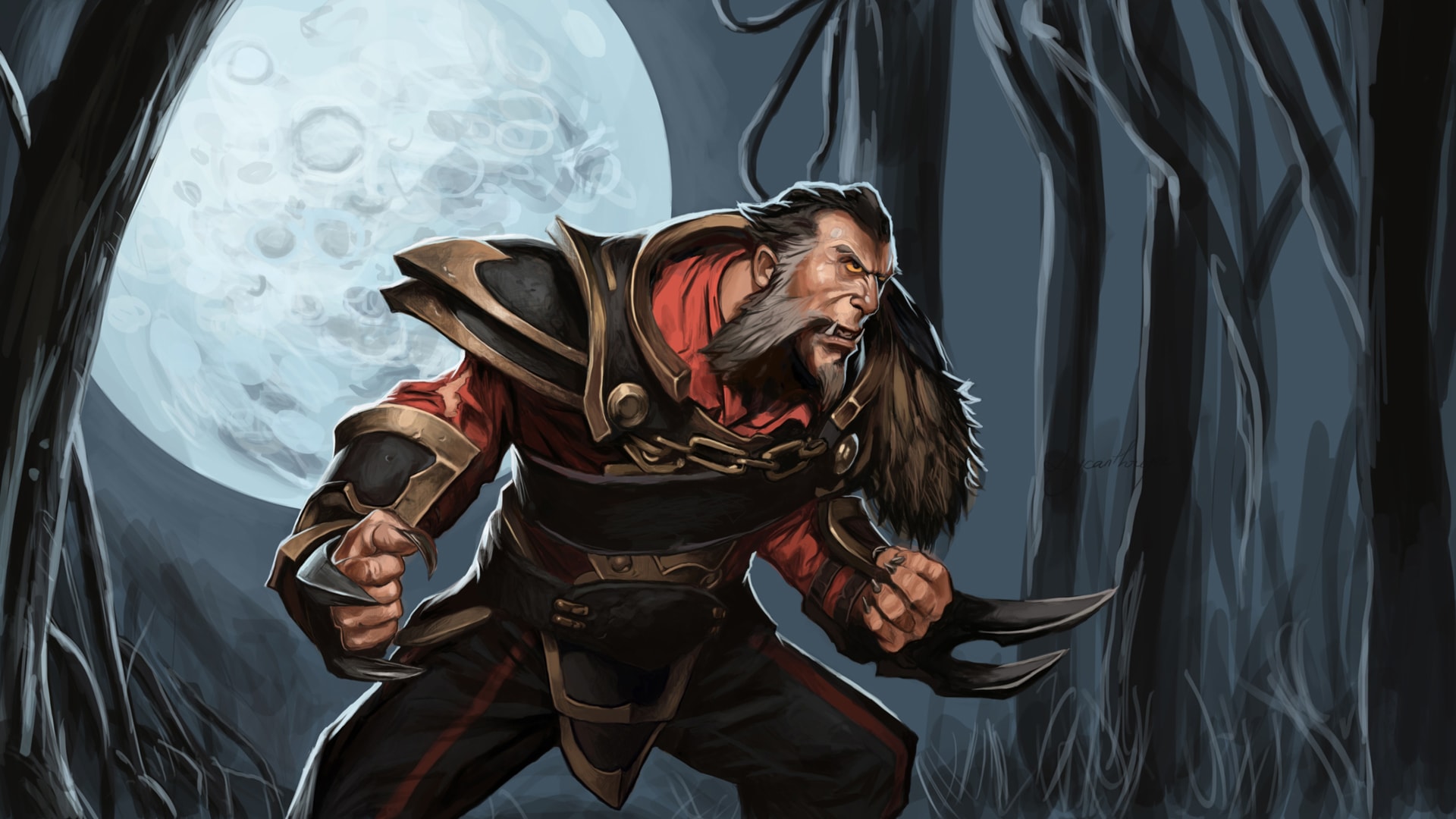 Lycan is a menacing shapeshifter who possesses the abilities of mass destruction. Lycan has various different tools which help him farm and sustain in the lane as well as gank and be on the offensive side if needed. He can summon wolves to help him farm and split push, along with a howl that reduces armor. His ultimate, the Shapeshift is the selling point of him, allowing him to turn into a wolf and destroy the lives of his foes by dealing double the damage and being twice as fast.
Why is Lycan an IMBA hero?
He can split push and scout with his wolves
Immense lifesteal with shape shift
Howl increases the damage and reduces the enemy's armor
Items to buy on Lycan
Assault Cuirass
Helm of the Overlord
Aghanim's Scepter
Boots of Bearing
Desolator
Skull Basher
https://dota2.fandom.com/wiki/Lycan
You may also like: