[Top 10] Best DMC 5 Wallpapers That Are Awesome
Updated: 20 May 2021 5:40 pm
Me and the boys off to save the world
Which DMC 5 wallpapers will be crowned in this ranking?
Thanks to the great features that the game and other consoles and PCs have, you can finally take screenshots of glorious moments in the game. Want to have a picture of Nico flying through the air? We got that. How about another one of Dante midway through channeling Michael Jackson? We can do that too.
So it's no wonder why there are so many high-quality wallpapers circulating around the internet. Some of them are even in 4K Ultra HD mode. If you have a low-spec PC or laptop, you should maybe sit this one out.
Nonetheless, I'm here to make sure you get only the creme de la creme of DMC 5 wallpapers. You should no longer go to the 10th page of Google just to search for the best DMC 5 wallpapers. I got it all right here, just for you.
10. Like father, like son | Dante & Devil Arm Sparda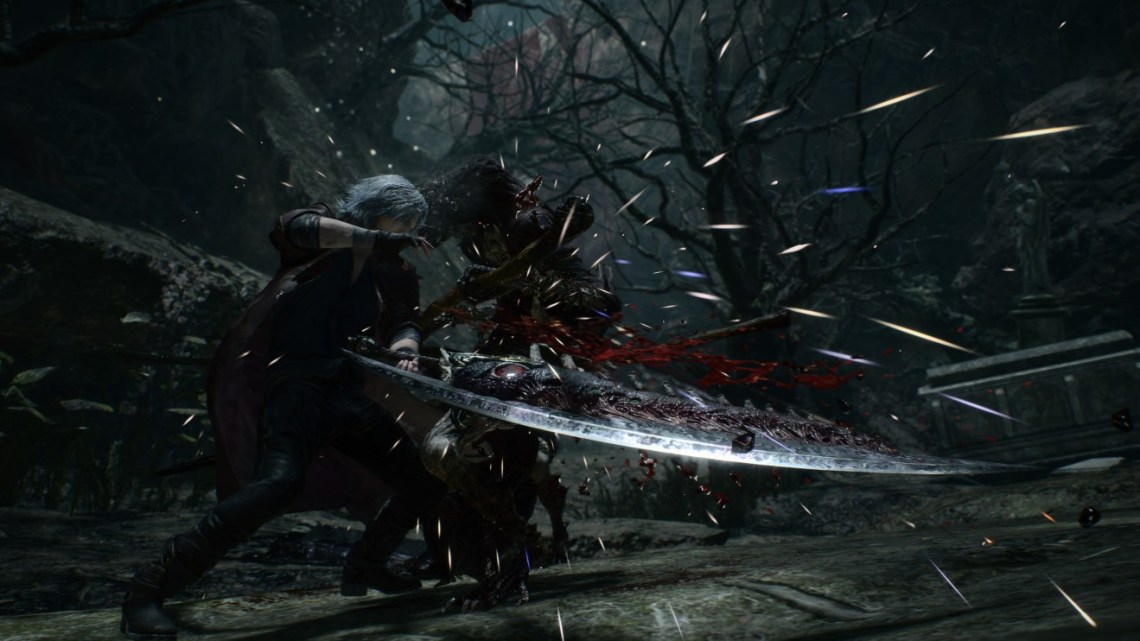 Like father, like son, indeed
To be honest, who doesn't love a dynamic Dante wallpaper? He has a lot of great wallpapers showing him with Cavaliere and Gilgamesh, but this one definitely takes the cake. It highlights one of the best and most classic Devil Arms to date - Sparda.
It's also a good wallpaper for people who just love simplicity with a little bit of spunk. Having Dante posed like this with the hulking Sparda sword behind him is definitely a treat. It's awesome for many reasons.
Dante is and will always be the most iconic DMC character - if I may say so myself. In a way, he carries this franchise. So it's always awesome to see him in the spotlight. His character design is flawless. The costume is iconic. And the sword? Absolutely stunning.
Download: https://wall.alphacoders.com/big.php?i=985994
9. Devil Trigger | Vergil Devil Trigger form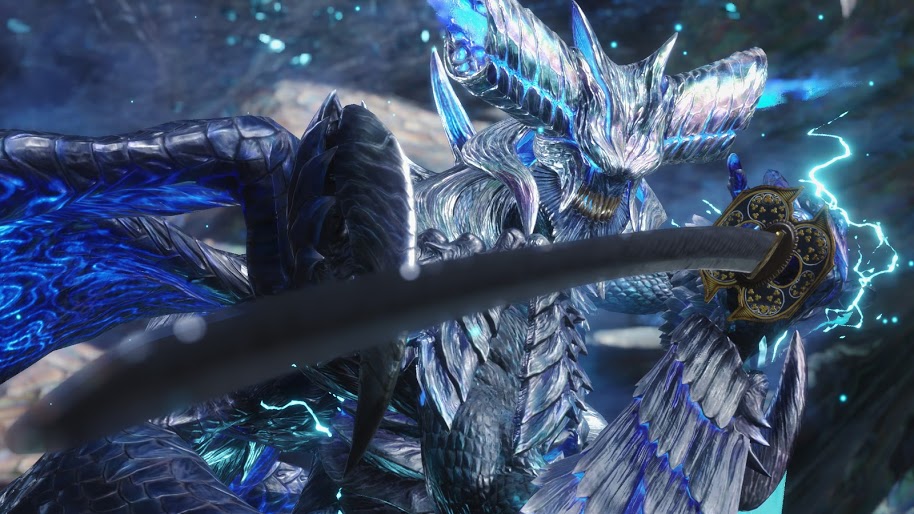 Vergil's original Devil Trigger designed by Kazuma Kaneko
Much like Dante, his brother isn't short of great wallpapers. There are a lot that are simply breathtaking. But this one definitely has a flare to it. It shows a crisp and clear view of Vergil's Devil Trigger design and makes sure to highlight his sword.
It's great to see an ultra HD version similar to the original demon form design by the legendary Kazuma Kaneko who designed characters for Shin Megami Tensei. It's also amazing to see how Vergil wields his sword and the details of it up-close. Absolutely stunning.
It's also an epic wallpaper thanks to his gritty facial expression and preparation stance. Calm down Vergil, you'll give me a cut with those furrowed eyebrows. This is definitely a wallpaper for all Vergil lovers who just want a clean, simple, yet almost dynamic wallpaper.
Download: https://wall.alphacoders.com/big.php?i=1012369
8. Overture | Nero using Devil Breaker Overture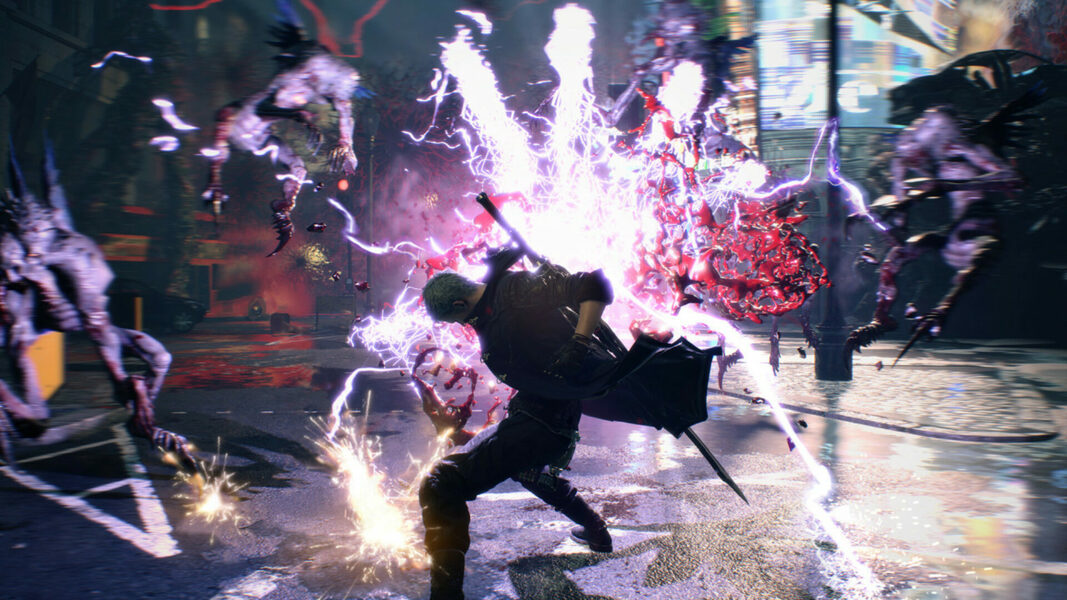 Nero is literally telling the demons to talk to the hand
We finally get to see some Nero action. Amazingly, he doesn't seem to be much of a deadweight in this picture. He looks like he really packs a punch. Overture is also always such a delight to see. Having its lightning and particles in your face is definitely a treat.
The way that this wallpaper is so simple yet so dynamic should definitely put a smile on any Nero fanatic's face. If you're looking for a wallpaper that features our favorite deadweight but makes him look badass - this is the one to download.
It's also so awesome to just see him blasting enemies and going complete ham captured in one image. That's definitely a 9/10 on the badass scale. The only reason it doesn't have a perfect score is that it lacks a certain oomph that the other wallpapers in this list have. Regardless, it's a stunning wallpaper that you should 100% check out.
Download: https://wall.alphacoders.com/big.php?i=926871
7. Have you met my friend Nightmare? | V and Nightmare posing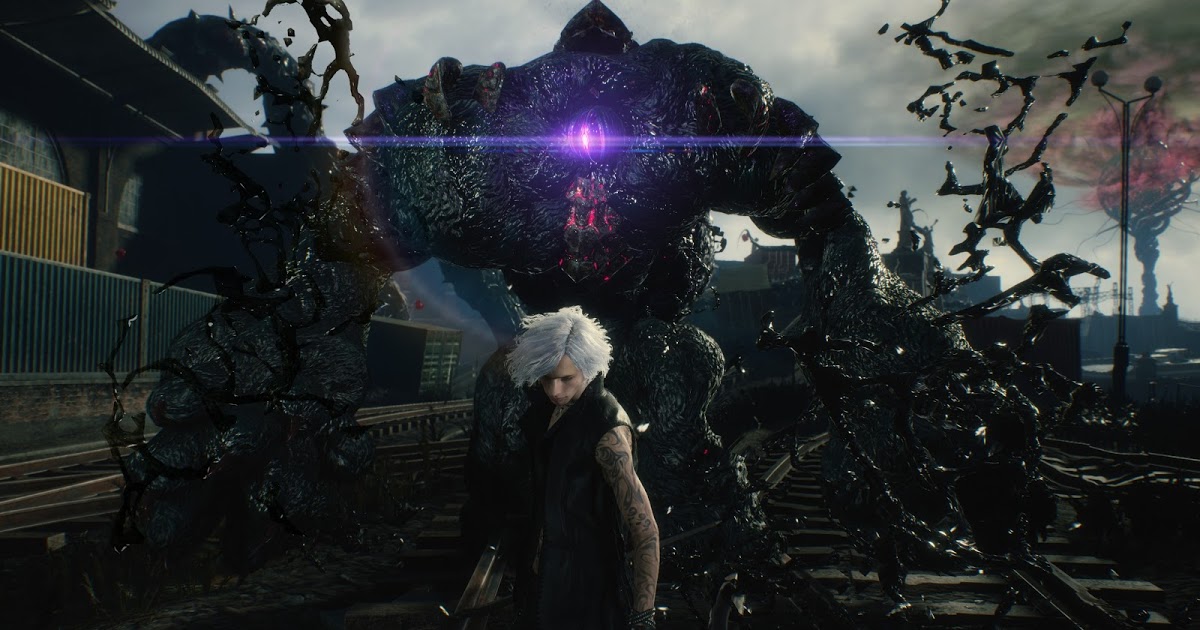 Nightmare feeling cute, might take out some demons later
Next up we have some love for V and Nightmare. Here we see two of the most badass characters to have ever been introduced in the DMC franchise. Also, as a little note, don't mistake V as the titular character for the game. It's not DMC V because it features just V - I thought I'd let you know since I, too, was confused at one point.
The way Nightmare menacingly stares at the camera makes this shot just so much more epic. There's a sort of terrifying aura to Nightmare that you can't keep your eyes away from. It also helps that V just entered his Devil Trigger mode and rocks his new white hair.
The two characters coupled with an amazing background and what looks to be carcasses of demons make this a wonderful wallpaper. The pose is amazing. The background is stunning. The characters - simply immaculate. It's totally worth checking out!
Download: https://wall.alphacoders.com/big.php?i=994718
6. Another day, another Empusa | Nero shooting an Empusa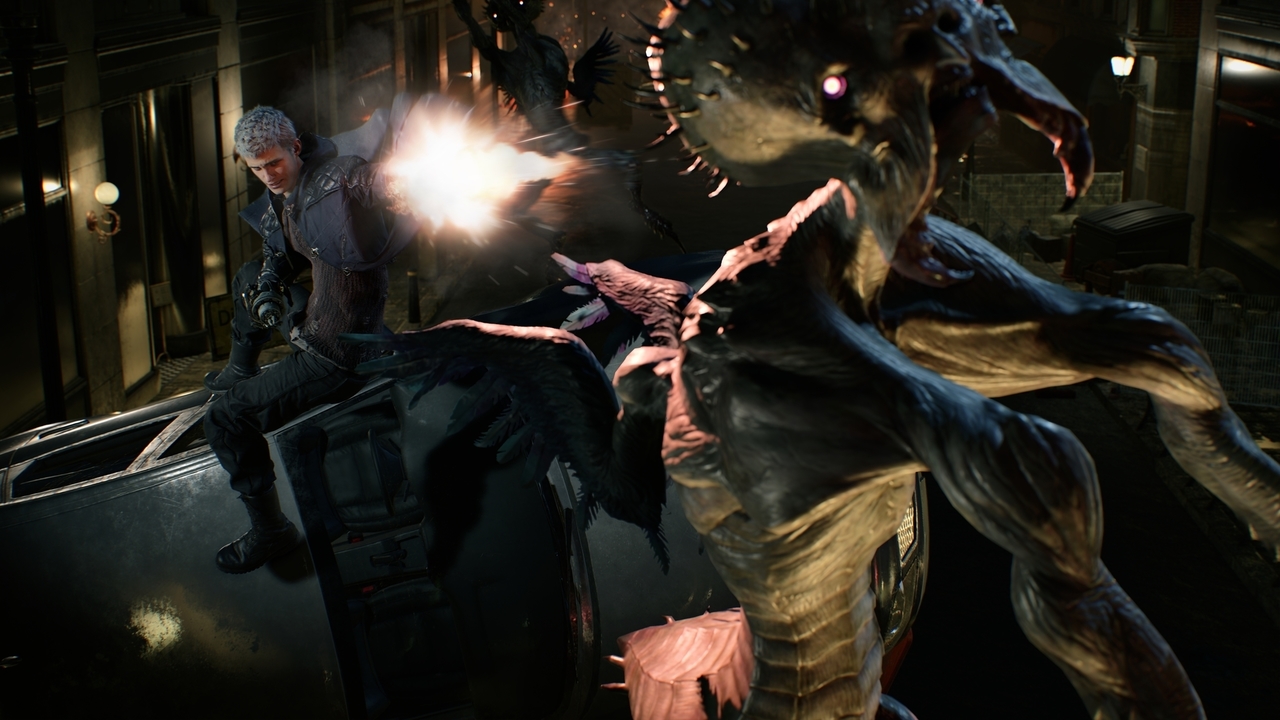 Nero just casually taking out the trash
Here we have a more casual side to Nero. He's so knee-deep in his Devil Hunting job, that it's just another day for him. He casually shoots an Empusa as its back is turned to him. You can even see a little smirk on that little face of his.
This is such an epic photo because it shows just how awesome our Devil Hunters are. Nero has definitely grown into a prime example of a Devil Hunter who knows exactly what he's doing. Just seeing him nonchalantly take out a highly dangerous demon is something to admire.
There is so much to unpack just with this wallpaper alone. The focus is on Nero while showing some dynamism with the gunshot and the Empusa. It's such a wonderfully taken shot that I highly recommend downloading!
Download: https://wall.alphacoders.com/big.php?i=926876
5. Punchline | Nero beating up an Empusa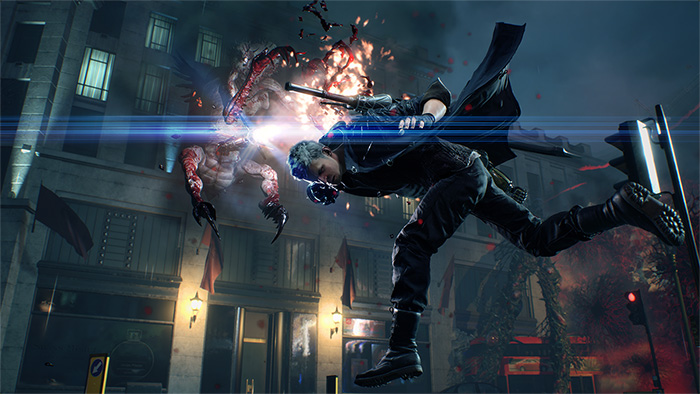 Nero channeling his inner Rocky and beating the Empusa to a pulp
I just couldn't resist putting another photo of Nero taking down another Empusa. This wallpaper definitely hits different. Get it? 'Cause he's using Punchline to hit the Empusa? Well, let's just say it's so satisfying to see how everything goes so well in this image.
What makes it such an awesome wallpaper is the fact that everything was taken midair. Nero is gliding through the air, sending Punchline flying. You can see the force and impact the hit had on the Empusa as it flies through the air.
You can also see a few of Nero's traits with that little pose of his. He's definitely a huge personality, and this captures exactly who he is when he fights. Make sure to check this wallpaper out and liven up your desktop.
Download: https://wall.alphacoders.com/big.php?i=942288
4. Deadweight and William Blake | V and Nero taking down enemies together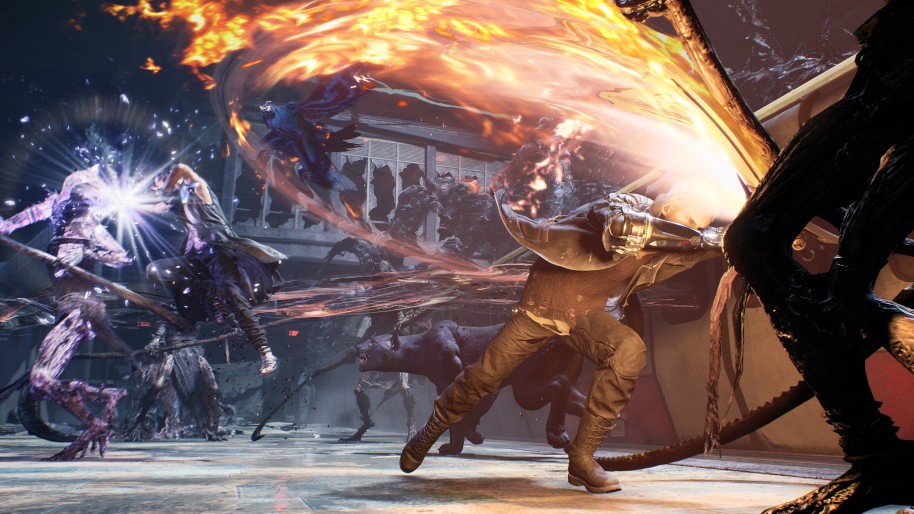 The best tour site in all of Redgrave City
To your right, we see two of the greatest men in video game history, V and Nero. They were swarmed with some ruthless, classical enemies and were sure to take them down. We also see a flurry of attacks and shadow in the background, ready to pounce.
This is such a great wallpaper because we see the difference in character between V and Nero. It's evident in their colors and the strokes of their blows. Where V is concentrated and direct, Nero goes for a flashier and longer attack. It's also a nice detail to have V with a more purple aura and Nero having more orange, like flames.
This is the most dynamic wallpaper we have on this list, which definitely gets 3 out of 2 thumbs up from me. You should also be moving those thumbs and heading over to the site for this wallpaper. Make sure to start downloading it and see your desktop come alive.
Download: https://wall.alphacoders.com/big.php?i=993431
3. The Sparda Trinity | Nero, Dante, and Vergil in DT form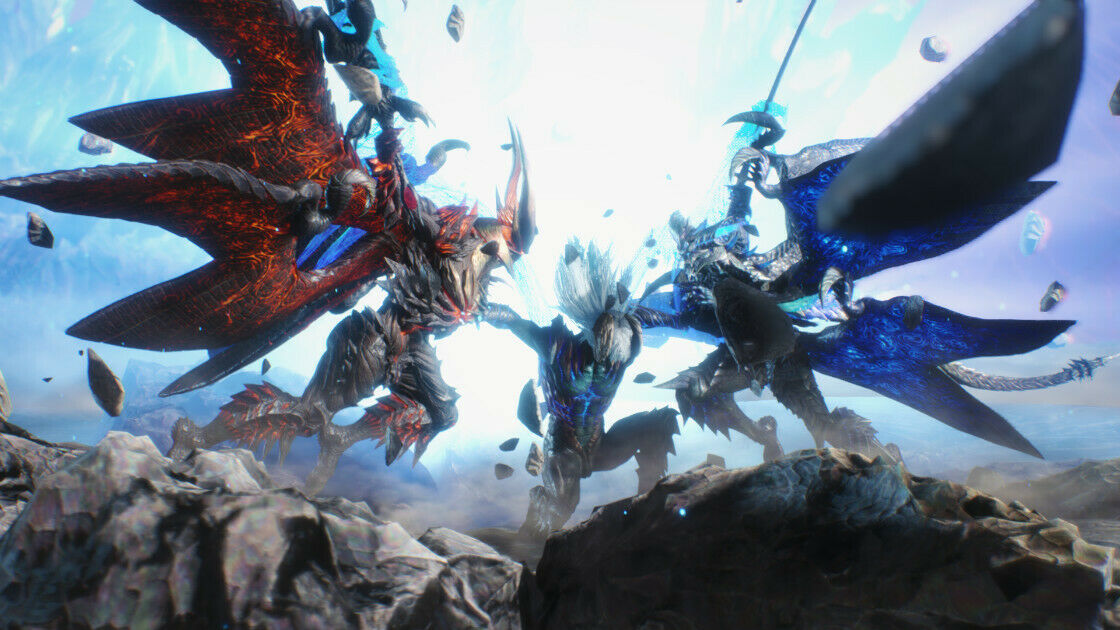 Just some family bonding time with the father, the son, and uncle
There should be no doubt that this wallpaper deserves the third place. It shows one of the most iconic scenes in the entire game, much more, the whole franchise. We finally get to see Nero's devil trigger as well as Dante and Vergil's recognizable ones.
It's such a memorable part of the game, that it should definitely be written in the history books. Not only is it a pivotal moment for our characters, but also as a player. You can get a bird's eye view of this entire development panning out. 
What makes it such an epic wallpaper is that you have three such gorgeous demon designs, coupled with an extraordinary story, and sensational characters. This wallpaper should be honored with a Smoking Sexy Style ranking!
Download: https://wall.alphacoders.com/big.php?i=997132
2. Deluxe Edition Key Art | The main characters posed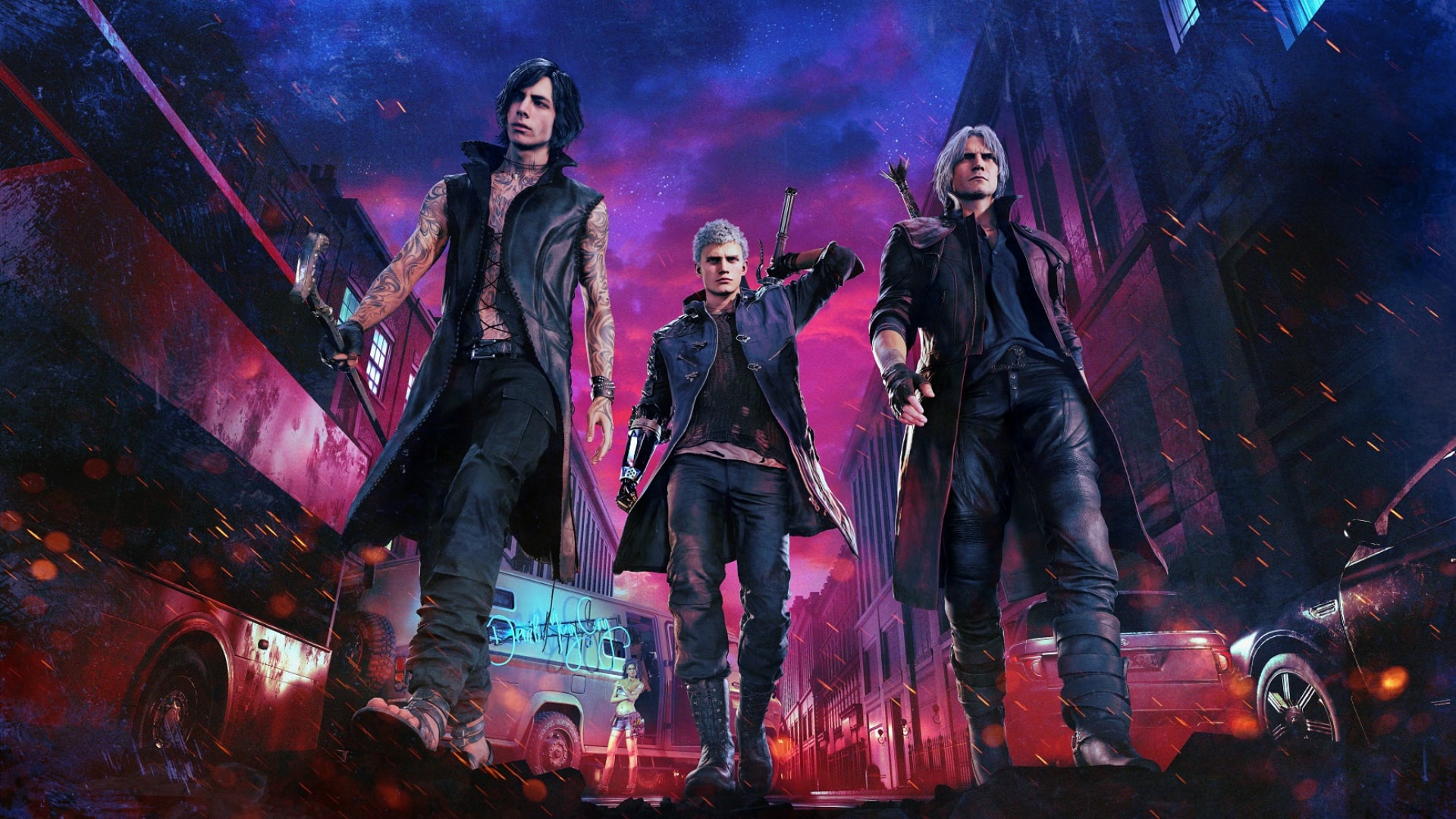 2 generations about to go and kick some demon booty
To be quite frank, this is the most iconic wallpaper no doubt. Not only is it a potential cover for your game's case, but it also features the three main characters of the game. They look like they're just about ready to kick some demon ass. 
Seeing all of them side by side and posed like they're about to decimate the entire city is absolutely breathtaking. Having these three posed like they're walking in slow motion just adds to the entire feel of badassery and name-taking.
This is a wallpaper also deserving of the SSS ranking, no doubt. It has a dash of epic characters, a pinch of menace, a sprinkle of "unforgettable-ness" and a whole gallon of legendary status. You should definitely check this wallpaper out for a pure, unadulterated DMC 5 visionary experience.
Download: https://wall.alphacoders.com/big.php?i=948585
1. Devil May Cry 5 Special Edition | Poster-like wallpaper of all characters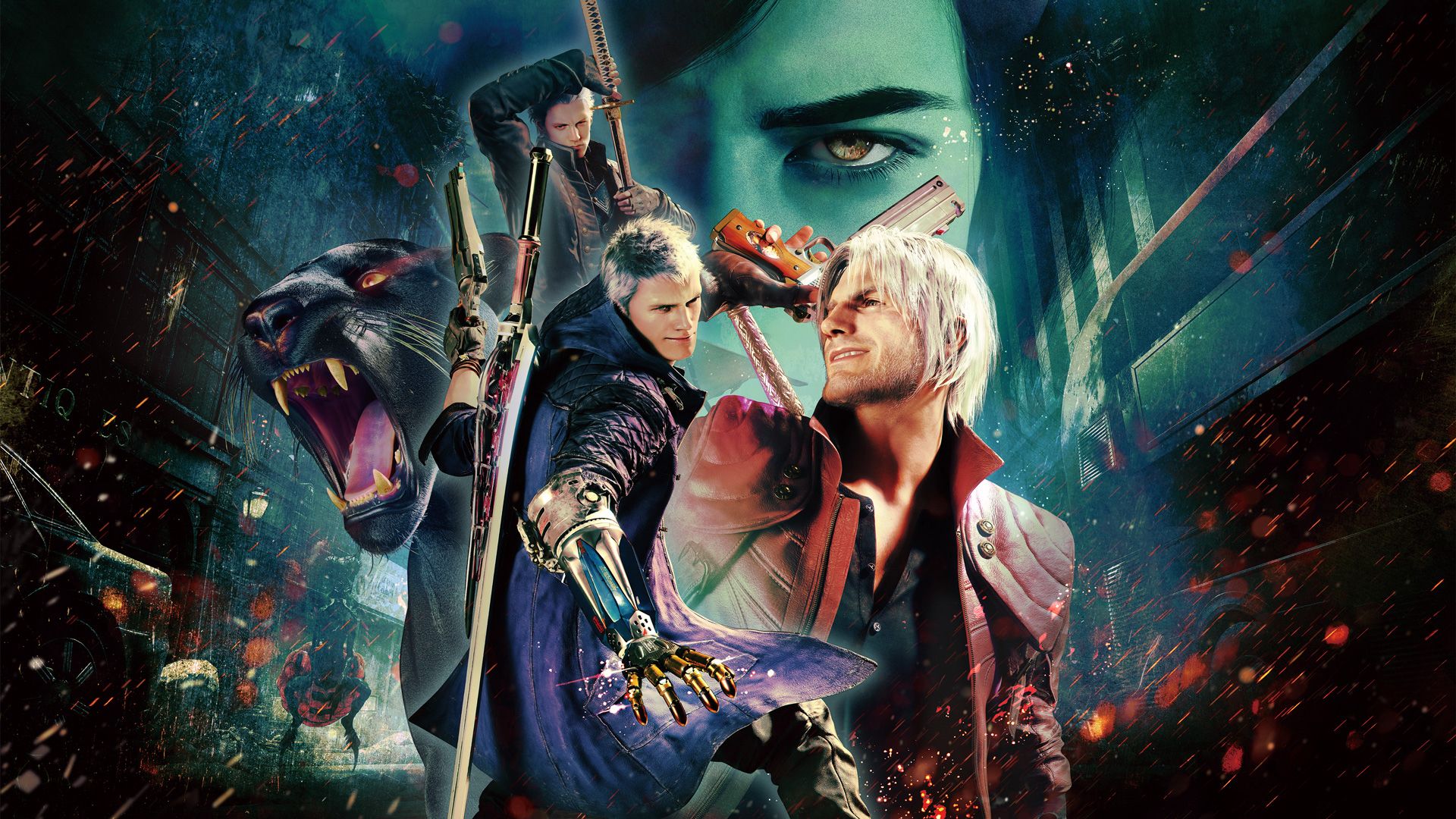 A stunning work of art that can make any grown man cry
One look at this wallpaper, and I think it's pretty clear why it's number one. It has the perfect blend of action, simplicity, dynamism, and color. It's so eye-catching that it definitely caught my eye as the top DMC 5 wallpaper.
The creative mixture of colors, as well as the cinema-esque features makes this a top-tier wallpaper. The way they're posed and the creative usage of light also makes this such a gorgeous masterpiece. What makes it even more awesome is the fact that it comes in many different sizes.
You can download this stunning wallpaper in a 5000-pixel size if you wish to do so. But one look at it, screams classic Devil May Cry. Star Wars art posters who? Move aside, unforgettable 80s art posters, this DMC 5 wallpaper is coming through. Make sure to check out the link and give some life and color to that desktop of yours!
Download: https://hdqwalls.com/devil-may-cry-5-special-edition-wallpaper
Hopefully, this list has helped you in your search for the best DMC 5 wallpapers. If not, then I do hope it helped you narrow down your search.
You may also be interested in: